Australian Open 2022: Rafael Nadal's career-high double faults in quarter-final sign of a changed player
Rafael Nadal battled stomach cramps and dished up a career-high amount of double-faults as he won his quarter-final. The latter is not as concerning as it first appears.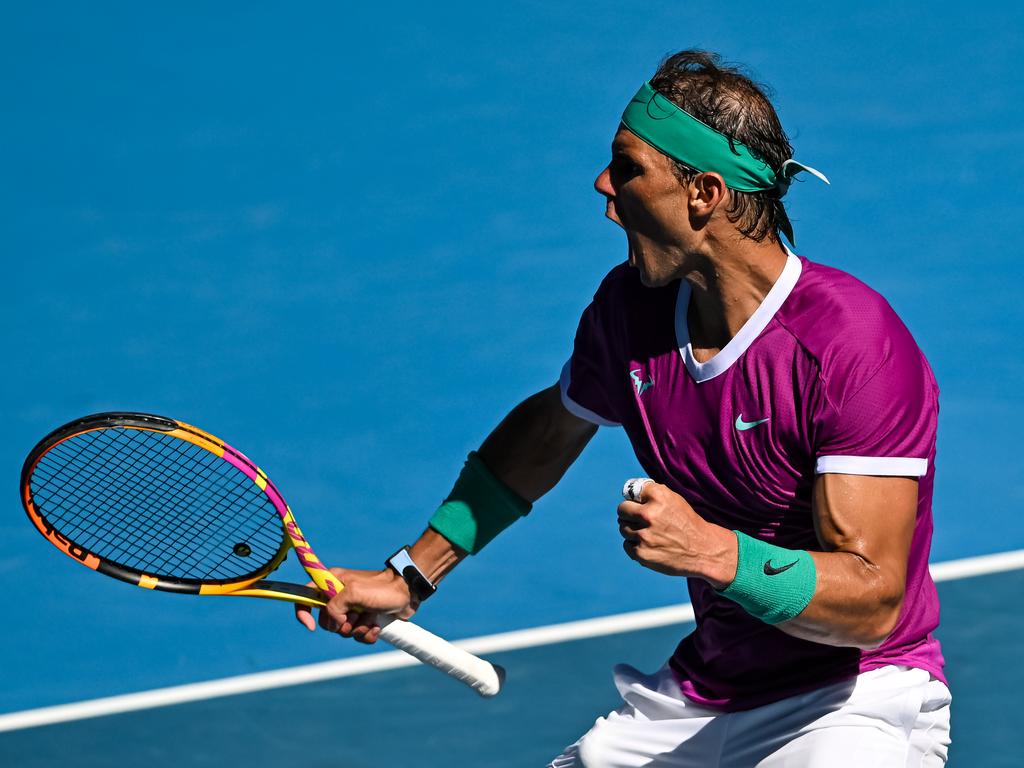 Rafael Nadal is through to the semi-finals of the Australian Open. Picture: TPN/Getty Images.
A little over six weeks ago, Rafael Nadal was lying in bed at home, completely exhausted, with Covid-19. For four days, he could barely get up. And for three more, he says, he felt "physically destroyed."
Not for the first time in 2021, he wondered if he would be able to play tennis again, never mind win another major tournament. There was the foot injury that cost him six months of competition. There was the general exhaustion. And there was his 35th birthday, a number that hit him hard as he approached 20 years on the pro circuit. What was he still doing here?
On Tuesday, the older, grittier Nadal surprised himself and punched his ticket to the semi-finals of the Australian Open on Friday, where he will face last year's Wimbledon finalist Matteo Berrettini of Italy. Nadal outlasted Denis Shapovalov of Canada in five sets – 6-3, 6-4, 4-6, 3-6, 6-3 – despite suffering from stomach cramps in the fourth. Though two higher seeded players remain, Nadal has given himself a real chance to win this tournament for the first time since 2009.
"The real truth is that two months ago, we didn't know if we were going to be able to be back on tour at all," he said on court Tuesday. "So here I am, for me it's just a present of life that I am playing tennis again."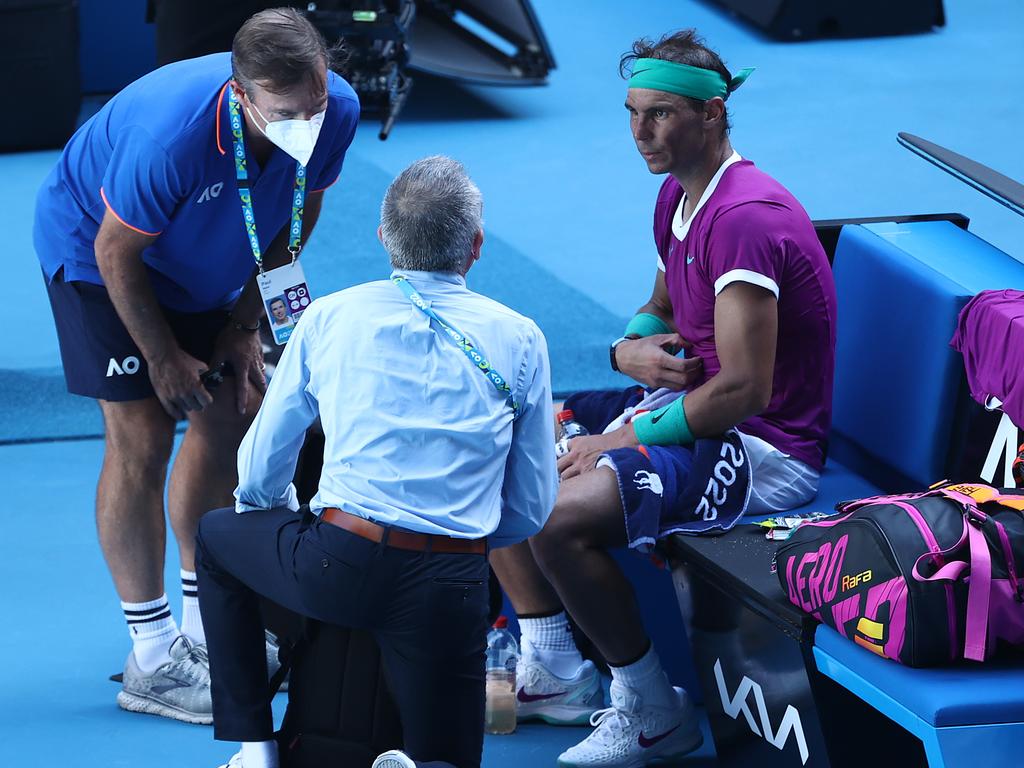 Rafael Nadal overcame stomach cramps in his win over Denis Shapovalov. Picture: Mark Metcalfe/Getty Images.
Nadal had every reason to believe that 2021 might be the end. It was only his third year without a major title since 2005. He had skipped Wimbledon and the U.S. Open and, more shocking, actually lost at Roland-Garros, which might as well be his living room. That epic semi-final defeat against Novak Djokovic in Paris seemed to signal the passing of a torch. By the end of the summer, Djokovic, Nadal, and Roger Federer were all tied for the men's career record with 20 Grand Slam titles.
In an era when three concurrent players could share 60 majors, the question had shifted from, "How many could they win?" to "What will eventually stop them?" Clearly, it was not going to be younger players. Entire generations came and went without a meaningful challenge to their season-on-season dominance.
Age was the most obvious factor. Federer, now 40, last year shut down his season for more surgery on his knee and hasn't given a timeline for his return. Nadal was beginning to drag.
"Sometimes I don't know if the fatigue is due to the six months that I was without competing or to the coronavirus," he said in Australia.
That's when national border authorities entered the conversation. Right as Djokovic seemed poised to put some daylight between himself and the other two, his unvaccinated status turned run-of-the-mill travel into his biggest obstacle. Djokovic was deported this month from Australia after a court revoked a medical exemption and accused him of stoking anti-vaccination sentiment. Local rules in France and New York could still bar him from Roland-Garros and the U.S. Open.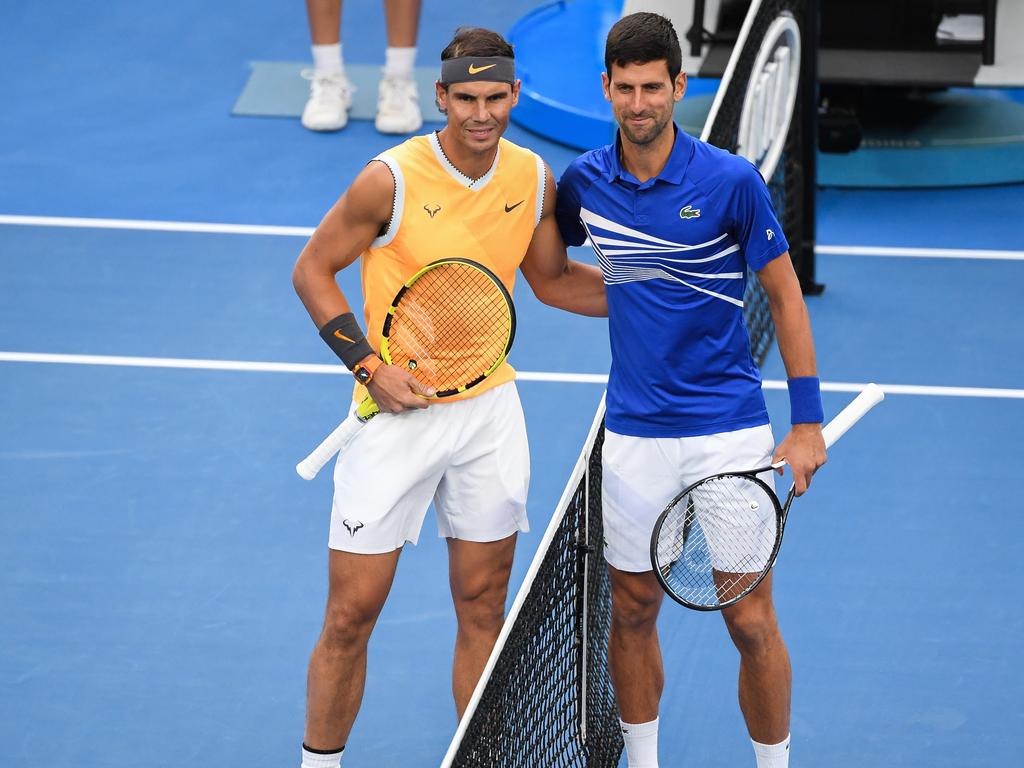 For the first time in his career, Rafael Nadal is playing a Grand Slam without either of Novak Djokovic or Roger Federer. Picture: James D. Morgan/Getty Images.
All of which left Nadal in an unexpected spot in Melbourne: playing a Grand Slam tournament without Federer or Djokovic in the draw for the first time in his career. Nadal is in his 19th season on tour and now leads the race to win No. 21. If it doesn't happen in Melbourne, he will still be the favourite in Paris.
"I'm not going to be frustrated if Novak or Roger finishes their career with more Grand Slams than me," Nadal said. "Every one of us, we did very special things in our sport. Let's enjoy that. Doesn't matter, the other thing."
Nadal suffered his biggest scare of the tournament on Tuesday when he coughed up a two-set lead in a lefty-lefty matchup against Shapovalov of Canada. His trouble seemed to deepen in the fourth set when he called for the trainer and complained of stomach pain and shortness of breath. "I was completely destroyed," he said.
The most alarming part of his performance seemed to be his career-high 11 double faults. But those could prove to be a red herring. Nadal has pivoted to a high-risk, high-reward strategy over the past couple of seasons to shorten points and save his legs.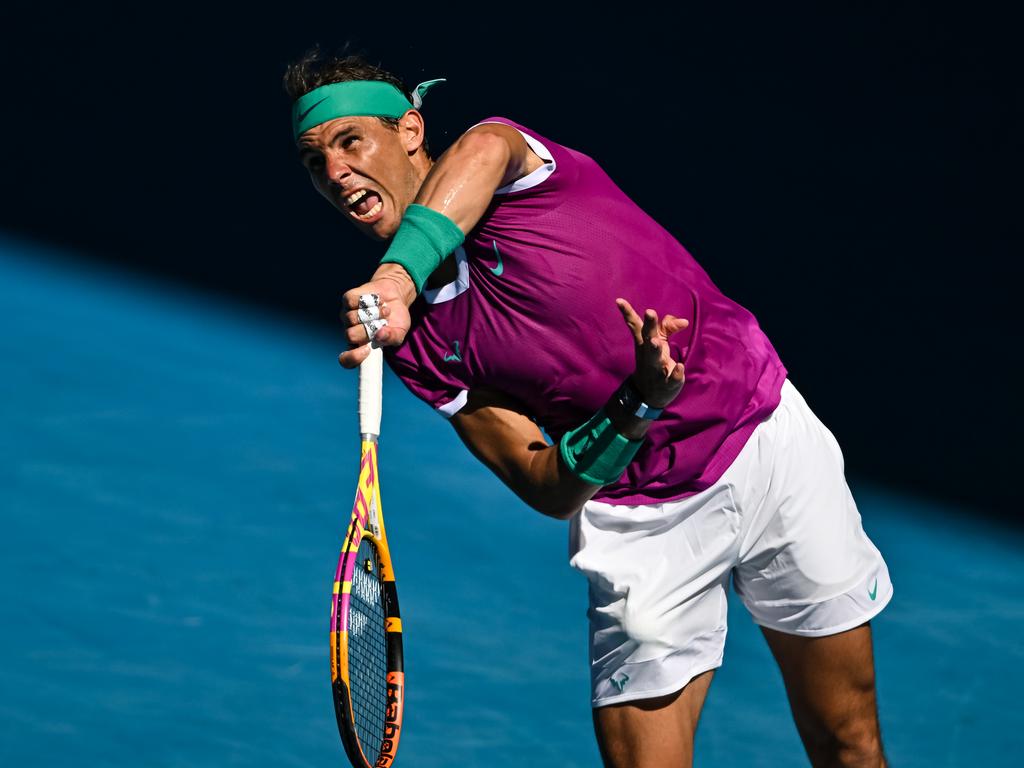 Rafael Nadal's is landing less of his first serves than he used to but is benefiting from a higher risk game. Picture: TPN/Getty Images.
By 2019, his first serve was consistently 4-5 miles per hour faster than it had been in just two years prior, as was his increasingly risky second serve. And while his accuracy has suffered a little–he's putting around 64% of first serves in the court compared to 70% in 2016–Nadal is finding even more success now. In Australia this month, he has won 80% of points behind his first serve and 71.7% of service points overall, higher than his season-long average at any point in his career, according to Tennis Abstract.
The sample size may be small, but on Tuesday it was enough to put Nadal in the 36th Grand Slam semi-final of his career. In the meantime, he'll enjoy the small kindness organisers unwittingly did him when they tweaked the schedule of the tournament. Nadal has one more day of recovery than usual at this stage of the Australian Open.
"It's great to have two days off," he said. "I am not 21 anymore."
– Wall Street Journal