Australian Open 2022: Stefanos Tsitsipas defeats Jannik Sinner in men's quarter-finals
Stefanos Tsitsipas' doctor believed the Greek star had no hope of playing in this year's Australian Open. Never tell this guy he can't do something. He's now in he final four.
Stefanos Tsitsipas is in the zone, and has no plans on getting out until he lands a maiden grand slam title this week.
Tsitsipas' dazzling display in teaching fellow NextGen star Jannik Sinner a grand slam lesson delivered a third Australian Open semi-final – but in this kind of mood, the 23-year-old has much higher honours in mind.
Making his final-four appearance even more impressive, Tsitsipas had fears about whether he'd even be able to compete at this year's tournament after undergoing elbow surgery in November last year.
Or, more specifically, his doctor had concerns.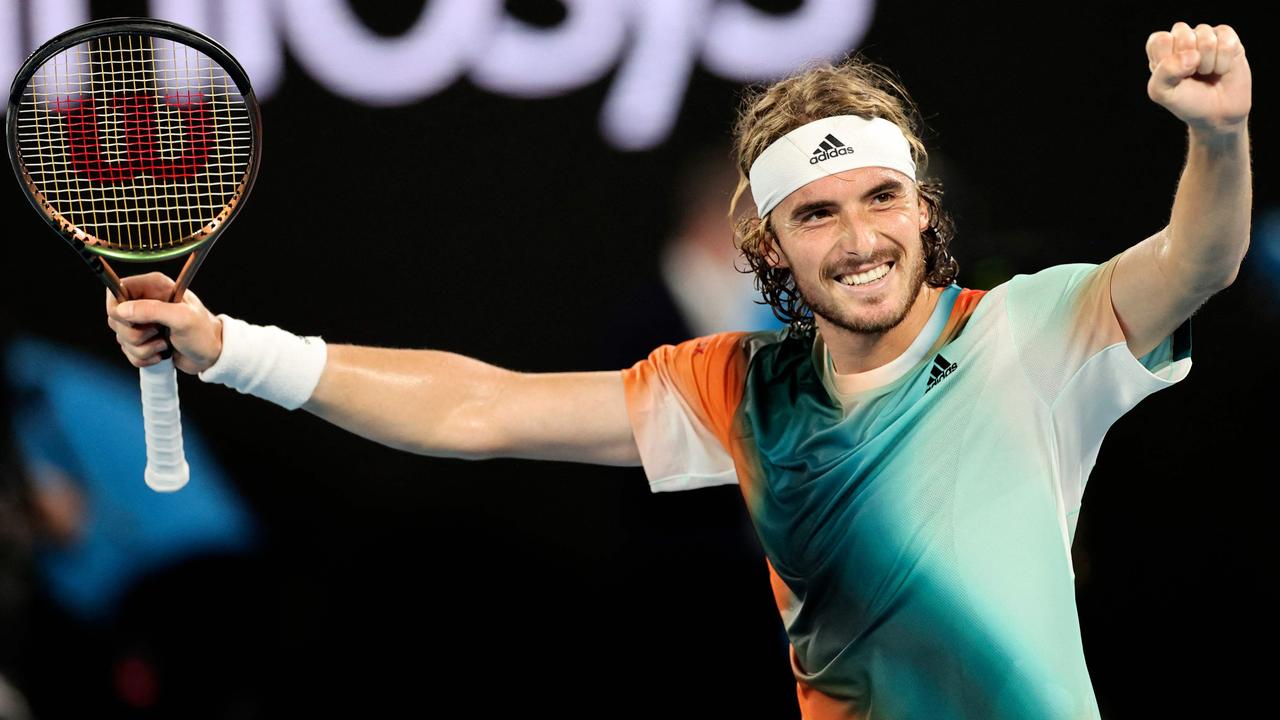 A smile from Greece's Stefanos Tsitsipas as he books his place in the final four. Picture: AFP
"We both didn't expect me to participate in the Australian Open and it was not part of the plan," Tsitsipas said.
"He certainly told me I don't see you playing in Australia. I proved him wrong.
"He was probably telling me this to push me a little bit more without me realising that."
What he's done is create a monster, with Tsitsipas improved across the fortnight to be in the form of his life with two matches to go until he might raise the Norman Brookes Trophy.
Tsitsipas simply blew Sinner off the court 6-3 6-4 6-2, breaking the 20-year-old inside the first three games of each set in a powerhouse display that marked a disastrous maiden Australian Open quarter-final for the Italian.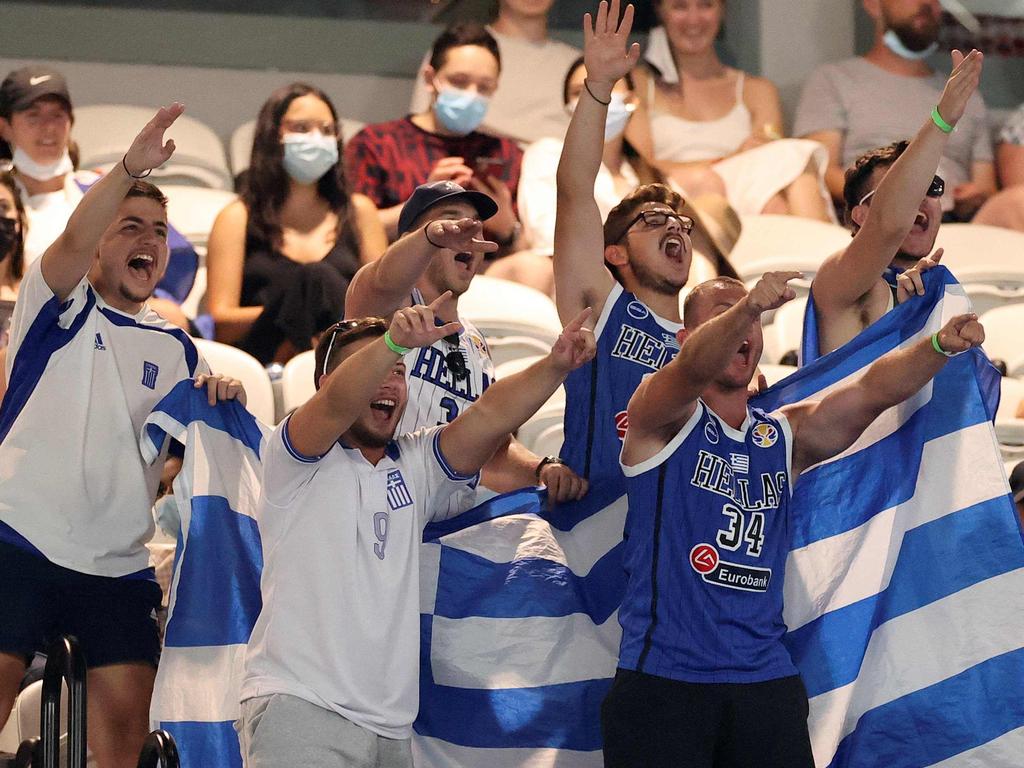 Greek fans were in full voice for their hero Tstsipas. Picture: AFP
Sinner, so close to breaking through having rising to 10th in the world rankings on the back of a monster year, had moments of unspeakable class that proved he has the killer mentality which promises grand slam titles in his future.
But Tsitsipas, three years his senior, is a grown man who showed he's ready to challenge for a crown right now as he maintained his perfect record in grand-slam quarter-finals.
"I feel like I'm in the zone. I have no plans of getting out of it," he said.
"We're just getting started (but) it was a great performance from start to finish with no doubt."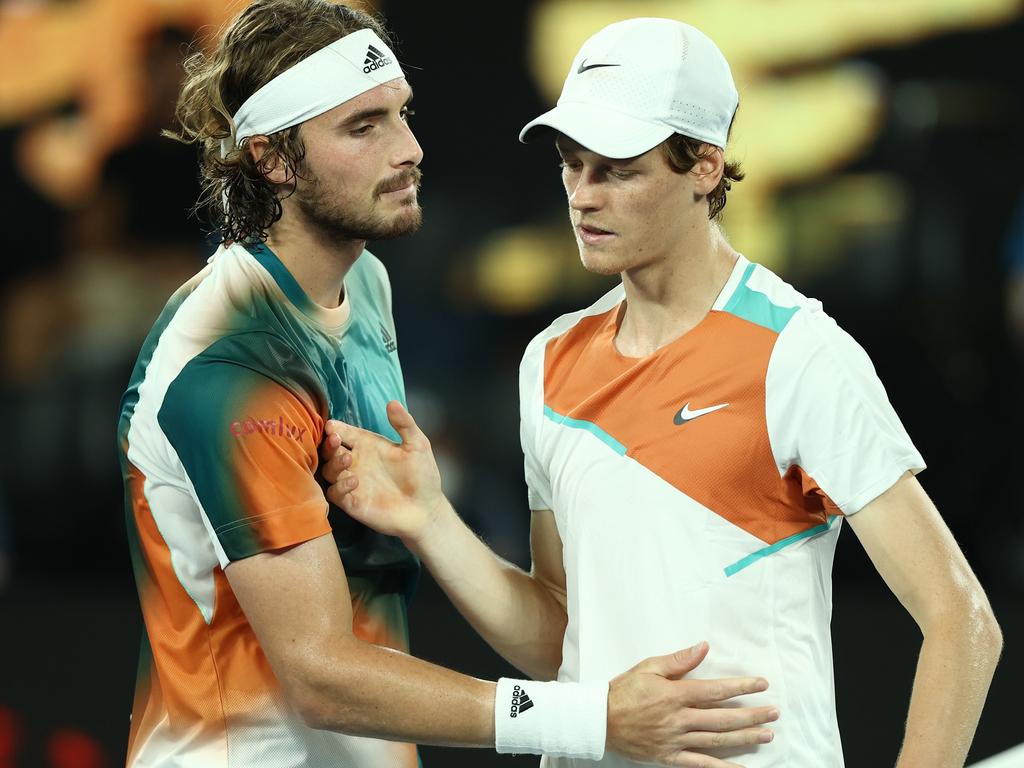 Tsitsipas was simply too good for Jannik Sinner. Picture: Getty Images
Tsitsipas couldn't even be denied by a freak Melbourne storm that hit Rod Laver Arena, forcing a 15-minute delay as the roof was closed, in the middle of the hottest day of the fortnight.
The fourth seed, who didn't face a breakpoint throughout the 126-minute match, rattled through the third set in quick time to secure a spot in Friday's semi-final, where he'll face either world No.2 Daniill Medvedev or ninth seed Felix Auger-Aliassime.
'Big joke': Beaten star's scathing attack on Rafa treatment
Rafael Nadal hit back on Tuesday night at accusations from vanquished rival Denis Shapovalov that he receives special treatment from match umpires, following a feisty five-set epic.
Nadal scraped through by the skin of his teeth to reach a seventh Australian Open semi-final, battling back from a stomach complaint, the fierce Melbourne heat and a feisty Canadian in a gruelling four-hour-and-eight-minute five-setter.
Shapovalov roared back into the match from two-sets down, before tennis' prized fighter pulled himself from the canvas to deliver a knockout blow on Rod Laver Arena.
And Shapovalov was not happy about it, having raged throughout the match about the time it took Nadal to serve – a point which led to him calling chair umpire Carlos Bernardes "corrupt" for not handing the Spaniard a code violation.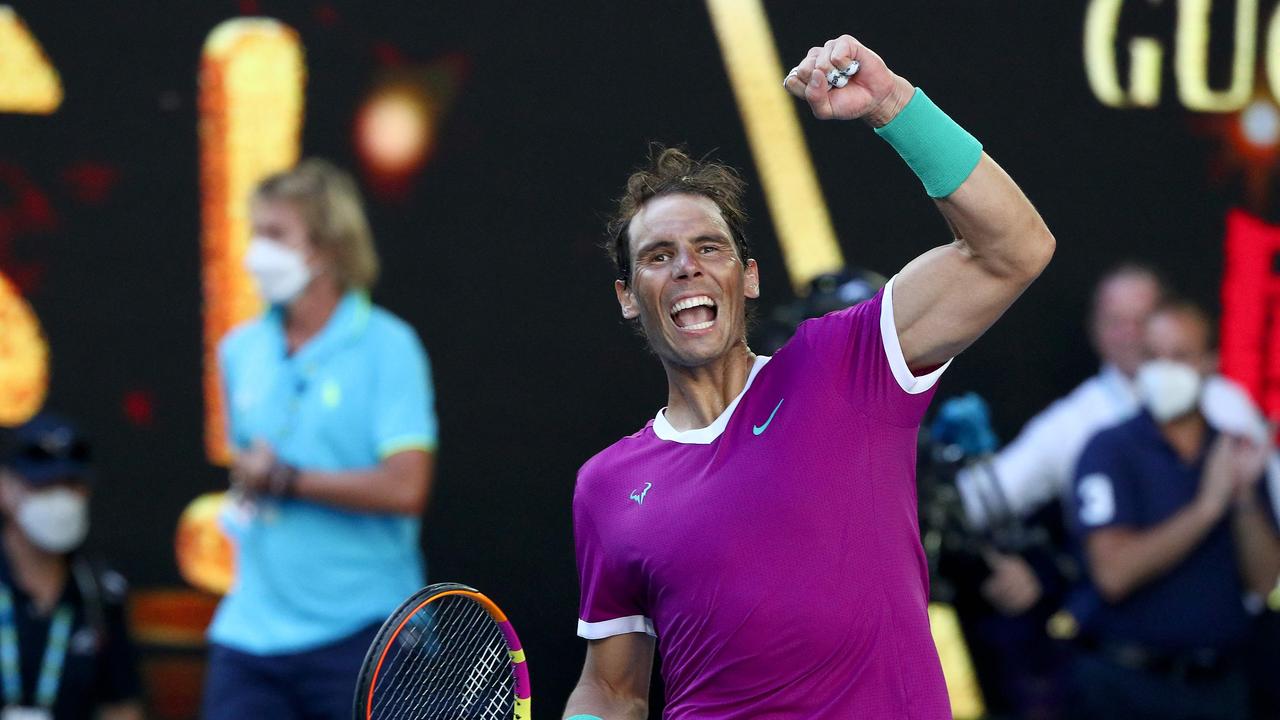 Rafael Nadal overcame an injury scare and upset stomach to make his seventh Australian Open semi-final. Picture: AFP.
While the 22-year-old apologised for that remark, he wouldn't back down on beliefs that Nadal gets away with murder by dictating the speed of a match.
"Of course (he gets preferential treatment). 100% he does," a frustrated Shapovalov said.
"I think I misspoke when I said (Bernardes was) corrupt. It's definitely emotional but I do stand by my side. it's unfair how much Rafa is getting away with."
Shapovalov said it was an issue not just with Nadal, but with his chief rivals – Novak Djokovic and Roger Federer.
#AusOpen | ¿Se pasó de la raya?

🇨🇦 Shapovalov se quejó ante una supuesta demora de 🇪🇸 Nadal en volver a la cancha y lanzó: "Son todos corruptos"

Al manacorí le cambió la cara.

pic.twitter.com/haYiAWBfXa

— Golpe de Tenis (@golpedetenis) January 25, 2022
"I understand all they have done, I understand all the success," he said.
"Already on their own they're so tough to beat and it's so difficult but if you give them more advantages, it just becomes that much harder every time.
"I'm not trying to take away anything they've done, of course they're great champions, they're the legends of the game. But at the end of the day when you step on the court it should be equal for everyone."
Nadal, who was draped in ice towels and required a medical timeout to treat a stomach complaint, rejected Shapovalov's preferential treatment claim.
"I really believe that on the court you don't deserve better treatment than others and I don't want it and I don't feel I have it," the 20-time grand slam champion said.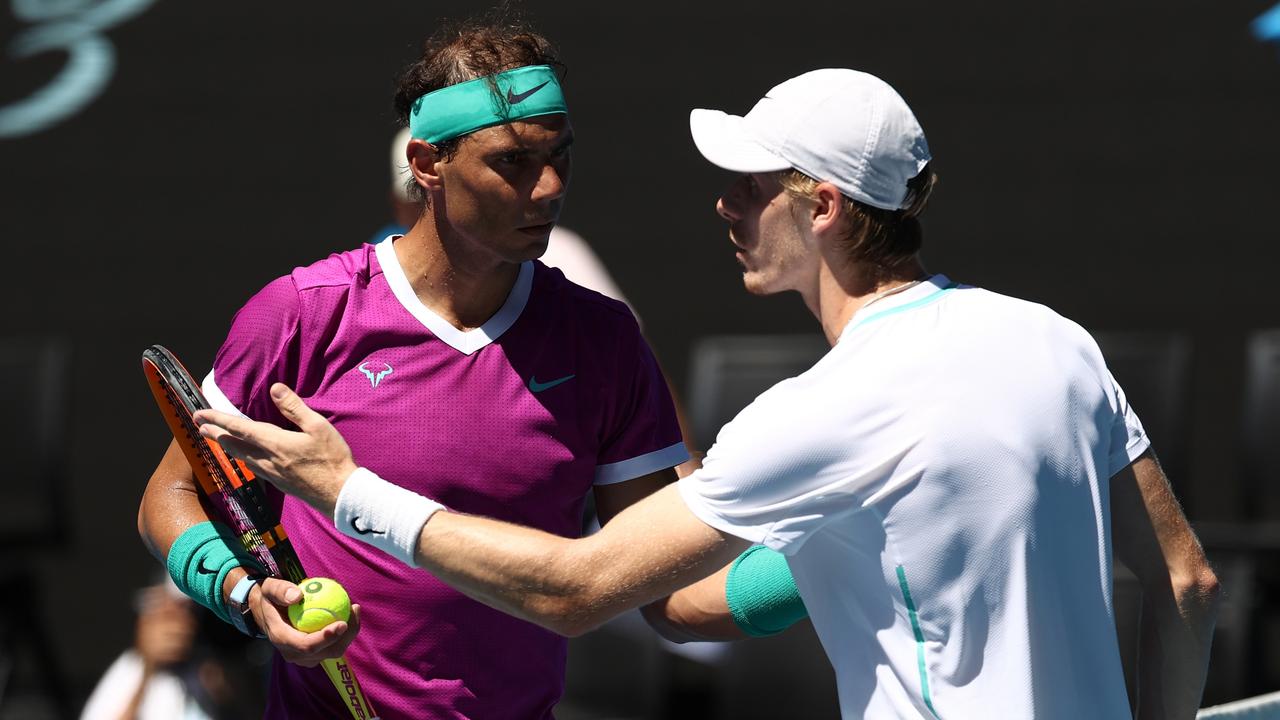 Denis Shapovalov (R0 confronts Rafael Nadal during their game. Picture: Mark Metcalfe/Getty
Nadal said he felt "completely destroyed" after the mighty 6-4 6-3 4-6 3-6 6-3 win, and felt sorry Shapovalov had to be denied a maiden grand slam semi-final appearance.
"He played a great match for a long time and of course it is tough to accept to lose a match like this," Nadal said.
Mad Med sorry for epic meltdown
Daniil Medvedev has apologised after an on-court meltdown threatened to blow up his march into the last eight of the Australian Open, and questioned why he's been snubbed from Rod Laver Arena.
The Russian top seed raged at officials over not being able to use a toilet break after the first set of the three-hour-and-30-minute clash, and ranted about rival Maxime Cressy's "boring" serve-volley style as well as ruing the American's good fortune during the game.
Russia's Daniil Medvedev had an eventful clash with American Maxime Cressy. Picture: AFP
Medvedev also queried why he'd been put on the second show court, rather than Rod Laver Arena, for his past two matches.
"What should I do to play on centre courts in grand slams? Because I won the last grand slam (2021 US Open), I'm the highest seed here," he said.
"I usually don't (ask for a specific court). Maybe I have to ask every time.
"But I don't really want to be the guy who asks every time 'put me on Rod Laver or I'm gonna be unhappy'."
Medvedev, who was heard complaining "this is so boring" during a Cressy service game, apologised after the match for overstepping the line with his unconventional serve-volley opponent.
"I was quite mad because of a few things," Medvedev said.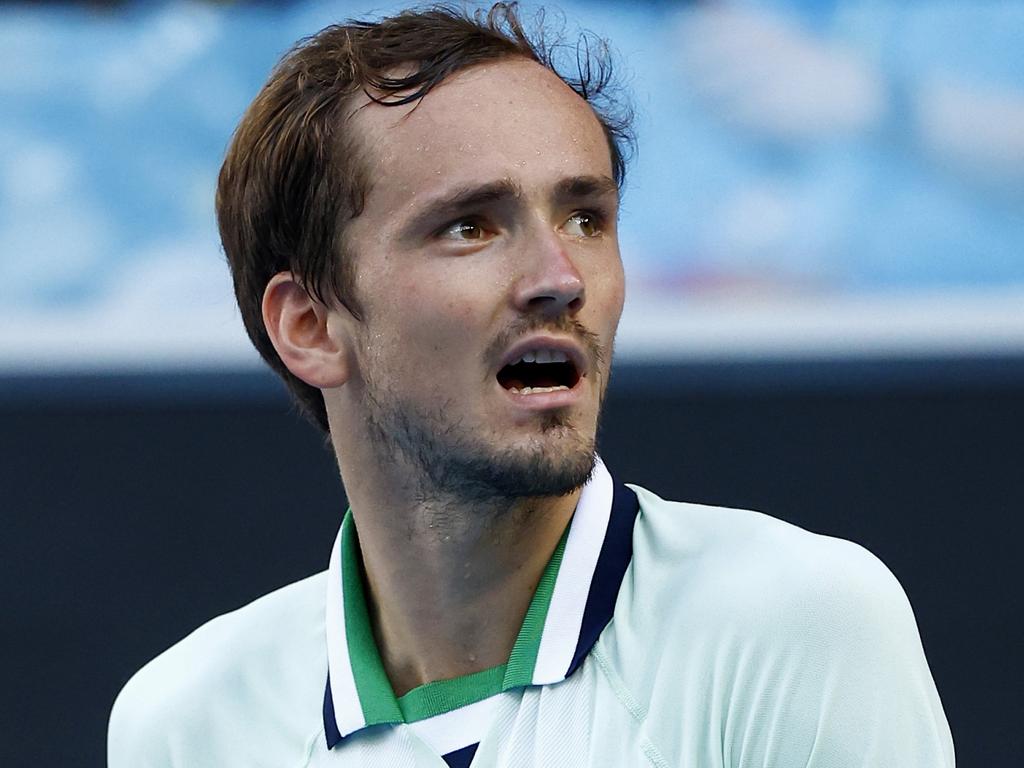 Mad Med struggled to keep his composure. Picture: Getty Images
"To be honest, I'm working on myself, and that's why I managed to win and still kept my composure, as much as I could, because sometimes I go much crazier than I did today.
"I'm really sorry to Maxime about it."
At the end of the first set, Medvedev needed to use the bathroom. Under new ATP rules, he could do so – and be given a three-minute break, or an additional two minutes if he was to change his clothes.
But Medvedev, in 35 degree weather, anticipated needing to change his clothes later in the match – especially if it went to five sets – and became increasingly frustrated about the hard line ruling that prevented him from doing both.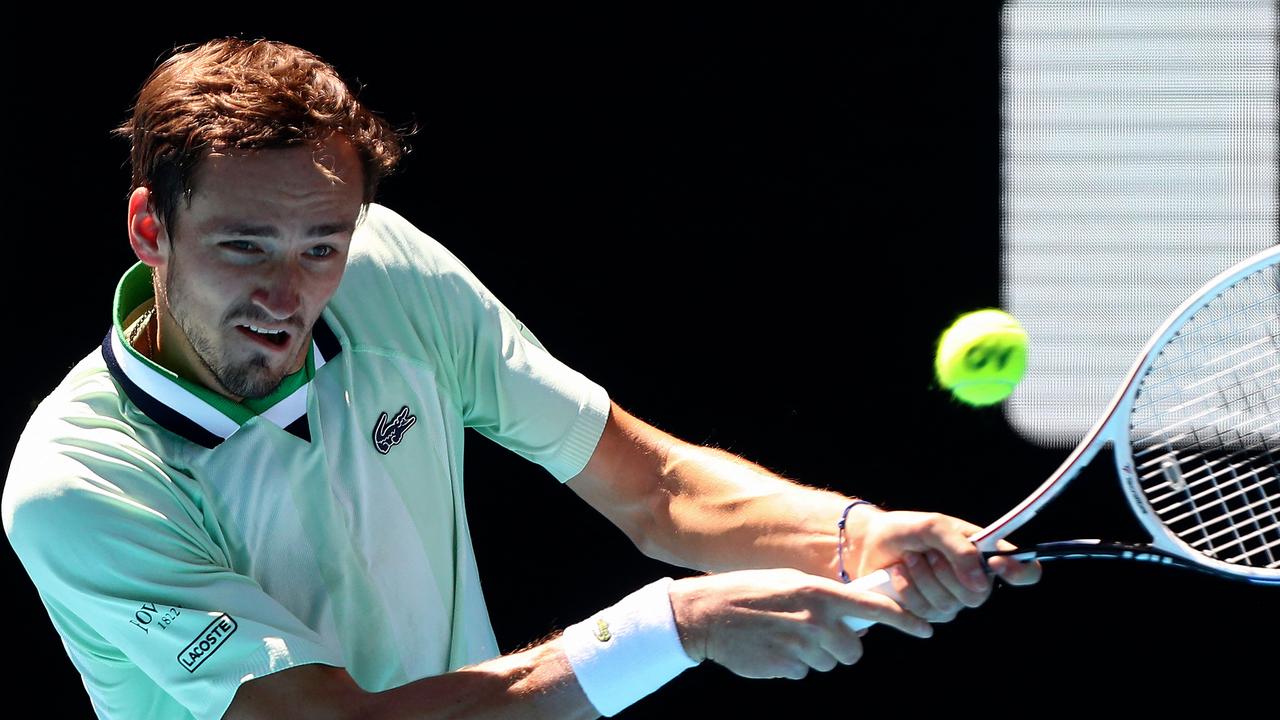 Medvedev had to pull out all the stops to put Cressy away. Picture: AFP
"For who are the rules? I freaking can't pee but he can wait seven seconds (to serve) and you don't say anything," Medvedev said on court.
"The rules are for who? The rules are for who? Who are the rules for? Who makes these rules?"
As his match threatened to unravel, and Cressy defended eight break points in the fourth set, Medvedev shouted this is the "most unlucky day of his life" after he hit the net cord and watched the ball bounce back on his side.
In Medvedev it was the final straw on an unlucky run.
"I'm like 'when will this end?'," he said.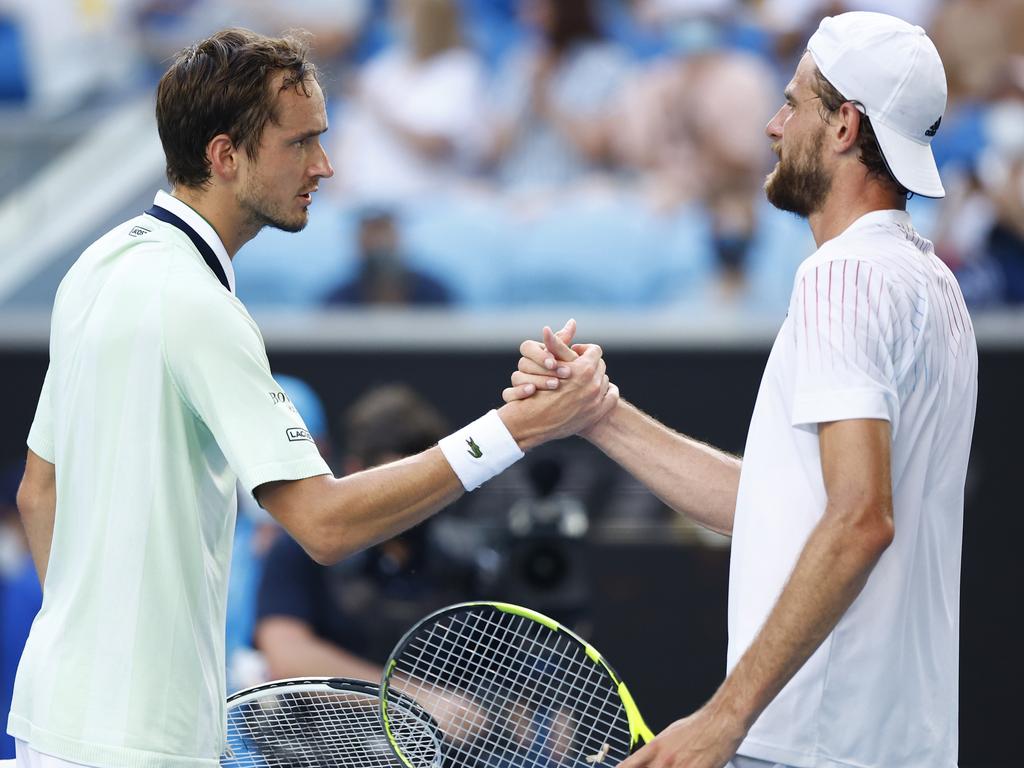 Medvedev and Cressy after their four-set battle. Picture: Getty Images
Originally published as Australian Open 2022: Stefanos Tsitsipas defeats Jannik Sinner in men's quarter-finals