Australian Open 2022: Sam Stosur's first round victory over Robin Anderson holds retirement at bay for at least a few more days
With her tennis career winding down and a family to care for, Sam Stosur almost didn't play singles this Open, writes LINDA PEARCE.
Sam Stosur was not going to play singles at this Australian Open. So low had her confidence dipped after a difficult year that the 37-year-old was planning to slip quietly into retirement. Her Melbourne Park farewell would be a doubles-only - probably permanent - affair.
"I kinda walked off the court at the US Open and thought, 'Oh, might be it. I think that's probably my last match,''' Stosur told CODE after Tuesday's stirring three-set defeat of US wildcard Robin Anderson that was far from her biggest or best, but will still count among the highlights from her sometimes-torturous home slam.
Sam Stosur of Australia and Shuai Zhang of China celebrate after winning the women's doubles final at the 2021 US Open. Picture: Al Bello/Getty Images
Her coach and long-time friend Rennae Stubbs could understand why Stosur might have been done, having not won a singles match since her first round here last February. "There's a point where the stress is not fun anymore and I think that's kind of where she finally got to with this situation,'' Stubbs, also a former world doubles No.1, says.
"It's just like, 'Geez, do I really want to go out there and play shit? Keep questioning whether I'm good enough?' She wasn't even gonna play here. She was really, really adamant about that. Then, 'I don't know,' and, 'Maybe,' and then she made the decision and I said, 'OK, let's go, let's go from there , let's make a run at it'.''
Not for the title, of course, for the pair are realists, and a joke in the interview room about an all-Aussie final against Ash Barty was met with the "put it on the front page" humour it deserved.
There has also been an understanding during their partnership of just over two years that there would be no sugar-coating reality, for the plain-speaking Stubbs had promised to tell Stosur when her time was up.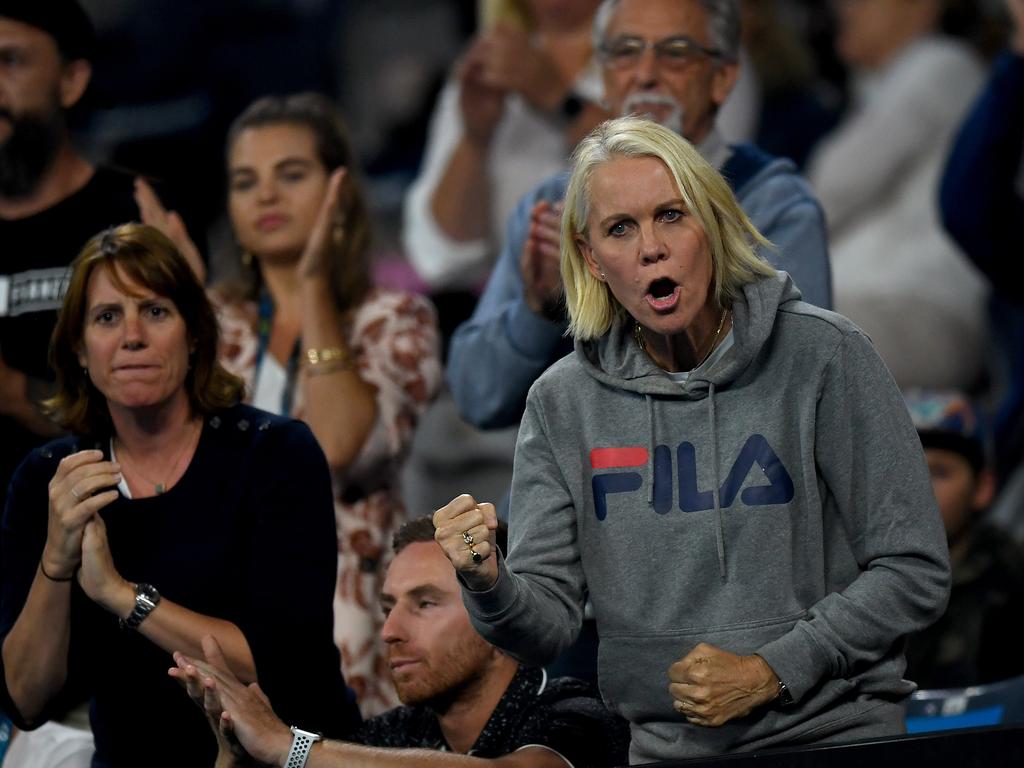 Sam Stosur's coach Rennae Stubbs, seen here cheering on her player at the 2020 Australian Open. Picture: AAP Image/Lukas Coch
What she told the world No.487 (formerly No.4) in a pre-match pep talk was slightly different than usual because any loss would be her last after 796 matches, 20 home slams, and one stupendous US Open title plus another seven majors in doubles and mixed.
It also reinforced the deal that was done long ago.
"Stubbsy said, 'I haven't told you it's time and I'm not telling you today. This is not going to be it today,''' Stosur recalls. "We obviously have known each other for a very very long time, and I didn't want it to be it today, so thankfully I was able to dig in and play well and obviously get through.''
The same message was relayed at the end of the first set.
It's not time. Not yet.
This is not your last match.
I'll tell you when it is.
*****
It took two hours and 29 minutes, 12 Stosur aces and 53 unforced errors. It finished with a 22-stroke rally and was her 454th career win at Tour-level, leaving Anderson zero-from-one.
The marathon last game of the second set was excruciating in a particularly Stosuresque way. Wild mis-hits alternating with a clutch of aces. Heads thrown back in anguish and frustration. And that was just the crowd.
Moments like these must prompt someone like Stubbs, who has a successful career as a TV analyst for ESPN, to wonder why she had signed up.
For moments like the ones they shared afterwards.
That's why.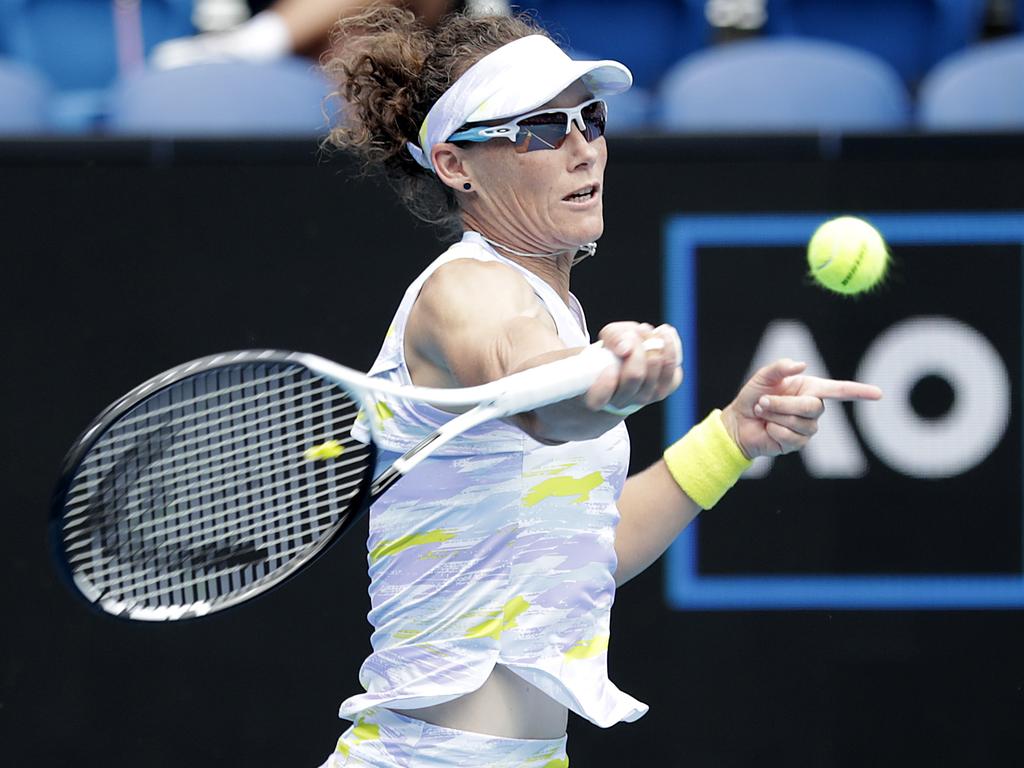 Australia's Sam Stosur in action against USA's Robin Anderson during day two of the 2022 Australian Open. Picture: Mackenzie Sweetnam/Getty Images
"For me I just know what she's capable of doing, so I just want her to do that, so that's where it's a touch frustrating, because I'm like, 'God, I know how much better you can hit that shot.' I felt the same way when she won the (2021) US Open doubles.
"I get overwhelmed because I want her to be happy on the tennis court and I think she was happy on the tennis court today and that was really nice to see. Win or lose I think she really, really enjoyed it today and that is all we wanted out of that experience.''
Stosur is an understated type, generally. There are no affectations or elaborate routines. Before serving, it's a little blow on the hand, four bounces, a second to steady, then go. She likes a brisk pace, little fuss and zero histrionics. A suspicion over the years that she has quite enjoyed retreating behind her sunglasses has contributed to a perception that she is a little hard to know.
But this was animated Sam. Fist pumps and c'mons. Willing herself on as if this was the last singles match she would ever play. If she'd lost, of course, it was.
Some personal bests on the on-court celebration front, then?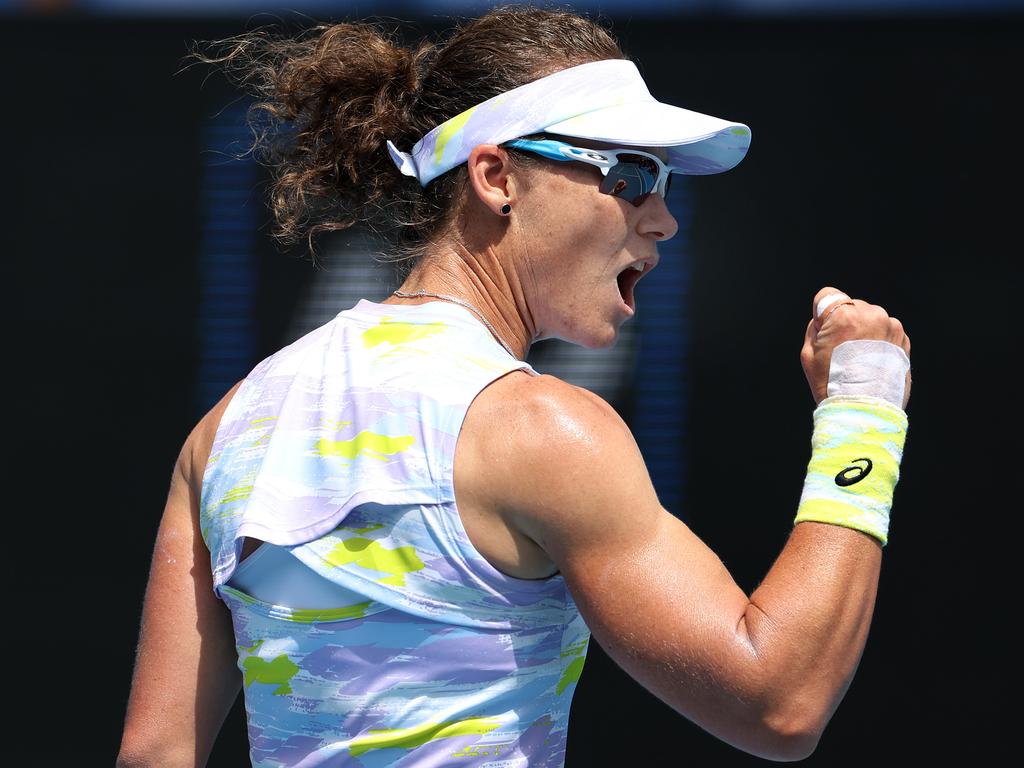 Sam Stosur was pumped up during her 2022 Australian Open first round victory. Picture: Michael Klein
"Yeah, possibly. Having got myself out of a couple of sticky situations and serving for that second set there were obviously break points either way and hit a few aces, and if you can't do it then you're never gonna do it! And the crowd was great, they're all cheering for you, so you give 'em a little something back. It was fun.''
It seems self-evident that if she had managed to play a little more freely in her pomp, that some of the results may have been different, for two fourth rounds in 20 attempts is as far as the Queenslander has ever got.
"It would have been really nice for her to have those relaxed moments here, but you know, there's a lot of people that played great in Australia and they sucked everywhere else," Stubbs says. "They'd have these amazing moments at the Aus Open, and everyone knows who they are, then they don't do anything outside of Australia.
"Sam is the opposite. Sam has had the most incredible career away from Australia, she's had a couple of decent matches and tournaments but the expectation on her here was to play like she did everywhere else. The surface probably didn't suit her, the balls didn't really suit her. So all those factors came into it here. Plus, she needs a lot of matches to feel good.
"Last year, for example, she had no matches coming in here whatsoever, she didn't play at all."
Doubles gave her confidence, as it did in the early days, too. "She was a different tennis player going in this year than what she even was last year. Even though she'd decided to retire, she's a better player, she's in a better place physically and mentally with her tennis and everything.''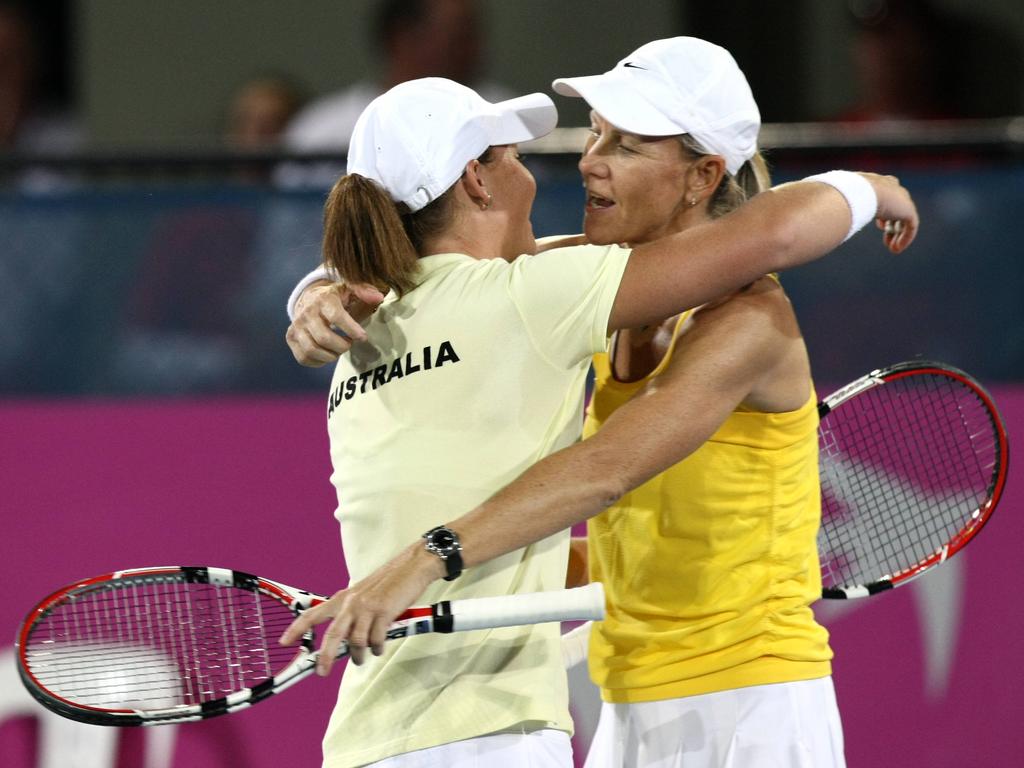 Rennae Stubbs and Sam Stosur of Australia played doubles for Australia in the 2010 Federation Cup. Picture: Simon Cross
As she slumped, grinning, in her chair, her partner Liz and Stubbs were embracing, and the fans around a not-full-but-noisily partisan new 5000-seat arena were on their feet, too. Cheering when the score was confirmed, then booing when told the post-match interview with Channel Nine would not be audible.
They would have liked it. The money quote: "Man, that was incredible. That's a match I'm going to remember forever. It is one of the best singles matches I had played in a very long time. And to do it at home today, I guess it wasn't to be the last, so happy to have another one.''
That will be against French Open finalist Anastasia Pavlyuchenkova, the 10th seed, whom she played for the first of eight times (tally 4-4) in 2008, Stosur's first professional match having come as a 14-year-old.
What made this last one so special included the stat she learned from Stubbs later: it was the first time she had won at Melbourne Park from a set down since beating Conchita Martinez in 2003.
That tickled Stosur's fancy a bit. "That in itself,'' she smiles, "is an accomplishment for me.''
*****
Toddler Evie was at home in Melbourne's northern suburbs with the babysitter after a few hours with her grandparents as the drama unfolded. It was a rare day when everyone had somewhere else to be.
Evie may come on Thursday but, then, given she thinks every time she sees someone playing tennis on TV that it's her mum, anywhere is a nice and simple place to be.
Stosur's parents and brother Daniel were in the crowd, and it mattered not in the slightest that this was a long way from counting as her best or biggest win, given it was the first round, and her opponent was on debut at the age of 28.
This was Australian Open No.20.
Many - not all - of the previous 19 have been underwhelming, so how bloody great this felt.
And how much suffering she has endured at Melbourne Park. Ridicule. Cheap shots.
"It's a joke. It's embarrassing,'' says an unashamedly protective Stubbs. "She hasn't had her best tennis here but my God she's had great tennis throughout her career.
"She was in the top 10 for how many years. It's incredible what she's been able to do for the amount of years that she's been able to do it and with grace and all of the stuff. Oh, and by the way, a grand slam singles champion and multiple doubles and mixed doubles champion. I mean, what more do you want from her?''
So, whether there is another match left or a couple, how should we remember Sam Stosur, the champion singles player?
"Um. Wow. One of the hardest working and classiest,'' says Stubbs, who had been thinking the previous night how she would answer such a question when asked.
"She's just always done it the right way. She's never had excuses, and she's been through hell and back with her injuries and her Lyme disease and viral meningitis and shoulder problems and you name it, she's had to come back from major injuries and issues and she's never ever ever complained.
"She just always got on with it and she's just the epitome of a professional and incredibly nice human being to boot.''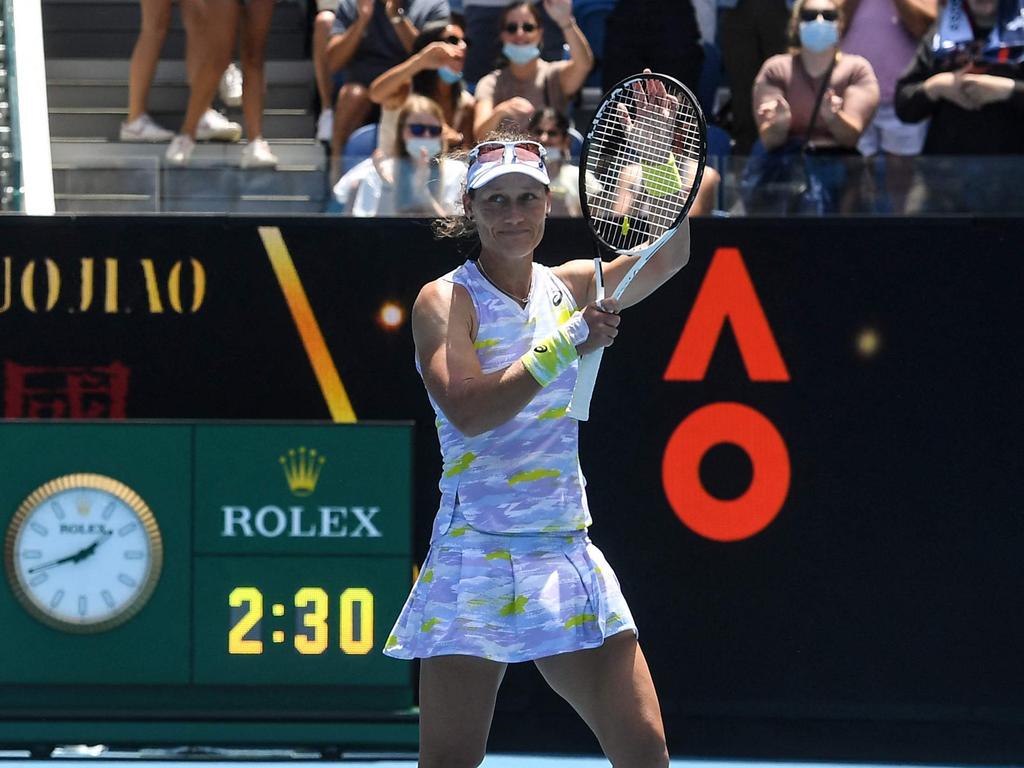 Sam Stosur celebrates a meaningful first round victory in her 20th Australian Open. Picture: William West/AFP
This long-time correspondent can vouch wholeheartedly for all of that, and it was with pleasure, having covered so many tough losses in Melbourne, to be able to ask about what may or may not be one last victory.
"Oh, definitely up there on the more emotional/enjoyable/satisfying wins no doubt,'' Stosur says. "I've had some good wins here in the past, too, but it's funny, someone asked me the other day, 'Does it feel like 20?' and I was like, 'I cannot even remember all of them. I honestly can't remember some of the matches I played'.
"So this is the freshest. This is the moment I remember now.''
*****
The sounds of summer go beyond just the cricket on the wireless, the ring pull on a stubby or the cicadas under the verandah. It's the distinctive noise of a wildly shanked Stosur forehand alternating with a crashing winner or a sweetly struck serve. Applause mingling with the collective groan of a crowd wondering how much longer they can bear to watch.
Happily, another round, at least.