Australian Open 2022: Thanasi Kokkinakis' first round defeat and modest crowds marked an unusually subdued opening day
A fortnight of high drama was followed by an oddly quiet opening day played to modest crowds, writes LINDA PEARCE.
The Australian story of the tennis summer so far, as opposed to the legal imbroglio that stained it, lasted barely two hours after being relocated to Melbourne Park. As buoyant as Thanasi Kokkinakis was when he arrived at his sixth Australian Open was as deflating as the manner of his exit.
Perhaps we should have suspected something like this, for Kokkinakis had played more tennis in the past two weeks than across periods of many months during seven injury-riddled years. He had a single day to travel from Adelaide, rest, recover and recount one last time his emotions and the euphoria from his maiden ATP title on a memorable Saturday night.
On Monday, Kokkinakis backed up against a German qualifier, Yannik Hanfmann, who had never won a singles match in six previous slams, but was primed for this one, curbing the enthusiasm of an overflowing crowd on show court three by breaking serve in the opening game, while dropping just three points on his own in the first set, and eventually winning 6-2, 6-3, 6-2.
While 30-year-old Hanfmann was a model of German efficiency in the early stages in particular, Kokkinakis could find little of the spark he showed in his irresistible surge to the title at Memorial Drive. He was irritated by the balls and the waiting, out-of-sorts all round. Timing was awry. Legs sluggish. Energy absent, despite the best efforts of the packed house willing him on.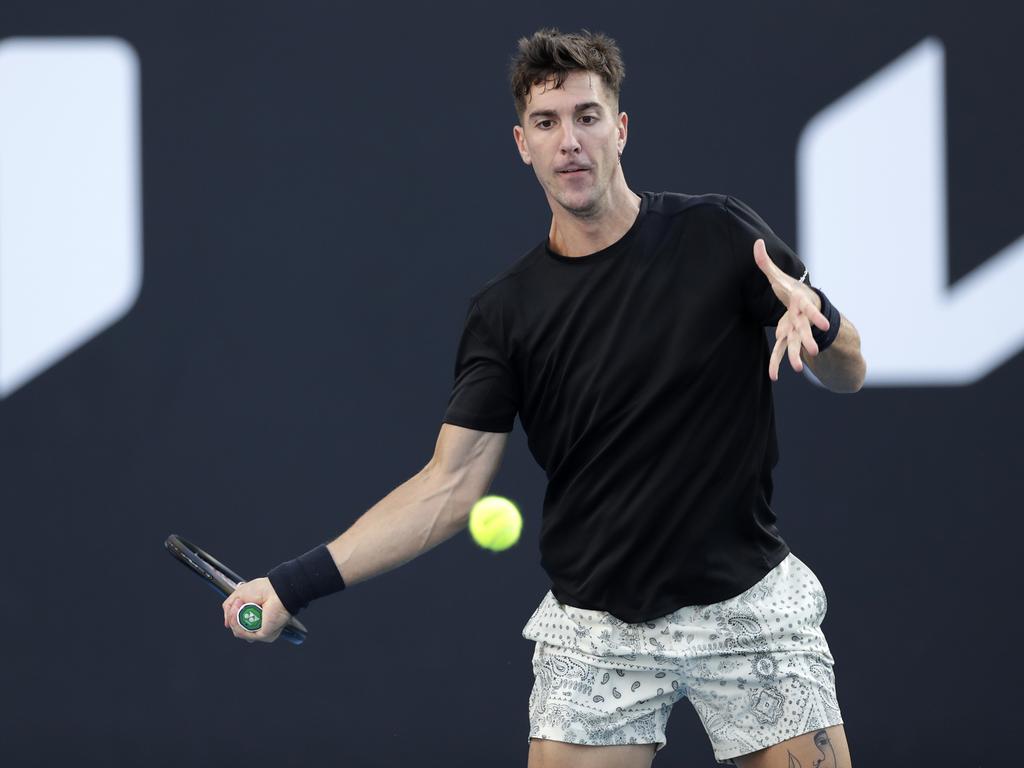 Thanasi Kokkinakis couldn't find his form from Adelaide as he fell to defeat against Germany's Yannick Hanfmann. Picture: Mackenzie Sweetnam/Getty Images
Doubles with his mate Nick Kyrgios is still to come, and so is an imminent return to the top 100 from his current slot three places outside. What Kokkinakis has done already in what will be a long year on the road looms as a springboard, even if this was more like a belly-flop, at his least-preferred time.
While women's top seed Ash Barty was cruising on Rod Laver Arena to start the evening session, and Australian No. 2 James Duckworth was already long gone, beaten in five after leading Frenchman Adrian Mannarino two sets to one.
Given the absurd drama that preceded it, the upshot was a slightly anticlimactic opening day.
*****
Aleksandar Vukic, Australia's first winner, is one consonant away from sharing a name with a president.
Serbia's.
I know. Apologies for mentioning that part of the world now that the tennis action has finally switched courts. Old habits, etc.
A new Australian Open, though, and just as the dethroned top seed hung on grimly before being strong-armed out of town, a tournament still digesting the finality of his sensational absence took a little while to warm up. Under dull grey skies, the atmosphere was subdued, the crowds modest, the feeling unusually flat for opening day.
RLA had just a sprinkling of fans — no problem social-distancing there — for Maria Sakkari's straight-setter against Tatjana Maria, which was never going to be anyone's idea of a blockbuster, and had punters complaining from the not-so-cheap (at $160) seats.
It warmed up a little for defending champion Naomi Osaka and finished the day session appreciating the imposing form of the only member of the men's Big Three still here and capable of breaking the 20-slam deadlock in these next two weeks.
This is the first time without either of the other two this century, but not only is Rafael Nadal still here, fully vaxxed, fitter than sometimes, and speaking in his everything-is-black-or-white way while wearing a pleasing shade of magenta, there would be no more popular winner of the men's title he has not owned since 2009.
Apart from an Australian, of course, and if it seems safe to say in the most respectful way that it won't be Vukic, despite his debut main draw grand slam victory after two previous losses that was easily the biggest moment of his career.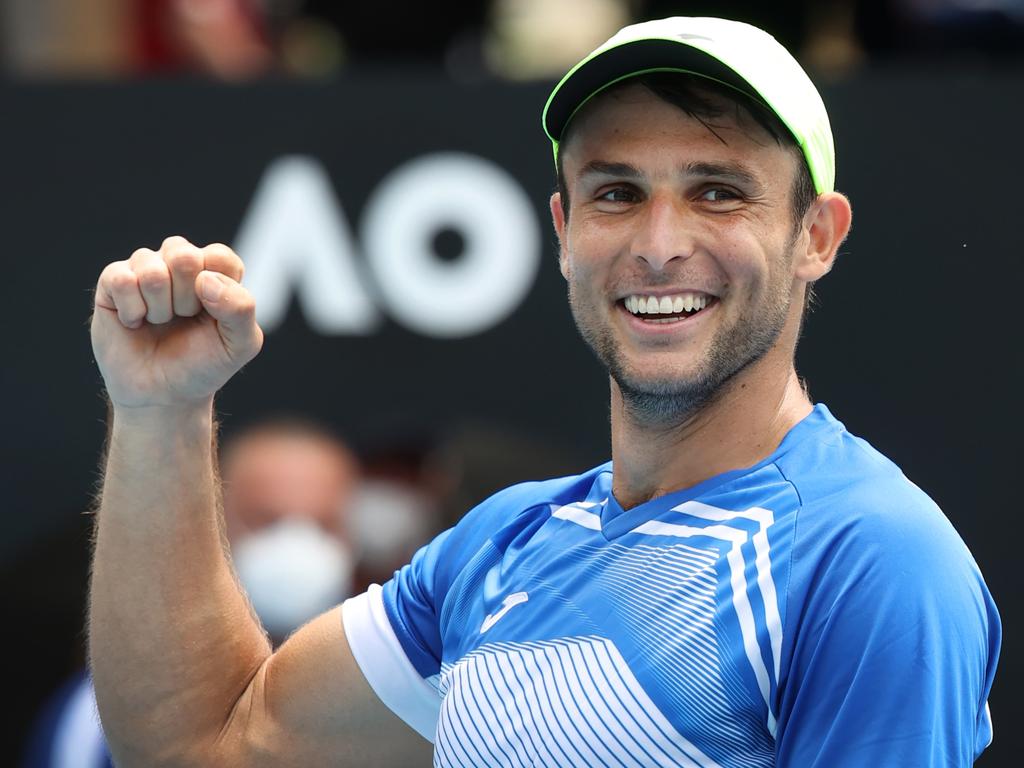 Aleksandar Vukic upset the seeded Lloyd Harris in a brilliant performance on Court 3. Picture: David Caird
Said as much, after the celebrations that followed the world No. 144's four-set defeat of South African 30th seed Lloyd Harris, in front of his whole family, some old friends and some entirely new ones in the crowd for just short of three hours.
"It's totally a dream,'' said Vukic, 25, who took the US College route via the University of Illinois and is seeking to graduate next from the Challenger circuit, and reached the Adelaide quarter-finals. "You grow up as a kid watching that court and watching the pros and I never thought it'd become a reality."
*****
Evidence of the cosy relationship between Tennis Australia and the Victorian Government is everywhere you look, now that the curtain has been raised on the last stage of the shiny redevelopment of Melbourne Park.
There are $972 million reasons for what has been a very convenient marriage, which must have been unusually strained in recent weeks as evidence of the Djokovic exemption shenanigans emerged and fingers were pointed everywhere.
The 2022 version includes a beach club, complete with sand, deckchairs and a water feature, an extra 5000-seat show court, and a new media building on the site of the old function centre, where the windowless ground floor writing room has a bit of a gaming-room-at-Crown feel about it. Not a compliment.
But it's roomy, and may even get back to somewhere near full capacity eventually, with more journalists here than last year, but many of the international regulars having again stayed away.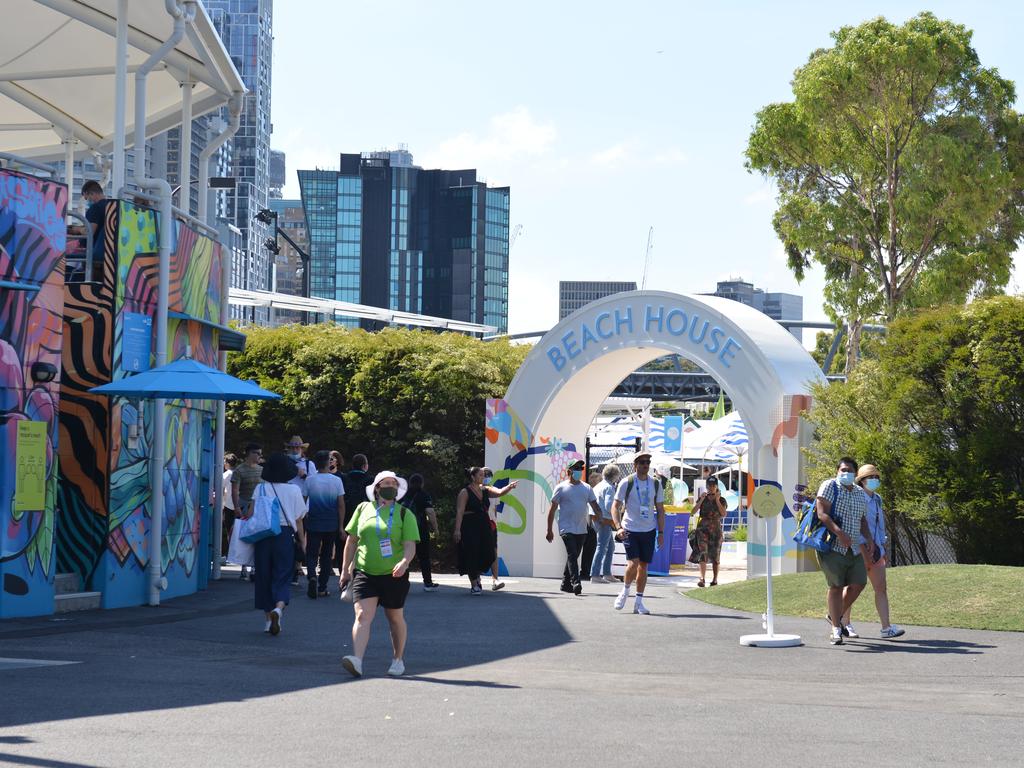 The new Beach House is one of a number of new venues at this year's Australian Open. Picture: Recep Sakar/Anadolu Agency via Getty Images
The interview room has also moved to a more spacious new accommodation from a temporary set-up in the building next door, which in turn replaced one of the more ridiculous arrangements imaginable. It involved players seated at the bottom of an amphitheatre, and being forced to stare straight up into the blazing TV lights, interrogation style. Not to give Border Force any ideas. Just saying.
Another new addition this year is the Covid Marshall roaming the media aisles handing out and strictly policing the wearing of N95 masks that threaten to cut off facial circulation. Daily rapid antigen tests have moved from an honour system to a show-us-the-evidence approach now that the tournament has started, so at least that solves the mystery for people struggling to find RAT packs in the shops.
There's a truckload of them here.
*****
Back to Serbia. Just briefly. And not President Vucic, but his country's deported nine-time champion, whose place on RLA was taken by his pal Alexander Zverev.
Yet again, a sizeable slab of the evening news bulletins were dominated by multiple stories about this shemozzle, the deportation, the reaction, the heads that should roll (Craig Tiley's) and the tournament director who remains conspicuously missing in action (Tiley again).
Among Djokovic's peers, Nadal was one of the few still willing to discuss the subject, reiterating when the original court decision was handed down a week ago and his rival's visa reinstated that "justice have spoke … so that's the fairest thing, that he deserve to play here'', Nadal said after his first round win over Marcus Giron. "Yesterday the justice said another thing. I will never be against what the justice says.
"Another thing is what I believe personally and what I believe is the ideal situation personally, no? The ideal situation in the world of sport, that the best players are on court and playing the most important events without a doubt. That's better for the sport without a doubt
"If Novak Djokovic is playing here, is better for everybody, no doubt about that. Another thing is what happened. As I said in the beginning, I can't say another thing because I believe that the situation is very clear now."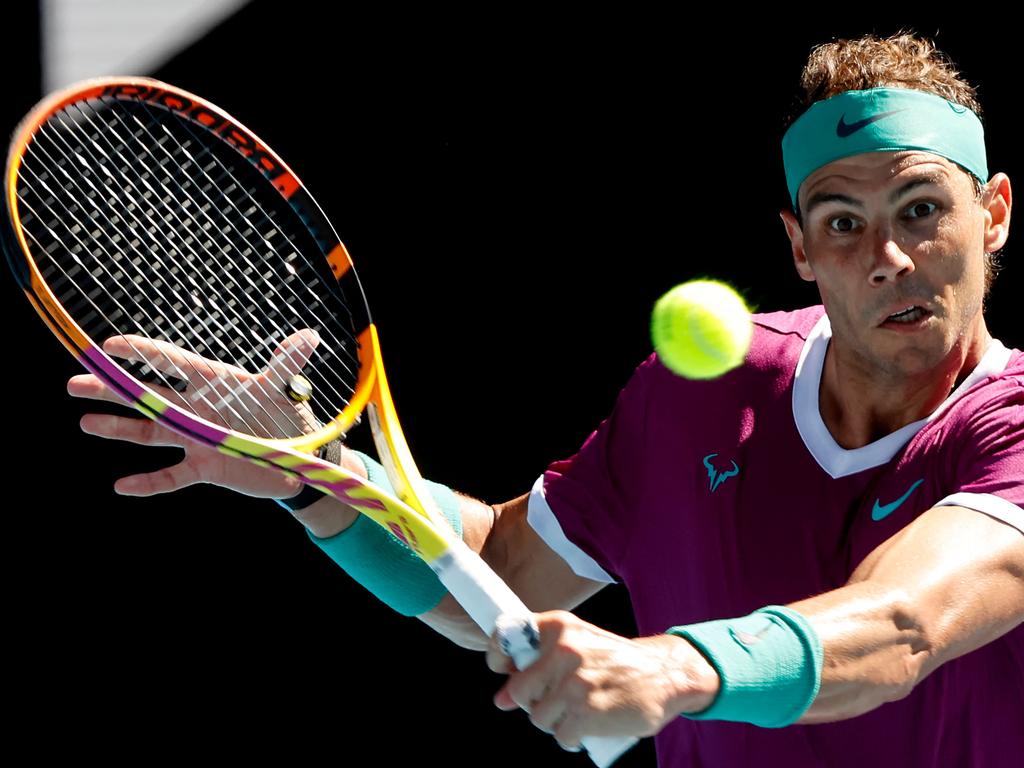 Rafael Nadal agreed that the circumstances of Novak Djokovic's return to Serbia weren't ideal after the Spaniard's first round win over Marcos Giron. Picture: Brandon Malone/AFP
It was "a mess", said Nadal, but there was plenty of blame to share. "He's not the only one that did probably the things bad in that case," Nadal said "Of course, there is more responsible on all this terrible situation that we faced for the last two weeks. But of course he is one of the responsibles, too.
"So in a personal level, yes, I would like to see him playing here. If is fair or not that he's playing here is another discussion that I don't want to talk any more about that."
And yet, but for maybe just a little longer, we still are.