Australian Open 2022: How Ash Barty's brand will endure when she hangs up her racquet
One of the nation's biggest agents to the stars says Ash Barty's combination of talent, likability and global appeal will keep her 'unique' brand shining long after she retires.
Ash Barty has "unique'' appeal in Australia's sports marketing landscape which will linger long after she leaves the sport.
This is the prediction of celebrity talent agent Max Markson who says Barty's likability, sporting prowess and global appeal gives her the chance – if she so desires – to leave a mark on tennis which would stretch far beyond the court.
"She has the potential for her brand to live on well after her career is finished,'' Markson said.
"That happened with (tennis players turned fashion designers) Fred Perry and (Renee) LaCoste.
"There is no-one like her in Australian sport at the moment. I can't think of a more marketable Australian athlete. Even the top Australian golfers. They are not household names globally. She is.''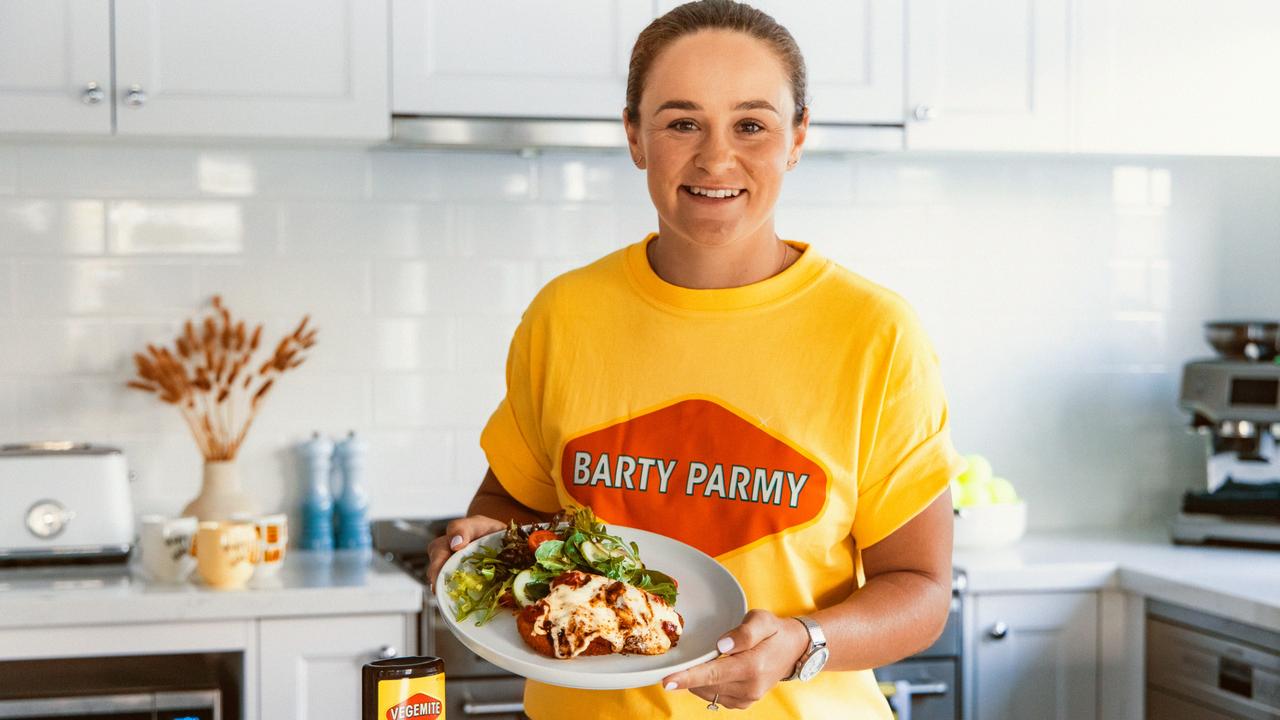 Anyone for a Vegemite Barty Parmy?
Barty already has a host of sponsors including Jaguar, Vegemite (she takes a jar on tour), FILA, Uber Eats, Kayo Sports, and Head rackets and Markson said many more will knock on her door.
"She is a brand. A world No 1 like her would happily suit companies anywhere – Serbia, Great Britain, Canada, South Africa. It doesn't matter.
"She is loved by Australians. She is not a flash in the pan. She has established herself with two Grand Slams already.
"Unlike some footballers and cricketers she behaves really well and just to reinforce this she paid tribute to Rod Laver which is beautiful.
"To see a young athlete acknowledge the greats who have gone before her was really something. Marketability … she can do what she wants.
"Some players are disrespectful to the sport. She isn't. She is not controversial. Any brand would love to have her. Her name is instantly recognisable.''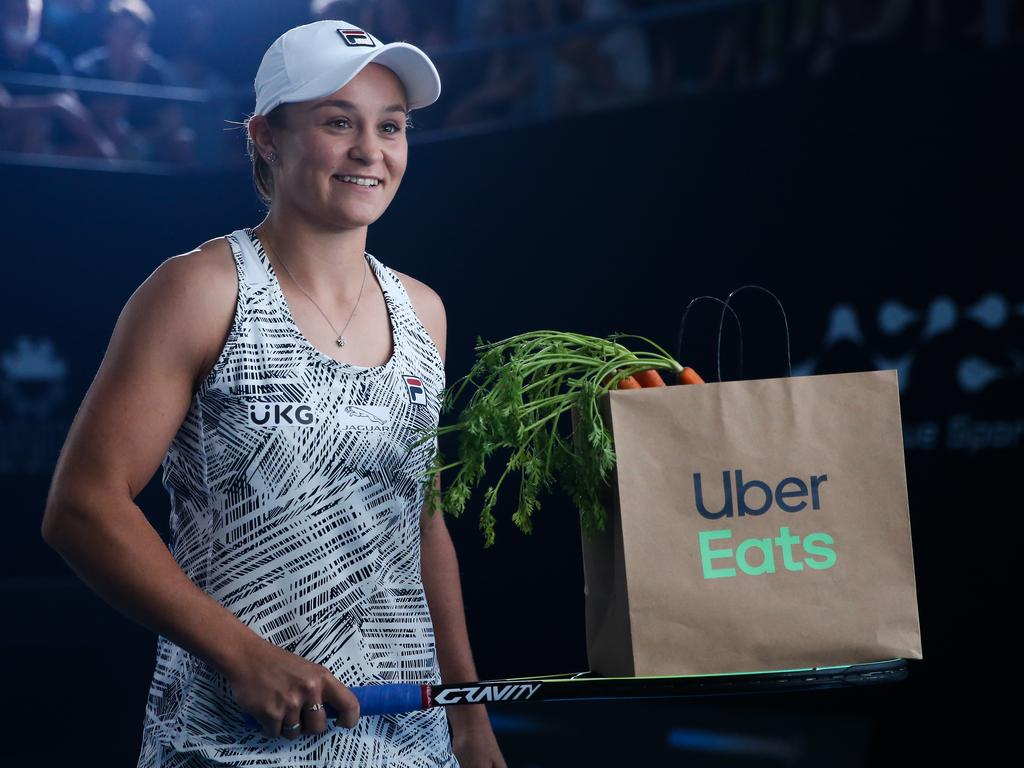 Brands are clamouring to be associated with the world No.1. Picture: Zak Simmonds
Barty's appeal was evident in Channel 9's Sunday night ratings for her straight sets Australian Open win over big-hitting American Amanda Anisimova.
The match was Nine's highest rating for the tournament, peaking at 1.94 million viewers nationally.
She continued her march through the tournament, winning her quarter-final over American Jessica Pegula in straight sets to set up a place in the last four
Barty's best? We ain't seen nothin' yet: Coach
—Scott Gullan
Ash Barty's coach says the world No.1 hasn't been at her best despite steamrolling her way through to the Australian Open semi-finals.
The two-time grand slam champion hasn't dropped a set for the entire tournament with Craig Tyzzer warning her rivals there is still room for improvement ahead of the semi-final showdown with big-hitting American Madison Keys.
Barty has conceded only 17 games in five matches and is unbeaten all summer, winning an incredible 73 of her 74 service games stretching back to her first outing of the summer in Adelaide.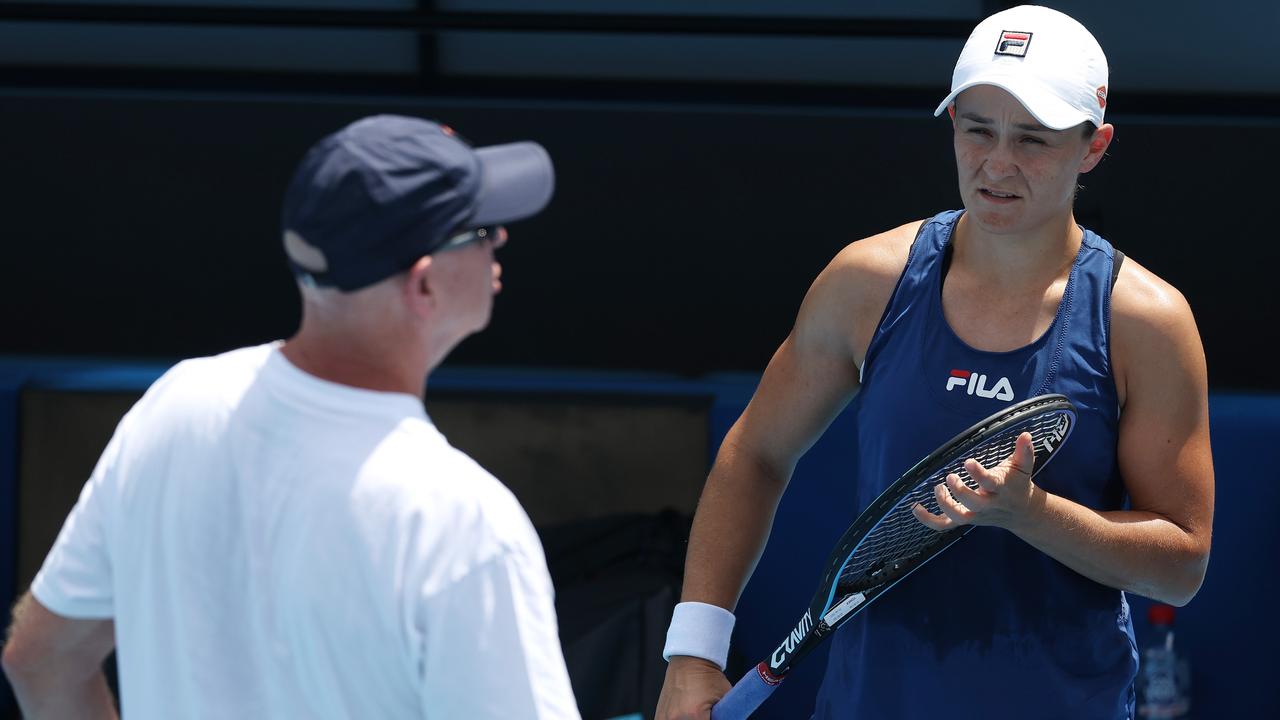 Ash can get better: Craig Tyzzer is talking tough as Barty closes in on the Aus Open title. Picture: Michael Klein
"I don't feel like she's played her best tennis here yet, which is great in that sense," Tyzzer said.
"It's still building and she's still got to keep working and being ready for every time she steps out there.
"I think she's played better at times. I think she's just handled everything really well here. It felt like even last night's match (against Jessica Pegula) I thought the scoreline didn't really reflect the match in the end.
"I thought it was a lot closer than that scoreline (6-2 6-0). I think she just played at a good level and kept pressure on all the time."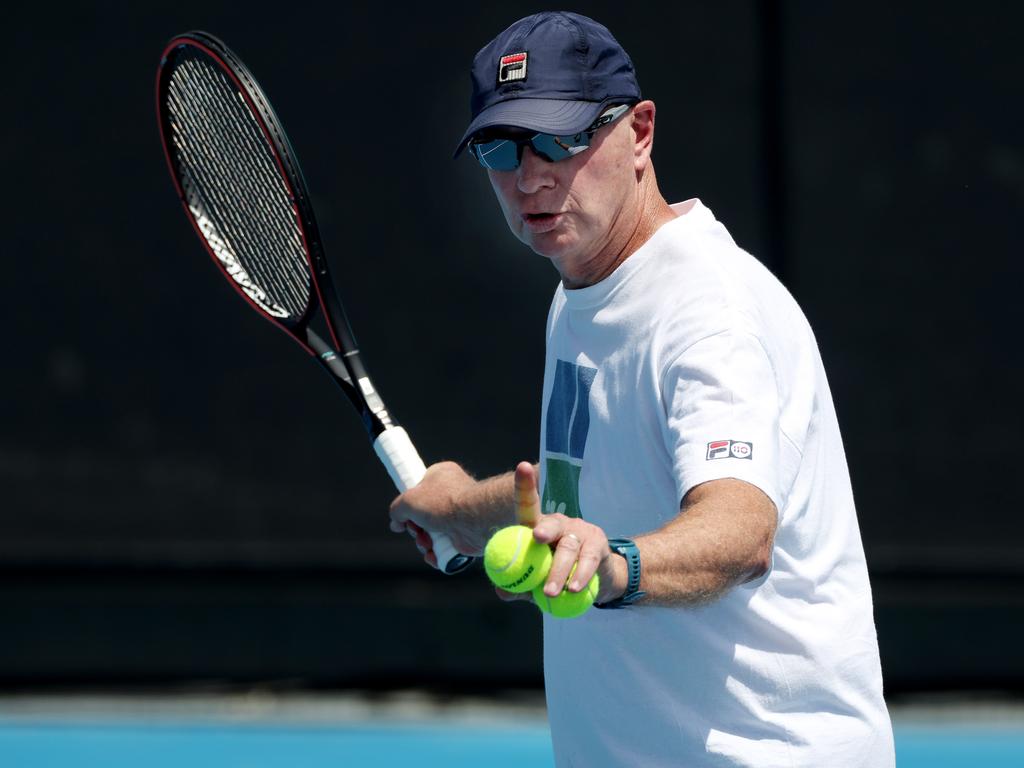 Tyzzer imparts some wisdom on his world No.1 charge. Picture: Michael Klein
Tyzzer explained how the very best players have an ability to continue winning despite not being at the top of their game.
"Last year, we were away for seven and a half months, we talked about her best matches and Ash said there were probably four times where she felt like she played her best tennis," he said.
"That was seven and a half months of tennis. I think it's her ability to on the days when she's not playing well, still look like she's playing well and still be able to compete.
"Whether or not she brings her margins in or corrects something or tries something different, she's more capable of handling those days when it's not that good. I don't think from the outside you can tell.
"It's probably the same with most of the top players. Their consistency level is huge. Even if you watch them, you can't tell a lot of difference.
"But obviously Maddie (Keys) is going to be a huge challenge. She is such a powerful athlete and powerful game. Ash has got to be really switched on to be in a contest out there."
The Barty camp has kept the same routine as normal, blocking out all the hype around the long Australian drought at Melbourne Park with Wendy Turnbull in 1980 the last local female player to feature in the Australian Open final.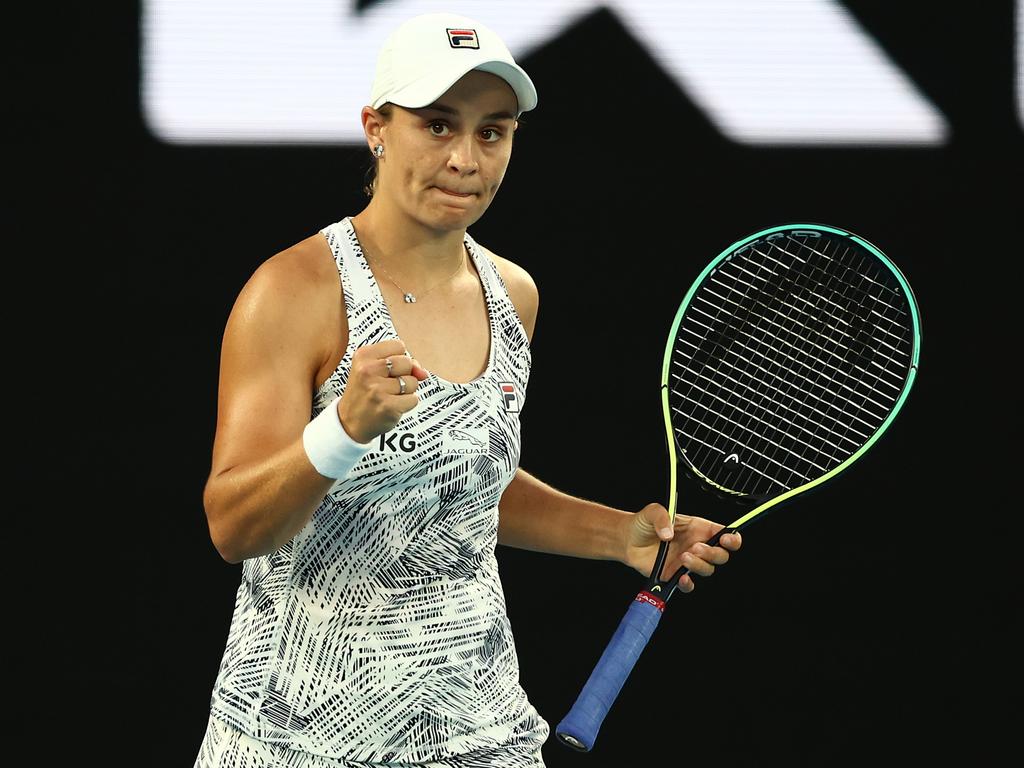 Barty has been unstoppable at the Open. Picture: Getty Images
"We don't talk about that at all," Tyzzer said.
"We do the same preparation for every match. You don't want to bring anything new in or make it more than what it actually is.
"It's really just what she needs to do in the next match as far as we look because you basically could be out in your next match.
"We prepare the same all the time. I do the same work, Ash does the same work. There's really no difference for us in that sense. We try to keep things pretty simple and pretty streamlined."
Barty defeated Keys in the quarter-finals at Roland Garros in 2019 on her way to her first grand slam title.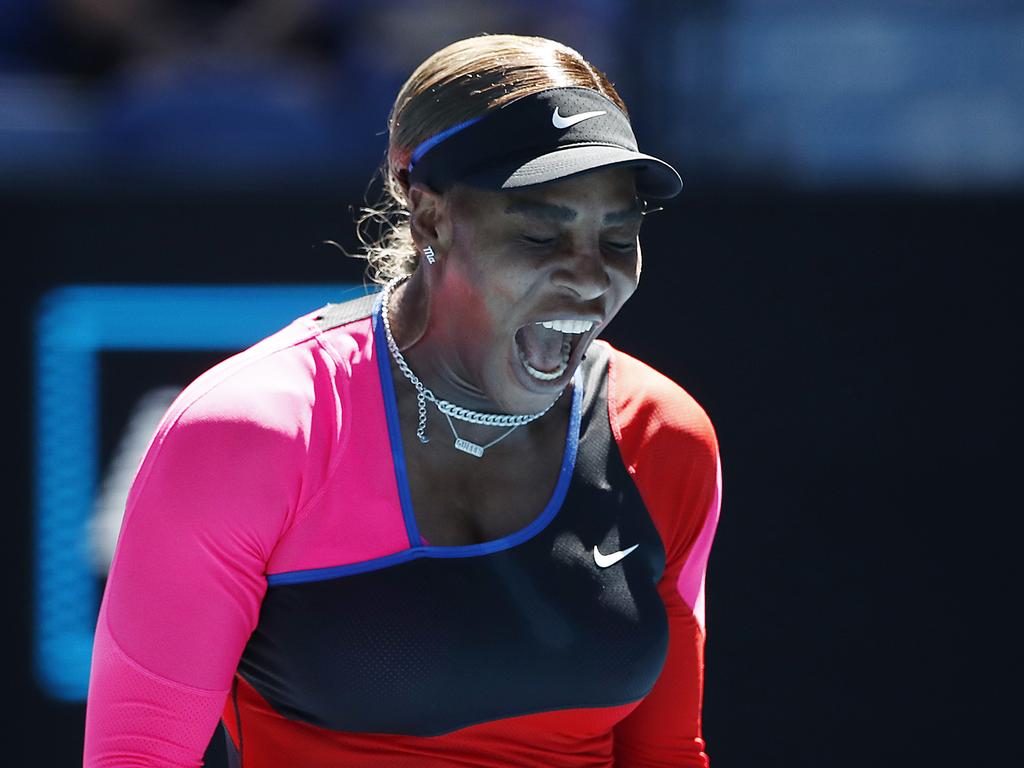 Come back, Serena! Picture: Getty Images
Where's Serena? No drama or tension, Barty needs a real rival
—Will Swanton
You know what I'm thinking throughout Ash Barty's win? Oh, I miss Serena.
Her American Hustle is missed. Barty can only beat who's placed in front of her at the Australian Open and she swiftly accounted for Jessica Pegula 6-2, 6-0 on Tuesday night. It was a clinical victory that yet again proved she's a class above most of the women at Melbourne Park. Why miss Serena? Because for us to learn how great Barty really is, she needs great matches.
Tough matches. Dangerous opponents. Grandstand finishes so nerve-racking you want to hide under your seat. Who made Rafa great? Roger. Who made Roger great? Rafa. Barty needs an equivalent of Roger or Rafa to push her to heights she may not know exist yet. If only big, bad Serena Williams was lurking in the Open draw, eh? If only we were breathlessly anticipating their final. If only, if only, if only.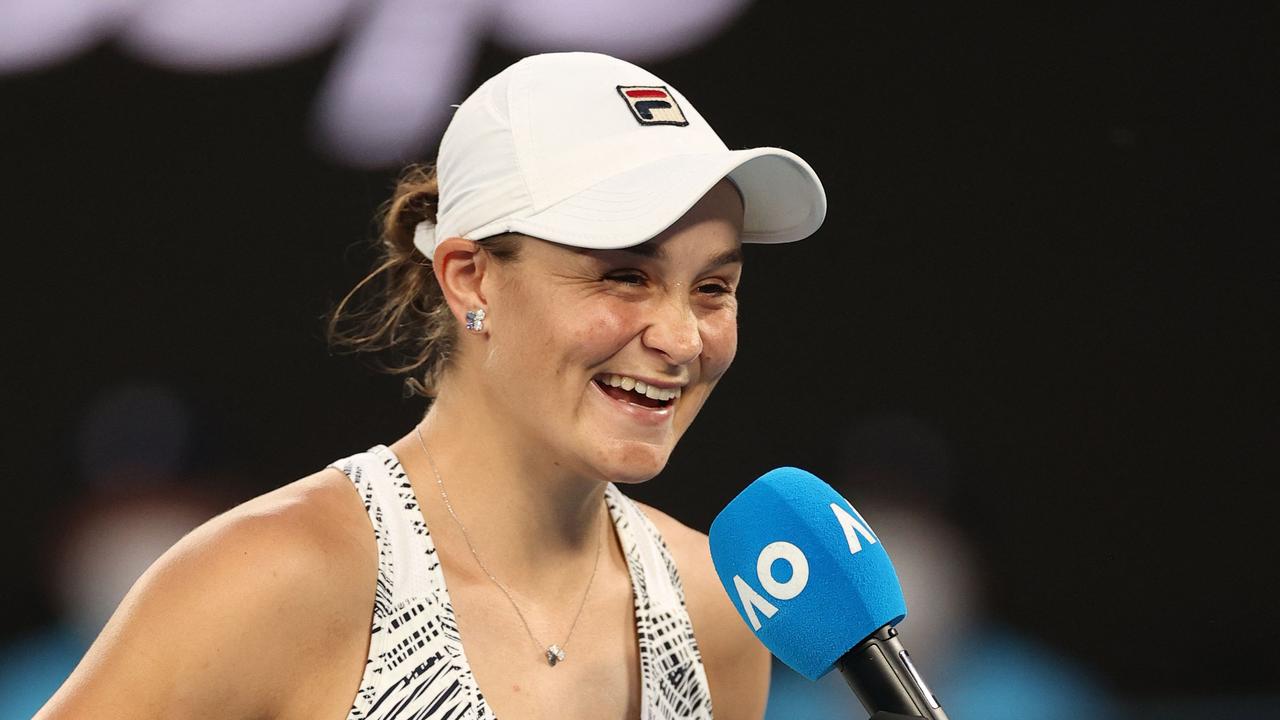 Ashleigh Barty had yet another dominant win this tournament, and is yet to drop a single set, Picture: AFP.
Barty's beautifully untroubled move through the Open draw continues at pace. She finds a weakness in an opponent and pokes at it. She pushes and prods and applies just enough pressure to make it hurt. Pegula resists for a short while but rather quickly, inevitably, the American completely falls apart. She's shaking hands at the net and thinking, what just happened?
Poke, poke, poke. Barty doesn't overpower anyone. She doesn't dominate like the heavy-hitting glamazons who preceded her as the World No. 1, primarily Williams and Maria Sharapova. Poke, poke, poke. The Wimbledon champion's strength is that she has no real weakness of her own. She can poke to her heart's content without being poked back. There's nothing to poke. The theory is that Barty's only susceptible to megapower. Pegula doesn't have it. Not even close.
Madison Keys will be Barty's semi-final rival on Thursday night. The American is perhaps the only player in the draw who can hit the ball cleanly and heavily enough to knock Barty off her feet. We shall see.
Can Madison Keys be the first player to make Ash Barty drop a set this Aus Open? Picture: AFP.
Conditions at the Open this year couldn't be more favourable if Barty built the court herself and cooked up the balls. Both are lively and reward her style of play. There's spin and pop and skid and steepling bounce. Which is perfect for Barty. Dead balls and courts give little value for money but Rod Laver Arena rewards those who can make a ball sing.
Barty trails 0-40 in the opening game. She breaks Pegula's serve. The result is inevitable. Pegula's strength is owning the baseline. Standing in the middle of the court and blazing away. Her weakness is being shifted off balance, moved from side to side. So Barty pulls her from corner to corner. Down the line, crosscourt. Down the line, crosscourt. Poke, poke, poke.
Best-of-three sets promotes a sense of urgency from the opening points. Rafael Nadal's four-hour victory over Denis Shapovalov has proved the men have more time to settle in and sort matters out over an extended period. The shortened women's format feels like T20 cricket by comparison. A couple of good swings, or bad, can turn a match in a hurry. Barty starts fast and gets ever faster. If it was the WBBL, she won with dozens of balls to spare.
The crowd is big, but hushed. Everyone wants to see Barty win. But this is a bit too quick. The masses want to prove roaring support and quite often, they do. But she doesn't really need it. She can beat Pegual blindfolded. There's chuckling in the crowd. An absence of drama and tension. It's a bit of hit-and-giggle. Oh, Serena. Where art thou?
Originally published as Australian Open 2022: How Ash Barty's brand will endure when she hangs up her racquet