Australian Open: Andy Murray's fightback and 'mint bribes' inspired me, reveals Emma Raducanu
Young star Emma Raducanu found the extra motivation to knock over her first Australian Open opponent from a fellow Brit.
Raducanu has been training for 12 hours a day in preparation for the Australian Open. Picture: Clive Brunskill/Getty Images
As Emma Raducanu entered the first deciding set of her grand-slam career against Sloane Stephens late on Tuesday night, the 19-year-old Briton thought back to the scenes she had witnessed about four hours earlier on the television screens in the Melbourne Park locker room. Andy Murray has been a source of inspiration throughout her life, but his efforts in overcoming Nikoloz Basilashvili over five sets were particularly appreciated.
"When I was in the third set, I actually thought, 'Andy was up a set, then he got pushed to five, but he fought back so hard in the fifth set and took the decider,' " Raducanu recalled yesterday. "So when I went to three sets, I was also thinking, 'Actually, I can fight back and win the decider,' and fight like he did. I was definitely inspired by him."
It did the trick. Raducanu suddenly raised her level of play and set up a considerable opportunity tomorrow morning at the Australian Open to keep up her 100 per cent record of reaching the last-32 in every major tournament she plays. Granted, she has contested only three, going back to Wimbledon in the summer, but clearly there is an exceptional ability in the US Open champion to rise to the occasion when the stakes are at their highest.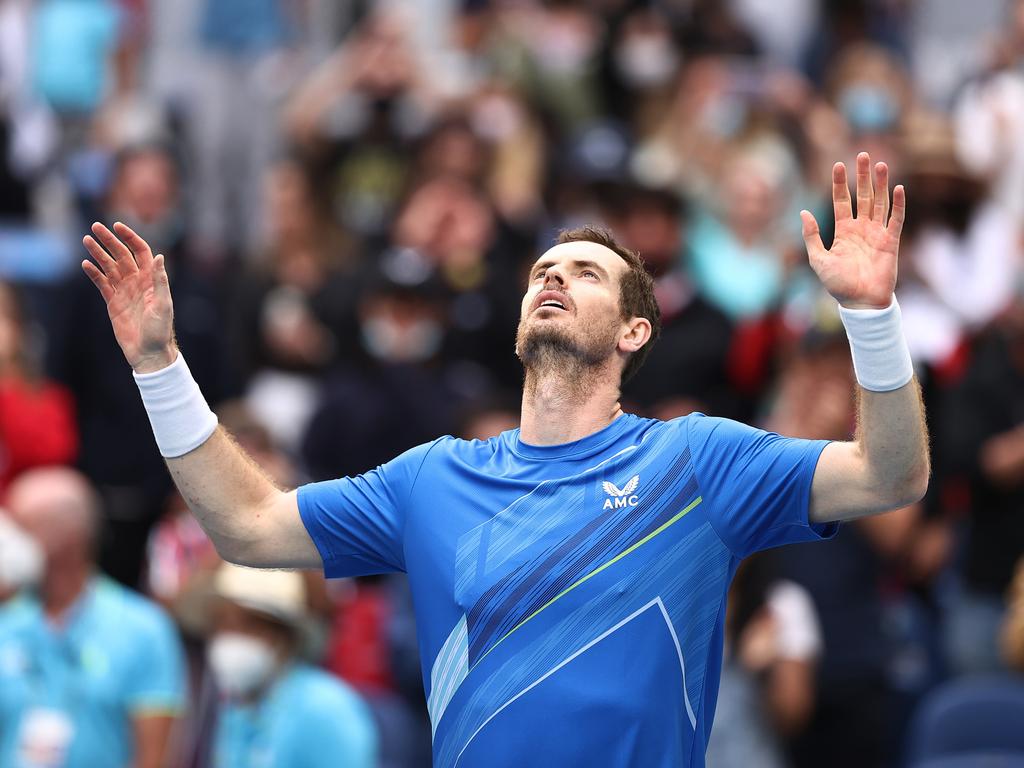 Andy Murray was pushed to five sets against Nikoloz Basilashvili. He has long-been an inspiration to Raducanu. Picture: Cameron Spencer/Getty Images
Danka Kovinic is tomorrow's opponent. The 27-year-old from Montenegro was ranked inside the world's top 50 at No 46 six years ago but has done little of note over the past 12 months and has now dropped to No 98. Yet to have gone further than the second round at any grand-slam event, she does not have pleasant memories of the Australian Open after losing 6-0, 6-0 to the world No 1 Ashleigh Barty last year.
Raducanu received a thrashing herself only eight days ago, going down 6-0, 6-1 to Kazakhstan's Elena Rybakina in the first round of the Sydney Classic, and there were concerns surrounding the impact that a bout of Covid-19 had on her pre-season preparations. But she and her team pulled a masterstroke afterwards by immediately holding a post-match practice session to ensure that any negativity did not fester.
"I think that the biggest thing for me was after the match in Sydney," Raducanu said. "I didn't waste any time at all. I was constructive and straight back on the practice court working, which was pretty unusual to go out there straight after a loss like that. I was feeling good, and that's definitely a moment where I was like, 'OK, you know where you're at, let's just keep working and see what happens next week.' "
All the noises surrounding her new coaching partnership with Torben Beltz are positive so far. The 45-year-old German is vastly experienced, having worked with Angelique Kerber, the former world No 1, and is renowned for bringing a lighthearted vibe to training. He likes a forfeit, too, memorably jumping in to Melbourne's Yarra River five years ago after Kerber won the Australian Open
"The only thing that we're putting on are acai bowls and frozen yoghurts," Raducanu said. "I think I've racked up three acai bowls from him. I'm not going to lie: he does reward me for good behaviour. If I do a drill well he will bribe me with some mints.
"I think that Torben brings some great positive energy. To have that in your corner is definitely an uplifting thing. For example, last week after a loss, he was like, straight back on it. He was happy and he wasn't dwelling on it at all. I think that was great for me to feed off."
Raducanu spends most of her time soaking up the surroundings at Melbourne Park. She has only played here once before, in the junior event three years ago, and that was no more than a brief visit after a straight-sets defeat by Japan's Himari Sato — now ranked 692 places below Raducanu at No 710 — in the first round. Already her trip this year is more substantial.
"It's a well-known fact I literally spend 12 hours a day here, and everyone in my team is, like, 'What are you doing?' " Raducanu said. "But I feel like I don't know where the time goes. I don't know what's wrong with me. I don't even hang out and talk to anyone, I'm just doing training. And then in between having lunch, recovery, and then training again. And then the gym and more recovery. So I'm here from like, 8.30am to 8.30pm. I don't know what's happening."
-The Times