Australian Open: Former champ Sofia Kenin backs Ash Barty to end Aussie title drought
A former Australian Open champion who beat the world No.1 at her best believes the Barty Party could be in full swing at Melbourne Park.
The woman who blocked Ash Barty's path to a maiden Australian Open title says the world No.1 has improved her game markedly since their semi-final clash almost two years ago and is a deserved favourite for her home grand slam.
One of the few women to have halted Barty at her best, Kenin upset the world no.1 7-6 7-5 in the Australian Open semi-final in 2020 before going on to beat former Wimbledon and French Open champion Garbine Muguruza to win her maiden grand slam title at 21.
And she believes the world no.1 is a much improved player and a definite chance to halt Australia's 42-year title drought.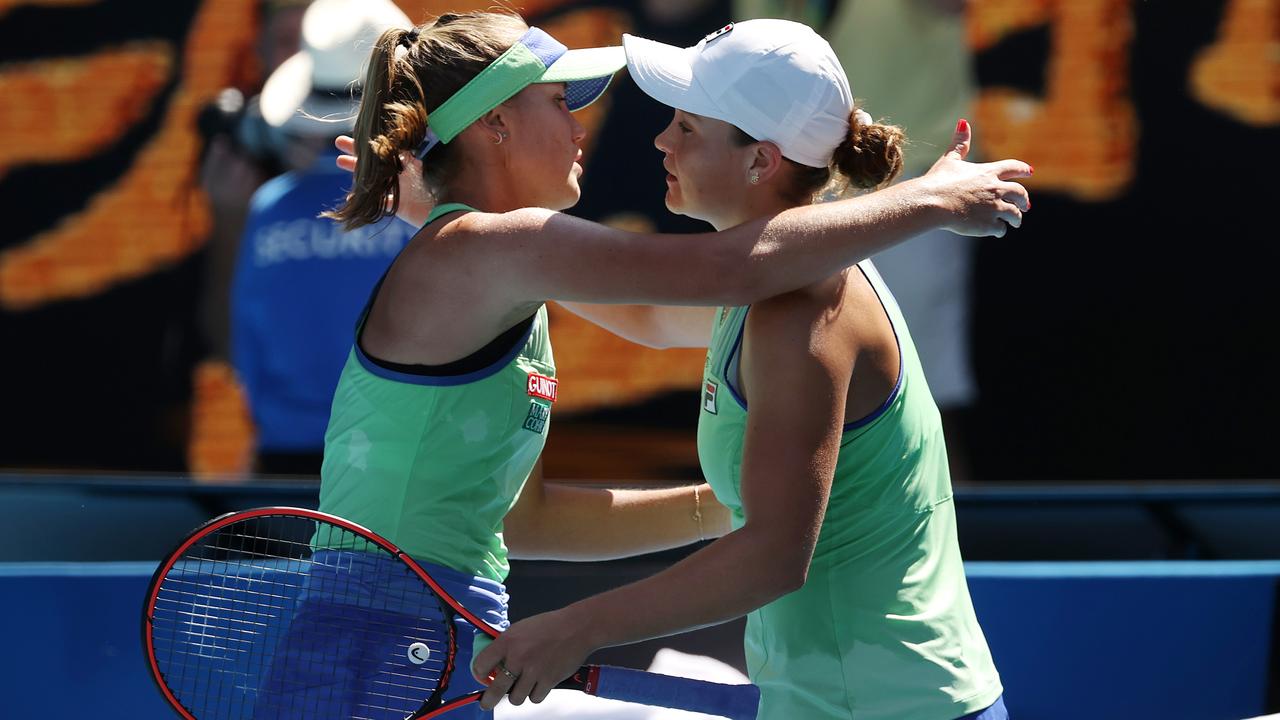 Ash Barty was blocked in her path to Aus Open glory by Sofia Kenin in an upset. Picture: Michael Klein/NCA
The pair met again at the Adelaide International last week, where Barty took just over an hour to dismantle the American's game in their quarter-final clash before going on to claim the title.
"She's playing better and better each match, against me she served really well," Kenin said of the weapon many believe can carry Barty to a third grand slam singles title.
"I was really shocked by it. I can see she's definitely improved and has a lot of confidence.
"She's got a great team around her, and they're doing everything right."
Barty, in fact, is a "role model" for the 23-year-old, who had a tough 2021 after pushing to as high as no.4 in the world in 2020 on the back of her Australian Open victory and making the final at Roland Garros in efforts that earnt her endorsement from some of the world's biggest companies including telecommunications giant Motorola.
"She's my role model and I try to see what she does and try to take some things from her," Kenin said of Barty.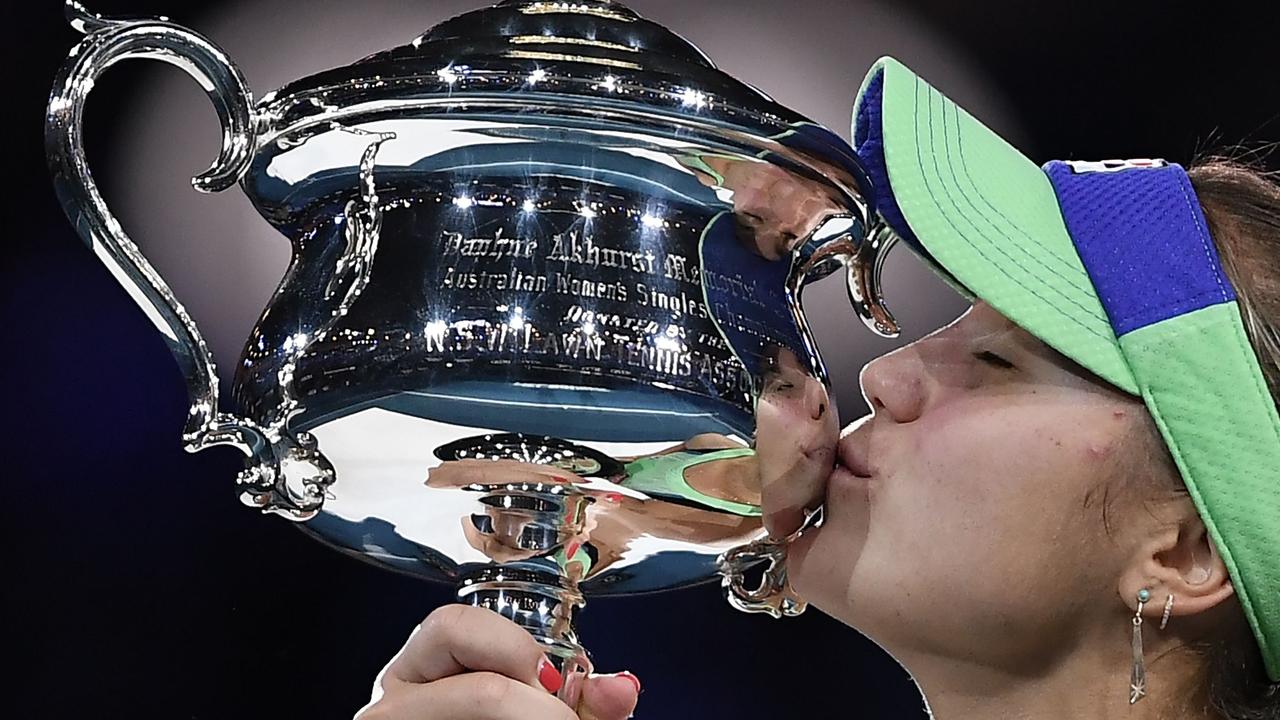 Sofia Kenin went on to win the 2020 Australian Open. Picture: Saeed Khan/AFP
"Unfortunately I cannot take the slice and the serve, but other things she does.
"She deserved to win that match (in Adelaide). Of course, for me, I didn't play for six months and that was like my third match (back), so of course it was obviously not the easiest situation.
"That's not an excuse or anything but I think given the circumstances that I was in, I felt like I played good."
Kenin lost in the second round at Melbourne Park last year in the earliest exit for a defending champion in almost 20 years.
A bout of appendicitis plagued her trip down under and injury and illness was a near constant companion last year, with Covid forcing her out of the US Open in a disappointing end to her year.
Sofia Kenin in action against Daria Kasatkina of Russia during the Sydney Classic earlier this week. Photo: David Gray/AFP
The fully-vaccinated Kenin's battle with the virus should serve as a cautionary tale for some of her peers.
"It wasn't easy. I had shortness of breath, my head was hurting, I had a high temperature, cough, sore throat, all the symptoms, you can think of Covid," she said.
"It wasn't good and fun. But I mean, I had to take it easy and wait until I felt better."
The 23-year-old did not want to take a position on Novak Djokovic's battle to remain in the country though.
"It's obviously a complicated issue and I don't know all the details exactly, so in fairness, I'd rather not take an opinion on it," she said.
"Djokovic in my eyes is a great person, great tennis player, an idol to me.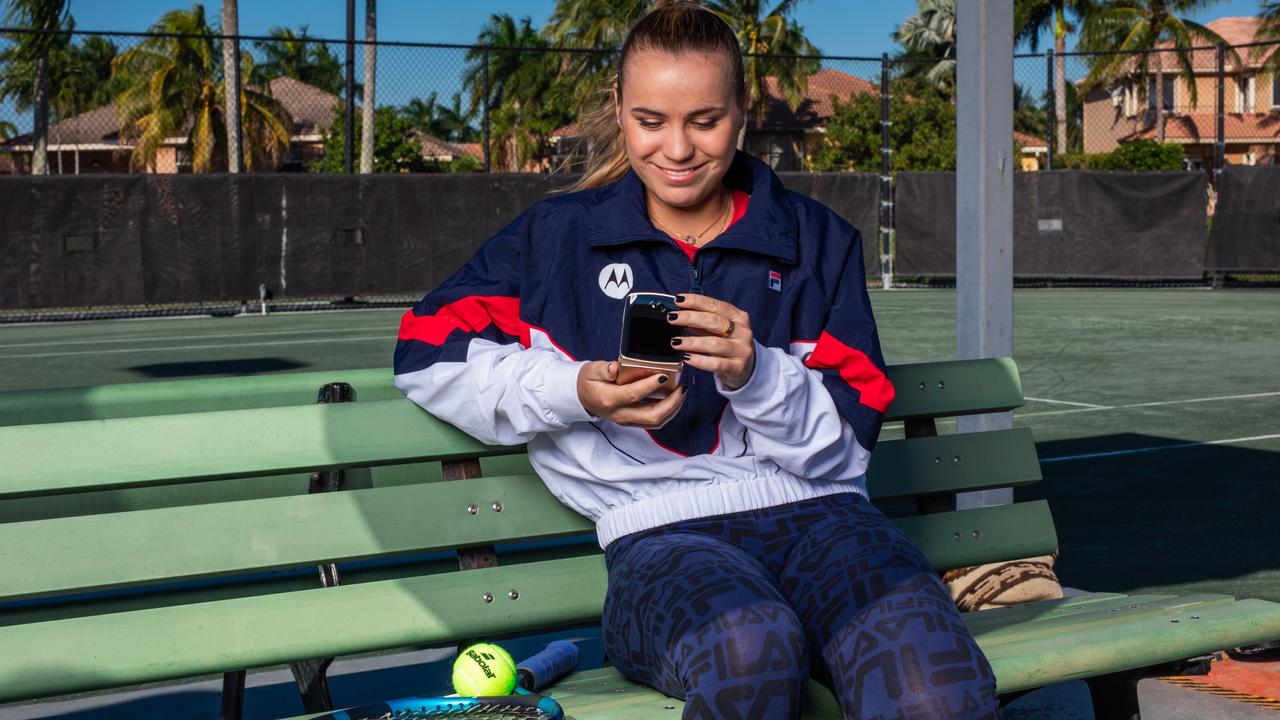 Sofia Kenin had Covid, forcing her to miss the US Open last year but the fully-vaccinated player will not criticise Novak Djokovic. Picture: Supplied
"He has had great success and so much for the sport.
"Of course, I can understand the Australian Government are trying to take all precautions to make sure everyone's safe."
Instead, Kenin, who got another match under her belt in Sydney - going down 6-4 6-0 to Russian Daria Kasatkina - is appreciative of her health and reunited with her father as coach after a brief split last year, is determined to climb the mountain again in Melbourne, where she is seeded 11th.
"I've had good memories here, the fans are incredible, I hope it'll give me luck this year," she said.
"Last year, it wasn't the best since I had my appendicitis but … I just feel like at home when I'm here."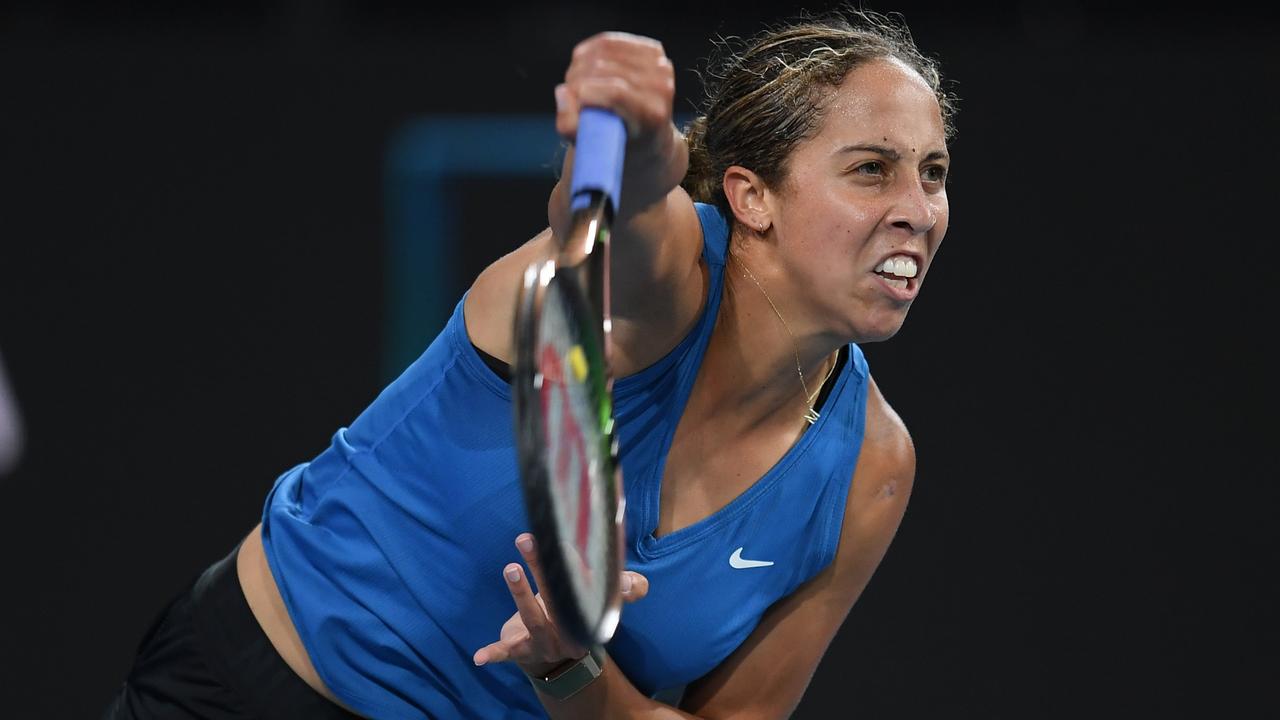 Madison Keys will take on Kenin in Round 1 of the Australian Open. Picture: Mark Brake/Getty Images
Kenin seemed public enemy no.1 when she beat Barty on Rod Laver Arena but her fighting spirit endeared her to fans and she was thrilled they would be back in the stadium to watch her take on countrywoman Madison Keys in the first round.
While Melbourne's continued battle against Covid has forced capacity to be cut to 50 per cent, Kenin was thrilled there would be crown support after playing in empty stadiums last year.
"It's a little bit different than last year so it's really exciting and I can't wait to finally, experience normal action, normal loudness and cheering," she said.
"That will definitely give me a boost of confidence and help me out.
"When there are tough moments, hopefully the fans will get me through it. I believe in them."
Draw flashpoint not what Barty would have been hoping for
Ash Barty has been done no favours in the draw for her home grand slam, with the world No. 1's path to glory on a collision course with a two-time Australian Open champion.
The star Australian will meet a qualifier in the opening round of the Australian Open — which will begin on Monday — with seeded players awaiting swiftly should she progress beyond the second round.
Barty, 25, is bidding to become the first Australian since 1978 to claim grand slam honours on home soil.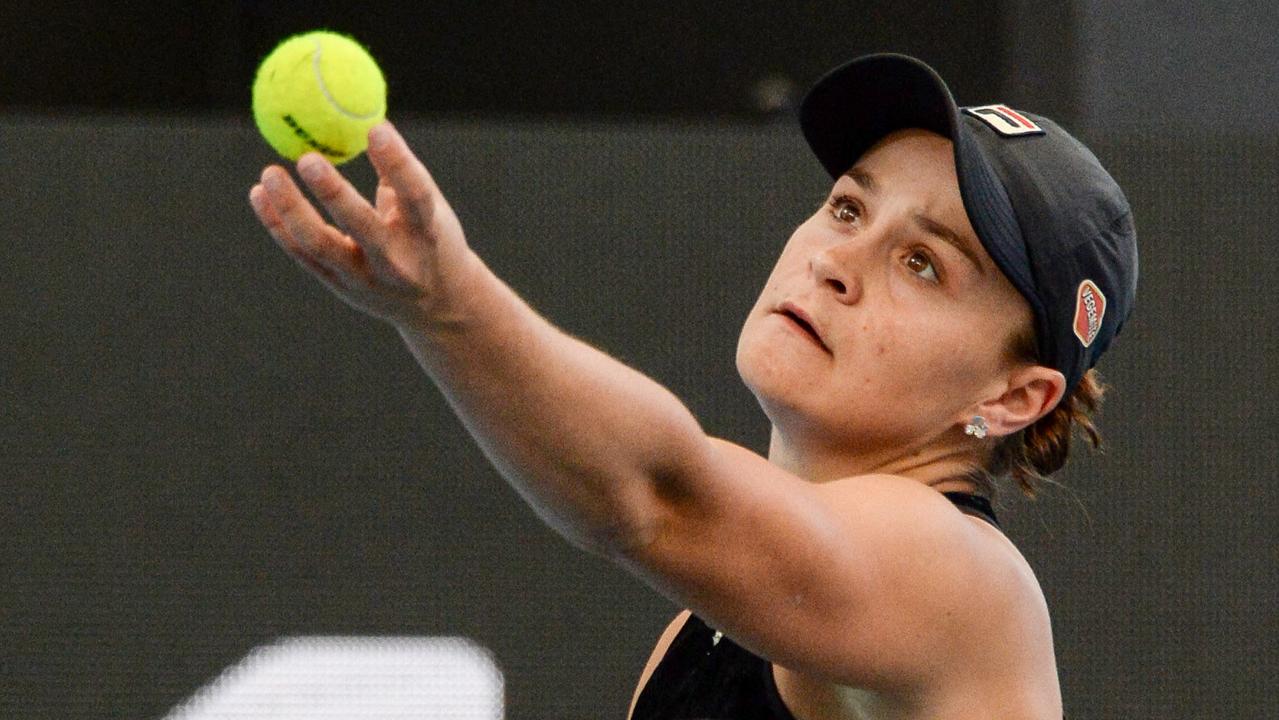 Australia's Ash Barty could be on a collision with two-time Australian Open winner Naomi Osaka. Picture: Brenton Edwards/AFP
Italian Camila Giorgi — seeded 30th — could await in the third round before a potential collision with two-time Australian Open and 13th seed Naomi Osaka, who claimed last year's tournament.
Barty — who has been training on Rod Laver Arena in recent days — said this week that while "there are so many different variables" to her lead-in form, she felt in a good place as she bids for her third grand slam title.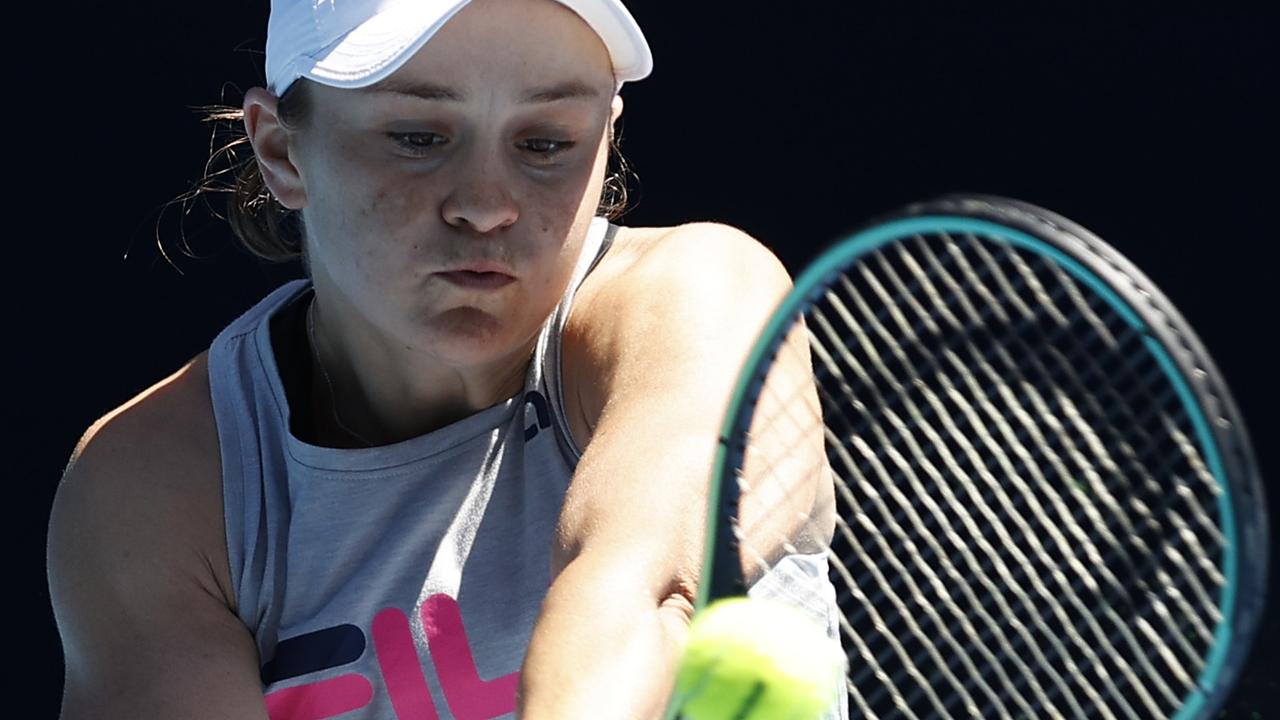 Barty will play a qualifier in the first round before a likely match up with Varvara Gracheva in the second round. Picture: Darrian Traynor/Getty Images
"I feel good leading up to an Australian Open like I have every year," she said earlier this week.
"Each and every preparation is unique, each and every preparation is different.
"So we take it for what comes and what it is, move on, try and do the best that we can in every opportunity"
Osaka withdrew from the recent Melbourne Summer Set due to an abdominal injury as she prepares to return in her first tournament in four months, and will need to demolish world No. 23 Belinda Bencic to reach the second week.
She recently declared that her only goal in Melbourne was "to feel like every time I step on the court … I'm having fun."
"I can walk off the court knowing that even if I lost, I tried as hard as I could," Osaka said.
"Honestly, (the break from tennis) was much shorter than I anticipated. I actually really thought I wasn't going to play for most of this year.
"I'm really happy with myself that I love the sport that much."
Australian Storm Sanders faces the toughest first round match-up of any local player, set to meet second seed Aryna Sabalenka.
Fellow Australian Ajla Tomljanovic will face eighth seed Paola Badosa.