Australian Open: Jessica Pegula is through to third round while father, Terry, targets a Super Bowl as owner of Buffalo Bills
Jessica Pegula's father may own an NFL team but that counted for nothing on a windswept day on Show Court 2, writes ADAM PEACOCK.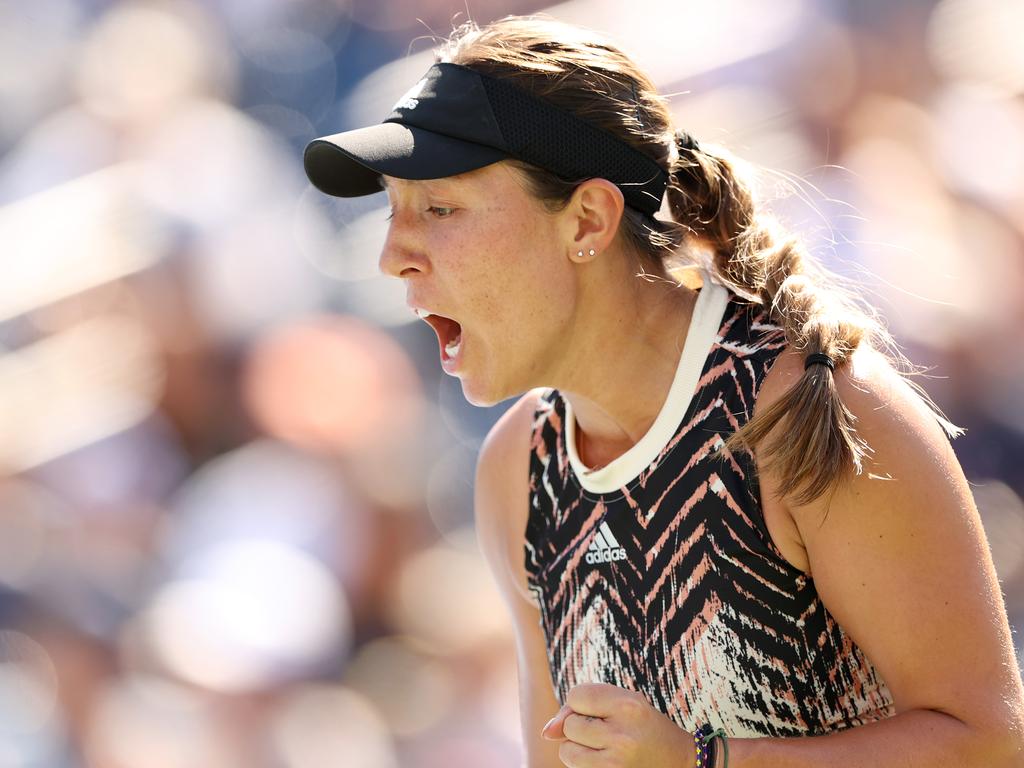 Jessica Pegula is the daughter of a billionaire NFL team owner who is two games away from making the Super Bowl. But that counted for nothing on a windswept day on Show Court 2. Picture: Getty Images
It was an atmosphere reserved for a challenger in a country town and Jessica Pegula was in all sorts of trouble.
Trying to validate her superb 2021 results here in Melbourne, where she beat two grand slam champions on the way to the quarter finals, here she was, on a near empty 1573 Arena, wind blowing, mind swirling, 3-0 down inside fifteen minutes to a player she was supposed to deal with comfortably.
As Pegula stropped around the baseline, Bernarda Pera striped winners.
A turnaround would only come from within. No help given, no favours received.
And from within, Pegula figured herself, and her opponent, out and acted like the seeded player.
She zoned in. She won.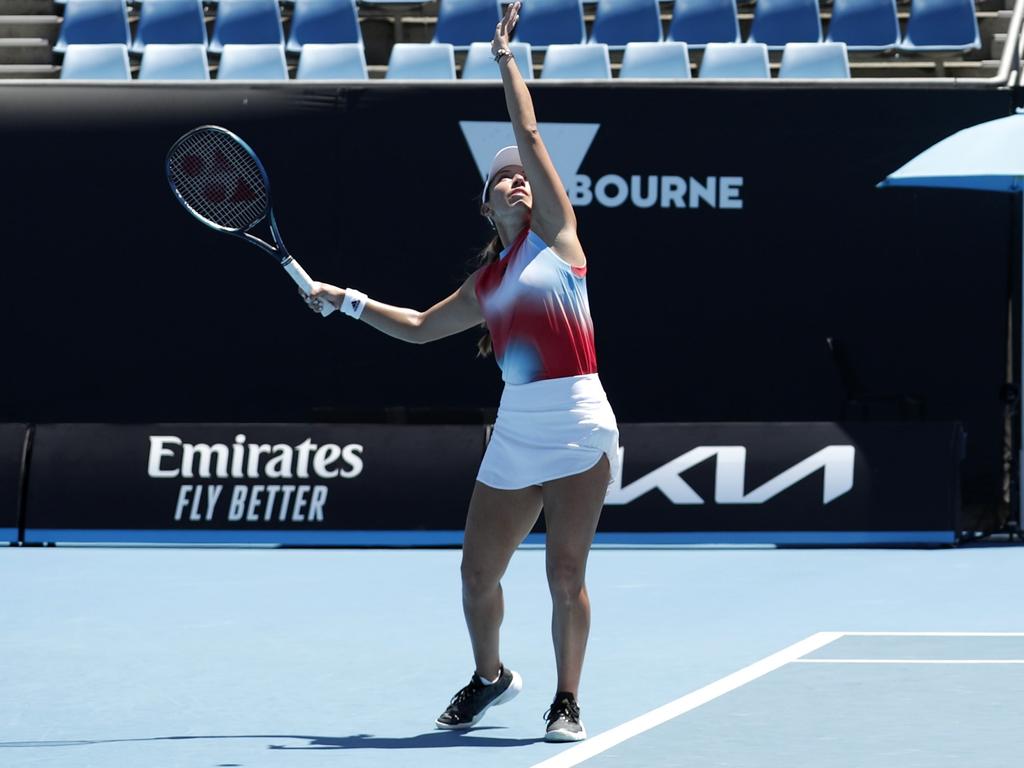 Jessica Pegula defeated fellow American Bernarda Pera to progress to the third round of the Australian Open. Picture: Mackenzie Sweetnam/Getty Images
Show Court 2 is, literally and figuratively, a world away from Pegula's other life. Her father, Terry Pegula, became a billionaire five times over in 2010 when he sold his oil and gas company, and decided to invest in sports, outbidding Donald Trump and Jon Bon Jovi for the Buffalo Bills in 2014.
He also owns the Buffalo Sabres of the NHL.
Parental activity is not usually a notable fact on a player's bio, but it is for Pegula, as it is with a casual Google search of her name. She is far from the only player on tour born into a life of privilege - Ernests Gulbis, for example, also comes from billionaire stock - but the public nature of her family's standing within US professional sports brings with it a spotlight all its own.
Gulbis, at the age of 33, has been seen on the qualifying courts, and before that played a challenger in Traralgon, for no other reason than that a fire that still burns inside. Pegula is the same. Wealthy parents can buy you many things, but they can't help you on 1573 Arena, or any court for that matter. There, it's just you and your resolve.
Pegula's motivation to succeed on the tour is not driven by what she has, but what she wants.
Here in Australia, it's backing up last year's quarter final appearance, the first time the American had made the last eight of a grand slam, and where she set the record straight to media about how she stopped caring about the association between her family's wealth and her chosen career.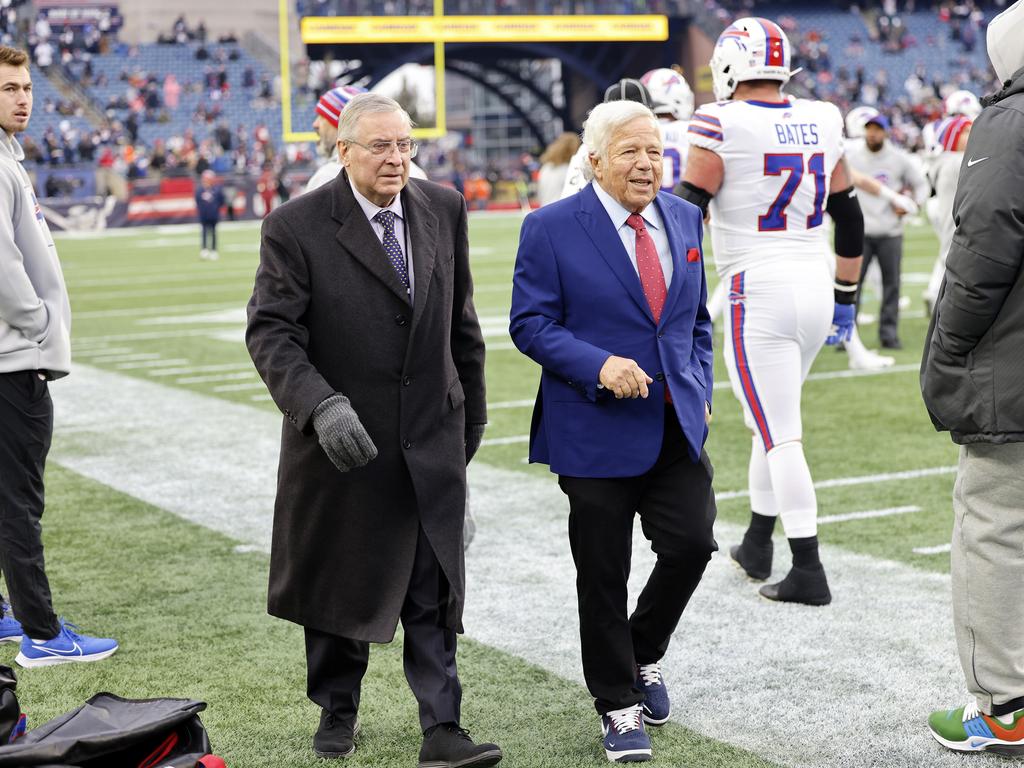 Terry Pegula (L) outbid Donald Trump for ownership of the
Buffalo Bills in 2014. Picture: Fred Kfoury III/Getty Images
"I think [the family discussion] was almost hurting me in a way because it wasn't going to go away," Pegula told reporters. "I actually think it's helped kind of shifting that mindset. I still do like to keep things separate at times. Tennis is like my thing, it's my job, it's my career. It's very separate. My parents don't really have any say right now in anything I do on the court."
*****
At 3-0 down on a windy court in a faraway country, her old man, the Buffalo Bills - none of it - mattered. Talent and guts and heart aren't defined by the postcode you hail from.
They're innate.
"There's this lefty [Pera], 60 mile an hour winds coming at me, I was so mad, just letting it all out," the talkative American told CODE after her 6-4, 6-4 second round victory. "At one point I told my coach, venting, this is the worst day to play somebody like this, the worst absolute day!"
Her coach, David Witt, an experience American who has worked with Venus Williams, didn't give Pegula anything back from the stands. It was up to her. She drew upon all the lessons she had learned over the past 12 months, a period in which she made huge gains, regularly making quarter-finals to move from outside the top 60 to inside the top 20.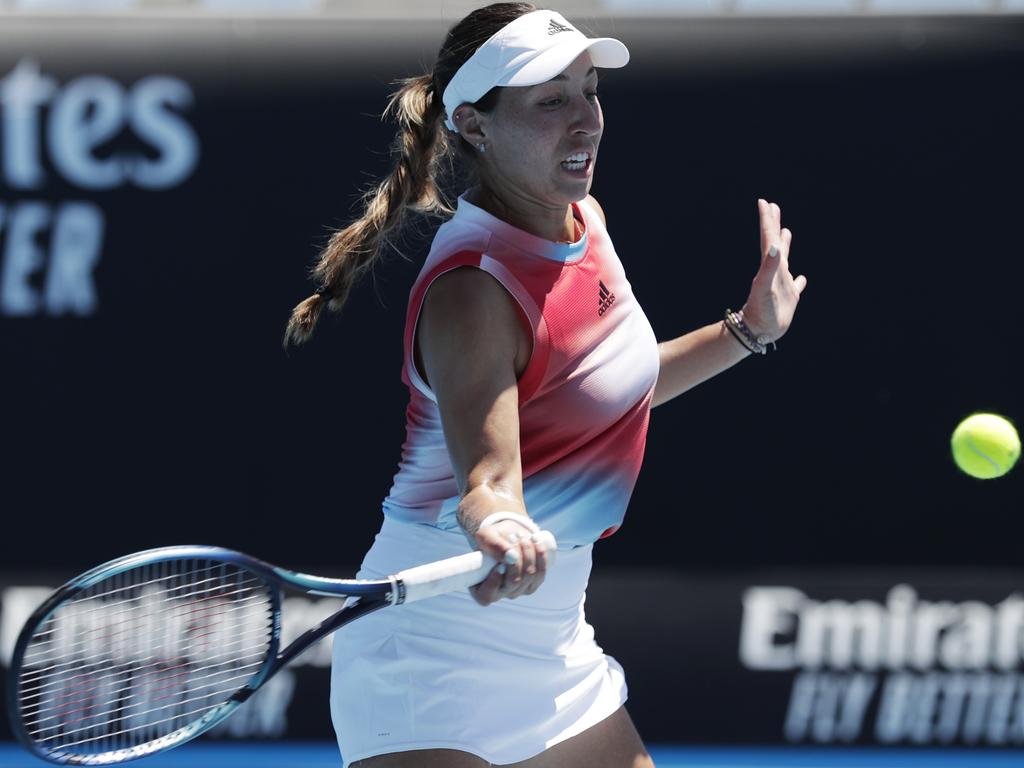 Jessica Pegula dug deep to overcome Bernarda Pera and strong wind on Wednesday. Picture: Mackenzie Sweetnam/Getty Images)
There are days when everything flows, when your body and mind are in sync. This was not one of those days. Having already survived a tough first round three-setter against the Ukraine's Anhelina Kalinina, in which she lost the first set and was forced into a tie-breaker in the second, Pegula needed to find that certain something within, the thing that separates the pros from the merely talented.
"I had a lot of matches last year where I thought I was playing horrible," Pegula says. "But talk to the top players and champions, you have to figure out a way to win on your worst day. For me, that's a work in progress."
Pegula did figure it out against Pera. The wild errors and unsettled mind were gone with the wind halfway into the first set as she knuckled down and played a simple brand of tennis, crowding her opponent by hitting up the middle of the court. Pera couldn't cope with Pegula's smarts.
It took a while but she ultimately figured it out.
That could be a theme for her career more broadly.
Early injuries didn't help, particularly a hip surgery in 2017 which kept her off tour for half a year and prompted her family to question whether it was all worth it. They, quite obviously, didn't need tennis for the cash.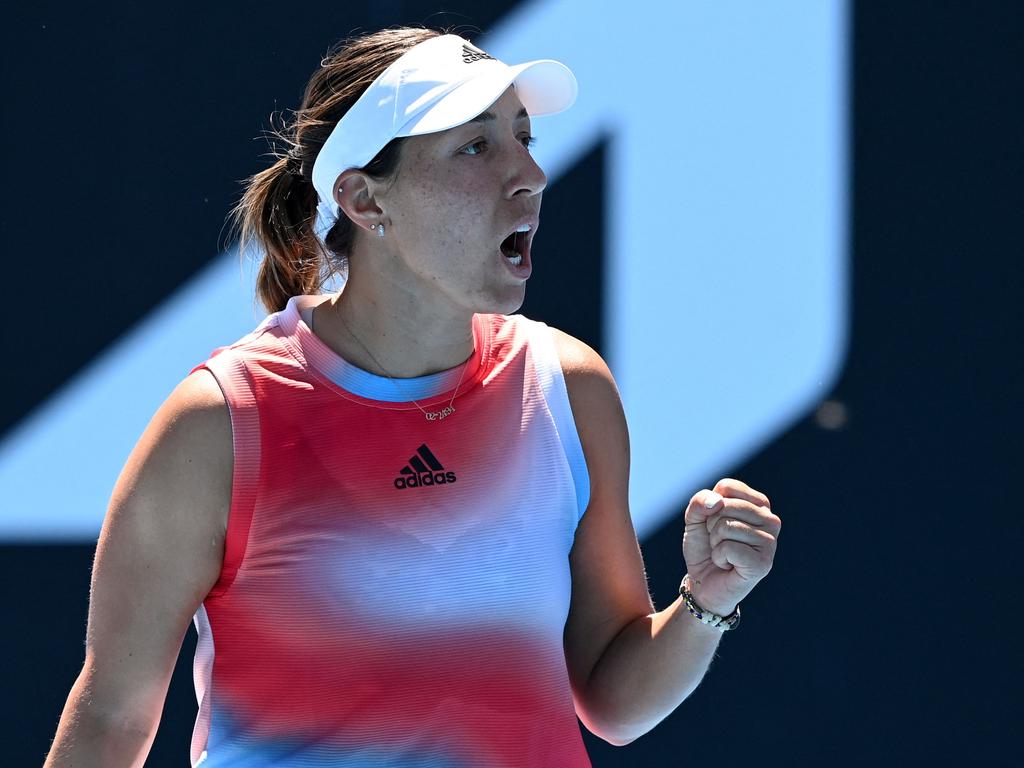 Jessica Pegula bounced back after a tough hip injury in 2017. The world No.21 says she has never felt so fit. Picture: Michael Errey/AFP
But Pegula wanted it.
She recovered, got rock-hard fit, and the dose of determination that has been a trademark since childhood has allowed days like today.
"I've got a lot smarter and faster on the court, so now I have a lot more options, and I can problem solve with a lot more options," the world No. 21 says. "Before I would just freak out and force, play one way, not take a step back and say this isn't working out today, let's try this instead."
*****
Pegula has plenty to distract her from a tennis circuit many find all-consuming.
She has a skincare company to run, but her real passion is a charity she's set up to help with training dogs to be service pets for humans who need them. It's called A Lending Paw, and it also assists with the rehab of pets.
"We help a lot of other animals and shelters," Pegula says. "We just helped pay the vet bills [of a dog] that was hit by a car and in a wheelchair. She was the sweetest thing. She's rehabbing and getting better."
And, of course, there's the Buffalo Bills.
This time of year, historically, hasn't been kind to the Bills.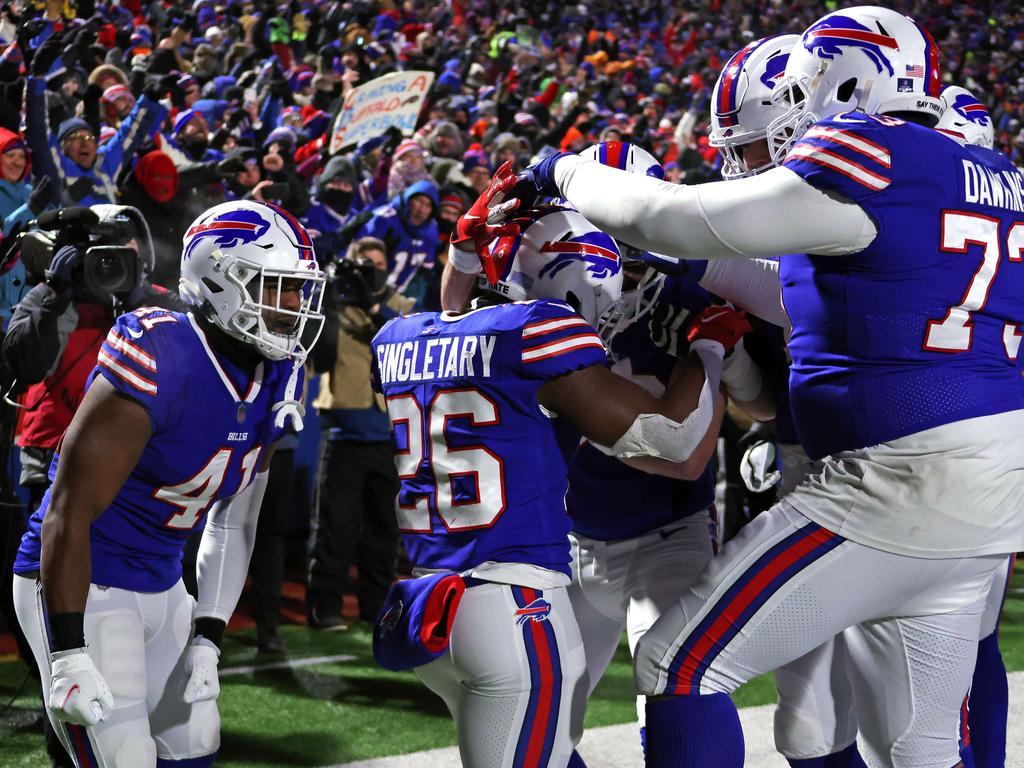 Jessica Pegula will be watching her family's Buffalo Bills take on the Kansas City Chiefs in the divisional play-off on Monday. Picture:

Timothy Ludwig/Getty Images/AFP

Long before the Pegulas took over, Buffalo achieved sporting infamy by suffering four straight Super Bowl defeats between 1991 and 1994. Dark years followed, but the small market team from upstate New York (Buffalo has a population roughly the size of Geelong) has punched above its weight in recent years and emerged as a consistent play-off contender.
Some savvy work to draft quarterback Josh Allen has turned the Bills into an offensive and Super Bowl threat, as New England discovered last weekend. This Monday, Melbourne time, they will play the Kansas City Chiefs at Arrowhead Stadium in the divisional play-off. Win that and they're one game away from their first Super Bowl appearance in 28 years.
Pegula worked her practice schedule around when the Patriots game was on, something that wasn't a problem last year during the playoffs.
"It's weird, last year we were watching the playoff games in hotel quarantine," she recalls. "It didn't matter what time it was on. Just happy it was on TV."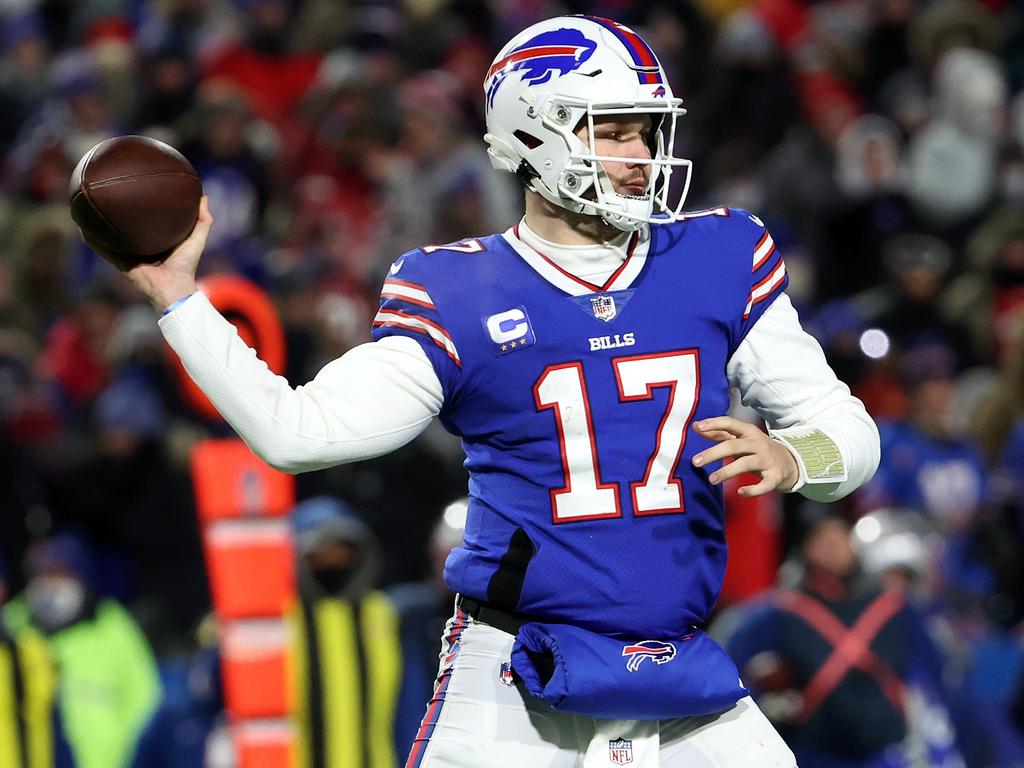 Drafting quarterback Josh Allen has helped turn the Buffalo Bills into a genuine Super Bowl contender this season. Picture: Timothy T Ludwig/Getty Images
Pegula's face is one of half astonishment when told Australia is one of the NFL's biggest international markets with an incredibly high Game Pass subscription uptake. And given the Bills pumped New England 47-17 in Wildcard Weekend last week, a mammoth few days for Pegula lie ahead.
The way the schedule plays out, she will have a day off if she's still alive in the tournament by next Monday. That morning, she'll clear the schedule around 10.30am to watch the Bills take on the Chiefs in front of 75,000 screaming Kansas City fans as they seek to avenge last season's result, which put the Chiefs into the Super Bowl.
And if Pegula is still in the Open, she'll be prepping for a quarter-final, possibly against Ash Barty.
A bit has to go right for her to make it that far.
But she'll give herself every possible chance, by working it out for herself.