Australian Open Round 2: Sam Stosur finishes singles career with loss to Anastasia Pavlyuchenkova
At 37 and 20 years after making her Australian Open debut, Sam Stosur has drawn the curtain on a huge part of her tennis career - but only after giving a seeded rival a real run for her money.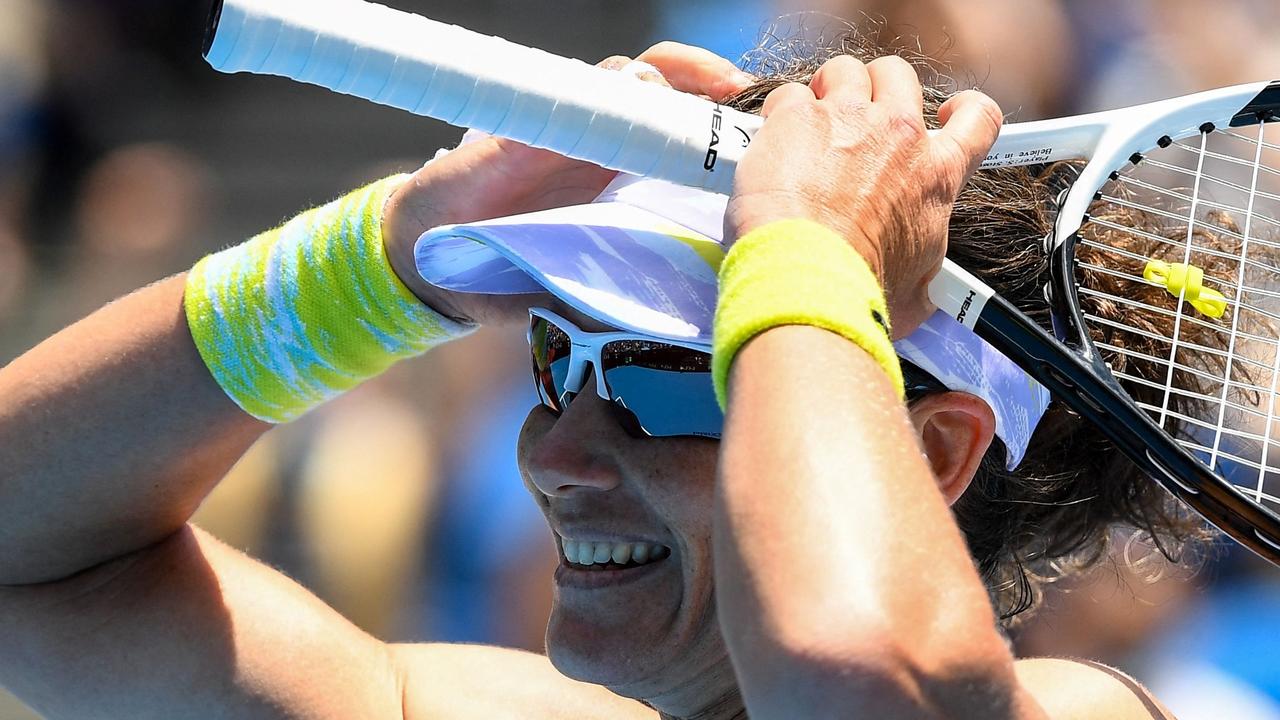 Sam Stosur was overjoyed with her first-round victory on Tuesday. Picture: AFP
Sam Stosur's long and impressive singles career has come to an end after a second round exit at the Australian Open.
The 37-year-old - who announced before the tournament that the Melbourne Park event would be her last as a singles player - was beaten in straight sets by 10th seed Anastasia Pavlyuchenkova 6-2 6-2.
The Aussie favourite - affectionately known as Bam Bam Sam - was given a standing ovation on the Kia Arena as she bowed out .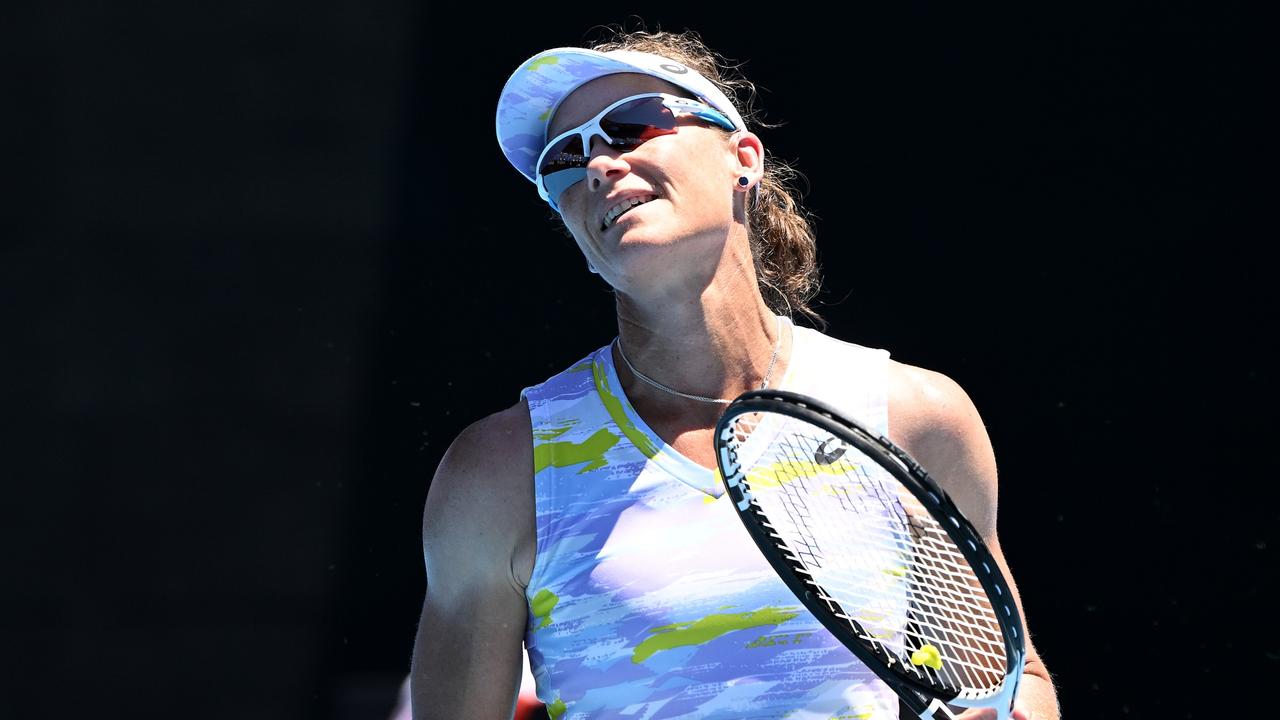 It was a great ride but Sam Stosur has closed a huge chapter in her tennis career.
While she still has the doubles competition to contest, Stosur was visibly moved by the reception from her home crowd.
"Run for everything as hard as you can, draw it out as long as possible. She was too good today. It was great to play out here again, thank you everyone for coming out and sharing this special moment," she said.
"I've done more than I ever thought possible. I dreamed of winning a grand slam. To do what I have done is phenomenal. I couldn't have asked for any more.
"It's been amazing.
"My partner, thanks Liz, standing by me and helping me through the hard times and the good times. Little Yvie as well. If I have missed anyone I'm sorry, but I love you all."
As Sam concluded her speech a tribute video was played to her in front of the crowd and tournament director Craig Tiley presented her with flowers and a Louis Vuitton branded gift on court.
"Thanks for everything. Thanks for being Sam Stosur, and thank you for the difference that you have made to our great game," Tiley said.
Even her Russian opponent was in awe.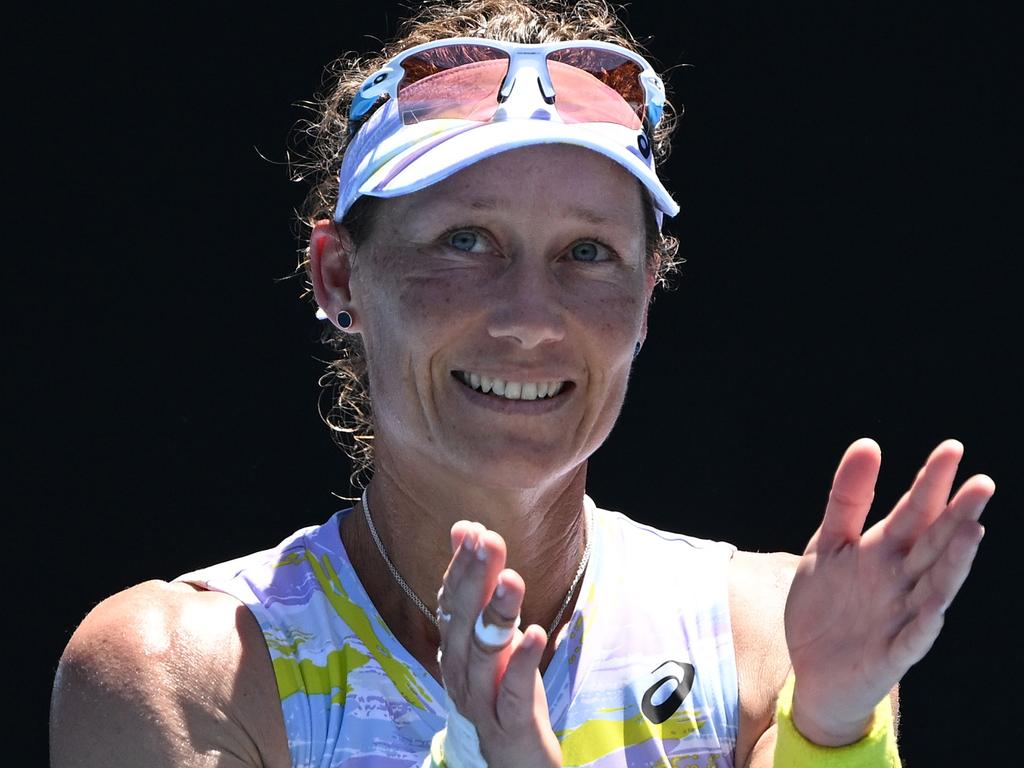 Sam Stosur shows her appreciation for the crowd support.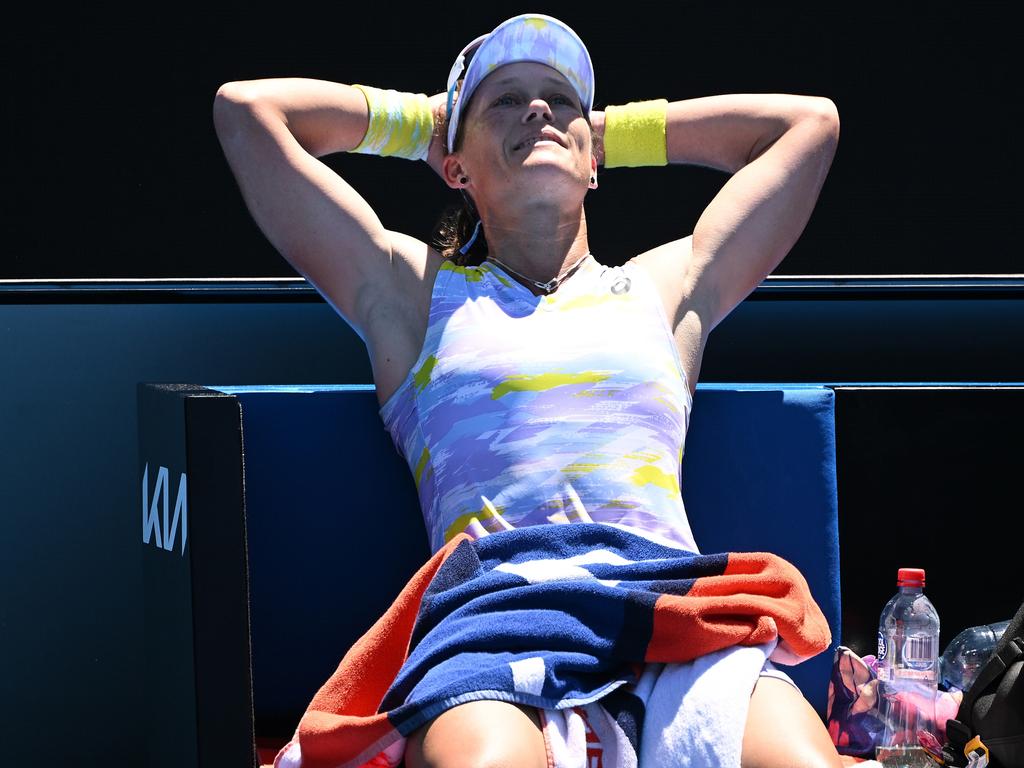 Stosur takes everything in after what was her final singles match.
"I wanted to give Sam the reception," Pavlyuchenkova said afterwards.
"It was emotional when everyone was clapping for Sam, she is amazing human being and player."
The plaudits flowed for 2011 US Open winner after the match, including two from current Aussie stars.
Ash Barty said: 'Sammy was at the very top of our game in a sense of an Australian tennis leader, an Australian tennis leader, an Australian tennis champion.'
Ajla Tomljanovic added: "I'm thinking, oh my God, this is Sam Stosur she is humble and so normal. She set for me the perfect example of what a true champion should be on and off the court."
Finally free: Stosur ready to stun on farewell tour
- Marc McGowan
Freedom is a good look on Sam Stosur.
Free of the expectation. Free of the crippling, and often unfair, criticism. Free of the burden on herself.
And free to put on one last show that might make once-a-year Australian tennis fans look beyond what they saw only at Melbourne Park.
Or, at least give them a lasting memory of refreshing positivity that Stosur, who announced in December this would be her final singles tournament, was rarely afforded at home.
Weighed down by suffocating and mounting pressure in conditions that never maximised her strengths, she exited the Australian Open in the first round eight times in her previous 19 trips.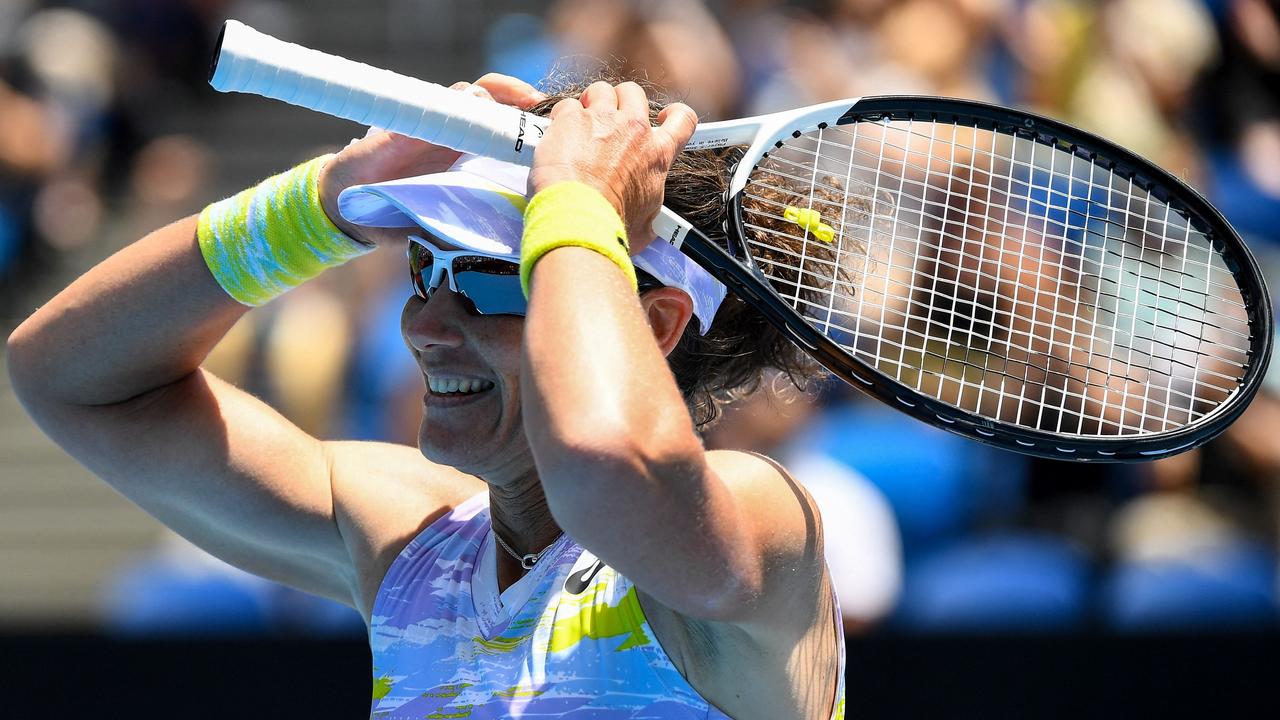 Sam Stosur was overjoyed with her first-round victory on Tuesday. Picture: AFP
Stosur needs to own much of that, because it's not a record that befits the great player she has been – and make no mistake, she's been a great player.
They don't hand out grand slam singles titles or top-five rankings. She is, for all her faults, a national tennis treasure.
But deep down, the harsh critiques from those who should support Stosur most were borne from wanting so desperately for her to do well.
That much was obvious in the outpouring of joy, relief and well wishes after Stosur's first-round victory over 169th-ranked American wildcard Robin Anderson.
She seemed more willing to show positive emotion in key moments and generally looked like she was in her element – in stark contrast to the tortured soul we sometimes witnessed.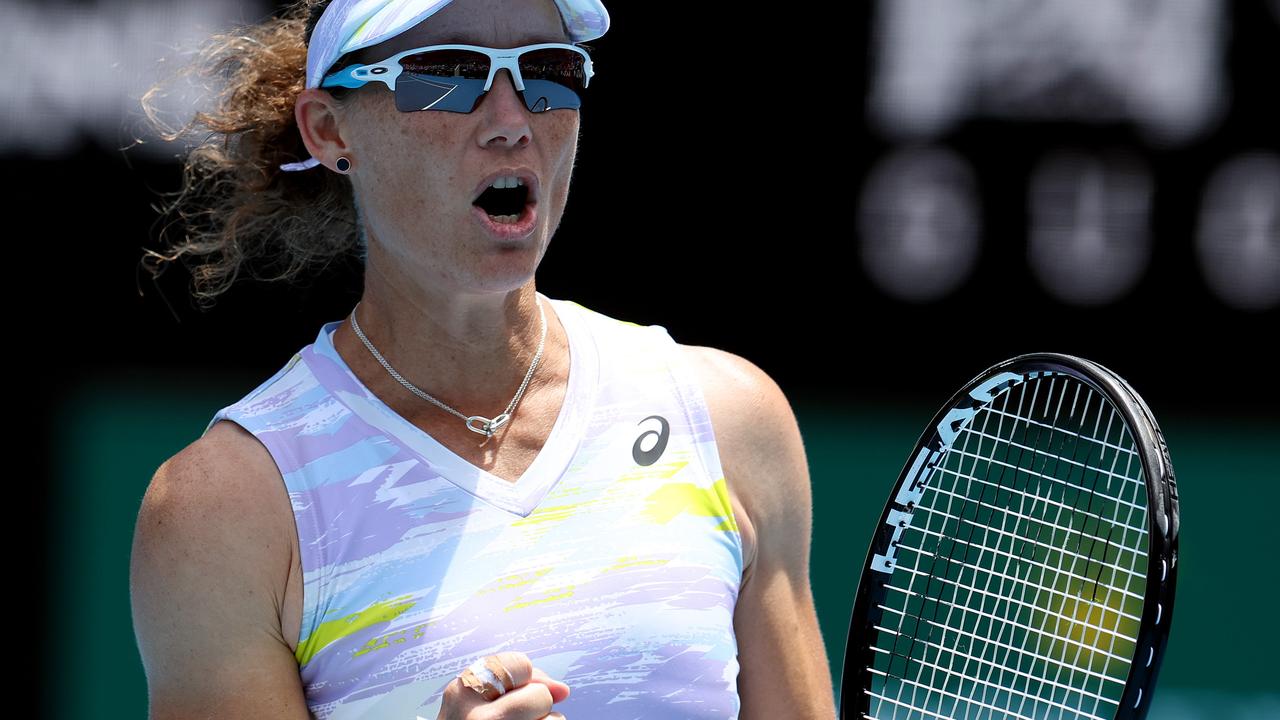 Sam Stosur rode a wave of emotions in her win over American wildcard Robin Anderson. Picture: Michael Klein
Stosur did tell us this would be the summer of enjoyment for her.
"It's sort of easier, because it's kind of like, 'This is your last chance'. If you don't do it now, you're never going to have another opportunity to do it," she said.
"Kind of like back's against the wall, this is it. I've been wanting to try to find that in my tennis for a couple of years now.
"I think when you're chasing something – even though it's not about that – it's always in the back of your mind, 'I've got to do well here, your ranking is not going in the right direction', all that sort of stuff.
"It doesn't always allow that to happen. I feel like the last month or so, since I decided this is what I wanted to do, I've kind of found that."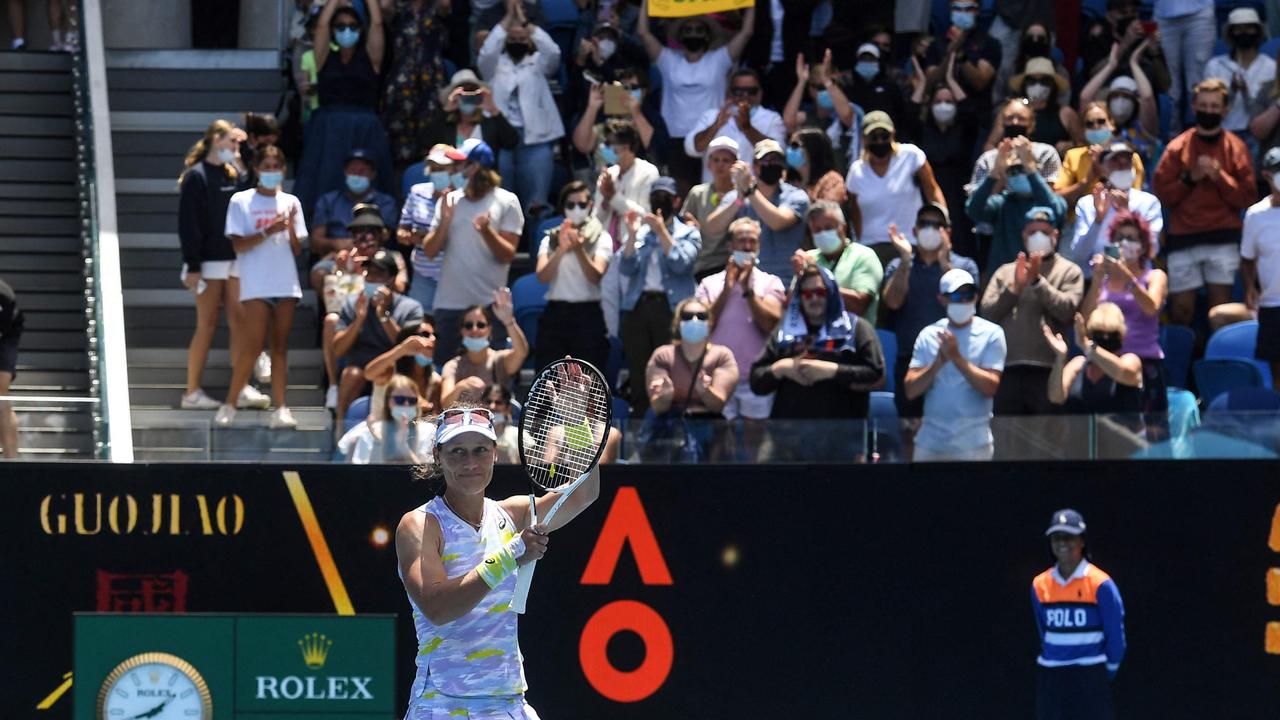 It wasn't only Sam Stosur who revelled in her Australian Open success. Picture: AFP
There's something sad about Stosur unlocking the formula as the end rapidly approaches, rather than in her prime when others made their mind up on her.
But those same people always should have factored in the whole resume rather than just the Australian Open or even Wimbledon.
Stosur will step out again on Thursday, against familiar foe Anastasia Pavlyuchenkova, knowing it might be her last time on a singles court.
If it is, she goes out knowing she is finally free.
Originally published as Australian Open Round 2: Sam Stosur finishes singles career with loss to Anastasia Pavlyuchenkova