How life changed for Leylah Fernandez after run to US Open's utterly unexpected final
Leylah Fernandez did not expect her magical run to the US Open final to change her life much. She wasn't entirely correct, writes LINDA PEARCE.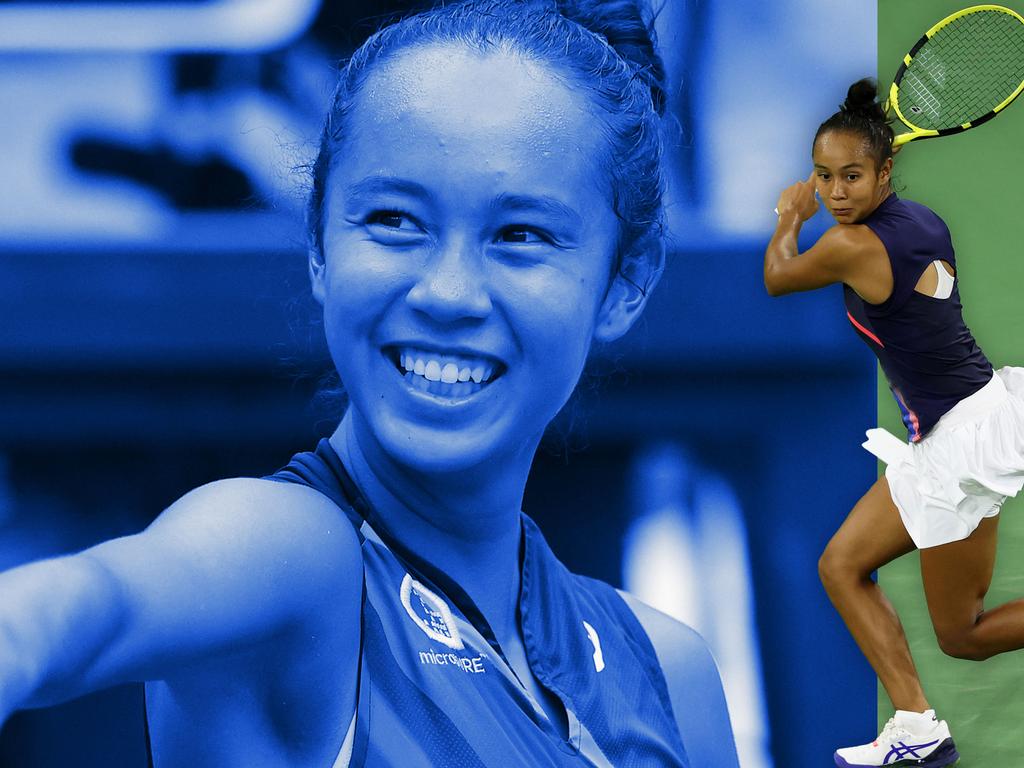 'Emma (Raducanu) and I and the next generation — can impact the sport and bring new fans to tennis.'
"I don't think it will change my life that much." – US Open runner-up Leylah Fernandez, September 11, 2021.
Four months later, we ask the nearly-girl who more than doubled her career prizemoney and soared 45 places in the WTA rankings during that New York fortnight, then earned several juicy new commercial deals, a whole lot more attention and the Canadian Press female athlete of the year award: true or false?
"Um, there were a few changes,'' Fernandez says, smiling. "A little bit more busy with some sponsorship, but I'm so very grateful. It's part of the business and I'm just so excited to come to the new year, 2022, on the right foot.
"Maybe a few media requests more than the past few years, but I'm very lucky to have a good team around me, that I'm surrounded with good people who understand that I just want to play tennis and I want to enjoy my time on the tennis court.
"I know that the media is very important … so they just try to help me to transition it in a healthy way and I'm gonna do what I need to do off the court and I'm gonna do what I need to do on the court so I can keep that smile on my face.
"I'm healthy, I'm playing the sport I love, so I can't complain about anything. Tennis will always be my No.1 focus, so it's gonna be a fun transition.''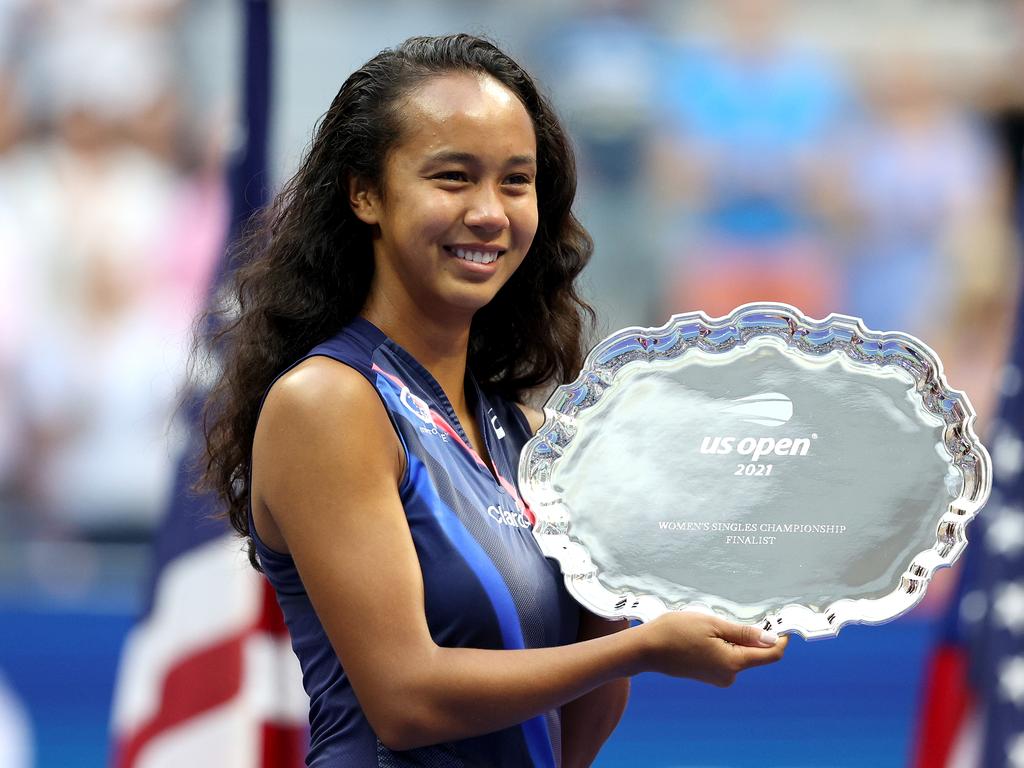 There have been a 'few changes' in Leylah Fernandez's life since her stunning run to the US Open final last year. Picture: Elsa/Getty Images
In the fun department, an off-court highlight came early: an invitation to the famous Met Gala, where the beaming Canadian wore bejewelled stilettos with matching clutch and a black and white Caroline Herrera gown, inspired by a vintage look famously modelled by Serena and Venus Williams for Vogue in 1998.
She mingled with celebrities who only a fortnight earlier would never have heard of the athlete who started the US Open ranked 73rd, turned 19 on the second Monday, and collected three top-five scalps and another from a triple major winner en route to an utterly unexpected decider against qualifier Emma Raducanu
The British starlet, 68 days younger and 150th in the world, would go on to win the title 6-4 6-3. She, too, was present at the Metropolitan Museum of Art a few nights later, where two budding style queens channelled their inner princesses.
"That was a Cinderella moment for me,'' says Fernandez, the thrill still in her voice. "Cinderella's always been my favourite Disney movie growing up, so just being able to dress up, go through that exciting process of picking out my dress, the shoes, putting on makeup, was just magical to me.
"And then walking the red carpet where so many icons and celebrities were able to walk, and just seeing artists in person and how they were acting during that whole night was an eye-opener for me because I see them not just like legends, not just as celebrities, I see them as normal people having a great time.
"And I just hope that one day I can muster up the courage to talk to them!''
Attending the Met Gala was a 'Cinderella moment' for Leylah Fernandez. Picture: Mike Coppola/Getty Images
*****
Fernandez's maternal grandparents emigrated to Canada from the Philippines. Their daughter Irene would marry Ecuadorian-born Jorge, a semi-professional soccer player, and raise three daughters: Jodeci, Leylah and Bianca.
Dismissed in her mid-teens as too small and without the quality strokes to succeed at the professional level, one of her school teachers advised young Leylah to quit tennis, for she would never make it. Best, she said, to concentrate on her studies.
Undaunted and even more determined, she forged a successful junior career. Irene worked in California for several years to help support the family and the dreams of its happy-go-lucky middle child, who nevertheless felt keenly her mother's regular absences from the age of around 10 to 13.
Making her WTA main draw debut as a wildcard in Quebec City in 2018, Fernandez reached the 2019 Australian Open girls' final before becoming the first Canadian to win the Roland Garros junior title since Genie Bouchard.
By then, her countrywoman Bianca Andreescu was on the verge of a stunning US Open senior crown, while the likes of Denis Shapovalov and Felix Auger-Aliassime had confirmed themselves as the natural successors to injury-prone former world No.3 Milos Raonic. Oh, Canada, indeed.
Fernandez, despite having broken through last March for her first Tour-level title in Monterrey, Mexico, had won just seven of her previous 15 matches leading up to the year's final slam in New York.
With her superstitious dad and co-coach Jorge directing things remotely from the family home in Florida, the ultra-poised leftie moved into the third round with little fanfare, before stunning defending champion Osaka, triple slam winner Angie Kerber, fifth seed Elena Svitolina and No.2 Aryna Sabalenka.
Cue a finals duel with Raducanu that no one had predicted. Played on the 20th anniversary of the 9/11 terror attacks, about which she would speak so eloquently during the presentation ceremony. The collective youngest at major level since 1999, with a combined age of just 37 years and 10 months.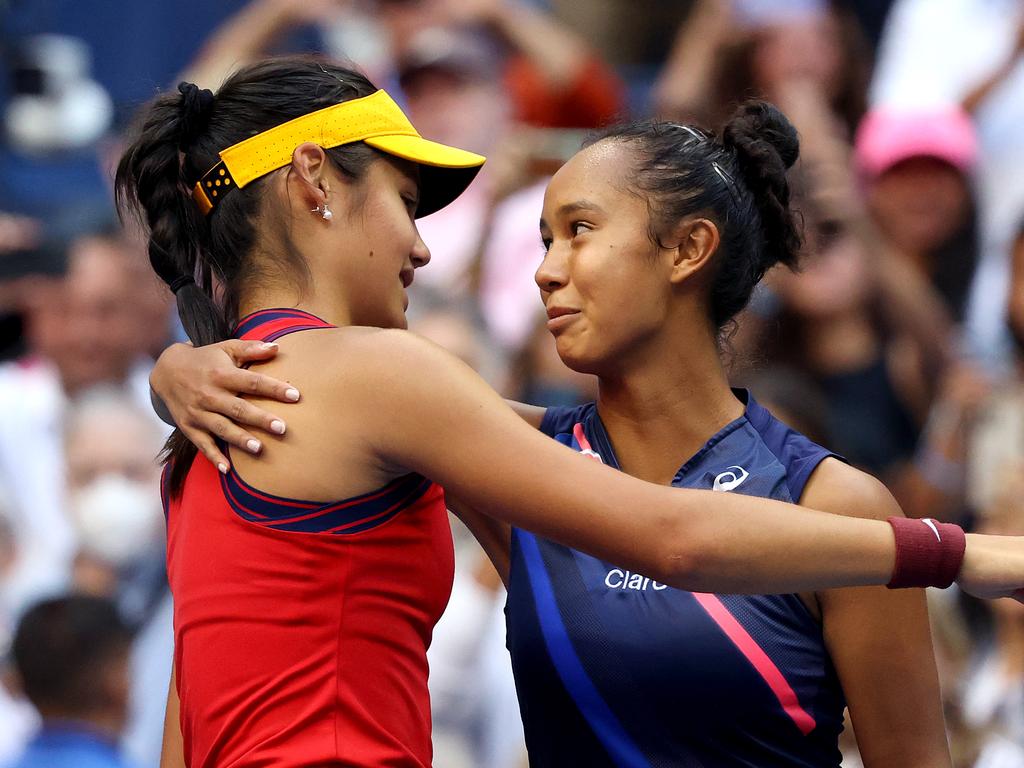 Leylah Fernandez's US Open final match against Emma Raducanu drew a bigger audience than the men's final. Picture: Al Bello/Getty Images.
The match between two sunny youngsters of part-Asian descent would draw a far bigger audience than the men's final, in which Novak Djokovic was chasing a calendar year Grand Slam against Daniil Medvedev.
"It was something crazy,'' says Montreal-born Fernandez. "Like, I wasn't aware of that during the tournament but after the match I heard the news, my parents and coaches were telling me, 'You know, your final was really like 30 per cent more than the men's final … I'd never thought that was gonna happen, but I saw that as a step forward for the WTA, for the women's tennis and how we — Emma and I and the next generation — can impact the sport and bring new fans to tennis.''
Watching the replay, initially, she tried to imagine herself as the champion, but that phase of disappointment has now passed. "It's a loss that will hurt me for a long time, but now the only thing I can do is learn from it, and just keep working hard and hopefully work for that next opportunity.''
Having lost in the first round of qualifying the previous year and never before reached even the last 16 of a major, Fernandez showcased her variety; damaging straight-arm forehand, aggressive court position and ability to take the ball early, good hands at the net and admirable fighting qualities everywhere.
Generating impressive power for a slightly-built 168cm frame, she recovered from a set down against Osaka (who served for the match in the second) and Kerber, while also staring down Svitolina and Sabalenka in tight contests that went the distance.
"As a tennis player, I think I'm able to stay positive through the ups and downs of a tennis match,'' says the trilingual Fernandez, who stresses that she rarely takes life too seriously or defeats too hard.
"There's so many emotions in a span of three hours that you don't even know what you're feeling and for me to able to stay positive, see light in the darkest moments, has always been my strength and that has helped me throughout my career and hopefully it will keep helping me.''
In Canada, having dethroned the chronically injured Andreescu, how famous on a scale of one to 10 is its top-ranked female tennis player? "I don't know,'' she laughs. "I still think I'm a two.''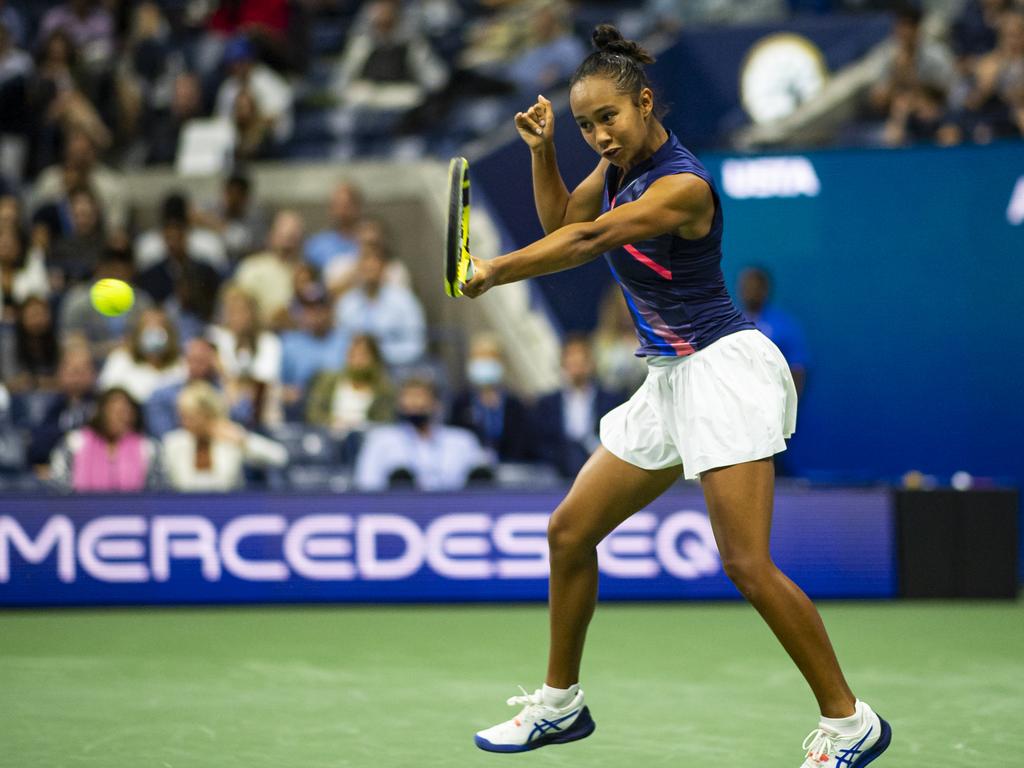 Leylah Fernandez knocked over Naomi Osaka and Angelique Kerber on her way to the US Open final. Picture: TPN/Getty Images
*****
Fernandez made her main draw Australian Open debut last year, eliminated 6-1 6-3 by 16th seed Elise Mertens. This time, the world No.24 will take her place among the seeded 32 for the first time in a major, aware of the extra eyeballs and opposition scrutiny coming her way.
"Now it will be my second-slash-third year on tour and I'm sure a lot of players now know me, so I know it's gonna be a harder year. I know I'll have a target on my back and I'm just excited for what's to come,'' Fernandez says.
"My dad-slash-coach always says that pressure and stress is my best friend and will always be my best friend, so I've just got to accept it. And up to now he's right and I've been accepting it pretty well, little by little, and I'm just so happy to get this opportunity to play in a grand slam seeded for the first time.''
Unusually, Jorge has accompanied her to Australia. "I asked him to come. I wanted him to come with me. The past few years, I was celebrating New Years on my own or on the plane without a family member and this year I just told him, 'I need a family member with me. My mom's gonna be with my younger sister, she's gonna play her tournaments. Dad, can you come with me?' and lucky enough he said yes.''
While the many game-day rituals of father and daughter are well-established — down to Jorge using the same shampoo and wearing the same jeans, underwear and socks on match days during the US Open — Fernandez insists that she is not superstitious enough to be concerned about tampering with a successful formula.
"No, I'm not worried! During my junior career and my early ITF pro tournaments he would travel with me all the time. He travelled with me to the Australian Open junior and I got to the final, so we've been joking around that every time he travels with me I've been getting some good results, so we'll see how this Australian goes.
"It's great to travel with him once again after so many months, years that we haven't travelled together. It's refreshing. Some people, some players, actually think of him as the immature one and I'm the mature one of the group. It's a funny dynamic, but I'm just so happy that he's here and that we can spend more time together, make more memories, have more memorable times on the road.''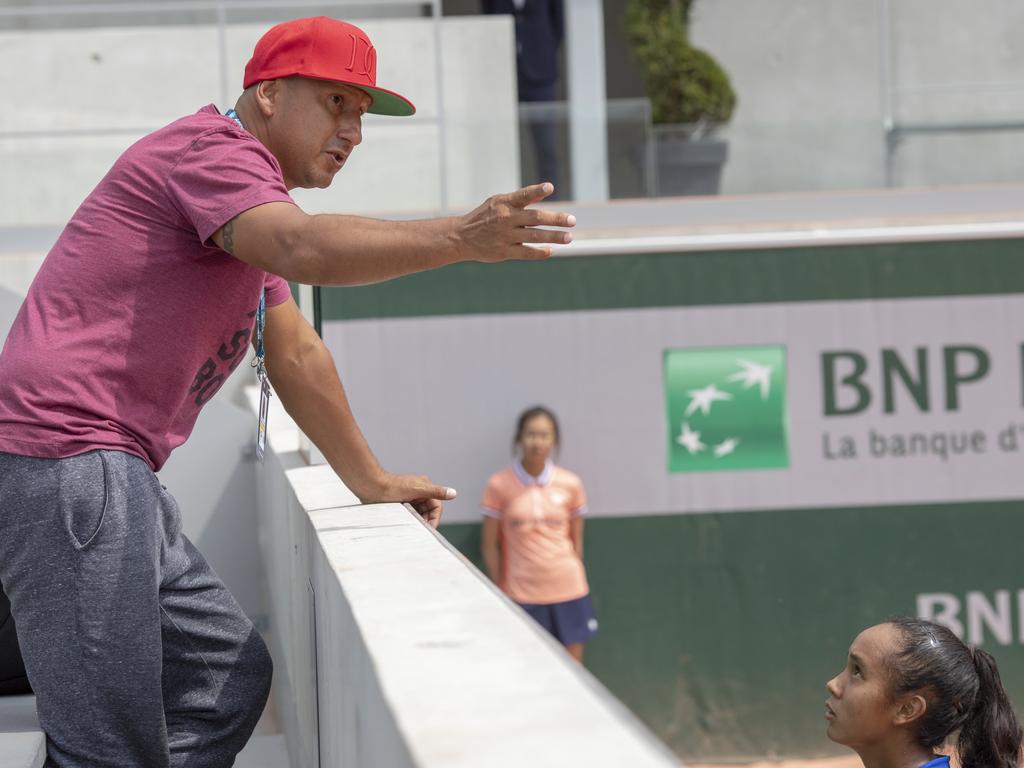 Father and coach Jorge Fernandez has accompanied Laylah to Australia. Picture: Tim Clayton/Corbis via Getty Images
Jorge is a self-taught coach whose approach to trying to fix an errant ball toss last year, for example, was to put the racquets away, throw balls at targets and play soccer. Leylah's composure, he has said, comes from being a devoted student of the game on TV and YouTube from before she a 12-year-old competing against bigger, stronger players at the 16/U nationals, knocking off volleys at the net and finishing with a little fist pump as if that was just how things are always done.
"Although she hasn't lived it, she's watched it,'' he said, likening her poise to past greats such as Justine Henin, Steffi Graf, and Bjorn Borg. Even, more curiously, John McEnroe. "Watch that lefty serve. After he's done being a little rambunctious, there's a moment of clarity that happens.''
What's clear to his middle child is how much the sting of that early criticism, that she would never be good enough, continues to energise and motivate her. "I know there will always be some doubters there that want to see me fail,'' she says.
While sitting comfortably on the brink of the world's top 20. With much that has changed ahead of her second Australian Open main draw. But also with an underlying determination to always see the positives, do the hard work and be thankful, which are among the underlying principles that have not.