Kevin Mitchell: Novak Djokovic tried it on with Australia and the world No.1 had to go
Novak Djokovic has been compared to Jesus; tell that to the refugees eating maggot sandwiches. The entitled world No.1 brought his treatment in Australia upon himself, writes KEVIN MITCHELL.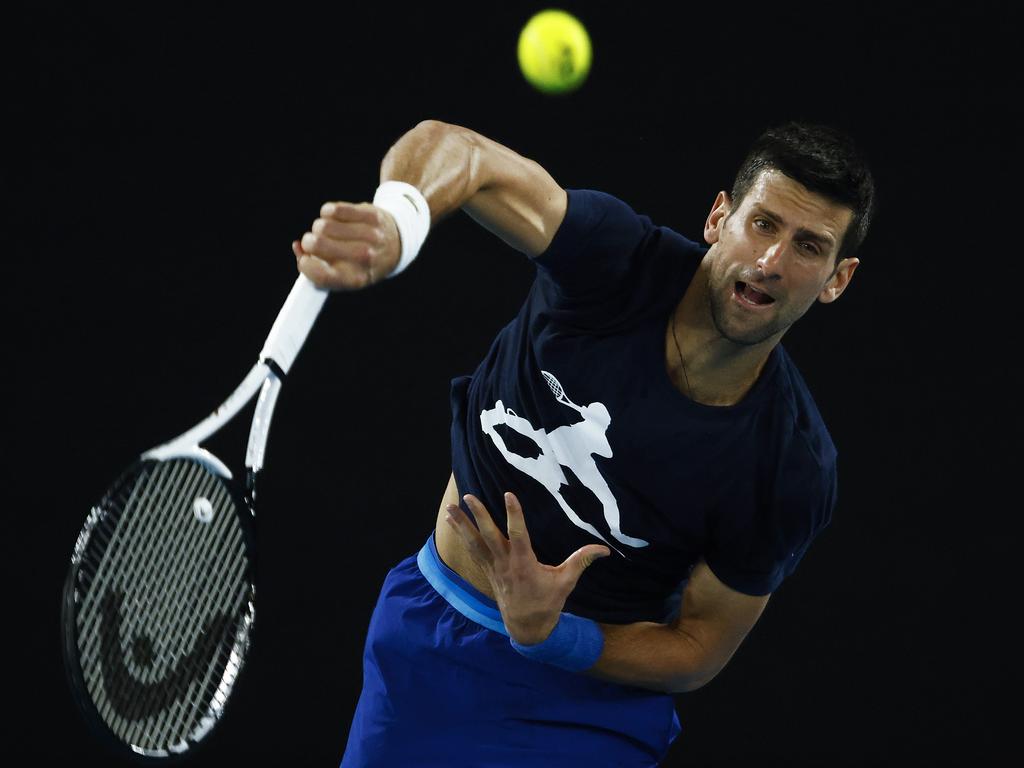 Novak Djokovic serves during a practice session ahead of the 2022 Australian Open - as close as he got to playing in the tournament, having since been deported over his visa fiasco. Picture: Daniel Pockett/Getty Images
Apologies for the exclamation mark but, over decades, it has seemed the most appropriate goodbye for cricketers, golfers, boxers, footballers and now, the best tennis player in the world, who (somehow) did not understand he should, maybe, call a cab.
Let's not mince words: Novak Djokovic had to go. Even he acknowledged that … reluctantly. He wasted everyone's time in court and on court – not to mention at the Park Hotel in Melbourne where, curiously, he refused to make enough friends to press the cause of those poor souls who, after many years (not mere days) are still waiting to be released from a life of unimaginable awfulness.
His father called him Spartacus, said he was being crucified like Jesus … because, you know, he did not have his personal chef with him. Tell it to the refugees eating maggot sandwiches.
The Serb's departure from Tullamarine Airport, en route to his tax haven in Monte Carlo, stood as stark counterpoint to the lives of those he left behind. More than anything in this melodrama, Djokovic's disengagement from his surroundings when hurled into an environment he probably cannot have comprehended is a huge minus.
Novak Djokovic leaves the Park Hotel in Melbourne, where he spent time in detention alongside refugees before being deported from Australia without getting to play in the Australian Open. Picture: Diego Fedele/Getty Images
As for the tennis, Djokovic tried it on. No question. While 97 per cent of his fellow players decided it was no big deal to get vaccinated, the world No.1 thought otherwise and chose to stretch Australia's legal system to the limit by claiming he was clean, because – surprise, surprise – he had contracted Covid just in time to qualify for exemption. He wanted to avoid 14 days of quarantine; he did not want to be subjected to the sort of constrictions imposed on not only his tennis peers but an estimated 40,000 expatriate Australians who had been struggling to come home for at least a year.
And still, after taking up the weekend time of three Federal Court judges, he said he was "disappointed" with the judgment. The judges, well versed in these matters, were, it seems, wrong. There seems no end to Djokovic's sense of entitlement.
It should never have come to this, of course. Most sane voices agree Djokovic could either have said some time ago that he was not going to be vaccinated, and stay away, or agree to quarantine when he arrived. He did neither. Instead, he put himself above the sport and, with the encouragement of the tournament officials, tried to put himself beyond the legal reach of his hosts.
Think this through, though: Djokovic's friends, including the former estimable doubles player Paul McNamee, insisted that not only was he right not to declare if he had been vaccinated against Covid, but it was nobody's business but his. Well, fine … unless, maybe, you know, you're sitting next to Djokovic on a plane (unlikely) or in a locker room (less likely) and – *cough, cough* – you find your lungs giving up on you.
Meanwhile, most of the seven billion other people on the planet who might think they are Djokovic's equals will have to say to someone or other if they are vaccinated. They/we have no choice.
These are not flippant observations. Death comes quietly. Platitudes disappear on the wind.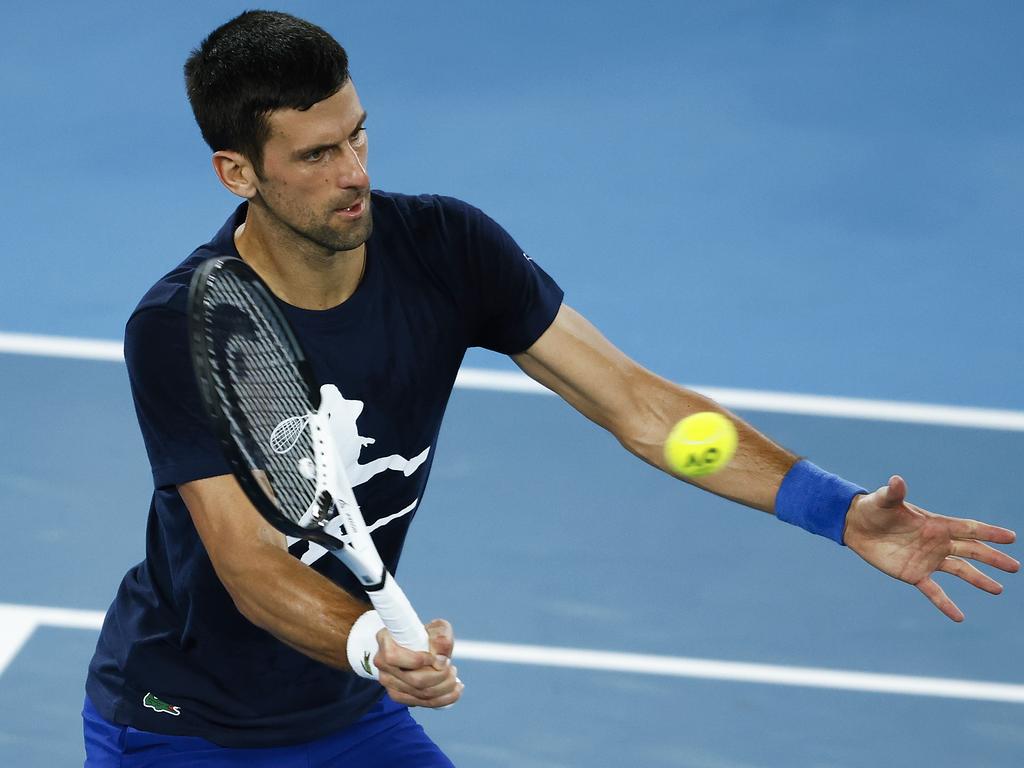 Novak Djokovic plays a forehand volley during a practice session ahead of the 2022 Australian Open – from which he has just been replaced in the draw, having not joined 97 per cent of ATP players in receiving a Covid-19 vaccination. Picture: Daniel Pockett/Getty Images
Deep down, however, Djokovic knew better. He realised his challenge was a long shot. He also will have known that, whatever the custard-level schmoozing of Tennis Australia officials and – sadly – some gullible journalists, he would only get to play at Melbourne Park over the next fortnight if the tennis universe regarded as even vaguely credible that he was the victim and not the perpetrator.
Believe me, there are plenty of accredited fans with laptops (representing obscure websites, mainly) at the Australian Open who will continue to resist this reality, who will argue that he has been hard done by. The opinions of these sycophants will turn up on TV, radio and across social media. Not only are many of them suspect as bona fide journalists, but most ask the sort of questions at press conferences that would embarrass a local solicitor.
If Djokovic is gone forever from Australia is problematic. It is impossible to believe that, despite his ham-fisted attempts to treat his hosts as if they were lucky to be talking to his agent, he does not realise that winning a 10th Australian Open title is part of his legacy. Yet nothing is certain. Djokovic beat Rafael Nadal on the way to winning the French Open last year, but can he do it again? He beat Roger Federer in the Wimbledon final – can he do it again? Probably … but you would not bet on it.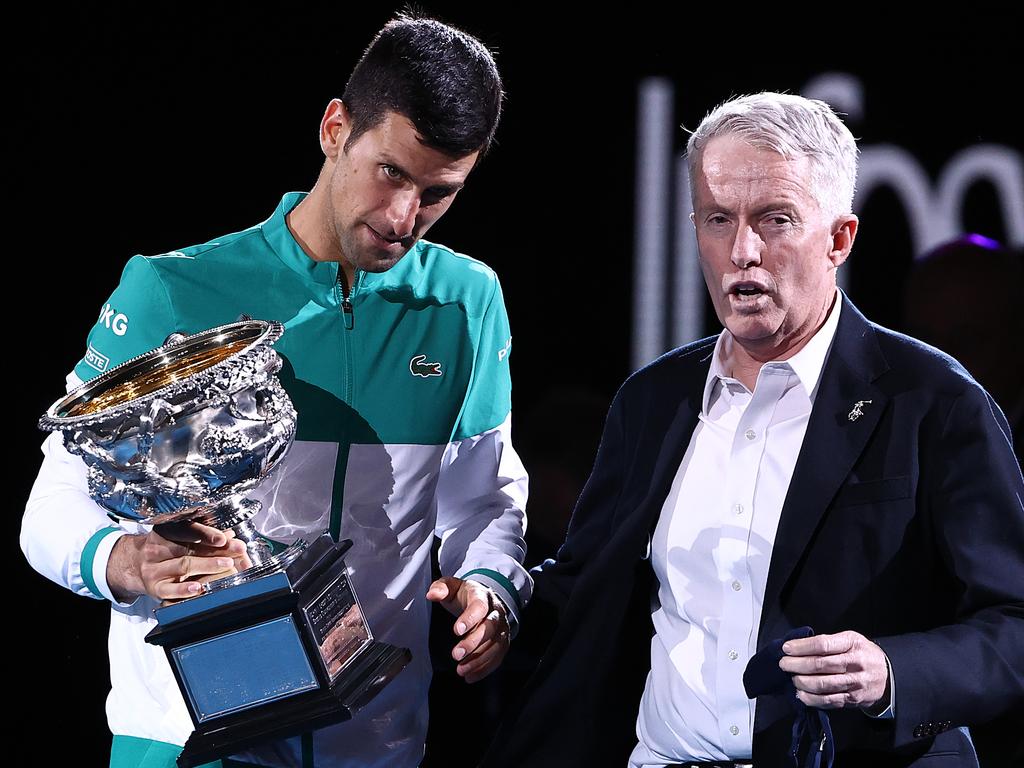 Novak Djokovic speaks with Tennis Australia boss Craig Tiley after winning last year's Australian Open title; his third in a row and ninth overall, a tournament record. Picture: Cameron Spencer/Getty Images
Nevertheless, Djokovic got it spectacularly upside down in pretending he could play in the Australian Open by calling in favours from Craig Tiley, his friend in charge of the tournament he needed to win to become the greatest player of all time. Tiley wanted him to but his lawyers also assumed that Australia's judiciary would roll over like tame kittens. They did not.

No, the judges weren't having it. They kicked Djokovic out. They decided that, whatever his celebrity, he was not bigger than the law – bigger than the international court of opinion, even – and you can make your own minds up about that. What nobody can dispute is that Djokovic lost. To the law. And to Australia.
Where this leaves Tiley is anybody's guess. A minor player in fringe tournaments in Europe in the mid-80s, he's been a canny operator since arriving in Australia from South Africa as a sharp-minded administrator and, more than likely, he will call in favours from his sometimes business partner, Roger Federer, to paper over some of this mess.
This, though, is not about Tiley. Or Tennis Australia, the Association of Tennis Professionals, the Women's Tennis Association or any other acronyms.
This is about Novak Djokovic. He started it. He caused it. He lost it. If he can bring himself to appreciate his responsibility in demeaning what he describes as "our sport", maybe he will rise up. Nobody can do it for him.
Whether anyone cares is another question altogether.