Mark Philippoussis: Rafael Nadal was my last grand slam opponent and remains as driven as ever 16 years later
Aussies might not see Roger Federer and Novak Djokovic again so must savour Rafa Nadal while he lasts, writes MARK PHILIPPOUSSIS, explaining why the Spaniard has always been different.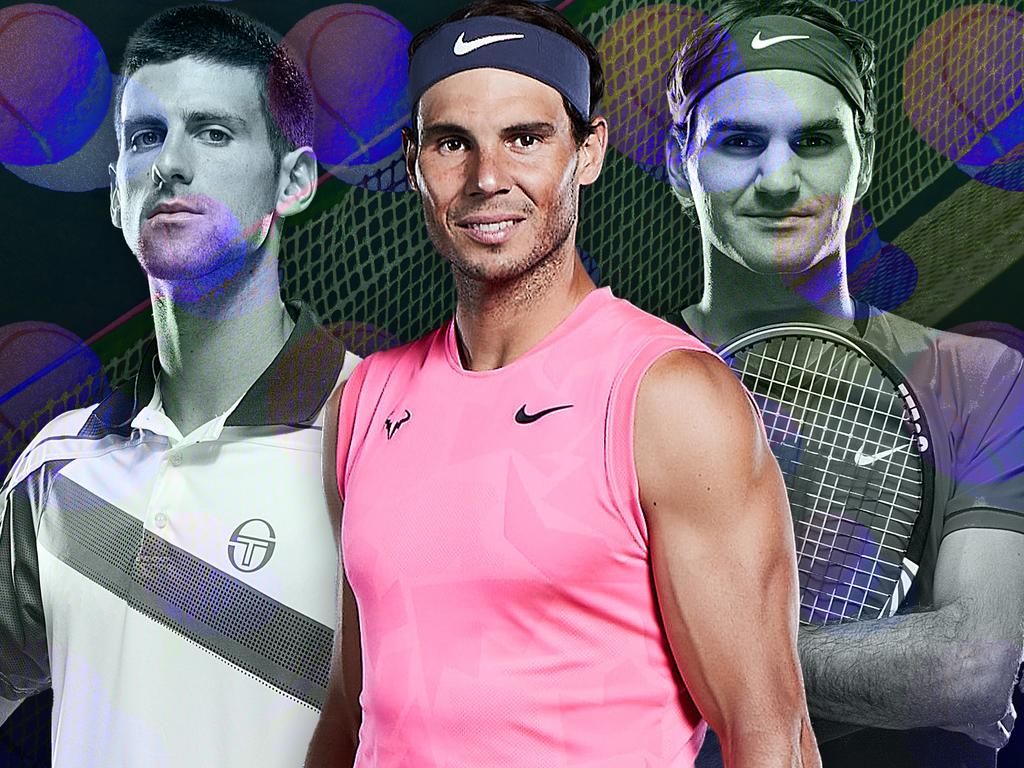 As the era of the Big Three draws to a close, Mark Philippoussis urges Australian fans to savour watching Rafael Nadal over the next two weeks.
My only match against Rafael Nadal was my last ever appearance in a grand slam.
It was the 2006 US Open and we all knew Rafa was destined for a big career. I wasn't having a great time of it with injuries but, even with a couple of French Opens already under his belt, I still thought there were parts of his game I could attack on the hardcourts.
For instance, he liked to stand so far back when returning serve that I figured I was a good chance of serve-volleying him.
Wrong.
His returns were different from the others on tour. He put so many revs on the ball that it dipped violently and left me to constantly volley from my toes. And because he had anticipated I'd be digging it out from my shoelaces, he had already moved forward and put himself in a prime position to pass you on the next shot.
OK, noted. I wouldn't try to dink in a volley next time and instead hang back and wait for his return to drop short, which they often did. Normally, to balls that short, I would be licking my lips and setting up for a big groundstroke to hopefully finish the point. But that spin! A ball that from anyone else would've bounced waist-height was suddenly shoulder-height. The risk profile of my next shot had completely changed. He was so freaking hard to put away.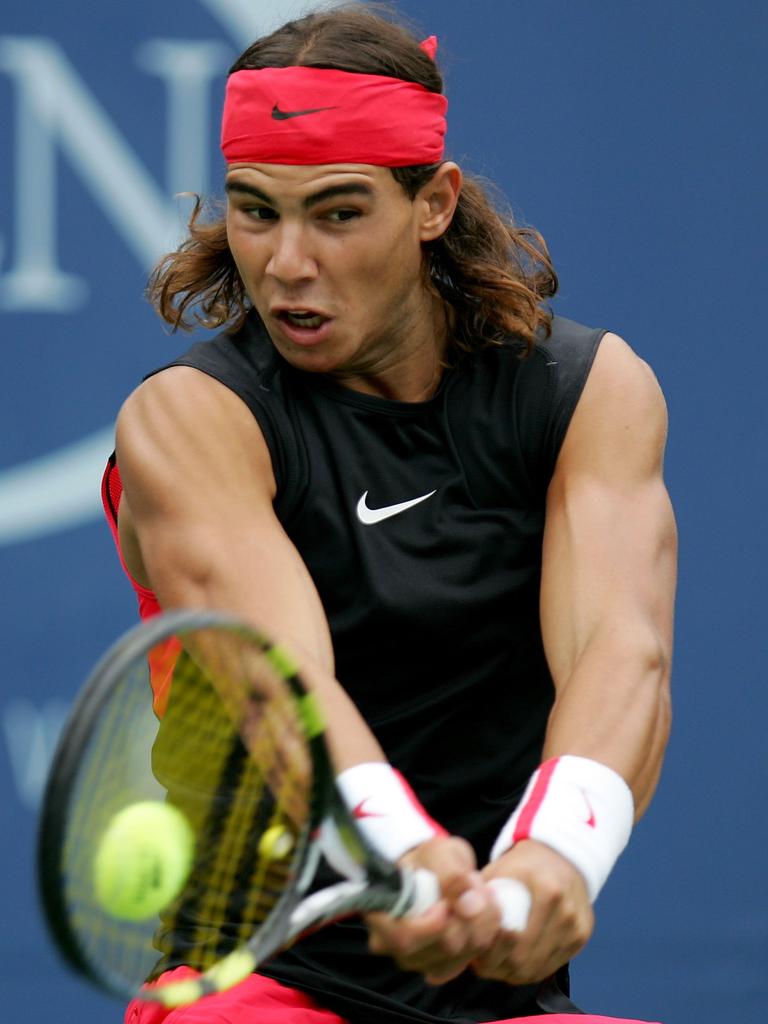 Rafael Nadal hits a powerful backhand during his first round match against Australian Mark Philippoussis at the 2006 US Open. Picture: Al Bello/Getty Images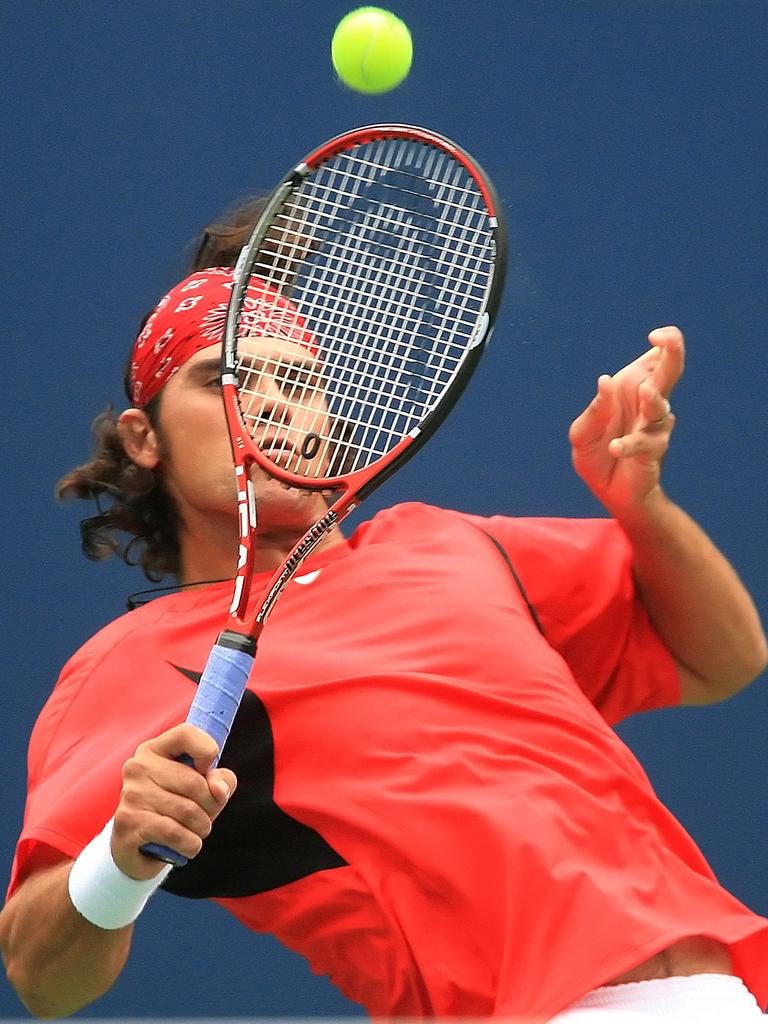 "A ball that from anyone else would've bounced waist-height was suddenly shoulder-height," Philippoussis says of Nadal's return. Picture: Jamie Squire/Getty Images
Another thing: we all knew back then how much work he put on the ball but I found most of his shots early in a rally were down the middle. I figured it was an opportunity to put some pressure back on him. In reality, he was just laying out the bait. By inviting me to go for the lines, I had just created the angles for him to attack me (unless I'd got it absolutely perfect). Because he was so good with his lateral movement, because he was so good from the back court, because he was so strong, my attempts to be aggressive had played right into his hands.
Game, set, match Nadal: 6-4 6-4 6-4.
Remember, this was 16 years ago. Rafa has become so much stronger and more skilful over the years. But even then, I was so impressed with how well he read the game, how he moved and how driven he was to succeed and improve. On the odd occasion where you felt you had him on the ropes, he had the power and skill to switch from defence to offence in one shot.
Brilliant.
*****
I commentated Rafa's match against Marcos Giron on Monday.
You might think a 35-year-old guy with 20 grand slams to his name had mellowed over the years, particularly in a first-round match against the world No.66. No chance. What I saw out there was the same passion and desire that I witnessed first-hand all those years ago in New York.
Rafa was killing the guy – up two sets to love and a double break – and he was still getting upset with himself. If he made an error, or the ball didn't quite go where he wanted, he would look up at his box in frustration and mutter a few words.
He believes he can still get better. He isn't satisfied.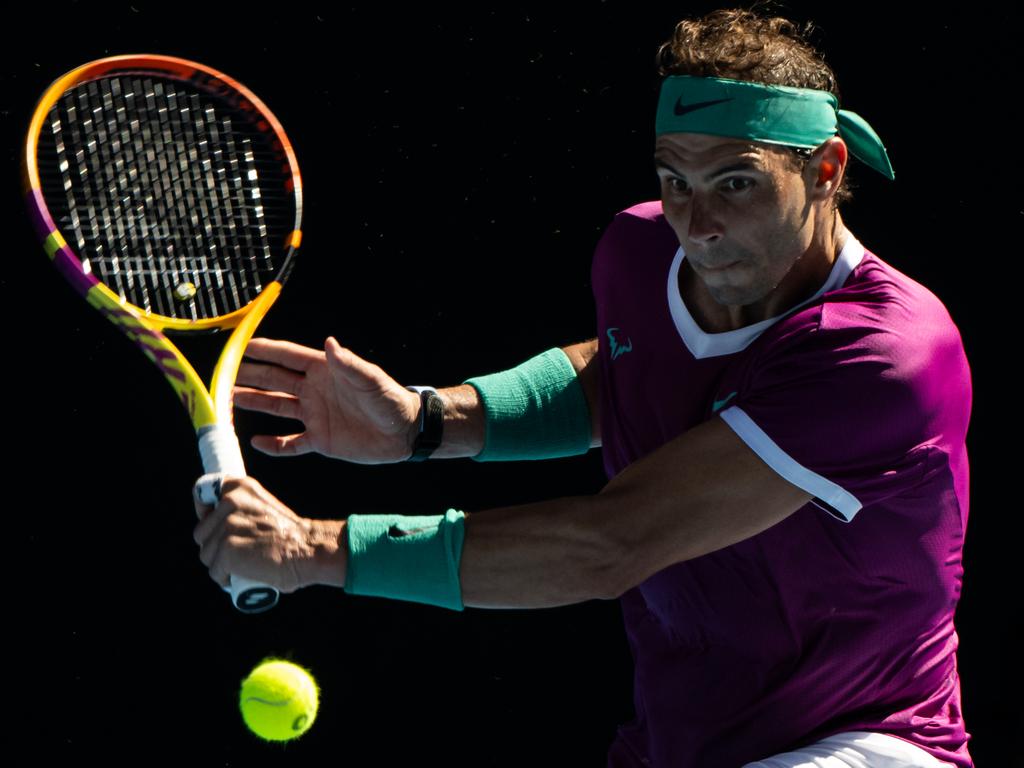 Nadal made light work of Marcus Giron, winning their first round match 6-1 6-4 6-2 on Monday. Picture: TPN/Getty Images
This is the mindset of a champion. It's Tom Brady, it's Tiger Woods, it's LeBron and Kobe and Michael. Legends like that don't look to anyone else for motivation or inspiration. It all comes from within. It's them-versus-them.
You hear the stories of LeBron shooting 100 free throws after a game and how Kobe used to arrive at the court hours before his teammates to get in extra reps. In tennis, we've been blessed to have three of these guys all come through at once in Rafa, Roger Federer and Novak Djokovic. Like Tom and Tiger and co, 'The Big Three' have forever redefined what it means to compete on the men's tour in terms of training, dedication and the physical and mental approach to the game.
I played in the era of Pete Sampras and I didn't think his 14 slams would be touched in my lifetime. Not only has it been beaten, it has been smashed, and by three guys who all competed against each other through the same era … and I'm only 45! There have been a lot of good athletes within that same generation who have barely got a look in because of the dominance of Rafa, Roger and Novak. Had they played at another time, their mantelpieces would have been bursting.
Will someone else break their record? I can't see it. Maybe in my grandkids' generation.
Will anyone come close to the 20 grand slam titles Nadal, Roger Federer and Novak Djokovic have each won? Picture: Quinn Rooney/Getty Images
Certainly, I don't believe anyone will match what Rafa has achieved at the French Open and Monte Carlo, which he has won 13 and 11 times respectively. But as much as we tend to talk about Rafa on clay – and his numbers are ridiculous – that doesn't tell the true story of his career. He's done it on all surfaces. As incredible as he has been on the slow clay, there are parts of his game that actually benefit from the faster courts. He's going to slide more. He's going to get cheaper points on his serve. His slice is going to stay lower and come a little faster through. And the heaviness of his groundstrokes bounces higher off the court.
He adjusts so well to surfaces, conditions and opponents and only the bravest of souls would discount him from adding a second Australian Open title to his resume, particularly with some of the high-profile absentees this year. These days, he is selective with his schedule and only plays tournaments he believes he can win. The fact that he's here in Melbourne tells you everything you need to know about his current frame of mind.
When I played him all those years ago, his foundations were already strong. He's built on and added to them since. He's someone who, 21 years after turning professional, is still out there tweaking his serve, trying to get another 5mph on it, trying to hit a little flatter, working on his second serve and so on.
That's not just impressive. It's inspirational.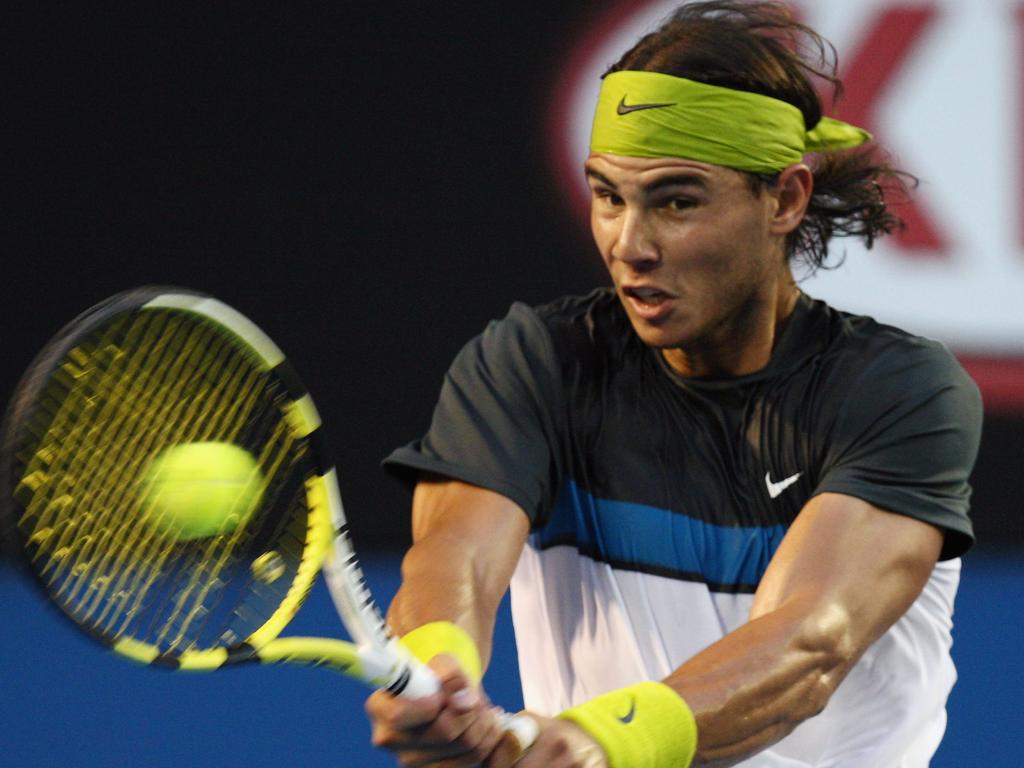 Nadal is most dominant on clay, but his hard court wins are just as impressive; including his 2009 Australian Open final victory. Picture: Quinn Rooney/Getty Images
*****
None of us know how much longer the Big Three will play.
There's no guarantee we will see Roger in Australia again given he is 40 and struggling with knee issues. And who knows what the future holds for Novak here after the events of the past fortnight?
What we do know is that Rafa is here and he feels like he has more grand slams in him.
Savour this week (and hopefully next week, too).
Don't take it for granted.
We have been fortunate to live through the greatest generation of men's tennis and we're privileged that we have a little while longer to take it in.