Matteo Berrettini has risen as a new power player in tennis both on and off court
He might annoy Aussie girlfriend Alja Tomljanovic but Matteo Berrettini has many in tennis swooning over his power game and model qualities, writes LINDA PEARCE.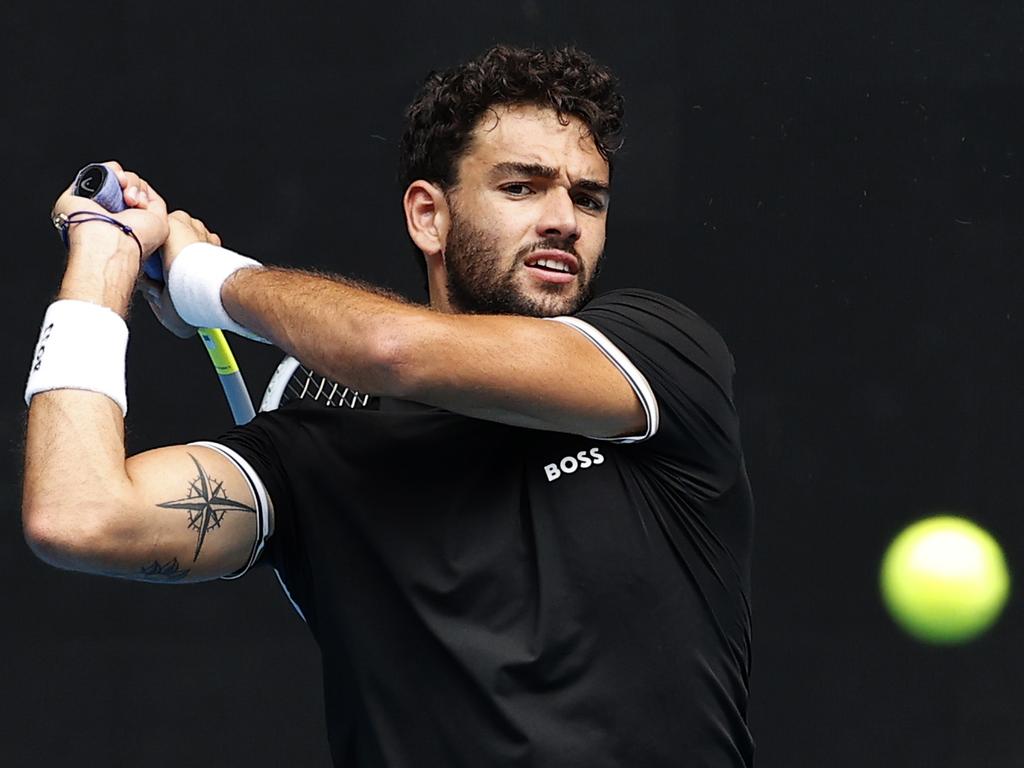 With model good looks and a dangerous power game, Matteo Berrettini is taking the tennis world by storm. Picture: Darrian Traynor/Getty Images
Just like Chris Hemsworth, Matteo Berrettini is coming soon to a giant billboard near you. Expect Thor to be smouldering without his hammer in this one, though, just as the Wimbledon finalist will be handsomely brooding sans racquet.
Roger Federer and his late-career US$300 million contract with Uniqlo, Rafa Nadal through his Tommy Hilfiger boxer shorts and Novak Djokovic with Lacoste are among the few previous crossover deals in the men's game, where the player has become one of the faces of a broader fashion brand.
Indeed, Berrettini's agent Richard Evans expects that some people less familiar with tennis may get to know the Italian modelling his own BOSS line via a lucrative multi-year deal that started this month, and only find out later about his day job.
"Nobody never taught me anything; it was just something that came pretty natural. I was just standing and they've been telling me, 'Oh, you have it','' Berrettini says, with more amusement than vanity of his affinity with the camera.
"It's definitely easier than playing tennis, and sweating and running all over the court. So when I have the chance to do, I enjoy, and obviously my main job is to play tennis, but when it's happening, it's nice.''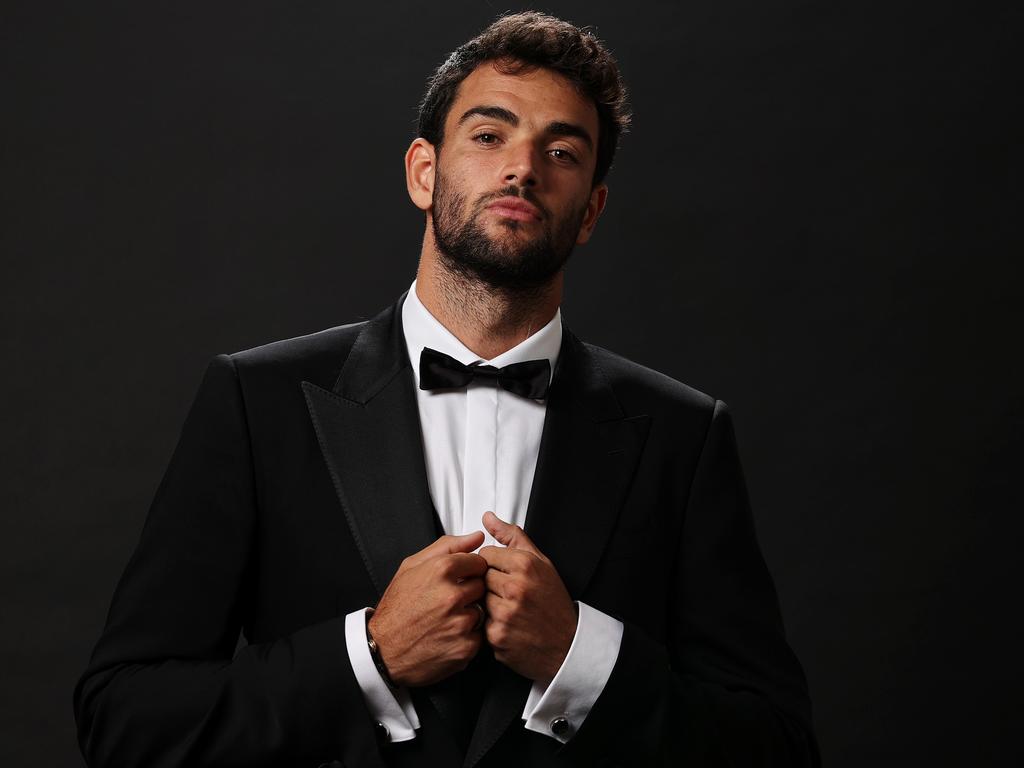 Matteo Berrettini says posing in front of a camera comes naturally - and it's easier than chasing a tennis ball. Picture: Clive Brunskill/Getty Images
In tennis, as in life, it's far more common for female athletes to be critiqued about their appearance and style. So, is the fact that Berrettini is emerging as a fashionable exception to the rule a good thing?
He thinks so, given how rare it has been in the past. "So probably I'm gonna be one of the first tennis male players that is gonna have this kind of experiences. I think it's really good to mix it up a little bit. Obviously we are tennis players, but I don't wanna be just focused on that. I want to have other experiences if I can, if it's not gonna affect my career.''
No problem so far, it seems. The world No.7 will open his Australian Open campaign on Monday against American Brandon Nakashima, as a senior seed in the top quarter of a draw that housed nine-time champion Djokovic when he was not back in immigration detention at the Park Hotel.
Relaxed and chatty, Berrettini is a far less complicated character, who has admitted he annoys his girlfriend, adopted Australian Ajla Tomljanovic, when his fun-loving, trash-talking, jokester self practices with the super-professional world No.45.
Backhand slice, for example. She hates him playing it. "And I play it,'' he smiles. "Obviously because she struggles with it, but (also) because her backhand is really good, and I had to mix it up - otherwise she's gonna kill me. So I have to use my weapons in order to not get killed!''
Gallant as that is, it's hard to imagine Tomljanovic doing a Billie Jean King in any battle-of-the-sexes scenario, given that Berrettini was described by his 2021 French/Wimbledon/US Open conqueror Djokovic as the "hammer of tennis", and credited with the biggest serve and forehand in the game apart from the cursed Juan Martin del Potro.
"He's got the lethal-serve-plus-one game … if he serves well, which is his biggest weapon, he's tough,'' Djokovic said in New York, before prevailing in four sets for the third consecutive major. "He's tough on any surface to play against."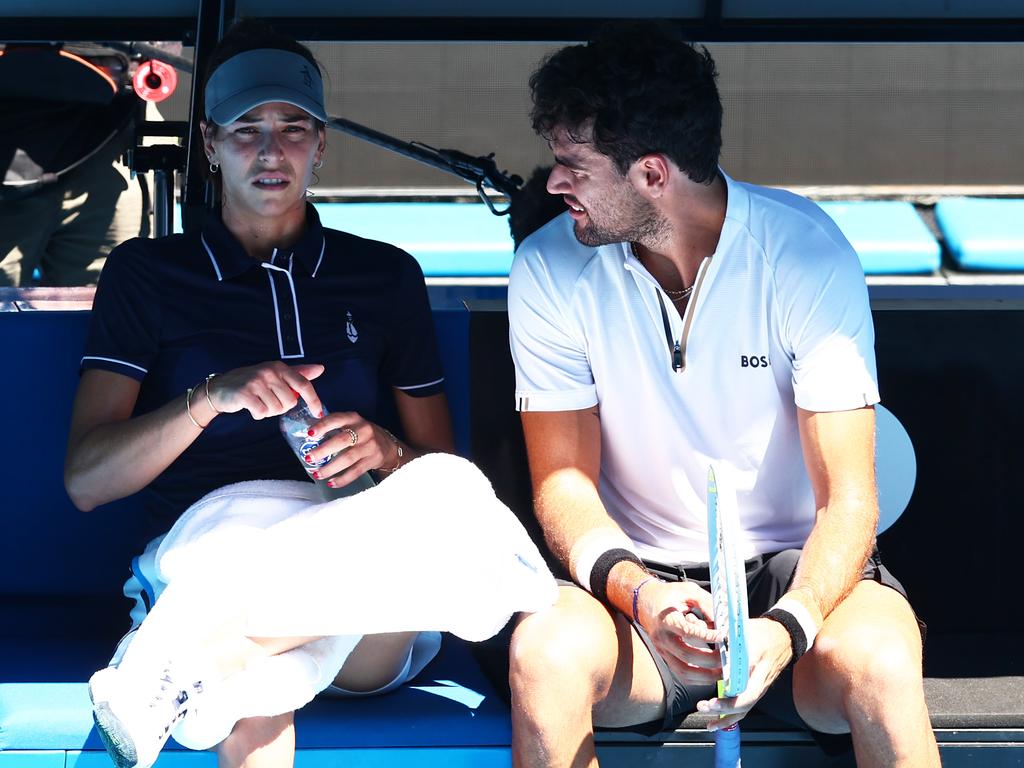 Berrettini is the joker, while girlfriend Ajla Tomljanovic is the serious one. Picture: Clive Brunskill/Getty Images
Exhibits A-C: a breakthrough 2019 US Open semi-final (hardcourt), before this year's debut Masters 1000 final in Madrid (clay), and a Queen's Club title hailed by grass court master Boris Becker which preceded that grand run to the decider at the All England Club, an Italian singles first. On that same July day, there was a happier ending for his beloved Azzurri against England in the dramatic European championships final, with Berrettini then invited to join the football heroes for their open-top-bus parade through the heaving streets of his home city, Rome.
But back to his best surface. That's a tough one. Grass, right now, probably (see 2021 London, above, and Stuttgart, 2019), says Berrettini. But he grew up on clay (titles in Gstaad, Budapest, Belgrade). Likes that, too. Let's not forget that US Open, though, even given the differing hardcourts of Melbourne Park and Flushing Meadows.
So if power is something Berrettini has in abundance, then what do rivals have that he doesn't?
"I would steal probably Novak's return, and maybe the way Daniil (Medvedev) moves,'' he says, after some thought. "But, I mean, I like my weapons, I like my power, so I think it's interesting how everyone adapts to his own game.''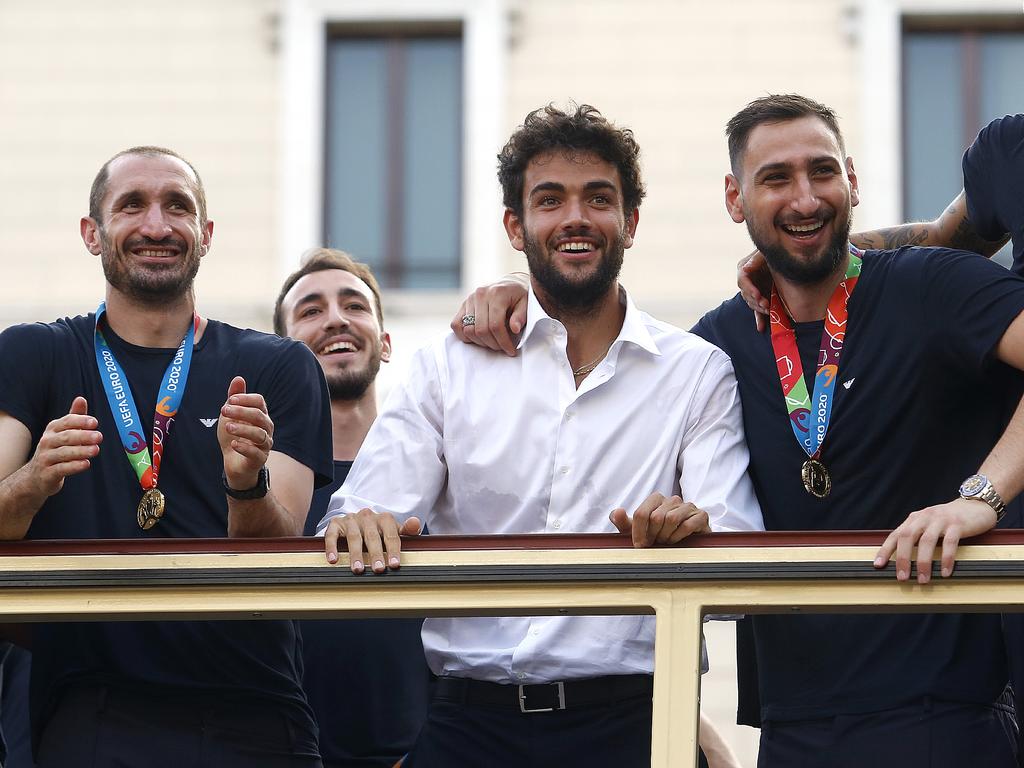 Berrettini (middle) celebrates with Italian footballing heroes Giorgio Chiellini (left) and Gianluigi Donnarumma (right) in Rome. Picture: Samantha Zucchi/Insidefoto/Mondadori Portfolio/Getty Images
*****
Building Berrettini's toolkit took longer than some. Despite having grown up in a tennis-loving family, it was his younger brother Jacopo who was initially keener. Berrettini, for a time, preferred swimming and other sports such as judo.
Plagued by negativity and a late-maturing body that was slightly injury-prone, it was only around the age of 20 that Matteo decided that he would try to make a career out of tennis. Aim high. Maybe top 50, even. There had been a family meeting to discuss whether he should go to college instead, before the decision was made to try the pro tour for two years, maybe three.
His coach since 2011, Vincenzo Santopadre, emphasised passion for the game over the relentless early pursuit of results. Love it. Learn. The rest will come.
"It was a good thing, but was needed in a way that I was really late with my body development, in a way that I was really skinny and I couldn't lift too much, I couldn't practice too much, 'til I was 19, 20,'' Berrettini says. "I was getting injury even back then, so I really had to be careful for that and in a way when I started on the ATP Tour, I went up really fast.
"So was just a different path than the other guys like Jannik Sinner or Carlos (Alcarez of Spain), they're really unbelievable. I think right now I have no regrets about that and I'm happy where I am now, but I still want to improve.''
Novak Djokovic labelled Berrettini the "hammer of tennis" for his powerful serve and forehand. Picture: Darrian Traynor/Getty Images
Another famous Roman, former world No.4 Adriano Panatta, was alerted early to the potential of a kid he practised with locally and told Berrettini he would one day serve at 220kmh. Panatta was the 1976 Roland Garros champion, where - trivia alert - he was the only player ever to beat Bjorn Borg. Did it twice, actually.
"He was really the first guy that told me, like, 'You're gonna serve really fast, you have that kind of quality', and I look at him and I was like, 'Oooh, really?' But then I was like, 'This guy won French Open, and Davis Cup, so he knows about tennis'. We've been in touch, still, now and he's really a great guy.''
Also a prophet, of sorts. A nation that produced a trio of top-seven women this century (major winners Francesca Schiavone and Flavia Pennetta and Serena slayer Roberta Vinci), now has a clutch of top 40 men, including 20-year-old Sinner (ranked 11th), Lorenzo Sonego (27) and the veteran Fabio Fognini (36), plus another handful in double-figures.
"Sometimes it's just happening. Sometimes there are reasons. I think the (Italian) federation did a great job, I think more people are playing tennis, and there are a lot of tournaments in Italy, which is really important - especially the Futures and a lot of Challengers," Berrettini says.
"So the young kids like me had the chance to improve and to have not the kind of pressure to go around the world, but being in your home country and playing with wildcards.
"Then in a way, I think we are helping each other because one guy is like doing a result and the other guy is saying, 'OK, now I'm gonna do it', and we all have a great relationship so there is a really good competitive mood, but in a really healthy way.''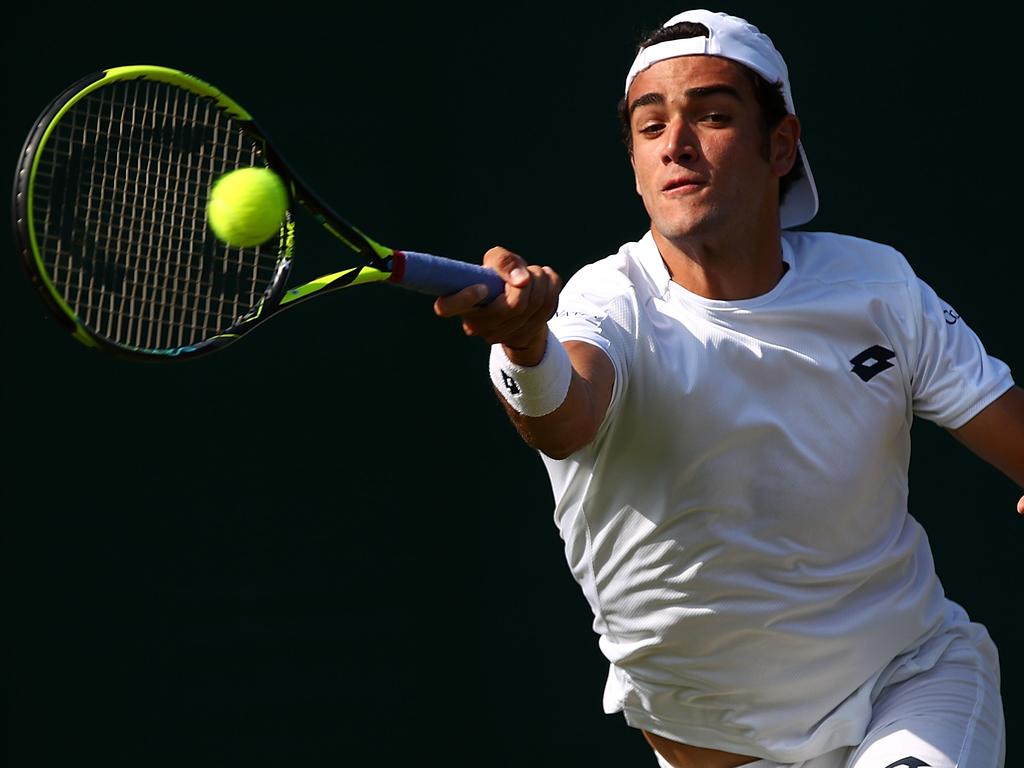 Berrettini in action at Wimbledon in 2018. His route to the top took a little longer than some. Picture: Clive Brunskill/Getty Images
As to what Berrettini is known for among the fratellanza, he grins that they would say he's the chattiest. "We're starting to have this relationship that it's really healthy for our personal careers but in general, also for the team competitions. They see me obviously as the big server of the group and, yeah, the guy that likes to talk.''
Australia has a unique place in this story, too. Having qualified for the 2014 junior event in an under-age career that failed to carry him into the top 50, Berrettini reached the final round of senior qualifying in 2018. But so shattered was the 21-year-old by his loss to 190th-ranked American Denis Kudla, after holding two match points, that he retreated in a funk to the player lounge.
"I wasn't talking to anybody. Like, my phone was ringing, my parents were trying to call me, 'How are you?' and I wasn't replying to anybody, I was just too upset,'' he recalls.
"Then my coach text me and he was like, 'What time you want to practice tomorrow?', and I was like, 'No way I'm practising tomorrow, I'm too upset'. And then he said, 'You got in'. I said, 'What?' He said, 'You got in, (as a) lucky loser', and then my smile came back. Even though I lost the first round (to Adrian Mannarino), it was a nice experience.
"At the end, that's the good part about learning and growing up. You see stuff from the past and you see, 'Oh, I was acting like this, I shouldn't have done that', or, 'I did the right thing'.
"But in that moment, I was really down because I never thought about being here, being seeded and being, like, seven in the world. So it was like, 'What if I'm never gonna qualify in a slam?' It was the first slam that I had the chance to qualify, so I think it changed (things) because I did a really good experience in the first round.
"Then I lost straight sets, but it was first match that I played best-of-five, so it helped me the next slam, which was French Open. So yeah, in a way it changed and, I think, gave me a lot.''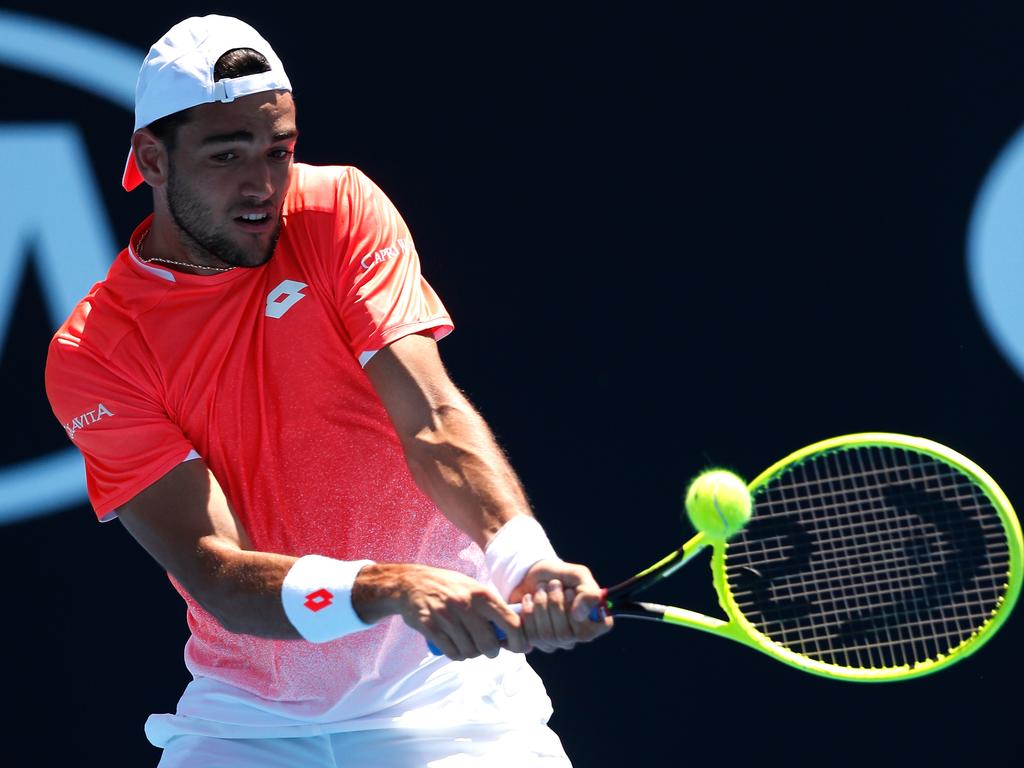 Berrettini in his second appearance in the main draw at the Australian Open in 2019. He lost in the first round to Stefanos Tsitsipas. Picture: Darrian Traynor/Getty Images
*****
When Matteo met Ajla. It was through a direct message on social media, initially, then they chatted in person for the first time at the Rome Masters in 2019.
"I texted her on Instagram, because I didn't know her, I saw her a couple of times on site but we never had the chance to really talk and then the first we actually talked we were in Rome,'' Berrettini says.
"And she's acting like she's tough, but she was so shy, and I said hi to her and then she wanted to talk to me, and she said, 'Is it raining?' And it was pouring outside. So it was a really stupid question, but it was nice.
"You know the first games you're playing that you're kind of flirting with each other, so it was nice memories.''
Given that Berrettini has had his best results since then, does Tomljanovic - with whom he also shares a love of films and dogs - take a fair bit of the credit?
"Of course she does. Of course she does! I think it's a combination. Obviously having someone that understands you and someone that is really close to you, especially during the most important tournaments like the slams, it's a plus. It's something that's giving me an extra motivation when she's coming to watch my matches, when I go to watch her matches. Yeah, it's very nice.''
Tennis, as the pair has often said, is not their main subject of conversation. "I mean, our life is about that, and certain times it's just happening. You cannot avoid it, especially when there are I think tough times. When either of us needs help, we are always there to support each other, so I think this is another good thing about our relationship.''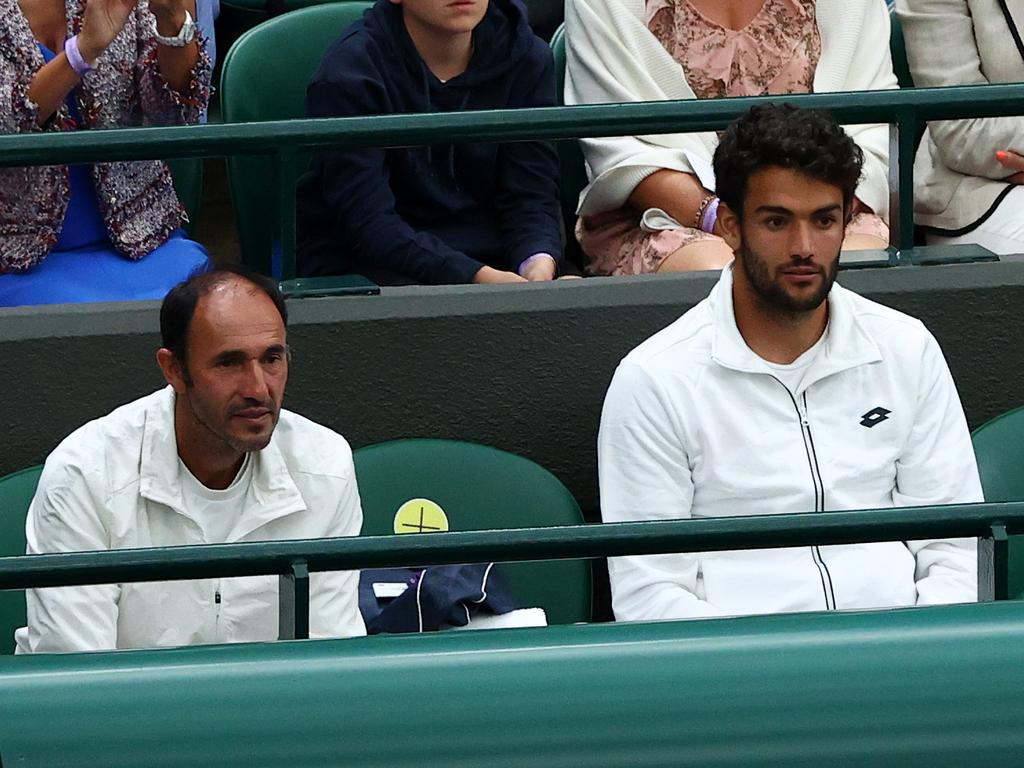 Berrettini in Tomljanovic's player's box at Wimbledon in 2021. Picture: Julian Finney/Getty Images
On Saturday, there was much fond banter during multiple interviews and photo shoots on the main media day ahead of the Australian Open, where Tomljanovic has a marquee match-up with eighth seed and new Sydney champion Paul Badosa on Monday.
After a cosy balcony pic, the Australian No.2 and Fed Cup regular's parting remark is that her boyfriend is much better at the photo shoots; for it is, after all, his seventh for the day. During one interview last year when the pair was quizzed about who took more time over their appearance during lockdown, it apparently wasn't Ajla.
Having spent lengthy time in quarantine together, the pair holidayed in the Caribbean at the end of 2021, switched off their phones, spent mornings in the gym and afternoons on the beach. "It was needed, it was a long season, we couldn't do it during the year, so it was really nice to switch off a little bit.''
Berrettini had to heal his body first, for 2021 was bookended by the abdominal injuries that forced his fourth-round default at the Australian Open, and forced him to retire from his only round-robin match at the prestigious ATP Finals in Turin. His sights are set high for 2022, but the "big trophy" ambition has a caveat.
"Last year I didn't lift a (Masters) 1000 or a slam, but I reached the finals (Madrid, Wimbledon), so it was still a great result and obviously if I'm not gonna win, I'm not gonna say that it's gonna be a failure, but this is the goal,'' he says.
"Tennis, it sometimes is not just about winning or losing. Look for example what happened in Turin for me, it's really the worst thing that can happen, so if I'm gonna qualify again and not winning a match, it's gonna be better than last year. So for sure these are the goals, but even if they're not happening, life goes on, tennis goes on.''
Djokovic claimed a four-set win over Berrettini in the 2021 final. Picture: Simon Bruty/Anychance/Getty Images
Despite a 1-2 singles record in the ATP Cup lead-in event, Berrettini likes the Australian conditions and the high bounce that helps his serve, delivered from that 196cm height. The fact he has reached a slam decider since the last time he visited has provided the second-week regular with the optimism that he is indeed not too far away.
"Yeah, definitely that was a turning point in my mind, as well. I really thought, 'OK, I can do it','' he says, while admitting that being "two sets away from lifting the trophy" was close but also not that close.
So there is still much to do, including improving his movement forward and net game, but also plenty of upside for a player who now has a couple of jobs he enjoys and, it would appear, rather attractive prospects of succeeding in both.