Novak appeal set for full bench
Lawyers for Novak Djokovic have denied that a report of his Covid vaccination view is visa cancellation grounds, while the tennis No.1 has been returned to hotel custody.
Novak Djokovic's lawyers have rejected "public interest'' grounds related to his vaccination views that were cited in his visa cancellation yesterday ahead of his appeal hearing before a Federal Court full bench on Sunday morning.
The full court may have the last word. Immigration Department counsel opposed such a hearing, arguing it would forestall further appeals by either party.
Djokovic is back in the custody of immigration officials. The tennis world No. 1 was driven into the immigration hotel, the Park Hotel in Carlton in Melbourne.
He will spend the night there ahead of his Federal Court appeal against Friday's latest visa cancellation.
The hearing bench will comprise Chief Justice James Allsop, Justice Anthony Besanko and Justice David O'Callaghan. It is scheduled to commence at 9:30am AEDT.
JUST IN: World number 1 Novak Djokovic has just been driven back into the immigration hotel in Melbourne. His lawyers will spend the day working on his case, hoping to get his visa cancellation overturned tomorrow. #7newsmelbpic.twitter.com/6epMVMDNS8

— Teegan Dolling (@tdolling) January 15, 2022
The tennis world number one is fighting the Immigration Minister's claim his presence in Australia could potentially lead to "civil unrest" and an increase in anti-vaccination sentiment.
Alex Hawke on Friday cancelled Djokovic's visa for a second time, just days ahead of the Australian Open, sparking a late-night court appeal by the Serb to stay in the country.
The decision throws into chaos Djokovic's attempt to claim a ­record 21st grand slam title and pull ahead of rivals Roger Federer and Rafael Nadal, with the Serb named the number one seed for the Australian Open, which he has already won a record nine times.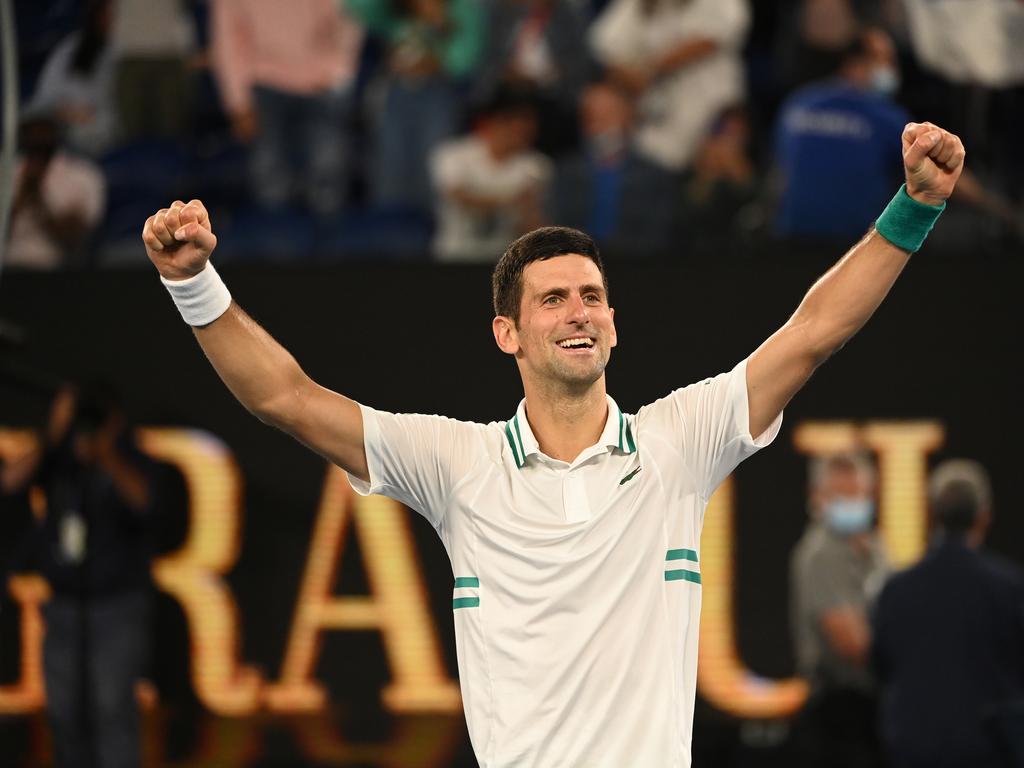 Novak Djokovic will go from hotel detention one day to defending his 2021 Australian Open title the next if his lawyers are successful in overturning the visa cancellation. Picture: TPN/Getty Images
Mr Hawke, in a statement ­issued late on Friday afternoon, said he used his powers under section 133C (3) of the Migration Act to intervene and cancel the visa on "health and good order grounds, on the basis that it was in the public interest to do so".
On Saturday Djokovic's lawyers filed a 268 page affidavit highlighting how his legal team will fight to keep him in the country.
His team states there are several matters that would go against the public interest if a second attempt was made to cancel Djokovic's visa, including that Australia's "global reputation" would be called into question.
"(Cancellation would) call into question Australia's border security principles and policies – and indeed the rule of law in Australia generally," documents say.
"Secondly, that action would prejudice Australian economic interests, and jeopardise the viability of Australia continuing to host this prestigious, international sporting event.
"Thirdly, that action would create the appearance of politically motivated decision-making.
"Cancelling Mr Djokovic's visa and deporting him would plainly be adverse to the public interest, and respectfully, could only serve political interests. The Minister for Immigration cannot be satisfied that there is any public interest in cancelling Mr Djokovic's visa."
The federal government argues Djokovic's presence could be a "risk to the health of the Australian community", despite agreeing he has a minimal risk of transmitting Covid-19 to others.
"I have given consideration to the fact that Mr Djokovic is a high profile unvaccinated individual who has indicated publicly that he is opposed to becoming vaccinated against Covid-19," Mr Hawke said.
In his arguments Mr Hawke said Djokovic being allowed to stay in the country would encourage others not to get the jab or their boosters, which would put pressure on the Australian health system.
Djokovic's lawyers disagreed, saying there was no evidence he would "foster anti-vaccination sentiment".
"The Minister cited no evidence that supported his finding that Mr Djokovic's presence in Australia may 'foster anti-vaccination sentiment', and it was not open to the Minister to make that finding," documents read.
The government also referred to Djokovic's admission he attended an interview with a journalist while Covid positive.
THEAUSTRALIAN. COM. AU05:51
Hawke 'did everything he was supposed to' with Djokovic
Mr Hawke also said it was considered that cancelling the visa would cause Djokovic and his family "significant inconvenience and emotional hardship and distress".
On Saturday morning a directions hearing for Djokovic's appeal confirmed a hearing will commence at 9:30am on Sunday.
Orders were made confirming that the Minister for Immigration file and serve any amended application by midday, and that Djokovic will file his written submission by the same time – both which have now been filed.
The 15 minute mention also heard the Minister for Immigration would have his response filed by 10pm on Saturday night.
The court heard as to whether the matter should be held before three Federal Court judges, or just one.
Djokovic's lawyer Paul Holdenson QC called for the hearing to be heard by a full court.
"I think three judges is appropriate, the matter can be dealt with, in our submission in a full court," Mr Holdenson said.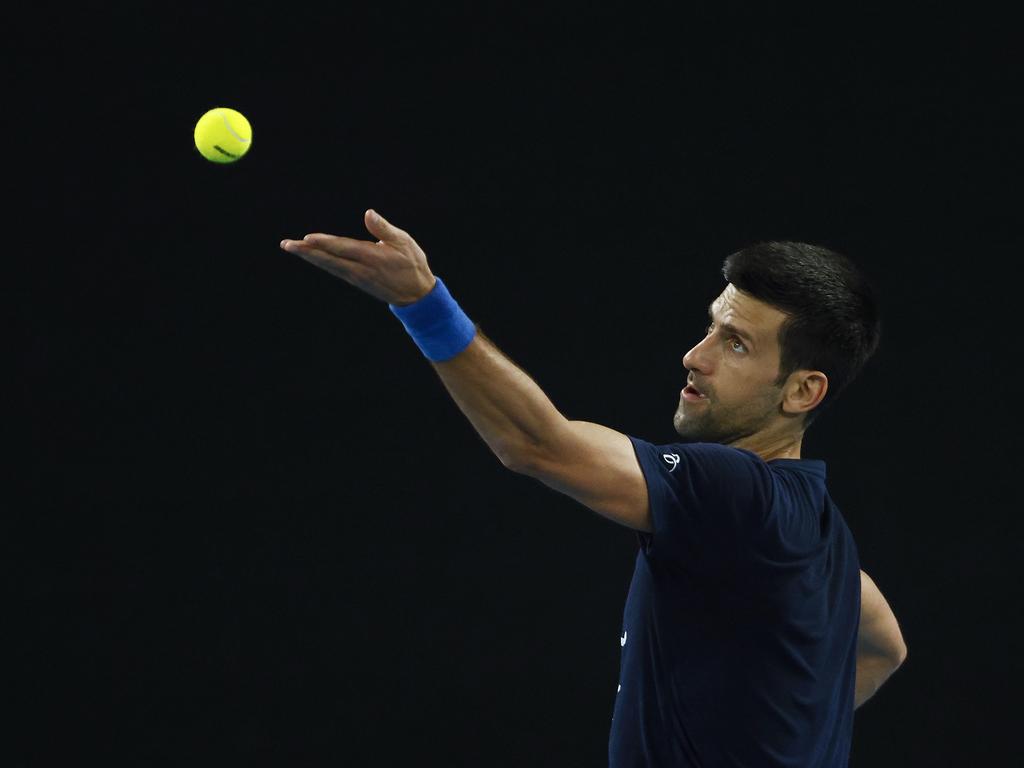 Novak Djokovic's case will be tried by three judges on Sunday, meaning he will be unable to practice at the Melbourne precinct in the lead up to the slam. Picture: Daniel Pockett/Getty Images
Stephen Lloyd SC, for the Minister for Immigration, opposed a hearing in the full court of three judges on the grounds that there would be no further grounds for appeal.
"Having the matter referred to the full court would remove any party's right of appeal, and that doesn't seem appropriate," he said.
Justice O'Callaghan told the court the decision would be made later this morning as to whether the hearing would be heard before one or three judges.
The court confirmed the hearing will commence at 9:30am on Sunday, Australian Eastern Daylight time.
The documents also outline the tense moment Djokovic's visa was initially cancelled by the Australian Border Force.
"I am really failing to understand what else do you want me to provide to you," he said at the time of cancellation.
"So you're giving me legally 20 minutes to try to provide additional information that I don't have? At 4 o'clock in the morning?" he said.
I mean you kind of put me in a very awkward position where at 4 in the morning I can't call (the) director of Tennis Australia, I can't engage with anyone from the Victorian state government through Tennis Australia. You put me in a very uncomfortable position. I don't know what else I can tell you. Everything that I was asked to do is here," the transcript says.
To that, the interviewer simply replied: "yeah".