Novak Djokovic has had his visa cancelled by Immigration Minister Alex Hawke
Novak Djokovic has had his visa cancelled for a second time, casting serious doubt over whether he can play in the Australian Open.
Novak Djokovic faces deportation just two days out from the Australian Open after Immigration Minister Alex Hawke sensationally cancelled his visa for a second time.
In a statement issued just before 6pm on Friday, the Minister made the dramatic call.
The tussle that has made global headlines may now return to the Federal Circuit Court, with Djokovic's lawyers considering an appeal.
They were in talks with counsel for Home Affairs Minister Karen Andrews.
It's understood he would be asked to attend an interview on Saturday, with no plans to remove him before then.
Prime Minister Scott Morrison issued a statement on the visa cancellation an hour after it was announced.
He said: "Australians have made many sacrifices during this pandemic, and they rightly expect the result of those sacrifices to be protected. This is what the Minister is doing in taking this action today."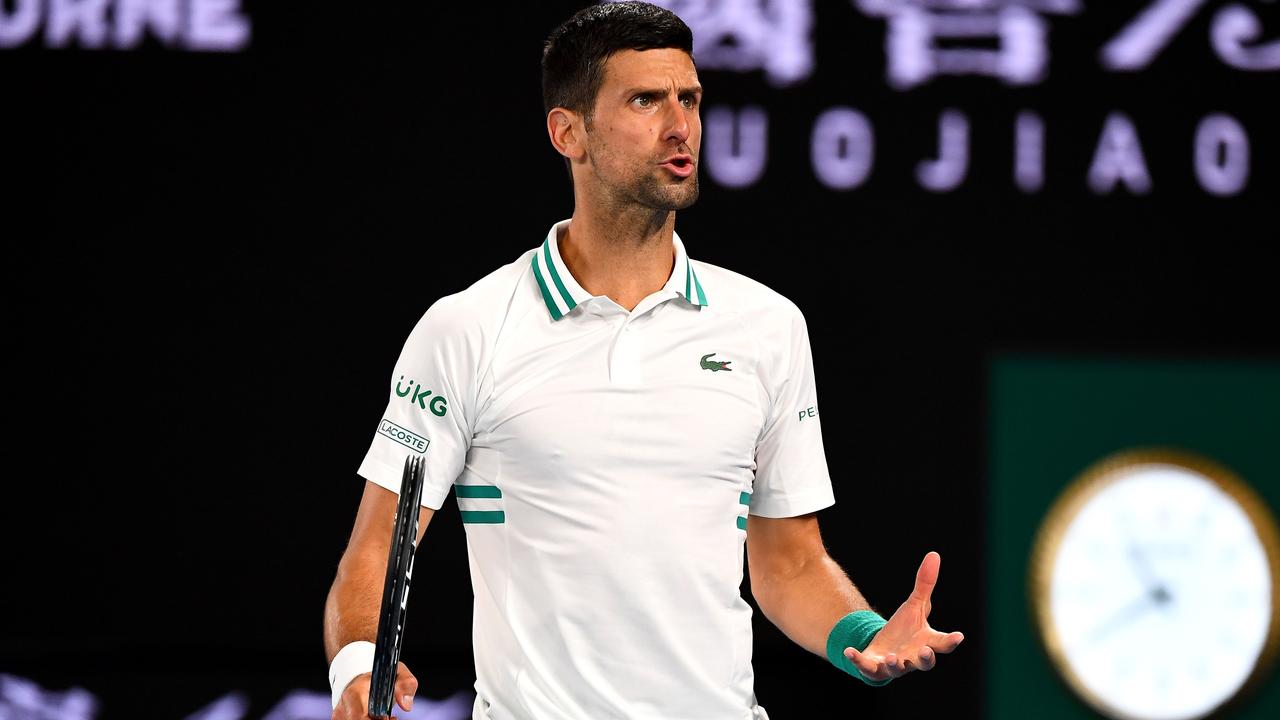 Novak Djokovic has had his visa cancelled for a second time. Picture: AFP Images
A source close to Djokovic's camp confirmed that he and his team were considering their options.
Djokovic's lawyers were served a notification of his visa cancellation at 6.03pm – more than 10 minutes after the media was notified by Mr Hawke's office.
Mr Hawke said he had exercised his power to cancel Djokovic's visa under "health and good order grounds, on the basis that it was in the public interest to do so".
Those grounds for his visa cancellation are set to be hotly contested in court, as his legal team is expected to fight for an injunction or an extraordinary order to allow him to defend his Australian Open title.
"In making this decision, I carefully considered information provided to me by the Department of Home Affairs, the Australian Border Force and Mr Djokovic," Mr Hawke said in a statement.
Mr Hawke's decision came after an embarrassing capitulation by lawyers for Home Affairs Minister Karen Andrews on Monday, who accepted that Djokovic's visa cancellation by a Border Force officer on January 6 was invalid.
Migration lawyer Kian Bone, from Macpherson Kelley law firm, said because of the Act that Mr Hawke had made his decision under, "natural justice and procedural fairness don't apply".
"You can't change the minister's mind, you can only challenge the ground," he said.
Ben Petrie, immigration law barrister, said the practical consequence of Mr Hawke's sweeping powers was that "the courts have less power to intervene".
"But that is not to say the Minister is above the law," he said. "There are certain inviolable restraints that even the Minister must observe.
"The High Court has been very careful to emphasise that a decision affected by error is regarded, in law, as no decision at all."
All eyes are on Novak Djokovic's next move. Picture: Michael Klein
The cancellation decision comes despite Djokovic having drawn fellow Serb Miomir Kecmanovi in the first round, a match supposed to be played on Monday or Tuesday.
If Djokovic withdraws from the tournament – by his own wishes or otherwise – prior to the announcement of the first day of play, the No. 5 seed Andrey Rubley would take his opponent.
However, if he withdrew after the first day of play was announced – which was set to occur this weekend – he would be replaced in the draw by a lucky loser.
The Serbian embassy confirmed to the Saturday Herald Sun that Djokovic held a diplomatic passport.
First counsellor Ivana Isidorovic said that passport – granted in 2011 for being a Davis Cup champion – should mean he received "adequate treatment".
"Djokovic, as our most recognisable representative in the world, is the holder of a diplomatic passport, which should, in diplomatic theory and consular practice, guarantee him adequate treatment when crossing borders," she said.
But Mr Bone expected Djokovic would get no special treatment from the passport.
"In my view, any claim for diplomatic immunity is only extended to 'diplomatic agents' and would not extend to a private citizen of Serbia," Mr Bone said.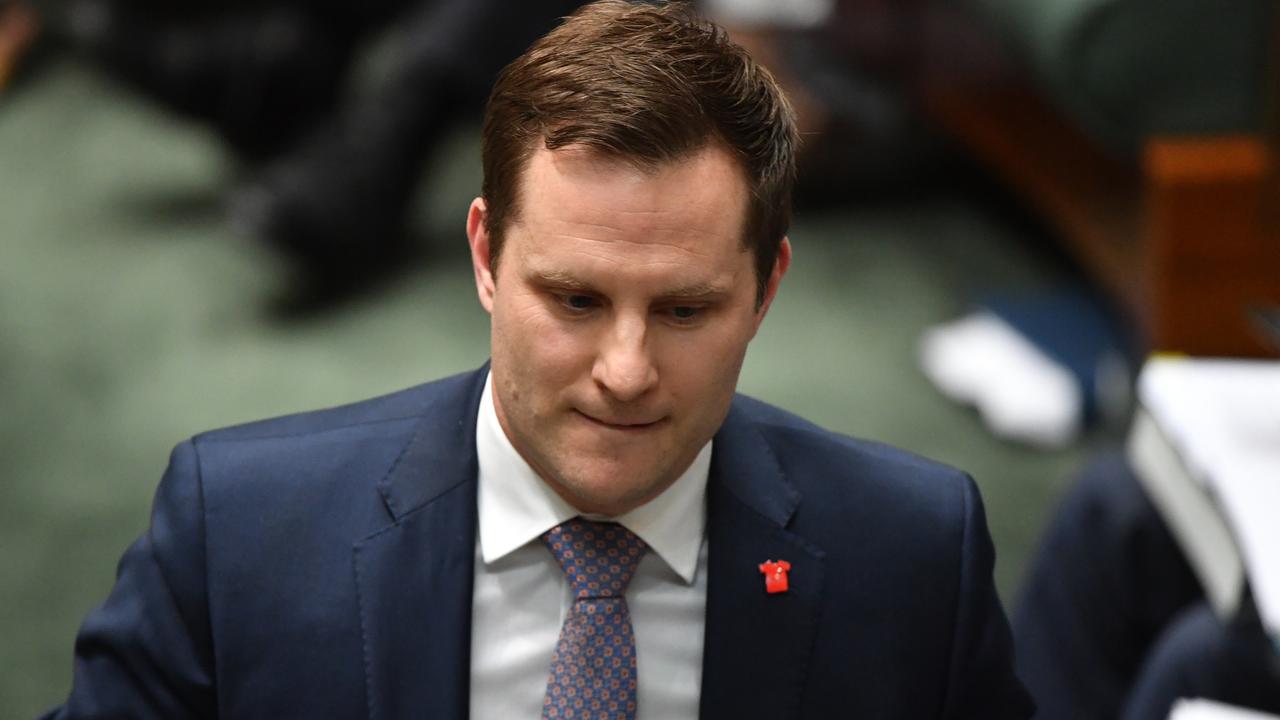 Immigration Minister Alex Hawke. Picture: AAP Images
The Department of Foreign Affairs and Trade website states: "Diplomatic and official passports do not confer on the holder any special rights or privileges".
Deputy Premier James Merlino denied that the saga had damaged Melbourne's reputation.
"No, I don't think so," he said at a press conference. "Melbourne and Victoria have, for decades now, a very proud history of delivering world-best major events,"
Earlier on Friday, Senator Jacqui Lambie demanded that Mr Hawke make a decision after stalling for four days.
"If you can't make a decision on Novak Djokovic, goodness me, how are you guys running the country?" she said in a blistering statement.
"This is an absolute shambles. Let alone what it's making us look like in the face of the rest of the world. It's absolutely a shocker."
Cricket legend Shane Warne weighed in, saying Djokovic was "one of the all-time greats".
"But he's lied on his entry forms, been out in public when he knew he had Covid and is now facing legal cases," he said on social media. "He's entitled to not be jabbed but Oz is entitled to throw him out! Agree?"
IMMIGRATION LAW BARRISTER EXPLAINS THE DECISION
Immigration law barrister Ben Petrie has provided details on how we got to this position.
"Mr Djokovic's visa was initially cancelled by a Commonwealth officer (a "delegate"), and not the Minister personally.
"Judge Kelly found that the delegate in question failed to adhere to the strict requirements that the delegate was required to follow.
"However, where the Minister exercises his powers personally, he is not subject to the same strict conditions.
"Successive governments have conferred these sweeping powers upon the immigration Minister for a variety of reasons; but the practical consequence is the courts have less power to intervene. But that is not to say the Minister is above the law.
Novak Djokovic on Rod Laver Arena this week. Picture: AFP Images
"There are certain inviolable restraints that even the Minister must observe. The High Court has been very careful to emphasise that a decision affected by error is regarded, in law, as no decision at all.
"So, the Minister could make a similar decision to the one already made by the delegate (and the Minister could rely on new grounds if new evidence has come to light), and in doing so the Minister would not necessarily need to afford Mr Djokovic natural justice.
"If the Minister does exercise his personal power of cancellation, but if Mr Djokovic's legal team believes that the Minister has failed to observe certain inviolable restraints applicable to even the Minister, Mr Djokovic can, once again, seek the intervention of the courts although the scope of any challenge will necessarily be more confined.
"If satisfied that the circumstances warrant it, a court could in theory grant a temporary injunction against Mr Djokovic being deported pending a hearing on the merits.
"A temporary injunction may apply for as little as a couple of hours, or could extend to a number of days.
"If a court were to issue an injunction, it could, like on the last occasion, impose conditions around the injunction (such as granting Mr Djokovic the right to train while he is awaiting the hearing). Whether a court would do any of these things is far from certain and much would depend upon the nature of any decision by the Minister and his reasons for the decision."
Originally published as Novak Djokovic has had his visa cancelled by Immigration Minister Alex Hawke