Novak Djokovic lawyers prepared for the worst as visa decision looms
Novak Djokovic's lawyers will challenge any decision by Immigration Minister Alex Hawke to cancel the tennis star's visa.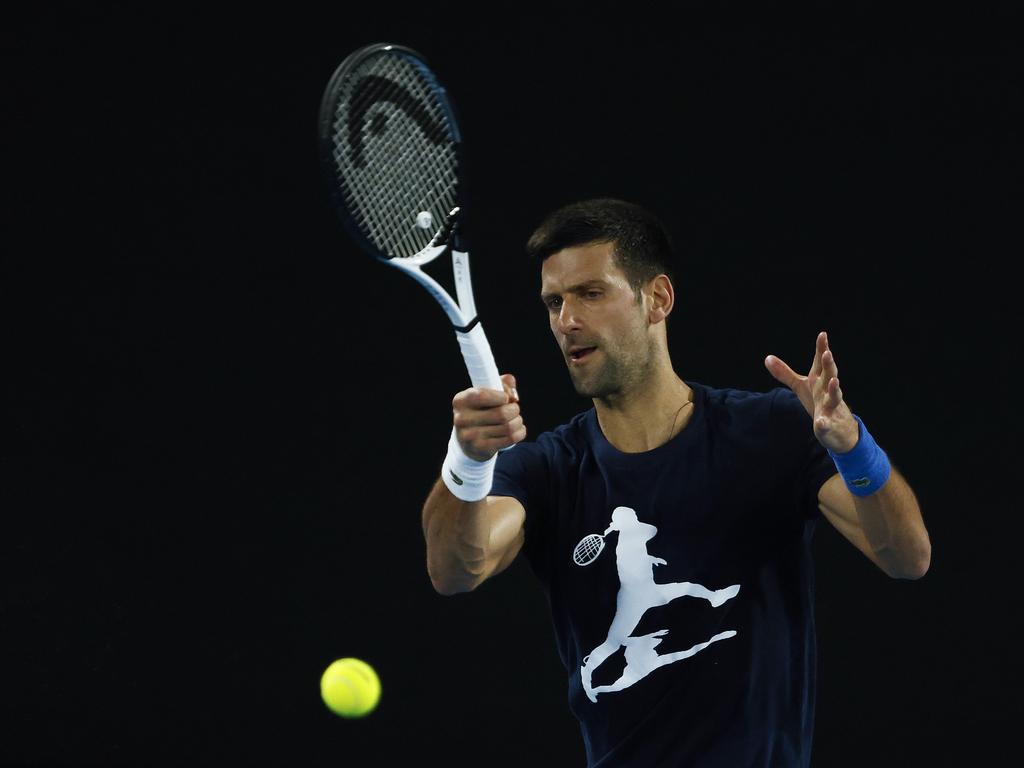 MELBOURNE, AUSTRALIA - JANUARY 14: Novak Djokovic of Serbia plays a forehand during a practice session ahead of the 2022 Australian Open at Melbourne Park on January 14, 2022 in Melbourne, Australia. (Photo by Daniel Pockett/Getty Images)
Novak Djokovic's lawyers are preparing to hear the worst today, but will challenge any federal decision to cancel his visa.
Immigration Minister Alex Hawke is expected to make a decision today on whether to cancel the tennis star's visa over his vaccination status, while Spain probes his "illegal entry" into that country, and authorities in his home country examine his failure to isolate after catching Covid-19 in December.
If Mr Hawke decides against him, Djokovic's lawyers are expected to file an injunction against his deportation, which could be dragged into next week if the Federal Court does not sit today.
That would leave open the possibility of his case being heard in the midst of the Australian Open, but he would be unlikely to play if he is sent back to a detention centre.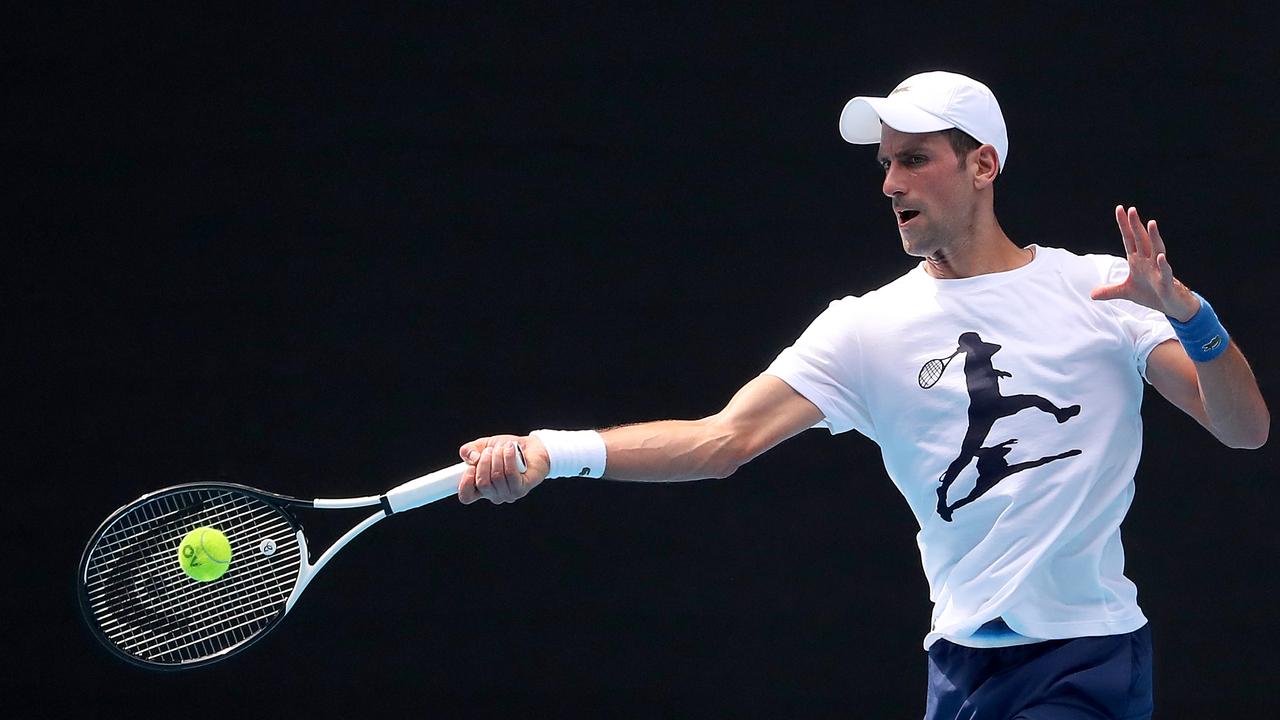 Novak Djokovic's lawyers are prepared to challenge a visa cancellation should the government use executive powers to do so. Picture: Kelly Defina/Getty Images
Australian Open Draw
On Thursday, Djokovic took his place at the head of the Australian Open draw in his bid for a 10th title, despite remaining under ­investigation over Covid issues in three countries.
As the Serb waited on Mr Hawke's decision over his visa status, Spain was probing his "illegal entry" into that country, and authorities in his home country were examining his failure to isolate after catching Covid-19 in December.
Following an unexplained one-hour delay, the Australian Open draw proceeded on Thursday, with the top seed being paired with fellow Serb Miomir Kecmanovic in round one.
Tennis Australia boss Craig Tiley presided over the draw, but refused to take questions as the Djokovic saga continued.
Djokovic arrived in Australia late on January 5 and was interrogated for about eight hours by Australian Border Force officials.
His visa was cancelled, with ABF officers saying his recent positive Covid diagnosis was not grounds for a vaccine exemption.
The federal government conceded in a court battle on Monday that the tennis champion had been denied procedural fairness and the Federal Circuit Court overturned the cancellation of his visa at the airport.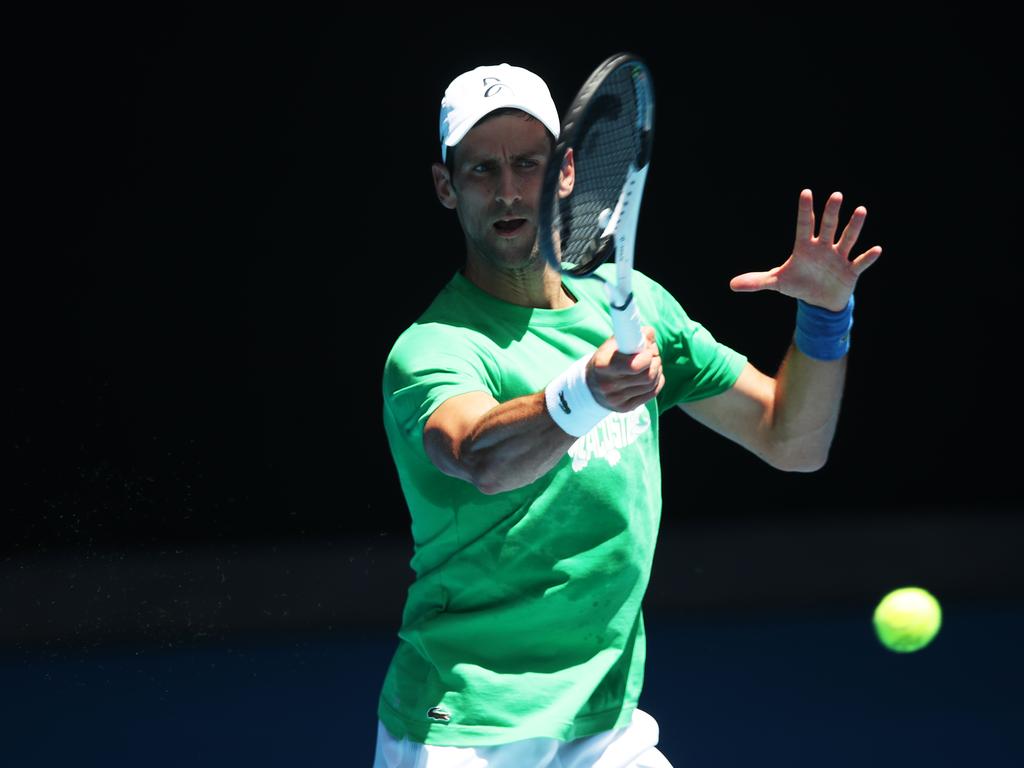 Novak Djokovic practices in Melbourne on Thursday. Picture: Graham Denholm/Getty Images
Djokovic probed by Spanish authorities
Spanish authorities have revealed they will probe Djokovic's travel to Marbella on December 31 and again on January 2 and 3 without a vaccination certificate or exemption.
Footage emerged this week of the tennis star training in the Soho Tennis Academy, which has hard courts like those at Melbourne Park. The news was reported by radio station Cadena de Ondas Populares Españolas and other Spanish media sources on Thursday. The station reported Spain's Ministry of the Interior and Ministry of Foreign Affairs asked police and immigration authorities to investigate Djokovic's alleged travel breaches.
It was reported Djokovic did not request permission from the Spanish embassy in Belgrade or the Ministry of Foreign Affairs to enter the country without a Covid-19 vaccine, despite Serbian citizens being required to present a certificate or exemption to enter the country and its territories.