Novak Djokovic three-year ban from Australia confirmed: What it means
Tennis ace Novak Djokovic has been banned from entering Australia for three years — but there could be a loophole for the world No. 1.
Tennis ace Novak Djokovic has been banned from entering Australia for three years, although the government has the power to allow him to return earlier.
Minister for Home Affairs Karen Andrews confirmed the three year ban on an interview on the Today show this morning.
"The outcome of the process that went before the Federal Court and their determinations - the visa was cancelled by [Immigration] Minister Hawke," she said.
"That cancellation was upheld by the Federal Court, so as a result of that, he will be banned from entry for three years into the country."
But the minister noted the Australian government may choose to allow Djokovic in before the end of a three-year ban.
"But that's all hypothetical at this point, any application will be reviewed on its merits," she said.
Prime Minister Scott Morrison said: "It does go over a three-year period but there is the opportunity for them to return in the right circumstances, and that will be considered at the time".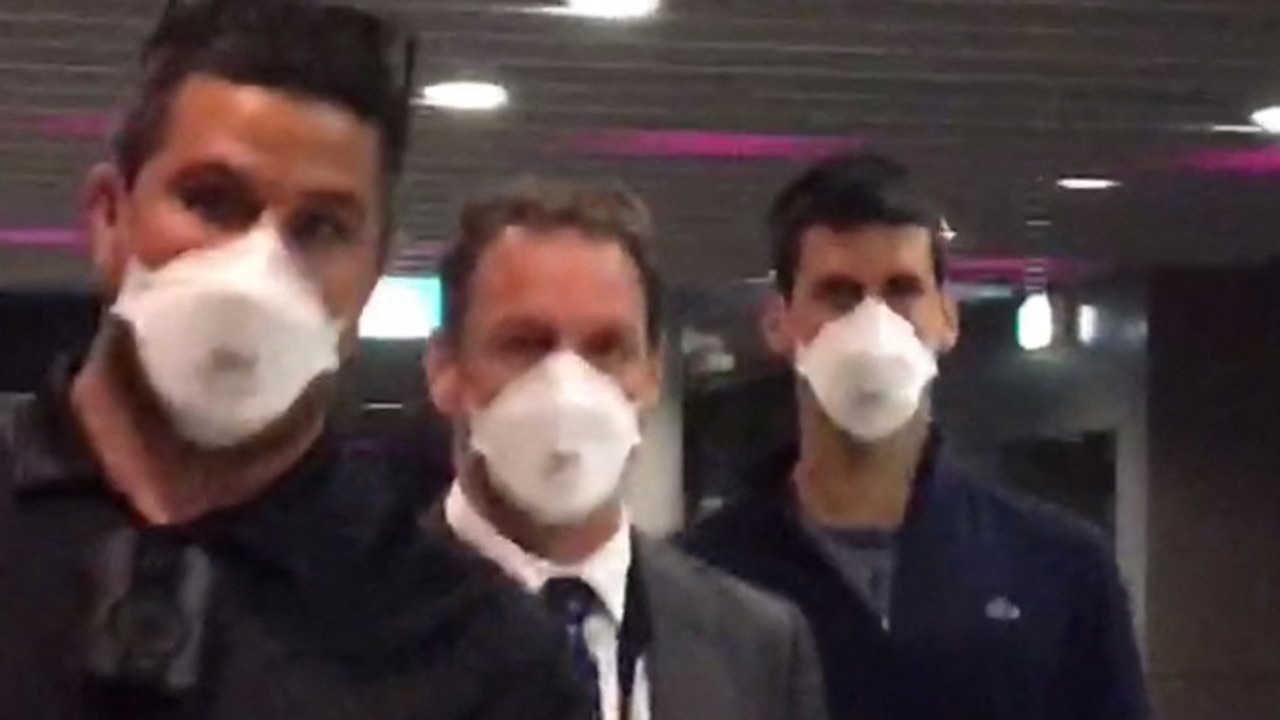 Serbia's Novak Djokovic (C) preparing to depart from Melbourne Airport. Picture: Mell Chun/AFP
DJOKOVIC DEPORTED: HOW THE DRAMA UNFOLDED
Novak Djokovic's bid to overturn his visa cancellation has failed, ending his hopes of defending his Australian Open title.
The Federal Court on Sunday upheld the government's decision to deport the Serbian tennis star ahead of the Australian Open.
It followed a marathon visa battle heard by a full federal court bench, meaning there will be no avenue for further appeal within the court.
The decision to boot Djokovic is expected to create huge waves worldwide and stoke renewed anger by anti-vaccination groups which view him as a leader of freedom.

French player Alize Cornet wasted no time calling out her fellow professionals for their lack of support for the world No.1.
"I know too little to judge the situation. What I know is that Novak is always the first one to stand for the players. But none of us stood for him. Be strong," she posted on Twitter.
Meanwhile, retired Australian star Rennae Stubbs tweeted:
"It's official. The 9 time defending champion will be deported from Australia. This is a sad, sad day for tennis, Australia, the Australian Open and obviously for (Novak Djokovic). I honestly cannot believe it's come to this."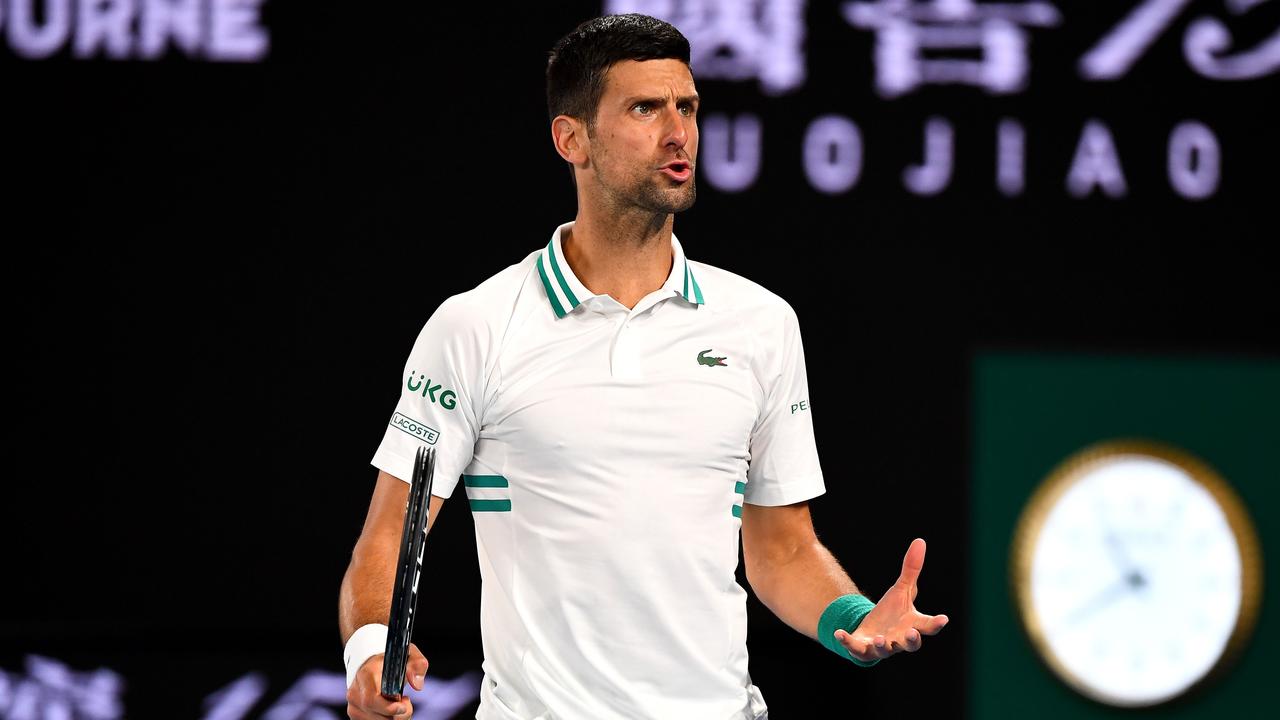 Novak Djokovic will be deported. Picture: William West/AFP Images
Djokovic's visa was cancelled by Immigration Minister Alex Hawke for a second time on Friday for reasons including concerns the player's presence in the country could undermine Australia's Covid-19 response.
Lawyers for Djokovic argued that the cancellation of his visa itself would more likely spur significant anti-vax sentiment, including large-scale protests.

Chief Justice Allsop declared the decision to boot Djokovic was unanimous across the full bench.
BREAKING: Covid rule cheat, immigration form liar, & anti-vaxxer icon Novak Djokovic loses final appeal against deportation & will be thrown out of Australia without being able to compete in Aus Open. Good. 👏👏👏 pic.twitter.com/nZAVgSsZK8

— Piers Morgan (@piersmorgan) January 16, 2022

"This is not an appeal against the decision of the executive government," he told the court.
"It is an application to the court as a separate arm of government being the Commonwealth judicial branch to review a decision by a member of executive, the minister, for the lawfulness or legality of the decision on the three grounds put forward.

"These grounds focus on whether decision was for different reasons irrational or legally unreasonable. It is no part or function of the court to decide upon the merit or wisdom of the decision."
Djokovic was ordered to pay costs. The hearing has been adjourned to consider if any other orders are needed.
In a statement released a short time after the decision, Djokovic said:
"I am extremely disappointed with the Court ruling to dismiss my application for judicial review of the Minister's decision to cancel my visa, which means I cannot stay in Australia and participate in the Australian Open.
"I respect the Court's ruling and I will cooperate with the relevant authorities in relation to my departure from the country.
"I am uncomfortable that the focus of the past weeks has been on me and I hope that we can all now focus on the game and tournament I love. I would like to wish the players, tournament officials, staff, volunteers and fans all the best for the tournament.
"Finally, I would like to thank my family, friends, team, supporters, fans and my fellow Serbians for your continued support. You have all been a great source of strength to me."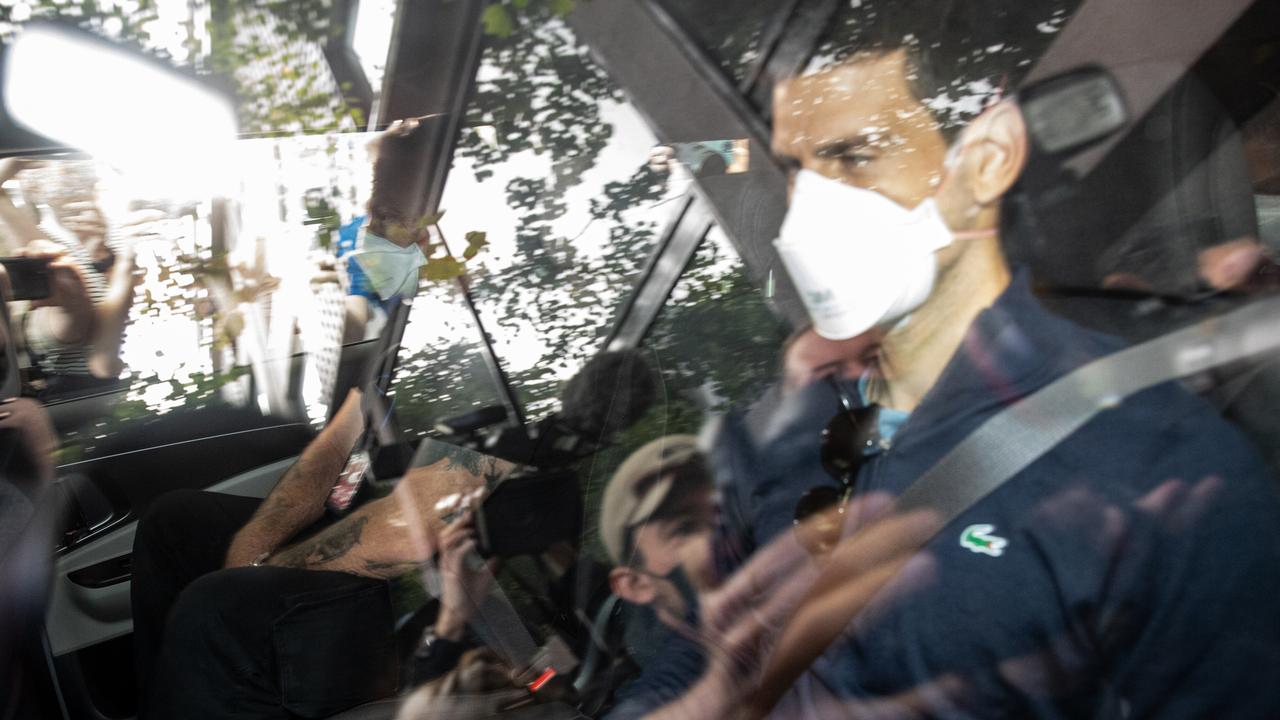 Novak Djokovic leaving the Park Hotel this morning. Picture: Diego Fidele/Getty Images
Australian Prime Minister Scott Morrison welcomed the decision which he said, kept "Australians safe."
"The Full Federal Court of Australia unanimously decided to dismiss Mr Novak Djokovic's application for judicial review which sought to challenge the Minister for Immigration's decision to cancel his visa.
"This cancellation decision was made on health, safety and good order grounds, on the basis that it was in the public interest to do so.
"I welcome the decision to keep our borders strong and keep Australians safe.
"As I said on Friday, Australians have made many sacrifices during this pandemic, and they rightly expect the result of those sacrifices to be protected.
"Over the pandemic, together we have achieved one of the lowest death rates, strongest economies and highest vaccination rates, in the world.
"Strong borders are fundamental to the Australian way of life as is the rule of law.
"Our Government has always understood this and has been prepared to take the decisions and actions necessary to protect the integrity of our borders.
"I thank the Court for their prompt attention to these issues and the patience of all involved as we have worked to resolve this issue.
"It's now time to get on with the Australian Open and get back to enjoying tennis over the summer."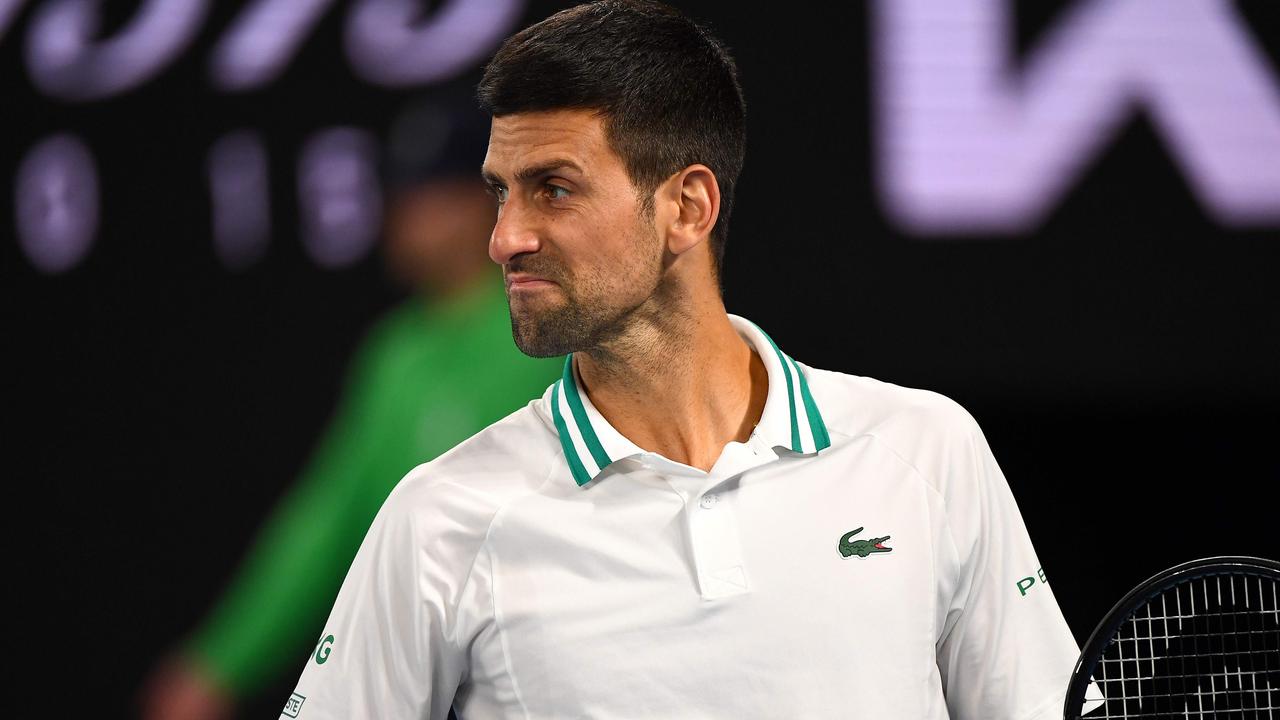 Novak Djokovic has been forced to leave Australia. Picture: William West/AFP Images
More players took to social media after the shock Djokovic decision.
Close friend and fellow ATP Tour professional Vasek Pospisil claimed Djokovic had no interest in coming to Australia had it not been for the exemption he thought was valid.
"Novak would never have gone to Australia if he had not been given an exemption to enter the country by the government (which he did receive; hence Judge Kelly's initial ruling)," the Canadian posted on Twitter.
"He would have skipped the Australian Open and been home with his family and no one would be talking about this mess.
"There was a political agenda at play here with the elections coming up which couldn't be more obvious.
"This is not his fault. He did not force his way into the country and did not "make his own rules"; he was ready to stay home."
RECAP THE COURT HEARING BELOW

5:55PM: DJOKOVIC TO BE DEPORTED
Novak Djokovic's bid to overturn his visa cancellation has failed, ending his hopes of defending his Australian Open title.

5:50PM:
In a rare move, the court has allowed media to live stream the much anticipated decision.
"In view of the public interest media are also permitted to carry this broadcast live and to record for the purposes of fair and accurate reporting," a court statement said.

5:32PM: COURT WILL RESUME AT 5:45PM.
Stay tuned for a final decision.

4:11PM ORDER OF PLAY

If Djokovic wins this hearing he is scheduled to play last on Rod Laver Arena Monday night. Aus Open organisers will give the defending champion as much times as possible to prepare should he get the all clear

DJOKER'S MESSAGE TO AUSSIE KOKKINAKIS

Amid the threat of deportation, Djokovic sent Aussie Thanasi Kokkinakis a message, writing: "Congrats on your maiden title in home town, Thanasi. After all the hardship injuries have caused you, I am sure this feels even sweeter.
"You deserve it! Great for tennis. Good luck in Melbourne."


COURT ADJOURNED FOR DECISION MAKING
Now how long this takes is anyone's guess.
Chief Justice Allsop flagged the reason for their visa deliberation may not be made public until Monday.


2;36pm APPROACHING THE END
Mr Wood has asked the court, if it rules in Djokovic's favour, to release him from detention within 30 minutes.
If Djokovic does win here, he is due to play his first round tie tomorrow (Monday).
Submissions have now been finalised. Chief Justice James Allsop, Justice Anthony Besanko and Justice David O'Callaghan will now consider the case and come back with a decision. The deliberations could run into late Sunday afternoon or early evening.

2:19pm DJOKOVIC'S LEGAL TEAM RETURN
Djokovic's legal team has taken back the floor. Mr Wood reiterated that it was unreasonable for Minister Hawke not to consider the consequence of the decision he ultimately made "given the way the minister framed his own reasons".

2:17pm:
Mr Lloyd said Djokovic's views – historical, perceived or unanswered – in combination with his vaccination status contributed to the minister's decision that the tennis star could stoke anti-vaccine sentiment. "That is all that is required to make the inference by minister". He wants Djokovic to pay the government's legal costs.

2:01pm:DJOKOVIC'S POWER AS AN ANTI-VAX INFLUENCER
Mr Lloyd has returned to court to fight for Djokovic's deportation. He cited Serbia's low vaccine rates as potential for Djokovic's power as an anti-vax influencer.
"Mr. Djokovic's iconic status must be highest in Serbia...in Djokovic's home country, it is estimated that under half of the country" is fully vaccinated."
Mr Lloyd added Djokovic's views are one thing and how they are publicly perceived another.

1:35pm: Court returns from adjournment

12:25pm ONE CRUCIAL WORD

Mr Lloyd said Minister Hawke did consider the consequence of either cancelling or not cancelling Djokovic's visa. "He's done his best to consider the matters, alive to the fact (Djokovic's) views weren't sought. That suggests the minister tried to look at things broadly."
The whole thing sort of hinges on the word "may" ie Hawke doesn't have to show anything other than Djokovic's presence MAY cause the unrest he alleges, not that it is probable.


12pm RISK TO PUBLIC OUTWEIGHTS RISK OF PROTEST
Mr Lloyd has reiterated Djokovic's presence in Australia does threaten to undermine public health and there has already been unrest over the visa cancellation decision.
"His presence in Australia would present strongly his anti-vaccination views. The applicant also has some history of ignoring Covid-19 safety measures.
"Even when infected he undertook and interview where he took his mask off. The minister took the view his presence in Australia would encouraged others to emulate his (actions)."

11:55am KYRGIOS BACKS DJOKER

Very much in Djokovic's corner is Nick Kyrgios who has slammed the handling of the fiasco."We're treating him like he's a weapon of mass destruction at the moment," he said. "The mistreating of the people of Melbourne over the past two years has been atrocious, and I understand the anger towards him being unvaccinated and the medical exemption, I understand that. Now I feel like the people, no matter what Novak does, they're just going to say 'get him out of our country'.
"I am on Djokovic's side."


11:42am OVER TO TEAM HAWKE
We are now hearing from the federal government's lawyer, Stephen Lloyd. He's told the court Djokovic publicly stated he was not in favour of taking vaccines before they were even available and that strengthens their deportation case against the world No.1.
Lloyd says that, "at this stage of the pandemic", Djokovic "could have been vaccinated if he wanted to be.
"Even before vaccines were available he was against it - his prima facie position was to be against them," he said.
"It's not neutral about vaccinations."
"Someone who has not been vaccinated was doing so by choice, to not be vaccinated," said Mr Lloyd, who is arguing Djokovic's unvaccinated status demonstrates opposition.




11:33am DJOKER'S TEAM CONCLUDE
Mr Wood has wrapped up his argument. His main arguments were that the government failed to consider the consequences of cancelling Djokovic's visa and that it was not open to the minister to be satisfied that his presence created a relevant risk.
In a nutshell these are the three grounds presented by Team Djokovic:
Ground One: Failure to consider the consequences of cancellation.
Ground Two: Not open to the minister to be satisfied the presence of Mr Djokovic "is or may be" a relevant risk.
Ground Three: Unreasonableness and/or irrationality in regard to finding concerning Mr Djokovic's "stance on vaccination"

We are over to team Hawke and about 45 minutes from the first break
Surely Hawke's lawyer will make the point that this is the first tournament that requires vaccination. Wood keeps going on about no other evidence from other tournaments on the issue of anti-vax sentiment.

— Eleanor Crooks (@EleanorcrooksPA) January 16, 2022
.

11:18am ALMOST THERE
Wood assures us he is 15 minutes from concluding his arguments.
Does it seem strange to anyone else that an online poll is being used as evidence of public opinion in a court room?
Whether it's the one being cited which suggests favour to Djokovic or the one run by the Herald Sun which suggested 84% of audience wants the Serb deported, do we think this is dangerous ground?

10:58am HAWKE SLAMMED FOR ANTI—VAX CLAIMS

Mr Wood slammed the minister over his "irrational" visa decision. "It was irrational for the minister to only contemplate the prospect of fostering anti-vax sentiment by Djokovic playing tennis and not consider the alternative with anti-vax sentiment (being brought upon) by the act of expulsion".

10:32am DJOKER HASN'T CAUSED PROTESTS

Mr Wood says the government has provided no evidence that Djokovic's presence or anti-vax views has impacted on the vaccine rollout.
Mr Wood said there has been no evidence of anti-vax protests being staged at tennis tournaments across the world since the creation of Covid-19 vaccines.
"There is no logical connection there whatsoever," he said.
"The anti-vax protests have been directed to action by the state."
Pic below taken yesterday
Walking back from #AusOpen just in front of me were a group of who appeared to be anti-vax, anti-media protesters.

They were wore yellow, six-pointed stars (not visible in this pic except maybe very barely also on the guy's sign) in apparent allusion to the Holocaust. Classy. pic.twitter.com/Dk288pCAbG

— Ben Rothenberg (@BenRothenberg) January 15, 2022


10:25am TURNING ON HAWKE
Mr Wood is arguing that the anti-vax unrest that the Minister is alleging Djokovic's presence has stirred up has in fact been caused by the actions of the government in seeking to cancel his visa.
Mr Wood said the government is solely responsible for the angry response by anti-vax groups by cancelling Djokovic's visa. "That was what the anger was directed to," he said.

10:13am HAWKE'S ERROR?
Mr Wood says the Minister's assertion that Djokovic wouldn't take a vaccine is based on a BBC article but the government has selectively quoted from it.
The Govt does not quote the line where Djokovic said he had an open mind on.vaccination.
Djokovic's legal team are pointing to a BBC article referred to by the government which details what the top-ranking tennis star previously said about vaccinations. Mr Wood told the court the few comments made by Djokovic form the "sole factual evidentiary foundation" for Djokovic apparent anti-vax views
Rafael Nadal on Novak Djokovic:

I respect him as a person, and as an athlete, without a doubt I respect a lot. I wish him all the best and I really respect him even if I don't agree with a lot of things he did in the last few weeks

— Reem Abulleil (@ReemAbulleil) January 15, 2022





10:02am ARGUMENTS CONTD
Djokovic's lawyers are now arguing the material that the minister attached to his statement of reasons for booting him are largely irrelevant.
Wood says the only the thing that should have been attached are an article from the BBC about Djokovic's vaccination views and Guardian and ABC articles about anti-vax protests.
Wood SC Immigration Minister Hawke did not seek or read the actual medical material provided to him by Djokovic.
Mr Wood said the minister relied on medical information saying Djokovic was "negligible risk" of transmitting COVID-19 to others.

9:55am DJOKER ARGUMENT
Djokovic lawyers are currently arguing whether or not the Court can consider Hawke's reasons to deport - basically that if the Serb remains in the country it could incite anti vax sentiment claiming that deporting him could bring about a similar response.
"That in itself might be apt to generate anti-vax sentiment."
The statute didn't require Hawke to provide reasons for his decision.
But having done so Djokovic's lawyers are arguing the case law is clear that the court can use them to decide if Hawke acted lawfully.


9:43am STOP INTERRUPTING
"Court would be grateful if we can complete this in due time. We should be able to complete this argument by lunchtime."
We would all be grateful if we can get this done by lunch yeah. I like this judge.
And the lawyers juts got a bit of a telling off for interrupting the judge - for a third time.

9:36am WE ARE UNDERWAY
Currently just outlining why we are here and what we are hoping to achieve.
"not the least of which the minister himself [said]...matters involved in the controversy go to the very preservation of life and health in the community."
Chief Justice James Allsop opened the hearing by declaring it is "important to resolve this controversy as soon as possible".

9:22am WHO IS WHO

Justice David O'Callaghan
For Novak: Nick Wood SC and Paul Holdenson QC (older guy).
For Immigration Minister Alex Hawke: Stephen Lloyd SC and Christopher Tran
Full court panel of judges are Chief Justice James Allsop, Justice Anthony Besanko and Justice David O'Callaghan.

8:58am DJOKER ON THE MOVE
In the last few minutes, Djokovic has been photographed leaving the horror hotel to make his way to his lawyer's office in order to watch the court hearing.
We are about 30 minutes from things getting started.
Joining me this morning are James Campbell and Anneka Simonis who will be translating the court hearing as it goes.
Word from our reporter at the hotel, Laura Placella: Novak Djokovic has returned to his lawyers' office on Collins St after departing the notorious Park Hotel around 8.30am.The tennis champ could be seen sporting a Lacoste sweater and blue jeans as he left the detention facility, having changed out of the green tracksuit set he arrived in on Saturday.


8:43am WHAT HAPPENS TODAY?
The court's format -- a panel of three justices -- leaves little room to appeal any decision.
Scott Morrison's government has tried and failed to remove Djokovic once before -- on the grounds he was unvaccinated and that a recent Covid infection was not sufficient for a medical exemption.
A lower circuit judge ruled that officials made procedural errors in that decision.
For a few days, Djokovic was free to train before a second visa revocation and a return to a notorious Melbourne immigration detention facility.
Djokovic's high-powered legal team are expected to kick off proceedings, arguing his detention and his deportation are "illogical," "irrational" and "unreasonable." If the 34-year-old loses, he will face immediate deportation and a three-year ban from Australia -- dramatically shortening his odds of winning a championship he has bagged nine times before.
If he wins, it sets the stage for an audacious title tilt and will deal another humiliating blow to Australia's embattled prime minister ahead of elections expected in May.
8:40am D-DAY IS HERE
Good morning and welcome to what feels like day 1043 of the Djokovic fiasco. With any luck today is it. End. Finito. Terminato (not even sure that's a real language word) but you get my drift. This needs to end. We need to talk about backhands, lobs, smashes and how many racquets Nick Kyrgios is smashing.
We will be following the court hearing live, translating the jargon that seems to make time stand still, and bring it to you in snippets.
Originally published as Novak Djokovic three-year ban from Australia confirmed: What it means