Novak Djokovic visa saga: Warning Australian Open future could be jeopardised
As the future of the Australian Open comes under a cloud, Nick Kyrgios confirmed he will play next week. He also had some interesting things to say about Novak Djokovic.
Novak Djokovic formally requested a testimonial from his doctors in Serbia to dispel claims his Covid diagnosis had been faked and warned the Immigration Minister that deporting him risked Australia losing the Australian Open as a coveted grand slam event.
It comes as Nick Kyrgios confirmed he will take his place in next week's tournament, despite a 'f***ed up' battle with Covid.
"This Covid shit has f****d me up, I'm not gonna lie. I'm tired all the time," Kyrgios said on Instagram.
"Am I playing the AO? Yes. I'm ready for the AO but the court I have been hitting on isn't great.
"They're putting me on a jet tomorrow (Sunday).
"Me and Novak have a bromance now, he's back in detention and it's f****d. We are boys now.
"I can't wait til the Aussie summer is over and we can play ball. The party after Melbourne is gonna be f***ing nuts. I'll rent a house and just go f***ing nuts."
Kyrgios will start his campaign against a qualifier, but faces a nightmare possible second round against second seed Daniil Medvedev.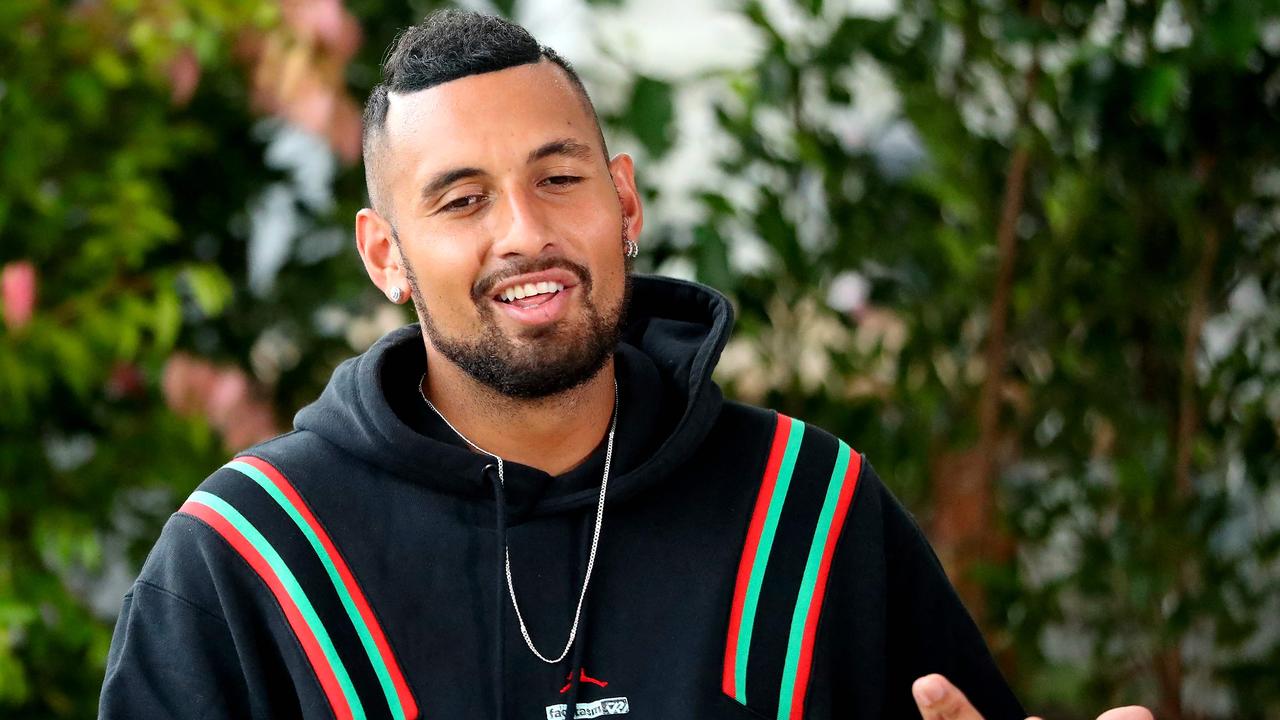 Nick Kyrgios has confirmed his place in next week's Australian Open. Picture: Jeremy NG/AFP
The Federal Court released 268 pages of documents on Saturday morning which reveal the Immigration Minister Alex Hawke has conceded defeat on the medical exemption debate, but wants to deport the world No.1 tennis star on grounds of "public interest" in that it would be a "risk to the health, safety or good order of the Australian community."
Djokovic's lawyers also claim a second attempt to deport the world's best player could "jeopardise the viability" of Australia retaining the Australian Open grand slam event.
"Mr Djokovic poses no risk to public health and safety. He has also made no attempt to contravene any laws of Australia. He is a person of good standing, and a diplomat of the nation of Serbia," lawyers wrote to the Minister on January 11.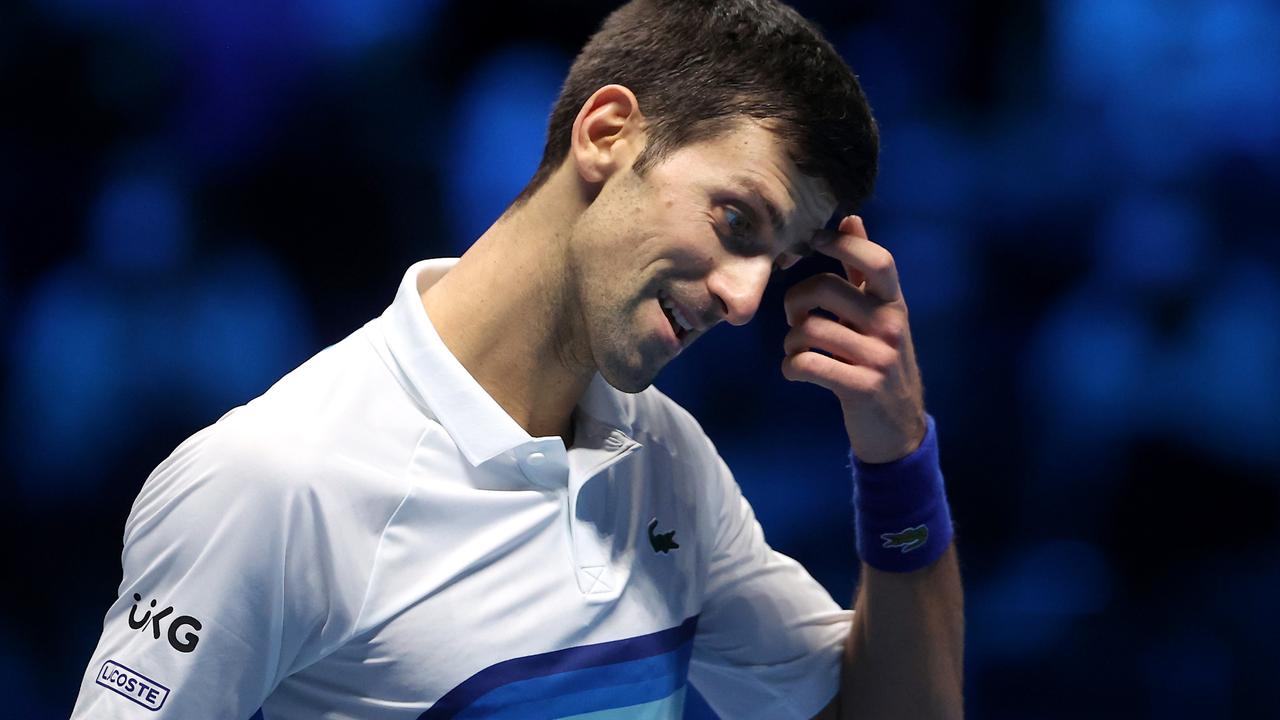 Novak Djokovic is fighting to avoid deportation ahead of the Australian Open. Picture: Julian Finney/Getty Images
"In addition to being the best tennis player in the world, he is known for his philanthropic efforts, including his generous donations towards coronavirus relief as well as towards Australian bushfire relief.
"There are several matters that would go against the public interest if the Australian Government were to make a second attempt to cancel Mr Djokovic's visa.
"First, that action would be likely to (further) adversely affect Australia's global reputation, and call into question Australia's border security principles and policies — and indeed the rule of law in Australia generally.
"Secondly, that action would prejudice Australian economic interests, and jeopardise the viability of Australia continuing to host this prestigious, international sporting event."
Then on January 12 Djokovic's lawyers provided the Immigration Minister with a sworn statement from the Acting Director of the Institute of Public Health Serbia Associate Professor Verica Jovanovic to confirm his test results were indeed legitimate.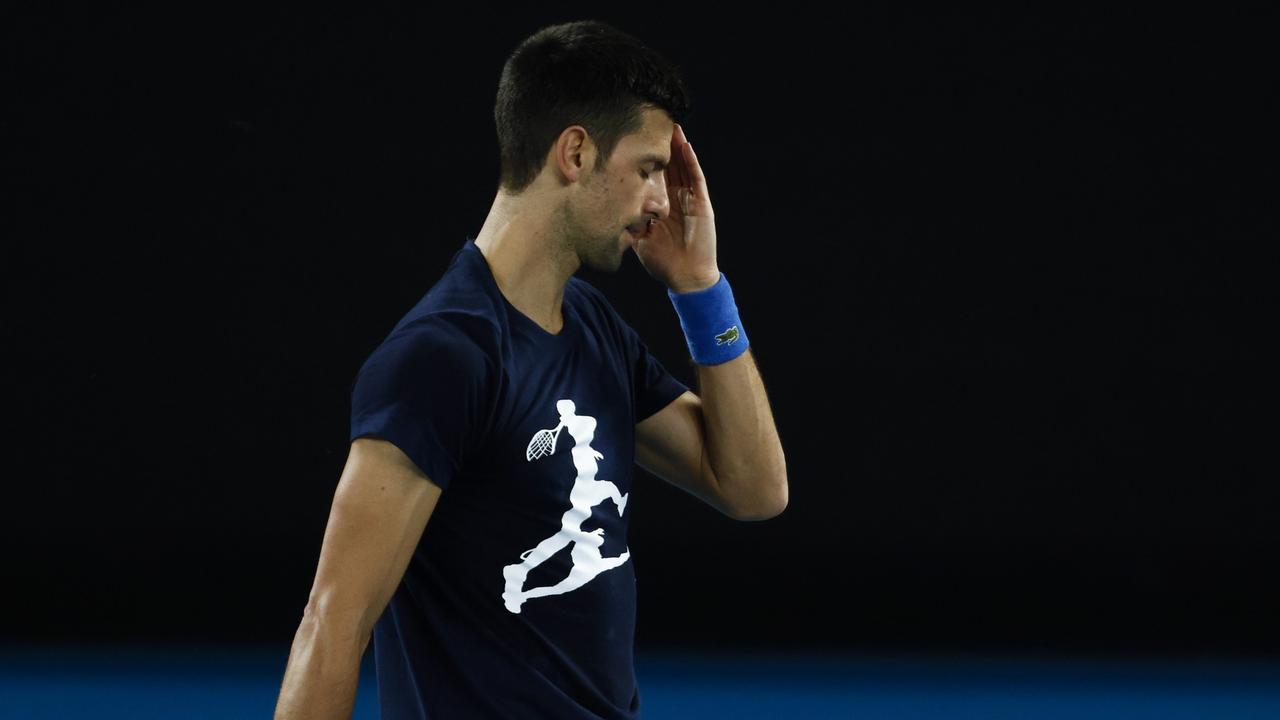 Novak Djokovic reacts during a practice session at Melbourne Park ahead of the 2022 Australian Open. Picture: Daniel Pockett/Getty Images
At the time, German cyber sleuths for Der Spiegel had claimed the data records of the QR codes attached to his PCR tests on December 16 and December 22 did not numerically make sense.
They alleged the positive test was more likely to have been returned on December 26, not December 16.
Djokovic made a "formal request" for a testimonial to be submitted from the medical professional who diagnosed him last month.
"We hereby confirm that the test results presented by Mr. Novak Djokovic are legitimate," Prof Jovanovic wrote in her statement.
"Novak Djokovic's positive test was sampled at 13:05:12 on December l6th 2021 and the subsequent negative result was sampled at 14:12:10 on December 22nd 2021.
"Our testing system is reliable, accurate and the test results of Mr. Novak Djokovic are legitimate."
Spain's Rafael Nadal, who is tied with Djokovic on 20 grand slam wins, said the Australian Open was bigger than one player.
"I tell you one thing, it's very clear that Novak Djokovic is one of the best players of the history, without a doubt." Nadal said on Saturday.
But there is no one player in history that's more important than an event, no?
"The players stays and then goes, and other players are coming.
"No one, even Roger, Novak, myself, Bjorn Borg who was amazing at his times, tennis keeps going.
"Australian Open is much more important than any player. If he's playing finally, okay. If he's not playing, Australian Open will be great Australian Open with or without him."