Novak Djokovic wants to return to Melbourne to win 10th Australian Open despite three-year ban
Despite his deportation ordeal — and the fact he faces a three-year ban — Novak Djokovic has revealed he wants to return to Melbourne.
Novak Djokovic has revealed plans to return to Australia to win a 10th Australian Open despite facing a three-year ban following his deportation last month.
In an interview with Serbian TV, Djokovic said he still wants to come back to Melbourne despite his visa and deportation ordeal and play on Rod Laver Arena again.
"I want to come back to Australia in the future and to play on Rod Laver Arena again," Djokovic told Serbian national TV (RTS).
" A lot of professional and personal beautiful things happened to me there. Despite all this, I have a great connection with Australia."
Whether Djokovic can come back to Australia any time soon remains the big question. He has publicly stated he won't get vaccinated against Covid and is willing to miss grand slam titles to stand up for his "pro choice" belief.
There is also the small matter of his ban from the Australian government after his deportation, although he can apply for special dispensation from the Immigration Minister to enter the country.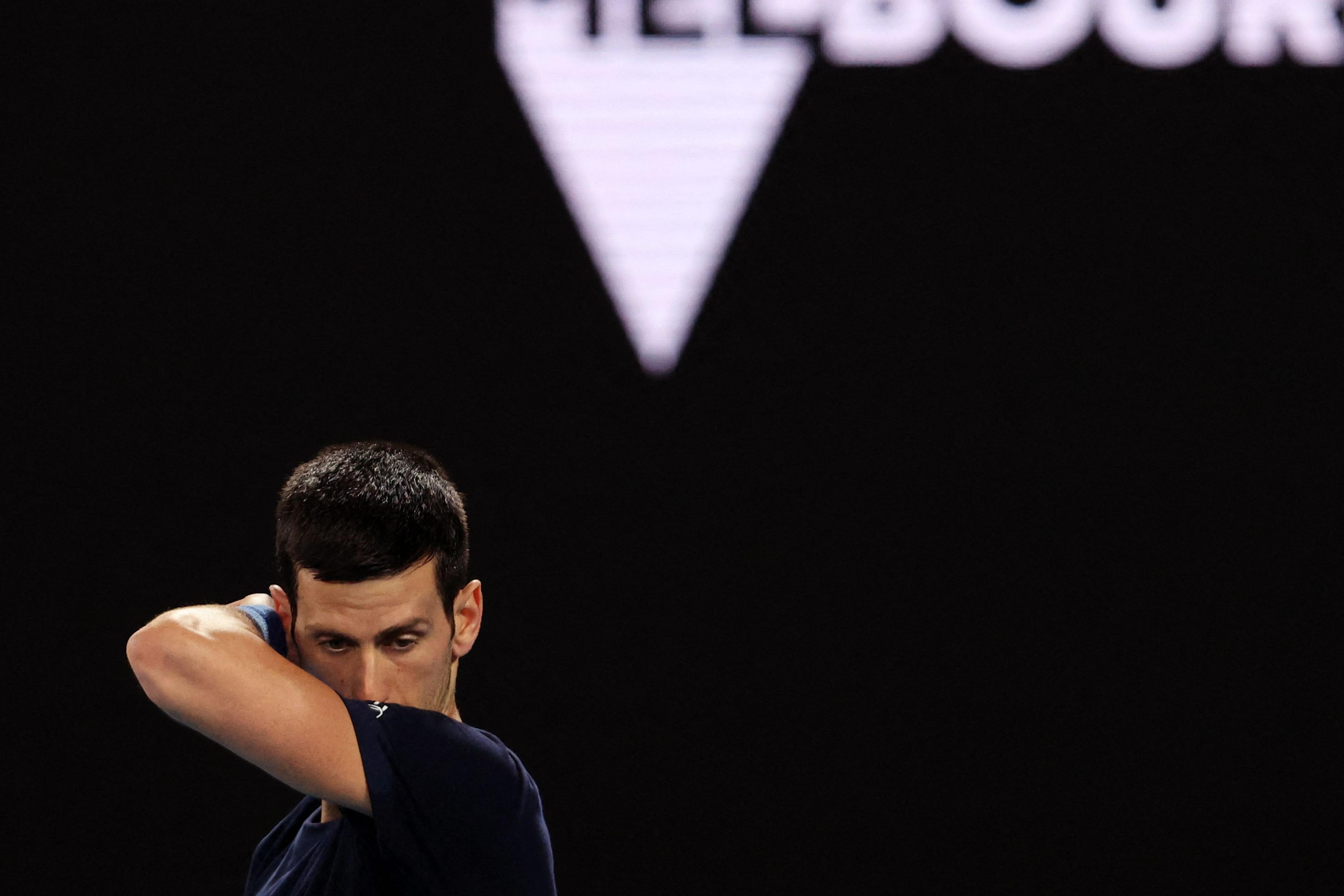 Novak Djokovic wants to return to Melbourne for the Australian Open. Picture: AFP
Whether Australia's stance softens in the next few months remains to be seen, but Djokovic's latest interview is perhaps a sign of his desperation to claw back some public support.
For the first time Djokovic showed genuine remorse for some of his behaviour in recent months — including attending an interview with L'Equipe newspaper the day after being advised he has tested positive to Covid last December.
This act was seen by many as his greatest and most divisive selfish play, even for those who could forgive him attending a children's presentation the day before when he claimed not to be aware of his positive result despite taking a PCR test the day before.
"I admit that it was selfish what I've done by attending the interview with L'Equipe. My mistake which I own. I understand that not all people will forgive me and I understand the critics," he said.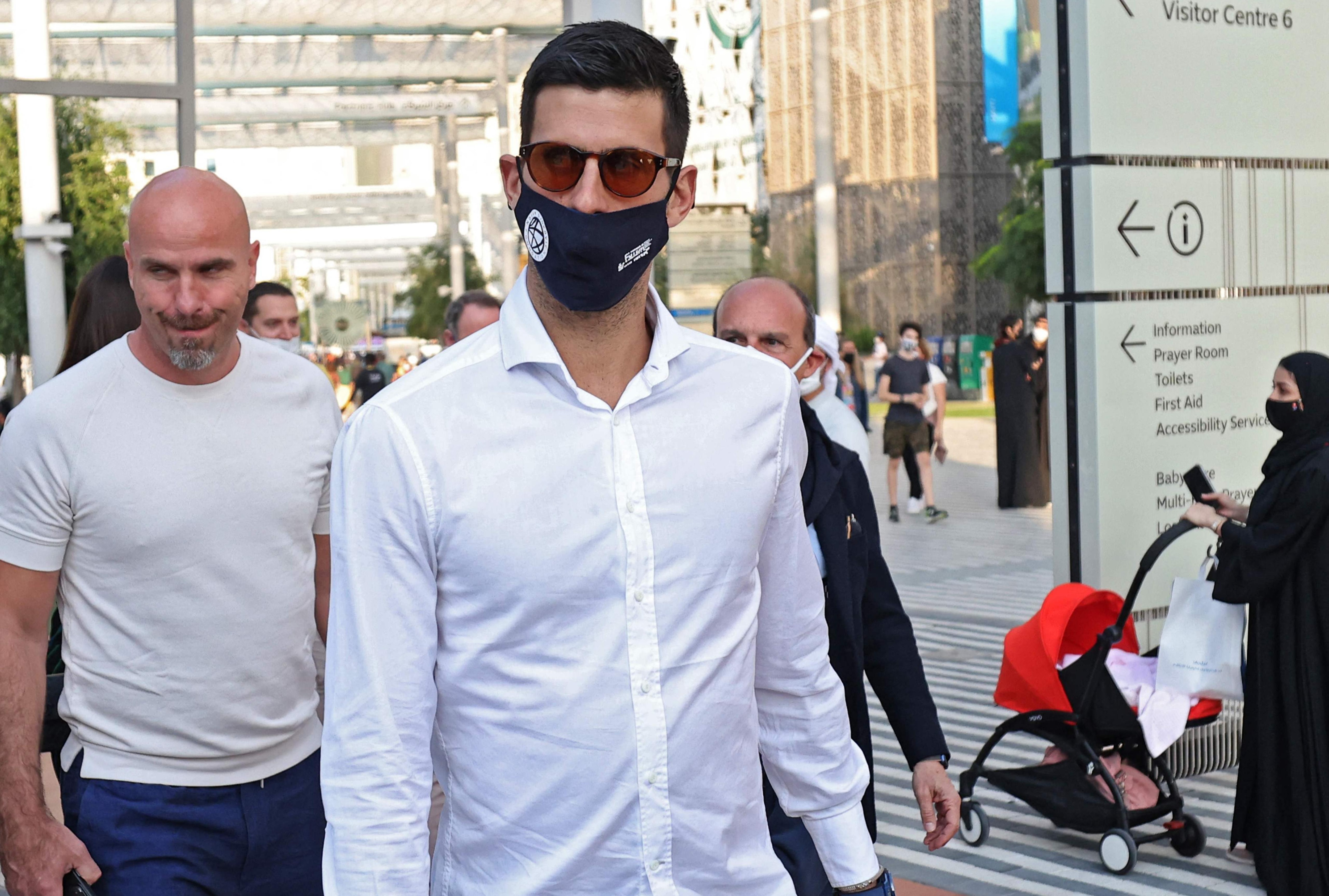 Novak Djokovic is pictured during a visit to the Serbian pavilion at the Expo 2020 in Dubai. Picture: AFP
Djokovic said he was surprised but thankful when Australian Nick Kyrgios - one of his biggest critics for his superspreader tennis tournament at the start of the pandemic - became his first public supporter when locked up in the detention hotel in Melbourne.
"Kyrgios surprised me pleasantly, I thanked him and all the others who stood up for me, Alize Cornet for instance," he said.
"I received a lot of messages privately from some of the players, but they didn't want to speak publicly. I understand it, the situation was complicated."
Djokovic knows he will have to live with the "Novax" nickname for the rest of his career, but remains steadfast he doesn't want to have an injection because he wants to know with absolute certainty it is what his body needs.
"I've been called various different names throughout my career. There are always those who support you and others who don't. That's all I can say," he said.
"As an elite athlete, I want to triple check everything that enters my body. If something changes for 0,5% in my body, I feel it. I am just cautious before making any decisions. I will live with the consequences (of the decision not to take the vaccine)."
Djokovic's stance may prove costly in his quest for greatness. While it has been reported Wimbledon will allow him to play this year, there remains serious question marks over his ability to attend the two other grand slams in Paris and New York.
"I choose to focus on things I've already achieved and to be grateful for it," he said.
" I don't know what the future brings, I hope for the best and I feel that I still have time."
The news comes as Australian tennis star Alex de Minaur denies he has fraudulently obtained his own vaccination passport from a Spanish hospital that is under investigation for handing out fake certificates.
The ATP has strict rules around vaccination certificates and anyone found to have illegally obtained false papers can face a three year ban from tennis.
Originally published as Novak Djokovic wants to return to Melbourne to win 10th Australian Open despite three-year ban