Australian Open: Why Nick Kyrgios and Thanasi Kokkinakis are the world's loosest doubles pair
Nick Kyrgios and Thanasi are the world's loosest doubles pairing, outlining plans for 'Chap laps' and a session at Revolver, after smacking compatriots Alex Bolt and James McCabe.
Tennis is boring and a dusk-to-dawn drinking session at Chapel St nightclub Revolver awaits perhaps the world's loosest doubles pair.
Welcome to the world according to Nick Kyrgios, the Australian Open rock star who was in a laughing fit 24 hours before eyes around the globe will lock on to his blockbuster battle against world No.2 Daniil Medvedev.
Doubles partner and "designated party planner" Thanasi Kokkinakis isn't counting on celebrating anytime soon.
"Whenever the Big Man is done in singles we'll reconvene on WhatsApp, but I give him a red-hot chance (against Medvedev) because he's playing great," Kokkinakis said after he and Kyrgios blasted Alex Bolt and James McCabe off Show Court 3 on Wednesday.
Thanasi Kokkinakis and Nick Kyrgios have started well in the doubles. Picture: Mark Stewart
The rowdy crowd went nuts. There were four Aussies on court but it was mostly for one man … Kyrgios.
"The crowd was good today, they were right behind us," Kyrgios said.
"Everything we did … we could've just waved our racquets side to side and they would've gone nuts."
For the second time in less than 24 hours, Kyrgios had tennis fans jumping during the 6-4 6-2 doubles trouncing.
How does the mercurial matchwinner generate more energy than Origin?
"Well I mean, tennis is pretty boring," he laughed.
"So if I don't do things that keep me stimulated I don't tend to play very good."
Kokkinakis said they were far from the usual doubles partners. Why?
"Well, we don't spend about 300 hours on the physio table. So that doesn't make us traditional doubles players," he said.
"Nah the main thing is we don't really come into the net very much or volley, we spend more time on the baseline."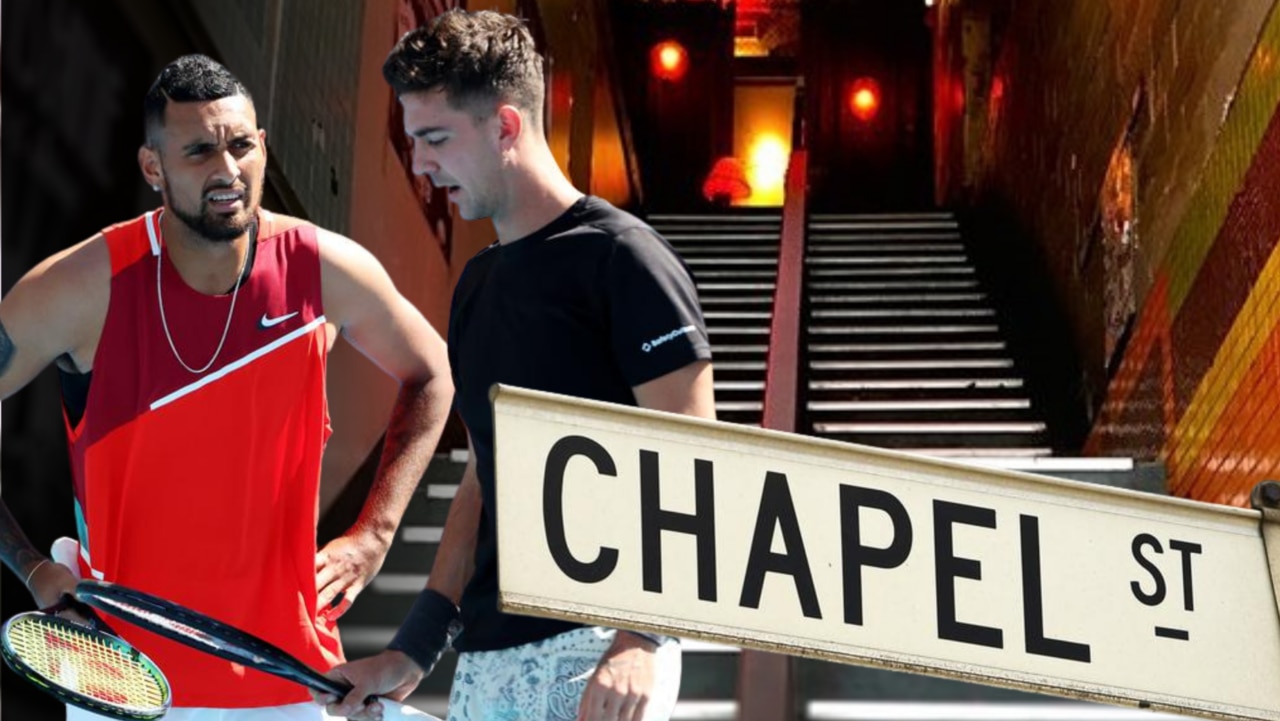 Chap laps and a Revs sesh: Doubles partners Nick Kyrgios and Thanasi Kokkinakis have some big plans for their celebrations.
Kyrgios had another theory.
"We're f***ing studs, man," he said.
The boys erupted in laughter and enjoyed their harmless fun in the sun, and deservingly so.
They've played doubles together since under-16s and won a junior Wimbledon title.
This year they want to go deep together.
It's Kyrgios's 10th Australian Open and he treasures every victory on the blue courts, although a possible run-in with the No.1 men's double seeds awaits.
As for the post-slam plans?
"It could be a Chap Lap …" Kokkinakis said before Kyrgios interjected.
" … Revs!" he whispered.
"Yeah, we'll be at Revs until 6am," Kokkinakis grinned.
Liam Broady of Great Britain has revealed why he sported rainbow shoe laces in his match against Nick Kyrgios. Picture: Getty Images
BREAKING TABOOS: THE GESTURE WE ALL MISSED IN KYRGIOS CLASH
He may have lost to Nick Kyrgios in the opening round but Liam Broady left an important message at Melbourne Park.
This is a sport for everyone.
In the absence of any openly gay players in the men's tour, Broady said it was important that he, and others, did whatever they could to highlight the importance of inclusivity.
So in a show of support to the LGBTQ+ community, Broady wore rainbow laces for his blockbuster clash against the Aussie superstar on John Cain Arena.
Afterwards he said: "I just kind of wanted to send the support.
"I know obviously within men's tennis – is it a taboo? I don't think it's really a taboo, but I've seen questions before about why there aren't any openly gay men on the tour, and I just wanted to kind of voice my support in that general area.
"And the LGBTQ community, I mean, a lot of those guys have given me a lot of support throughout my career and have been there since day one, so I kind of wanted to give a thank you in my own sort of way."
Broady was then asked if he felt tennis was a sport with a culture preventing players from being open about their sexuality. To which he said: "I don't think so. I guess the society we live in there's a culture like that, right? Especially in sport."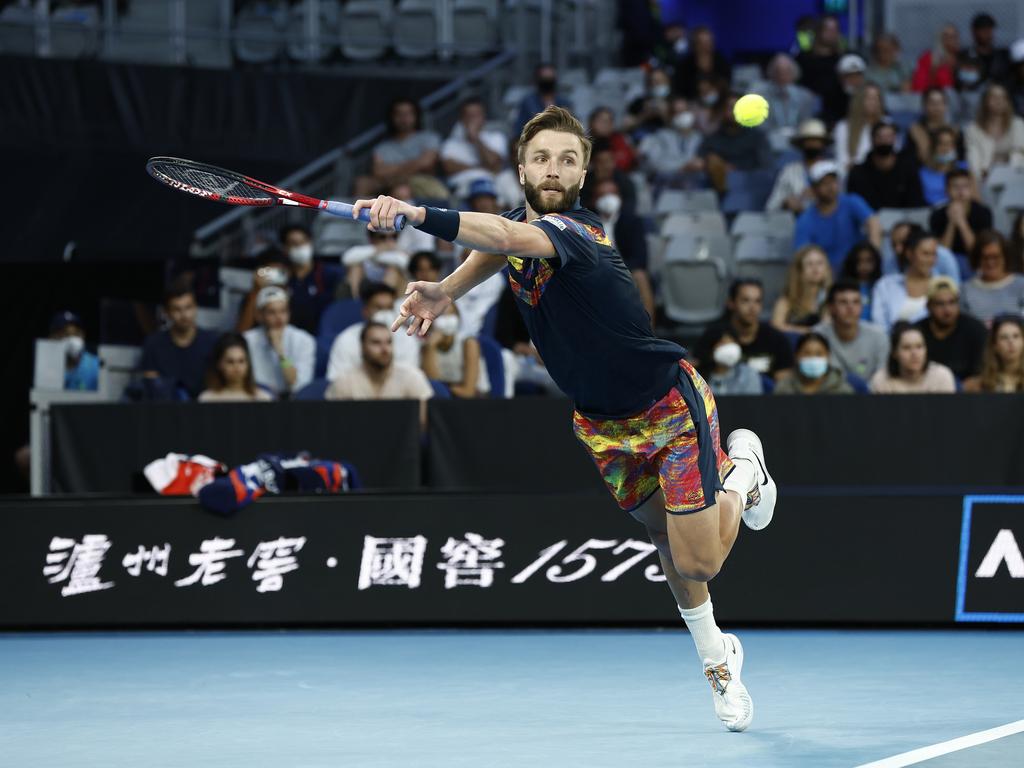 Broady says there are no openly gay male tennis players on tour. Picture: Getty Images
The British qualifier also made mention of A League player Josh Cavallo who has suffered online trolling and abuse since coming out last year.
"I saw that the first openly gay footballer just came out in Australia. And it's difficult, right? I mean it's a big thing to do and at the end of the day in the 21st century, it's pretty rubbish that people don't feel like they can be openly gay. It's quite sad, really.
"If there are people in the locker rooms and you kind of … you don't want to force them to come out, you know, especially if they don't want to. It's their choice."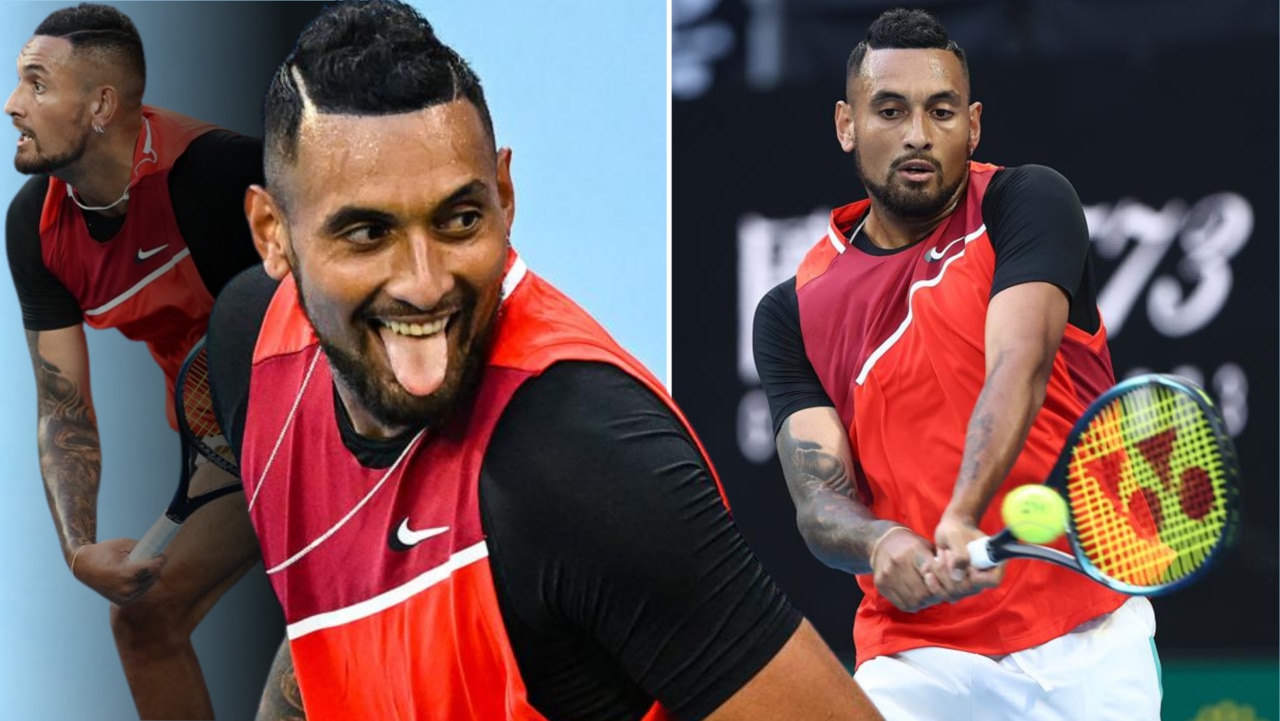 Nick Kyrgios was back in his element on Tuesday night.
KYRGIOS COURT: SUPERSTAR'S PLEA FOR HOME ADVANTAGE
—Joe Barton
The People's Court has become the Kyrgios Court – and that's exactly where Nick Kyrgios wants his blockbuster clash with world No. 2 Daniil Medvedev.
It was the Kyrgios Show on Tuesday, with Nick the Entertainer sending the crowd into a frenzy with a brutal and blistering display to destroy Liam Broady in a straight-sets beat down.
The whole evening was peak Kyrgios.
RECAP ALL THE ACTION FROM DAY 2 OF THE OPEN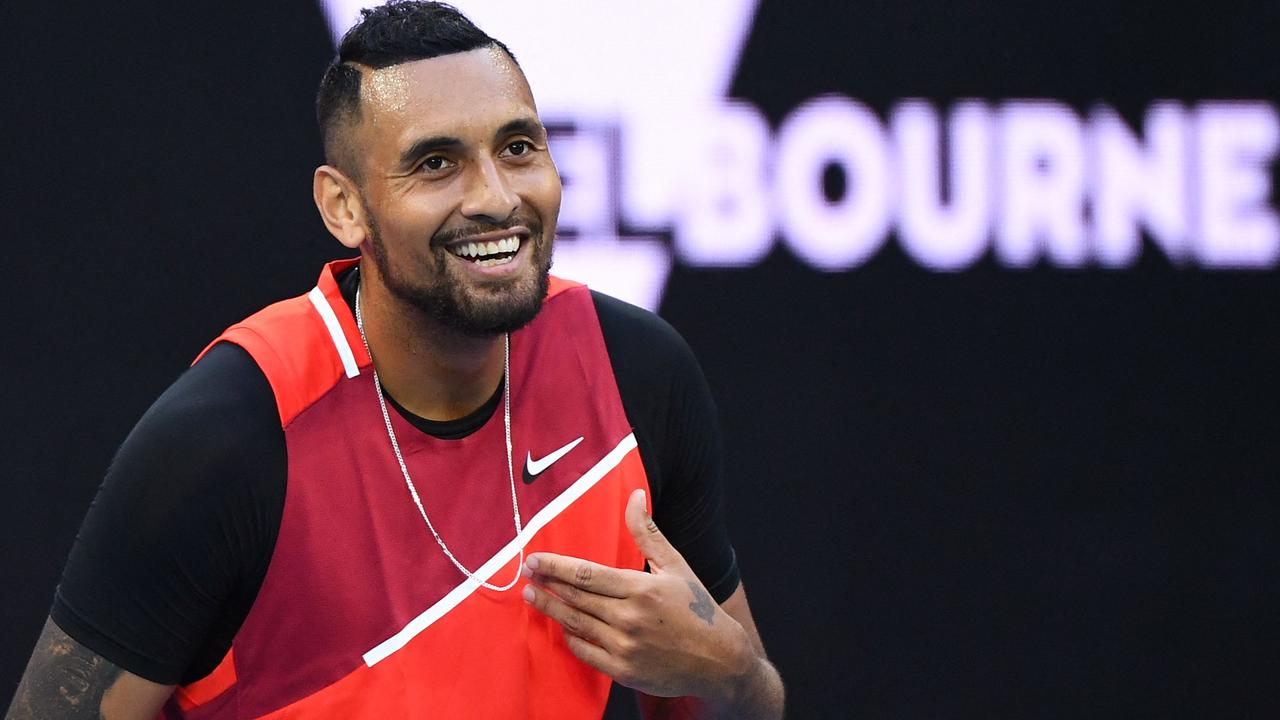 Nick Kyrgios was all smiles during a dominant Round 1 performance. Picture: AFP
He chugged a fan's beer on-court moments after demolishing Liam Broady in straight sets, declared his 'bromance' with exiled world No. 1 Novak Djokovic could lead to the world's unlikeliest doubles pairing and then called for an urgent name change to his favourite court at Melbourne Park.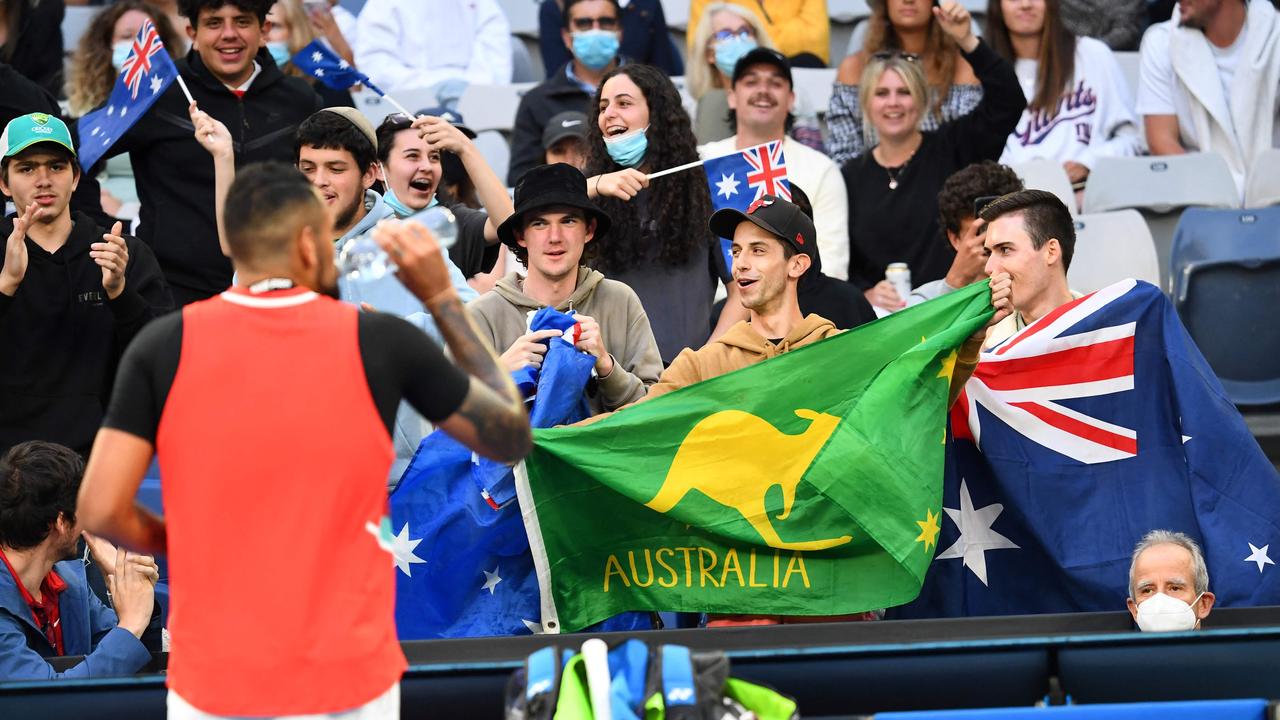 Kyrgios said the crowd was a "Zoo" — and he loved every moment of it. Picture: AFP
In doing so, he put forward his case for where the tantalising showdown with Medvedev should be played – opting for John Cain over Rod Laver.
"(Medvedev's) probably the best player in the world, he does everything extremely well. He's a hard worker, ticks all the boxes," Kyrgios said.
"To play it on John Cain – I'm just going to call it the Kyrgios Court – would be fun.
"(The wild atmosphere is) something I have kind of created on that court. They know what to expect.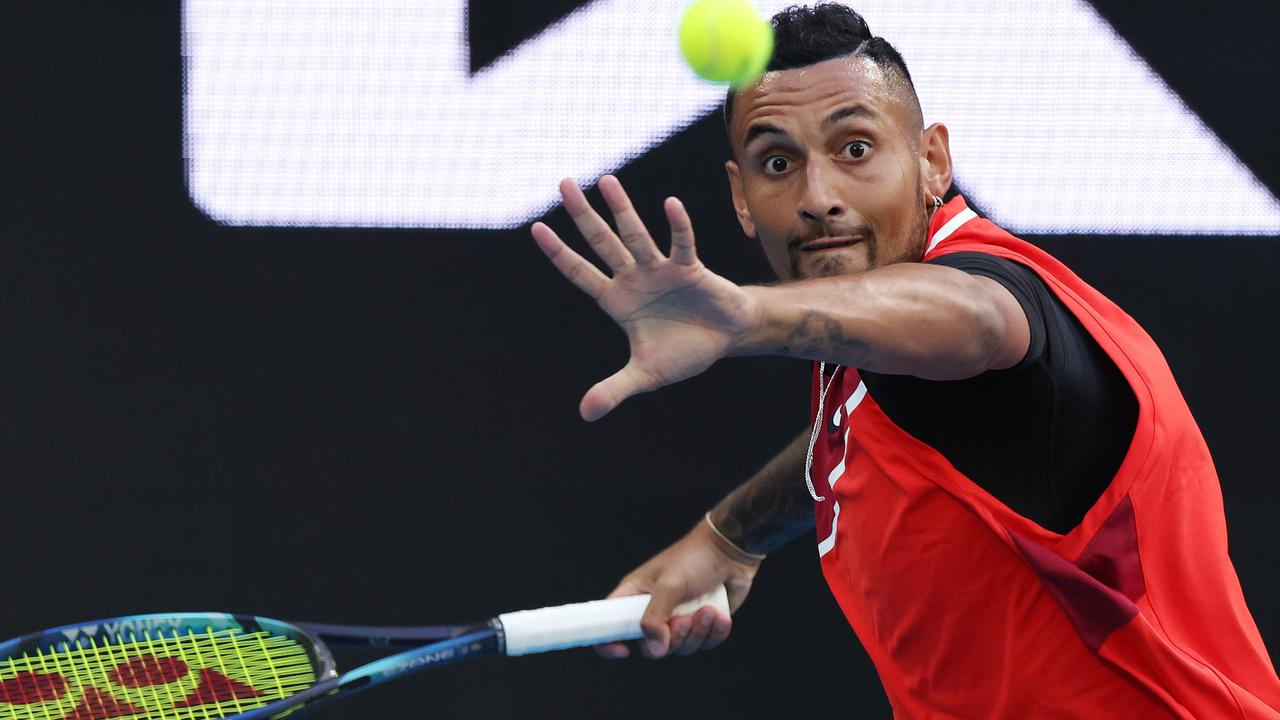 Kyrgios mixed brute force, brilliance and bizarre in his win. Picture: Michael Klein
"From the get-go, I know I've got the crowd in the palm of my hand, and any time I can use that to spark a moment or spark some energy.
"Liam is a great player but his experience on that court in that situation, when the crowd is going nuts, he has never experienced that before."
After a fortnight of Novak Djokovic dramas, and rising Covid numbers which led to slashed crowd capacity at the Australian Open, that was exactly what the tournament desperately needed.
It's hard to imagine anyone could've quite predicted this from the flashy Australian, who entered the tournament on a five-match losing streak, contracted Covid just a week ago and pulled out a tweener underarm serve in his opening service game.
But Kyrgios was in the best kind of mood.
He brought a smile to everyone – even the ball kid who wore a 213km ace, one of 21 on the night, to his right hip.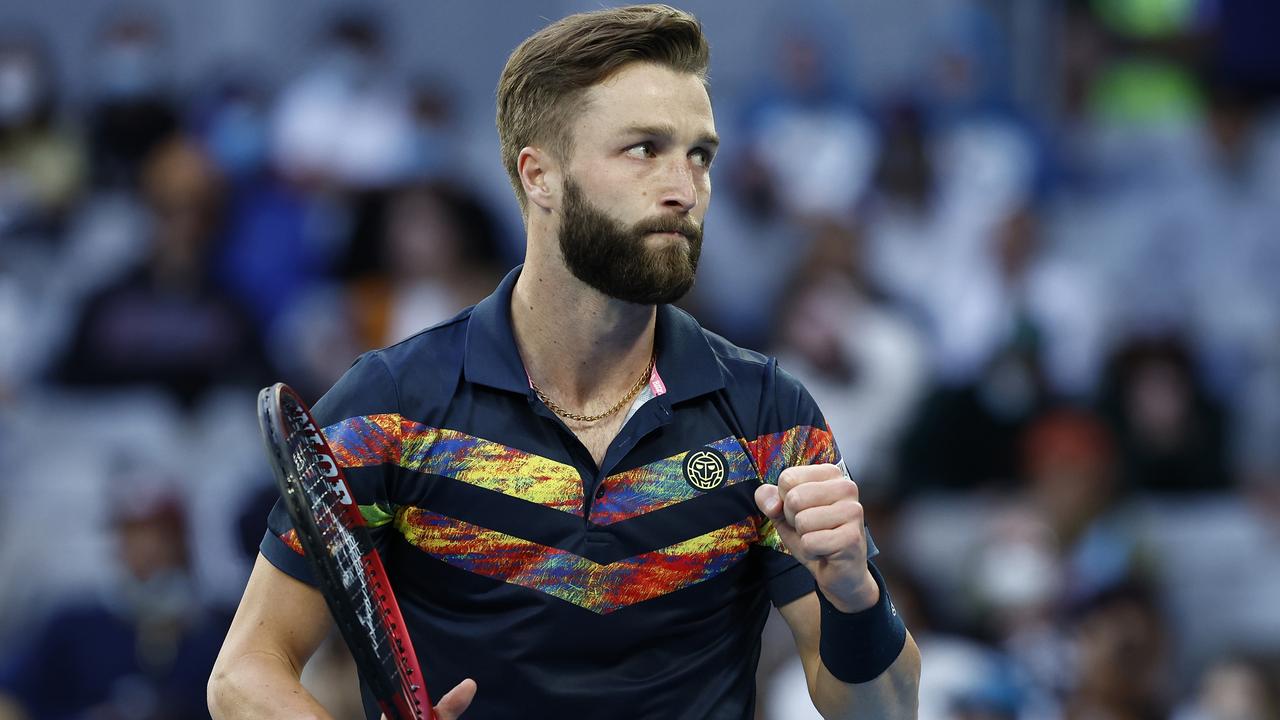 Liam Broady never really stood a chance on Nick's home deck. Picture: Getty Images
When asked about his support of Djokovic, which has earned him growing fame in Serbia, Kyrgios said it was something he would've done for anyone suffering similar treatment – before adding a little kicker.
"We got a bit of a bromance going on now. Not that I'm complaining. I think I'm going to ask him to play doubles somewhere," he said.
It was all part of the theatre of the night – where Broady was, for the most part, little more than a sideshow.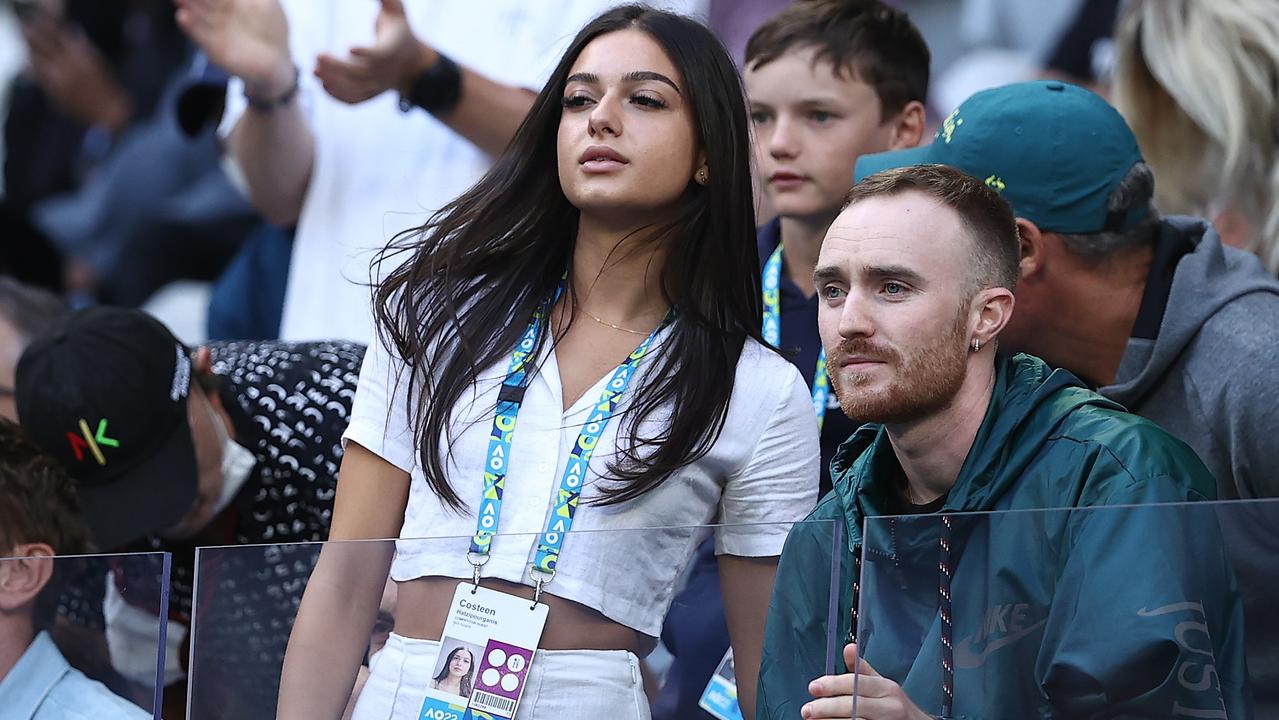 Nick Kyrgios' girlfriend Costeen Hatzi watches on. Picture: Getty Images
He went down 6-4 6-4 6-3, dropping the opening game on serve in the opening two sets – as a pattern emerged in Kyrgios' aggressive strategy.
He attacked early, and then let his thunderous serve do the talking with Broady completely unable to tame Kyrgios' biggest weapon.
"It was pretty flawless, everything I could control, serving, attitude, all the non-negotiables, I did great," he said.
Originally published as Australian Open: Why Nick Kyrgios and Thanasi Kokkinakis are the world's loosest doubles pair