Tennis Australia finally releases statement on Novak Djokovic saga
Its silence on Novak Djokovic was deafening but the statement Tennis Australia eventually released was as vanilla as the desserts served at the Open, Sam Landsberger writes.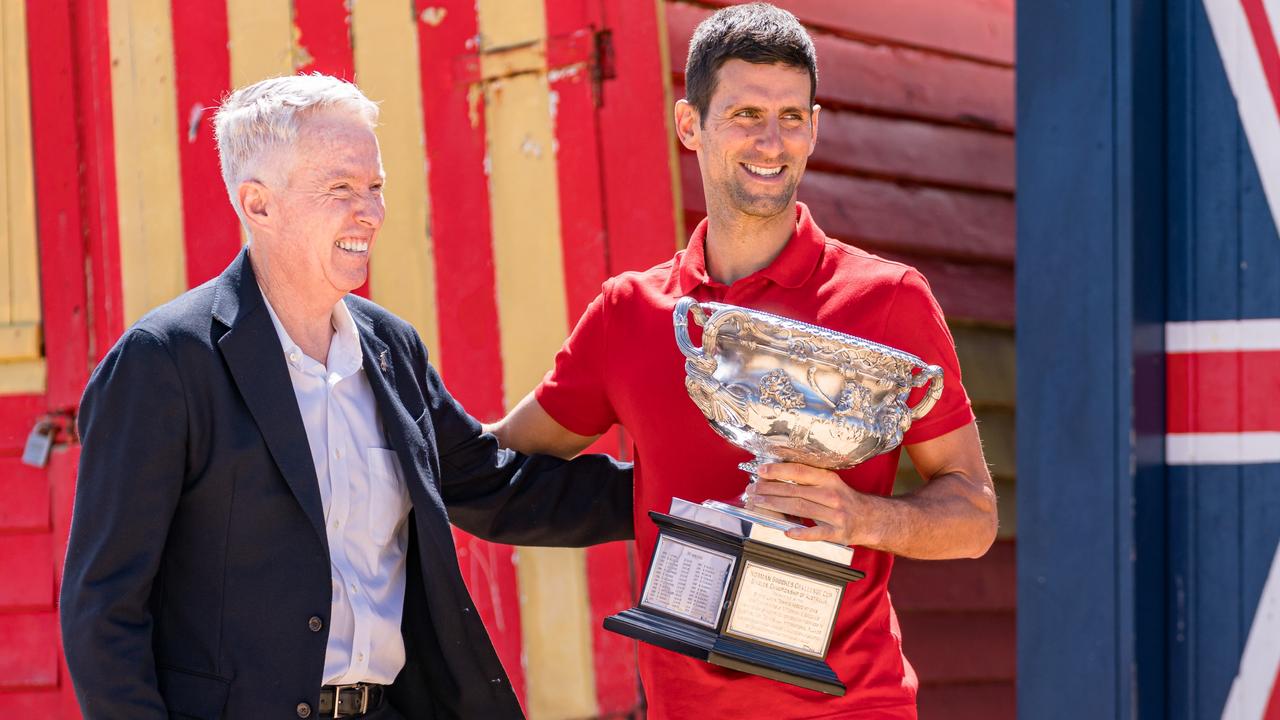 Tennis Australia boss Craig Tiley with Novak Djokovic after the Serb won last year's Australian Open. Picture: Getty Images
Usually that umpire demand is reserved for loutish tennis fans who have perhaps sunk one too many beers under the hot sun.
Or for the careless watcher who has forgotten to silence their mobile phone.
But this year it seems to be the mantra for Tennis Australia's boardroom.
Mum had been the word for chairperson Jayne Hrdlicka, her muted board and their under-siege chief executive Craig Tiley until 6.04pm on day two of the tournament.
Finally, the inexplicable gag was lifted … with a statement as vanilla as the desserts served at Grand Slam Oval.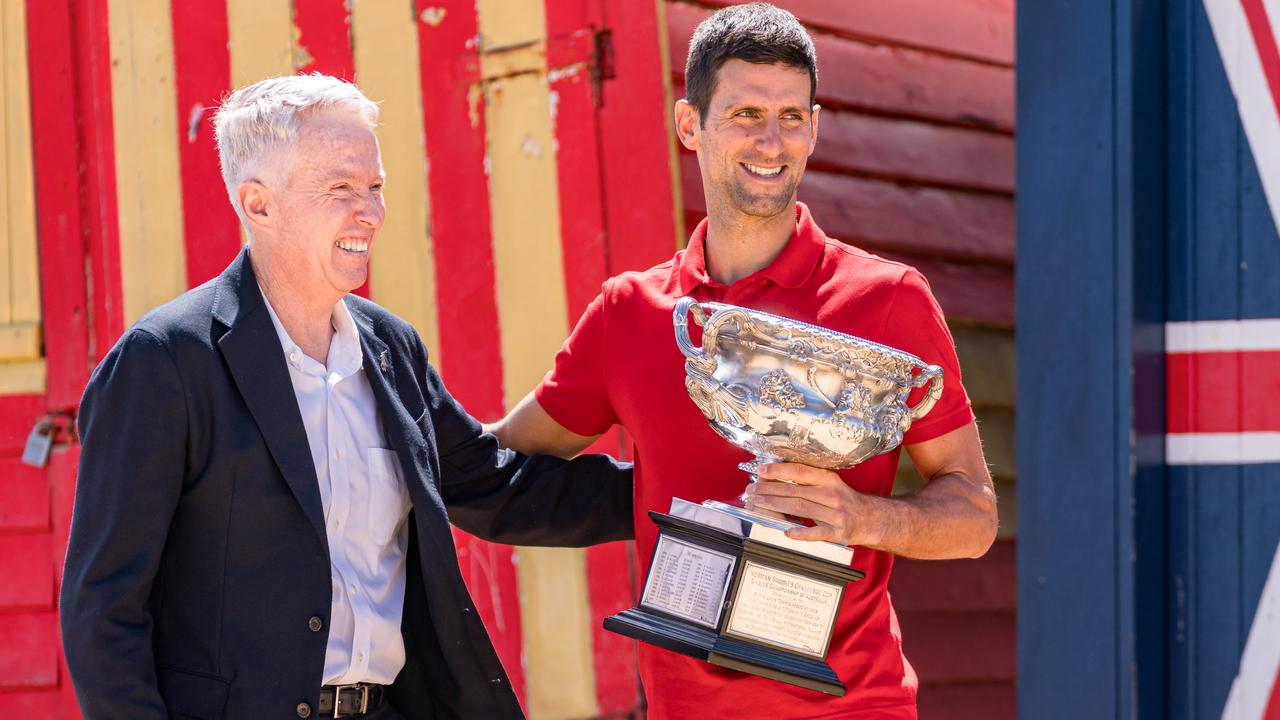 Tennis Australia boss Craig Tiley with Novak Djokovic after the Serb won last year's Australian Open. Picture: Getty Images
"The board and Member Associations commend the Tennis Australia CEO (Tiley) and the entire Tennis Australia team for their hard work and dedication to delivering a spectacular summer of tennis," Hrdlicka's release read.
"As the Australian tennis family, we recognise that recent events have been a significant distraction for everyone, and we deeply regret the impact this had on all players.
"There are always lessons to learn, and we will review all aspects of our preparation and implementation to inform our planning – as we do every year."
The deafening silence beforehand had left former TA directors speechless.
Tiley was being portrayed as a dead man walking, after Novak Djokovic was duped into making a dash to Melbourne only to be callously detained and then deported, as none of his comrades showed any support.
"If you don't come out and publicly say anything you leave a void for someone else to fill, don't you?" one old-heavy hitter remarked.
They were wise words after ex-chair – often a title tinged with bitterness – Steve Healy went whack at the administration's unforced errors.
And Tuesday night's stiff statement will do little to release the pressure, given it added little to the raging debate.
Insiders say the ticks for Tiley tell the true tale of his 17-year tenure at Melbourne Park and should overshadow the Djokovic fiasco.
The numbers must numb the doubters. In 2014 – which was Tiley's first year as CEO – a modest 643,280 fans clicked through the turnstiles.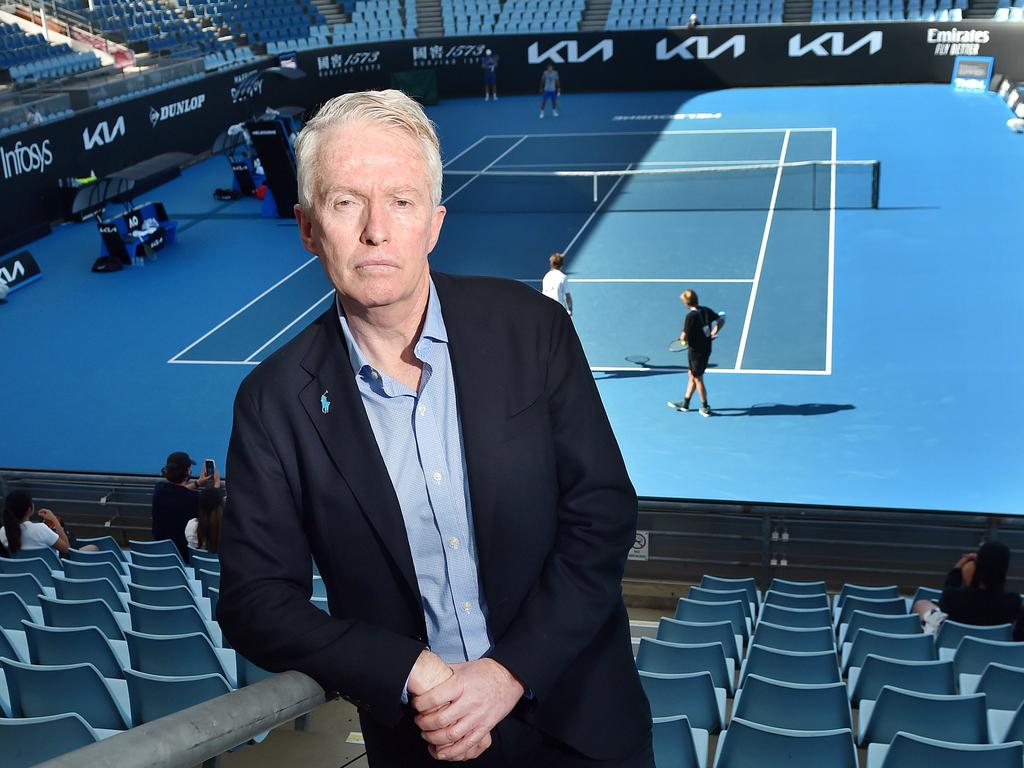 The Aus Open has enjoyed huge growth under Tiley. Picture: Nicki Connolly
In 2020, the last pre-pandemic slam, that had risen to 812,174 – up 26.3 per cent.
But it is the 60-year-old South African's rapport with the players that makes him so popular, and that is on the back of splashing the cash.
Cheques totalling a jaw-dropping $75 million will be written out this fortnight, a spike of almost 300 per cent in a decade.
In fact, this year's prize pool overflows the 2021 US Open ($69 million), Wimbledon ($67 million) and Roland Garros ($59 million) majors.
Money talks, but if you rewind to 2012 the Aus Open cash was almost as quiet as Hrdlicka ... when only $26 million was shared around.
Players have dubbed it the "happy slam". But let's be serious. They love cash, and that's why they are so happy at Melbourne Park.
Sponsorship and international media rights have skyrocketed to foot those bills and, pre-pandemic, the AO pumped almost $300 million into Victoria's economy as it created more than 1000 jobs.
But it is Tiley's relationships with the guns that are storied.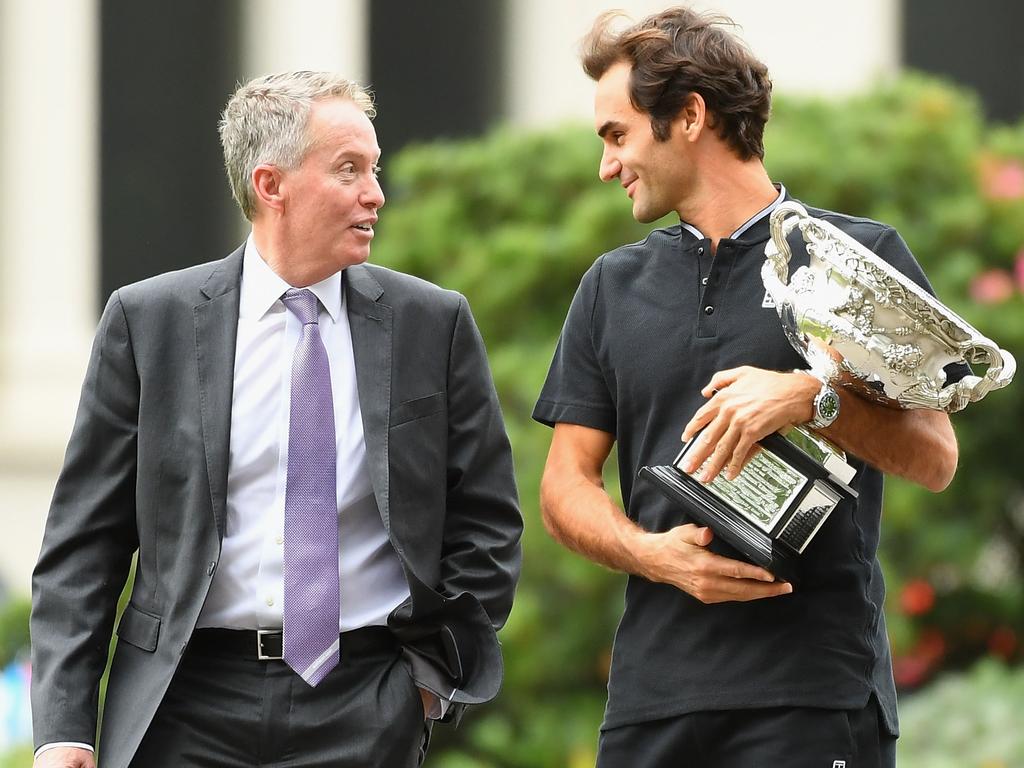 Craig Tiley with tennis great Roger Federer after he won the 2017 Australian Open. Picture: Getty Images
Legend has it that King Roger hated the fact that some journeymen would wander home with a bill outweighing their winnings and so Federer fought hard to have them fairly remunerated.
Tiley has been a great supporter of players from top to bottom. He listened to Roger, and now the Round 1 losers walk away with more than $100,000.
In fact, Tiley does a lot of listening.
Imagine having 256 rock-stars and their entourages – many presumably packing large egos with their tennis bags – jet into Tullamarine at roughly the same time with long lists of ridiculous requests.
Some want their food prepared this way or drinks served that way. Most of the time they are catered for.
The transformation of Tennis Australia's business occurred under predecessor Steve Wood, a time in which Tiley the tournament director fostered deep relationships and completed an MBA.
So, why the bugger's muddle with Joker?
Well, Jim Courier pointed out it was simply Tennis Australia and Tiley's job to get the best of the best out here, and that they did.
"Tennis Australia is not the government," Courier told Channel 9.
"They do not issue visas. They do not allow players to cross borders, so I don't know that you can lay this at the feet of Craig or Tennis Australia.
"Unless some underhanded things happened which we're not aware of, which I highly doubt, knowing Craig and his integrity, I don't think there is any more fault to be laid at the feet of Tennis Australia."
As No.3 seed Alexander Zverev said: "I think Craig Tiley has lost a few years off his life over the last two years – but is doing an incredible job.
"I mean, to make the event happen last year when the country was completely closed, and to make it happen this year again is one hell of an effort. I think he deserves a lot of credit."
"There should have been more communication between the Victorian government and the Australian government before Novak came here."
What the Federal and Victorian Governments had told Tiley will determine who is largely responsible for this ugly double fault.
And with Round 1 of the tournament run and won, it is time for TA chair and Virgin Australia boss Hrdlicka to return serve. Not with a 6pm email, but by fronting up and answering some real questions.
New balls, please.
Originally published as Tennis Australia finally releases statement on Novak Djokovic saga