Uncomfortable reason Australian of the Year Dylan Alcott knew he had won award
Before he was officially named Australian of the Year, Dylan Alcott had an inkling he would claim the top honour after spotting something out of place at the ceremony.
Freshly-minted Australian of the Year Dylan Alcott has declared funding the National Disability Insurance Scheme and ensuring access to rapid antigen testing are top of his agenda.
And winning the Australian Open on Thursday, of course.
Alcott maintained that "I'm just going to be me" as he navigates the role and strives to change perceptions of those living with a disability.
"People with disability are ready to go," he said.
"It's you, non-disabled people, who need to start changing your unconscious biases and leave the negative stigmas in the past, and start lifting expectations so we can be the people we want to be.
"We've got to fully guarantee and fund the NDIS. We invest in people with disabilities so they can be the people they want to be, and start paying taxes, not get pensions."
He said that while opening up and living with Covid is "the best thing ever", it posed incredible risk to the immunocompromised in the community.
"Imagine if opening up meant you might die because if you were to contract Covid because you're immunocompromised. That's scary, yeah?," he said.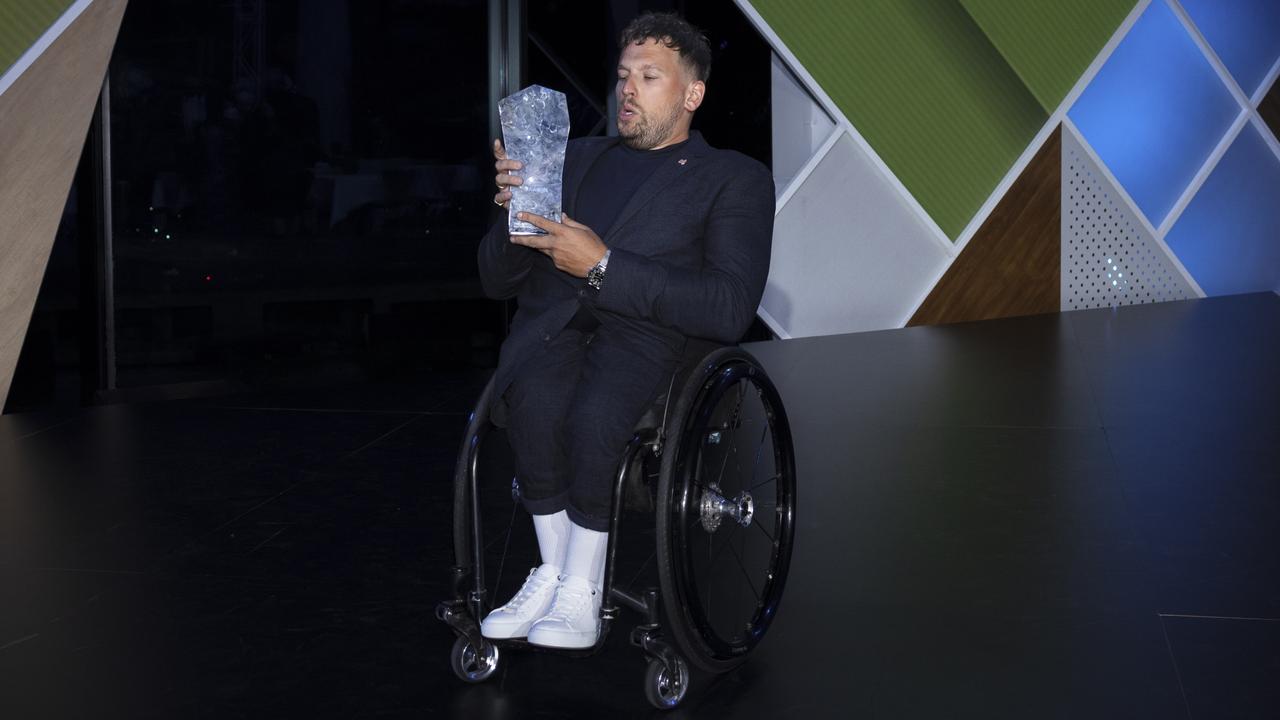 Dylan Alcott with the Australian of the Year award. Picture: Brook Mitchell/Getty
"If we've got to give you, your family, your support workers a daily rapid test for free so you feel comfortable living, let's do it. Anybody think that's a bad idea? I don't think so."
Alcott declared that employment opportunities need to rise, the voices of people with disabilities need to be further amplified and decried the "upsetting" lack of access in a lot of community settings.
He had an inkling he would claim the top honour on Tuesday night in Canberra when he spotted a ramp onto the stage.
"I don't get angry about stuff, but (a lack of access) is upsetting. It hurts," Alcott said.
"If a person with a disability wasn't going to win, there wasn't going to be a ramp. There should always be a ramp, always. Just put it there. You can walk up the ramp, too, can't you? So can I.
"Let's just have the ramp rather than stairs. That's the lesson there when it's done well.
"First and foremost, we've got to fund people with disability, get them healthcare, but also make things accessible. It's easy to do. It helps all of us, but people sometimes can't be bothered, right? That's the difference between making your life easier but my life possible. That's the big difference."
Legend's awkward case of mistaken identity
Three-time Paralympic gold medal winner Kurt Fearnley is preparing himself for a year of mistaken identity following tennis star Dylan Alcott's Australian of the Year gong.
As two of Australia's premier wheelchair athletes, Fearnley and Alcott are used to fans getting their wires crossed when discussing the pair's tremendous feats.
And it didn't take long for Fearnley's inbox to start getting flooded with misguided messages of support following Alcott's stunning honour.
Split image Dylan Alcott and Kurt Fearnley.
But, in trademark style, the wheelchair racer may have found the perfect way to laugh his way through 2022 – by kicking off the #NotDylan hashtag.
"I'm gunna have to get #NotDylan shirts printed for real life," Fearnley tweeted.
"Although I reckon people would think "I'm" being ironic!
"The funniest is when people call me Kurt, talk about Kokoda, & then congratulate me on Wimbledon or talk about the ANZ ad!"
I'm gunna have to get #NotDylan shirts printed for real life. Although I reckon people would think "I'm" being ironic! The funniest is when people call me Kurt, talk about Kokoda, & then congratulate me on Wimbledon or talk about the ANZ ad! 😂 https://t.co/wXc5W1GqWc

— Kurt Fearnley (@kurtfearnley) January 25, 2022
Originally published as Uncomfortable reason Australian of the Year Dylan Alcott knew he had won award