Canberra star Nick Kyrgios withdraws from key Australian Open lead-in event
Fans will have to wait longer for Nick Kyrgios' return to the court after he withdrew from his Melbourne Summer Set opener.
Nick Kyrgios' Australian Open preparations have taken a hit, with the Canberra star withdrawing from his Melbourne Summer Set opener with asthma.
Kyrgios was set to headline the Tuesday night session at Melbourne Park against Slovak Alex Molcan, in what would have been his first tour match since his first-round US Open defeat.
The 26-year-old's involvement in next week's Sydney Tennis Classic remains in doubt, too, but he is still aiming to make his season debut there.
A lucky loser will replace Kyrgios, who tested negative to Covid-19 multiple times in recent days.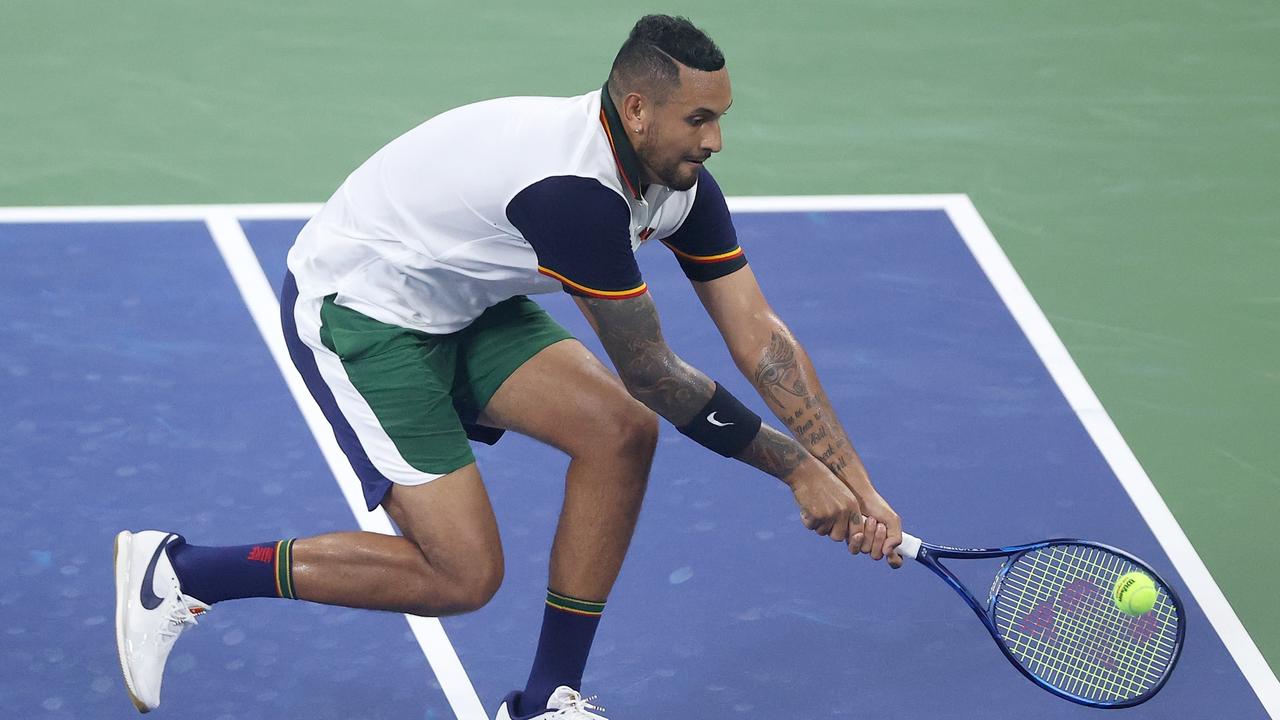 Nick Kyrgios' start to the Australian tennis summer has been delayed. Picture: AFP
"I'm really sorry that I've had to pull out from this Melbourne Summer Set event," Kyrgios said in a statement.
I have been feeling run down and unwell for four days. I have had several Covid tests over the last few days, which all came back negative.
"I don't feel 100 per cent, so I need to take this week to be ready for Sydney next week.
"I was really looking forward to experiencing the best fans in the world here at home. I can't wait to get back out there and see you all. Take care out there and see you soon."
Kyrgios' only competitive play since then was representing Team World at the Laver Cup in Boston in September.
The world No.93's next chance to play will be at next week's Sydney Tennis Classic, where he received a singles wildcard.
Kyrgios has previously discussed how he suffered from bad asthma as a child but it's unclear how serious his current condition is.
Teen star's shock move in preparation for Aus Open
Teenage US Open champion Emma Raducanu has withdrawn from next week's Melbourne Summer Set, only weeks after contracting Covid-19.
Raducanu revealed her decision to pull out of the WTA 250 tournament after practising at Melbourne Park on Saturday – but still plans to play in the Australian Open.
"The timing to compete in the first Melbourne event this week is too soon for me, having just returned from isolation," she said in a statement.
The British sensation, who became the first qualifier to win a grand slam title when she triumphed in New York in September, will be one of the most fascinating players to watch this summer.
Raducanu, 19, had planned to compete in the Mubadala World Tennis Championship in Abu Dhabi before she tested positive to coronavirus in mid-December.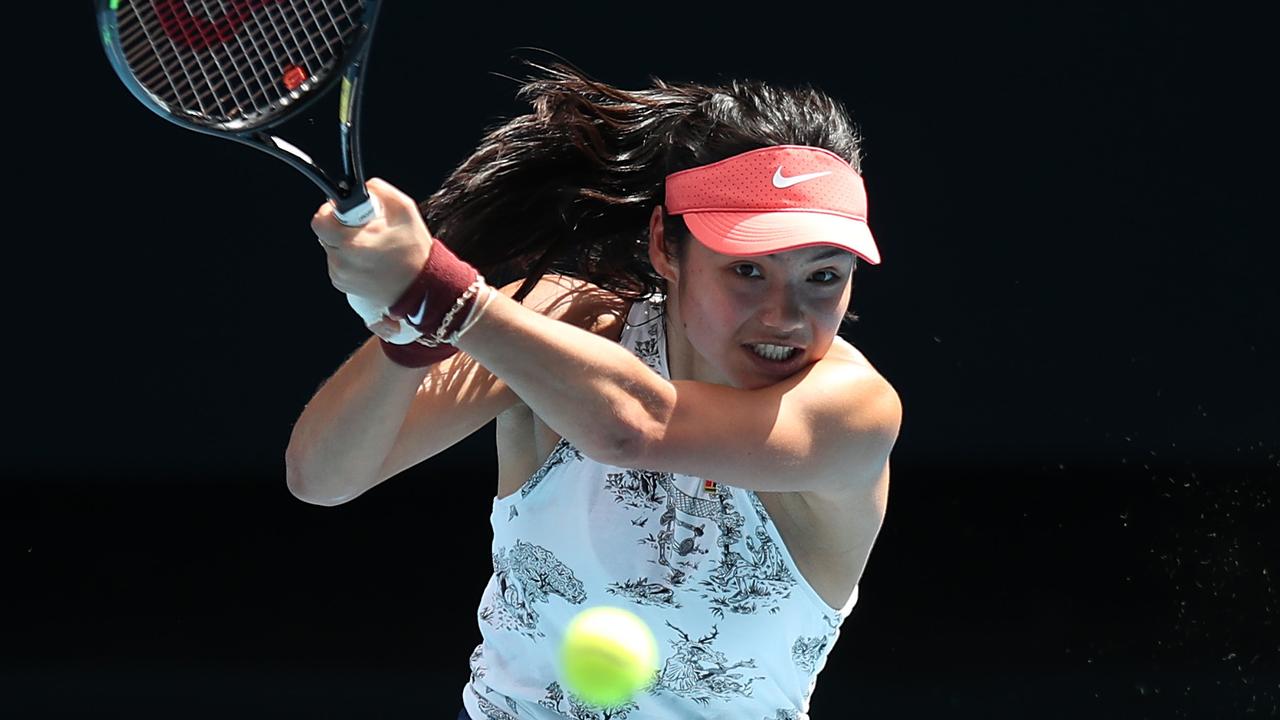 Emma Raducanu will skip the Melbourne Summer Set event heading into the Australian Open. Picture: Graham Denholm/Getty Images
She is still coming to terms with the sudden fame thrust upon her after the US Open title, which she won as the world No.150.
Raducanu has won two of her five matches since her grand slam glory but starts the new season inside the top 20 and with the eyes of the tennis world on her. Her fourth-round run at Wimbledon as a wildcard in July proved the US Open effort was not a fluke.
Everyone has an opinion on what will come next, with grand slam legend Martina Navratilova predicting on the WTA website that it was "going to be hard" for Raducanu this year.
"Players have seen her; they know what to do against her. But most of all, she just needs matches," Navratilova said.
"She's the biggest wildcard for me, because clearly, she has the ability to play great tennis.
"Can she replicate it consistently enough? Eight WTA-level tournaments in her life? That's half a season. I'd go into Wimbledon with 10, 12 matches under my belt."
Navratilova also questioned how Raducanu would physically handle the weekly grind of the tour and being 'the hunted'.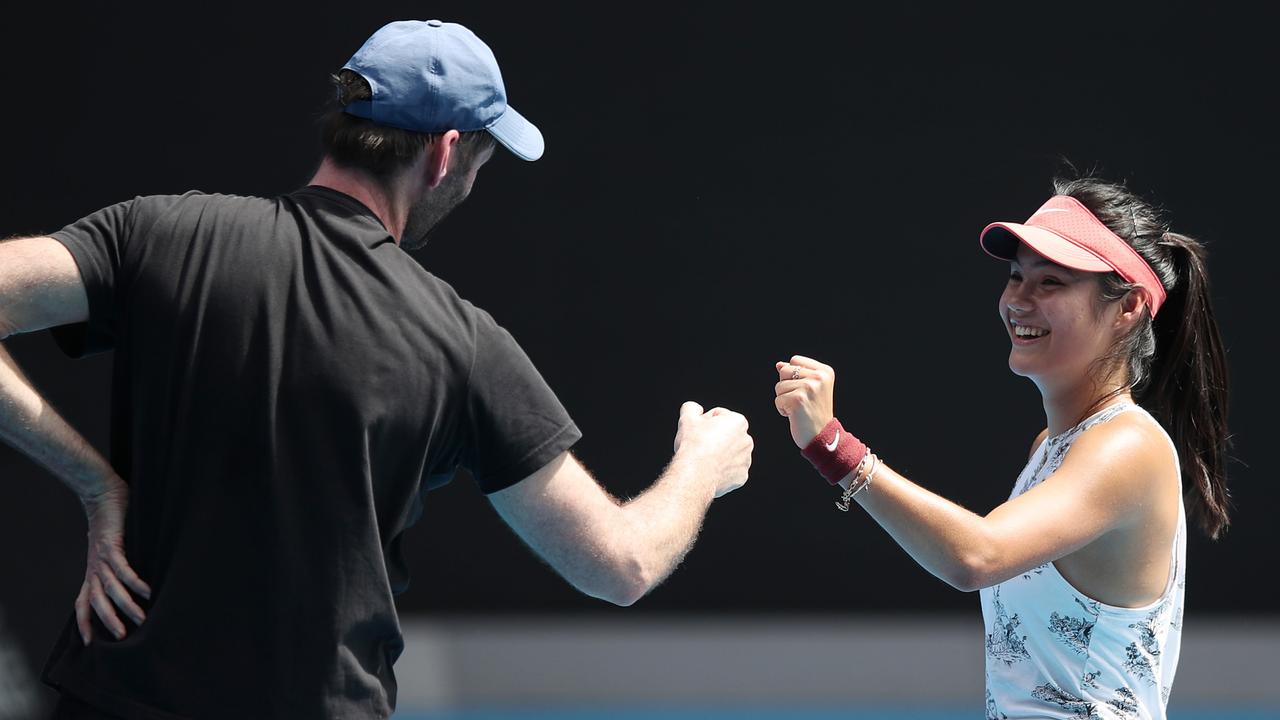 Emma Raducanu changed coaches to Torben Beltz after her US Open victory. Picture: Getty Images
"Everybody's going to be gunning for her. That's the thing that's going to look good on their resume," she said. "And the pressure's going to be on her emotionally, as well. Being a Brit, she's under a huge microscope and it's hard to get away from it.
"We'll see. Coaching uncertainty, too. To me, that she let go of the coach (Andrew Richardson) who got her to the US Open was unfathomable. I really don't get that."
Raducanu confirmed in November that her new coach would be Torben Beltz, who previously worked with former world No.1 and 2016 Australian Open champion Angie Kerber.
The women's field in the Melbourne Summer Set will be split into two events in Sunday's draw, with Naomi Osaka, Jessica Pegula, Simona Halep and Elise Mertens expected to be the top seeds.
Nadal's surprise Aus Open boost
Rafael Nadal has arrived in Melbourne ahead of the Australian Open after recovering from coronavirus.
The 35-year-old Spaniard, whose only win at the tournament came in 2009, tweeted a photo of himself on an empty court at Melbourne Park with the comment 'Don't tell anyone... ... here I am'.
The 20-time Grand Slam champion tested positive for Covid-19 after returning home from an exhibition tournament in Abu Dhabi, saying he had experienced "some unpleasant moments".
A number of other players who were in Abu Dhabi also tested positive, including Russia's world number five Andrey Rublev, women's Olympic champion Belinda Bencic and US Open champion Emma Raducanu.
Nadal's arrival will be a boost for the organisers of the first Grand Slam tournament of the season, which starts on January 17.
There are still major doubts over whether world number one Novak Djokovic will play.
The 34-year-old withdrew from the ATP Cup team event days before its start on Saturday, heightening doubts over whether he will defend his Australian Open title.
Djokovic, a nine-time champion in Melbourne, has refused to confirm if he has been vaccinated against Covid-19, with all participants needing to be jabbed or have a medical exemption.
The field in Australia has been ravaged by injuries, with superstars Serena Williams and Roger Federer out, along with Dominic Thiem, Jennifer Brady, Karolina Pliskova, Bianca Andreescu and Karolina Muchova.
Serbia's revealing admission over Djoker AO hopes
Not even Novak Djokovic's fellow Serbian players know why the world No.1 withdrew from the ATP Cup – or if he's going to compete at next month's Australian Open.
Djokovic's withdrawal from the ATP Cup became official on Wednesday night after days of speculation that he would skip the event amid the continued mystery about his vaccination status.
The 34-year-old is yet to reveal whether he is vaccinated or if he will try to win a 10th grand slam title at Melbourne Park. Every player planning to compete in Australia this summer must be fully vaccinated or have a medical exemption.
Novak Djokovic's Serbian teammates are in the dark over the star's Australian Open availability. Picture: Michael Klein
World No.33 Dusan Lajovic, who will spearhead Serbia in Djokovic's absence, initially made light of the situation, joking that he found out only minutes earlier and was in "shock".
"We knew, I think, a day-and-a-half ago or something like that," Lajovic said.
"I think we're all waiting for that last-minute decision and it's never the same when you have the No.1 in your team and you don't have it – it's a big difference.
"Obviously, when Novak is in the team, the expectations get much higher and everybody's putting a spotlight on Novak, of course, and trying to push the whole team.
"Right now, maybe we're on the sideline a little bit and it could be good for us, it could be bad – we'll see.
"But it's definitely different and we'll get to see what happens after the tournament and how it goes. He was, I think, hoping the same as we did, that somehow he will be here, but unfortunately he's not and we've got to deal with it."
Asked the reason for Djokovic's withdrawal, Lajovic, who made the fourth round at the 2021 Australian Open, said he was as much in the dark as everyone else and that he hadn't discussed that with him.
"I don't know the official reason but maybe the ATP knows," he said.
"(Djokovic) just said that he's not coming to the ATP Cup and he's trying to get to the Australian Open.
"He said, 'I'm not coming, guys, to the ATP Cup; we'll see about the Australian Open'. I mean, he didn't specify if he's coming or not but that he's waiting for a decision."
TA responds to Djokovic 'special rules' claims
World No.1 Novak Djokovic has pulled out of the season-opening ATP Cup in Sydney, casting even greater doubt on his Australian Open involvement.
It is the first bit of clarity around Djokovic's plans after a months-long saga where he refused to reveal his vaccination status or if he would play in Australia.
But the Serbian superstar is yet to say whether he will try to win a 10th grand slam title at Melbourne Park and record-breaking 21st overall.
All players planning to compete in the Australian Open and lead-in events must be fully vaccinated or have a medical exemption via a multi-step independent process.
Fellow grand slam champions Rafael Nadal and Dominic Thiem are also out of the ATP Cup, with Russians Andrey Rublev and Aslan Karatsev among the others to withdraw.
Ugo Humbert-led France has replaced Thiem's Austria in the event.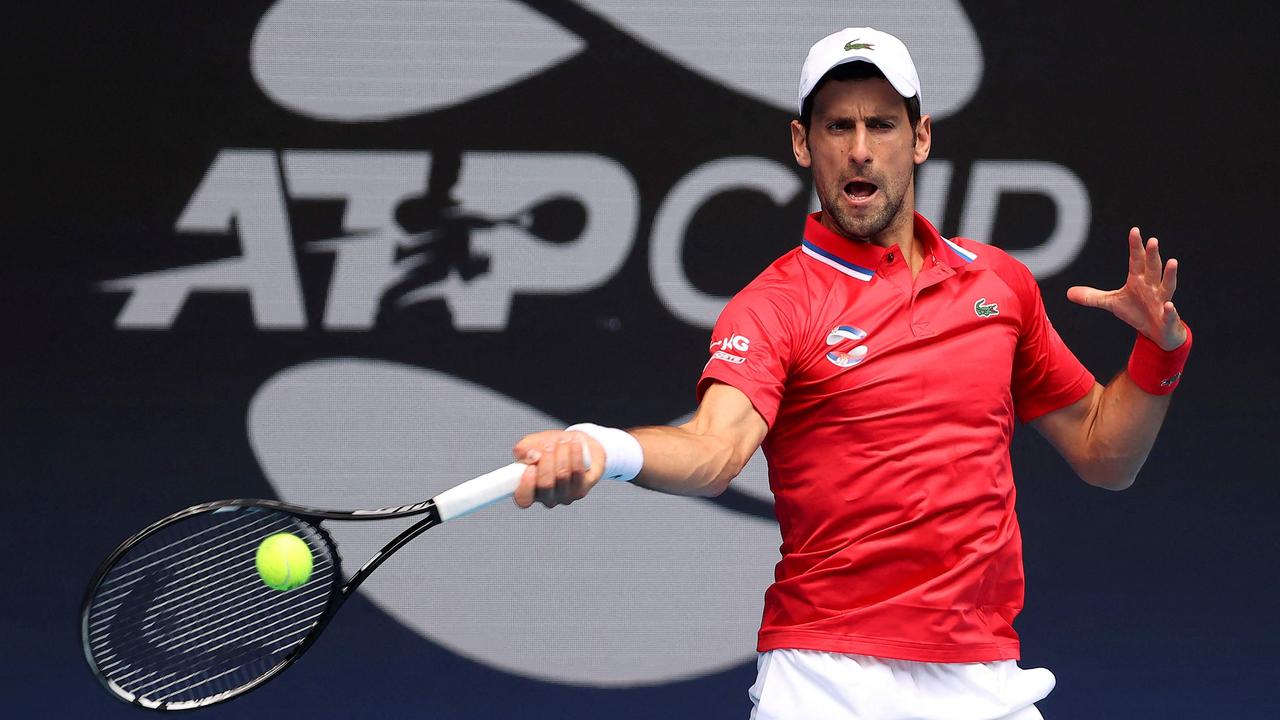 Novak Djokovic withdrew from the ATP Cup. Picture: David Gray/AFP
Djokovic's withdrawal follows a leading Serbian tabloid newspaper alleging that Tennis Australia was lobbying the Victorian government to enable him and others to play at the Australian Open.
A translated version of a report in Blic stated that TA was trying to organise an exemption for Djokovic that would enable him to avoid being vaccinated.
The report also claimed tournament sources told the newspaper that Victorian government authorities were close to making a decision on "special rules" for several top players, including Djokovic.
TA issued a statement to News Corp about Blic's story, saying: "Regarding the medical exemption process, which pertains to all players, there is a rigorous and independent process in place.
"As with all medical information, it is subject to confidentiality."
A chief executive and Australian Open boss Craig Tiley has consistently said he was unaware of any medical condition that would enable Djokovic to be exempt and would not ask if he was vaccinated.
"We want to have the best players here, so I'd love to have Novak at the event," Tiley said last week.
The Djoker has pulled out of an Aus Open lead-in tournament. Picture: Getty Images
"We always want to have that – it doesn't matter who it is. But there are conditions of entry, so if he meets those conditions, great. If he doesn't, it's unfortunate."
Tiley said "a very small percentage" of incoming tennis people – none of them players – had informed him their medical exemption application was successful.
Djokovic was supposed to face fellow top-10 star Casper Ruud in Serbia's ATP Cup opener against Norway in Sydney on Saturday night.
Serbia's other ATP Cup players are top-50 singles pair Dusan Lajovic and Filip Krajinovic and doubles specialists Nikola Cacic and Matej Sabanov.
Nikola Milojevic, ranked No.138, is Djokovic's potential replacement.
Meanwhile, French tennis player Benoit Paire revealed on social media that he had tested positive to Covid-19 again, after contracting the virus on the eve of last year's US Open.
Paire joins Nadal, Andrey Rublev, Denis Shapovalov, Belinda Bencic, Ons Jabeur and Emma Raducanu in testing positive this month.
Elsewhere, Australians Alex Bolt, Thanasi Kokkinakis and Storm Sanders have received Adelaide International wildcards, while Nick Kyrgios scored one into the Sydney Tennis Classic.
Osaka lands Down Under
Two-time Australian Open champion Naomi Osaka has landed in Melbourne ahead of her title defence as she prepares to end her four-month tour hiatus.
Osaka headlined the galaxy of tennis stars who lobbed into Sydney and Melbourne on charter flights on Tuesday, with tournaments to begin across the country this weekend.
Tennis Australia boss Craig Tiley organised for 17 charter flights – a number that could end up higher – to transport players and support staff from Dubai, Abu Dhabi, Los Angeles, Santiago, Tokyo and Singapore.
Alex Zverev and 2021 Australian Open semi-finalists Stefanos Tsitsipas and Aslan Karatsev were due to arrive in Sydney late on Tuesday night, while Matteo Berrettini and Coco Gauff came in earlier.
Zverev, Tsitsipas, Karatsev and Berrettini are representing their respective countries in the Sydney-based ATP Cup, with matches starting on Saturday.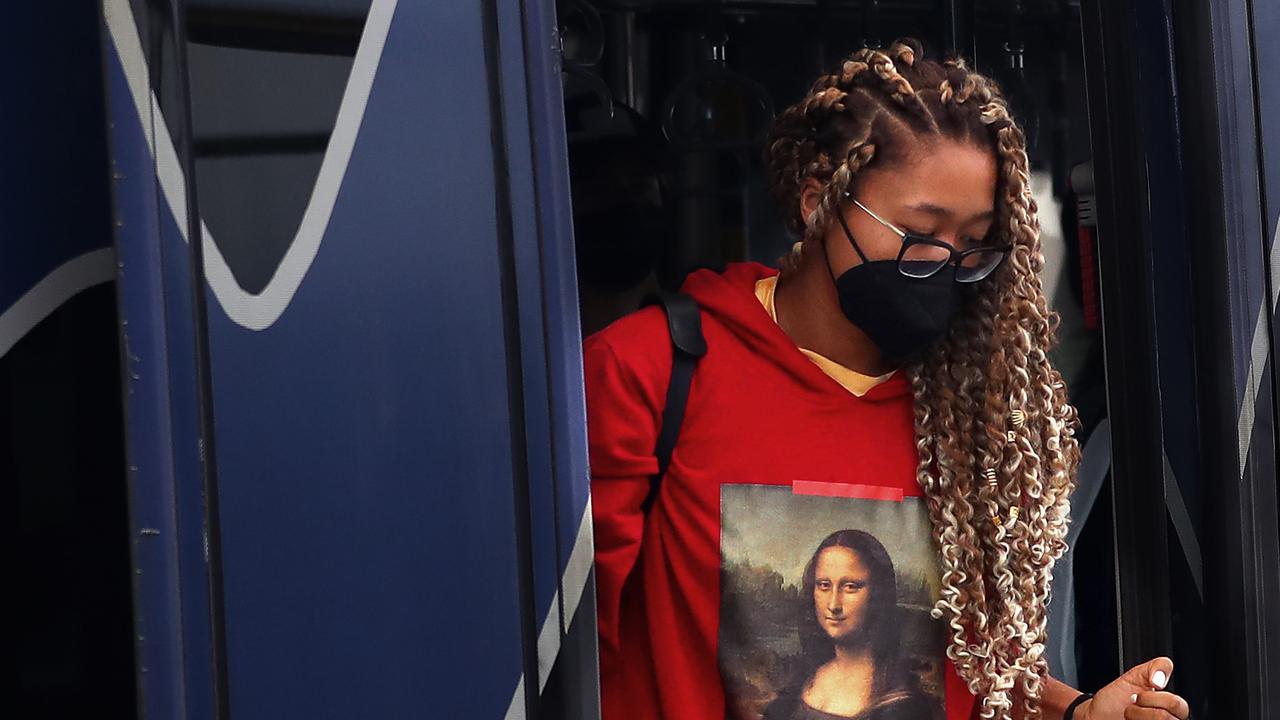 Naomi Osaka arrives on a chartered flight ahead of the Australian Open.
Gauff caught another charter flight from Sydney to Adelaide for the WTA 500 tournament, which begins on Sunday and includes Australia's world No.1 Ash Barty.
They will all be subject to Covid-19 tests and must isolate in their accommodation until they return a negative result.
Osaka tearfully announced after her third-round US Open defeat in September that she was taking an indefinite break from the sport to focus on her mental health.
The 24-year-old hasn't been sighted on tour since but Melbourne has proven a happy hunting ground for her, including grand slam titles in 2019 and 2021.
"I feel like for me recently, when I win I don't feel happy," the former world No.1 said at the time.
"I feel more like a relief. And then when I lose, I feel very sad. I don't think that's normal."
Osaka's much-anticipated return to the court is a boost for the Australian Open given the likes of Karolina Pliskova, Serena Williams, Jennifer Brady, Karolina Muchova and Bianca Andreescu are out.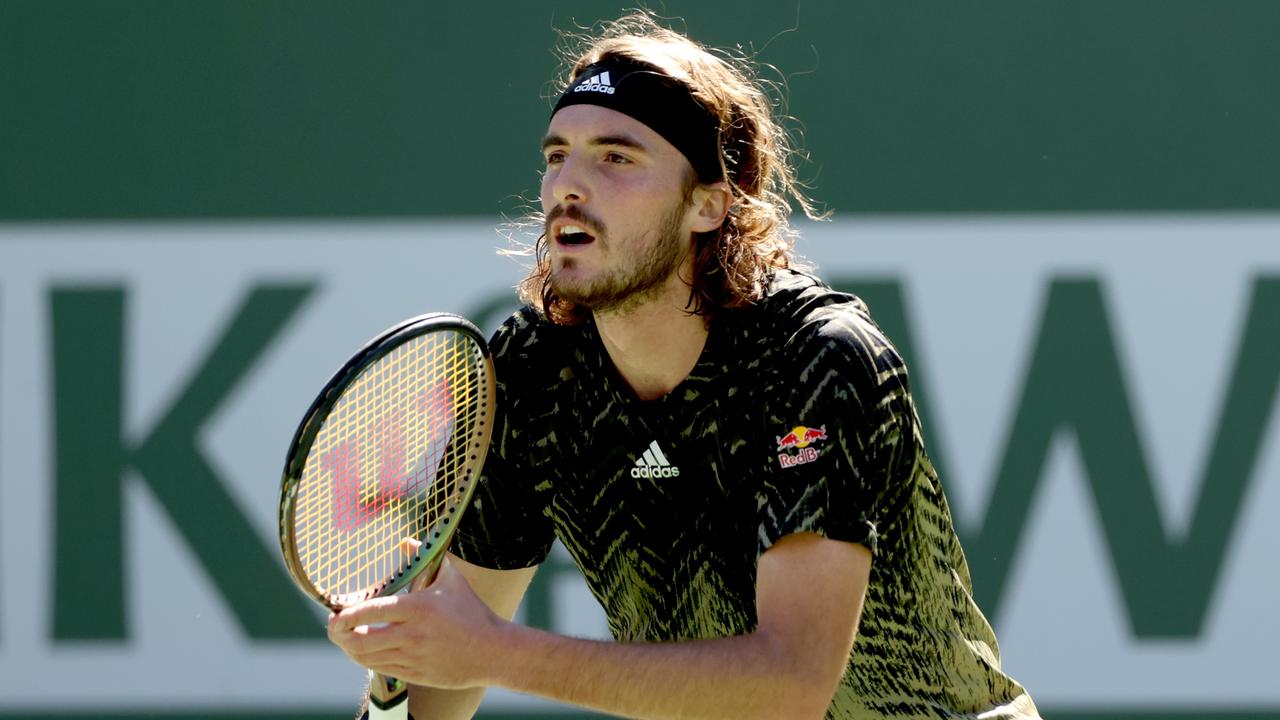 Stefanos Tsitsipas was due to arrive in Australia on Tuesday night.
She is playing in one of the two WTA 250 events in Melbourne next week rather than the star-studded tournament in Adelaide but will still come up against top-20 opposition.
Joining the Japanese superstar in arriving on the charter flight from Los Angeles were Americans Mackenzie McDonald and Alison Riske, who reached the last 16 at last year's Australian Open.
RUNNER-UP TO SKIP MELBOURNE PARK
Last year's Australian Open runner-up Dominic Thiem will skip the Melbourne Park grand slam next month to continue his recovery from a serious wrist injury.
The former world No.3 had already withdrawn from the ATP Cup and Sydney ATP 250 event last week before he revealed his Australian Open call on Tuesday night.
Thiem, 28, has not played since a second-round defeat in Mallorca in June, meaning he was unable to defend his US Open title in September.
"As you all know, I came back home to Austria to recover after the hard practice sessions I had in Dubai and the slight setback (non-Covid illness) in my preparation," Thiem wrote on Twitter.
"I am now feeling well again, my wrist is in optimal condition and I am practising normally with a very good intensity.
"After the short holidays, my team and I have assessed all matters and we have decided to make some changes to my initial tournament schedule.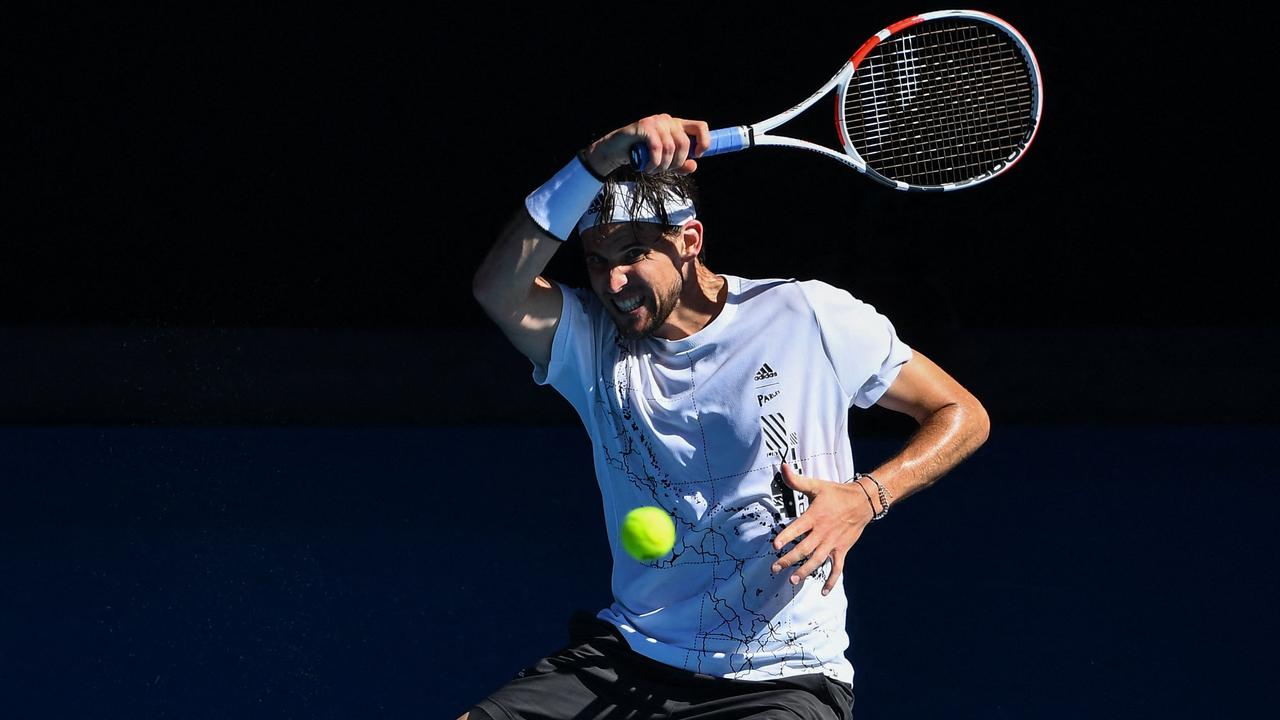 Dominic Thiem won't start his 2022 season until after the Australian Open as continues to build fitness following a long absence from the tour. Picture: AFP
"I will start the season in South America at the Cordoba Open in Argentina, end of January, and therefore I will not play this year at the Australian Open in Melbourne, a city that I love and where I have great memories of unforgettable matches in front of amazing crowds.
"I will miss the Australian fans but I will be back in 2023.
"We believe this is the right decision in order to have a good return to competition … I will remain in Austria for a few more days and then head to practice outdoors and get ready for my first event of the season."
Thiem follows the likes of Roger Federer, Milos Raonic, Stan Wawrinka, Jeremy Chardy and Kyle Edmund in withdrawing from the event because of illness or injury.
There also remains significant doubt about world No.1 and nine-time champion Novak Djokovic's involvement as he remains tight-lipped about his Covid-19 vaccination status.
Top-20 stars Rafael Nadal, Andrey Rublev and Denis Shapovalov are recovering after testing positive to the virus in recent weeks.
TENNIS STAR TESTS POSITIVE AFTER AUSSIE ARRIVAL
Canadian star Denis Shapovalov is the first international tennis star this summer to test positive for Covid-19 after arriving in Australia.
News Corp reported on Thursday that world No. 14 Shapovalov was among the first players to enter the country ahead of his planned involvement in the ATP Cup in Sydney.
But the 22-year-old revealed on social media on Sunday morning that he was the latest competitor from this month's Mubadala World Tennis Championship in Abu Dhabi to test positive to the virus.
"Hi everyone, just wanted to update you that upon my arrival in Sydney, I tested positive for Covid," Shapovalov posted.
"I am following all protocols, including isolation and letting the people who I've been in contact with know.
"Right now I am experiencing minor symptoms and look forward to getting back on the court, when it is safe to do so.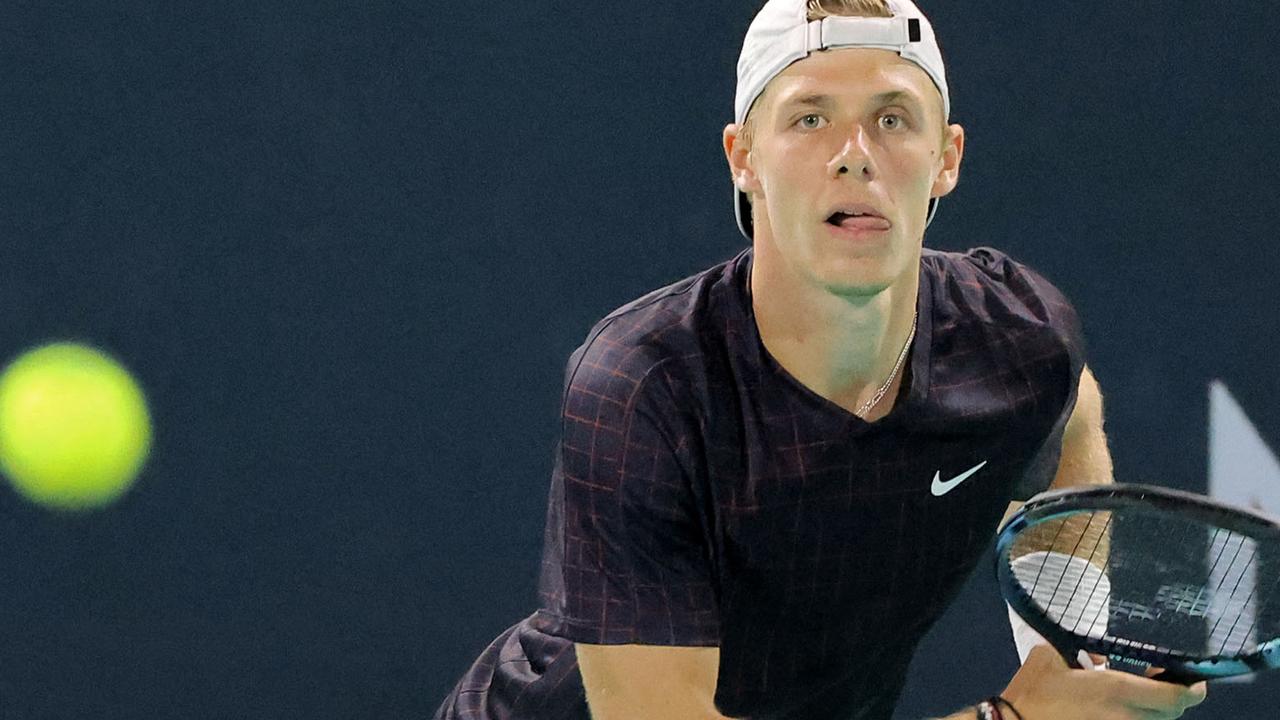 Canada's Denis Shapovalov tested positive for Covid after touching down in Australia. Picture: AFP
"Thank you in advance for your support and wish you all a safe and happy holiday."
Shapovalov is now unlikely to be able to play in the ATP Cup, which begins on Saturday — or at least the start of the tournament — as he enters a minimum 10-day isolation period.
Canada's first match is scheduled for next Sunday against the United States.
Tennis Australia chief executive Craig Tiley confirmed the official protocols on Wednesday, which include all players having to be fully vaccinated or being granted a medical exemption.
They also must return a negative test in the 72 hours before flying to Australia.
Former world No. 1 Rafael Nadal, Belinda Bencic and Ons Jabeur also tested positive after Abu Dhabi, while US Open champion Emma Raducanu withdrew before the event started.
"We are dealing with a variant that is challenging because it's highly infectious," Tiley said this week.
Shapovalov is isolating in Sydney after his positive result. Picture: Getty Images
"Our challenge this year is going to be positive cases.
"We have modelled the potential of positive cases — there will be positive cases — and it's just how we manage them and manage the location and the necessary isolation associated with it.
"Players that are testing positive now … they will complete a period of time when they're no longer infectious, when they're shedding the virus, then they will be fine.
"So, getting positive now is probably, if you're going to get positive, a good thing.
"Never getting positive (is better) but if it's going to be a situation where you want to play the Australian Open, your timing (to test positive) would be now, so the great thing is everyone's vaccinated."
The Australian Open begins on January 17, with most players set to land in the country in the next few days on tournament-organised charter flights.
Originally published as Canberra star Nick Kyrgios withdraws from key Australian Open lead-in event