Emma Raducanu slams being under pressure 'a joke' after bowing out of Wimbledon
British tennis star Emma Raducanu has bowed out of Wimbledon in straight sets but rejects claims she is struggling with expectation after winning the US Open last year.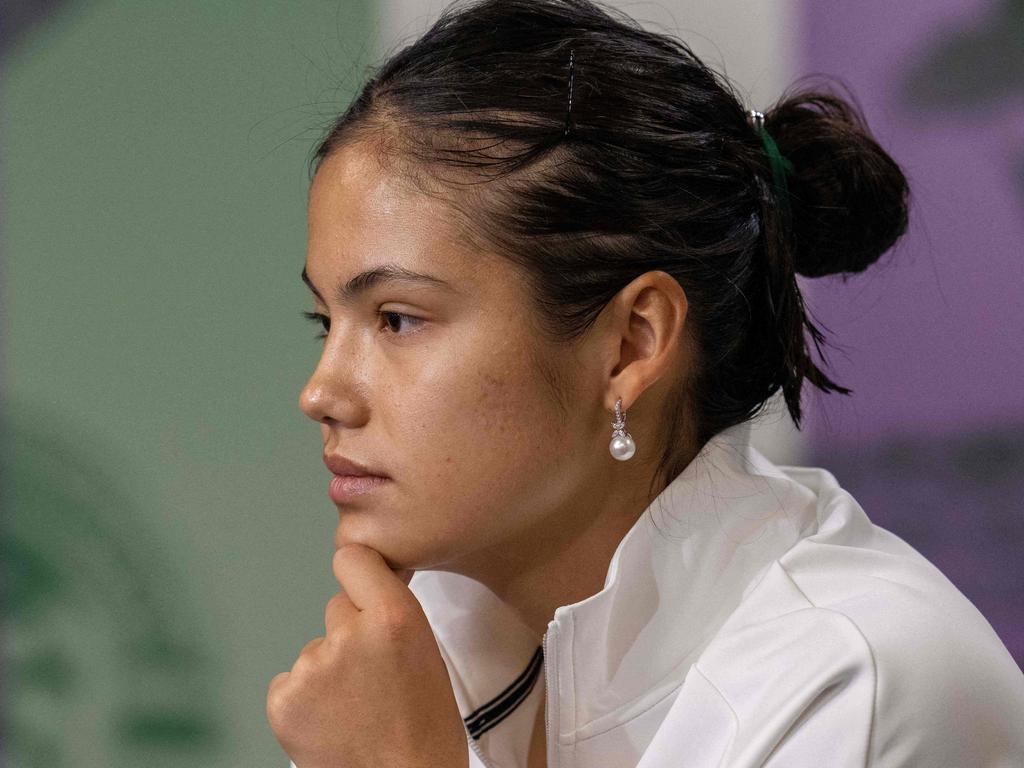 Britain's Emma Raducanu has bowed out of Wimbledon but claims she is not feeling under pressure about her performance. Picture: AFP
Emma Raducanu branded claims that she is under pressure a "joke" after tamely bowing out of the second round at Wimbledon.
The 19-year-old Briton was outplayed by France's Caroline Garcia in a 6-3, 6-3 defeat on Centre Court. Afterwards, she issued a defiant response to those who believe that she is struggling to handle the weight of expectation after winning the US Open last year.
"There's no pressure," Raducanu said. "Why is there any pressure? I'm still 19. It's a joke. I literally won a slam.
"I am 19 years old. Yes, I have had attention. But I'm a slam champion, so no one's going to take that away from me. If anything, the pressure is on those who haven't done that."
Raducanu often deploys her powerful groundstrokes against opponents but she was given a taste of her own medicine yesterday (Wednesday). Garcia, a former world No. 4, hit 25 winners to Raducanu's 12 over an hour and 26 minutes.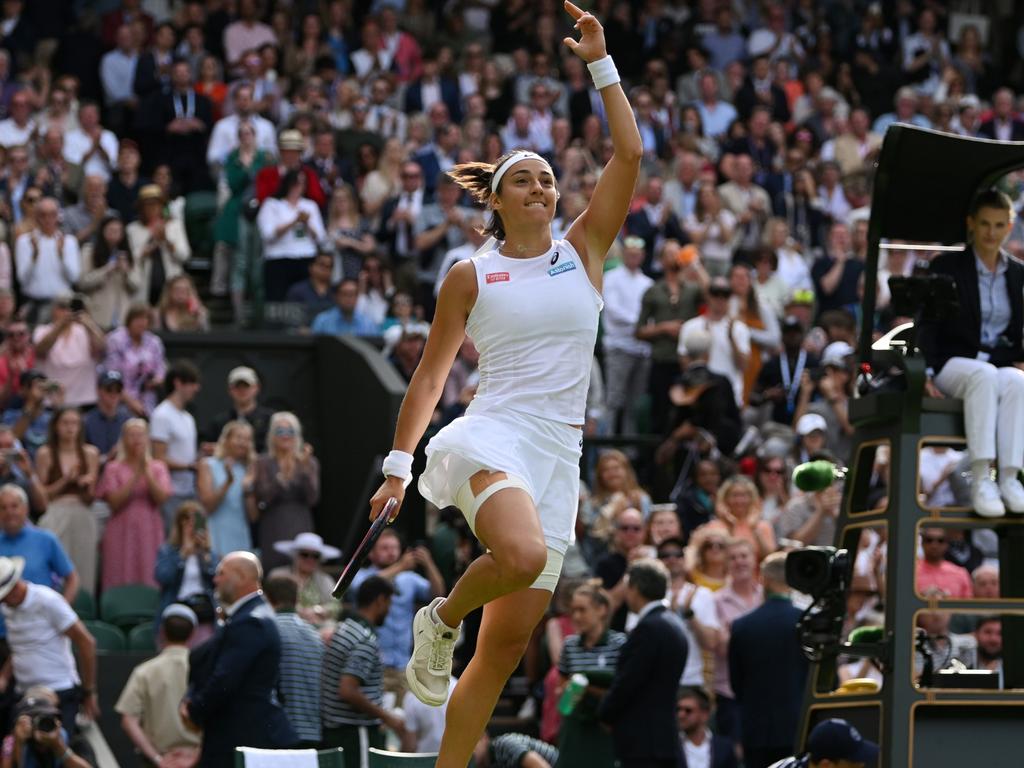 Former world No. 4 Caroline Garcia celebrates the win. Picture: Shaun Botterill/Getty Images
"Obviously it's tough to lose any match, but Caroline played a great match," Raducanu said. "She is a great player. I struggled to find a way through her. But it's OK because coming into this I didn't have many expectations of myself. Playing on Centre Court again was a really positive experience for me."
It did not help Raducanu's cause that she was so undercooked coming into the championships. She retired midway through the first set of her only warm-up match on grass at the Nottingham Open on June 7 after suffering a side strain. This forced her off the practice court for two weeks.
"I didn't feel anything [painful] out there," Raducanu said. "But I've played seven hours of tennis [including practice sessions] in a month. To even compete with these girls at this level and win a round I think is a pretty good achievement.
"Since the French Open, my time on court has been extremely minimal. I really did not train very much. That's due to different sorts of niggles and things that have been lingering around. That's obviously something I'm going to be focusing on – like getting my body ready to just play tennis basically."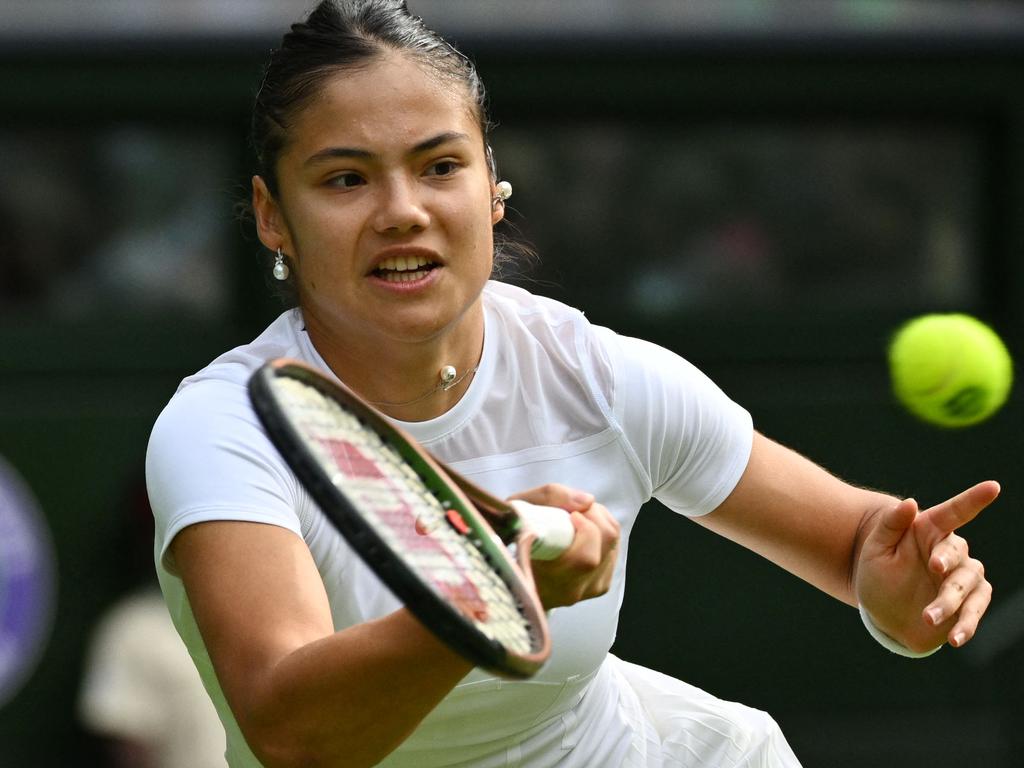 Raducanu has struggled with injury. Picture: Sebastien Bozon/AFP
Raducanu was one of 10 British singles players to reach the second round, the highest number since 1984. She wished her remaining compatriots well as she takes a month off from competition before returning on hard courts at the Washington Open from August 1.
"The Brits have been doing extremely well, especially the last few weeks on the grass," Raducanu said. "They've carried that through Wimbledon. That's a great thing for British tennis. I wish them all the luck for this tournament and will be supporting them."
Originally published on The Times as: 'There's no pressure. I'm 19. It's a joke'