French Open 2022 Day 4 results: Bernard Tomic-Nick Kyrgios feud goes nuclear
The ugly war of words between Australia's most controversial tennis stars has gone to the next level, with Nick Kyrgios and Bernard Tomic trading vicious barbs.
The feud between Australian tennis stars Nick Kyrgios and Bernard Tomic has gone nuclear, with the pair trading more barbs as the French Open continued.
While neither is featuring at Roland Garros this year, it hasn't stopped their lingering war of words – with Tomic firing a shot on Wednesday, saying he'd always been Kyrgios' 'idol'.
Kyrgios had already stoked the fire when asked about Tomic's comments from early this year, in which he said he gloated he was better than the former Australian No.1 – telling the Gold Coast star to 'quiet down'.
"Better in what way? I've got a higher career high, more money, more wins and give back whenever I can," Kyrgios said.
"It's time for Bernard Tomic to just quiet down. He ain't even playing anymore. I've got years left."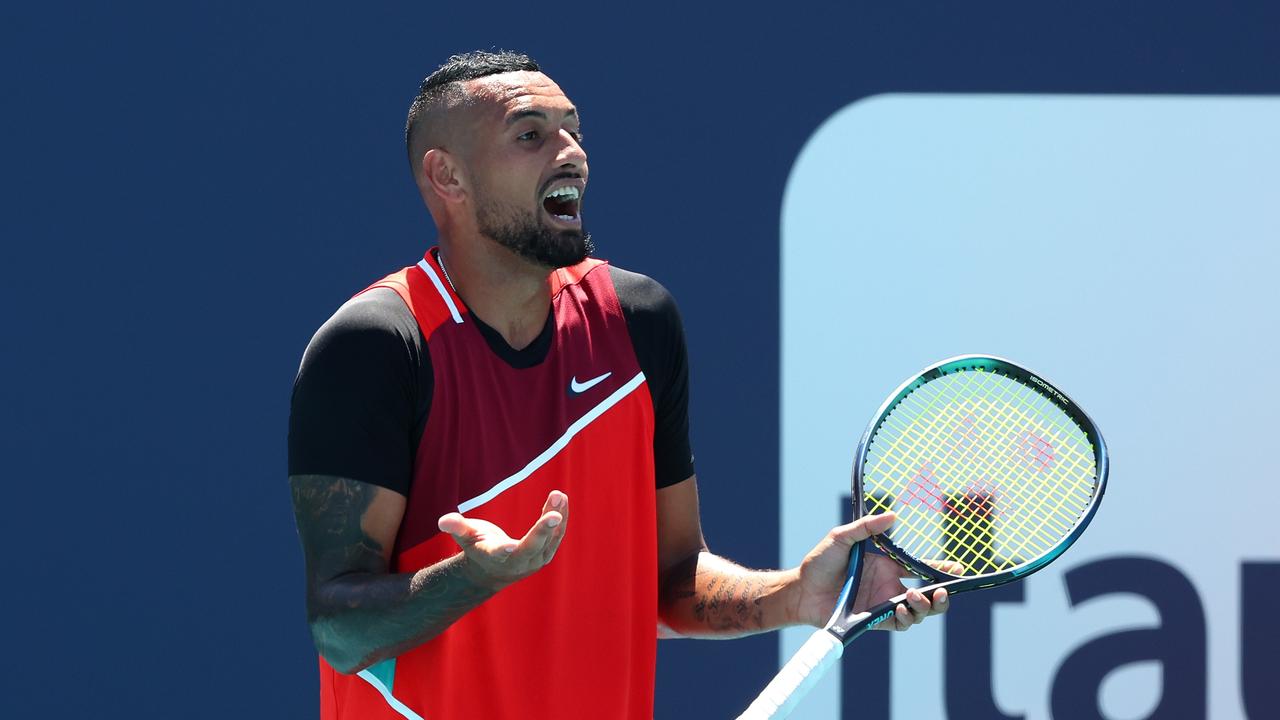 Nick Kyrgios didn't take kindly to being mocked by Bernard Tomic. Picture: AFP
That prompted Tomic to declare the "only logical explanation" was that he was Kyrgios' idol.
"He knows he can't rewrite history. The records that I set when I was 16, 17, 18, and 19," Tomic said in an Instagram video.
"He's always been in my shadows growing up."
"That's why anytime someone mentions my name to him, it gets under his skin."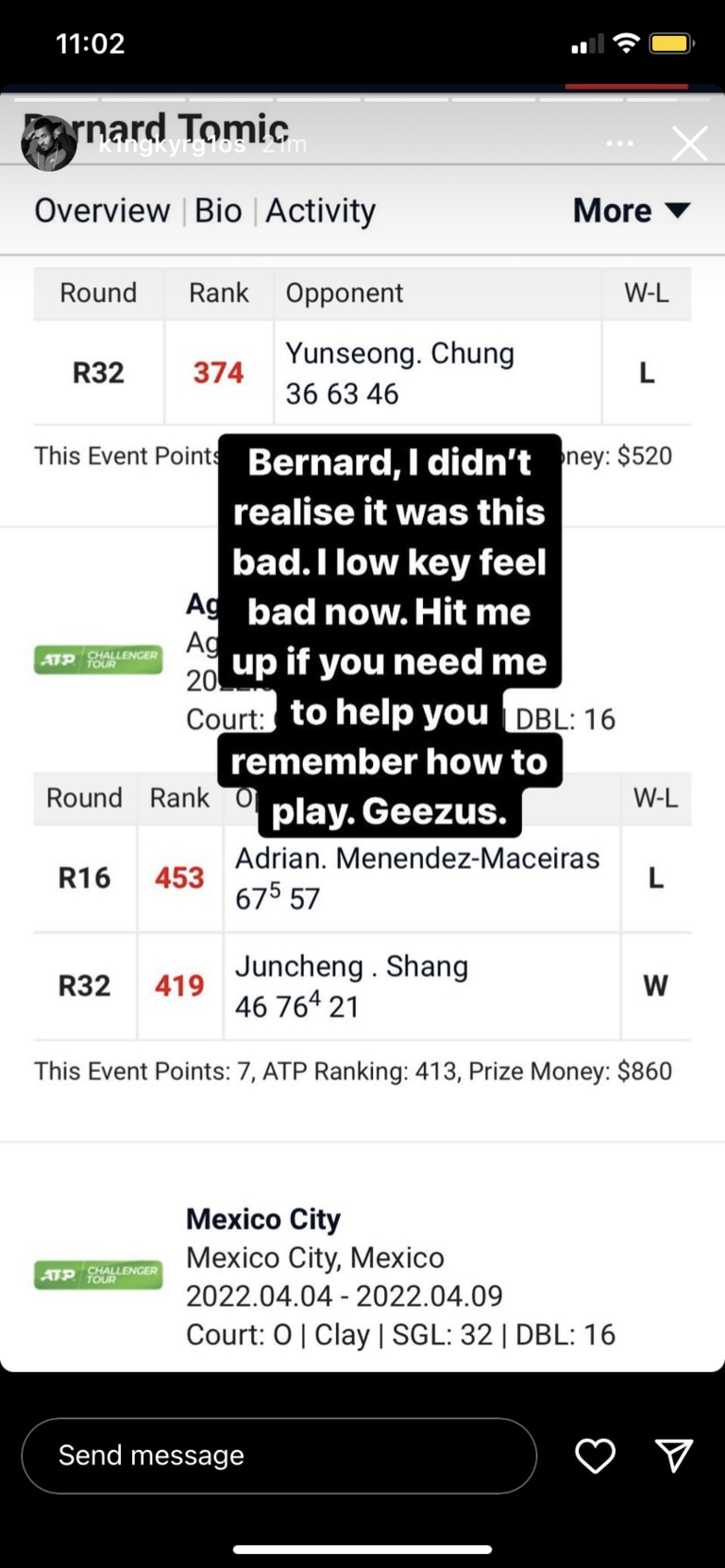 Nick Kyrgios goes nuclear on Instagram.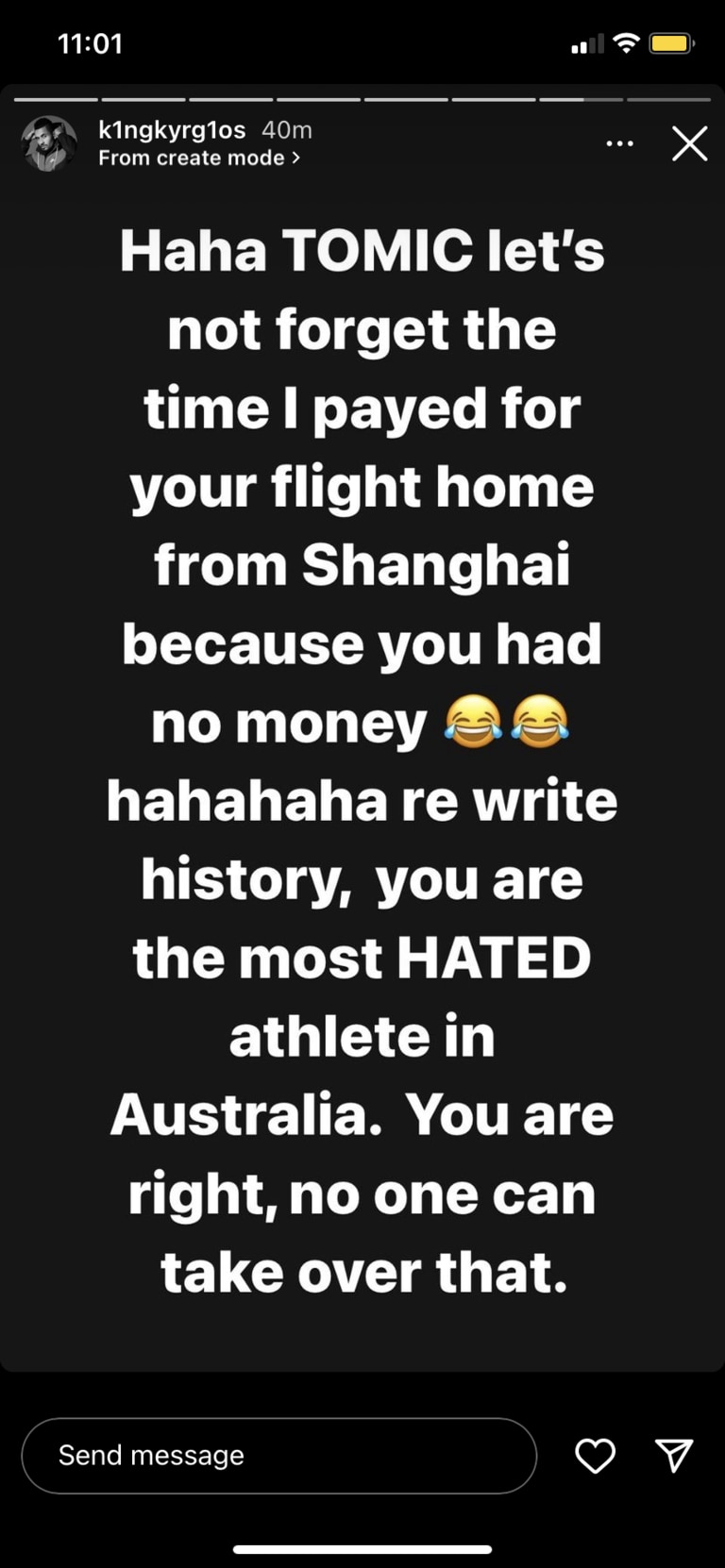 Kyrgios has taken the Tomic feud to the next level.
And get under Kyrgios' skin, it did, with the at-times controversial talent firing up Instagram to set the record straight – posting a photo highlighting Tomic's recent struggles on tour, along with a pointed message.
"Bernard, I didn't realise it was this bad. I low key feel bad now," Kyrgios posted.
"Hit me up if you need me to help you remember how to play. Geezus.
"Let's not forget the time I payed (sic) for your flight home from Shanghai because you had no money.
"Hahaha re write history, you are the most HATED athlete in Australia. You are right, no one can take over that."
The duo are both looking to contest next month's Wimbledon tournament, with Tomic declaring earlier this year that he "will win" while Kyrgios has recently claimed he's the best grass-court player on the planet.
DAY FOUR WRAP: ALCARAZ, ZVEREV SURVIVE FIVE-SET THRILLERS
Spanish teenage sensation Carlos Alcaraz and third seed Alexander Zverev both saved a match point in five-set French Open thrillers, while reigning champion Novak Djokovic eased into the third round Wednesday.
Alcaraz, widely tipped as a title contender, rallied from the brink to defeat compatriot Albert Ramos-Vinolas 6-1, 6-7 (7/9), 5-7, 7-6 (7/2), 6-4 after four hours and 34 minutes.
"I feel tired," said Alcaraz. "It was a great battle, a great match and we fought until the last point."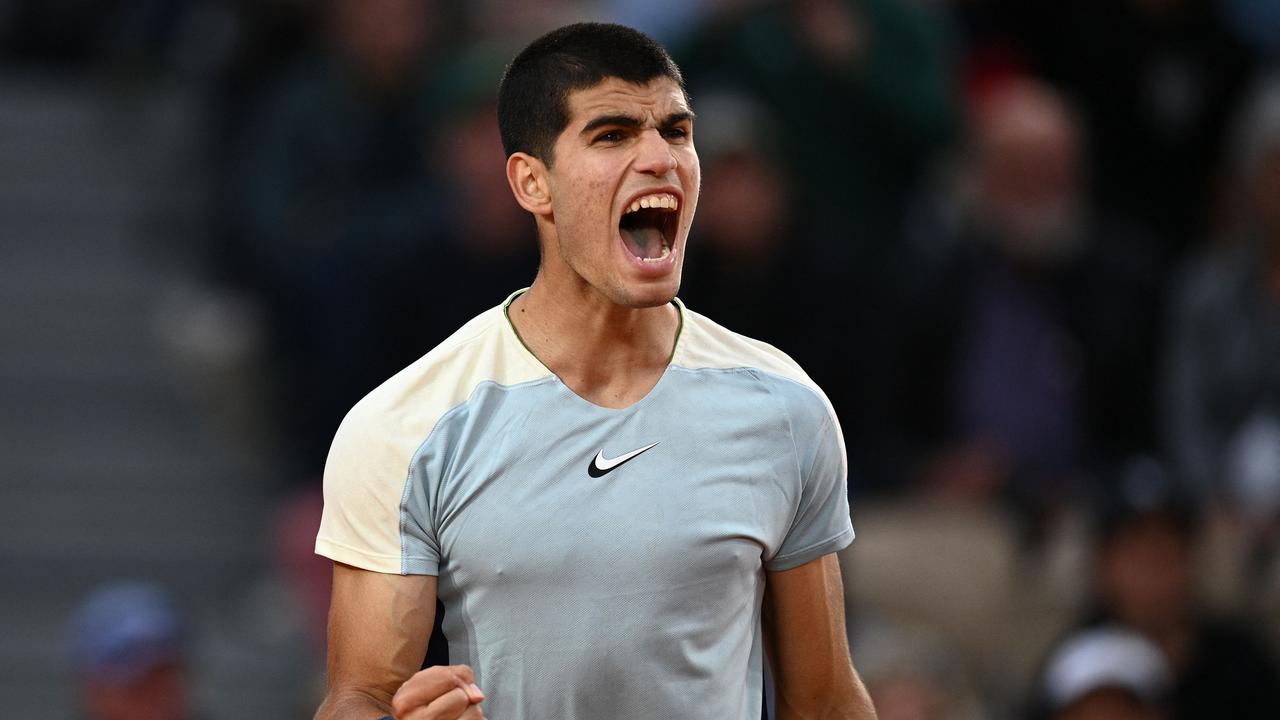 Spain's Carlos Alcaraz pulled through in five sets. Picture: AFP
The 19-year-old Alcaraz is attempting to become just the eighth teenager to capture a major men's title, and backed as the man to break the stranglehold of Djokovic and Rafael Nadal.
But he was pushed to the limit by the seasoned Ramos-Vinolas, 15 years his elder and whose best performance at a Grand Slam came when he made the quarter-finals in Paris six years ago.
Alcaraz, the tour's dominant player in 2022 with a season-leading four titles, fought off a match point to break Ramos-Vinolas as he served at 5-4 in the fourth set.
He then clawed his way back from 3-0 in the decider, producing an outrageous backhand pass to retrieve the break and more sensational baseline scrambling to move 5-4 in front before closing out victory with an ace.
Zverev, a 2021 semi-finalist, dug himself out of a deep hole against Argentina's Sebastian Baez to avoid his earliest loss at a major in three years.
Alexander Zverev had to dig deep to reach the third round. Picture: AFP
Zverev overcame Baez 2-6, 4-6, 6-1, 6-2, 7-5 and will play Brandon Nakashima of the US for a place in the last 16.
"I'm happy still being in the tournament right now," said Zverev, who was match point down on serve at 4-5 in the final set.
"I was planning my holiday in Monaco, where I was going to go and who I was going to with and that relaxed me, thinking about the beach.
"You just have to find a way." It was the third comeback from a two-set deficit in Zverev's career. He trailed fellow German Oscar Otte 2-0 in the opening round at Roland Garros a year ago before his run to the last four.
– Djokovic heading 'in right direction' –
Djokovic made comfortable work of Slovakia's Alex Molcan, the world number one winning 6-2, 6-3, 7-6 (7/4) against a player trained by his long-time former coach Marian Vajda, the man who inspired most of his 20 Grand Slam titles.
"So far so good. I'm pleased with the way I'm feeling on the court," Djokovic said after reaching the last 32 at Roland Garros for the 17th straight year.
"It was never going to be an easy match, but I thought I performed very well. Everything is going in the right direction. I'm looking forward to the next challenge."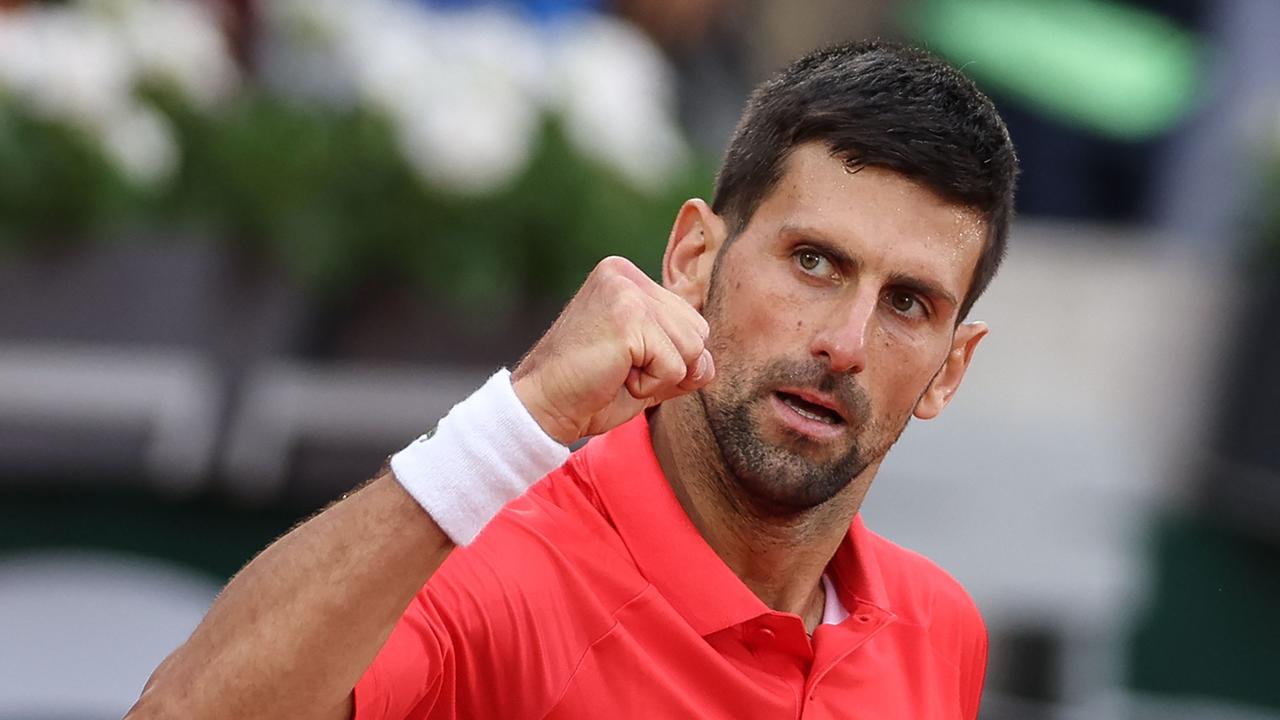 Serbia's Novak Djokovic celebrates after beaten Slovakia's Alex Molcan. Picture: AFP
The top seed will continue his bid for a third Roland Garros crown against Slovenia's Aljaz Bedene in the last 32.
However, Maria Sakkari became the fifth women's top-10 seed to exit after going down 7-6 (7/5), 7-6 (7/4) to Czech world number 81 Karolina Muchova.
Sakkari, the fourth seed from Greece, was a point away from reaching the final at Roland Garros last year.
Her defeat left the women's draw without four of its top six seeds as she followed defending champion Barbora Krejcikova, Anett Kontaveit and Ons Jabeur through the exit door.
Muchova will next play 27th seed Amanda Anisimova, who made the last four in Paris three years ago.
"It's very special, she's an amazing player. It was a big fight, a little bit of a test and challenge for me and I'm happy I took it the way I did," said Muchova.
Former Grand Slam champions Angelique Kerber and Victoria Azarenka also advanced to the third round.
Chasing a 14th French Open title, Rafael Nadal goes up against French wildcard Corentin Moutet in the evening session. Moutet knocked out 2015 champion Stan Wawrinka in round one.
Nadal began the year with a 20-match winning run, capturing a second Australian Open title to claim a record 21st Grand Slam and move ahead of Djokovic and Roger Federer.
The 35-year-old's record at the French Open stands at a staggering 106 wins and just three losses since his 2005 title-winning debut, but he is without a title on clay this season after dealing with rib and foot injuries.
'THERE'S A LINE': ANGRY DEMON LASHES FRENCH CROWD
Shattered Alex de Minaur declared French fans crossed the line with their support of local Hugo Gaston, who ended the Australian's campaign at Roland Garros in a five-set stunner.
De Minaur had to deal with boos and jeers during the opening round clash on Court Suzanne Lenglen and said he was "getting told things" by people in the crowd who threw their patriotic support behind 21-year-old Gaston, who won 4-6 6-2 6-3 0-6 7-6 (10-4).
Similar crowds supporting Australians at home have often been criticised by players at the Australian Open, but de Minaur was still put off by the behaviour of some of the crowd during the match, which was decided by a fifth-set tie-break.
"There's a difference between a great atmosphere and supporting your fellow countryman, which is completely fine and it's great," he said.
"I'm sure for him it was an amazing atmosphere. He enjoyed every second of it, but there's a line.
"When I'm getting told things by people in the crowd, making eye contact with me after I hit a double fault, I think there's a certain line that needs to be looked at."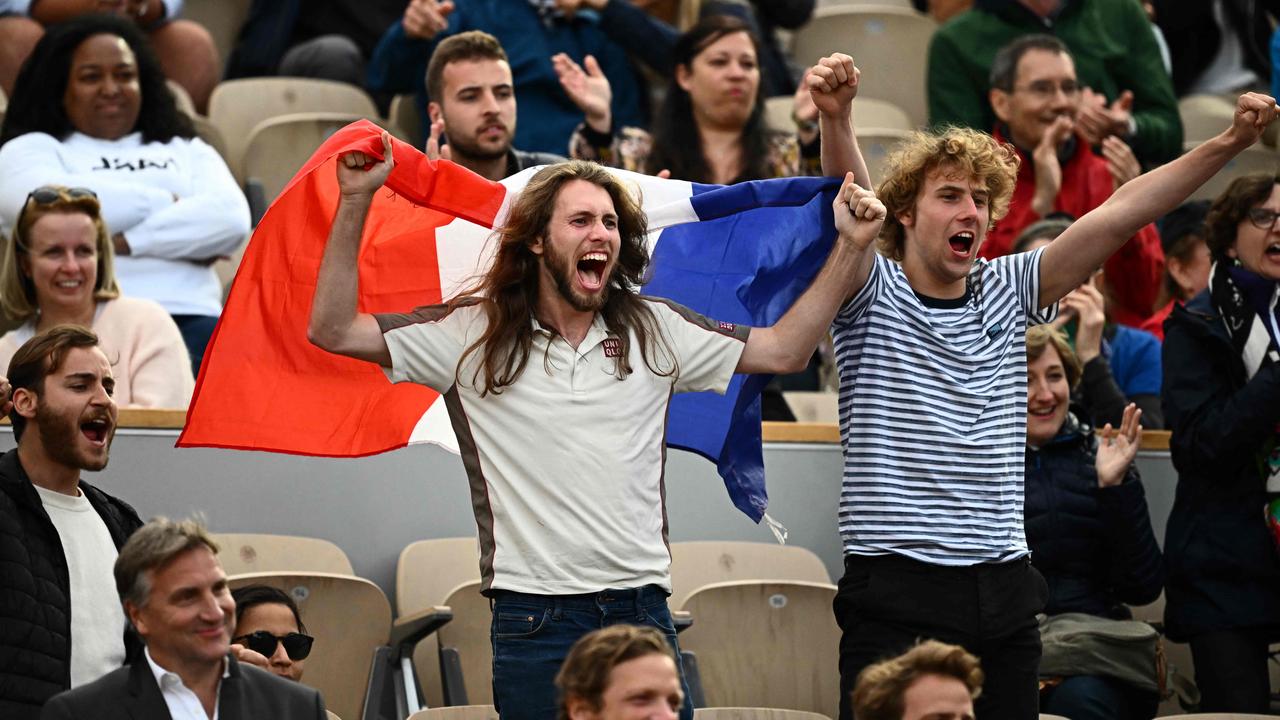 Supporters hold a French flag for Hugo Gaston. Picture: by Anne-Christine Poujoulat / AFP
But de Minaur didn't want to elaborate on the particulars of the crowd's behaviour and not take it any further after his shattering loss.
"I'd rather not get into what was being said," he said.
"Ideally, I will sleep tonight and forget all about it, but I have a feeling that won't be the case.
"What I have got to do now is put this behind me. Easier said than done but I will do my best."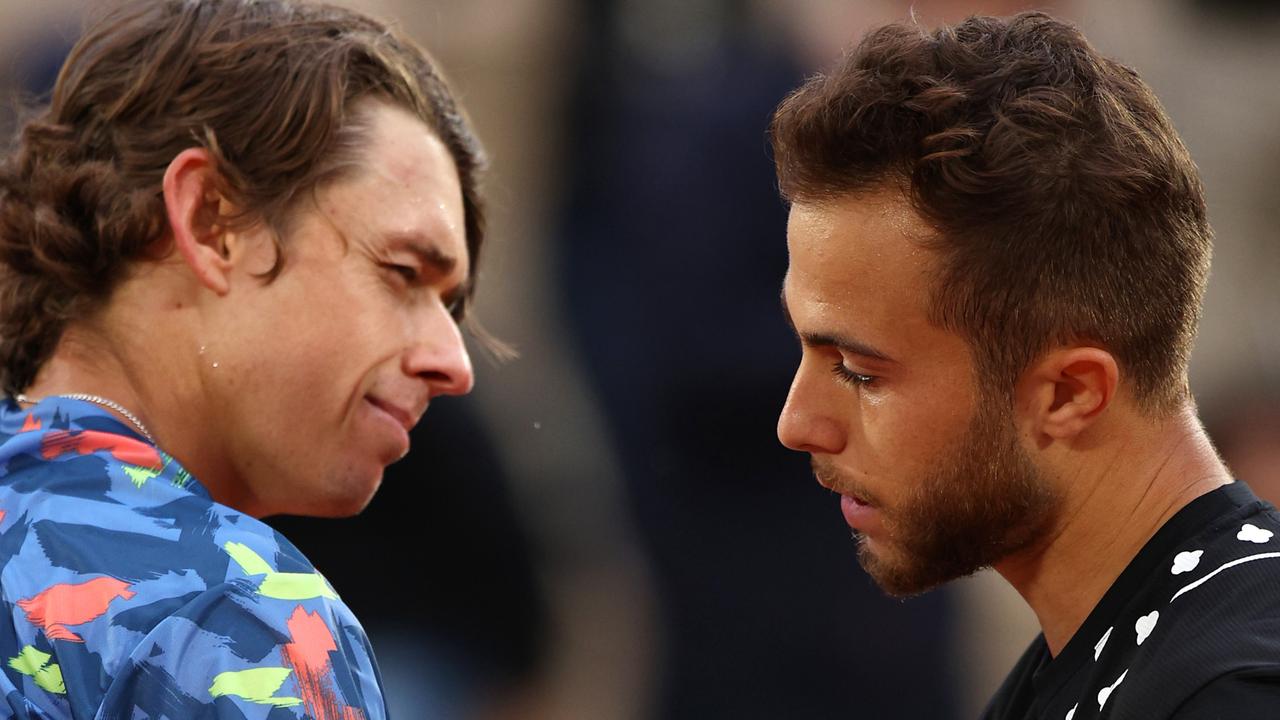 Alex de Minaur and Gaston meet at the net after their marathon match. Picture: Adam Pretty/Getty Images)
De Minaur's shock exit as the 19th seed, and that of fellow Aussie John Millman, leaves Jason Kubler as the only Australian left in the second-round draw, while the country's top two women, Ajla Tomljanovic and Daria Saville, have also made it past the first round.
Millman went down to American Sebastian Korda in a 6-1 7-5 7-6 (8-6) defeat.
RUSSIAN BAD BOY LOSES MIND AT FRENCH OPEN
Russia's Andrey Rublev said "I lost my mind" after angrily smashing a ball which narrowly missed a court groundsman at the French Open on Tuesday.
The world number seven blasted the ball against a courtside chair after dropping the first set of his opening round match against South Korea's Kwon Soon-woo.
It then rebounded and just whizzed past the head of the groundsman who was brushing the clay surface of the court between sets.
"I lost my mind for a moment, and of course I regret what I did. It's unacceptable to hit the way the ball I hit it," said the Russian, who went on to register a 6-7 (5/7), 6-3, 6-2, 6-4 win.
"Better if I just hit the racquet on the seat, because the ball can affect someone.
"This is unprofessional from my side, and hopefully I will never do it again." Novak Djokovic was famously disqualified from the US Open in 2020 when he angrily swiped at a ball which hit a line judge.
'I FINISHED MY WAY': TEARFUL TSONGA SAYS FAREWELL AT FRENCH OPEN
Jo-Wilfried Tsonga, a former Australian Open runner-up and world number five, said he "couldn't have asked for a better script" as he bid an emotional goodbye to tennis at Roland Garros on Tuesday.
The 37-year-old Tsonga, who announced last month he would retire following the French Open, lost 6-7 (6/8), 7-6 (7/4), 6-2, 7-6 (7/0) in the first round to Casper Ruud.
"It was pure madness today. One of the best atmospheres I have seen in my career, and it's my last match," said Tsonga.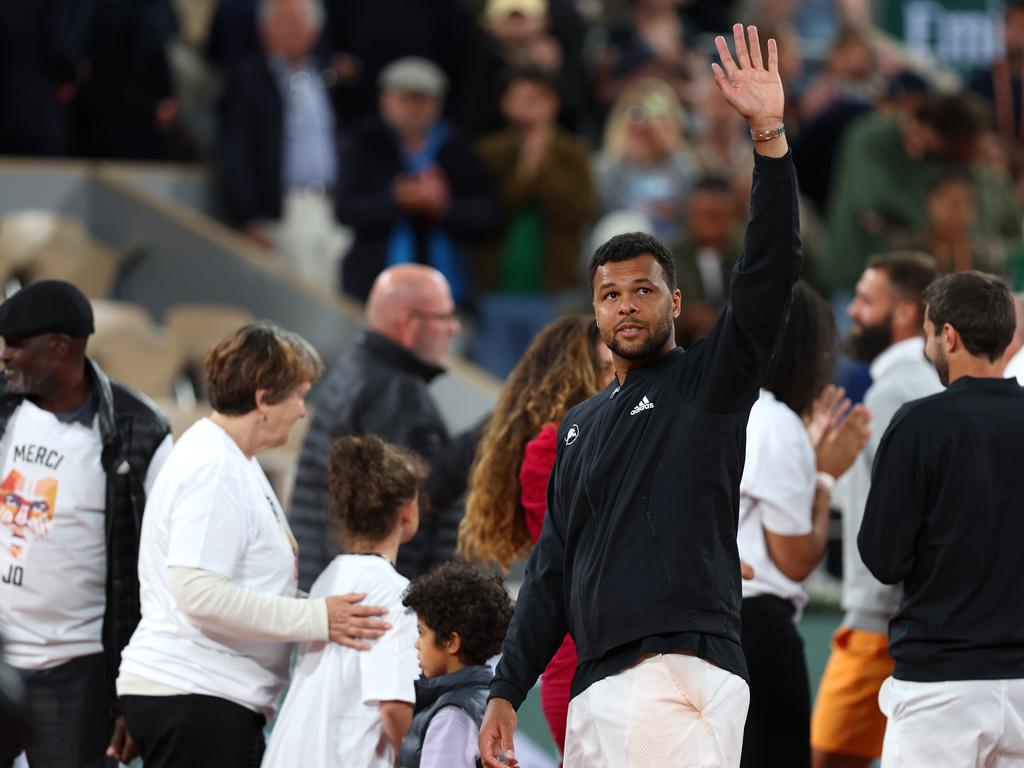 Jo-Wilfried Tsonga of France waves to the crowd during a presentation ceremony after his last match at Roland Garros. Picture: Clive Brunskill/Getty Images
"I couldn't have asked for something better. I couldn't have asked for a better script, apart from the fact that I could have won." With a brass band blasting out 'La Marseillaise' at intervals, Tsonga delighted the crowd on Court Philippe Chatrier by taking the opening set, but Ruud, who won the Geneva title last week, hit back to claim the next two sets.
The Frenchman broke for a 6-5 lead in the fourth set but was unable to serve out, immediately calling for the trainer before the tie-break and taking a medical timeout for treatment to his right shoulder.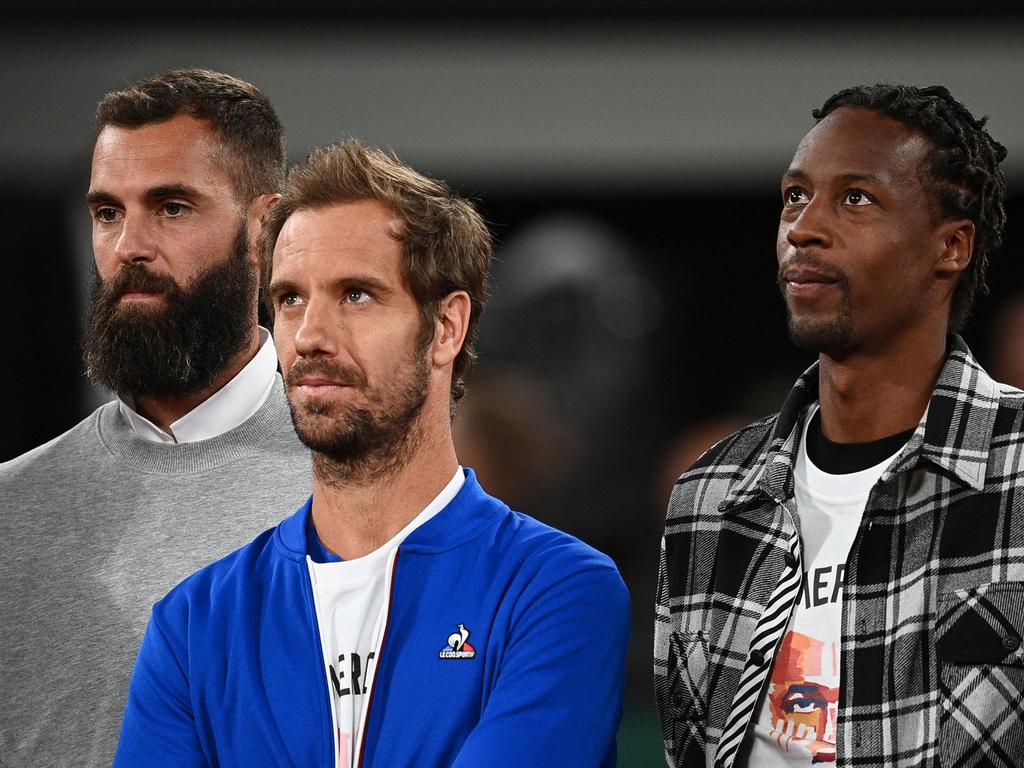 France's Benoit Paire (L), France's Richard Gasquet (C) and France's Gael Monfils attend a ceremony to mark the retirement of Jo-Wilfried Tsonga. Picture: Christophe ARCHAMBAULT / AFP
Ruud, the Norwegian eighth seed, comfortably sealed victory against a visibly ailing Tsonga, who fought back tears before the final point of his 18-year career.
"When I was about to serve and I realised I couldn't put my arm up, then I called for the physio. But I thought, 'I'm going to stay on the court and finish off this match.' "I wanted to finish this way, on the court, to do my best, injured or not. "In any case, there would have been no second match, because I left everything on the court today." A video tribute of Tsonga's career highlights then played inside the stadium as friends, family and fellow players gathered on court for his retirement ceremony.
Daniil Medvedev is not welcome at Wimbledon. Picture: Adam Pretty/Getty Images
MEDVEDEV CRUISES AT FRENCH OPEN AS PARIS STRUGGLES TO ESCAPE WIMBLEDON SHADOW
World number two Daniil Medvedev eased into the French Open second round on Tuesday but could not escape the shadow of Wimbledon, the Grand Slam tournament where he has been declared persona non grata.
Medvedev, who came into Paris with just one match on clay this year following hernia surgery, routed Argentina's 103rd-ranked Facundo Bagnis 6-2, 6-2, 6-2 on the back of 35 winners and eight breaks of serve.
"I love Roland Garros, especially since last year," said Medvedev, who had lost in the opening round on his first four trips before reaching the quarter-finals in 2021. "I hope this year I can go further." One place he will not be going, however, is the All England Club next month after Wimbledon banned all Russian and Belarusian players in response to the invasion of Ukraine.
Novak Djokovic described Wimbledon's bans as a 'lose lose situation'. Picture: Adam Pretty/Getty Images
The ATP and WTA responded by stripping the sport's most prestigious tournament of ranking points.
One day after former world number one Naomi Osaka revealed she was "leaning towards not playing" Wimbledon while defending champion Novak Djokovic said he will play – despite losing 2,000 points – in what he described as a "lose-lose situation", the controversy showed no signs of abating.
"I will go there to get my prize money, as I would for an exhibition tournament," said Frenchman Benoit Paire after a 6-3, 7-5, 1-6, 7-5 loss to Ilya Ivashka.
Claiming that "99%" of players want a Wimbledon with points, he added: "I'm sorry for Russia and Russians, but they are the ones causing all the trouble." Denis Shapovalov, a Wimbledon semi-finalist in 2021, said he objected both to the ban and the decision to strip the points.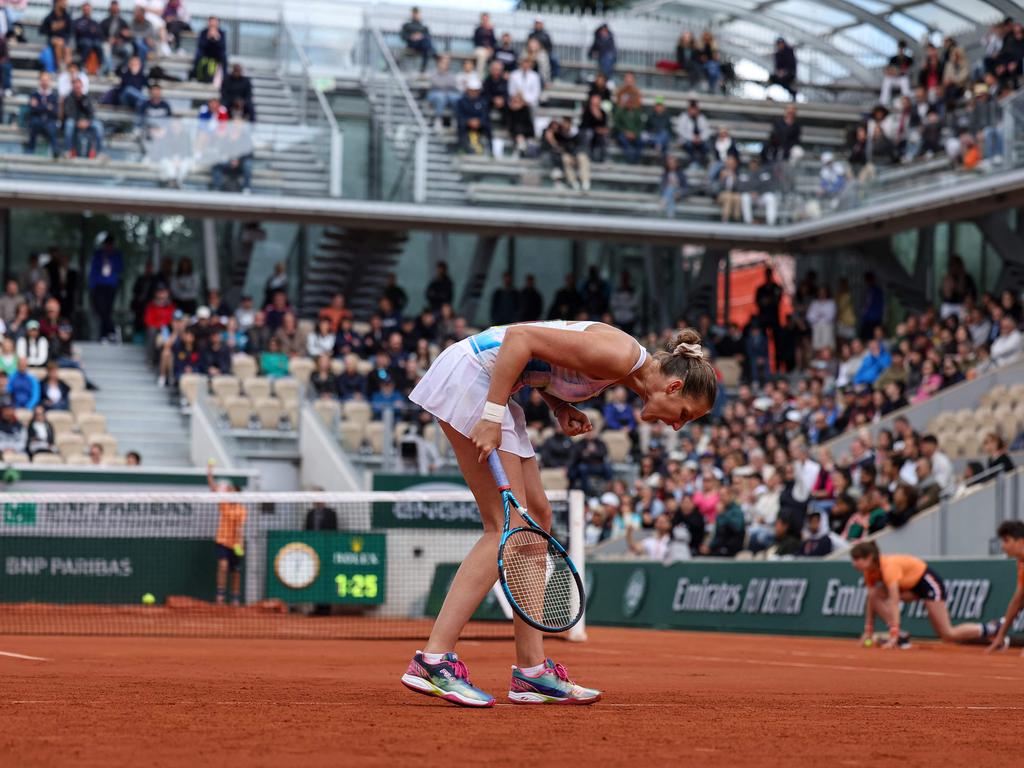 the Czech Republic's Karolina Pliskova will drop 1,000 points as a result of the decision to strip Wimbledon of points. Picture: Thomas Samson/AFP
"I think they could have gone with it a different way, maybe keep 50 per cent like they have in the past," said the Canadian.
The biggest loser on the women's side will be Karolina Pliskova who will drop the 1,000 points by finishing runner-up to the now retired Ashleigh Barty in 2021.
She too wants 50% of the points to be retained. She intends to return to the All England Club.
"If you love the game you're still going to go and play," said 2017 Paris semi-finalist Pliskova after making the second round by beating Tessah Andrianjafitrimo 2-6, 6-3, 6-1.
Russia's Andrey Rublev, the world number seven, described the atmosphere as "toxic".
"Players need to defend the tournaments. Tournaments need to defend the players," said Rublev after defeating South Korea's Kwon Soon-woo 6-7 (5/7), 6-3, 6-2, 6-4.
DJOKOVIC TO PLAY WIMBLEDON DESPITE RUSSIAN BAN 'MISTAKE'
Novak Djokovic said Monday he "intends to go to Wimbledon" to defend his title despite the controversy over the tournament being stripped of ranking points.
"Yes, I intend to go to Wimbledon," said Djokovic after overcoming Japan's Yoshihito Nishioka in the French Open first round.
However, he added that the initial decision of the tournament to ban Russian and Belarusian players following the invasion of Ukraine was a "mistake".
The 35-year-old Djokovic stands to lose 2,000 points due to the decision by the ATP and WTA tours to remove ranking points from Wimbledon in response to the player ban.
"On a personal, individual level, I have been very negatively affected," said Djokovic.
He has already lost 2,000 points by not being able to defend his Australian Open title.
"Collectively I'm glad that players got together with the ATP and showed to the Grand Slam that when there is a mistake happening, and there was from the Wimbledon side, then we have to show that there is going to be some consequences." Djokovic believes there were other solutions available to Wimbledon which would have been less drastic than an outright ban.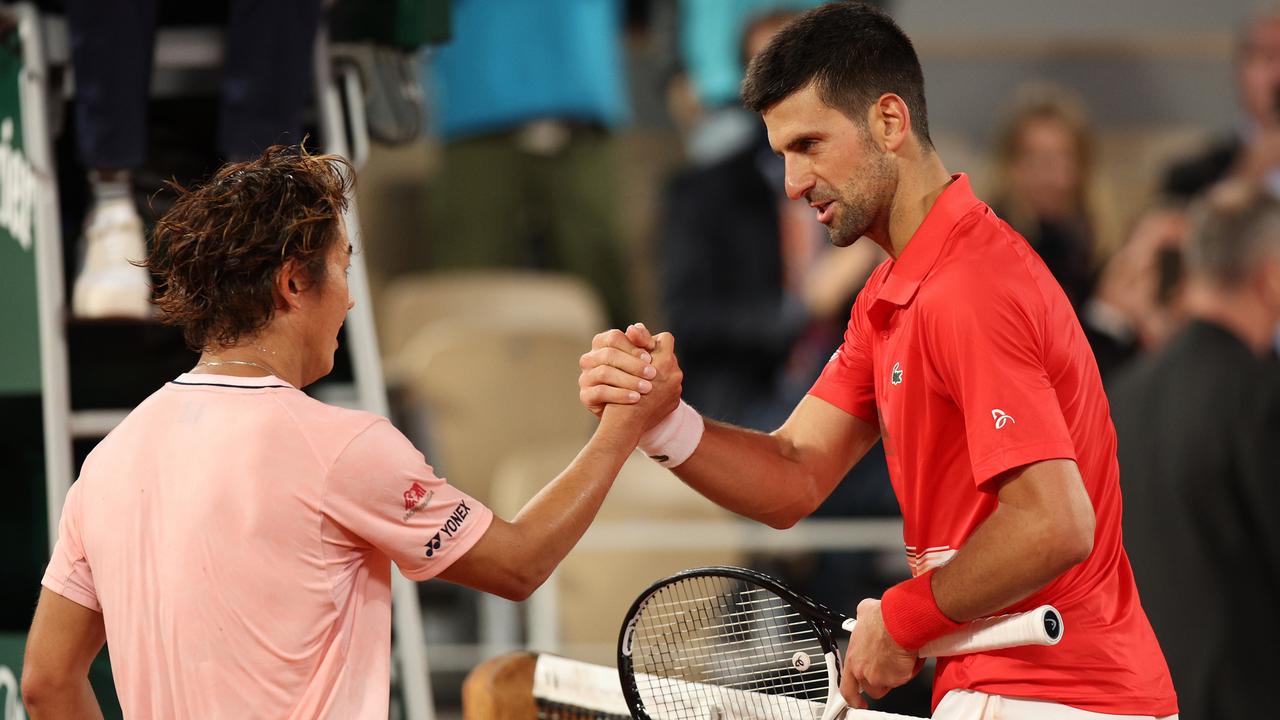 Novak Djokovic defeated Japan's Yoshihito Nishioka in the first round of the French Open. Picture: Getty Images
"A few days ago I found out that there was a document of recommendation from the British government towards the All England Club and where they had several options," said Djokovic.
"There was not only one on the table. They haven't discussed it with anybody from ATP or any individual players or for that matter Russian or Belarusian players to just communicate and understand whether there is common ground where both sides could be making a compromise and something could work out.
"So I think it was a wrong decision. I don't support that at all. It's a lose-lose situation for everyone." The Serb, who was unable to defend his Australian Open title in January after being deported from Melbourne over his vaccination status, outlined options.
Among alternatives, he said, were Belarus, Ukraine, and Russians playing an exhibition event during the Slam or a mixed doubles event.
"Prize money could go to the victims in Ukraine," added Djokovic, a six-time Wimbledon champion.
"But there was never really, unfortunately, a strong communication coming from Wimbledon. That's why I think it's just wrong.
"Of course it's a very unique and weird situation. Of course a Grand Slam is still a Grand Slam. Wimbledon for me was always my dream tournament when I was a child.
"I don't look at it through the lens of points or prize money. But there has to be some standards or criteria, some mutual respect." Earlier Monday, former world number one Naomi Osaka said she is "leaning towards not playing" Wimbledon "I would say the decision is kind of affecting my mentality going into grass, like I'm not 100% sure if I'm going to go there," said Osaka after her 7-5, 6-4 loss to Amanda Anisimova.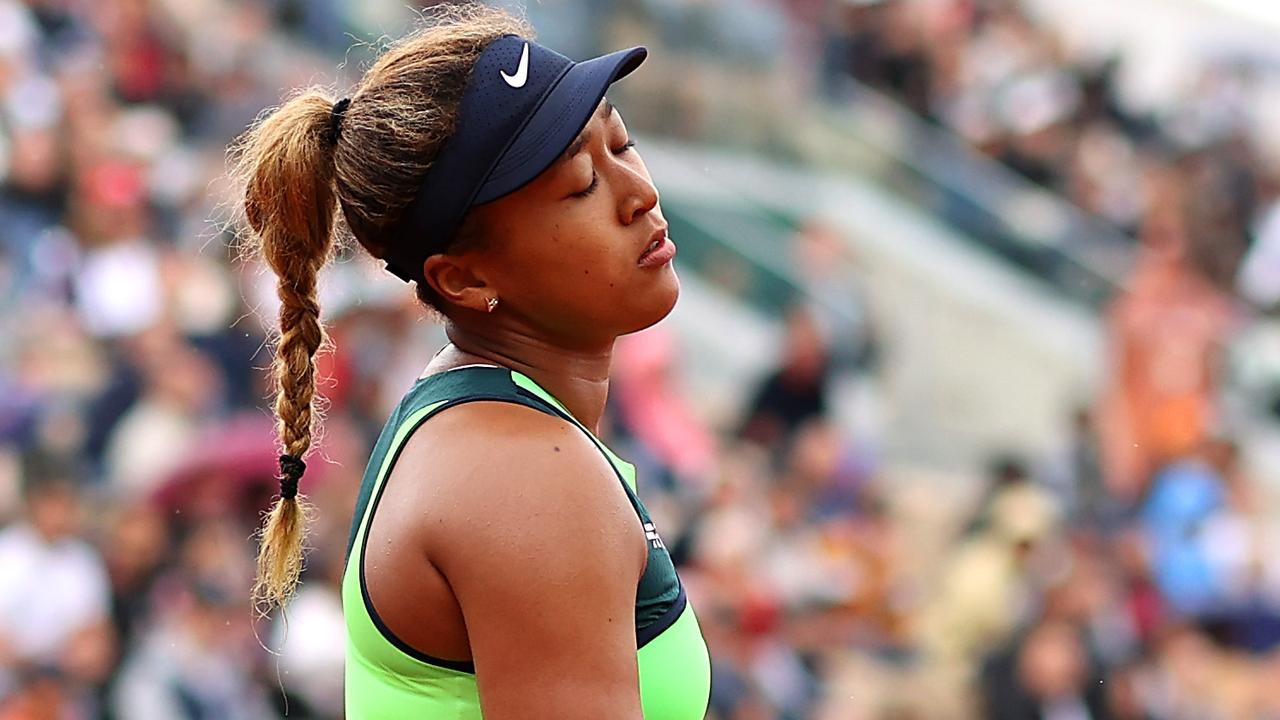 Naomi Osaka lost in the first round at Roland Garros to Amanda Anisimova. Getty Images
"I'm leaning more towards not playing given the current circumstances. I'm the type of player that gets motivated by seeing my ranking go up," added the four-time major winner.
"The intention of this measure was good, but the execution is all over the place. I'm sure there will be a bit of back and forth with the whole point situation. Then I guess I'll make my decision." "I feel like if I play Wimbledon without points, it's more like an exhibition," added Osaka, who has never got beyond the third round at the All England Club.
Originally published as French Open 2022 Day 4 results: Bernard Tomic-Nick Kyrgios feud goes nuclear