French Open: Emma Raducanu gives hints of her best before crashing back down in early exit
For one set Emma Raducanu looked like the Emma Raducanu that won the US Open, and that she had turned the corner. But this star, growing up before our eyes, is still yet to reach tennis' full adulthood.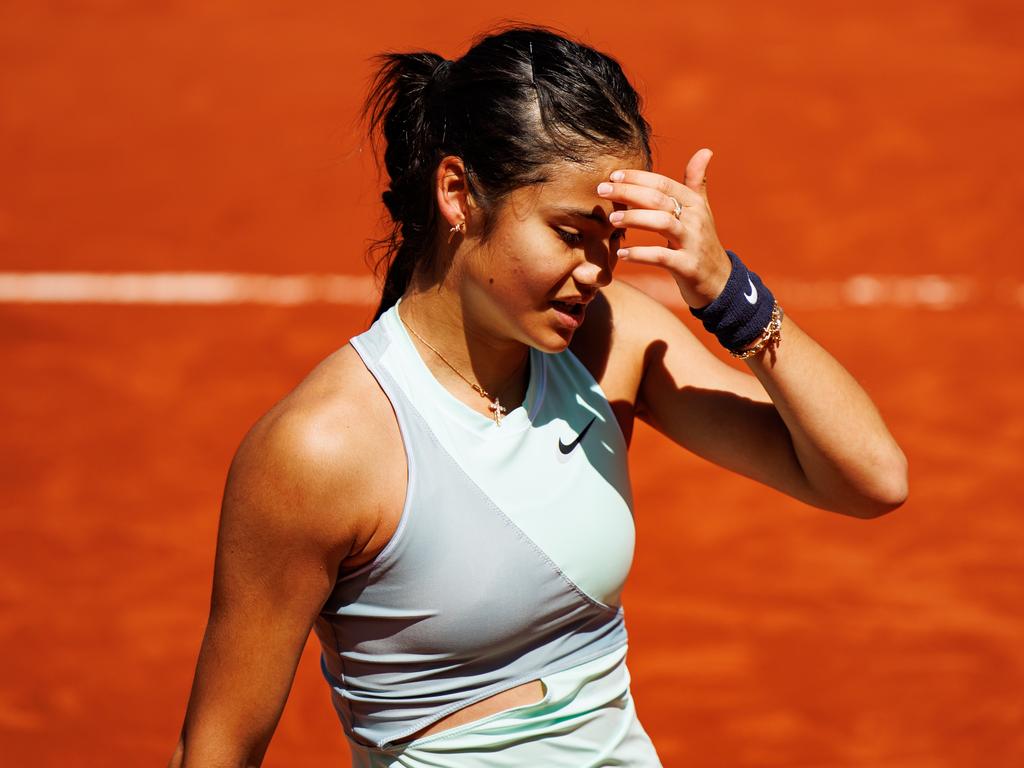 Emma Raducanu is still learning her craft. Picture: TPN/Getty Images
For one set on the Suzanne Lenglen Court at Roland Garros yesterday (Wednesday) morning, Emma Raducanu looked like the Emma Raducanu a nation had switched on to watch on the TV last September.
Leon Smith, the GB Davis Cup captain, on Radio 5 Live's commentary, watched that first set and said it was her best since her US Open win. Flashes of brilliance have been too brief since that New York fairytale, but here was a whole set, a solid piece of work.
Wishful thinkers would have been hoping that that's it, that she's back, that the magic has returned and we're back in September again. Seasoned observers are too acquainted with the reality that this 19-year-old athlete, who has been growing up before our eyes, is still yet to reach tennis's full adulthood.
Thus it was yesterday (Wednesday) that for an hour she was as good as you could hope. She was engulfed in an almighty battle with Aliaksandra Sasnovich, the 28-year-old Belarusian who is ranked No 67 in the world but was playing as if she belonged in the top 20.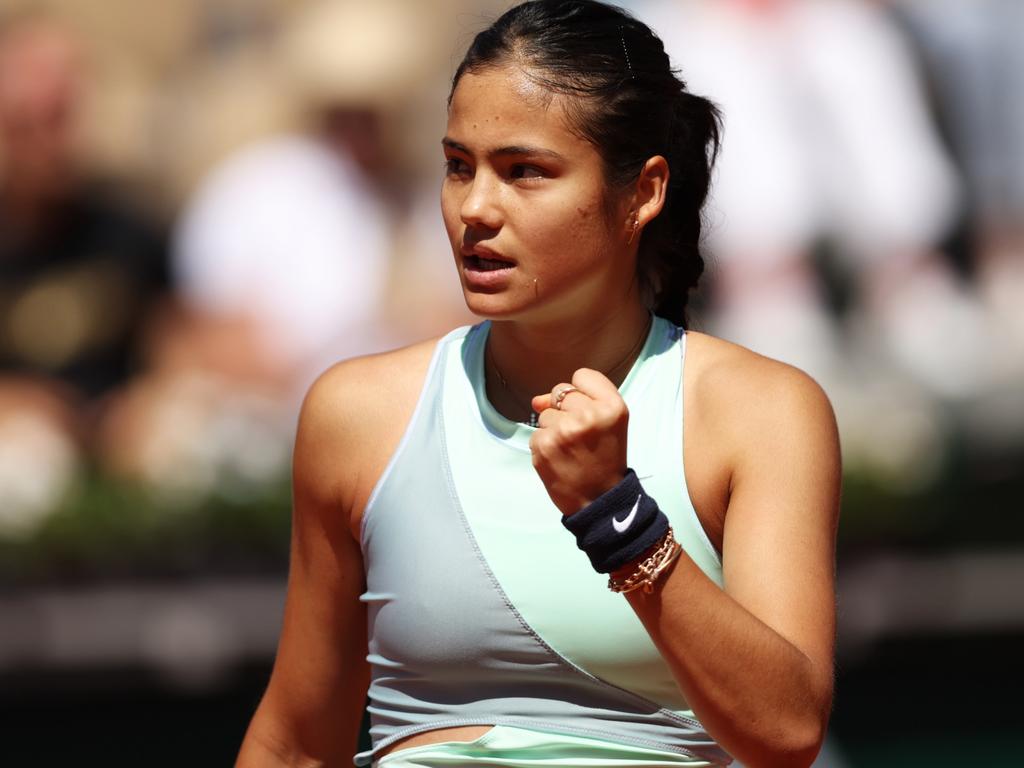 For an hour Emma Raducanu looked to be back to her best. Picture: Clive Brunskill/Getty Images
Sasnovich started marginally the stronger only for Raducanu to raise her level so high that when she started attacking Sasnovich's second serve, she made quick gains. A lethal backhand crosscourt winner was followed by a forehand winner down the line. Sasnovich's serve was broken but never her resilience.
When Raducanu broke again to win the first set 6-3 it seemed that she had indeed brought the Belarusian to heel, but that was as long as the "Emma's back" storyline would last. After the first set, Raducanu faded. It was like you had her on a dimmer switch, full brightness to barely gloaming.
It was remarkable how comprehensively Sasnovich turned the match around. Raducanu made the error of coming out for the second set without the sharpness that she had finished the first and Sasnovich pounced.
Learning your trade in the public eye, as Raducanu is, can only be hard. Your every setback is monitored. For Raducanu, those seem to grow in number to the point that after this defeat she was asked "if the way you deal with losing changed, evolved or improved over the last few months?"
Yet however you assess this particular loss, huge credit must go to Sasnovich. The power and accuracy of her assault on Raducanu in that second set was astonishing. During the match she hit 45 winners, which is a very high level. Raducanu hit only 17. The point, though, is that whatever Raducanu tried Sasnovich had an answer.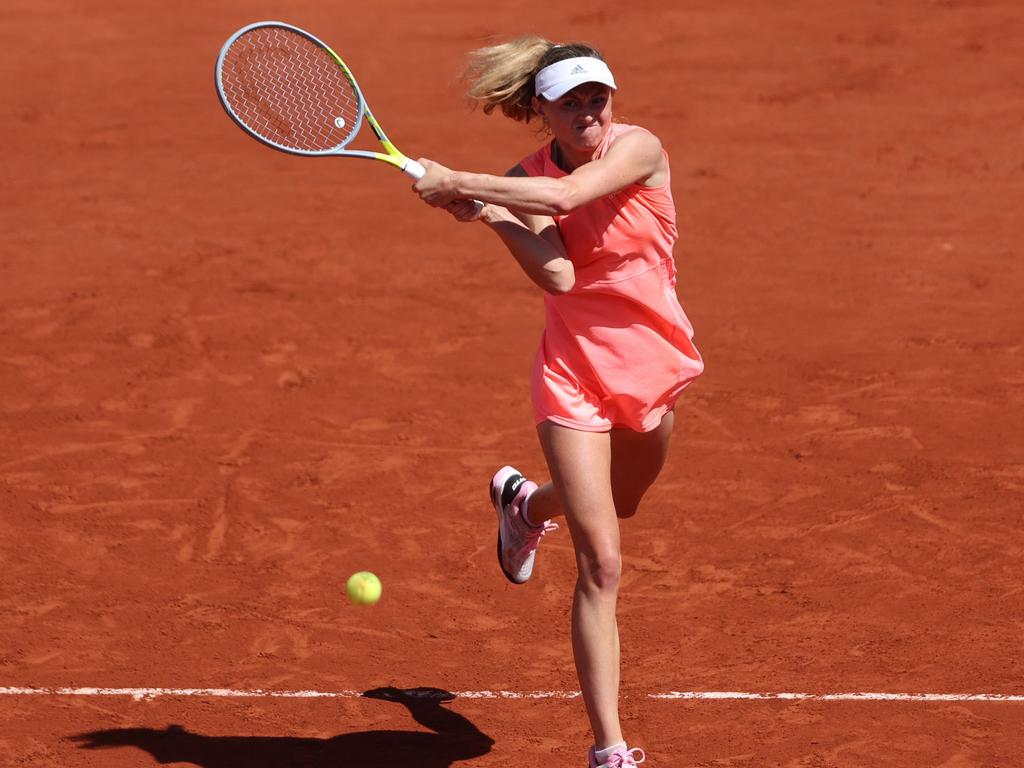 Aliaksandra Sasnovich was too powerful for Emma Raducanu in the end. Picture: Thomas Samson/AFP
The second set drifted fast as the power dropped off Raducanu's first serve and she started looking tired. Then suddenly, at the start of the third, there was an uprising. The key game in this match was at 1-1 in the third set. Just for this one game, Raducanu's tennis resembled her form from the first set: aggressive, accurate, fizzing. She earned herself five break points; she tossed away one of them but Sasnovich defended the other four masterfully.
That was it, though. Her defiance was done. The final four games vanished in a trice. French Open over.
So you could certainly put this end to Raducanu's fourth grand slam down to Sasnovich and her high quality. You must, also, identify the way that Raducanu's energy sapped. This, we understand, is part of the maturing process: building a physique that can endure the toils of an event like this. It was only two days ago that she edged through after another three-set match, so fatigue may have accumulated.
Yet experts also wonder about this. As Naomi Cavaday, the former British professional, asked: "Is she being fuelled enough?"
Somewhere in there, also, is technique. The numbers, again, tell a story: Sasnovich hit 23 winners off her forehand; Raducanu only three. Raducanu lined up numerous forehand winners and too often hit them long; too often, also, her forehand was the tee-up for a Sasnovich attack.
That could be just part of the development, particularly on the clay which was a new surface to her. Yet here you wonder about the coaching, or the fact that Raducanu has no full-time coach and, at least for the moment, appears determined not to.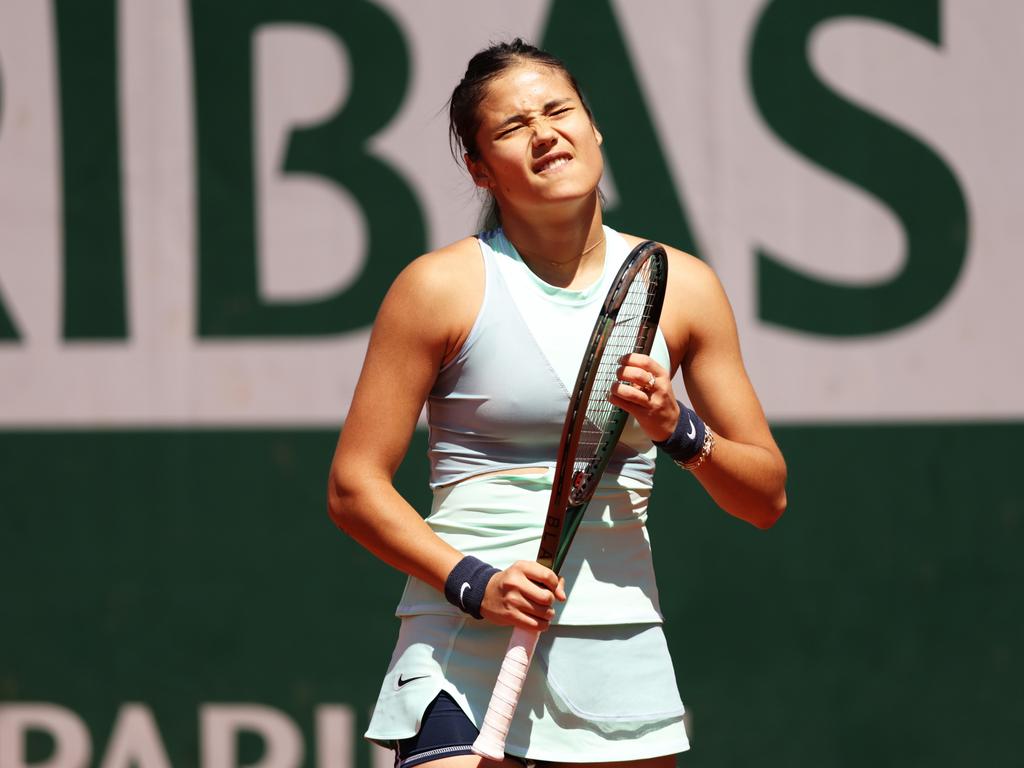 Emma Raducanu fell in the second round of the French Open. Picture: Clive Brunskill/Getty Images
All of this is part of the deal of being a surprise grand-slam winner – this poring over of performance and the fascination from outside. Yesterday's (Wednesday's) defeat, for instance, was followed by this assessment from John McEnroe: "If I won the US Open having gone through qualifying, I wouldn't change my coach for the next year, so I don't understand that move. Obviously her parents are involved and they know more than I know. But this idea of a revolving door of coaches I don't think is good for any player, much less so for a player at this stage of her career."
Raducanu, meanwhile, insists that she is working things out slowly as she goes. When assessing her situation yesterday (Wednesday), she sounded a little like other frustrated athletes saying that she is doing really well in practice and that she is just waiting for that to translate on to the court.
"It might not show like straight away," she said. She also said that "I think some parts of my tennis game have actually improved compared to last year" which was an interesting use of the word "actually".
She also pointed out where she was a year ago, playing on the British Tour in a pounds 25 entry-fee event at the Connaught Club in Essex. In that context, her progress remains miraculous.
Back then she could make all her mistakes in private, comparatively. Now, her search for another version of last September's glory is being conducted in the relentless public eye. It is hard not to conclude that she has often looked a little lost, that she, and those who guide her, have made some wrong turns.
Her sights are now set on Wimbledon – and that is when every move will be watched even more intensely.
– The Times
Originally published as French Open: Emma Raducanu gives hints of her best before crashing back down in early exit