French Open: Rising stars Leylah Fernandez and Coco Gauff live up to the hype in progressing to the last 16
The young stars of world tennis continue to impress as 9-year-old Canadian Leylah Fernandez and 18-year-old Coco Gauff reach the pointy end of the Grand Slam.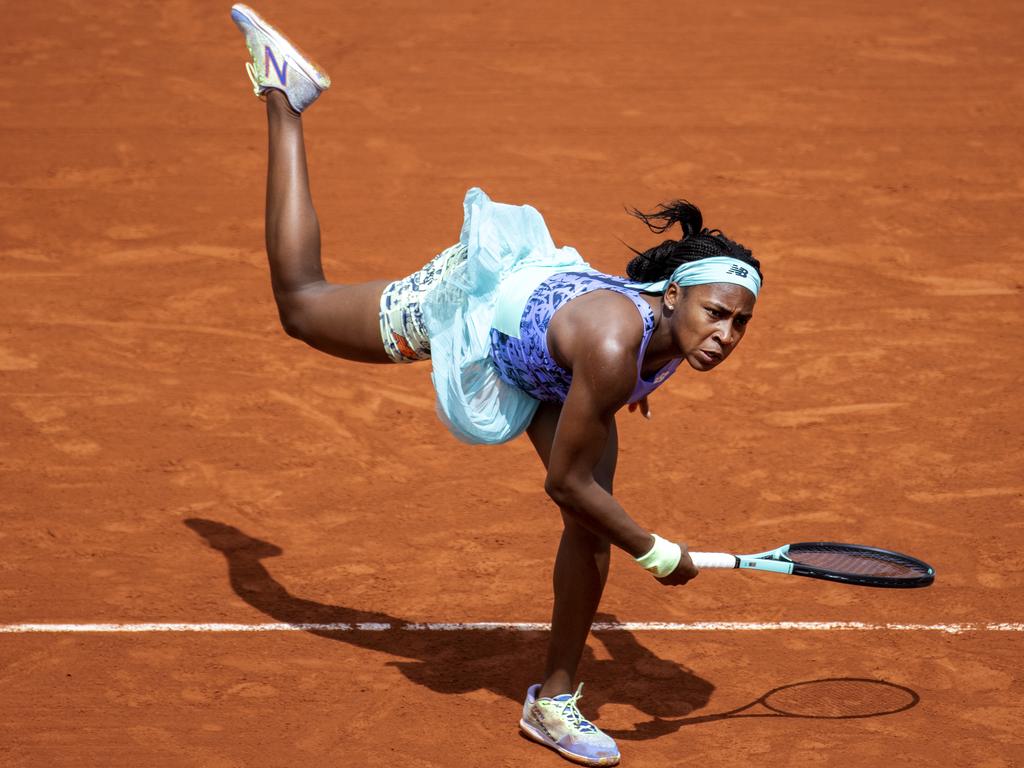 Gauff, 18, defeated Kanepi, the 36-year-old Estonian, 6-3, 6-4. Picture: Tim Clayton/Corbis via Getty Images
Best known in the UK for being the runner-up to Emma Raducanu in last year's US Open final, Leylah Fernandez showed once again yesterday that she too is likely to become a grand-slam champion one day. The 19-year-old Canadian reached the last 16 of the French Open by overcoming the reigning Olympic gold medallist, Belinda Bencic, in three tight sets.
It was a good day for rising stars as the youngest player in the women's draw knocked out the oldest. Coco Gauff, 18, defeated Kaia Kanepi, the 36-year-old Estonian, 6-3, 6-4, to reach the fourth round for the second year in a row.
Fernandez's fighting spirit was evident in the way she battled back from 2-0 down in the deciding set for a 7-5, 3-6, 7-5 victory. She has pleasant memories of the Roland Garros courts as a former junior champion in 2019, and is now playing with more freedom after learning to handle the flurry of expectation that followed her Flushing Meadows run. At January's Australian Open, she was knocked out in the first round by Maddison Inglis, a local wildcard then ranked No.133 in the world.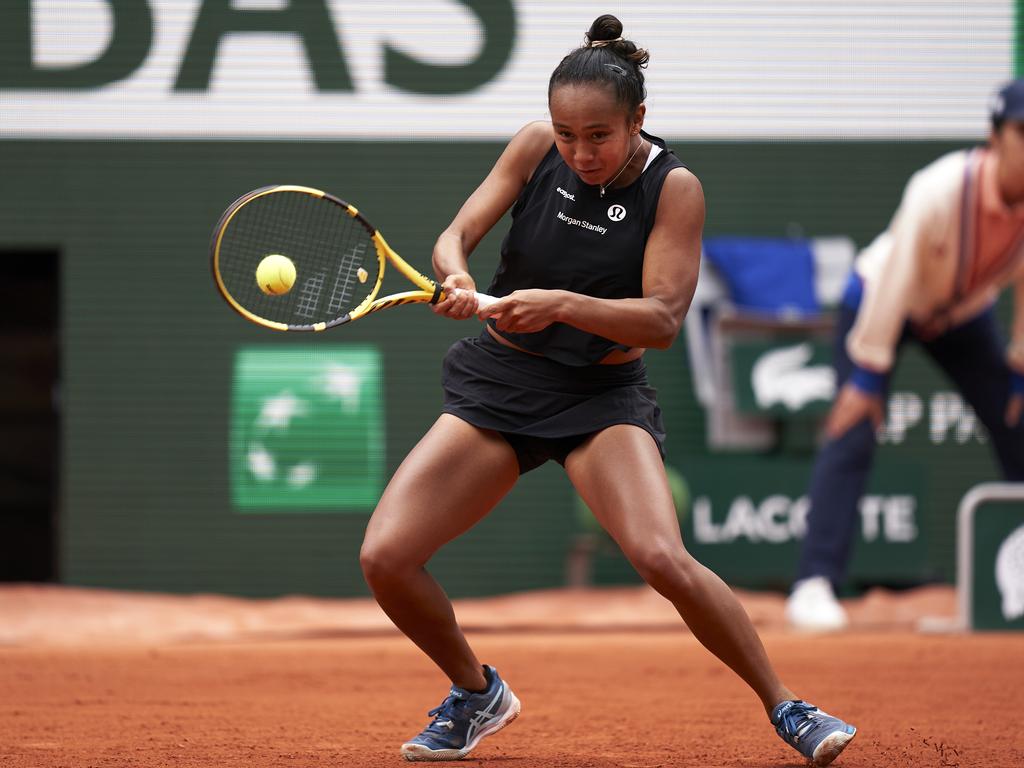 Fernandez showed she is one to watch in the future, progressing to the last 16 by beating the Olympic champion, Belinda Bencic. Picture: Quality Sport Images/Getty Images
"I think after the US Open I did put a little bit more pressure on myself," Fernandez said. "That's normal because I want to reproduce what I did in the US Open over and over again. After the first few tournaments, I accepted that I will not be playing the same way every single time. I will just have to find solutions and keep working hard. Over the course of the year I have been sticking to that, just putting my head down and grinding it out every day."
Fernandez has not played Raducanu since their memorable New York encounter 8½ months ago but the pair regularly exchange pleasantries at tournaments.
Admirably, there is no bitterness on the part of Fernandez, more a sense of pride that she was involved in the first grand-slam final between two teenagers since 1999.
"I think we just have mutual respect for each other," Fernandez said. "We both came from different paths, and what she did is tremendous. It's just great for the sport what we both did.
"When we do see each other crossing the halls, practice courts, we always smile at each other because we both know what we did was incredible. We just want the best for each other and hopefully both of us can keep going for many years to come, and we can both play beautiful matches like that and just put on a good show for the fans."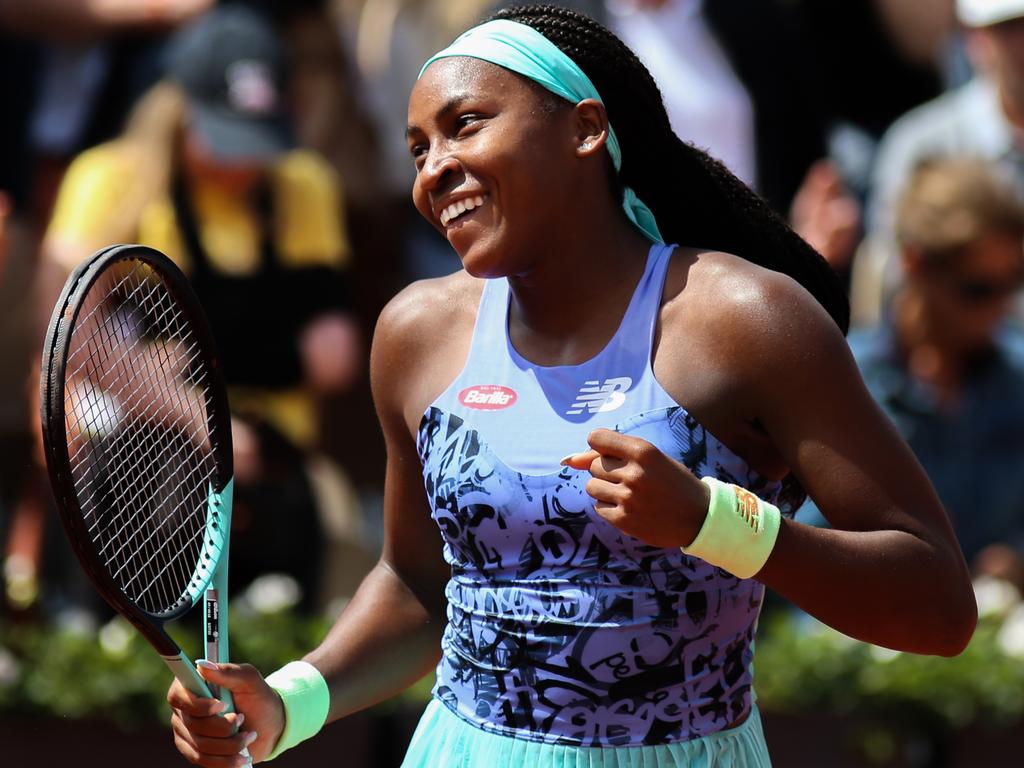 Coco Gauff after her match against Kaia Kanepi on Suzanne Lenglen court in the 2022 French Open finals day six. (Photo by Ibrahim Ezzat/NurPhoto via Getty Images)
Gauff's victory was notable for the sight of her tucking into a bowl of fruit salad during one change of ends.
"It was really good," Gauff said. "Thanks to my dad for packing it. Even at this age, my dad still packs my lunch."
Gauff has won all three of her matches so far in straight sets.
-The Times