I'm in constant pain but I'm at the French Open to win, says Rafael Nadal
Rafael Nadal continues to battle chronic pain in his left foot but is aiming to win his 14th title at Roland Garros.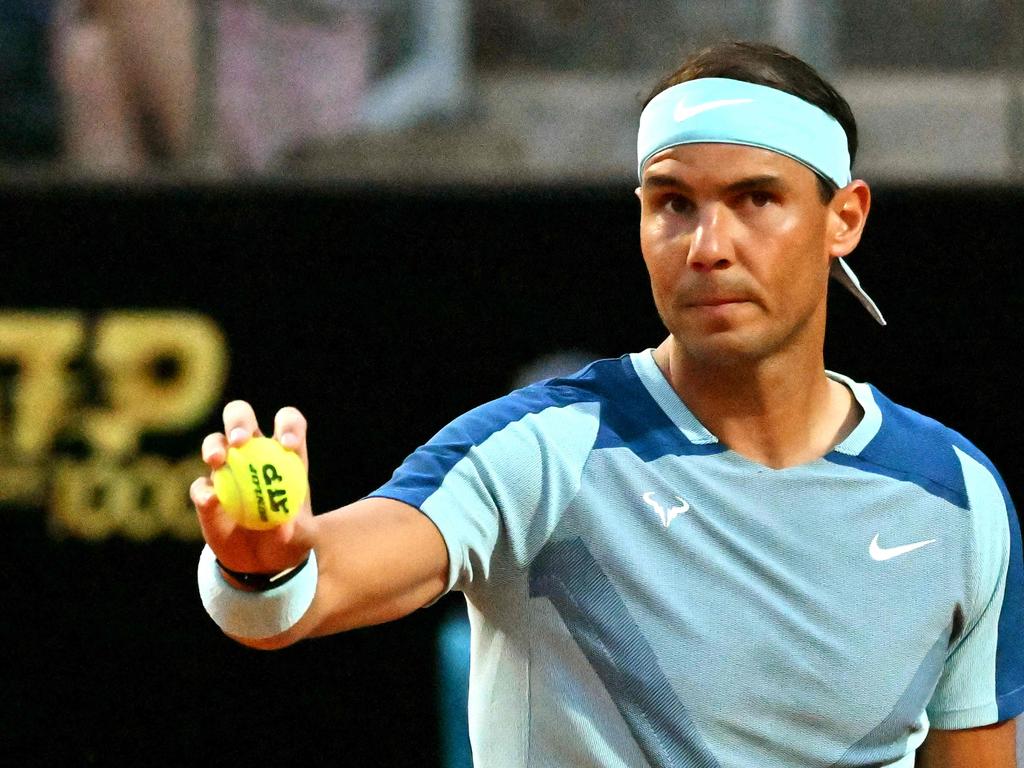 Nadal, 35, is looking for a 14th title at Roland Garros. Picture: Andreas Solaro/AFP
"In sport, things can change quick," Rafael Nadal, a man who has recent first-hand experience of this, said. In January he was riding high after winning a record 21st grand-slam men's singles title at the Australian Open, yet last week he delivered a pessimistic outlook on his career as he continues to battle with chronic pain in his left foot at the age of 35.
"Let's see for how long I can keep going — or until my head tells me otherwise — because right now, I must accept my days are like this," Nadal said after losing to Canada's Denis Shapovalov in the third round of the Italian Open.
"There will be a moment where my head will ask me to stop because I cannot keep going just thinking about tennis. That's my reality."
Nadal's many supporters will be delighted to hear that he was in more jovial spirits yesterday when he appeared for his pre-tournament press conference, yet there was another reality check for those who are hoping that the 13-times French Open champion can make a full recovery. The rare degenerative disease Mueller-Weiss syndrome causes spontaneous discomfort in his navicular bone and there is no permanent fix.
"The pain is there always," Nadal said. "It's not going to disappear. It's about if the pain is high or I am strong enough to allow me to play with real chances or not. It is something that I live with every day, so it is nothing new for me and is not a big surprise.
"I am here just to play tennis and to try to make the best result possible here in Roland Garros. If I don't believe that this thing can happen, probably I will not be here, so I am just working as much as I can and practising as good as possible. My real goal is just to put me in a position that I am healthy and playing enough good tennis to give myself good chances."
Nadal is in the unusual position of not being considered the favourite. Carlos Alcaraz and Novak Djokovic are rated as the frontrunners between different bookmakers, while Nadal's odds further lengthened on Thursday after landing in the same half of the draw as those two. This means that he could face Djokovic as early as the quarterfinals and Alcaraz in the semi-finals.
"Mentally for me it [the draw] doesn't matter," Nadal said. "In terms of tennis, you see the names at the top of the draw — of course it is a very tough one. But we are in a grand slam and you never know what can happen. There remain a lot of things to happen, to probably arrive to the matches that you are thinking about.
"The only thing I can say is of course I know everything [about potential future opponents]. For me it never has been a problem. I am probably humble enough to just be focused on my first match."
It does appear that Nadal is at least confident of reaching the third round. He has already made arrangements to attend next Saturday's Champions League final between his beloved Real Madrid and Liverpool at the Stade de France.
"I am here to play Roland Garros more than anything else," Nadal said. "But of course I have my tickets."
-The Times