Jason Gay: Spanish star Carlos Alcaraz is the new teen 'supernova' of men's tennis
While it's still sensible to throw in a few yeah, buts with Carlos Alcaraz, the teenage Spaniard is fast proving that he's the next megastar of tennis, writes JASON GAY.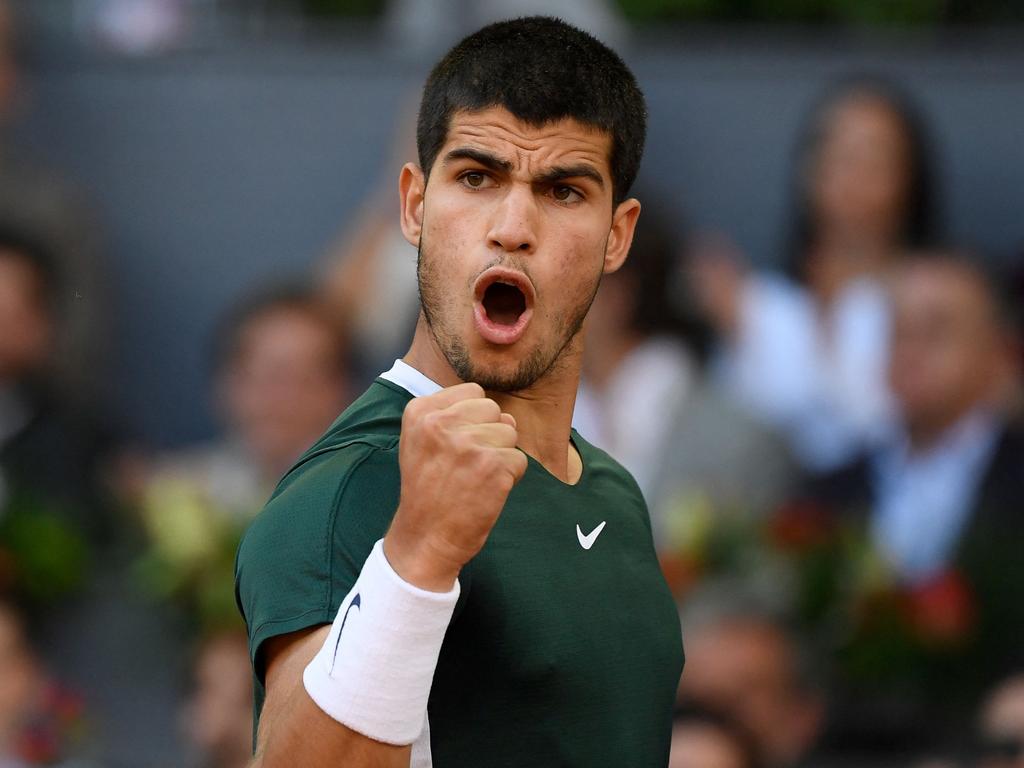 Carlos Alcaraz celebrates during the Madrid Open final match against Alexander Zverev, another Masters 1000 win for the Spanish teen sensation. Picture: Oscar del Pozo/AFP
This sports column is going to spend the next 800 or so words going bonkers about the teenage men's tennis phenom Carlos Alcaraz, so in the interest of restraint, I want to start with a few, sensible yeah, but caveats.
Yeah, but: Alcaraz is young, and tennis has a terrible habit of prematurely elevating young players, which creates unfair burdens on athletes who should be allowed to grind and fail and slowly grow into themselves (or not). I don't believe this column is that kind of overshoot — it's pretty clear Carlos Alcaraz has arrived as a tennis star — but tapping the brakes is never a bad idea.
Yeah, but: The Rafael Nadal who Alcaraz beat this past weekend is still working his way back from a rib injury.
Yeah, but: The Novak Djokovic who Alcaraz beat a day later has played a spotty calendar, owing to, well, you know why, let's not turn this into a batty cable news show.
Another caveat: the Madrid Open, which Alcaraz won on Sunday? It's a prestigious best-of-three-sets tournament in Alcaraz's home country, but let's not lose our minds. For the greats like Rafa and Nole, it's the major tournaments — the snakepits of five-set tennis — that define a champion's career the most.
OK, that's really it for the yeah, buts. Let's go bonkers.
CARLOSSSSSS ALCARAAAZZZ!!!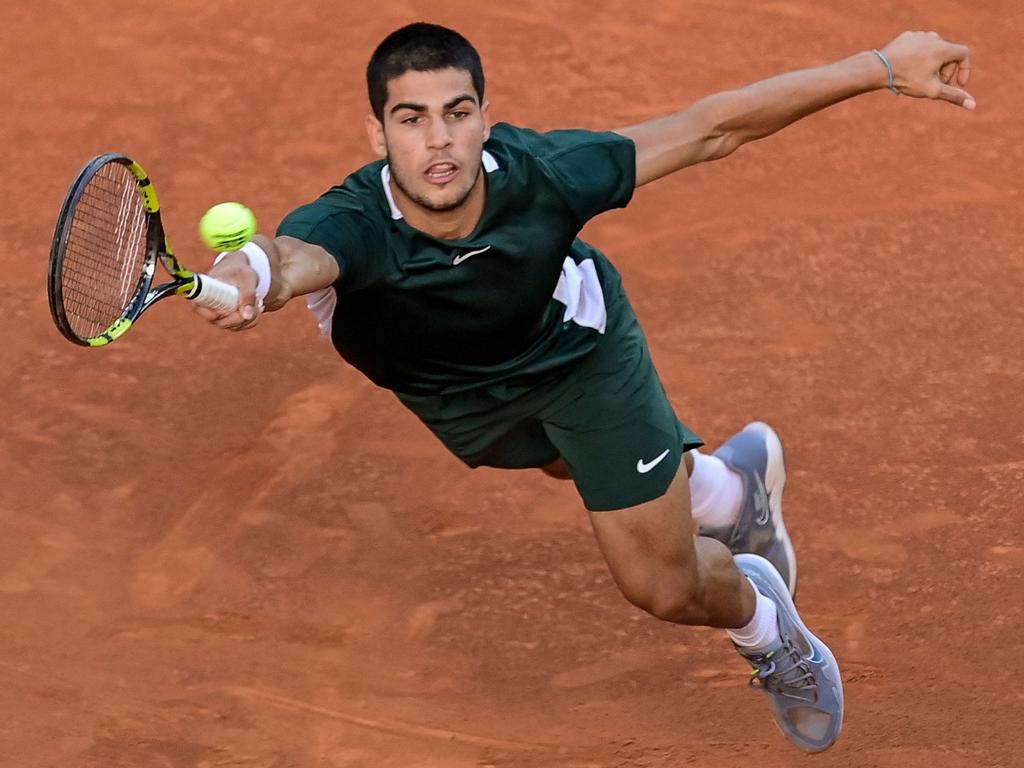 Carlos Alcaraz returns the ball to Alexander Zverev during their Madrid Open final, won by the Spanish teen superstar. Picture: Javier Soriano/AFP
If you're not on this bus, get on this bus. The guy is riveting. I know there are NBA and NHL playoffs right now, and there was a high-speed automobile conclave in Miami, and the horsey that nobody thought would win won the horsey race. But to my mind, the auspicious rise of Carlos Alcaraz might be the most stirring story in sports right now.
What Alcaraz did over the weekend on the red dirt felt like a fuel injection for a sport still clinging to the Nadal/Djokovic/Roger Federer "Big Three" era.
Friday: Alcaraz powered past countryman/idol Nadal in three sets, 6-2 1-6 6-3, outmuscling the 35-year-old lefty on his preferred surface.
Saturday: Alcaraz won a rollicking semi over an impressively on-form, crafty Djokovic, 6-7 (5) 7-5 7-6 (5).
Sunday: In what feels like a polite aperitif, Alcaraz won the tournament with a 6-3 6-1 smush of a helpless world No.3, Alexander Zverev.
As tennis blitzes go, it's historic. Alcaraz (who also beat top 10 Cameron Norrie earlier in the week) is the first player to ever beat Nadal and Djokovic at the same clay-court tournament. It's his fourth victory of the year, following wins in Rio, Miami and Barcelona. Alcaraz is 28-3 on the season and has beaten the last seven top 10 opponents he's faced.
"Right now, you are the best player in the world," Zverev said to Alcaraz after losing Sunday.
"We're seeing a supernova," Jim Courier said on the Tennis Channel.
This is the part where I underline that Carlos Alcaraz is 19 years old. And he turned 19 … this past Thursday.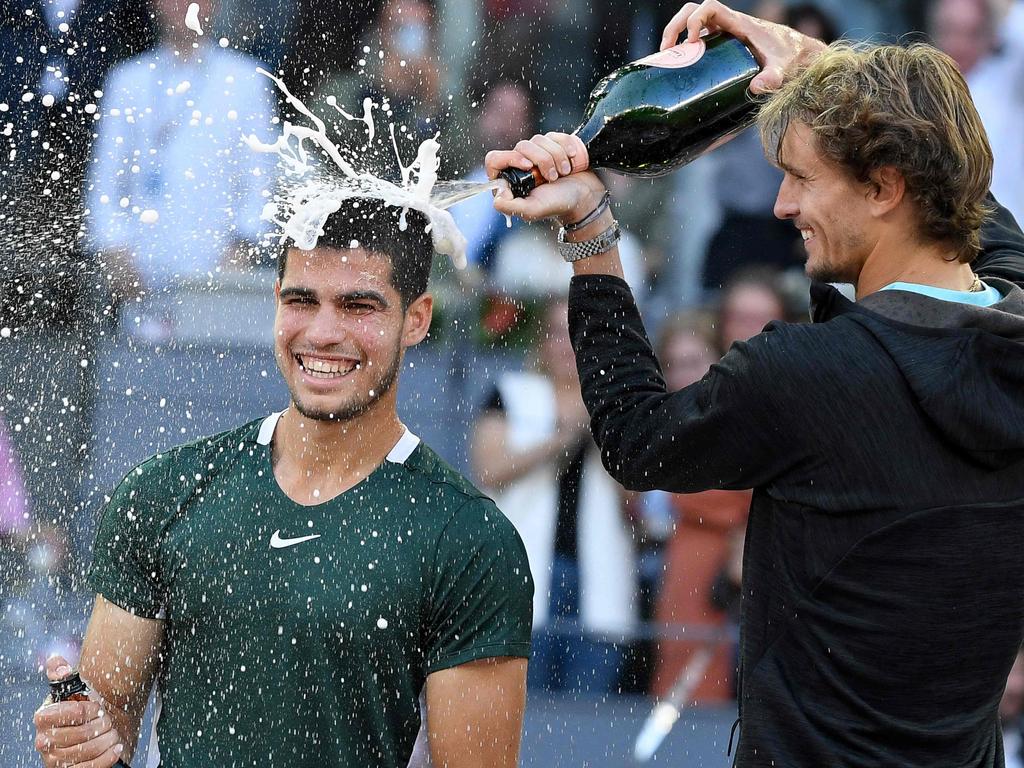 Carlos Alcaraz is doused with champagne by Alexander Zverev after winning the Madrid Open. Picture: Oscar del Pozo/AFP
Alcaraz isn't a comet out of nowhere. Tennis nuts have been on the El Palmar, Murcia right-hander for a while. Coached by the former No.1 Juan Carlos Ferrero, Alcaraz is a 6-foot assembly of wicked ground strokes and potent serving combined with a dexterous net game, and over the past year, he's ascended the rankings into the men's ATP top 10.
But over the past couple of months, Alcaraz has taken it to another level. His performance in Madrid wasn't a case of an inconsistent young player suddenly catching fire, or feasting on the competition's poor form. Even against Nadal and Djokovic, Alcaraz played confidently, dictating the action. He played 10 years older than his age. It was staggering to watch.
"The guy goes from defence to offence as well as I've ever seen," Andy Roddick said on the Tennis Channel after Sunday's final. He called Alcaraz's drop shot "the best drop shot I've ever seen".
Oh yes. Let's talk about Alcaraz's drop shot for a second. It's a cruel stroke, placed from the baseline, from either side, well disguised, thick with spin, either unreturnable, or, if returnable, impossible to parry with any pace. It gave Nadal fits. It gave Djokovic fits. It made Zverev look like he wanted to retire. Alcaraz's drop shot is my new favourite shot in tennis, and I look forward to never hitting one like it in my life.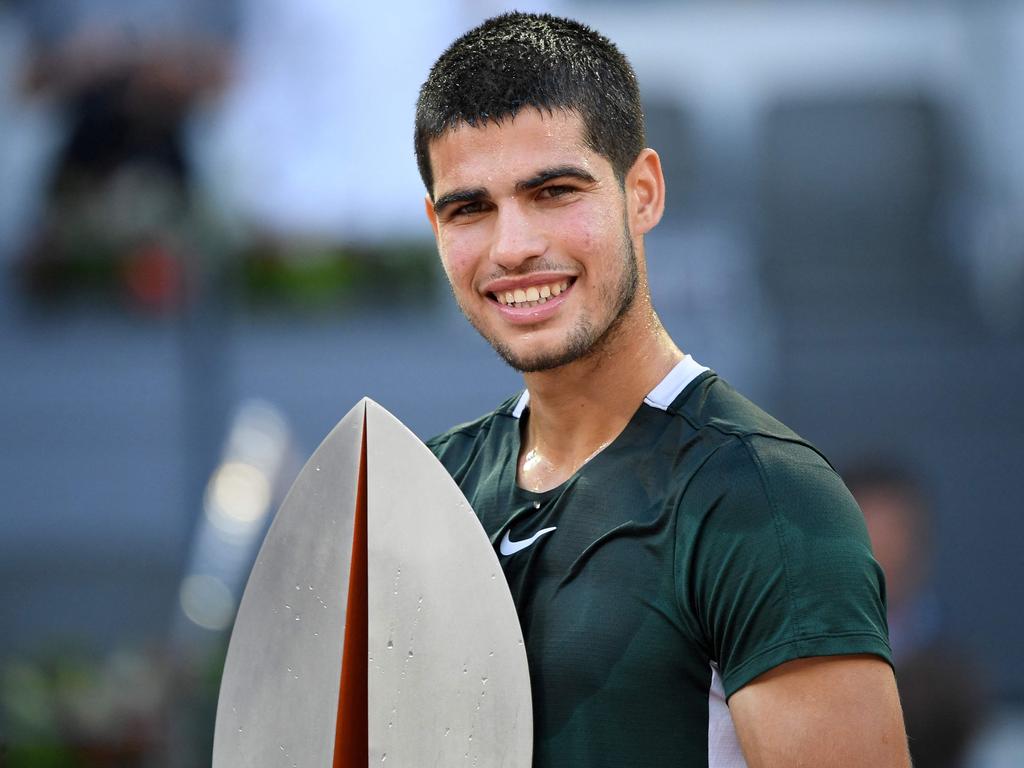 Carlos Alcaraz celebrates with the Madrid Open trophy. Picture: Oscar del Pozo /AFP
The obvious easy comparison here is Nadal, who, a generation ago, was the teenage, Capri-panted sensation from Spain, preternaturally gifted on clay, and soon everything else. Men's tennis hasn't had a comparable wunderkind since, and so the temptation to create some kind of Jordan-to-LeBron segue of Spanish tennis stars is unavoidable. If Alcaraz (who just opted out of a tournament in Rome) can keep momentum rolling into Nadal's idyll of Roland Garros, the buzz is going to get very loud.
To this, I say: Let Carlos be Carlos. Despite the parallels, Nadal is an impossible measurement for a player who hasn't collected a single major, or felt the high beams of the spotlight. It will be interesting how Alcaraz holds up over five sets — that's when Nadal can really get you — or how he handles fame as the attention ratchets up. It will be telling to see him endure the inevitable disappointments and heartbreaks.
That's how you know if he's built for this. If the Big Three generation has shown anything, it's that even the most triumphant tennis careers contain stumbles, setbacks and long walks in the wilderness. Carlos Alcaraz is as talented a young player as men's tennis has seen in a long time, but the road is long. Let him take his own path.
– The Wall Street Journal