Juan Martin del Potro: Tennis' heartbreak giant who should have ruled the world
Only 20 years old when he conquered Rafael Nadal and Roger Federer to win the US Open in 2009, Juan Martin del Potro looked set to dominate the tennis world. His body had other ideas.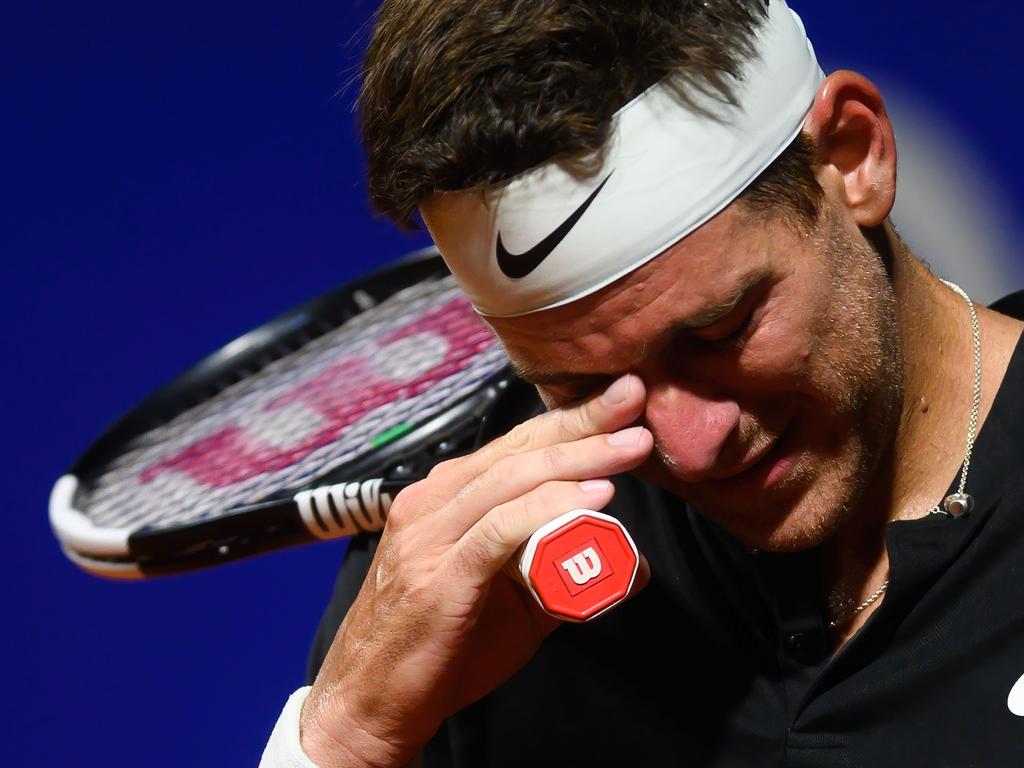 Juan Martin del Potro was highly emotional in what could have been his final professional tennis match. Picture: Manuel Cortina/Getty Images
He's the heartbreak giant.
Juan Martin del Potro appears to be on his way out of tennis–the six-foot-six right-hander, now 33, tearfully draped his headband over the net Tuesday after an opening-round loss in his home country of Argentina, a signal the end is drawing near.
There was a time when it looked like he might rule the world. Del Potro exploded into the sport as a teenage marvel, and was only 20 when he triumphed at the 2009 U.S. Open, demolishing Rafael Nadal in straight sets, and roaring from a 2-1 set deficit in the final to beat Roger Federer, back when Federer was at his most Federer, and had won the New York tournament the prior five times in a row.
Del Potro's game was a brute shock. He had all the weapons for modern tennis–most notably a low, flat forehand he would whistle from the baseline like he was gripping a Roman candle. While he was big (the Open win made him the tallest-ever major tournament champ) he could be crafty when needed, and he had the compulsory five-set endurance, too. Tennis had Roger, Rafa, Novak and Andy, and Delpo was younger than all of them. He appeared poised to own the decade.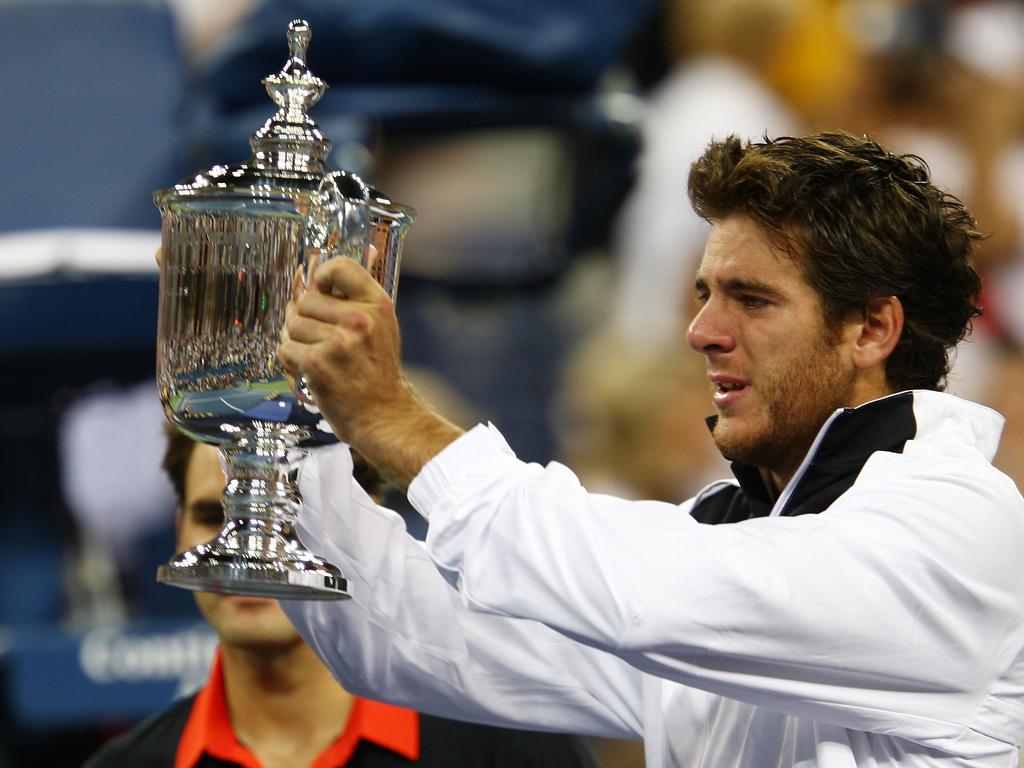 Juan Martin Del Potro took down Roger Federer to win the 2009 U.S. Open. Picture: Clive Brunskill/Getty Images
He did not. That tall body repeatedly let del Potro down. A right wrist derailed him just months after his U.S. Open breakthrough. Surgery and rehabilitation followed. It felt cruel, as if the tennis gods had blessed del Potro with the ability to throw lightning bolts–and then rudely stripped the super power away.
He would miss weeks. Months. Longer. Years were stripped away. Del Potro might surface for a flash of brilliance, and then it would all vaporise once more. In 2012 I was at the All-England Lawn and Tennis Club when a revived del Potro played Federer in an astonishing, four-and-a-half-hour Olympic semi-final, maybe the greatest best-of-three set men's match ever played. Federer prevailed 19-17 in a third set so punishing the Games later changed the format to a tie-break.
"I've never seen him play so well from start to finish," Federer said that day.
Del Potro later defeated Djokovic to earn a bronze medal. He'd play capably through 2013, then it would all fall apart again. By 2014, he'd had surgery on his left wrist, too, and once more in 2015, and he slipped off the radar altogether. Remarkably, he'd resurface at the Olympics, this time Rio 2016, where, ranked 141st in the world, he upset Djokovic, scooted past Nadal in the semis, and reached a final with Murray, where he lost but wept over his unexpected silver.
Del Potro's career swung operatically–triumphant highs; tearful lows; grand episodes of heartbreak and redemption, performed to great effect. There were comebacks, comebacks to the comebacks, comebacks to the comebacks to the comebacks (a Davis Cup for Argentina in 2016), and more medical nightmares (four surgeries on his right knee). His returns became rare and epic. Del Potro has large, expressive eyes that frequently welled during those brief turns on the court, because he, more than anyone, understood the hell he'd been through, and what it had taken to get out.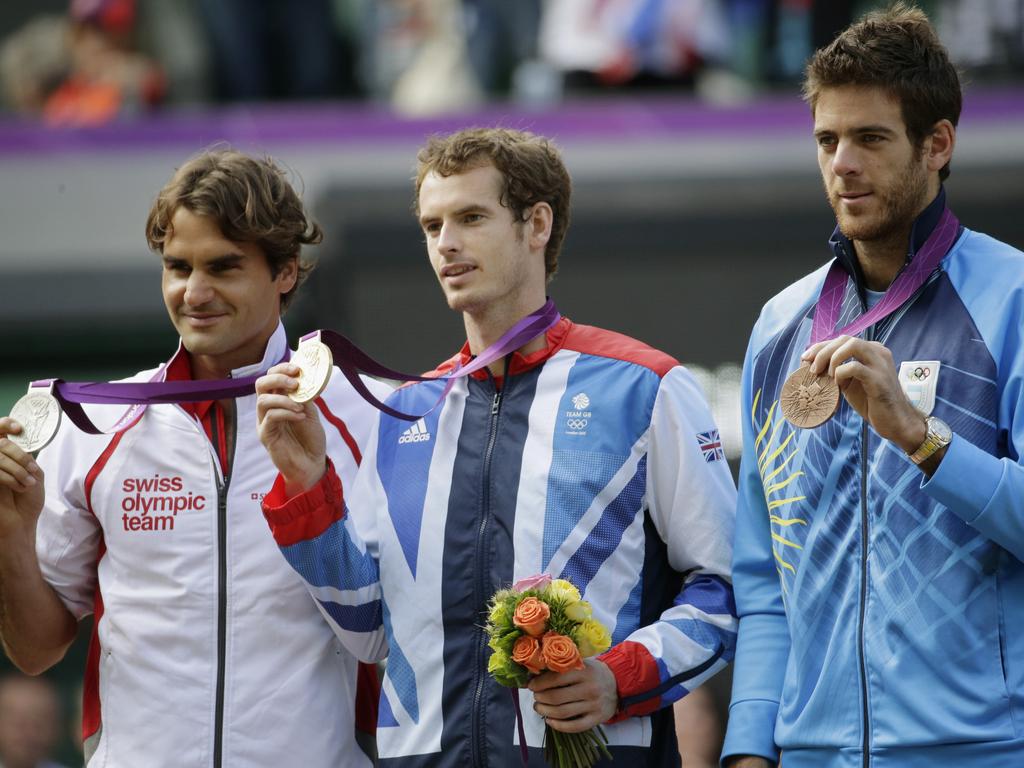 Juan Martin Del Potro with his bronze medal at the 2012 Olympics. He won silver in 2016. Picture: Paul Drinkwater/Getty Images
If he was not your favourite player, he was your favourite player's favourite player. Roger loved him. Rafa loved him. Novak loved him. The crowd adored him, too. Del Potro played every match like it might be his last, because it really might have been. At the 2017 U.S. Open, I watched an energised del Potro crawl back from a two-set deficit against Dominic Thiem on the outside grandstand court. The joint got so rowdy, it nearly levitated off the ground.
By then, a melancholic aura had settled in–here was a player who could tangle with the game's best, but his body never kept its end of the bargain. Tennis may be a "sport for life," but pro tennis is a punishing trade, and if you're not blessed with the right ligaments and joints, you might fall apart as fast as you arrive. We've become accustomed to age-defiers like Roger, Rafa and Tom Brady–and how about Kelly Slater, surfing champ at 49–but early breakdowns remain common, too.
He did his best to stay with it. Del Potro lost to Nadal in the 2017 U.S. Open semi-final, then saved three match points to beat Federer at Indian Wells, then returned to the U.S. Open final, where he fell to Djokovic. The run was evidence of what a healthy del Potro could be, but the health pretty much stopped there. The pain returned, and he's been all but a ghost until this week, when he surfaced at Guillermo Vilas Stadium before a thundering home crowd, and lost to Federico Delbonis in straight sets.
If this is truly it–there appears to be some confusion if del Potro truly said a final farewell in Buenos Aires, or wants to mull it over–it's been an admirable career. When he arrived in tennis, he looked purpose-built for it, but he wasn't, and yet he continued to pick himself off the canvas like a champion. Every once in a while, he'd crack one of those forehands that whistled two inches over the tape, and it reminded everyone of his thrilling gift. Juan Martin del Potro stayed a marvel, and that's what really broke your heart.
– Wall Street Journal