Kevin Mitchell: Novak Djokovic's pseudo-science obsession leads entitled stars astray
Novak Djokovic's latest strange health fixation – Covid vaccine opposition – has deepened the conundrum of his standing in tennis, writes KEVIN MITCHELL.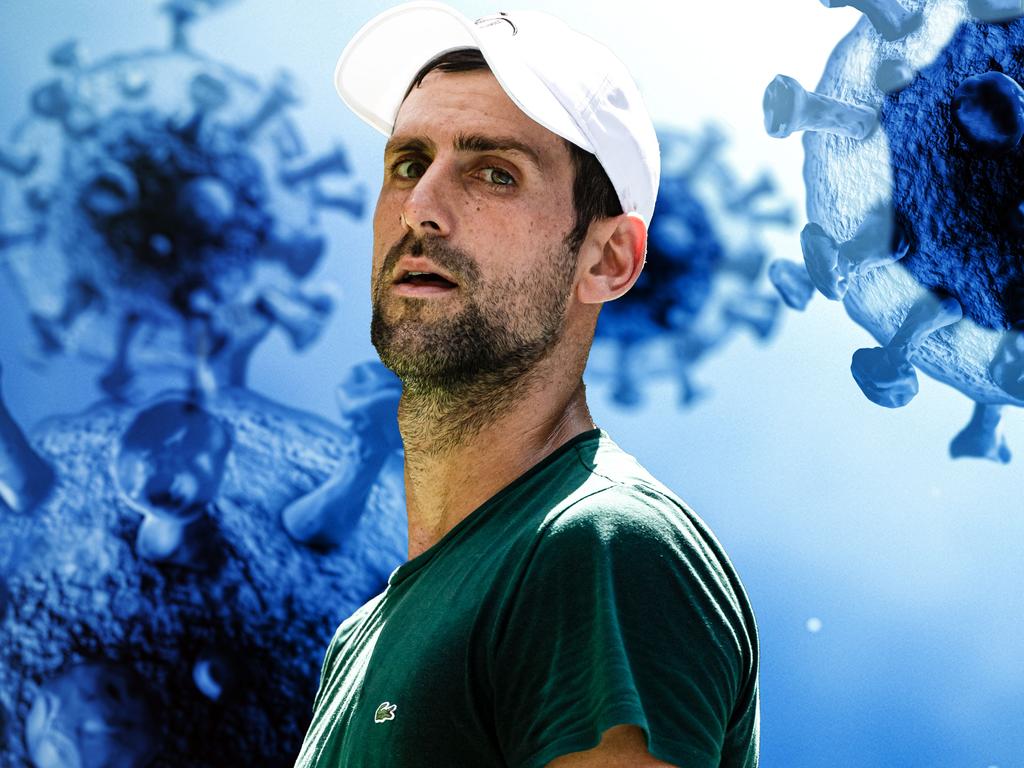 For someone with an elastic intellect and multilingual communication skills, Novak Djokovic remains strangely inarticulate about how he is dealing with the threat of Covid.
The world's best tennis player - striving to be regarded as the greatest ever - has refused all invitations to say whether or not he has been vaccinated against the virus and thus has thrown the 2022 Australian Open into utter confusion. Indeed, he has become unusually irritated about it.
After winning a record 37th Masters title in Paris to ensure he would finish the year at No.1 in the world rankings for the seventh time - also a record - he did leave the door ajar.
"I love breaking records," he said after beating Daniil Medvedev. "I'm very motivated to carry on. The history of our sport is a big motivation."
Yet he consistently refuses to confirm or deny if he will comply with local vaccination requirements in Victoria - and there are strong rumours that similarly strict rules will apply in the US next year, putting a major obstacle in his way for playing in Indian Wells, Miami and the US Open.
The first Grand Slam of 2022, due to start in Melbourne on January 17, would be seriously devalued if Djokovic chose not to defend the title he won last February; his ninth in Melbourne, making up half of his total number of majors to that point. He subsequently added two more to move to 20, alongside Roger Federer (absent injured for the upcoming Open) and Rafael Nadal, who is a committed starter.
So history waits for Djokovic - but not indefinitely south of the equator.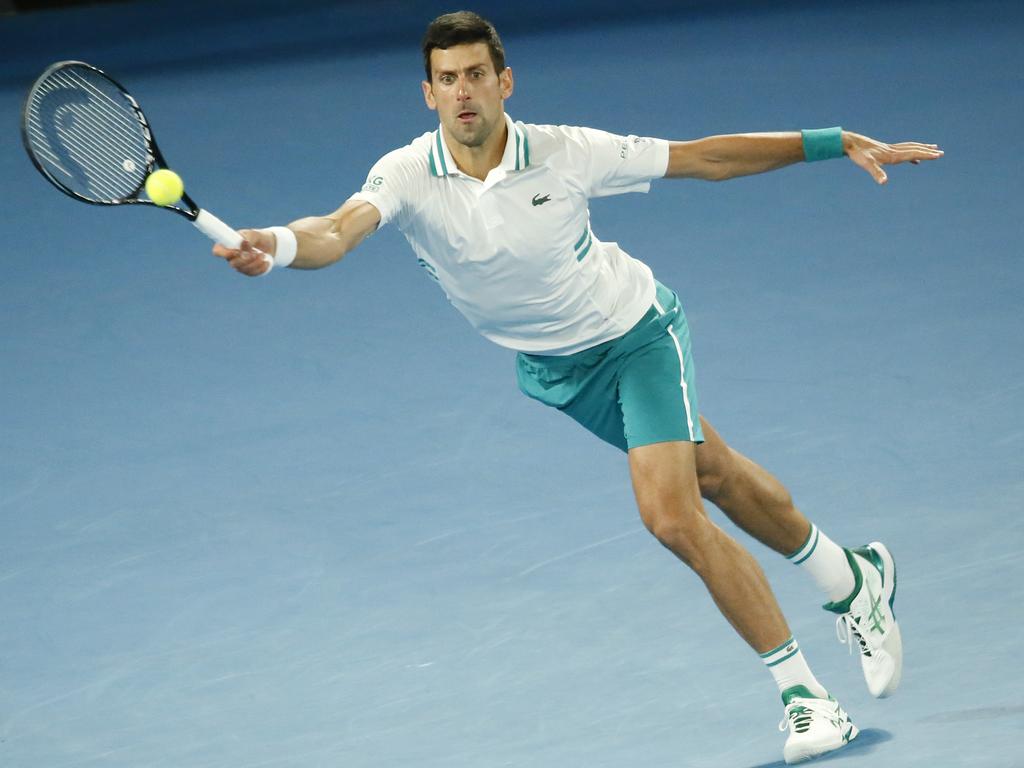 World No.1 Novak Djokovic stretches for a defensive forehand during the 2021 Australian Open final against Daniil Medvedev. Picture: David Caird
The information everyone wants from him is "private", he says, seemingly oblivious to the sacrifices demanded of those of us living outside the bubble of elite sport. Nobody walks through customs like an invisible ghost. Covid passports operate in airports, nightclubs and bars. Lockdowns, self-isolation and quarantine are a way of life in nearly every country. We are daily urged to get jabbed, wear masks, notify authorities if 'pinged', work from home, stay safe. For nearly all the 7.9 billion people on the planet, there is nothing private about a pandemic.
The reigning Australian Open champion insists he will decide about playing after Tennis Australia make a final call on the conditions of entry into Victoria from overseas, even though the adjudication on those conditions rests solely with the State Premier, Daniel Andrews; hitherto unwilling to grant rich visiting athletes concessions not available to people who have made considerable sacrifices over the past two years.
"I'm not going to have people sitting in the stands having done the right thing only to have millionaire players who ought to be vaccinated running around essentially at higher risk of spreading this," Andrews said recently.
So Djokovic is transferring the responsibility to others, be it the government or the organisers, rather than revealing if he has had the jabs that would guarantee his participation - or if he hasn't. Quite why is a mystery. But it looks like a cop-out.
The eloquent Serb has not always been so tight-lipped. Once, he proclaimed on subjects as diverse as spiritualism, the wonders of water, players' prize money, greedy tournament directors, the dangers of gluten, hyperbaric chambers … and the power of electricity.
Lately, he pushes the concept of, "…various physical perspectives, not just the physical body and flesh, but spiritual, emotional. We are all of that. We are synchronised, we are harmonised with the Schumann Resonances of 7.83. The physics, the science, everything proves it. We are all electrical beings. Absolutely."
For those struggling at the back, the Schumann Resonances of 7.83 is, apparently, the measured "heartbeat" of Earth, created by lightning flashes that strike 50 times every second around the globe while 2,000 thunder storms rage. Djokovic believes profoundly that this electricity affects all human behaviour.
Nevertheless, it takes considerable faith to embrace his enthusiastic declaration that each of us is hooked into the mains, synchronised and harmonised, especially as this harmonisation does not stretch to his sharing information that would bring much-needed clarity to his stance on vaccination; not to mention comfort to those who might have to share a plane or a locker room with him.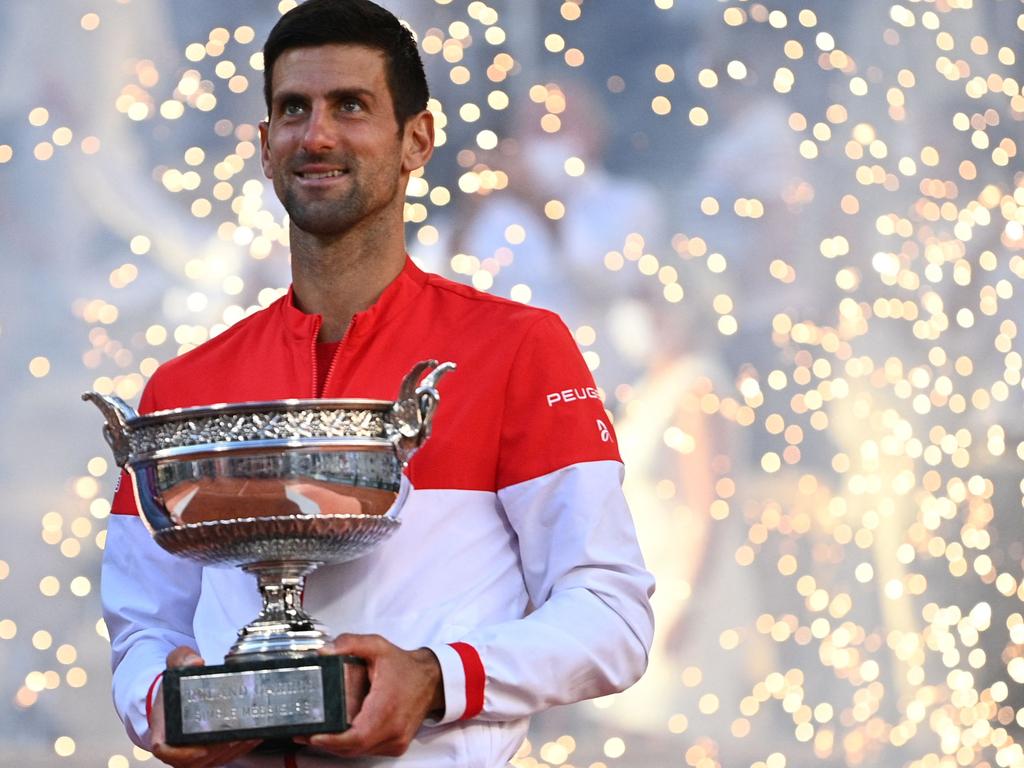 Novak Djokovic poses with the Mousquetaires Cup (and a lot of sparks in the background) after winning the 2021 French Open final for his second Roland Garros title. Picture: Anne-Christine Poujoulat/AFP
Some people are closer to him than others. One of his confidants, a former real estate salesman and hedge fund entrepreneur called Chervin Jafarieh, declared in their Instagram chat a while ago that the world is, "shooting off an electrical field … Why aren't we cultivating that? And that, my friend, is what sovereignty means, becoming sovereign. What does sovereignty mean? That outside energy does not hold dominion on your life. When you wake up, your lens is based on your thoughts, not someone else's."
Djokovic nodded with the enthusiasm of a man who'd discovered the meaning of life, but maybe had forgotten one or two other things along the way.
And one man's intellectual sovereignty can be another man's pain in the butt; the viability and success of the Australian Open is hanging on Djokovic's decision.
Jafarieh and Djokovic, meanwhile, speak with the upbeat certainty that echoes the pseudoscience of the late Masaru Emoto, who wrote a best-selling book called The Hidden Messages Of Water. There's a lot of this stuff out there.
Djokovic said then and presumably still believes, "I've seen people and I know some people that, through that energetic transformation, through the power of prayer, through the power of gratitude, they manage to turn the most toxic food or the most polluted water, into the most healing water."
I think, therefore I drink.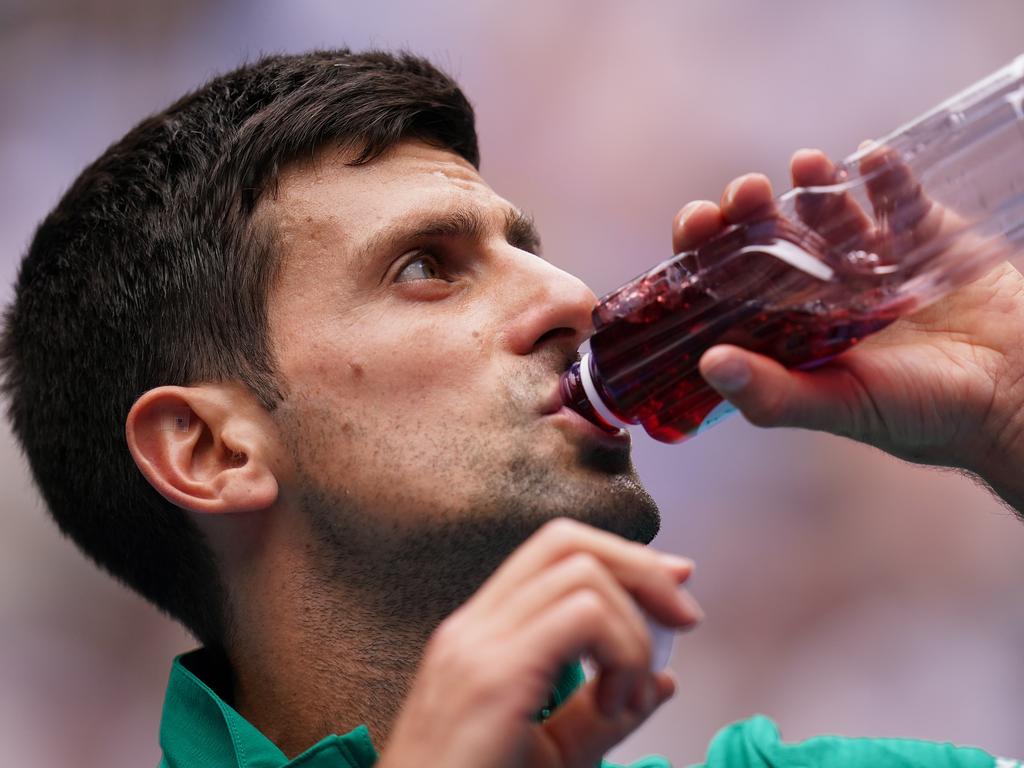 Novak Djokovic takes a swig from a sports drink during the 2020 Australian Open. Picture: Dave Hunt/AAP
Djokovic has been his own intellectual man since suffering breathing difficulties on one of his first visits to the Australian Open. Near collapse in some early matches, he returned home and sought the help of Igor Cetojevic, a Serbian doctor who changed his diet to gluten-free, as well as introducing him to … the mysteries of electricity.
At a tournament in Croatia in 2010, Dr Cetojevic set Djokovic on his unique path of discovery. "He had me place my left hand on my belly and put my right arm straight out to the side," Djokovic wrote four years later in his book, Serve To Win. The doctor pushed down on his right arm, instructing him to resist. He then got him to hold a piece of bread against his stomach with his left hand and they repeated the experiment. It would prove if he were sensitive to gluten, the protein in wheat, barley and rye. "There was a noticeable difference," says Djokovic. And he was hooked.
Djokovic was encouraged to use the same method with his mobile phone. He wrote: "I have found that this makes for an excellent party trick: get someone in the room to assume the same stance - right arm out, left hand on belly - and test their strength. Then have them hold a cell phone against their stomachs and test again. The radiation from the cell phone causes the body to react negatively and weakens the arm's resistance, just as a food you're intolerant to will. It is an eye-opening revelation - and will make you think twice about carrying your cell phone in your pants pocket."
I ring, therefore I am … doomed?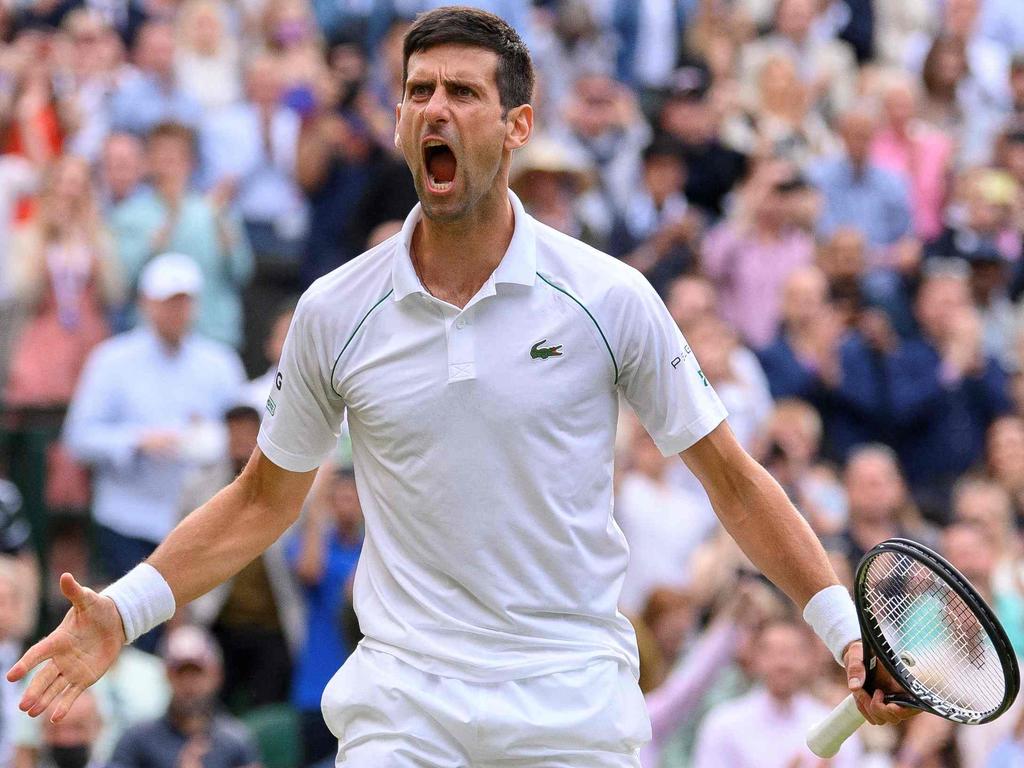 Novak Djokovic roars after winning his way into the 2021 Wimbledon final, in which he claimed his 20th major title. Picture: AELTC/Ben Solomon/AFP
But Djokovic is no crackpot outlier. For a start, he can point to his stunning career statistics to justify his theories. Besides, he is not alone.
There is widespread (if lightly-researched) scepticism in tennis about the virus and vaccination. Some estimates put the number of players on both men's and women's Tours who have been double-jabbed as low as 30 per cent, and that makes Djokovic No.1 of a significant minority. Fellow doubters in the upper reaches of the game include Vasek Pospisil, Stefanos Tsitsipas, Alexander Zverev, Daniil Medvedev, Elina Svitolina and Aryna Sabalenka - and the pool of silent dissenters probably goes much deeper.
"Personally I am opposed to vaccination," Djokovic says, "and I wouldn't want to be forced by someone to take a vaccine in order to be able to travel."
That strikes a chord among professional athletes who spend up to 11 months of the year traipsing from airports to hotels to the workplace and back again; they resent the many inconveniences that come with that, too. They say they are asking only for independence, freedom; others with fewer employment opportunities would regard it as entitlement, exceptionalism.
None of the men's semi-finalists at the last US Open – Djokovic, Zverev, Medvedev or Felix Auger-Aliassime – would declare if they'd been vaccinated. But all spectators and staff had to be. That's entitlement.
It's a scenario that, at the moment, will not apply in Melbourne. Everyone will know where they stand - or sit - given the Premier's assertion: "I'm not going to require people sitting in the grandstand, people working at the event, to be vaccinated while players aren't. So we're not going to be applying for an exemption."
No special favours for Djokovic and the sceptics, then. But why the insistence that he is right and everyone else is wrong? Electricity again.
Perhaps the biggest influence on his life philosophy was the eccentric genius, Nikola Tesla, a Serbian-American futurist and inventor of some renown in the early days of electricity. Tesla, somewhat ignored in his own time, would come to captivate the tennis player with his core mantra: "One must be sane to think clearly, but one can think deeply and be quite insane."
Djokovic says of Tesla, "He understood the importance of having a sane mind, of being quiet, being calm, the importance of going back to yourself, of trying to be serene, and to be in perfect harmony … and this vibration that will allow you to create."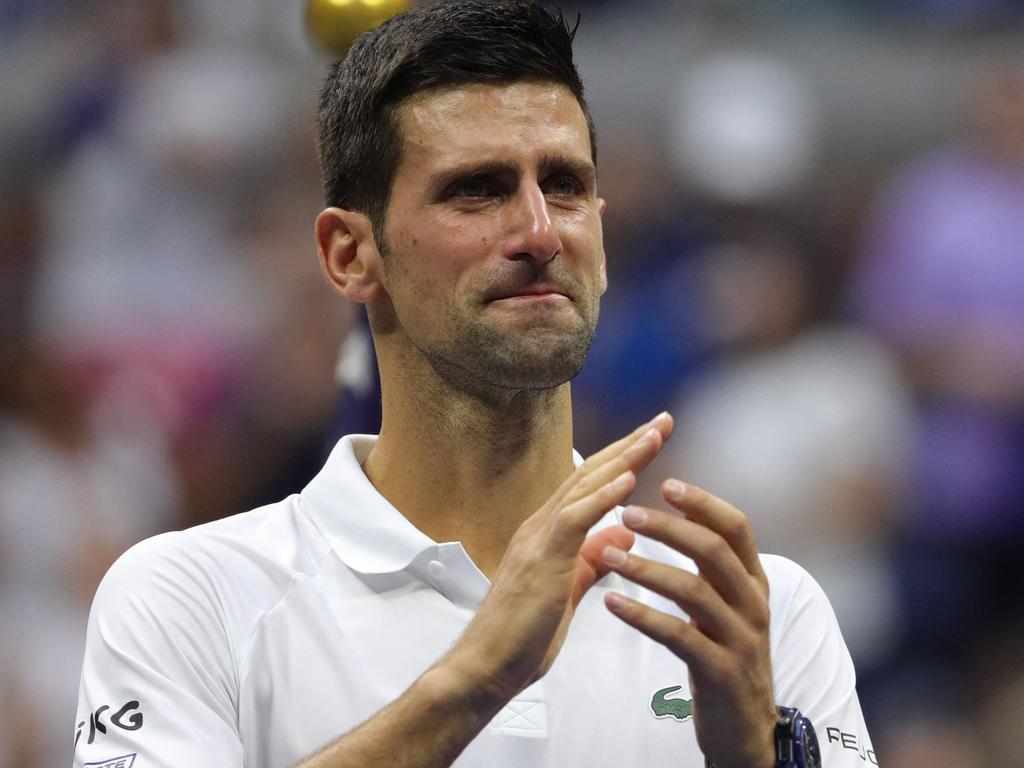 Novak Djokovic becomes emotional after losing to Daniil Medvedev in the 2021 US Open final, thus missing out on winning a calendar Grand Slam. Picture: Kena Betancur/AFP
Djokovic sees himself as a free thinker in the Tesla mould, and he is wary of what he would regard as "group think". Djokovic's wife, Jelena, is on his wavelength. At the start of the pandemic, she had to backtrack on the perception that it was worth considering that 5G mobile phone technology might be responsible for coronavirus. Yet, after both tested positive in the wake of that disastrous Adria Tour in 2020, they donated one million euros to buy ventilators for Covid-sick Serbs. Oxygen in the face of death – but no vaccines to slow the journey to that point.
In July this year at Wimbledon, Djokovic told ESPN, "I like to think of wolves as my spiritual nature guides. I've seen some wolves when I was a kid roaming the forests of the mountain where I grew up. And that encounter left me frightened and even more connected with wolves … There is a connection, I personally feel it ... I carry that with me and that helps me find that energy when I need it." During the US Open, Jelena, with whom he was briefly at odds a few years ago, proudly wore a white T-shirt emblazoned with five words: "I run with my wolf."
Djokovic, however, was no lone wolf when putting together his breakaway players' union. Then, he was a lightning rod for all manner of grievances and he needed the support of as many players as he could muster in his challenge to the ATP. Lower-ranked players, especially, saw him as a friend who would fight for them.
Djokovic has always wanted to be loved as well as respected. Not on the Federer scale, perhaps; that would be asking for the moon. But maybe as much as Nadal. Or Andy Murray. That would do. A hill of his own in the shade of Mount Roger. And who doesn't need a hug now and again, as Nick Kyrgios said to a ball kid during one of his rough patches at Wimbledon a few years ago.
However, when Djokovic arrived at the US Open at the end of August after winning the Australian, French and Wimbledon titles, his mood was not so light and loving. They booed his winners, cheered his opponents. Then, when he lost in the final to Medvedev, he did so with the dignity of an underdog and, to his pleasant surprise, he'd won over the crowd in defeat as he'd not always done in victory. Hard-nosed New Yorkers recognised a lone wolf. They liked the new, flinty Djokovic, the Djokovic so unlike the one who used to crave their acceptance.
But it was obvious, also, that, as he reached for history, the nerves kicked in. They'd been with him for most of the year: six times in majors, he lost the first set before winning the match. All the electricity in the world could not ensure his, "sovereignty of the brain".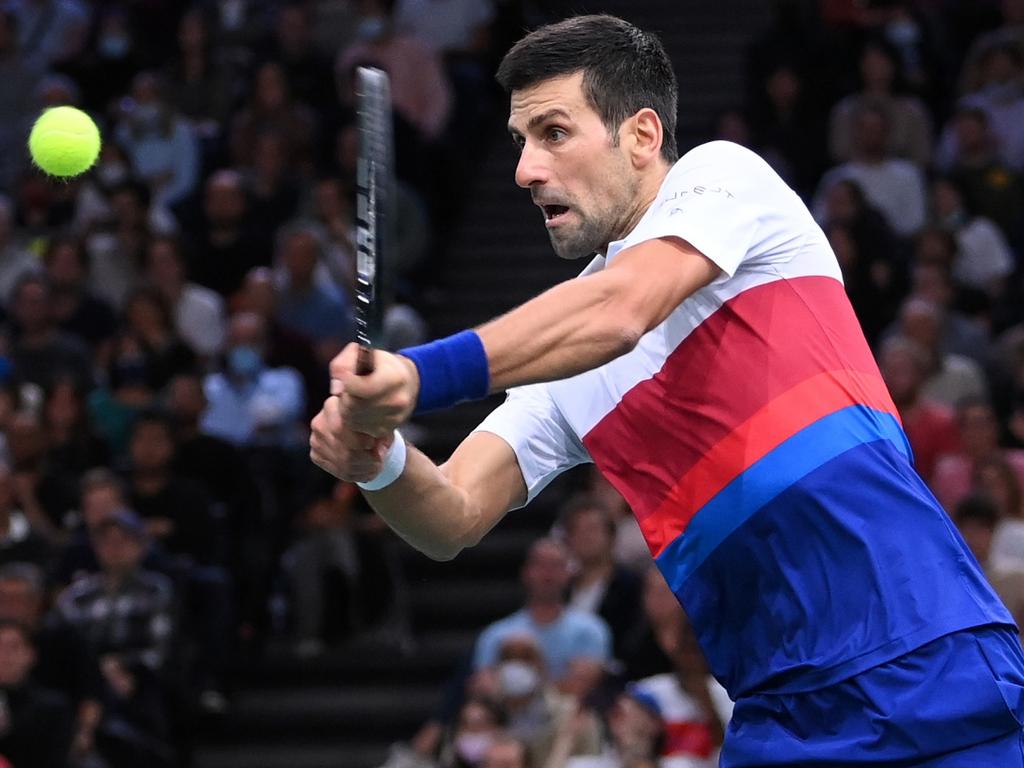 Novak Djokovic plays a backhand during the men's singles final of the Paris Masters, in which he came from a set down to defeat his US Open conqueror Daniil Medvedev. Picture: Justin Setterfield/Getty Images
The racquet shakes returned in the semi-final of the Paris Masters at the weekend, when he dropped the first set and came through a third-set tie-break against Hubert Hurkacz before reaching the final against his New York nemesis Medvedev.
With eerie predictability, Djokovic lost the first set to the world No.2 … and went on to win brilliantly in three sets. Then the emotion hit, and he cupped his hands with love for the enthralled gathering. He was smiling again.
All of this - his wildly fluctuating but still dangerous game, his emotions, his body, his mind, his mobile phone maybe - will feed into his thinking about getting on a plane to Australia. He knows he is in good enough form to win his 21st Slam.
Yet he is haunted by fear: not so much of opponents but the needle, of orthodoxy, of conforming to other people's rules. He cannot delay a decision for much longer. If he does not play, he is surely giving up his last shot at the calendar Slam.
As the game again looks to its dominant player for leadership, Djokovic stands aloof once more. The boy who survived bombs on Belgrade and learned his early tennis in a disused swimming pool, who grew up to be a steely-minded champion, whose racquet would become his sword and his intelligence his redoubt … now he urges us to listen to the Schumann Resonances of 7.83.
That's OK. For all his eccentricities, it's hard to argue with someone who is within a couple of big wins of establishing himself as the greatest player of them all. But it would be a relief all round if he got on with it.