Novak Djokovic is set to be denied entry to the French Open this year due to a mandatory vaccination pass
Novak Djokovic's appearance at the French Open appears unlikely with a French government official confirming a vaccination pass will be mandatory for international athletes.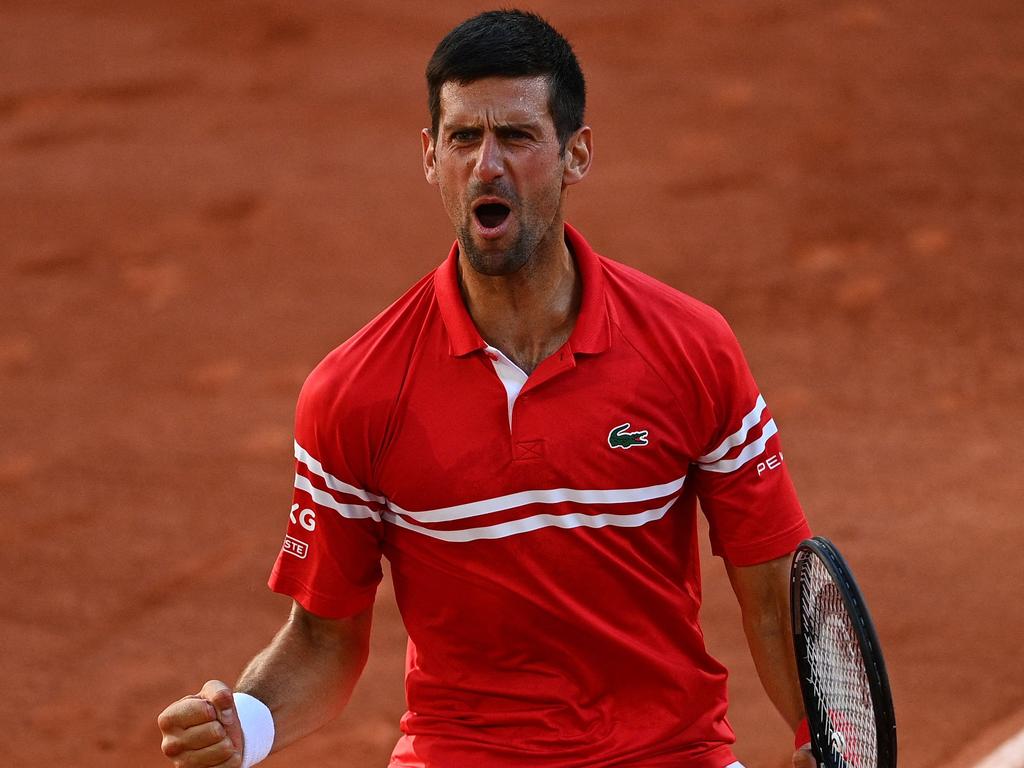 It appears unlikely Novak Djokovic will be able to defend his French Open crown in 2022. Picture: Christophe Archambault/AFP
Novak Djokovic faces the prospect of being denied entry to the French Open after a government official confirmed that the new vaccination pass will be mandatory for international athletes.
The world No. 1 from Serbia is scheduled to arrive back in Europe on Monday after being deported from Australia "on health and good order grounds" for his anti-vaccination stance. He is banned from the country for three years, although the Australian Prime Minister Scott Morrison has left open the door for a reprieve under the "right circumstances".
Unless Djokovic, 34, makes a U-turn in the coming months and decides to receive a Covid-19 jab, he is likely to miss a second consecutive grand-slam tournament. After being denied the opportunity to defend his title at the Australian Open, the same could happen at Roland Garros in May after France's parliament approved the introduction of a vaccination certificate to enter public venues.
French Open organisers claimed on Sunday that discussions were taking place regarding an exemption process for unvaccinated competitors, but an announcement on social media late last night from Roxana Maracineanu, the Minister delegate in charge of sports, appears to have ended any possibility of this.
"The vaccination pass has been adopted," Maracineanu tweeted. "As soon as the law is confirmed, it will become mandatory to enter public buildings already subject to the health pass for all spectators, competitors, French or foreign professionals. Thank you to the sports movement for the work of conviction with the last rare unvaccinated [athletes]. We will work together to preserve the competitions and to be the ambassadors of these measures at the international level."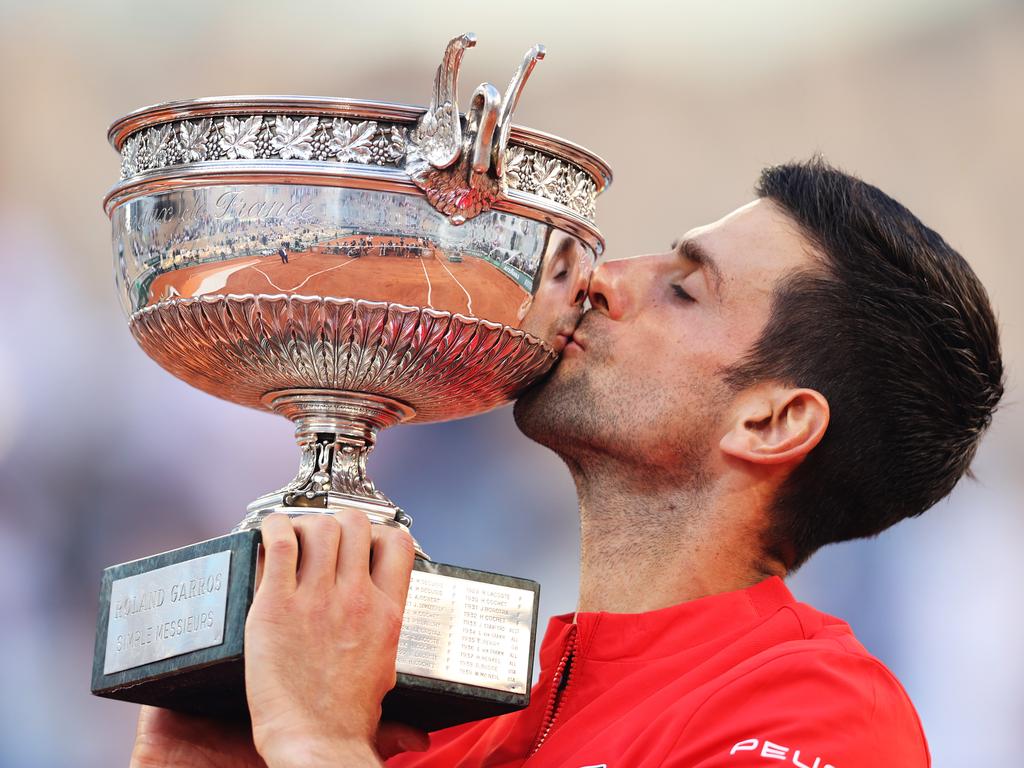 Djokovic is the reigning champion at Roland Garros after defeating Stefanos Tsitsipas in last year's final. Picture: Clive Brunskill/Getty Images
This is a further blow for Djokovic, who is chasing a record 21st grand-slam men's singles title. He is presently level with both Roger Federer and Rafael Nadal on 20, and now might not have the opportunity to win another major trophy until Wimbledon.
As it stands, he will be eligible to compete at the All England Club in June because protocols in the United Kingdom allow unvaccinated international athletes to "leave accommodation to travel directly to any specified event" during an initial quarantine period of five days.
No doubt in need of some positive news, Djokovic might take some comfort from a series of interviews by Australian government officials today. While the decision by the immigration Minister Alex Hawke to deport Djokovic comes with an automatic three-year visa ban, Morrison pointed out that any future application would not necessarily be denied. A clause in the migration act states that the "affected person" can be granted entry within the following three years in "compelling circumstances that affect the interests of Australia".
"It [the ban] does go over a three-year period, but there is the opportunity for them to return in the right circumstances and that would be considered at the time," Morrison told the radio station 2GB.
The Minister home affairs Karen Andrews also admitted that the ban could potentially be waived if Djokovic receives the vaccine. Under present criteria, one dose of the Johnson and Johnson jab would be enough for him to be considered fully vaccinated.
"It may be something that could be taken into account any time that he may choose to apply for a visa to come back to Australia," Andrews told Sky News Australia.
"Look, he had the opportunity to be vaccinated and he never took that opportunity in the past. If he had been vaccinated it would have been an entirely different scenario at the airport when he was attempting to come into Australia."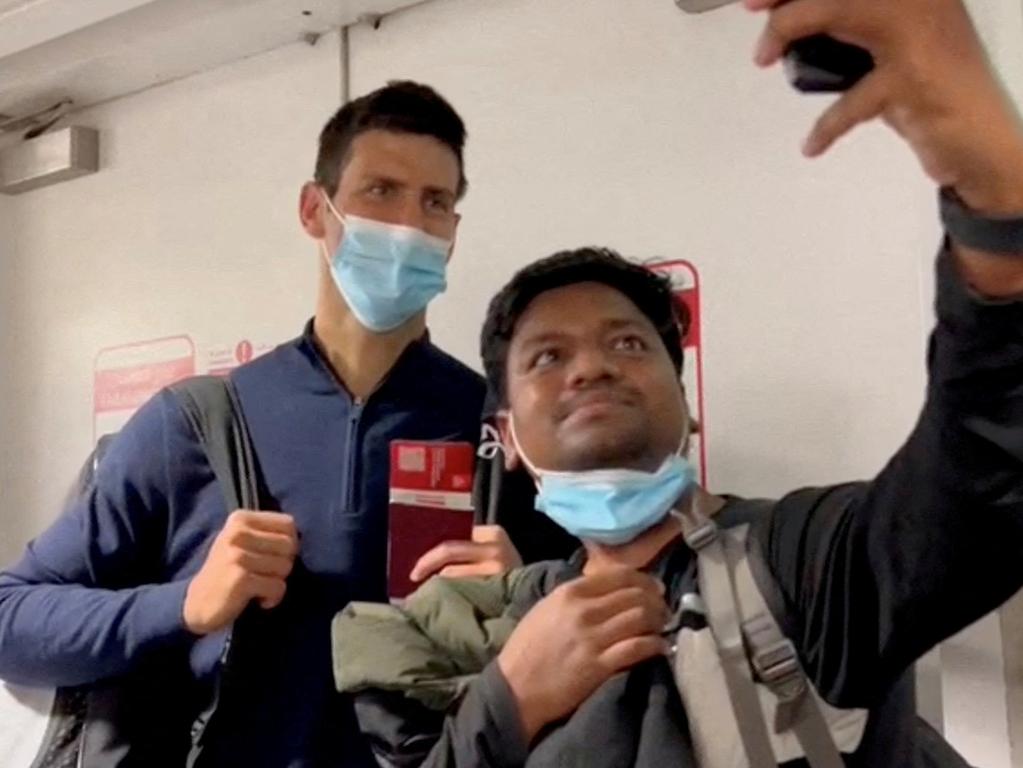 Djokovic was greeted by many fans after being deported from Australia. Picture: Loren Elliott/Reuters
Djokovic received support today from his compatriot Laslo Djere. The world No 51, who lost in the first round, described the saga as a "true catastrophic situation" but believes that Djokovic will not let the controversy affect his level of play when he eventually returns to the tour.
"I'm sure that he will come back stronger than ever," Djere said. "That's what he does. That's also in our Serbian mentality. When we get beat down or we are treated in a bad way that we maybe don't deserve, we — and especially him — try to be inspired and gain strength from that."
– The Times