Novak Djokovic: 'I've missed tennis so much' — World No 1 raring for return to action
Feted by fans in Dubai, the world No.1 is radiating new positivity before he returns to tennis in his first match on Monday.
There were no issues at passport control for Novak Djokovic this time. When the unvaccinated Serb landed in the United Arab Emirates on Wednesday before his return to competition at next week's Dubai Championships, he was waved through and given a warm welcome, in stark contrast to his arrival in Australia last month.
A friendly reception also greeted him out and about in the city last night. Adoring fans chanted "Nole", his nickname, as he walked into the Serbian national pavilion at the Expo 2020 exhibition for an event staged by his charity foundation.
"I'm excited to go out on the tennis court next Monday," Djokovic told reporters. "I miss tennis honestly after everything that has happened."
After high-fiving children and posing for selfies, Djokovic then addressed the crowd. He expressed his regret that he was unable to have more direct involvement with the foundation because of his tennis schedule, before acknowledging to laughter and applause: "It's not as busy as it used to be."
The lighthearted comment backs up what insiders close to Djokovic's team have told The Times in recent weeks. After a miserable 11 days in Australia that ended in deportation on the night before his campaign for a record 21st grand-slam men's singles title was scheduled to begin, associates have been struck by his positive mood ever since.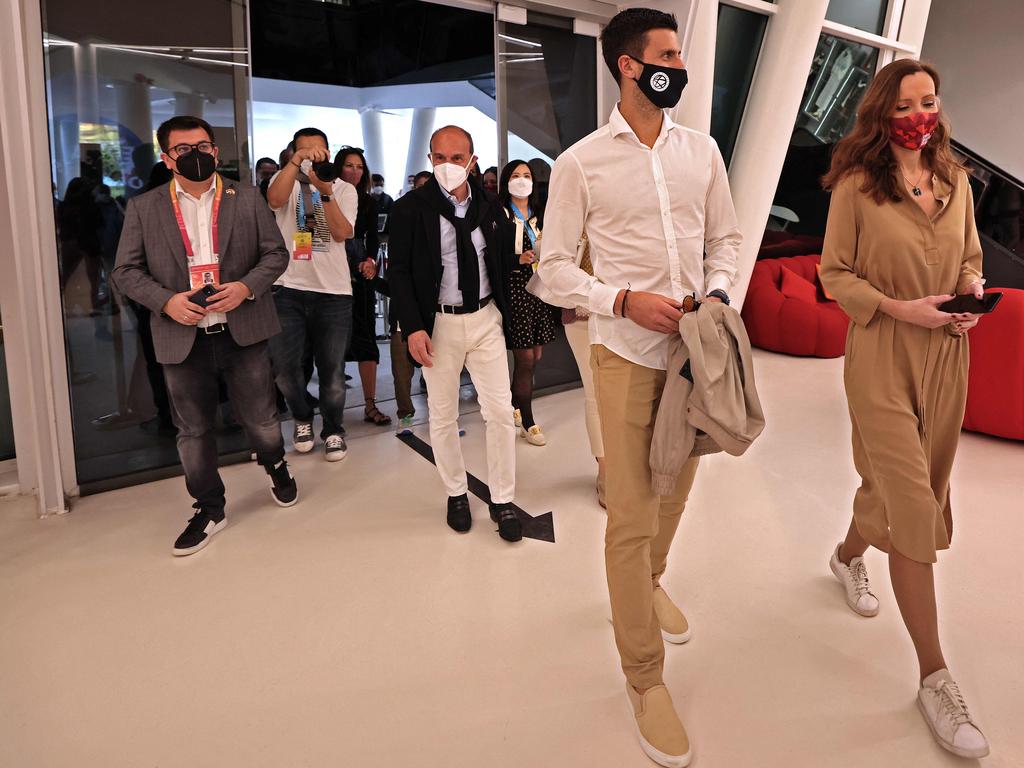 Novak Djokovic and his wife Jelena visited the Serbian pavilion at the Expo 2020 in Dubai ahead of his return to tennis next week. Picture: AFP
A spell of our weeks in his homeland appears to have been something of a detox for the mind. Rather than heading back from Australia to his mansions in Marbella or Monte Carlo, where he spends most of his time away from the court, Djokovic decided instead to travel to Belgrade. After coming under intense scrutiny for his medical exemption from a Covid-19 vaccine, staying in a country where he is considered a hero was a sensible course of action.
As a result, Djokovic has not felt the need to lie low. Two days after arriving, he was seen quietly entering a local church and sitting in the back row during a prayer service without any fuss. Later in the week, he embarked on a pilgrimage to the Ostrog Monastery, a site in the mountains for Orthodox Christians, renowned for its peaceful surroundings.
While he has been the subject of much criticism elsewhere for his views on vaccinations, Djokovic has shielded himself from this by remaining among those who are fiercely protective of him. On January 28 he was swarmed by the welcoming residents of Budva, a small Adriatic Sea resort in Montenegro, where he received a plague declaring him as an honorary citizen of the town. On February 3 Djokovic had an audience with President Aleksandar Vucic to thank him for the support he offered during his detention in Australia.
The world No.1 met with President of Serbia, Aleksandar Vucic to thank him for his support throughout his detention in Australia. Picture Srdjan Stevanovic/Getty Images
Djokovic has also been able to lead a fairly normal life in familiar surroundings, going out for dinner with his wife, Jelena, and enjoying evening strolls with his support team by the Danube river. One Belgrade resident turned around after paying for carparking at a ticket machine and was stunned to find Djokovic standing behind him in the queue.
All of this provided a distraction from the action at the Australian Open. Djokovic admitted in his interview with the BBC this week that he was reluctant to watch the final, as his great rival Rafael Nadal claimed the grand-slam record that was seemingly destined to be his.
"I didn't want to watch the match because I felt I wanted to be on the court," Djokovic said. "It was really hard for me to watch, so I was very neutral and didn't cheer for anyone because I wanted to be there so badly. But I was amused by the circumstances that I was experiencing. My wife was cheering for [Daniil] Medvedev, and my [seven-year-old] son was cheering for Nadal. Every point that Rafa won, Stefan would be jumping around and fist-bumping like Rafa."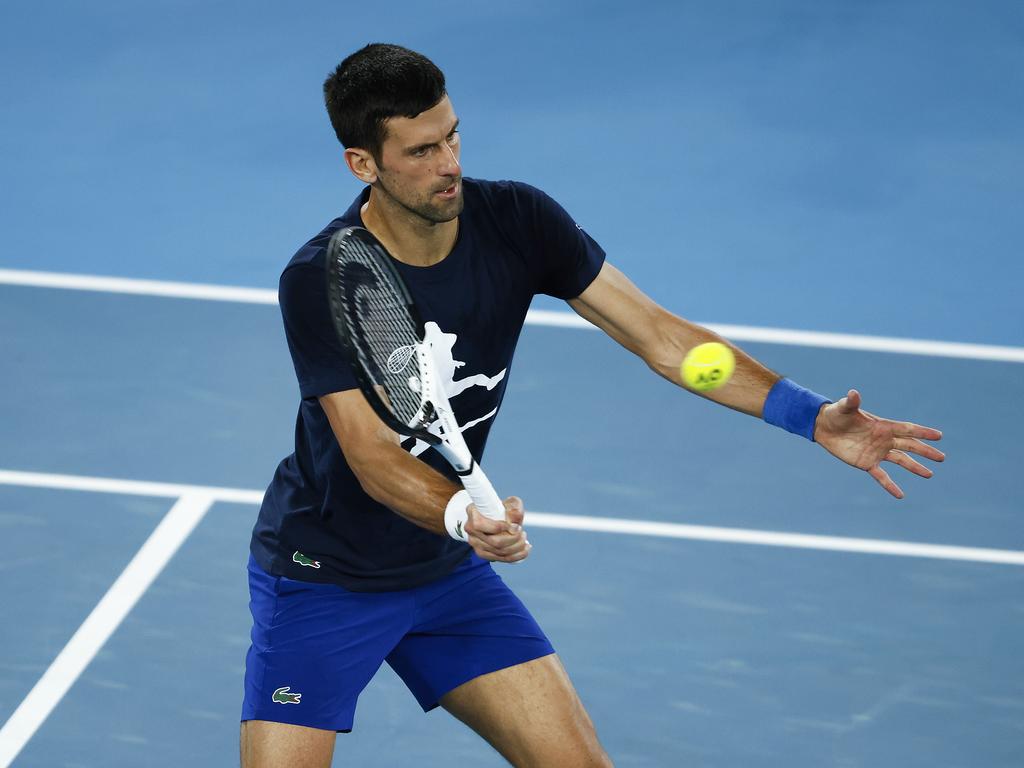 Djokovic, a 20-times grand slam champion, was deported before the Australian Open. Picture: Daniel Pockett/Getty Images
The preparations for his comeback have been stepped up over the past two weeks. Djokovic has trained at the facility that bears his name, the Novak Tennis Center, with fellow professionals and Serbian juniors. For one session he was joined on the court by his counterparts at the top of the world rankings in doubles, Nikola Mektic and Mate Pavic, of Croatia.
Having not played a match for more than two months, since the Davis Cup Finals in early December, fitness has also been a key area of focus for Djokovic. Sprinting drills and gym exercises have been a regular occurrence under the guidance of his physical trainer Marco Panichi, a two-times Italian national long-jump champion.
There is great intrigue as Djokovic now leaves this comfort zone in Serbia and returns to the tour. He should have no problem adjusting to the conditions in Dubai, having won the title there on five previous occasions, but less certain is how he will be received in the locker room. One of Djokovic's great strengths is his steely resilience, so it was quite striking to hear him admit this week that he was affected by the reaction of his fellow players when he was permitted to train at Melbourne Park for five days.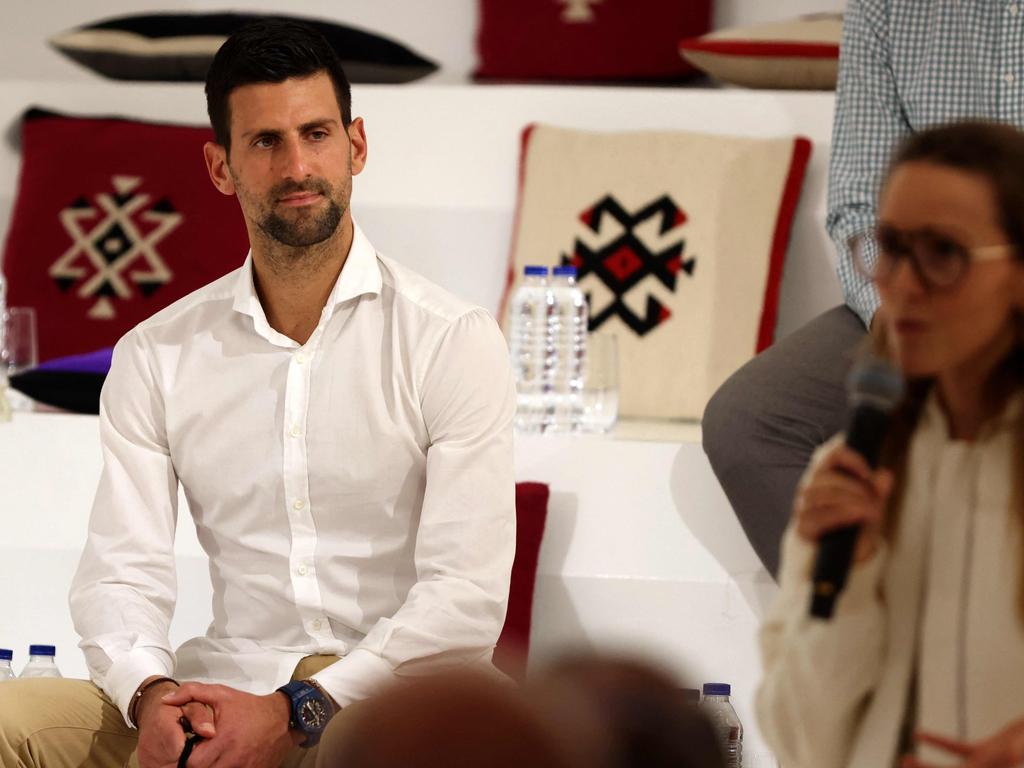 Novak Djokovic still doesn't know what to expect in his return to the tour, given the mixed reaction from his peers in Melbourne. Picture: AFP
"That really hurt me a lot," Djokovic said. "I felt that energy and those looks from my colleagues and people that were in the tennis facility. Obviously I understand that they had a perception that was based on what they were seeing from media reports.
"I greatly care about the relationships with people, particularly the people that hopefully I'll be able to see for many years to come, because they're my colleagues, my peers and people that I see probably more than my family. It was a very uncomfortable feeling that I had during those days."
Beyond Dubai, there is only one event that is 100 per cent confirmed on Djokovic's schedule, such are the restrictions that he faces across the world as an unvaccinated traveller. A return to Belgrade awaits on April 18 for the Serbia Open, where he will no doubt be feted by his compatriots again.
"Unlike the problems in Australia, everything should be fine here," Djokovic's uncle Goran, a member of the tournament's organising team, said.
Change at the top?
Novak Djokovic's long stretch at world No 1 of 86 consecutive weeks is in danger of coming to an end next week. The scenarios in which Daniil Medvedev could replace him are as follows:
● Medvedev wins the Acapulco title
● Medvedev reaches the Acapulco final and Djokovic does not win the Dubai title
● Medvedev reaches the Acapulco semi-finals and Djokovic does not reach the Dubai final
● Medvedev reaches the Acapulco quarter-finals or second round and Djokovic does not reach the Dubai semi-finals
● Medvedev loses in the first round in Acapulco and Djokovic does not reach the Dubai quarter-finals
-The Times