Novak Djokovic vaccination status remains unknown as Aus Open confirms jab required to play
Australian Open bosses remain in the dark over whether Novak Djokovic will be competing at next year's tournament as he refuses to reveal his vaccination status.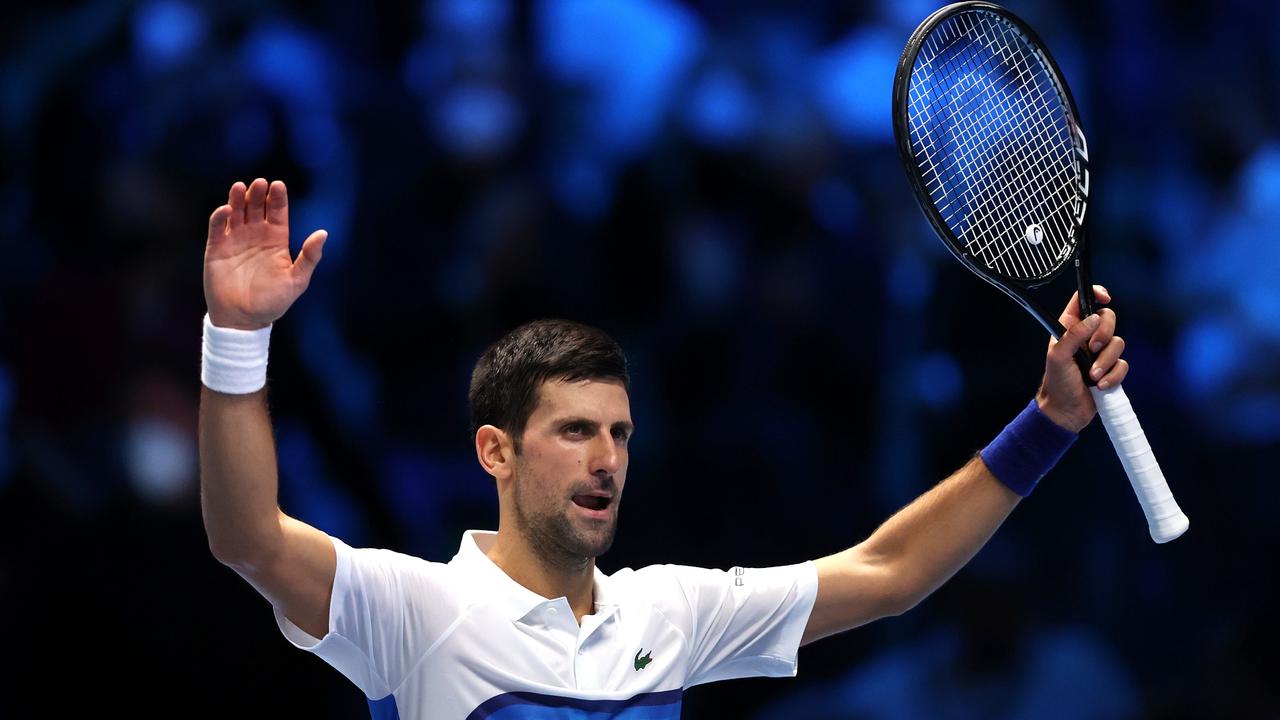 *** BESTPIX *** TURIN, ITALY – NOVEMBER 19: Novak Djokovic of Serbia acknowledges the crowd as he celebrates match point during his Round Robin Singles match against Cameron Norrie of Great Britain on Day Six of the Nitto ATP World Tour Finals at Pala Alpitour on November 19, 2021 in Turin, Italy. (Photo by Julian Finney/Getty Images)
The Australian Open won't know if defending champion Novak Djokovic will be returning until early next month.
Tennis Australia CEO Craig Tiley confirmed on Saturday that all players must be fully vaccinated to play in January's grand slam tournament and he'd spelt this out clearly to Djokovic's team.
The world No. 1 has refused to publicly state his vaccination status but he will have to do that when entries for the Open officially open in three weeks time.
"We have been speaking to Novak Djokovic's team," Tiley said. "Novak and the team understand clearly that in order to come and play in the Australian Open you need to be fully vaccinated, they know that this condition is for everyone, not just the players but for fans and all the staff.
"He has indicated it is a private decision for him and at the right time he will tell us. I know that he wants to play, he has clearly indicated that and he knows the conditions that he will have to undergo in order to be eligible to play.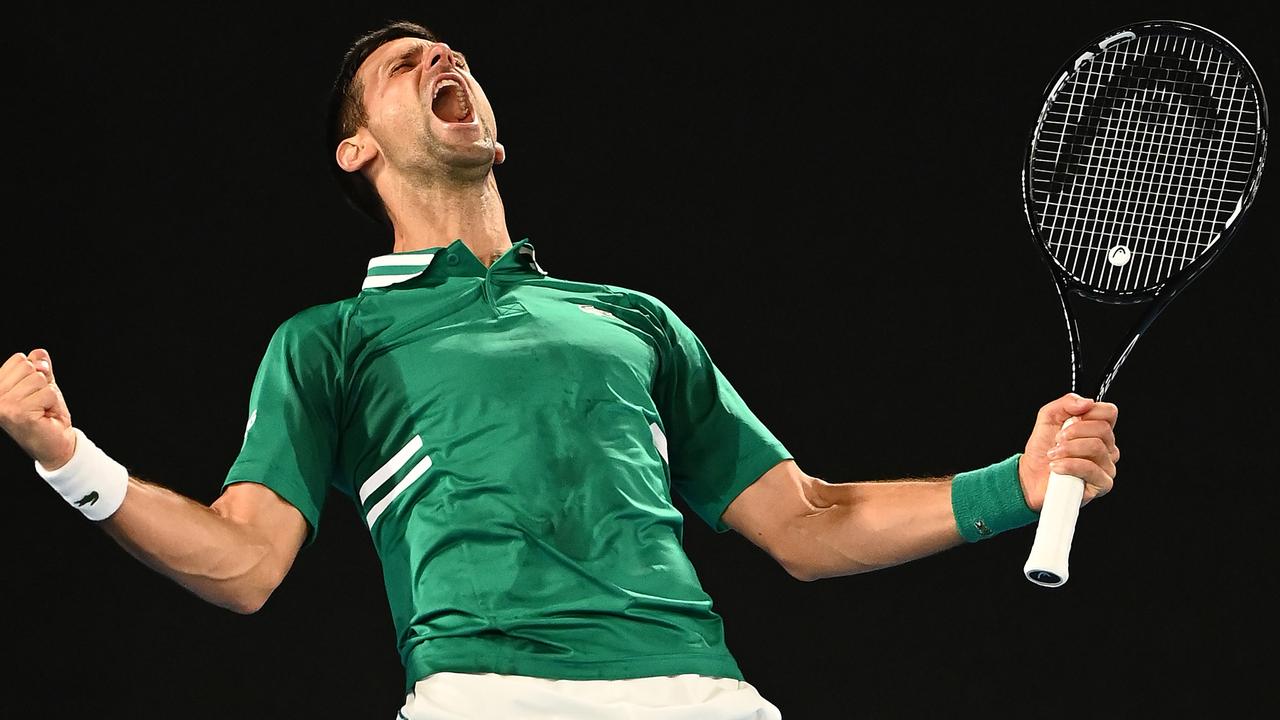 Novak Djokovic's vaccination status remains unclear. Picture: Quinn Rooney/Getty Images
"The visa application process is ongoing, pretty much all of the players and even those who are not sure if they are coming or not, have gone through that process and that goes through the federal government.
"And then entry here will be determined around the middle of December or the beginning of December when there is the entry deadline so you will know when a player has entered an event.
"In the next couple of weeks you will have a really good indication of where everyone is at because at that point an official list of who is going to be here will take shape."
Tiley said he was confident very few players would miss the Australian Open because of the vaccination requirement given the numbers on tour who are getting the jab had jumped quickly from around 50 per cent to over 80 per cent.
"I don't think it is going to be an uncommon situation in 2022, I think around the world you are going to see the same thing and they (the players) have started to realise that," he said.
"It very quickly got to 80 per cent on both the men's and women's tour, there is still six weeks left before they come out and many of them would have had their first dose.
"I don't expect there to be many, probably very, very few that wouldn't be fully vaccinated."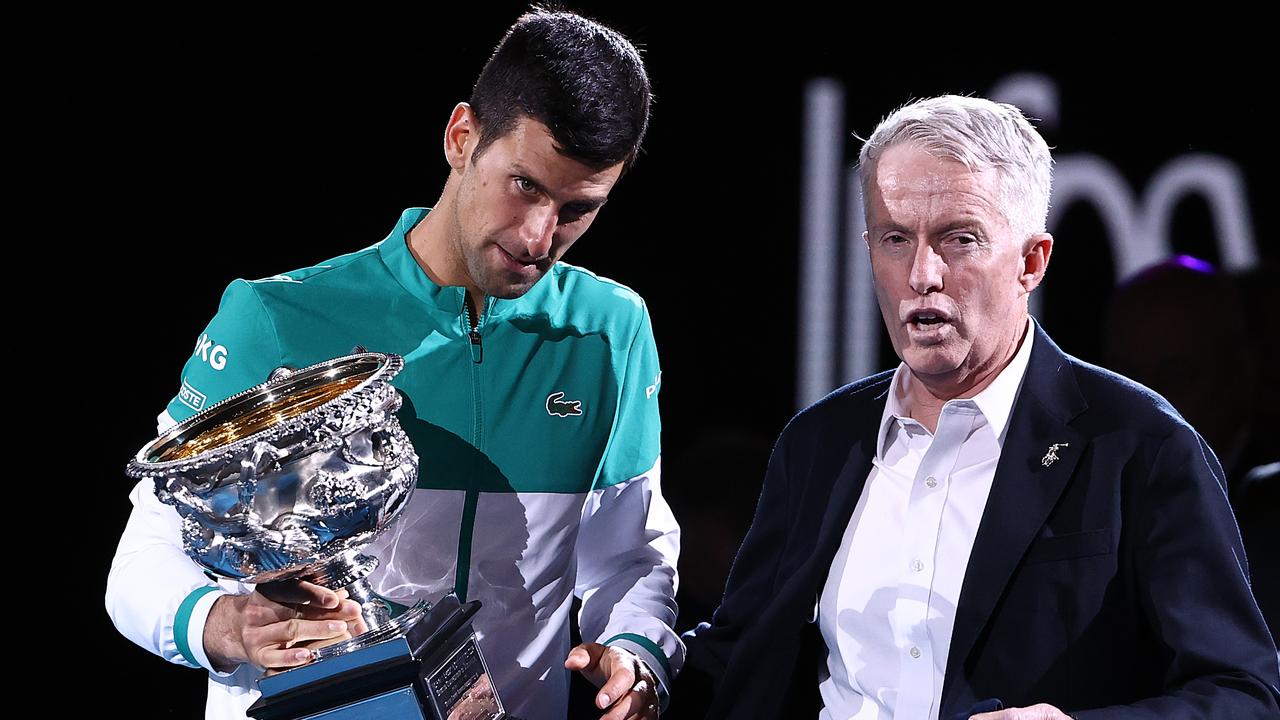 Novak Djokovic speaks with CEO of Tennis Australia Craig Tiley. Picture: Cameron Spencer/Getty Images
Only Roger Federer is confirmed out as he recovers from a knee injury with other superstars Rafael Nadal, Serena Williams and Naomi Osaka indicating to Tiley that they were on track to be at Melbourne Park.
"Serena Williams was on the phone in the last 48 hours and she is preparing to be here," he said.
Tiley joined the growing chorus of tennis authorities concerned about Chinese star Peng Shuai who has been missing since she alleged a powerful Chinese politician sexually assaulted her.
"Everyone is aware of the Peng Shuai situation, the primary thing for us is to make sure she is safe," Tiley said. "We have utilised our channels, we have been working behind the scenes to find out and get more clarity about her safety.
"Our position is very clear, we want to know that she is safe and then secondly we want her to know as a community, not only a global tennis community, but as a community here in Australia we will do everything we can to support her wellbeing.
"It is a matter we are building more clarity on as time goes on and we're using every possible channel that we can to assure her safety."
– News Corp Australia Sports Newsroom