Peng Shuai gives first interview with international media after sexual assault claims
'Missing' Chinese tennis player Peng Shuai has given her first interview with international media since making allegations of sexual assault, but her latest revelations are very different.
'Missing' tennis player Peng Shuai has given her first interview with international media since making allegations of sexual assault last year.
Three months after posting on Weibo that she had been sexually assaulted by a member of the Chinese government, Peng claims she never disappeared from public view and refuted the allegations that made global headlines.
In a far ranging interview with French sport magazine L'Equipe, Peng said it was her that deleted the Weibo post and denied she had been coerced into any denial. She also confirmed she had no plans to rejoin the WTA tour in the near future.
"Sexual assault? I never said anyone had sexually assaulted me in any way," Peng said when asked about the #WhereIsPengShuai campaign which came as a result of her Weibo post.
"There was a huge misunderstanding in the outside world following this post. I don't want the meaning of this post to be twisted anymore. And I don't want any further media hype around it.
China's Peng Shuai is unlikely to play tennis again. Picture: Adrian Denis/AFP
"I never disappeared. Everyone could see me. I never disappeared. It's just that many people, like my friends or people from the IOC messaged me, and it was simply impossible to answer so many messages. But I've been always in close contact with my close friends.
"I talked to them, I answered their emails, I also talked with the WTA... But at the end of the year, the communication IT system of their website was changed and many players had difficulties logging in. But my colleagues and I always stayed in touch. That's why I don't know why the news I had disappeared spread."
Peng — a two-time major champion in doubles — made sexual abuse allegations on social media against China's former vice-premier, Zhang Gaoli, last year.
Despite numerous videos purporting to show her out in public being released by Chinese state media, there have been serious concerns for her wellbeing from across the tennis and wider sporting world ever since.
"I don't think I was aware of it all (global interest) because I don't watch the news from foreign media much," Peng said. "I can't read in English but I heard about it. I never thought there'd be such worry, though, and I'd like to know why was that the case?"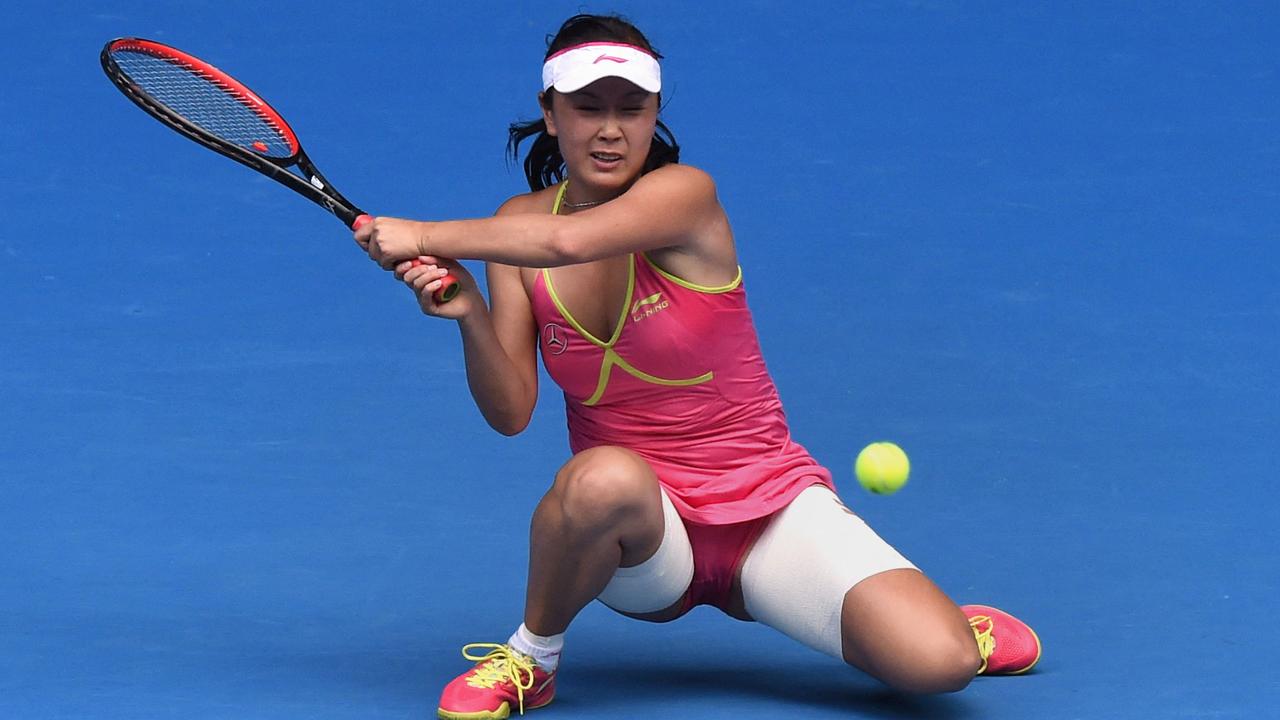 Peng Shuai's 'disappearance' sent the digital world into a frenzy and sparked protests at the 2022 Australian Open. Picture: Mal Fairclough/AFP
Peng was not far from her tennis counterpart's thoughts at the recent Australian Open.
Nick Kyrgios, Naomi Osaka and Alize Cornet all ensured they spoke about Peng's situation in a bid to ensure she was not forgotten.
As for Peng returning to the court, it seems unlikely.
"Tennis completely changed my life," Peng said.
"It brought me joy, challenges and so much more. Sometimes it's hard to say goodbye and retire. Many people are asking me that same question.
"Even if I no longer participate in professional competitions, I will always be a tennis player. This sudden pandemic made all our projects obsolete."