Stuart Fraser: Fans won't snub Wimbledon but some players may after ranking points stripped
It remains tennis' most prestigious tournament but Wimbledon could be deserted by some top players amid the All England Club's stoush with the ATP and WTA tours.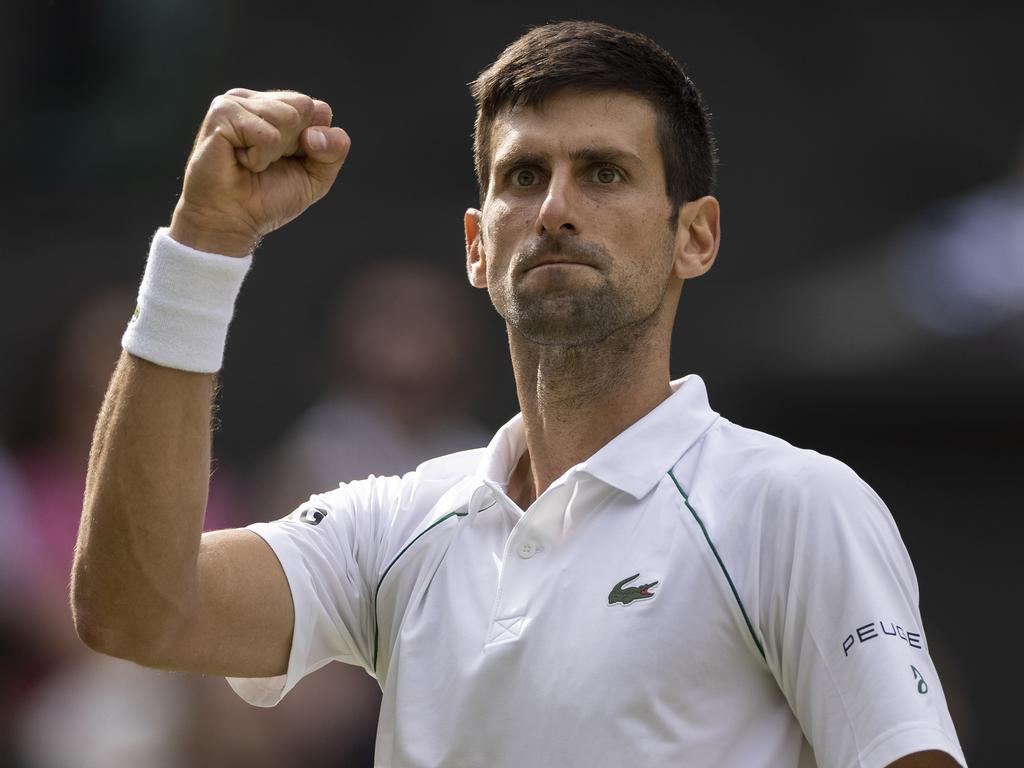 Novak Djokovic during last year's Wimbledon final, in which he again became All England Club champion. He will be unable to defend 2000 ranking points this year. Picture: AELTC/Simon Bruty - Pool/Getty Images
Once again, the build-up to a grand slam tournament has been completely overshadowed by events off the court.
Before January's Australian Open, it was the deportation of Novak Djokovic that stole the limelight. Now, with the French Open about to get under way on Sunday, the talk of the tennis world is about the ramifications of the decision by tour officials to strip Wimbledon of ranking points.
Calculator apps on mobile phones must have experienced a spike in usage at Roland Garros on Saturday. Players who are now suddenly unable to defend points at Wimbledon next month, no matter how they perform, were intrigued to discover the extent of their impending fall down the rankings.
Even the sport's biggest stars cannot avoid the consequences of the ATP and WTA's preference to "maintain rankings fairness" for the small group of Russians and Belarusians banned from submitting an entry to the All England Club this year, because of the Russian invasion of Ukraine. Djokovic, who has previously branded Wimbledon's decision as "crazy", is among the biggest losers, all but guaranteed to lose his world No.1 ranking because of his inability to retain the 2,000 points he earned for winning the title last year. Ironically, the player most likely to replace him is the banned Russian, Daniil Medvedev.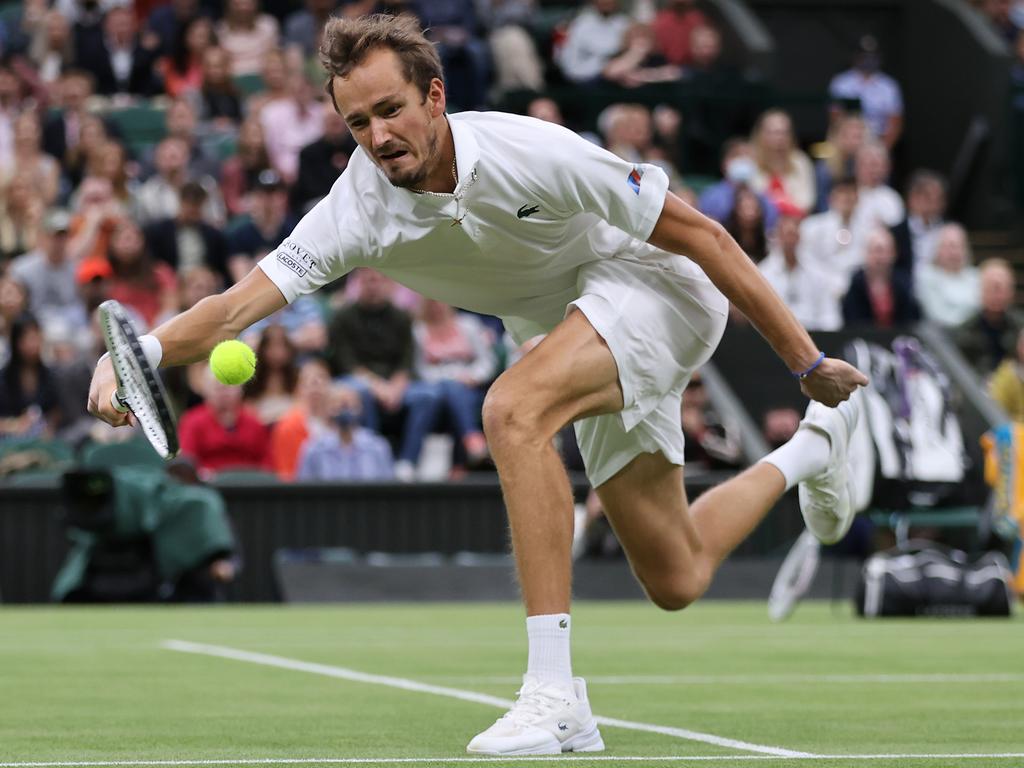 Daniil Medvedev stretches to play a forehand at Wimbledon last year. He is set to regain the world No.1 ranking despite being banned from Wimbledon. Picture: Clive Brunskill/Getty Images
Serena Williams and Roger Federer will both find themselves unranked on July 11, although that was always likely going to be the case for the latter, who is set to make his long-awaited comeback from knee surgery at the Laver Cup in September. Williams, 40, is still to confirm whether she will be at Wimbledon or not.
Lower-ranked players are particularly unhappy, denied the opportunity to earn vital points which can change the trajectory of their careers. The straight-talking Frenchman Benoit Paire posted a tweet minutes after Friday's announcement which simply read, "DECISION STUPIDE!!!", while Hungary's Marton Fucsovics is set to tumble well outside of the top 100 after reaching last year's quarter-finals. "No ranking points in Wimbledon and ranking points will drop from 2021," the 30-year-old posted on Saturday. "No chance to defend them. Are you serious ATP tour? From [number] 60 I will drop to 130. Thank you!"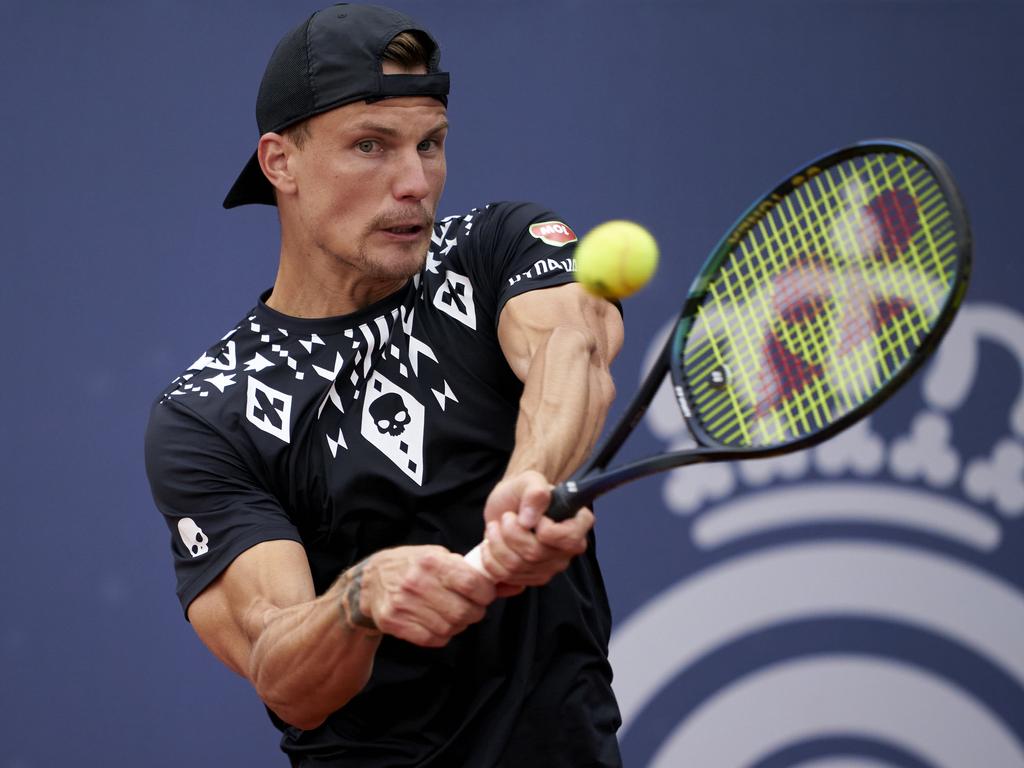 Marton Fucsovics is angry about a looming rankings plummet due to a decision to strip Wimbledon of points. Picture: Manuel Queimadelos/Quality Sport Images/Getty Images
Many are baffled by the tours' decision when it affects such a large number of players. There is also anger that the player councils – of which Federer, Rafael Nadal and Belarus's Victoria Azarenka are members – did not embark upon a wider consultation process. The ATP batted away concerns by stating that "some sacrifices and compromises are unfortunately required".
"The rankings underpin the entire season together and ensure its fairness," an ATP document read. "Maintaining ranking points at a tournament like Wimbledon, which carries the highest level of ranking points, when the event is not open to all players, would have major knock-on effects. It would lead to a significant distortion in determining which players can enter tournaments, seedings, qualification for the year-end finals, year-end bonus pool and year-end ranking positions. This would undermine the credibility and integrity of our sport."
Attempts by the UK government this week to persuade the ATP and WTA not to strip Wimbledon of ranking points fell on deaf ears. The culture secretary, Nadine Dorries, wrote to tour officials warning them of the dangers of such a move and responded to Friday's announcement by proposing a rethink. "We deeply regret today's decision and urge the ATP, WTA and the ITF to consider their stance on ranking points at the Championships," Dorries said. "It does not send the right message to either [Vladimir] Putin or the people of Ukraine."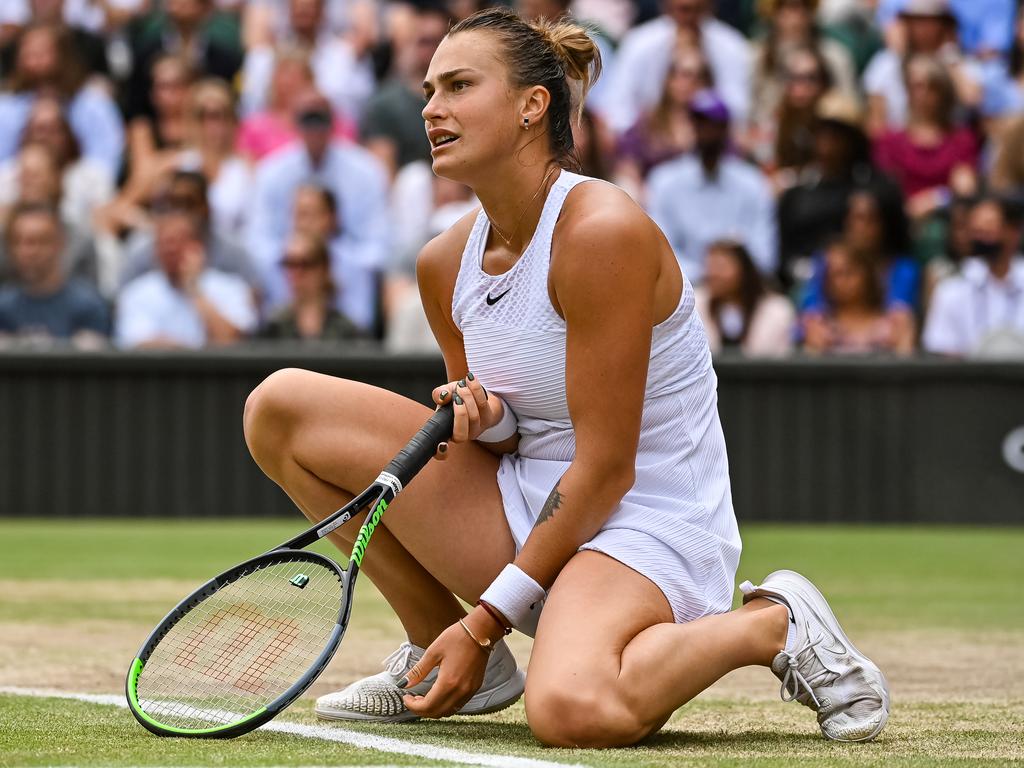 Aryna Sabalenka of Belarus is among the players banned from Wimbledon. Picture: TPN/Getty Images
Now, we wait to see what impact this has on the strength of the player field at Wimbledon. A cheque in the region of 50,000 pounds for first-round losers will still be appealing enough for many competitors lower down the food chain, but one prominent agent told The Sunday Times on a condition of anonymity on Saturday that he believes some of the top female players "don't want to play". The entry list is due to be published during the week starting May 30.
Wimbledon will retain its grand-slam status, and the prestige of being the oldest tennis tournament in the world is likely to remain an attraction to the wider British public, who are not so concerned with the ins and outs of the ranking system. This was evident at Rio 2016 when Andy Murray won an Olympic gold medal with no points at stake. "I'd still want to be the Wimbledon champion, with or without points," Jo Durie, the former British No.1, tweeted.
There is at least once source of relief for Wimbledon at this challenging time. The prospect of legal action had been explored by some Russian and Belarusian players when the ban was announced last month, but Medvedev has now confirmed that he has no intention of taking matters to the Court of Arbitration for Sport.
"I'm not a lawyer, but I guess if you ask a lawyer, probably there is some room to make in this," the 26-year-old US Open champion said. "But me personally, I won't go to court."
– The Sunday Times