Tim Henman: Emma Raducanu has won but she hasn't really learnt
Success came quickly for Emma Raducanu. So too did scrutiny, with her US Open win sending expectations through the roof. Former British star Tim Henman says it is not her tennis that is holding her back.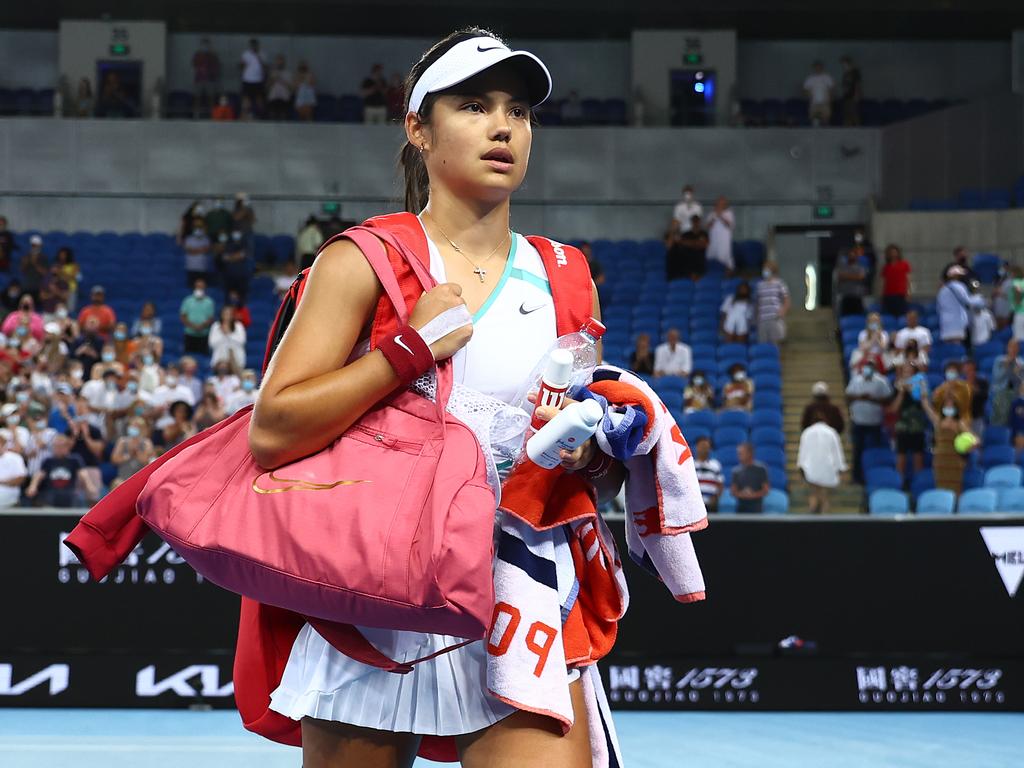 Emma Raducanu has found things tough since winning the US Open. Picture: Clive Brunskill/Getty Images
It is that time of year again, when the French yearn for a French winner of Le Tour and the British yearn for a British triumph at Wimbledon. Perhaps the yearning was never more deeply felt than for Tim Henman, because he came so tantalisingly close - reaching the semi-finals in SW19 four times in five years.
It was a specific form of yearning. We knew he was good. We were not guessing he could be a champion, we had evidence. It nags away all the same; was too much pressure put on Henman and was that, ironically, why he could not take that all-important next step? Well, you can pack away the guilt right now. Henman loved every drop of the attention.
"If I could have played my whole career on one court it would have been Centre Court at Wimbledon," Henman, 47, says.
"I loved it, but was I reading the newspapers, listening to different opinions out there? No chance."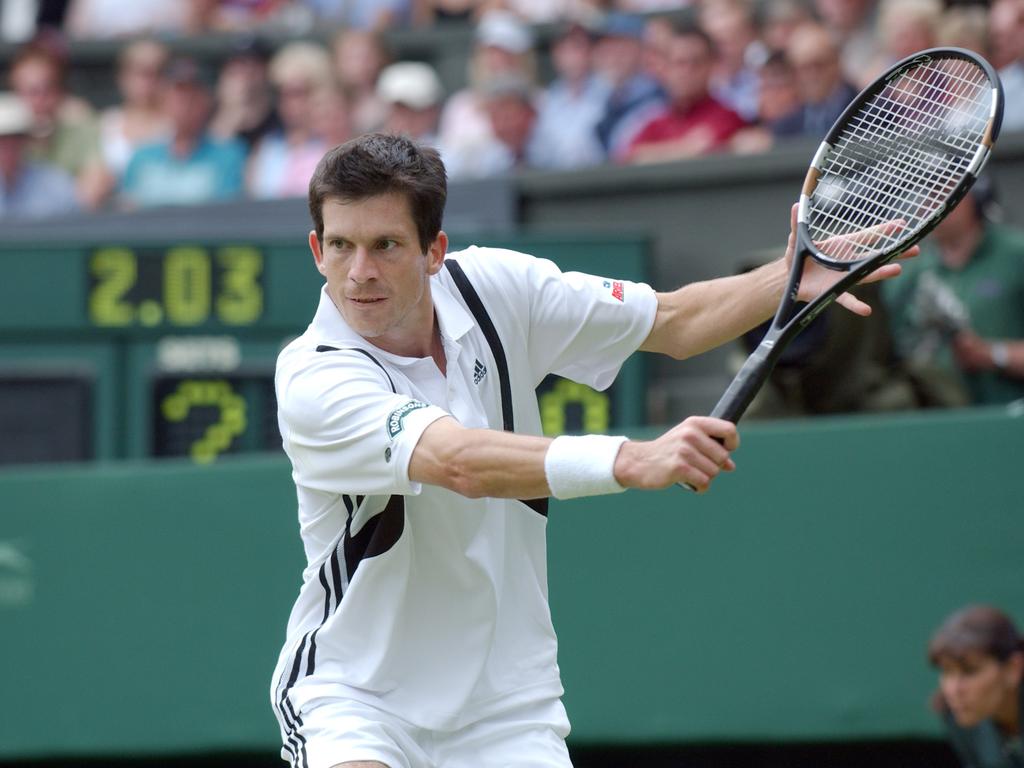 Tim Henman was at home on centre court. Picture: Jeff Overs/BBC News & Current Affairs via Getty Images
The parallels with Emma Raducanu are obvious. We know that she can win, after her extraordinary US Open triumph last September, so the expectation follows that she should win Wimbledon. Henman sees it as an impatience, rather than a pressure, on the 19-year-old.
"For her it's so difficult because it's happened so quickly," Henman says. "I played junior events, satellite events, Challenger events, main tour events. She was sitting a maths exam and then a few months later was winning the US Open.
"It's absolutely crazy. It's much harder for her to get her head round where she is at. She's won but she hasn't really learnt. She's never had any opportunity for stepping stones. She's learning as she's going along and it's hard.
"It's learning about travel, being away from home, staying in dodgy, rough places. It tests your character, makes you wonder if it's what you really want to do. You learn about your game, and your character. Why am I losing?
"It was such a special time for me; playing in India, on cow dung. Wow."
Raducanu's niggling injuries, he says, can be explained by a lack of miles on the clock.
"Her tennis is amazing, but she hasn't had the chance to physically train," Henman says. "The physical training block hasn't happened. Why is she losing matches since the US Open? It's not because of her tennis, it's because of her physicality. She does not have the physical robustness and endurance yet. She loves to compete so there will be no one more frustrated than her.
"She needs two or three windows of four, five, six weeks where she can do that physical training block to build up that endurance. When will that happen? Possibly after Wimbledon."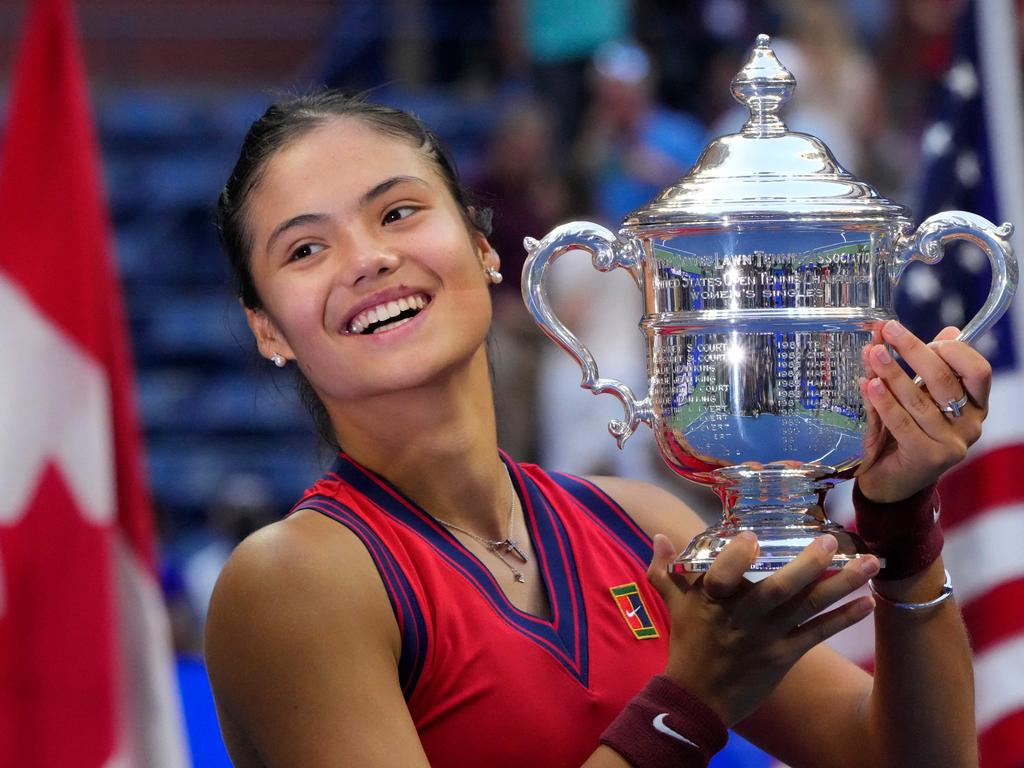 Henman: Emma Raducanu has "won but she hasn't really learnt." Picture: Timothy A. Clary/AFP

Henman points to how Jack Draper collapsed in the heat of Miami in March last year, since when the promising 20-year-old has "changed his whole physicality" to win four Challenger titles. "Look at Iga Swiatek [the world No 1], she's such a good athlete now," Henman says. "Look at Andy Murray, who was cramping [in his first appearance] at Queen's."
Much of the criticism surrounding Raducanu has centred on the numerous sponsorship deals her agency has struck since that remarkable triumph in New York. Are the external demands draining and distracting or a red herring?
"It's a legitimate question," he says. "It has affected other people. I'd be very surprised if it is affecting Emma."
Henman was paid a sponsor retainer with performance-related bonuses, but says he never thought about them because it was not a motivating factor.
"Tennis is a selfish sport," he says. "When I went on court, I only played for myself. I wasn't playing for my family. I wasn't playing for my parents, my wife, my sponsors, the crowd, the television audience. I was playing because I loved to do it and loved to compete."
It might have been so very different, and the love lost, had Henman not been disqualified from Wimbledon in 1995 for accidentally hitting a ballgirl on the ear.
"At that time I was sharing a flat with Andrew Richardson, who was coaching Emma in New York [last year] and was best man at my wedding," he says. "The next morning Andrew went out and bought all the newspapers. I'd done the worst press conference in my whole career, I remember the back page of The Sun and the headline was, 'He hit it so hard it could have killed her', which was garbage.
"I then had to do an interview with Des Lynam. It was the first time I had met him. He was amazing and supportive, and said it was an accident, which it was.
"Once I had given the ballgirl a bouquet of flowers, I was this nice guy in the media whereas I had been a borderline murderer the day before. I remember I said to myself two things, 'I'll never read the newspapers again and I'd better have some decent results because I don't want to be remembered for this.'
"It's impossible to ignore all the media attention but there were fewer platforms, and I avoided much of it. For me, that was so valuable.
"Pressure is self-inflicted. If there was no coverage, no TV, no journalists, it's only what your mind tells you. If you are focused on what's being said and what's being written about you, you've got no chance.
"I was fortunate I had a really good mindset. I'd try my best, what more can I do? What is success? Success is about maximising your potential. Because I didn't win Wimbledon, I can see why people say, 'Oh he wasn't very good,' but I know I gave everything I could.
"I was the fourth-best player on the planet, I won Olympic silver, I made six grand-slam semi-finals. That was as good as I was meant to be. Other people struggle with that more than I do. I never felt pressure."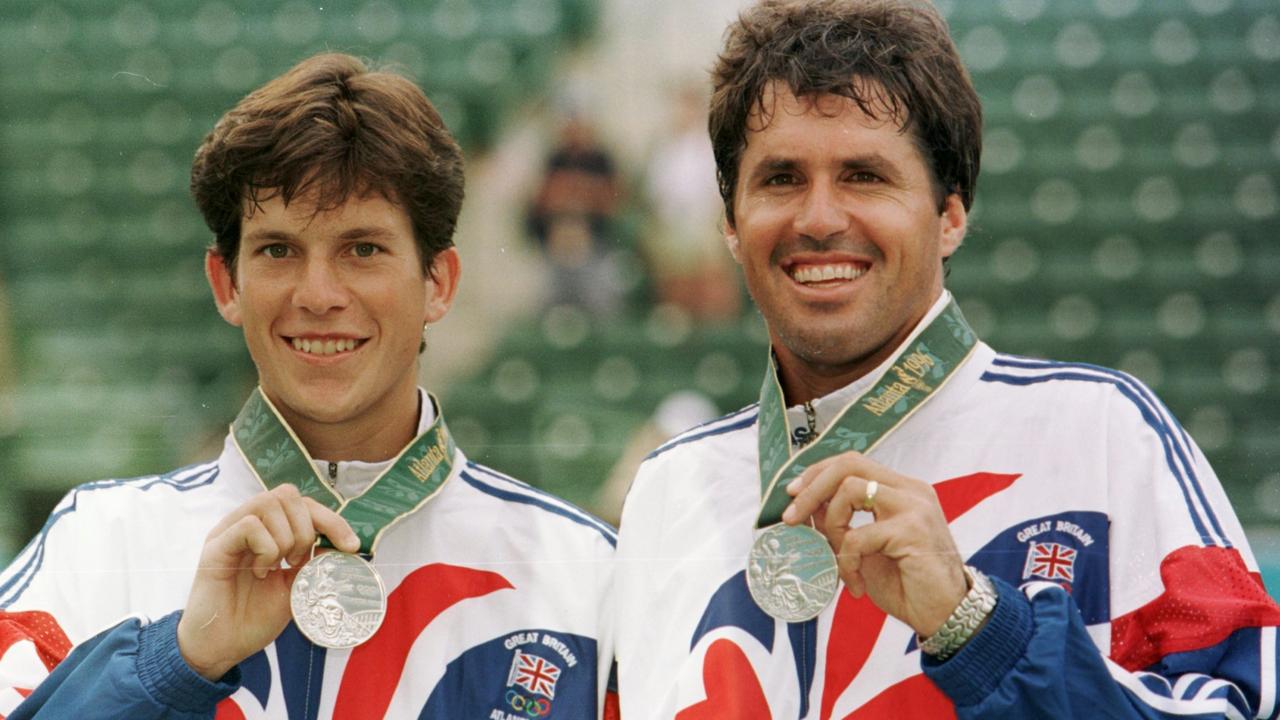 Tim Henman (left) won silver alongside Neil Broad at the 1996 Olympic Games.
That is not the same as saying the demands were not there. When he retired, aged 33, he dropped his daughters off at school the next day and went for a walk, only to discover he had been carrying immense pressure without realising it.
"I felt like the world was lifted off my shoulders," he says.
But back to the demands of French and British patriotism.
"I've seen French players at the French Open and they can't deal with the environment, they are restricted by it," he says. "Where did I play my best tennis? The vast majority of it at Wimbledon."
Originally published as Tim Henman: Emma Raducanu has won but she hasn't really learnt