Why Natela Dzalamidze defected from Russia to Georgia to keep her Wimbledon dream alive
Doubles specialist says move to represent Georgia will give her a chance of competing at the Olympic Games.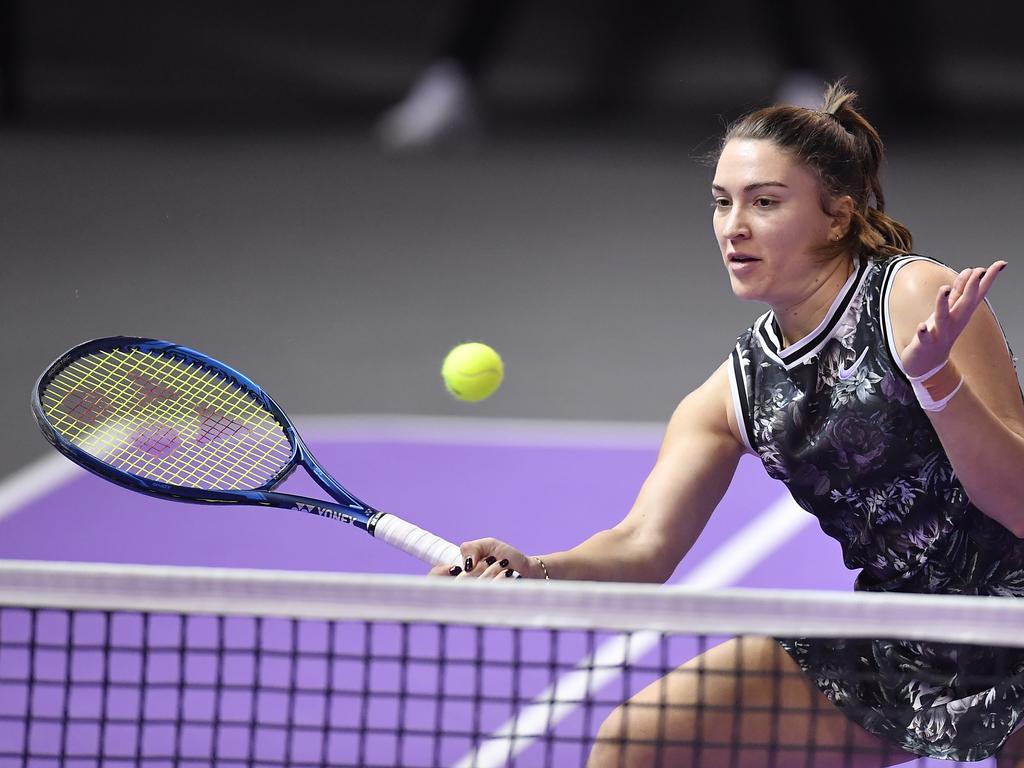 Dzalamidze says she is also determined to play at the Paris Olympics in 2024. Picture: Alex Nicodim/NurPhoto via Getty Images
A Russian tennis player who will be allowed to compete at Wimbledon after changing her nationality to Georgian only two weeks ago says the opportunity to circumvent the All England Club's ban encouraged her to pursue her Olympic dream.
Natela Dzalamidze, a 29-year-old doubles player ranked No 43 in the world, will compete in the women's doubles with Serbia's Aleksandra Krunic after her switch was approved by the WTA on June 6, seven days before the Wimbledon entry deadline.
Had Dzalamidze's paperwork not gone through in time, she would have been ineligible to enter the championships. This is because Wimbledon organisers banned all players from Russia and Belarus to prevent Vladimir Putin's regime deriving any propaganda benefits on British soil while the invasion of Ukraine continues.
Speaking from Tbilisi, the Georgian capital city, Dzalamidze insisted that she had first discussed a change of nationality with the Georgian Tennis Federation eight years ago, at the age of 21. She was born on the Russian island of Sakhalin, north of Japan, in 1993 to a Georgian father and Russian mother, who now both live in Moscow.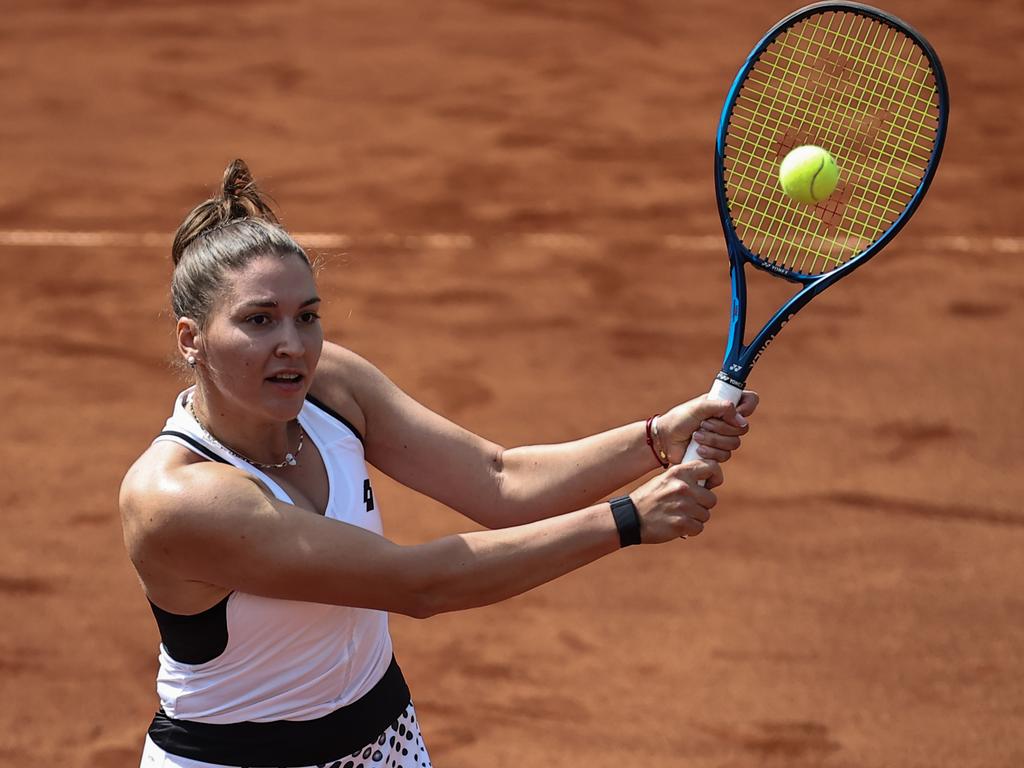 Dzalamidze feels the ban on Russian players competing at Wimbledon is unfair. Picture: Onur Ãoban/Anadolu Agency via Getty Images
Dzalamidze has held a Georgian passport for the past six years and decided in early March, soon after the invasion of Ukraine commenced, to officially begin the process of switching nationalities. This was about six weeks before the All England Club confirmed that entries from Russia and Belarus would be declined. In the week beginning May 23, she submitted her documents to the WTA, the governing body for women's tennis.
"I am definitely against the situation which is going on in Ukraine," Dzalamidze said. "I am for peace all around the world and I believe that in the 21st century people are able to find a diplomatic way to solve the problems. But my decision was made because I am focusing on my career and would like to have the chance to compete at the Olympic Games.
"Of course it was not the easiest decision because now is not an easy time. The first discussion I had with the WTA was during Indian Wells at the beginning of March. It was before Wimbledon made a decision to ban Russian players and was just because my idea was to start representing the country and to have a chance at the Olympics. If I made the decision to play for Georgia and have a chance to play Wimbledon, why not?
"That's why I made it [the decision] before Wimbledon. In this kind of situation, there isn't a perfect time to do it."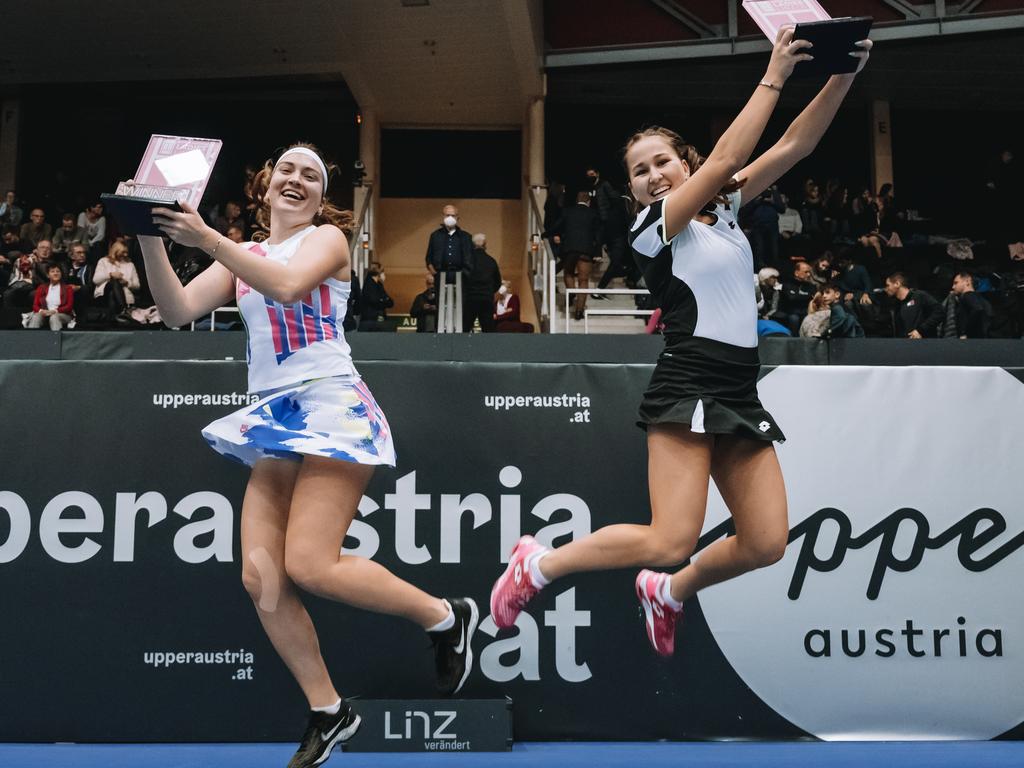 Dzalamidze won the WTA Upper Austria ladies doubles with fellow Russian, Kamilla Rakhimova, in November 2021. Picture: Alexander Scheuber/Getty Images for matchmaker
Historically, it has been challenging for Russian players to secure a place in their Olympic team because of their considerable strength in depth in the sport.
Dzalamidze is at a career-high ranking but was running out of time to meet eligibility criteria that requires all Olympic entrants to have played in the Billie Jean King Cup at least twice before Paris 2024. A further complication was the present suspension of Russia from the international women's team competition.
"This is the last year when I could have a chance to start playing for Georgia," Dzalamidze said. "The Russian Olympic team is quite strong, plus it's very questionable if Russia are going to have a chance to play in the Billie Jean King Cup next year.
"The Russian federation didn't contact me. It was completely my decision. We didn't have any discussions about it. I made a decision and they didn't know until the end.
"For me, it wasn't a game to see what the reaction of the federation would be if I'm leaving. I made the decision and that was it. It's not just because I want to play Wimbledon but for my future it would be better. I am 29, at the moment I have my best ranking and my perspective is now much better in Georgia."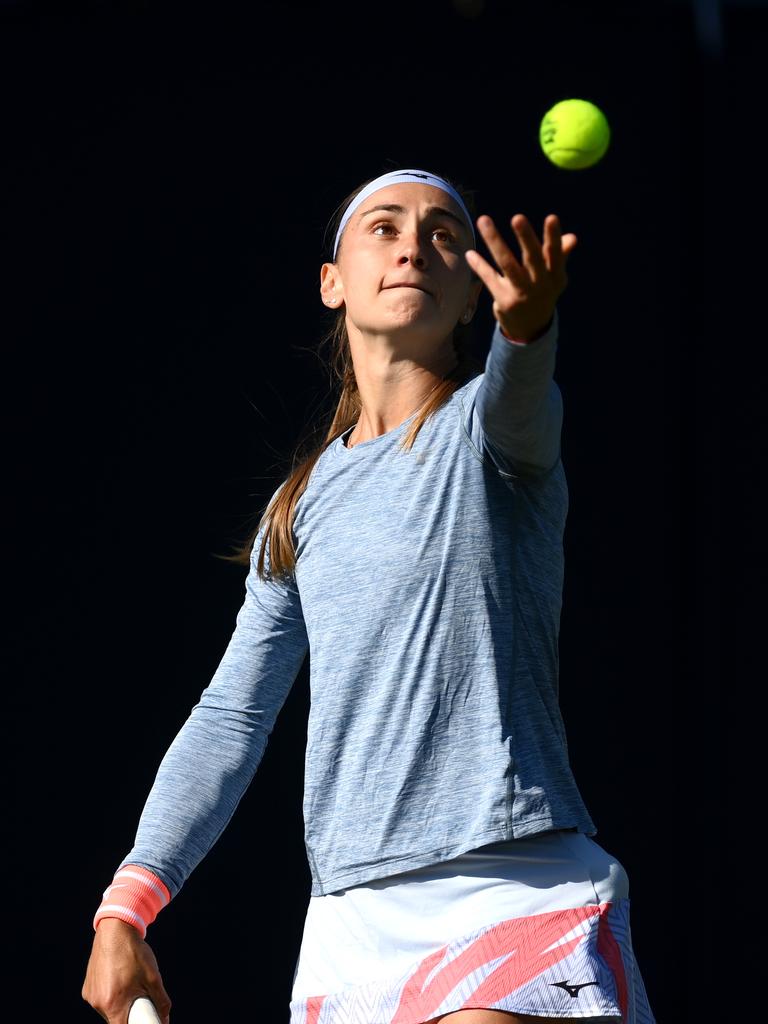 Dzalamidze will team up with Krunic from Serbia in the doubles at Wimbledon. Picture: Mike Hewitt/Getty Images
Dzalamidze, who has not played any warm-up tournaments on grass because of "health problems", stands to earn pounds 6,250 just for turning up at Wimbledon, which would rise to pounds 270,000 if she and Krunic were to win the doubles.
She admits to feeling sympathy for her former compatriots – among them the men's world No 1, Daniil Medvedev – who are unable to join her in SW19 this year. "Unfortunately the situation in Russia at the moment puts us under pressure a lot," Dzalamidze said. "Sport needs to be away from politics.
"From another side, I feel so disappointed for all other Russian sportspeople who are not competing. Other than tennis and chess, most sports have banned Russians, which I think is super unfair because none of them have done anything.
"This is not the mistake of professional athletes. As a sportsperson I have always had a close relationship with Ukrainians. People want to hear something from us but we do not have an influence on this situation."
Originally published as Why Natela Dzalamidze defected from Russia to Georgia to keep her Wimbledon dream alive