Why Walking away at her peak only enhances Ash Barty's greatness
The courage Ash Barty has shown through her playing career on the court rings true in her retirement. It takes true greatness to walk away from the top, writes JAMES GHEERBRANT.
Up until the early hours of Wednesday morning, the biggest story in tennis was Rafael Nadal, who had played through a stress fracture of his ribs in an effort to break the record for the longest ever winning streak to start a season, in a year in which he is seeking to extend the all-time men's record for grand-slam titles far beyond the outer reaches of what was once thought possible.
It's hard to imagine a more apt expression of 21st-century sporting GOAT-itude. More than any other sport, tennis — this era of men's tennis specifically — has defined the paradigm of sporting excellence as a long, gruelling, epic, adversarial quest for ultimacy. Winning everything there is to win. Piling up the hours, the years, the miles, the trophies. Being the one still standing long after every sinew, fibre and neuron in your body is screaming "stop". Outlasting your rivals. That's what greatness looks like.
And then along comes Ashleigh Barty, with a very different story. We now know that her career will be defined not by its length, but by its breadth. She was the brilliant junior who took a break from the Tour and ended up playing cricket in the Women's Big Bash. Unlike most top singles players of her generation, she was also highly successful in doubles, winning a major title and reaching No.5 in the world. She won a singles major on every surface, and just as we were all pondering her prospects of completing the grand slam at this year's US Open, she announced her retirement. She walks away at the top, with worlds still to conquer, chapters left unwritten.
Congratulations on an incredible career, @ashbarty 💙

The tennis community, especially in Australia, will miss you dearly but is all the better for the standard you set as a person and a player.

Forever a world No.1 role model 🏆 pic.twitter.com/oQ8HHgUFIJ

— TennisAustralia (@TennisAustralia) March 23, 2022
However much we ought to get used to it — and Barty is following a precedent set by the likes of her fellow tennis player Bjorn Borg, golf's Lorena Ochoa, the cyclist Marcel Kittel and football's André Schürrle – there is always something shocking about a great sportsperson retiring at the peak of their powers. We see athletes in their moment of grace and transcendence, when they slip the bonds of physics, time, human ordinariness, when they stand in the light of our awe, and we wonder, why would you give that up? To us mere mortals, it feels like trading weightlessness for gravity.
Whereas for the athletes, it probably feels like the opposite. Life at the top of elite sport is a hard grind, involving travel, time away from family, the repetitious slog of training, wild emotional oscillations, the physical pain of injuries and the numerous sub-injuries that come with pushing your body to its limit, a claustrophobically narrow focus on a single strand of the human experience. There are a thousand things that can drag you down, from the toxic smog of social media to the loneliness of another nondescript hotel room.
Life on tour can be incredibly draining for any player, without the pressures of retaining the No.1 ranking. Picture: Quinn Rooney/Getty Images
The same homepages that carried news of Barty's retirement this morning also reported Paul Pogba's revelation that he has experienced depression at many stages of his career. Naomi Osaka, Barty's most successful peer, has been open about her struggles with the public-facing demands of life as a tennis star.
It was interesting that in her announcement, Barty cited winning Wimbledon — her "one true dream" — as an important factor in her decision. It must be a truly strange feeling to achieve your ultimate, fairytale ambition. It's impossible to know how we would react, and few of us will ever find out. What do you feel on the day when your lived reality corresponds to your childhood fantasy? What do you see? Compulsion, or completion? A dawn, or an eclipse?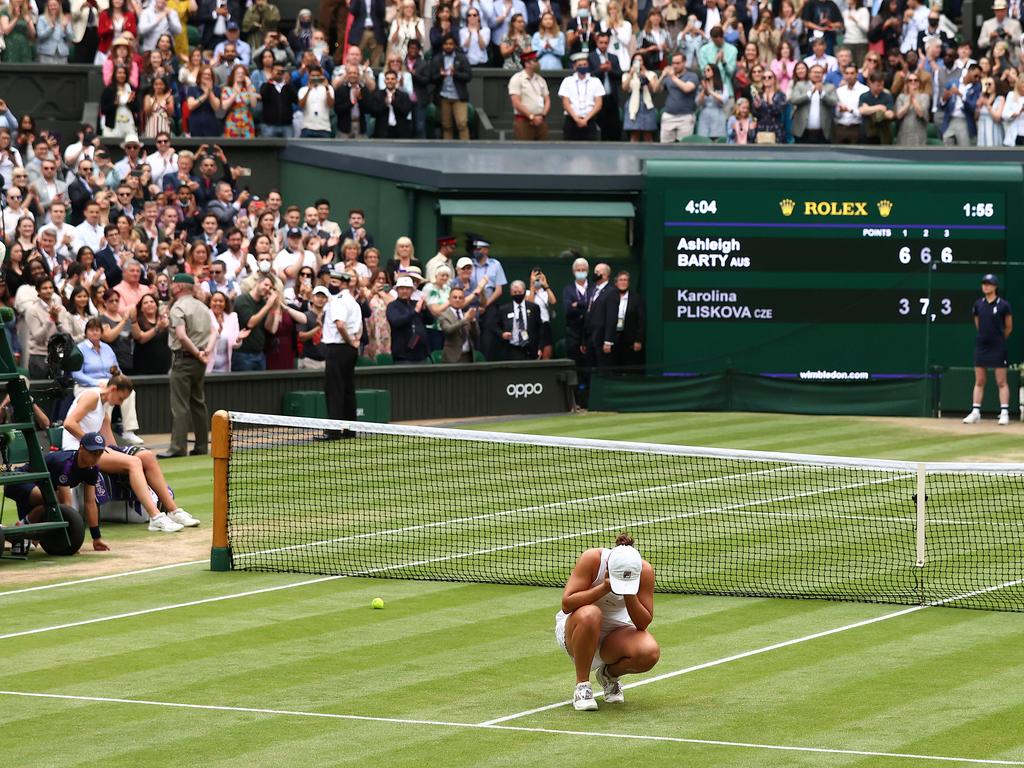 Ash Barty said that winning Wimbledon was her "one true dream." Picture: Julian Finney/Getty Images
Barty was a wonderful player to watch, with that glorious slice backhand, but what really set her apart was not the way she wielded the racket. There were players who were just as talented, but they couldn't match her calm temperament and mental fortitude. There were players who had just as many shots and hit them just as well, but they lacked her understanding of how to synthesise them to construct a point. When the match was over, she was charming, articulate and thoughtful, choosing every word well. Ashleigh Barty had the strongest, sharpest, serenest mind in tennis. And that mind has made the decision to walk away. There can be no writing that off as a malfunction, a spasm of fragility, as we might erroneously have done if Osaka or, say, Nick Kyrgios had called it a day.
If there is anything to regret, it is perhaps that her nascent rivalries with some of her leading competitors won't get the chance to blossom into something special. She only played Osaka four times, and only once at a grand slam. She played Iga Swiatek, the present world No 2 and presumptive No 1, only twice. But women's tennis has uncommon depth, collective strength, capacity to renew. Fresh stars and storylines will emerge. The sport will absorb her loss.
As for Barty, when we look back on her career, we'll remember that she followed the greatest prizes the sport could bestow with the greatest gift she could give herself, and in so doing created space for others to achieve their dreams. Maybe that's what greatness looks like too.
-The Times