Wimbledon news: Nick Kyrgios shunted to outside courts as he awaits punishment
Nick Kyrgios is still awaiting his official punishment for spitting at a Wimbledon spectator, but one thing is clear about the Aussie's standing at the tournament.
Officials at the All England club are expected to heavily fine the Australian for his revolting behaviour in the ugly aftermath of his first round win over Britain's Paul Jubb.
However, they will stop short of booting him out of the tournament.
Kyrgios is due to play two matches on Thursday – a second round singles against Serbia's Filip Krajinovic – and a first round doubles match with his Australian Open partner Thanasi Kokkinakis.
Both matches will be played on outside courts, raising the possibility of another Kyrgios temper tantrum.
Watch Tennis Live with beIN SPORTS on Kayo. Live Coverage of ATP + WTA Tour Tournaments including Every Finals Match. New to Kayo? Try 14-Days Free Now >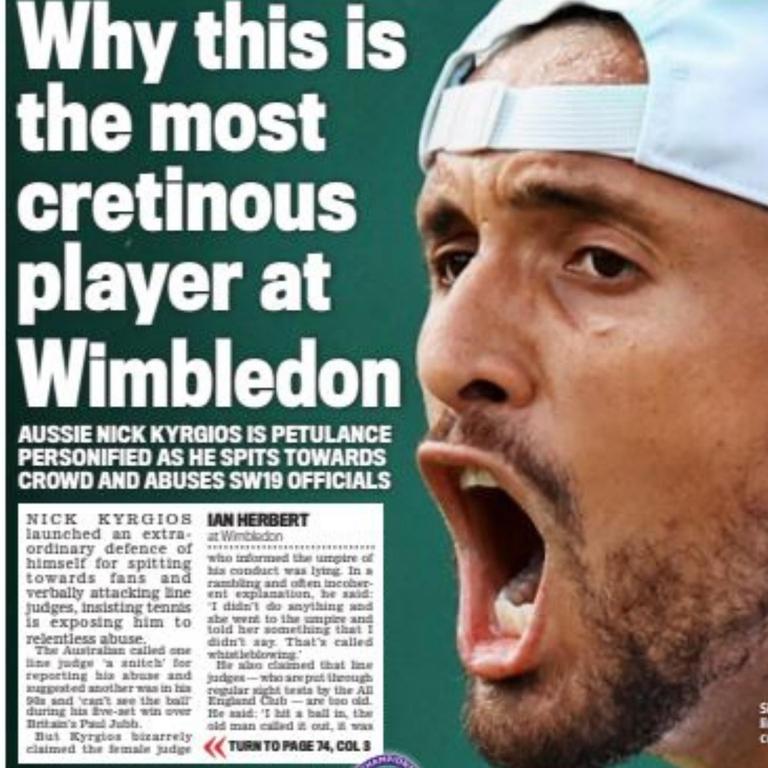 The Daily Mail in high dudgeon over Nick Kyrgios' behaviour.
The crowds are seated much closer to the players on the outside courts at Wimbledon, but the centre court is reserved for only the best of the best.
Although he's box-office gold and pulls in the biggest crowds where he plays, it's easy to see why Wimbledon officials would be reluctant to put the trash-talking Australian on centre court, where the royal box is situated.
If Kyrgios can survive to the second week of the championships, he will eventually get to play in front of members of the royal family and their VIP guests but for now, he's been banished to court 2, which has a capacity for just 4,000 spectators.
Kyrgios hasn't made any new friends after his disgusting antics at the home of tennis, where he not only spat at a spectator but also abused a female match official received warning for smashing a ball out of the grounds after struggling to overcome Jubb, ranked 219th in the world.
Britain's newspapers were highly critical of Kyrgios, with the tabloid Daily Mail describing him as "petulance personified" under the back page headline: Why this is the most cretinous player at Wimbledon.
Kyrgios claimed that was subjected to unacceptable levels of personal abuse from spectators at the outside court he was playing on, but witnesses who watched the match from the public stands told News Corp fans were well behaved and it was only Kyrgios who overstepped the line.
Kyrgios has a long history of fighting with crowds, including at this year's Australian Open doubles final where he teamed up with Kokkinakis to win their first grand slam title.
Asked about his partner's latest outburst, Kokkinakkis said he didn't see or even know that Kyrgios had spat at a spectator until being quizzed by News Corp.
"I actually didn't see it. That's news to me. I didn't know he spat or anything like that," he said.
"Obviously you don't want to be spitting too much unless you know you have a bit of phlegm you have to get out.
I'm not sure, mate. I didn't see what happened there.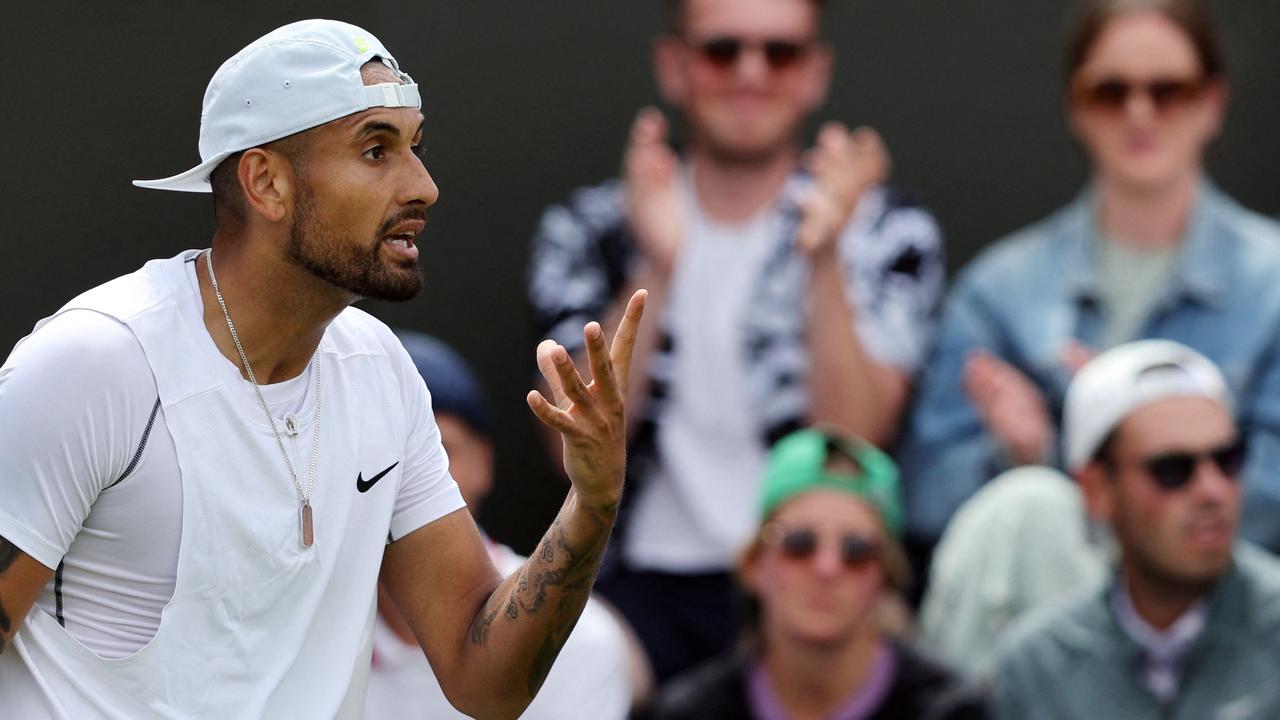 Wimbledon officials will do everything they can to keep Nick Kyrgios away from centre court. Picture: Adrian Dennis/AFP
"I just saw the result. It was good to pull it out because he was battling there for a while. Any win is a good win.
"Obviously you want to be respectable and that, but I didn't actually see what went on and what he said to the crowd."
Pressed on whether he's ever felt the need to step in and calm down his hot-headed playing partner, Kokkinakis said it was just part of his character.
"I know when he plays there is always some sort of drama. That's not too much news to me. As long as he obviously keeps it within reason," Kokkinakis said.
"He's his own person. He can do what he wants. I don't know really what you want me to say here.
"Everyone knows how Nick is. He's a competitive player.
"Some things happen on court (that) a lot of people don't mean, but sometimes it comes out.
"I think it just shows he cares and wants to win. Obviously you want to be respectable and keep it within the boundaries."
Originally published as Wimbledon news: Nick Kyrgios shunted to outside courts as he awaits punishment