How Tai Tuivasa and Tyson Pedro landed a UFC partnership with their own beer brand – featuring Nathan Cleary
Two fighters and an NRL star walk into a bar… and crack rarefied air as Nathan Cleary buys into the Drink West beer brand owned by Tai Tuivasa and Tyson Pedro that has set a new benchmark in the UFC world.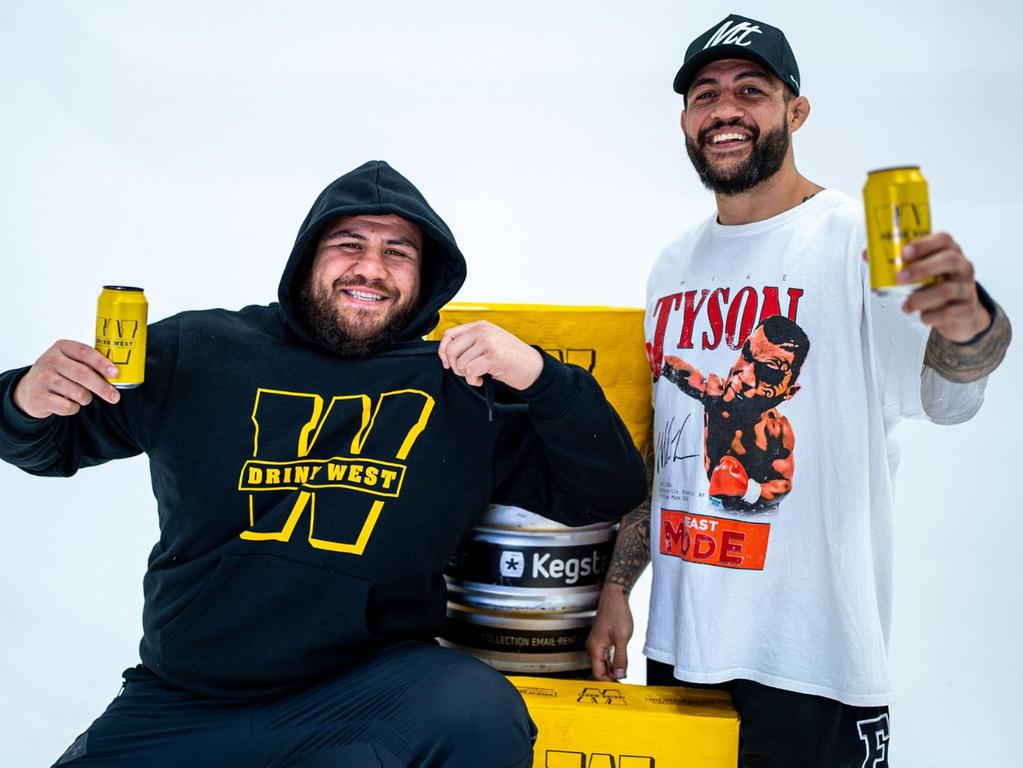 Tai Tuivasa and Tyson Pedro have signed a one-of-its-kind partnership deal with the UFC.
Tai Tuivasa and Tyson Pedro are in the kind of rarified air that Conor McGregor hasn't even cracked after their beer brand, Drink West, signed on as the UFC's official beer partner in Australia for the rest of 2022.
The beer, which the Western Sydney fighters started as a side project three years ago, sees them become the only athletes on the roster boasting a business partnership deal with the UFC.
McGregor's whiskey, Proper 12, has a sponsorship arrangement with the UFC around certain events, but Drink West's deal is an ongoing, active partnership with hopes of extending into next year and beyond.
It's another landmark moment for Tuivasa and Pedro, after Drink West announced a round of fundraising aimed at generating $5 million for a brewery, beer garden and marketing spend in April.
It's been a rocky road to get to this point, with a few flavor and recipe adjustments, faulty products and other unforeseen hurdles, but Drink West finally looks like it's taking off.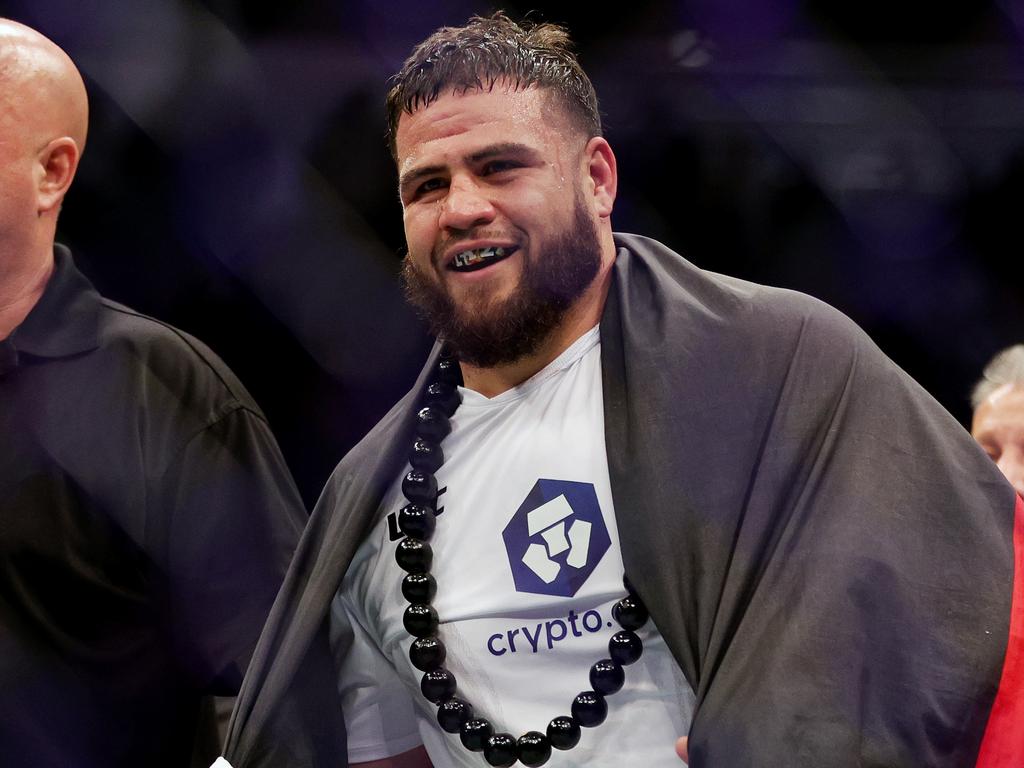 Tai Tuivasa is moving into rarified air after his Drink West beer brand signed an official partnership deal with the UFC. Picture: Carmen Mandato/Getty Images
*****
Pedro and Tuivasa started Drink West as a side hustle in 2019, with Penrith Panthers halfback Nathan Cleary joining earlier this year.
Tuivasa, a popular heavyweight, and Pedro, who made his return to the light heavyweight division after a three-and-a-half year injury lay-off, each own 27% of the business.
Cleary owns 10% and an investment firm called Quiet Capital owns the remaining 27%.
They're making big moves and talking in large sums of money now, but it wasn't an instant hit.
The first batch of Drink West "tasted like shit" Pedro jokes.
So, they went back to the drawing board to change the flavour.
"To be honest, we got 20 different beers and we got pissed," Tuivasa says. "This isn't science. It's Drink West.
"We got about 20 or 30 beers, tried 'em all and just went from there. 'Add a bit of this, bit of that, touch of this', then we got the recipe and went from there."
They eventually nailed the recipe, but had no idea how much of the 4.5 per cent lager to order for their first run.
Too much, as it turned out.
"We had no idea, Pedro laughs, "we looked at it when we got it and realised it's way too much beer.
"We didn't know how to sell it. We weren't in pubs or anything, so we had to figure out how to get rid of it."
Another hurdle gave Pedro another business opportunity.
"We said 'Ok, what else do we like? We like chicken wings. Ok, let's open up a chicken wing place and sell the beer,'" Pedro says.
"We just sold beer and chicken wings. That's it.
"It was a pop-up store, we had a short lease and we got it up and running in two weeks.
"It was open for 12 weeks and it went pretty well considering it was a fighter and two carpenters running it.
"But, 100 per cent, it was purely to sell the beer."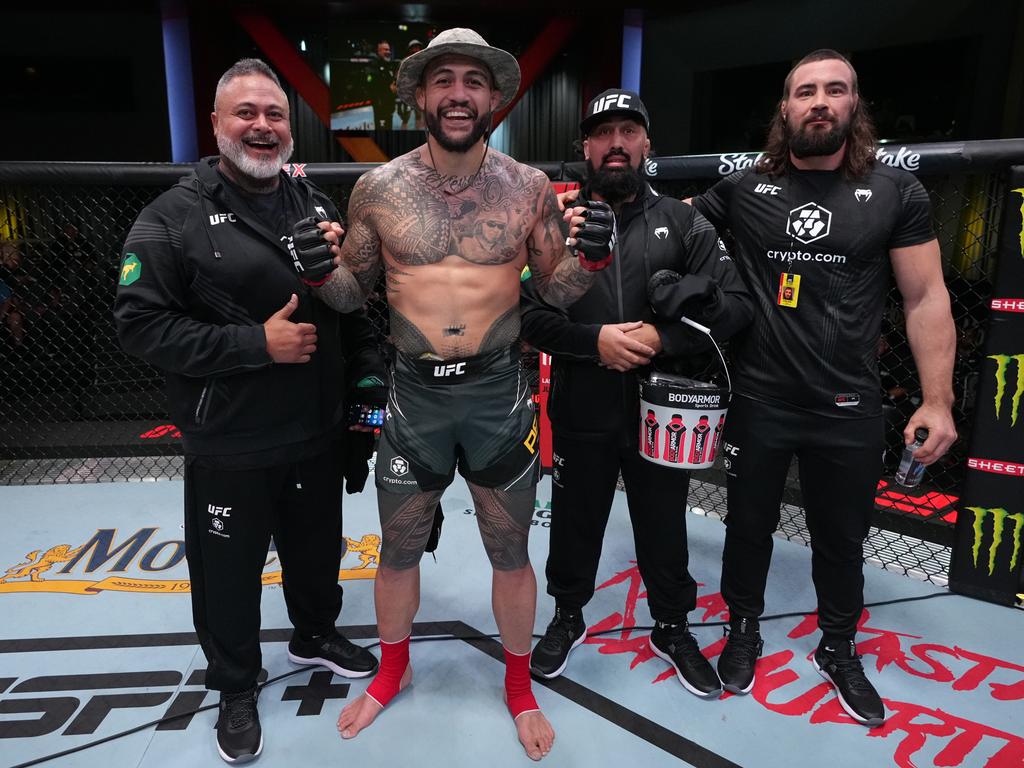 After a three-and-a-half year lay-off due to ongoing injuries, Tyson Pedro made a triumphant UFC return with a win over Ike Villanueva in April. Picture: Jeff Bottari/Zuffa LLC
The distinctive black and gold logo and branding is a nod to the budget brand that Tuivasa says was a staple of his childhood.
"It represents the Black and Gold brand – the home brand," he says. "It's what I grew up on.
"It's the colours you can't miss and it represents Western Sydney.
"There's a lot of kids out here who grew up on Black and Gold."
Initially, Tuivasa and Pedro used their own profiles and social media pull to sell the beer online, with Cleary coming on board in February.
As a Premiership and State of Origin winning halfback, Cleary was an instant and natural fit for the fledgling beer brand.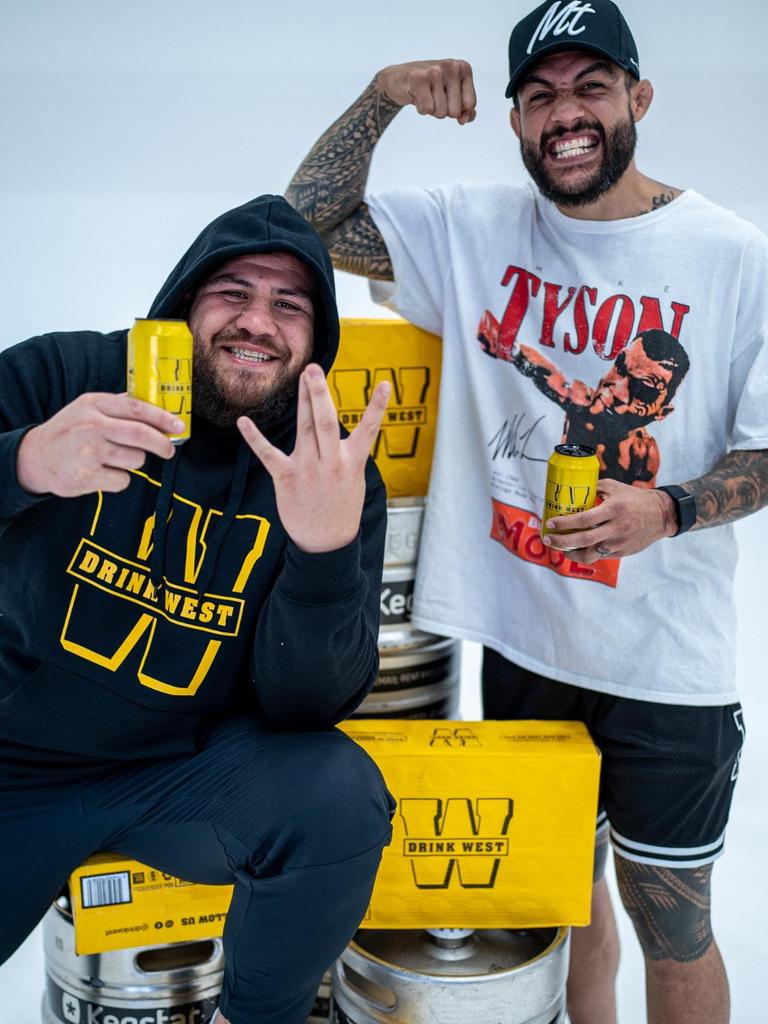 Drink West's colour scheme is a shoutout to the budget brand Black and Gold.
"We'd spoken (to Cleary) before, but we weren't close or anything," Pedro says of the partnership.
"We're big Panthers supporters, so that helped, but you can tell about people pretty quickly. Especially in Western Sydney, where we're from, you can get vibes from people pretty quickly, and he matched well with our ethos."
Tuivasa says Cleary adds another dynamic to the appeal of the beer as well.
"Nathan Cleary's a great kid on and off the field. He's a great human being," he says. "And he's great for the brand. He loves Western Sydney, he represents the West.
"And, he's nicer than me. I'm not everyone's cup of tea.
"He knows we have a good team around us and it's good having him on board as something that means something to us."
One of Cleary's first tasks after signing on was to sing a line of Shannon Noll's "What About Me" alongside Tuivasa and Pedro and a large group of locals for a promo video.
Tuivasa and Pedro can hold a tune nicely.
Cleary on the other hand… yeah, just as well he's a gun footy player.
"Mate, it took three hours to film that because I couldn't stop laughing," Tuivasa says. "I f–ed up most of it because every time he sang I couldn't handle it.
"But if it wasn't for Nath, the video wouldn't have been as good. He made the video.
"The next singing one, we'll do a voiceover though, or someone else to sing.
"He's definitely not trying out for Australia's Got Talent any time soon."
Tuivasa, who is on a five-fight win-streak and will likely fight former interim heavyweight champion Cyril Gane in September, still has big plans for Drink West.
"The thing with Western Sydney is we're proud people, in everything. Same with the beer," he says. "We're building hype, getting people behind us and they're loving it.
"There is no limit. No limits at all. We've got a business plan as a group, we're going to do this brewery, manufacture enough beer, get it overseas and get it into New Zealand. There's a lot of people over there that will support it."
"It's a good beer too. If we had a shit beer, we'd be f–ed, but the beer's good. It's nice."