One year on, Fau Vake's tragic death still causes grief, anger and sadness for his family
Promising MMA fighter Fau Vake's senseless coward punch death last year shocked the world. His brother James and the rest of his family are still dealing with the fallout, writes BRENDAN BRADFORD.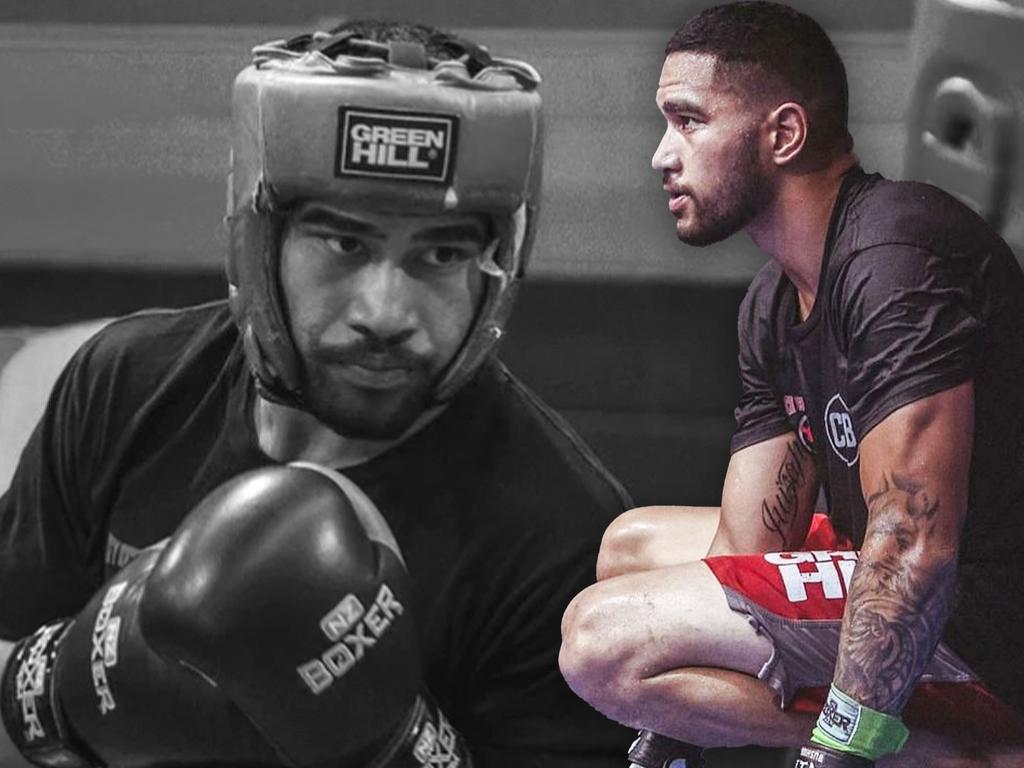 Rising MMA star Fau Vake tragically passed away after a one-punch attack in Auckland a year ago.
In late May 2021, Fau Vake's family made the decision to switch off his life-support. Over the coming hours, they'd say the hardest farewells of their lives as the happy, kind-hearted 24-year-old with an easy smile and a bright future ahead of him passed away.
Nine days earlier, Vake was hit with a coward punch after he and brother, James, were set upon by a group of men on a busy Auckland street in the early hours of the morning. Fau hit his head on the pavement and never regained consciousness.
One of the friendliest fighters you'd ever meet, Fau left behind a three-year-old daughter, Luisa, who everyone calls Isa, and dozens of devastated family and friends.
One year on, those who were closest to Fau are still navigating the daily struggles of grief, anger and sadness they've dealt with since his passing.
How do you live when one of the best people you know is taken in such senseless and random circumstances?
How does an older brother go back to the gym where they shared so many special memories?
How does a daughter remember her dad, taken too young?
Could any prison sentence make up for the life lost?
In his first interview since Fau's death, James, who stood side-by-side with his little brother that night, opens up about what the last 12 months have been like for the people who knew his brother the best.
James Vake at his brother Fau's grave in Auckland.
*****
Meeting Fau Vake for the first time was like greeting an old friend you'd known for years. His whole face broke into a smile, and he radiated good energy. His eyes were vibrant with the excitement of living. He'd hold his hand out to shake and give you a greeting that would stick with you for the rest of the day.
He was like that with everyone. Just the kind of guy he was.
"He was such a nice humble dude," says James. "He was just a really nice guy. He was never easily angered, he wasn't snobby or arrogant. Honestly, just such a nice guy.
"He's the type of guy who'd see the janitor or the rubbish man and give them the biggest smile and say 'wassup'.
"That was just him. He'd nod at you as if he knew you.
"To say hello to people the same way Fau would, it's almost weird these days. That's what I admired a lot about him. He was always like that, 24/7, whether he was just going to the dairy or wherever, he was smiling.
"There were times he'd be upset, but it would never let him stop being happy and saying hello. He'd be holding doors for people on the way into shops and things like that.
"I'm so proud of that guy, he was just a unique human being."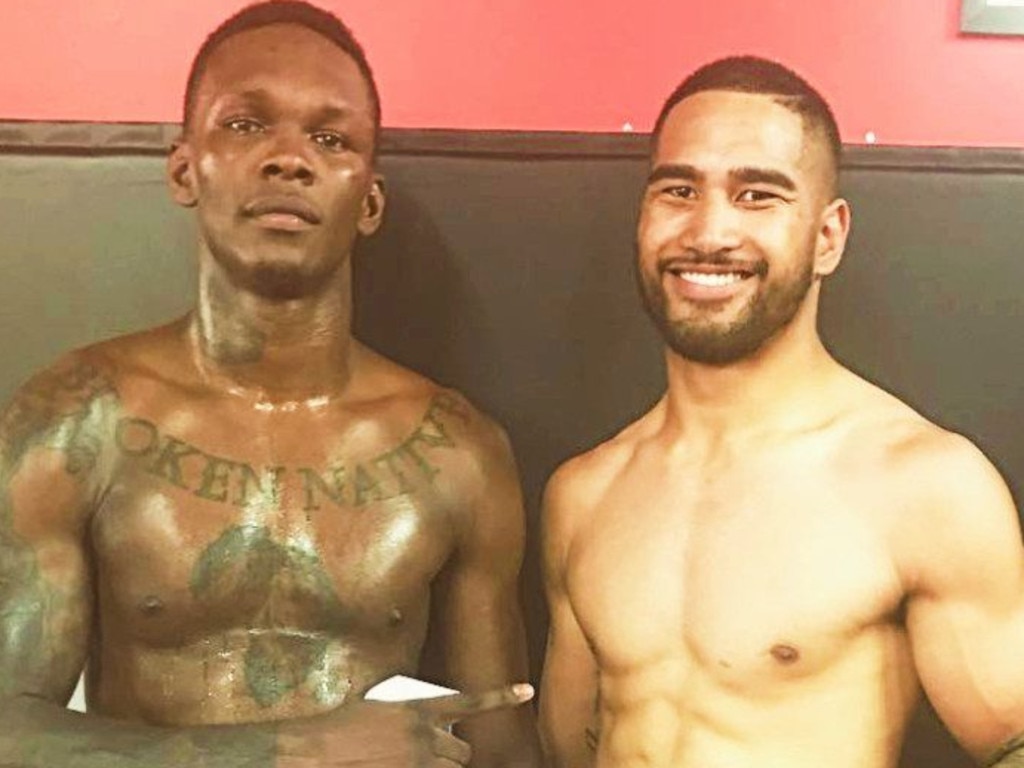 Fau Vake (R) with UFC middleweight champion Israel Adesanya at City Kickboxing in Auckland. Picture: Supplied
Fau trained alongside Israel Adesanya and Dan Hooker at Auckland's City Kickboxing, and was one of New Zealand MMA's brightest young prospects.
Trainers, coaches and teammates all say it was just a matter of time until Fau made it to the UFC.
He had so much left to give.
"Even though he was younger than me, I learned so much from him," James says. "He was almost like an older person in a younger man's body.
"He was ahead of his time, and that's what still upsets me today; he still had so much life to live.
"He had so much to offer the world, and the world didn't get to see his full potential."
*****
James and Fau are connected by blood, but the strength of their relationship was forged, tested and firmed through fighting. They trained together, wrestled together, bled, hurt and sweat together.
They were inseparable.
At 2.15am on May 16, 2021, they were waiting for a taxi on Symonds Street in Central Auckland when a group of four men confronted them. A scuffle ensued and 30-year-old Daniel Havili threw a punch that landed on Fau's head.
CCTV footage shows Fau standing defenceless, with his hands at his sides when the punch was thrown.
Fau was a guy who smiled at everyone and greeted strangers like mates. Street fighting wasn't in his nature. As a trained MMA fighter, he also knew better than to get into a senseless scrap in the wee hours of the morning on a busy Auckland street.
Neither Fau nor James threw a punch that night.
"We just wanted to go home, man," James says. "All I wanted to do was catch my taxi."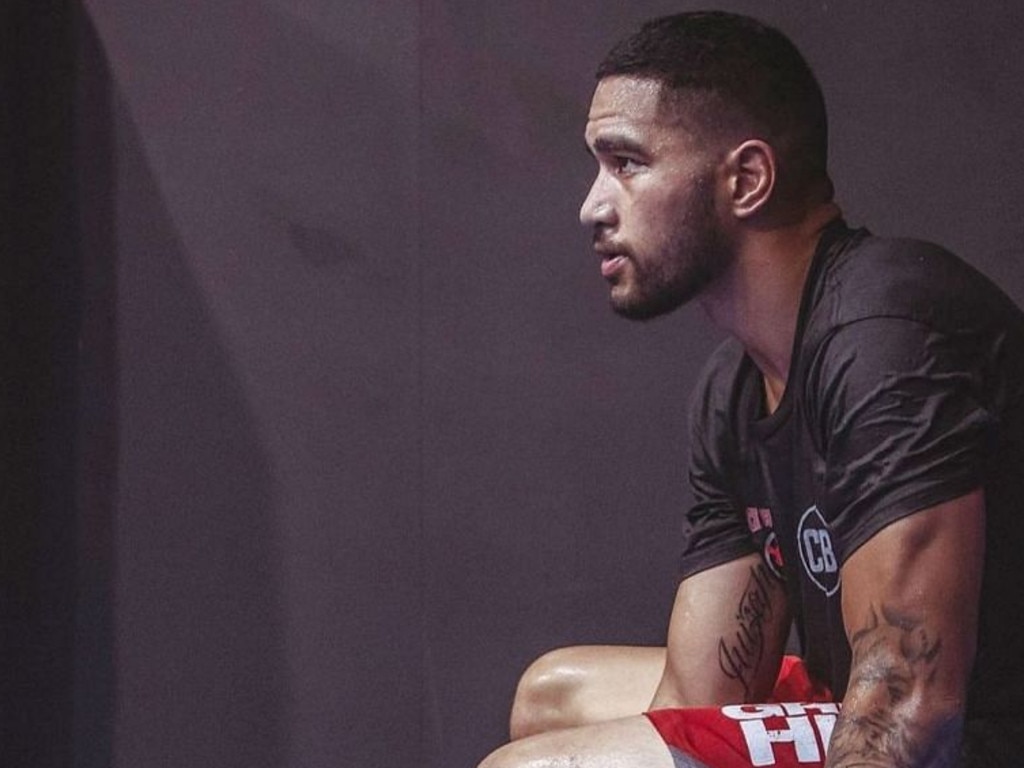 Fau Vake didn't throw a punch during the scuffle.
*****
It's April 2022 and Isa, Fau's daughter, is sitting on the floor of her dad's old room. She's playing with some of his things. Medals, belts, random odds and ends.
Now four, Isa is being raised by Fau's family and her mum's family.
She still asks where her dad is. She doesn't know why her superhero isn't coming home today.
"My little niece often goes downstairs to his room and plays," James says. "It makes me feel bad sometimes, because she's so young and what she's had to go through.
"She has her moments where she goes down there to play with her toys and just reminisces about him.
"Normally she goes about her day as normal, but there are some days where I can tell that he's really on her mind.
"All I can do is give the little one her moment. Whenever I get those moments, I just want the people around me to give me some space too, so that's what I do for my little four-year-old niece."
For James and for Isa, there are good days and bad, and every milestone is another reminder of what they lost a year ago.
Soon, the family will buy Isa a school bag, a lunch box, pencil cases, books and pens.
"I know he would've loved to be there on her first day of school," he says. "Then there's Christmas and birthdays.
"It hurts me that people close to me are going through the same pain that I'm going through. It's already tough on me, but it's even worse when you have to watch the ones that you love endure it too."
Isa is too young to fully understand what happened, but James is only too aware. He was there when Fau was punched, and there when Fau died.
He was nearly broken at various points over the past 12 months.
"I've had to go through this rollercoaster. That's the best way to describe it," he says. "There's been this weird cycle where one day I'm hurting, and the next day I'm grateful for still being here.
"There's been days where I didn't even care if I'm here in the next hour. Stupid things like that.
"I was in a building one time and just thought to myself, 'Man, if this building was to blow up, I literally would not care.'
"I'd have been so set on that, just so that I could link up with Fau again. I was in a real, real bad place."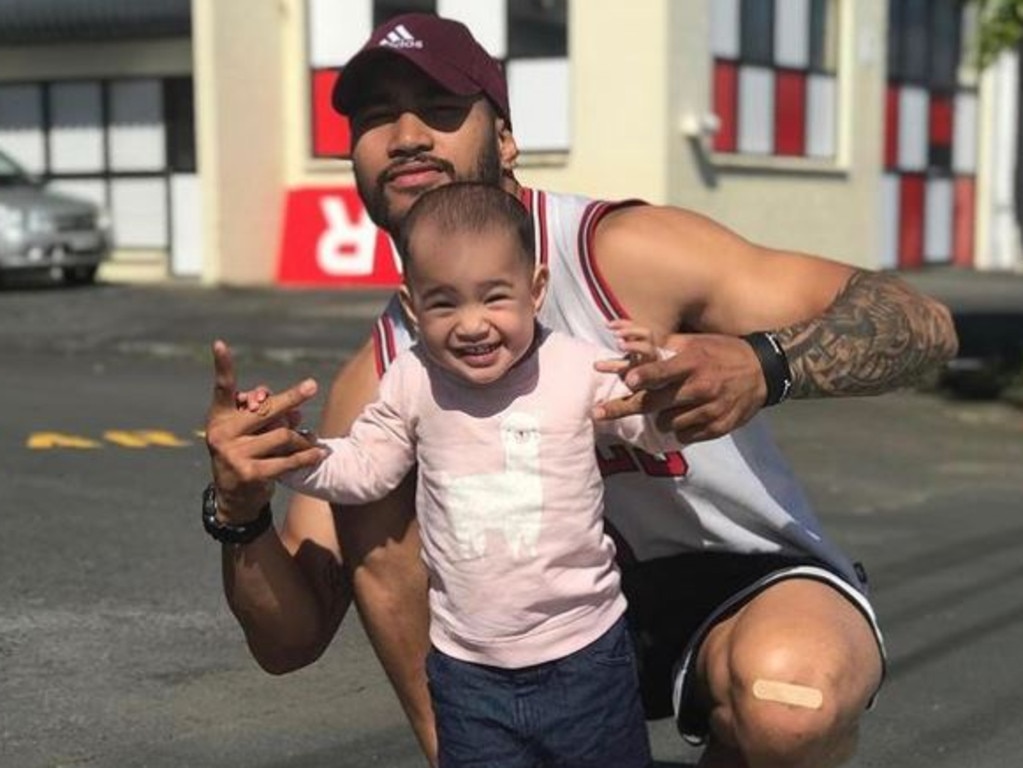 Fau Vake and his daughter, Luisa, who everyone calls Isa.
*****
On April 12 this year, Daniel Havili was sentenced for the manslaughter of Fau Vake.
The man who threw the punch that led to Fau's death received a sentence of two years and eight months.
Two years and eight months for a life.
It doesn't seem right.
"How can that possibly be enough? Two years in jail for a lifetime," James says. "But they could've locked this guy up for 80 years, it still left a hole in our hearts.
"There's no forgiveness from me. Even if he was to do life in prison, I wouldn't accept his sorry.
"You'll never get forgiveness from me for all the pain that I have to endure."
For Fau's heartbroken brother, who must somehow explain what's going on to his niece, there can be only one form of retribution.
"There's only one apology that makes sense to me, and that's if we're face-to-face with no one around us," he says, his voice rising slightly. "No coward punch and no unnecessary help from the outside.
"Just man to man, lock us in a room, we'll see who leaves. That's all I want.
"But they'll never get forgiveness from me in this life or the next life."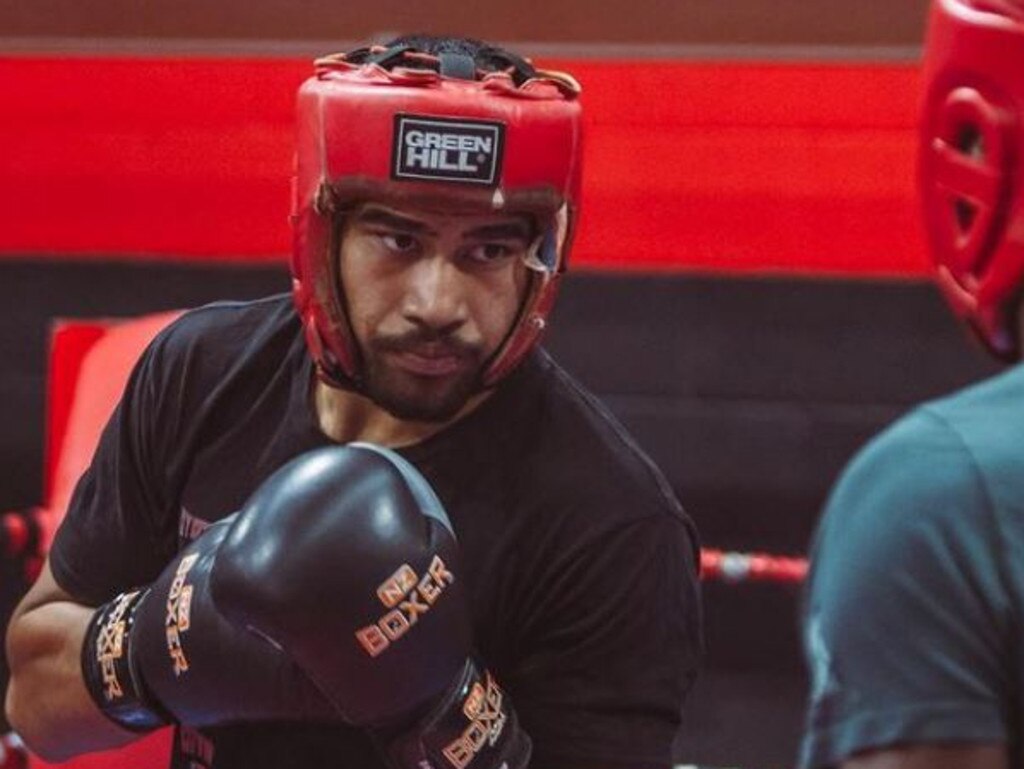 "He had so much left to give."
*****
James, who has a 3-1 professional MMA record, trains at City Kickboxing as well, but didn't go to the gym for two months after Fau's death.
He couldn't.
Instead he went "MIA, because I wasn't in the best mindset."
There were times he thought he may never go back at all.
"I really didn't know whether I could continue without Fau," he says. "For him to not be there, I don't know how I would have been able to carry on."
Eventually, he found a tiny spark. A flicker of hope and motivation to return to the gym.
"I had to do it for me – I had to really dial in with myself first to make sure I was happy with going back," he says. "But I knew that whatever decision I made, he'd always have my back, so I needed to do it for myself.
"My main reason was just getting my mind away from losing Fau, and how we lost Fau and the anxiety that had been building up in the months we've had to endure."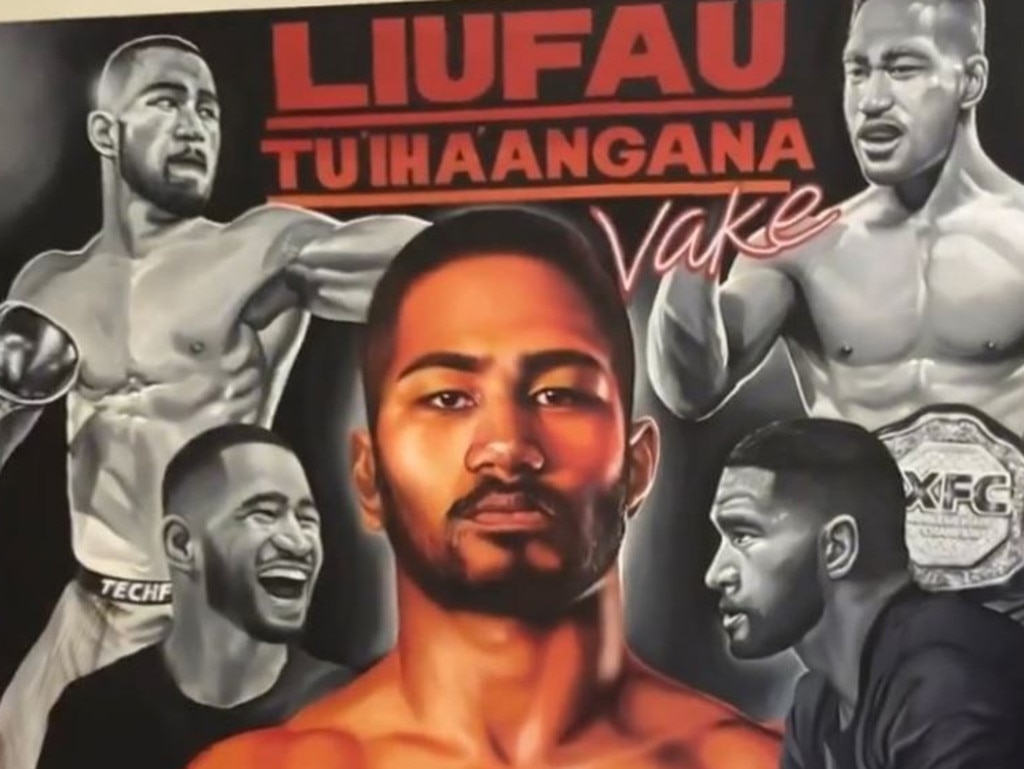 A mural commemorating Fau Vake's legacy.
It was only after going back to training that he truly realised the level of support that existed within the four walls of the famed City Kickboxing gym.
"There's no better distraction than doing what I love," he says. "As well as being in a room full of people that really care about me, that want to see me and that it would mean a lot to them to see me.
"That was such a bonus. That really just showed me that I'm blessed. Even though I'm going through this really crap situation, I am blessed."
Less than a month after Fau died, lightweight prospect Brad Riddell walked to the Octagon at UFC 263 to Fau's music, and gave a heartfelt tribute to his fallen mate after scoring a unanimous decision win over Drew Dober.
"My friend was murdered two weeks ago. I was never going to lose this fight," Riddell said. "I had a driving force that was bigger than me and I'm very, very grateful that I still get to walk on this planet.
"The walkout song might have seemed a little bit weird but that was his walkout song.
"That was my tribute to his family because unfortunately he'll never get to make this walk, but I miss you Fau and I hope you're proud."
Gestures like this, and the love he found at CKB gave James hope during the darkest period of his life.
"That meant so much to me," he says. "These guys literally go out of their way to have our back.
"That's what makes our team so special. It's just this bond that we have.
"Brad walking out to the song … he didn't have to and it honestly caught me by surprise. It gave me a little tear to the eye.
"That period of time, it was June, it was early days, so I was still not really all there yet.
"But being able to watch that, despite all the negatives in my mind throughout that period, I had to look on the other hand. I still have all these things that anyone would wish to have.
"I know it's hard to be grateful, but just be grateful for what you do have."