UFC News: Robert Whittaker reveals how he buried the demons left by Israel Adesanya defeat
Robert Whittaker has been accused of "panicking" by the head coach of arch rival Israel Adesanya. Bobby Knuckles returns serve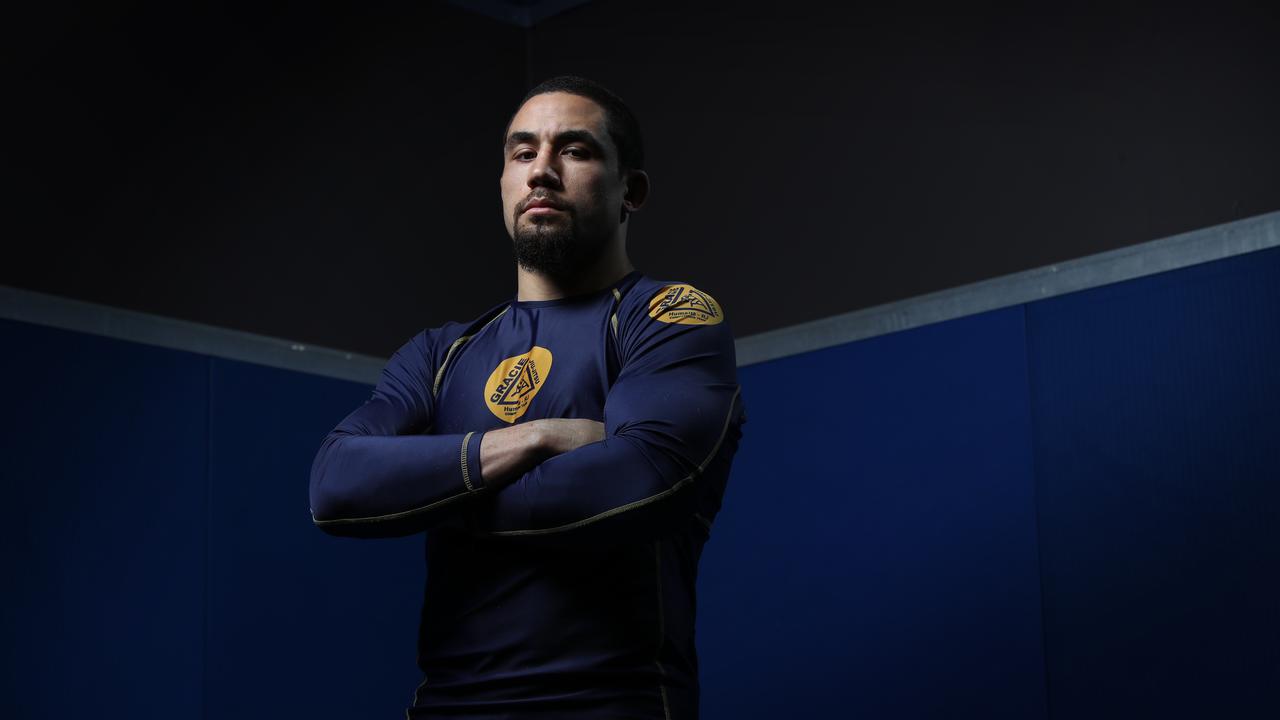 "That guy says a lot of weird shit" - Rob Whittaker responds to Israel Adesanya's coach, Eugene Bareman. Picture: Richard Dobson
Robert Whittaker has laughed off suggestions from Israel Adesanya's coach that he is panicking about their upcoming UFC 271 title rematch in America, saying: "That guy says a lot of weird shit".
While the UFC is yet to officially announce the hyped February showdown between Whittaker and Adesanya, the Australian believes some mind games may already be underway from the New Zealand champ and his team.
Speaking on the Submission Radio podcast recently, Adesanya's head coach Eugene Bareman accused both Whittaker and his manager Titus Day of "panicking" about the impending fight, slated for Houston, Texas on February 13 (AEST).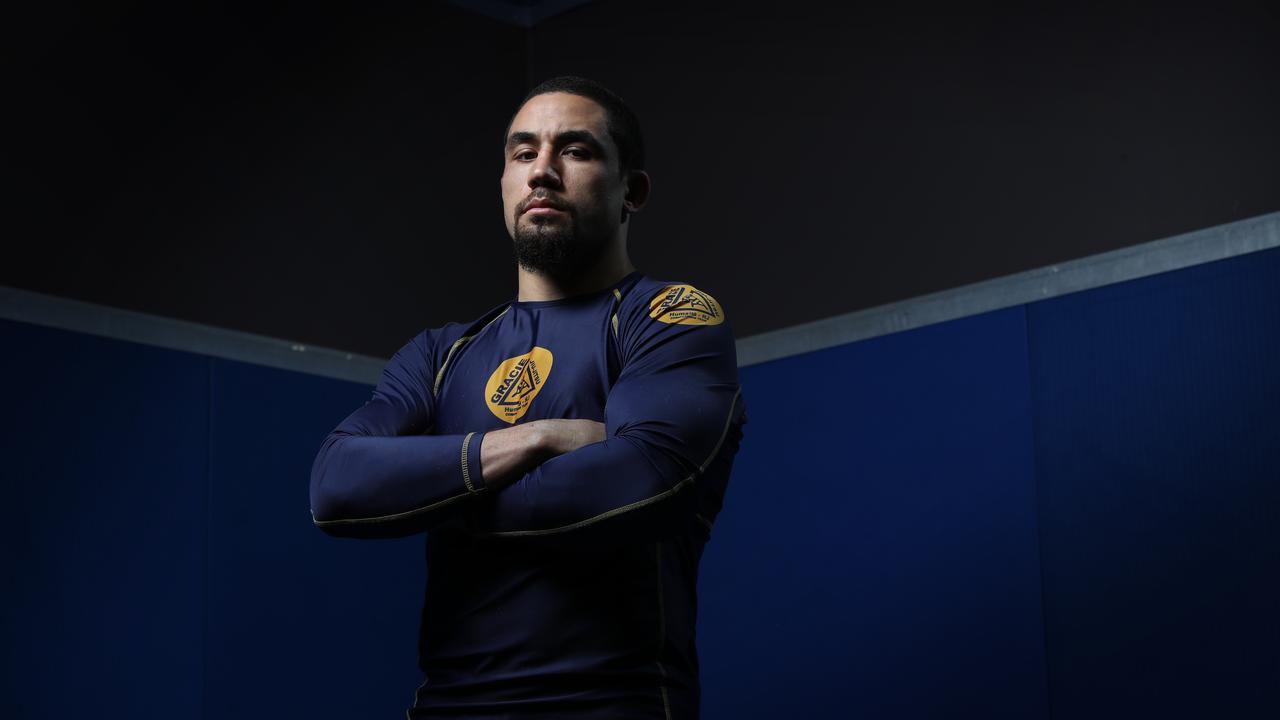 Robert Whittaker has. Picture: Richard Dobson
Bareman also took aim at Australia's first UFC champ for recently tweeting "11 weeks" in reference to the countdown — accompanied by the hashtag #AndNew – and suggested the headliner could in fact be delayed by months so it could be held in Australia.
Yet Whittaker and his team are already on record saying they have not only signed a bought agreement, but even started promotional filming for the anticipated rematch of the 2019 showdown.
Despite Bareman suggesting the fight could be delayed, it is understood UFC officials will confirm the headliner during Sunday's UFC 269 broadcast on Main Event.
So as for what Whittaker made then of the podcast dig by Bareman, who also doubles as a coach for Australian UFC champ Alex Volkanovski?
"I didn't see it," he said. "But I have heard through the grapevine that he's been talking.
"(Laughs) Although I really don't know what he thinks we'd be panicking about. I don't even know how to respond."
Asked if he thought Team Adesanya were attempting to kick off the mental warfare, hype the fight or simply troll him, Whittaker shrugged: "I just don't know." He (Bareman) says a lot of weird shit.
"This isn't the first time he's done something like this, either.
"So who knows what his agenda is? Maybe he's trying to get into my head." But I'm fairly resilient to all that now.
"Fool me once, and all that sort of thing." I'm in a good place.
"As a fighter, with my skills, my abilities, I'm completely different from when I stepped into the Octagon against (Adesanya) the first time.
"And certainly character wise too, I'm a very different man.
"I have changed that side of myself just as much.
"So I'm going into this fight with a cool, calm head … and I'll be satisfied to do that."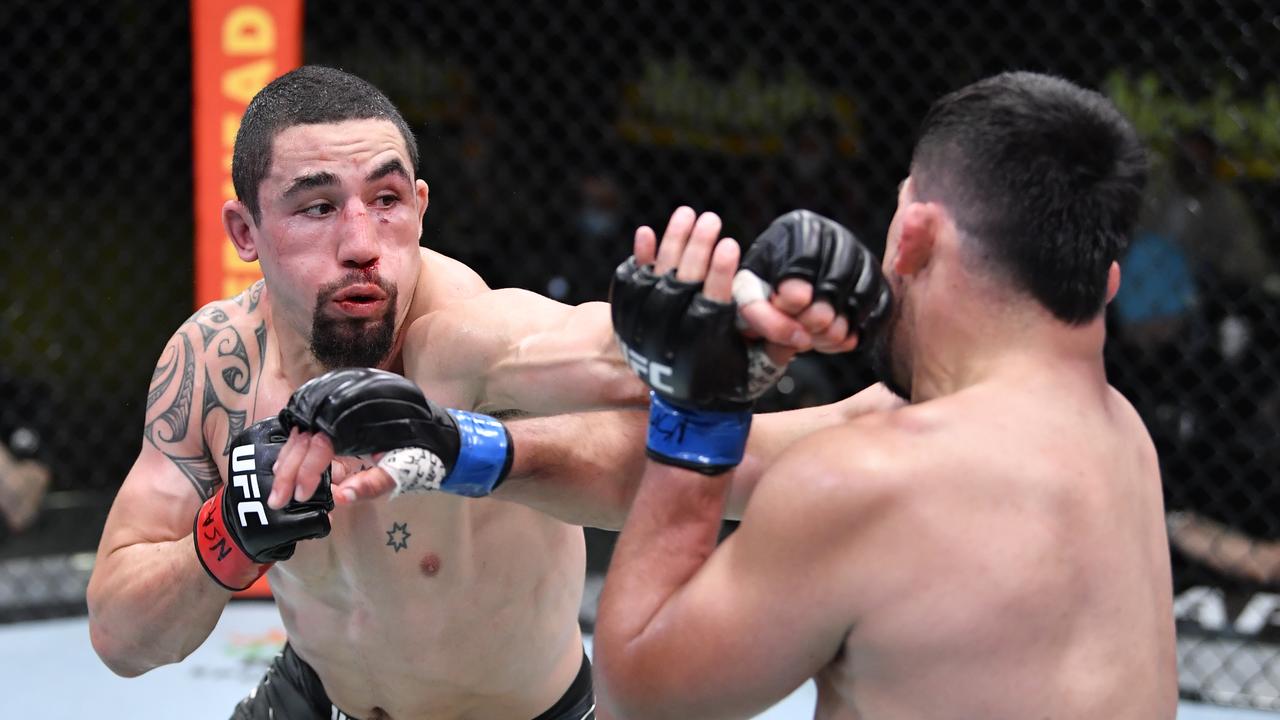 Robert Whittaker lands on American Kelvin Gastelum during their April bout. Picture: Chris Unger/Zuffa LLC
Quizzed about his countdown tweet, and the suggestion from Bareman it was trying to force the fight, Whittaker continued: "Mate, I tweet those for my fans — that's it.
"I want to gee them all up, let them know we're working towards something.
"I don't tweet anything with Eugene in mind, or anyone else.
"They're for my fans."
Whittaker's response comes just weeks after promising to bring a completely new mindset to his rematch with Adesanya, declaring: "I don't even hate the guy anymore".
It has now been two years since Adesanya took the middleweight strap from the Aussie dubbed Bobby Knuckles in Melbourne, before a UFC record crowd of some 60,000 fans.
Since then however, Whittaker has won three straight, changed up his fight team, and also completely recovered from what he now understands was physical and mental burn out.
Prior to facing Adesanya the first time at UFC 243, Whittaker admits a series of external issues saw him perform well below his best in the KO defeat — including the hatred he carried for his arch rival.
But this time around? "I don't even hate the guy anymore," Whittaker laughed.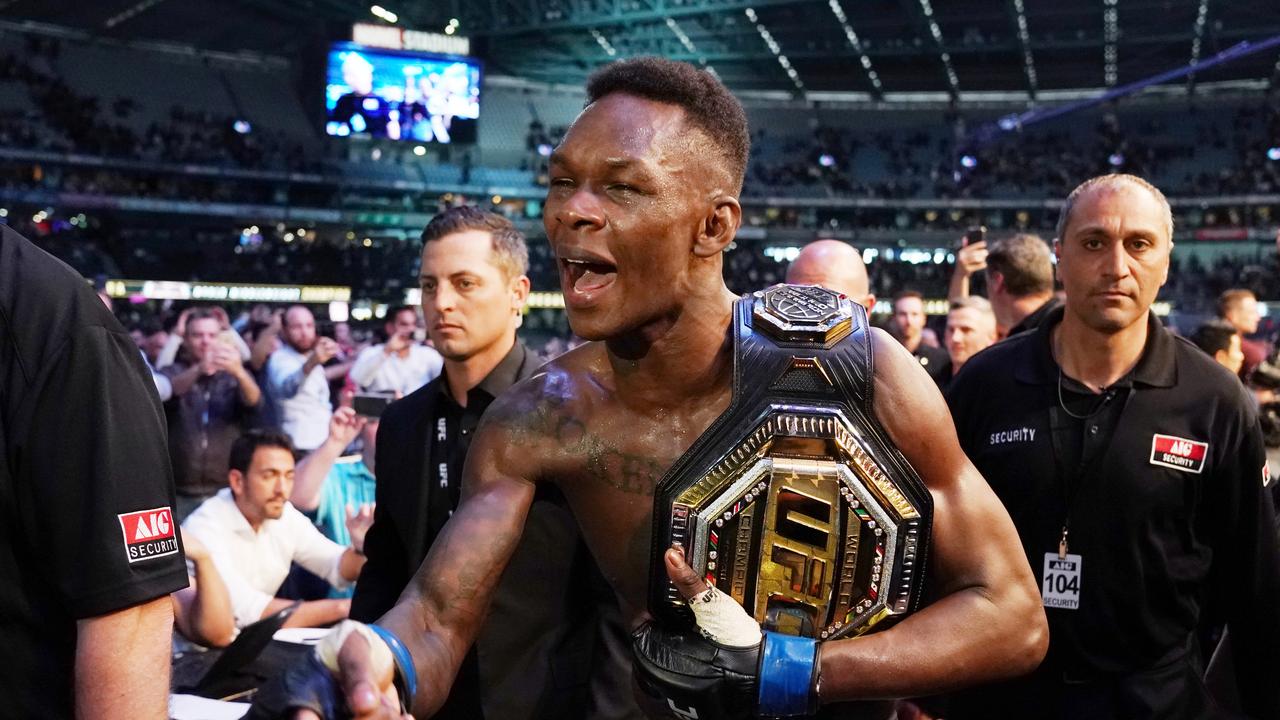 Israel Adesanya celebrates claiming the UFC middleweight title. Picture: Michael Dodge/AAP
"All that stuff has worked its way out of me.
"Yes, he beat me first time. But I'm looking forward to getting back in there because I've changed — and in a lot of ways."
Asked how he rid himself of the Adesanya hate, Whittaker continued: "Maybe it wore me out.
"All that hatred, that anger … it wore me out." But as I said earlier, I'm not that same guy anymore." Straight after that first fight, I took some time off. And because of that soul searching, or character building … because of what I went through I'm a different man.
"I feel much happier. Much calmer, more balanced.
"I know who I am, why I'm doing things." And me understanding who I am – who I truly am – is just making me that much more comfortable everywhere".