2022 Winter Olympics: Jakara Anthony wins gold for Australia in women's moguls
Jakara Anthony has made history by winning Australia's first gold medal in the women's moguls at the Beijing Winter Olympics.
Jakara Anthony, take a bow, because this is the stuff that dreams are made of.
Australia has a new Winter Olympic champion and a hero to a new generation of skiers.
Anthony has become just the sixth Aussie to win the greatest prize in winter sports after her historic victory in the women's moguls in Beijing late on Sunday night.
Australia's first champion in 12 years, the Victorian joins one of the country's most exclusive clubs, alongside Steven Bradbury, Alisa Camplin, Dale Begg-Smith, Torah Bright and Lydia Lassila.
And just like each of her predecessors, Anthony earned her gold medal the old-fashioned way, with skill, guts and nerves of steel.
"It's 5am here and I have not been to bed yet, so it has been a big night," Antony said on Channel 7 a few hours after winning gold.
"It was my childhood dream come true and that is something so special and I was so lucky to be able to share that with my team there and have everybody back home watching it and it was just an incredible experience.
"It has taken a lot of work and there has been a lot of really tough times but the processes that we have put in place and we have really committed to solidifying have really shown to come through with the goods and I'm really thankful for all of the time and effort that they put into me and the person in the athlete that they have helped me become."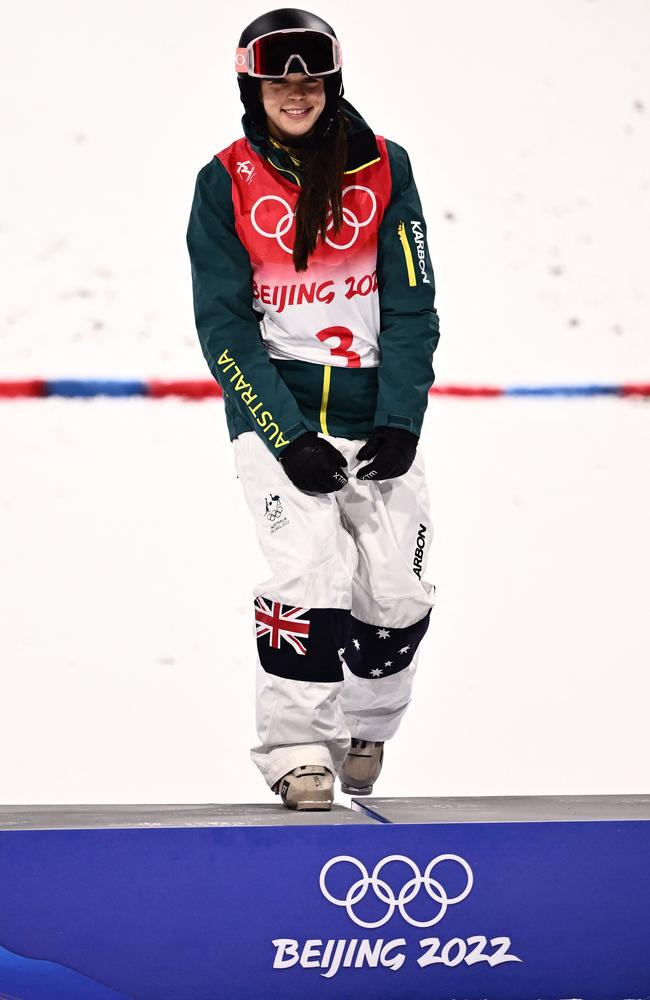 Gold medallist Australia's Jakara Anthony poses on the podium during the venue ceremony after the freestyle skiing women's moguls final. Picture: AFP
With ice in her veins, she almost made it look easy as she led after every round but that was misleading because moguls is one of the hardest and most unforgiving skiing events in extreme winter sports.
It is not a discipline for the faint-hearted because competitors have to put their bodies on the line every time - racing down a steep, icy slope packed with bumps.
Every trip down the course is a white-knuckle ride but the trick is to get there as fast as possible while also impressing the judges with an assortment of flips and spins along the way down.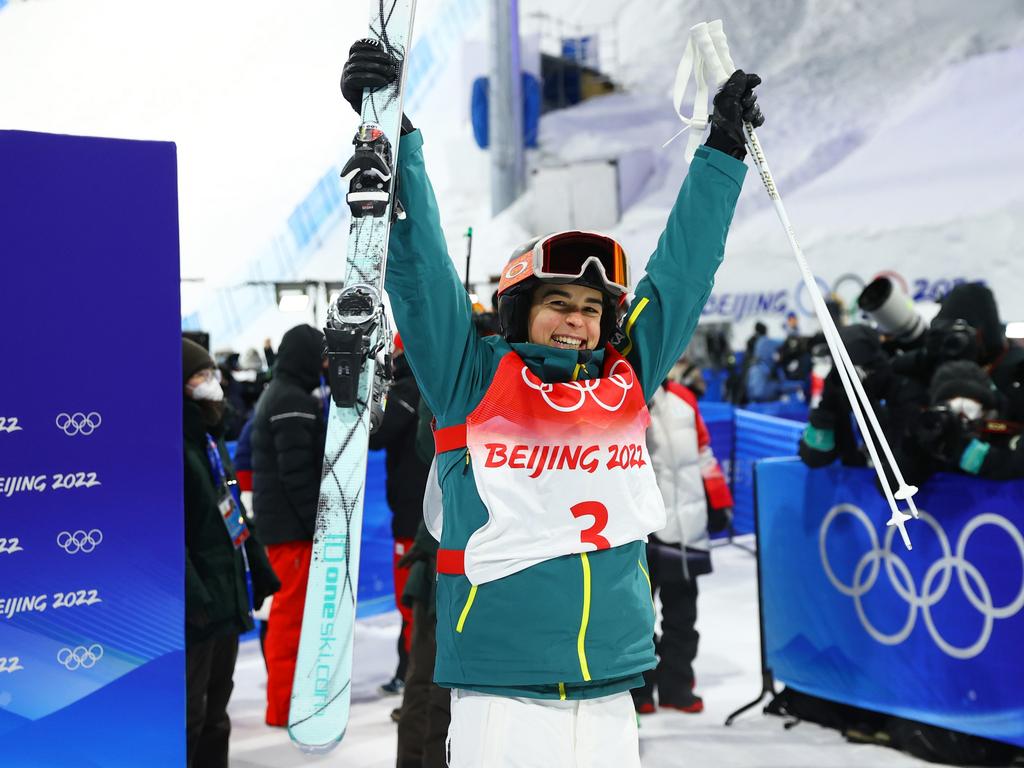 Jakara Anthony of Team Australia reacts after winning the gold medal during the Women's Freestyle Skiing Moguls Final on Day 2 of the Beijing 2022 Winter Olympic Games. Picture: Getty Images
The margin for error is ludicrously small with tiny slips resulting in skiers face-planting in the snow.
Serious injuries are common but to win gold, the best have to go all in, skiing right on the edge of control.
Asked about the danger element to her sport, Anthony said: "I think that moguls look a lot worse than they feel. We are actually already pulling the pressure off the bum before we hit it but the most difficult part of the course is definitely what we call the ski out once when you have to land the topic and transition back into the moguls and make it look like you never stop skiing."
A calculated risk taker, that's what Anthony did better than anyone else - and that's why she ended up with the gold medal after receiving a winning score of 83.09 points in the six-woman super final in the Zhangjiakou mountains.
Her win capped an unforgettable day for the Australian team in Beijing after Tess Coady collected bronze in snowboard slopestyle earlier on Sunday.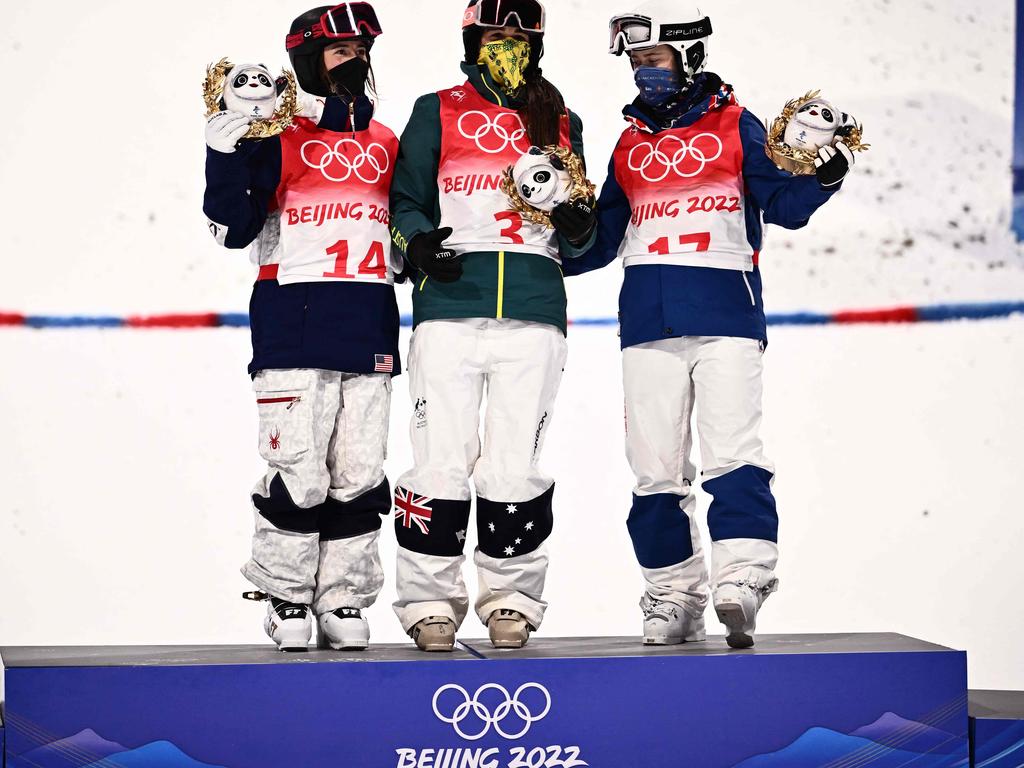 )L to R) Silver medallist USA's Jaelin Kauf, gold medallist Australia's Jakara Anthony and bronze medallist Russia's Anastasiia Smirnova on the podium after the freestyle skiing women's moguls final. Picture: AFP
It marks the first time Australia has won two medals in a single day at any Winter Olympics and comes 20 years after Bradbury and Camplin won the country's first gold medals in Salt Lake City.
Following on from the performances of Australia's swimmers and paddler Jess Fox at the Tokyo Olympics and Ash Barty winning the Australian Open, there is no longer any doubt we are in the midst of a golden era for Australian sport.
Anthony wasn't the only Australian woman in the moguls final.
Britt Cox, another Victorian who won the 2017 world championship and was appearing at her fourth Olympics, finished 14th.
And Sophie Ash, on debut, came 16th. From a talented family, her sister Gabi is in the Australian aerials team.
But all the plaudits rightly went to Anthony, the 23-year-old who hails from the sleepy Victorian coastal town of Barwon Heads.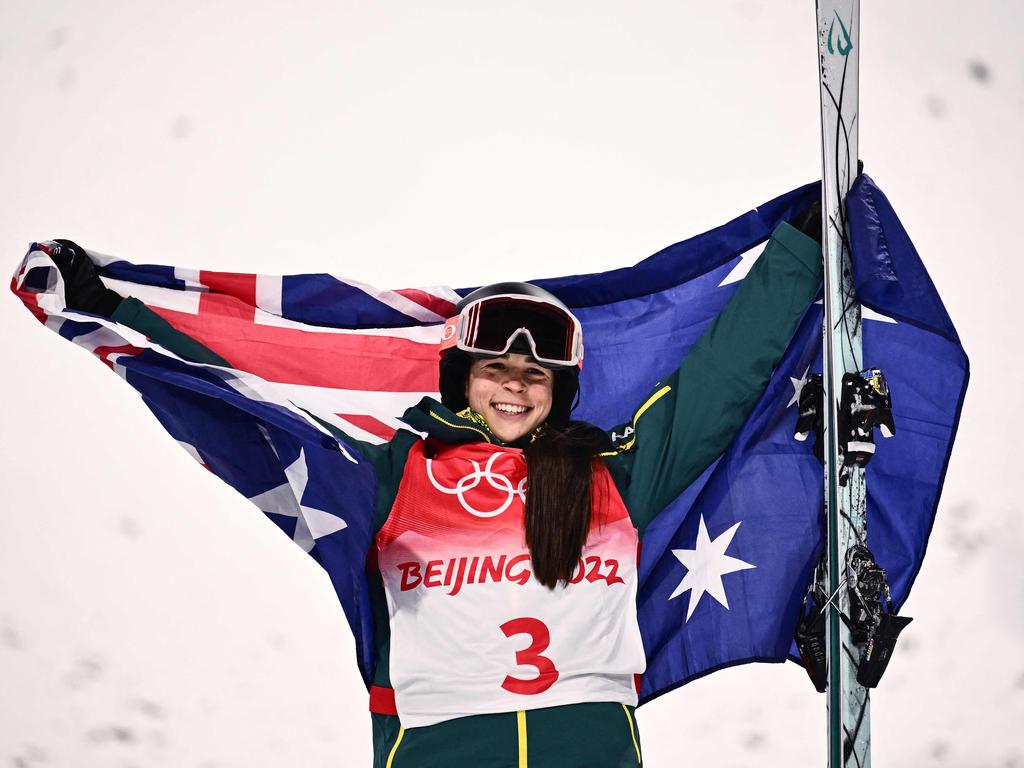 Gold medallist Australia's Jakara Anthony wins gold for Australia. Picture: AFP
A natural who started skiing when she was just four, Anthony has been earmarked for greatness from a young age, rapidly going through the junior representative ranks then onto the world stage.
She was selected for the last Olympics in PyeongChang in 2018 when she was just a teenager but showed what she was made of by finishing fourth, seemingly unaffected by the pressure-cooker atmosphere that the biggest event in Winter sport brings.
She has gone from strength to strength ever since, winning a silver medal at the 2019 world championships and finishing on the podium at all but one of the seven World Cup meets she has entered this season.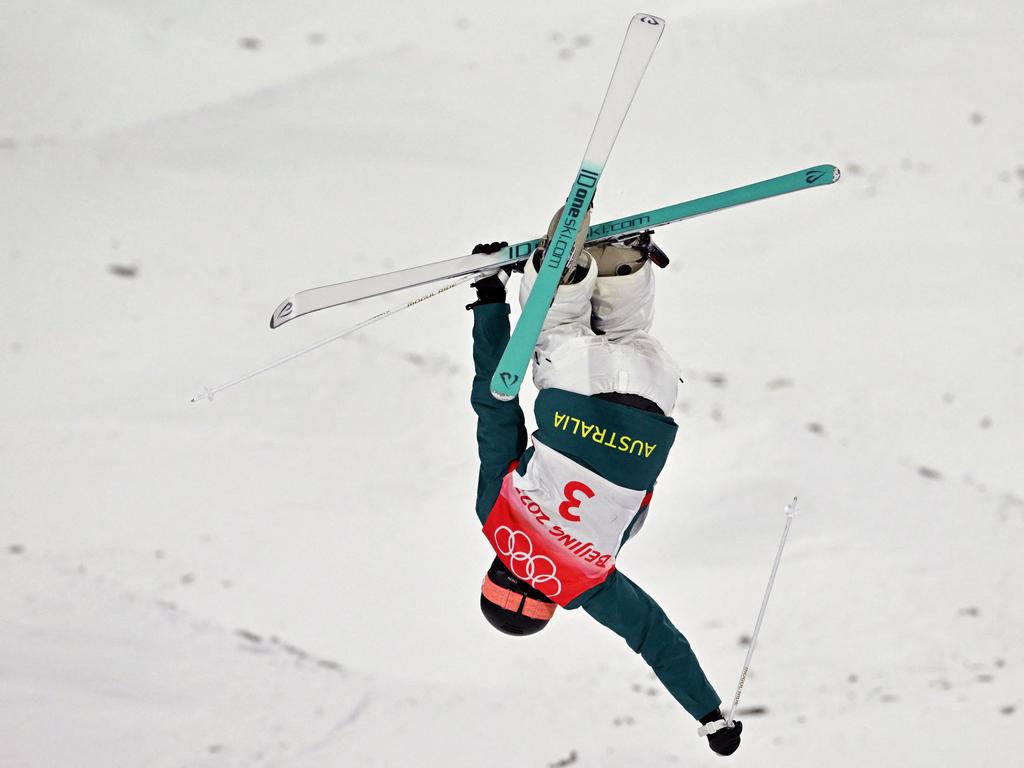 Australia's Jakara Anthony competes in the freestyle skiing women's moguls final during the Beijing 2022 Winter Olympic Games. Picture: AFP
At the highest level, there's not much between the best in the world, with a handful of talented women all capable of winning on their day.
But what sets the Australian apart is that she has a trick up her sleeve that no-one else does.
It is called a Cork 720 mute - a full flip with two rotations and a grab of her skis in mid-air - and is so outrageous that hardly anyone else in the world will even attempt it but it's what helped her get the gold and become a legend.
Another Aussie tests positive in Olympic Covid crackdown
Another Australian Winter Olympian has fallen victim to China's Covid-19 clampdown.
Alpine skier Kate Parker has withdrawn from Monday's giant slalom after testing positive while training in the United States.
Although she is now clear of infection, the positive test delayed her departure to China because she was required to complete two negative tests within four days of flying out.
"Unfortunately, the timing has forced Kate to withdraw from the giant slalom, one of her two events, which is taking place on Monday," the Australian Olympic Committee said.
"However, she will still compete in the women's slalom and have her Olympic moment."
Parker is now expected to arrive in Beijing on Tuesday ahead of the start of her competition the following day.
Aussie Covid curlers create feelgood story of Olympics
Australia's unluckiest Winter Olympians finally caught a break — and turned it into curling's version of the miracle on ice.
Tahli Gill and Dean Hewitt — Australia's first curlers to qualify for the Olympics — may not have won a medal in China but they still manufactured the feelgood story of the Games.
From the depths of despair, they beat Switzerland 9-6 in their penultimate round robin match to claim their first win of the tournament after having nothing but rotten luck from the moment they got to China.
They were threatened with being kicked out of the mixed doubles competition even before it began when Gill tested positive to Covid on arrival at Beijing airport, through no fault of her own.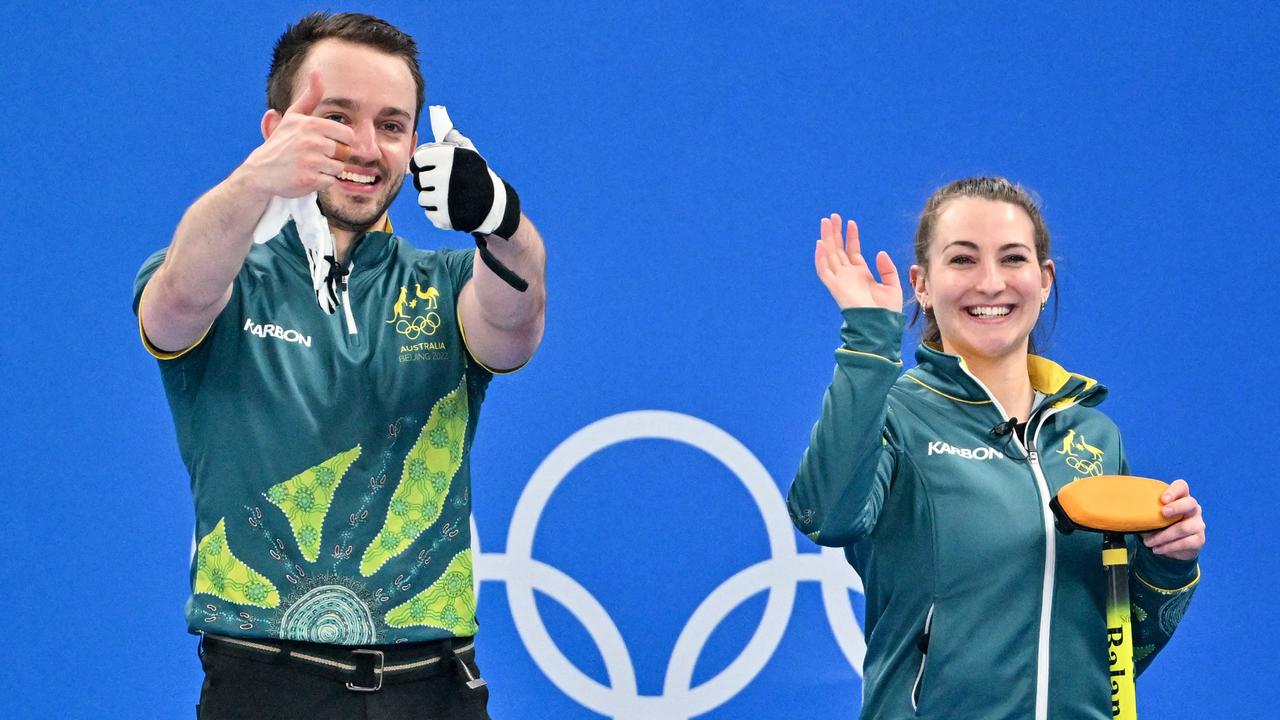 Australia's Tahli Gill and Australia's Dean Hewitt (L) during their win over Switzerland (Photo by Lillian SUWANRUMPHA / AFP)
The result came from an old infection which China's ultra sensitive testing system picked up but the Aussies were cleared to play in the nick of time when her next two daily samples both came back negative.
But that wasn't the end of their cursed run, it was just the beginning.
They lost each of their first seven round-robin matches — four of them by a solitary point — ending their hopes of making the semi-finals.
Then just before their final matches on Sunday — their last shot of chalking up a consolation win before heading home — they got another kick in the guts.
Australia's Tahli Gill returned a positive Covid test. Picture: AFP
Gill was notified she had tested positive again but there was not enough time left for her to produce the required two negative tests to play.
That meant they had to forfeit their last two games, against Switzerland and Canada, and Gill would have to relocate to a Covid isolation facility.
The Australian Olympic Committee (AOC) requested they be allowed to return home immediately, triggering an urgent meeting of Chinese officials which resulted in a spectacular backflip that worked in the Australians' favour.
With no time to spare, the Medical Expert Panel reversed the ruling and told the Aussies to get themselves ready to play the Swiss.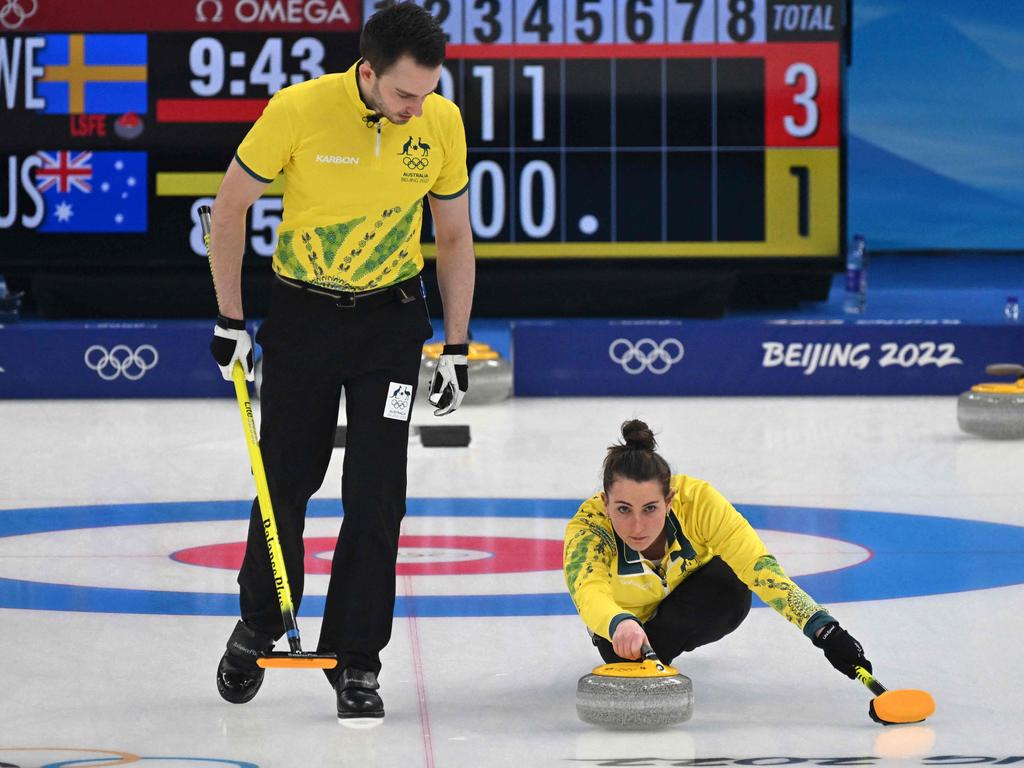 The pair have been handed a repreive. Picture: AFP
Trailing 6-3 after five of the eight ends, it looked like being another lost cause. Then suddenly the Aussies went on a roll, scoring six unanswered points to pinch the win.
"We are thrilled for Tahli and Dean," the Australian team chef de mission Geoff Lipshut said.
"I am delighted that our headquarters team continued pressing her case, after earlier advice that the pair could no longer compete."
Wild story of Canuck-turned-Aussie's bid to do a Bradbury
Not for the first time, Canada's loss is Australia's gain in winter sports.
If things had gone the way he planned, Brendan Corey might have been skating for Canada at the Beijing Olympics.
Instead, he's competing for Australia, in the same short track event that Steven Bradbury famously won gold in two decades ago.
And Bradbury's heir apparent is already through to Monday's quarter-finals after breaking the Australian record in Saturday's heats.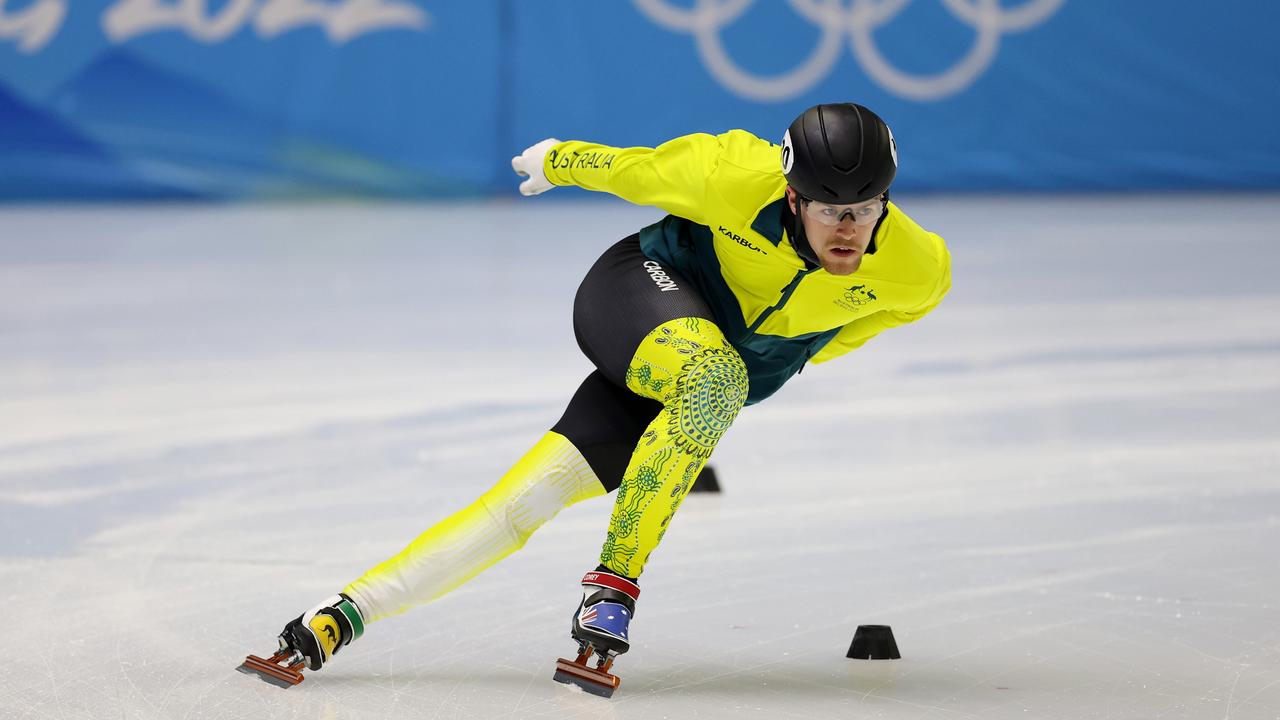 Canadian-turned-Aussie Brendan Corey has a chance to shock the world. Picture: Getty Images
How he ended up representing Australia is as wild as the sport of track itself.
It wasn't that long ago that Corey represented Canada at the junior world championships but he switched his allegiances to Australia after he was unfairly left off the national team and was offered a spot on the Australian team.
Currently ranked 11th in the world, he isn't the first disgruntled Canadian to come to Australia looking for brighter things.
Dale Begg-Smith left the Great White North when he was a teenager and moved to the Snowy Mountains, then won gold in moguls at the 2006 Winter Olympics in Turin.
While Corey's own family found some of the precious metal in Australia too, literally.
"My mother's father is a gold miner," Corey told News Corp. "He helped develop the Plutonic mine, which is one of the largest mines in Western Australia.
"He's a dual citizen. And my mother grew up in Australia too. So to get the chance to wear the green and gold at the Olympics means so much to my family. I'm so excited."
Ranked 11th in the world for the 1,000m race, Corey is Australia's lone representative in short track speed skating.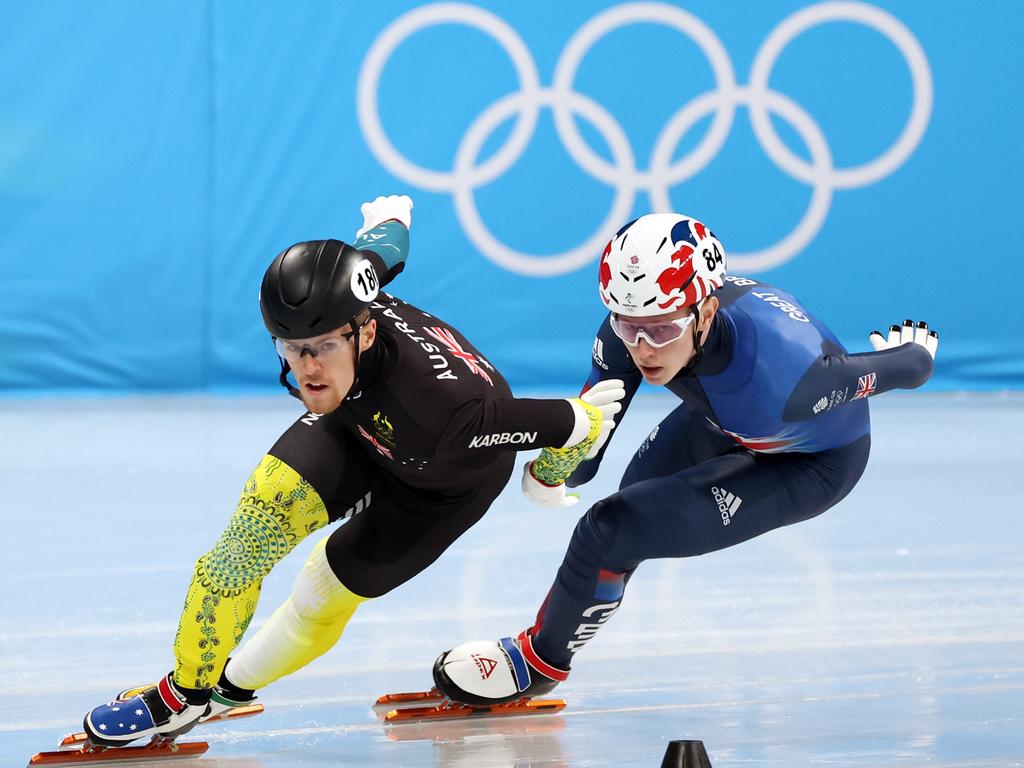 Corey of Team Australia battles Niall Treacy of Team Great Britain. Picture: Getty Images
When Bradbury won his first Olympic medal, a bronze at Lillehammer in 1994, Australia had an entire relay team, but those days have long gone.
For Corey, part of the lure of switching allegiances to Australia was to rebuild the program.
"I was too young at the time to remember it but I've watched Steven's race multiple times," he said.
"I don't think that a moment like that will ever happen again in short track but it reminds me that even on your lowest days when you think the world is against you, you just dig deeper and come back even stronger."
Coincidentally, Corey did most of his training for Beijing in Salt Lake City, the Utah capital where Bradbury won Australia's first Winter Olympic gold in 2002 after all his opponents in the final fell over.
When Corey made the team, Bradbury was one of the first people to congratulate him.
"He just wanted to reach out to personally congratulate me and say that he's very proud of all the hard work and commitment I've shown,' Corey said.
"He gave me some hints about what things I am doing well and some of the strengths that he saw in me that I will be able to use at the upcoming Games."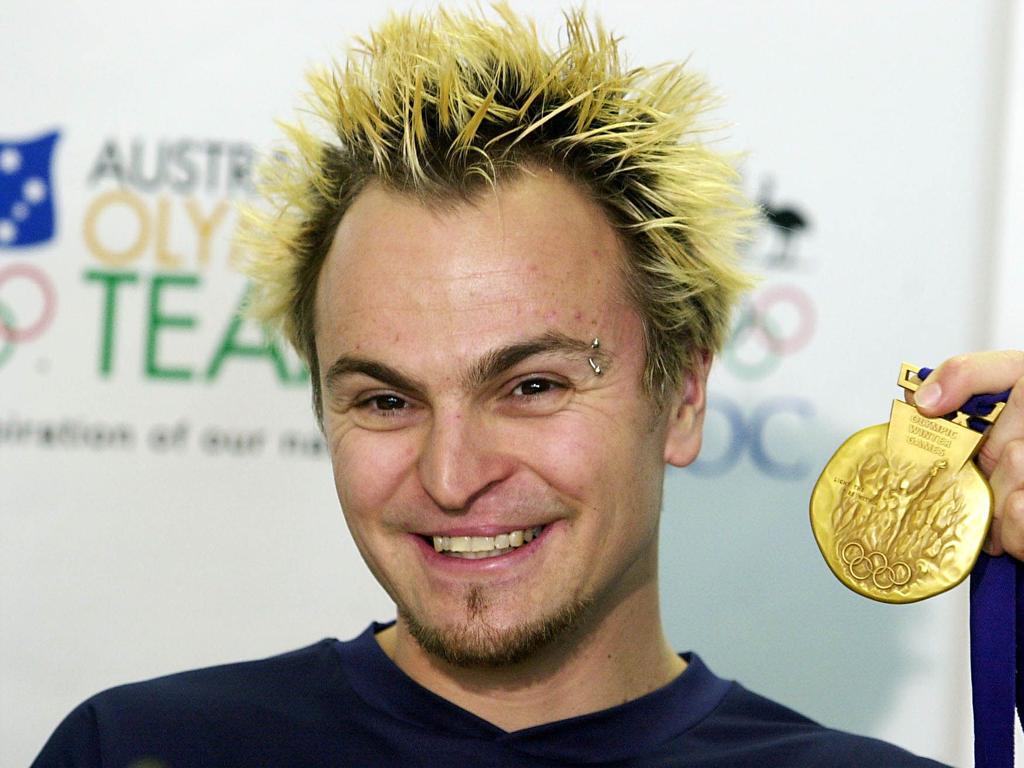 Stephen Bradbury produced one of Australia's most-iconic sporting moments. Could it happen again?
The often forgotten part of Bradbury's incredible victory is that years before his Olympic victory, he almost died after he collided with another skater at a World Cup meet in Montreal and was sliced open by his blade.
Corey also suffered a life-changing injury just after being selected on the Canadian national senior team when a teammate slipped over and collided with him.
He had suffered a concussion which ruled him out of selection but was never picked again.
"I was very upset at the time, I'm not going to lie," he said.
"I did go through an appeal process, because I was really unhappy with the decision and felt like it was not a fair one."
A chance meeting with Australian coach Richard Nizielski, who teamed up with Bradbury to win Olympic bronze in 1994, convinced Corey that his future was in green and gold so he jumped at the chance.
"Words can't explain how I feel," he said. "But this is just the start.
"This year was my first year on the World Cup so I went in with an underdog mentality and no pressure, and I think that helped me to achieve what I have this season.
"To be 11th in the world in my first year, I still can't believe it and now I've been selected on the Olympic team. It's just an incredible bonus."
Is Australia's long wait for Winter Olympic gold about to end?
It's been 12 years since an Australian woman has claimed the biggest prize on snow and ice but there's now renewed hope the drought could be over as early as Sunday night.
No-one's counting their chickens yet because there's absolutely no guarantees in extreme winter sports, where the tiniest slip can spell disaster but don't anyone go to bed early because if Australia's rising moguls star Jakara Anthony can stay on her skis she has a real shot at the podium.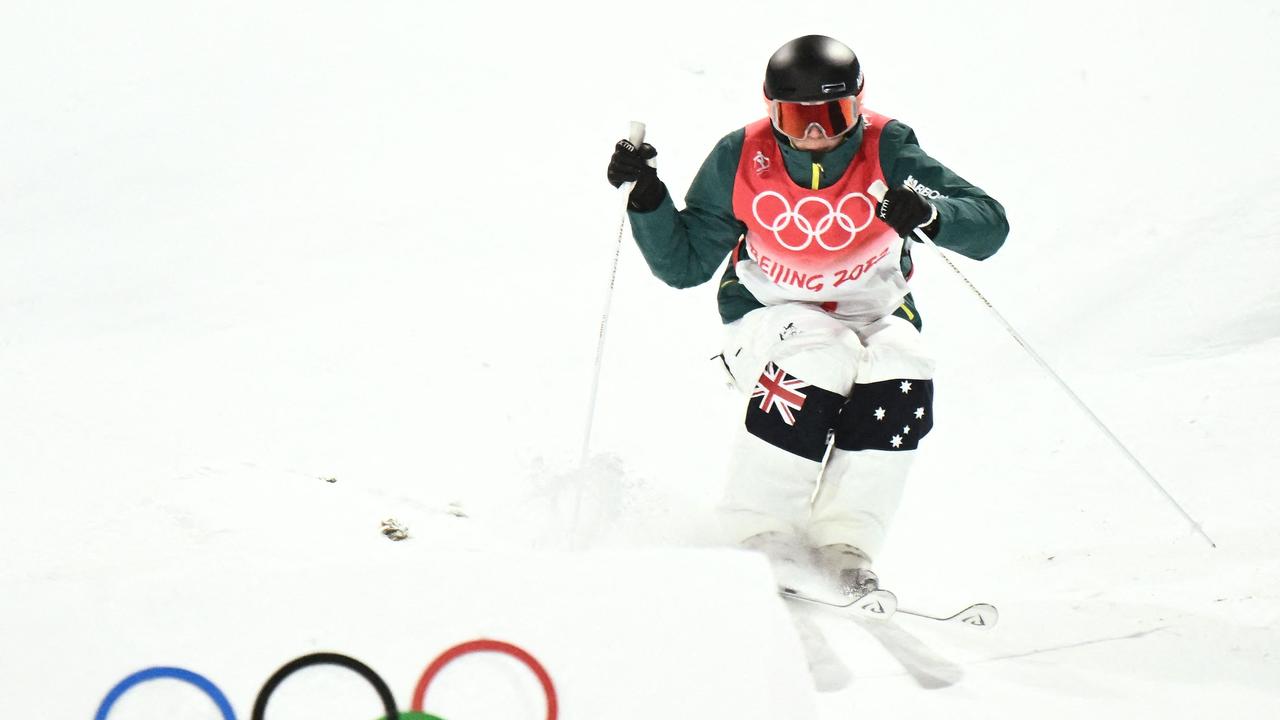 Can Jakara Anthony take home gold? Picture: AFP
Fourth on her Olympic debut four years ago when she was just a teenager, the Victorian is now entrenched among the best and most consistent performers and has already laid the challenge to her rivals since arriving in Beijing.
Showing no signs of nerves, she easily finished top of Thursday's qualifiers after a breathtaking run down the bumpy course then declared she can do even better in Sunday's three-stage final series.
"There has been a four-year build-up to this, so to finally get the chance to ski at the Olympic stadium was a phenomenal feeling," she said.
"It was a really good run but there were some things I was happy with and things I definitely did better in training, so I definitely have a lot of room to improve on that."
That's a frightening prospect for her closest competitors, particularly France's Perrine Laffont and Japan's Anri Kawamura, but that counts for nothing because moguls is one of the most unforgiving of all the skiing disciplines as there are so many dangers.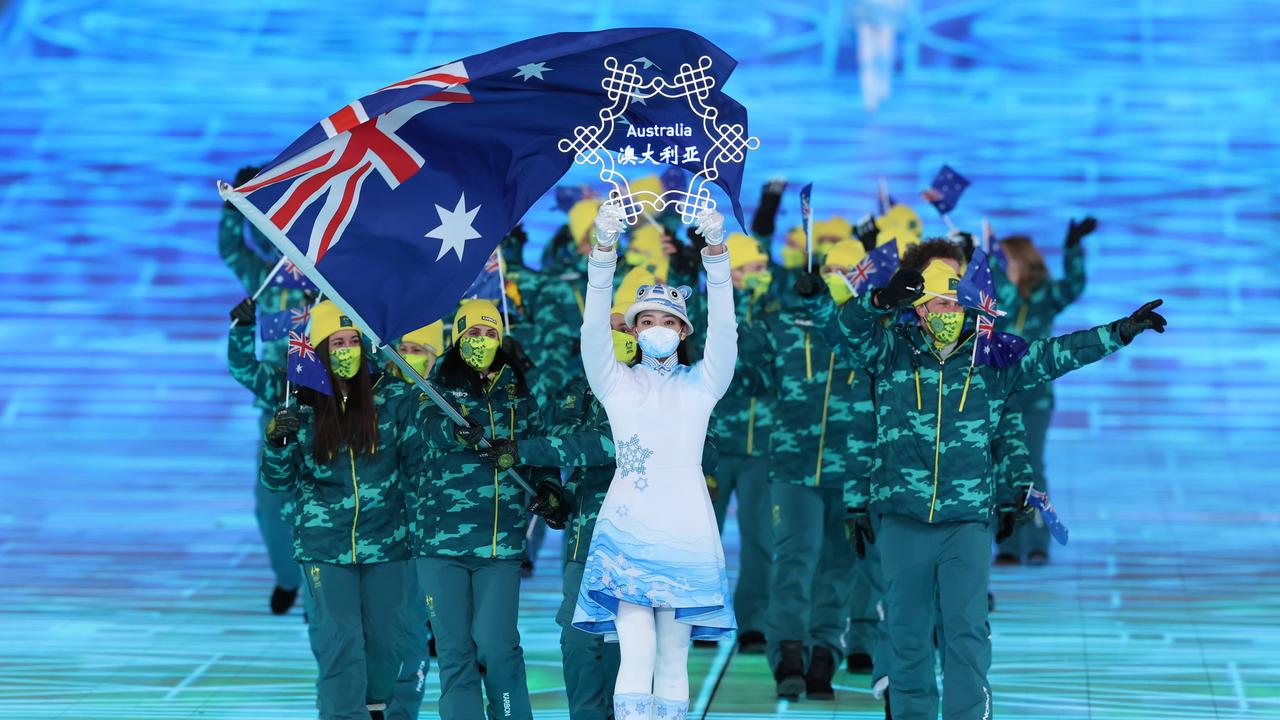 Australia have plenty on show to start the Games. Picture: Getty Images
Competitors not only have to navigate their way down the steep, bumpy slope as fast as they can but they also have to impress the judges with their technical ability on the turns, and wow them with their jumps.
That's where the 23-year-old Anthony has an advantage over her rivals because she's the only woman in the world who can nail a Cork 720 mute, one of the hardest tricks in moguls that involves a full flip with two rotations and a grab of the skis in mid-air.
But the Olympics creates more pressure than any event in the world so she'll also have to do it when the heat is on, if she makes the final six where the medals will be decided by a single run.
It promises to be a white-knuckle ride because to be the very best, competitors need to take risks and push themselves to the absolute limit, both physically and mentally.
"We do all sorts of training, and strength is a really big one for us," Anthony said.
"You're taking a lot of impact in the moguls and on the jumps so you need to be as strong as you can, particularly in your legs.
"We do some aerobic training and we do anaerobic training.
"A run is about 30 seconds, so we really need to be working that lactate which is not fun.
"There's a lot of other bits in between, some speedwork, tricks, everything really."