Beijing Winter Games: Were Australian athletes silenced on controversial topics?
The end of the Beijing Winter Olympics have raised questions about the most controversial of Games – and why our competitors stayed quiet on the most divisive topics.
The Australian Olympic Committee spent $4m on the country's hugely successful Beijing team, but did on-snow pampering also buy their silence?
None of the 43 members of the Australian team who competed in China have spoken out about anything other than their performance.
On Sunday Bree Walker and Kiara Reeinghius, who had finished 16th in the two-woman bobsleigh, responded to a question about the appropriateness of the Games behind held in China.
They said "it is a very big deal to have the opportunity (to race), we are really grateful to be here."
Walker added: "we are athletes and (concentrating on) our performance and anything bigger than that we are not focusing upon".
Members of Team Australia and Team Ukraine during the Winter Olympics closing ceremony. Picture: Getty
Yet concerns have been swirling front and centre at the Games such as Russian drug positive Kamila Valieva's meltdown on ice, Peng Shaui's photo opportunities with IOC president Thomas Bach and China's Olympic spokesperson claims that Uigher camps and anything other than One China were "lies".
During the Games the sensitivity of such issues manifested itself in Dutch journalist Sjoerd de Daas being dragged away by security staff while doing a live cross to The Netherlands, and a Japanese journalist for Kyodo news prevented from asking questions of a Hong Kong athlete. A Finnish athlete had her Instagram posts deleted because they showed flooding in the Athletes village; and even China's poster girl Eileen Gu had an Instagram comment talking about getting around China's internet firewall taken down.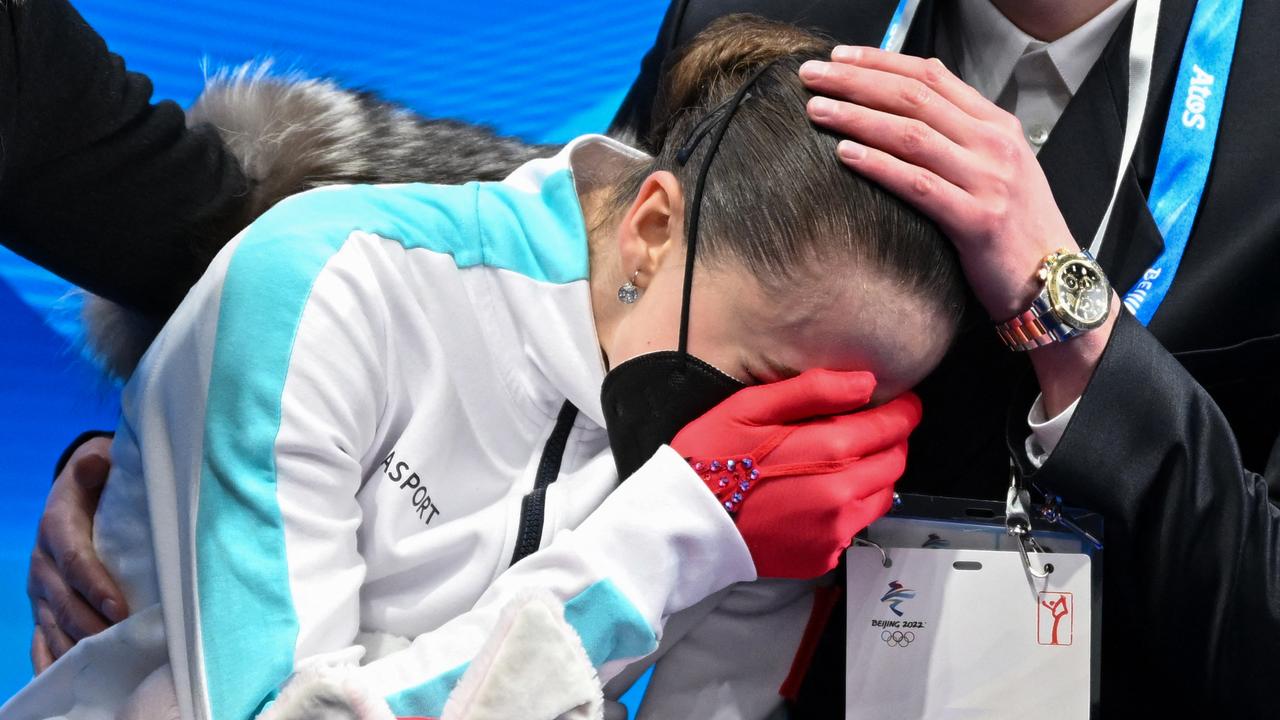 Kamila Valieva's drug scandal rocked the Games. Picture: AFP
All the while the Australian team were cosied up in the Australian cell block of the Olympic compound enjoying luxury home from home comforts. A barista was flown in to make decent coffee, chefs prepared special food, much of which was also flown in, and athletes were chauffeured to venues in cars to avoid the dramas of bus connections and minimise possible contamination with other people.
Australia competitors were either ignorant, or chose to ignore, events that were occurring outside of their privileged bubble. Unquestioning, at least in public, were they lulled into being a political pawn in China's sports washing of its human rights reputation?
Australian chef de mission Geoff Lipshut said Australian team members weren't allowed to mix and mingle, or even talk to athletes from other teams in the village contributed to an unprecedented bonding of the Australian team.
He felt this contained team culture was an important factor in Australia winning four medals at the Games: a gold to Jakara Anthony, silvers to Jackie Narracott and Scotty James and a bronze to debutant Tess Coady.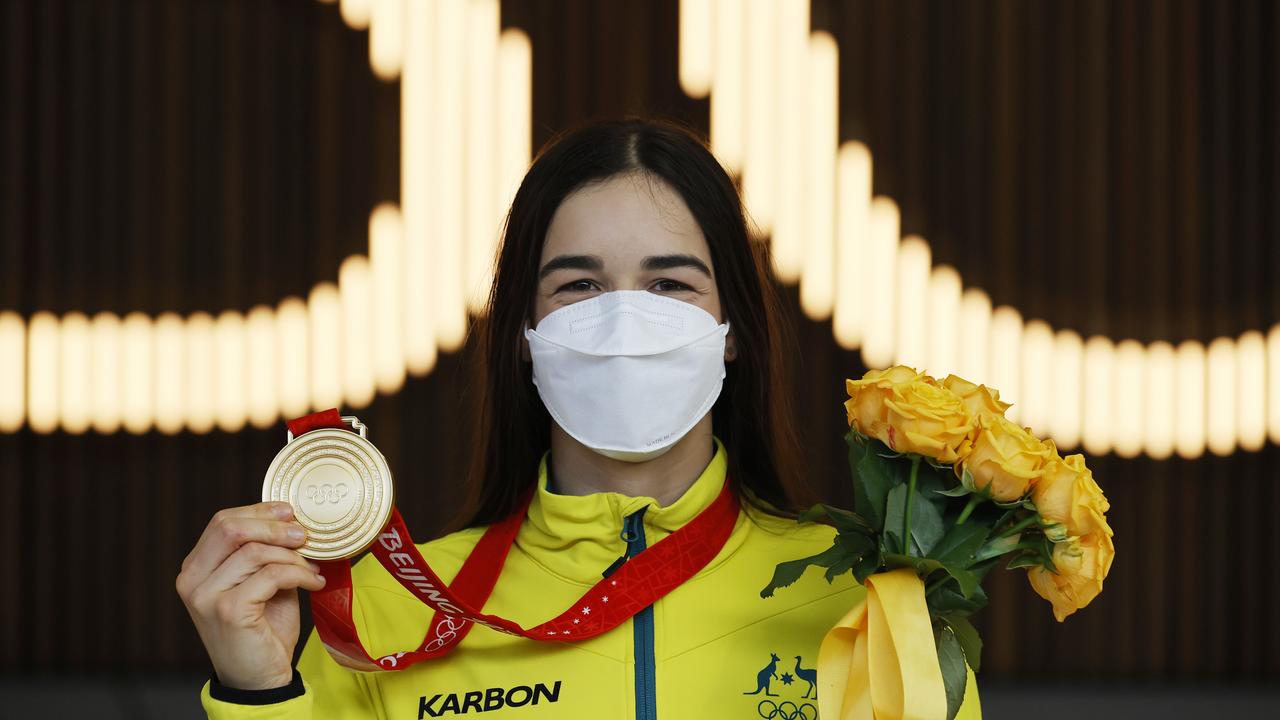 Olympic Gold medal winner Jakara Anthony arrives home into Melbourne. Picture: Alex Coppel.
Lipshut insisted athletes weren't muzzled at all and we free to express any views they may have held; but none have spoken out.
Only snowboard cross fourth place getter Belle Brockhoff said she would speak out once she had finished competing.
It appears that many Australian competitors welcomed the prison-like strict rules – flying in just before their competitions and then flying out within 48 hours of finishing, housed in their isolated compound that they couldn't leave. Those who didn't perform up to expectations had the sympathetic shoulders of experienced Olympians Alisa Camplin and Daniel Kowalski to lean upon.
Lipshut said he believed athletes have not expressed political views because they would prefer the focus to be on their sports which are only in the headlines for a short time. ''they've worked really hard to get here,'' he said.
"This was a team of really good people, they really supported each other and a team culture was first class. We were really sticking to ourselves in the villages and this actually helped promote a strong team. Because of the food we provided, and the coffee, we stayed in our space and mixed with ourselves."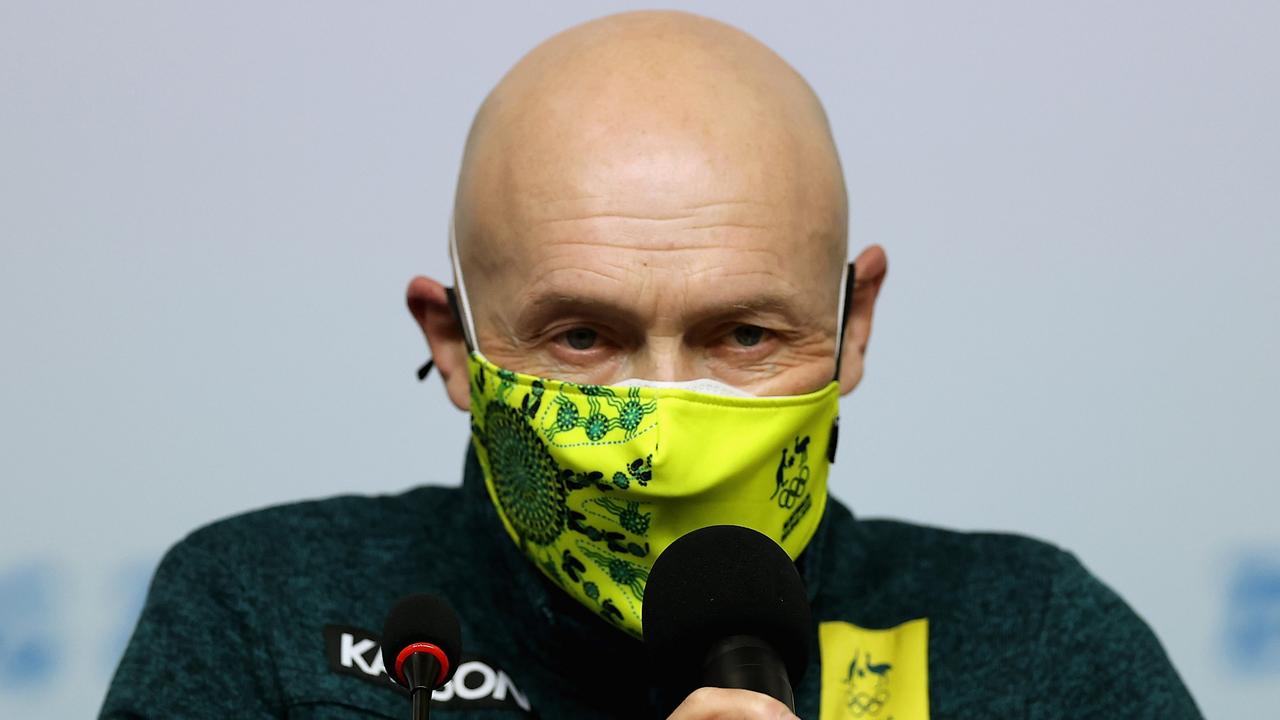 Australian Olympic Team Chef de Mission Geoff Lipshut insists athletes weren't silenced. Picture: Getty
Another team officials told News Corp the selection of China was taken by the IOC seven years ago when most of the athletes were children and" they were there to do their job, which was to compete and which they did".
Nils van der Poel, the Swedish speed skating star said after returning home that it was "extremely irresponsible' to hold the Games "in a country that violates human rights as blatantly as the Chinese regime is doing. He said he shouldn't speak out too much because Sweden still had people in China, but added: "The Olympic Village was very nice, the Chinese people I met were absolutely amazing. The Olympics is a lot, it's a fantastic sporting event where you unite the world and nations meet. But so did Hitler before invading Poland, and so did Russia before invading Ukraine."
British-American skier Gus Kenworthy was similarly outspoken, noting while still in China: "I don't think countries should be allowed to host the Games when they have things happening that are so egregious, and there are insane human rights atrocities happening."
Originally published as Beijing Winter Games: Were Australian athletes silenced on controversial topics?