US ski superstar Mikaela Shiffrin has two misfires instead of two Winter Olympics medals
US ski star Mikaela Shiffrin has skidded out of her second race in three days, admitting: 'I've never been in this position before and I don't know how to handle it.'
American alpine skiing star Mikaela Shiffrin's stunning Beijing Olympics experience so far has come down to 16 seconds.
That is the sum of the time she's spent actually racing, after wobbling out of a second consecutive race on Wednesday, the slalom—then sitting, slumped, on the edge of the course in dismay. She also skidded out of the giant slalom on Monday, about one-third the way down the course.
When asked what happened on Wednesday, she paused for slightly longer—20 seconds—before answering.
"I was pushing," Shiffrin said during a nearly 20-minute post-run interview with reporters in which she teared up several times.
She added: "My goal was to push. I did that. And maybe I pushed a little over the limit. And maybe that's because of the pressure…. Honestly, I'm at a loss so it's hard to really know what exactly went wrong, aside from, I slipped up a bit on one turn and I didn't have enough space to recover from it."
On Monday she was out at the fifth gate. On Wednesday, the third.
"I feel a lot of disappointment," she said. "I feel like my performance is a huge let-down so far."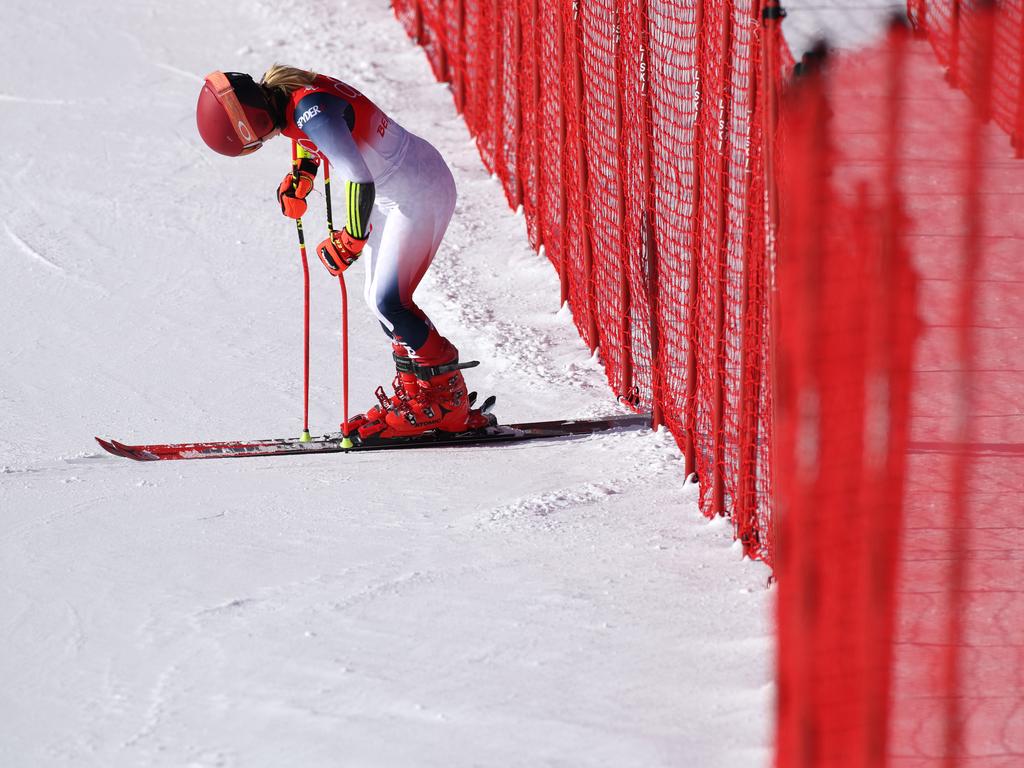 Mikaela Shiffrin felt 'a lot of disappointment' after her second crash out of the Games. Picture: Adam Pretty/Getty Images
Shiffrin entered these Games with three Olympic medals at home, and as the best hope of any alpine skier in the world to win more. She has won more World Cup races, 73, than any other active skier and almost as many as any man or woman in history.
She has been a paragon of consistency. Yet twice at these Games, she's failed to reach the finish line.
There is enormous pressure on her to produce. With Lindsey Vonn's retirement in 2019, and no current male stars in U.S. alpine skiing, Shiffrin remains the major hope for U.S. alpine skiing. (American Ryan Cochran-Siegle won silver in the men's super G on Tuesday, however.) Most skiers train with the rest of the team. Shiffrin has her own training and support team—including coaches and her mother—that's five people strong.
Shiffrin has three potential races left: Friday's super G, Tuesday's downhill and the Feb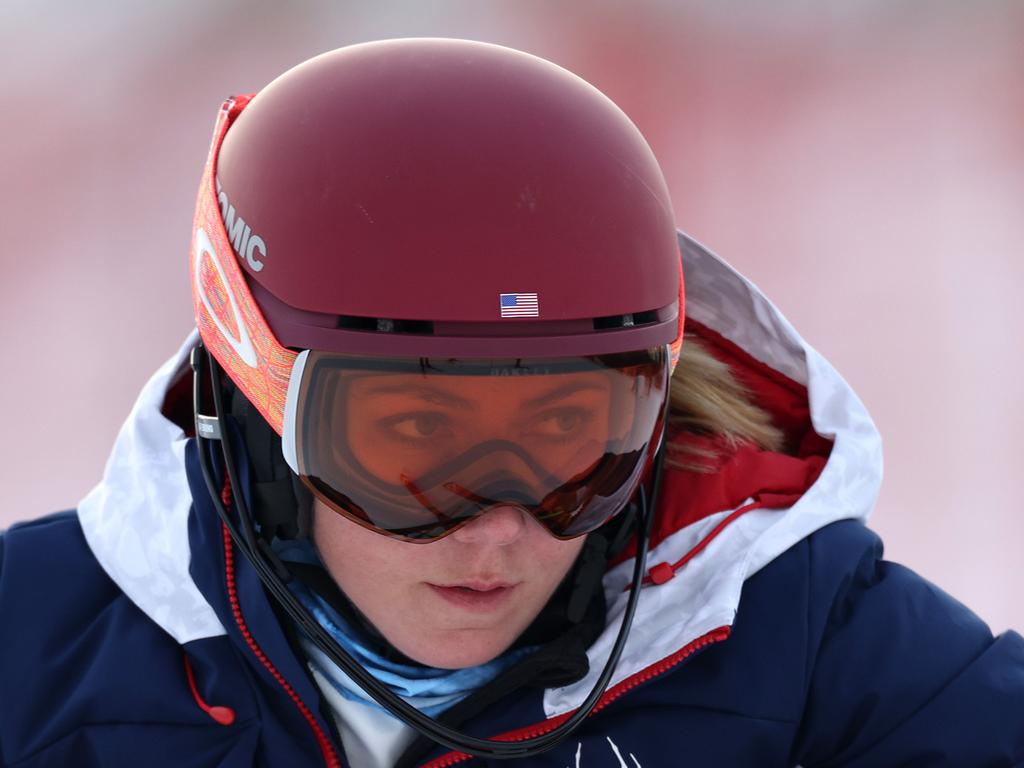 Though the start of Mikaela Shiffrin's Olympic campaign has been disappointing, she can now turn her attention to her three remaining events. Picture: Tom Pennington/Getty Images
. 17 alpine combined, which adds together the times for one downhill and one slalom run.
When asked if she's up to competing in the coming week, Shiffrin responded, "Yeah. I mean, no," she said, laughing. "Just, I will try to reset again and maybe try to reset better this time. But I also don't know how to do it better because I just don't. I've never been in this position before and I don't know how to handle it."
In speaking of the downhill, the longest of alpine races and the furthest from her strength, Shiffrin said: "I think it'll be a pleasure to ski, but I also have some teammates who are really fast. And we have the athletes who can fill the spaces, so if I'm going to ski out on the fifth gate, like, what's the point?"
To be sure, this has been the most excruciating run-up to the Olympics of the career of Shiffrin, who's 26 years old and competing in her third Games. Two years ago her father, Jeff, died unexpectedly. She took time off from skiing to grieve.
"Right now I would really like to call him," Shiffrin said after Wednesday's run. "So that doesn't make it easier. He would probably tell me to just get over it."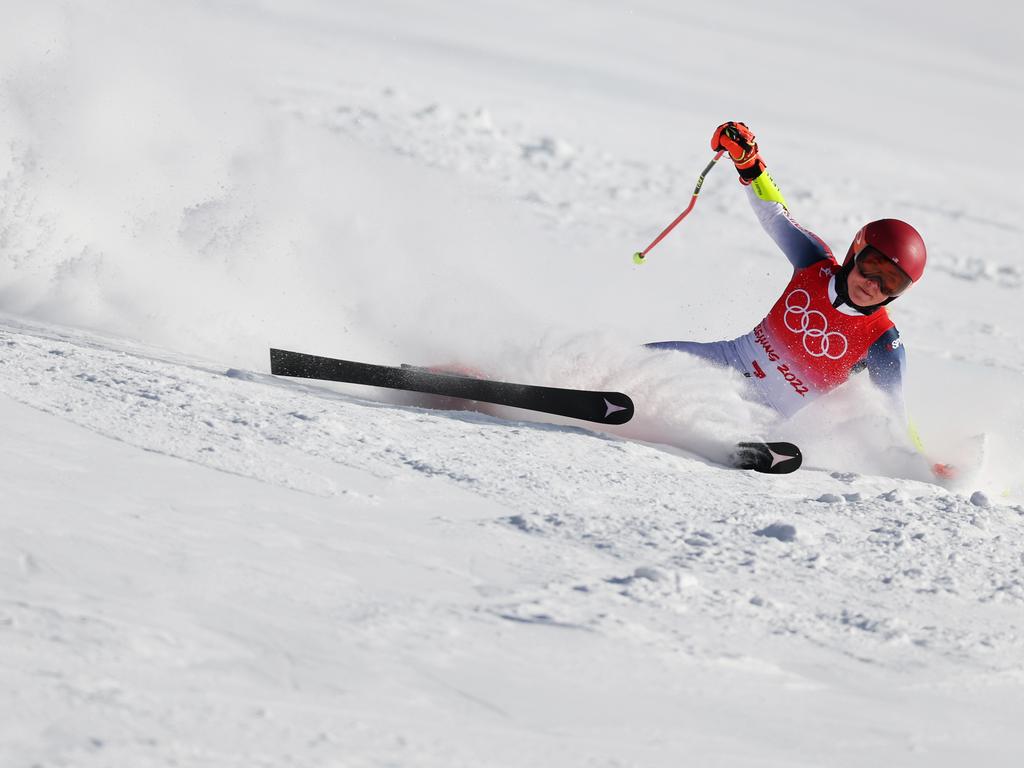 Mikaela Shiffrin as she lost control during the first run of the women's slalom. Picture: Tom Pennington/Getty Images
In December, just weeks ago, Shiffrin was infected with Covid-19. She had to stay off the mountain and out of the gym for days, and she and her coaches were left to hope she would test negative in time to travel to Beijing, with its strict Covid-mitigation measures and policies.
Shiffrin has won six World Cup slalom season titles in her career entering Wednesday's Olympic race. She won the 2014 Olympic slalom gold in Sochi, and finished fourth in 2018 PyeongChang.
This season, Shiffrin has looked up in the slalom standings to Slovakia's Petra Vlhova, who had won five of seven World Cup slalom races entering Wednesday. But Shiffrin had won the other two.
Vlhova won Wednesday's race, edging out Austria's Katharina Liensberger by .08 seconds.
Shiffrin had seemed like a lock for some kind of medal in the giant slalom or slalom.
She entered these Olympics with nearly a year of planning under her belt, determined to be ready for anything on slopes she had never seen before. She sounded confident entering the Games, even suggesting she'd add the team event to her five-event tentative schedule.
"There's pressure that comes with it, but I've experienced that pressure quite a few times now," Shiffrin said of others' expectations of her. "So as much as it's there, I don't know…. If anything maybe because I felt how much I cared, my whole intention building up, this whole season, since this summer, was to ski these races aggressively. And that's what I was doing. Problem is, you have to finish."
- The Wall Street Journal