Origin of Jakara Anthony's dominant moguls gold medal win at Beijing 2022 Winter Olympics
Jakara Anthony ended Australia's 12-year gold medal drought at the Winter Olympics. Her parents first met at Mt Buller and that was where the journey to Beijing 2022 began.
Jakara Anthony knew at age 10 that moguls was the sport for her. What she didn't know was that 13 years later she would spearhead Australia's most successful day at the Winter Olympics, winning a gold medal on top of the bronze won by Tess Coady in snowboard slopestyle a few hours earlier.
At the bottom of the moguls course, immediately after Anthony had fired up the brightly-lit artificial snow course with a stunning victory while the temperatures plunged to minus 20 degrees, two of Australia's Olympic gold medallists were hugging each other and jumping for joy.
Lydia Lassila, who won the aerials in 2010 and is now commentating on television, and Alisa Camplin, the 2002 Olympic aerials champion and now team assistant chef de mission who gave Anthony some jigsaw puzzles yesterday to help take her mind off the finals to come, were bubbling with excitement. Camplin couldn't stop taking happy snaps.
In sharp contrast, Anthony was calmly smiling, almost bemused at the attention, although a hint of a tear emerged when she was asked about her family. Her father Greg and mother Sue had met at Mt Buller and introduced Anthony and her brother Matt to skiing, allowing them to attend term threes of school at the ski resort. They began doing interschools snowsports competitions and were introduced to every different discipline.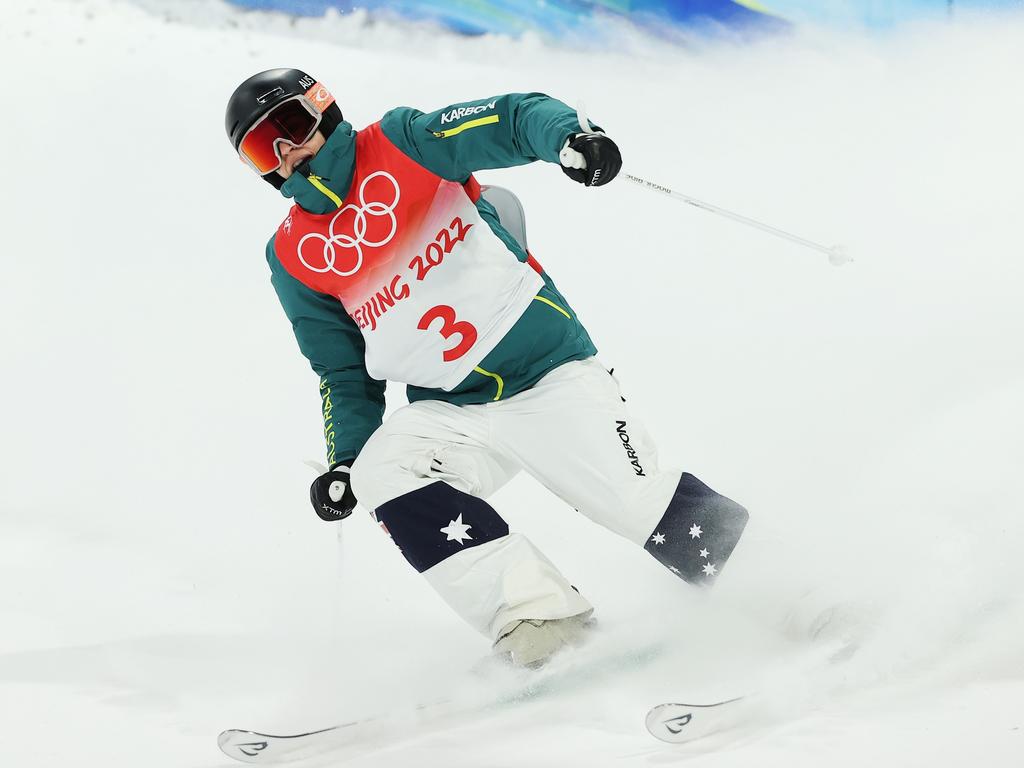 Jakara Anthony of Australia reacts after her run during the women's freestyle skiing moguls final at the Beijing 2022 Winter Olympic Games. Picture: Getty Images
"But moguls really captured me,'' she said, adding that witnessing a then 15-year-old Britt Cox compete at the Vancouver Olympics was motivational.
"It's (moguls) always changing, It's never the same run even tonight, not one run is the same and I think that there's so many different skills you have to get together in one go requires so much hard work but that just makes the feeling when you hit it all the better,'' she said.
Anthony said she was lost for words after her triumph because of the big lead-up and having had more than 48 hours since last skiing on the course for qualifying. "So many times my mind was flicking on what could happen and to have that be the outcome, I'm just blown away,'' she said.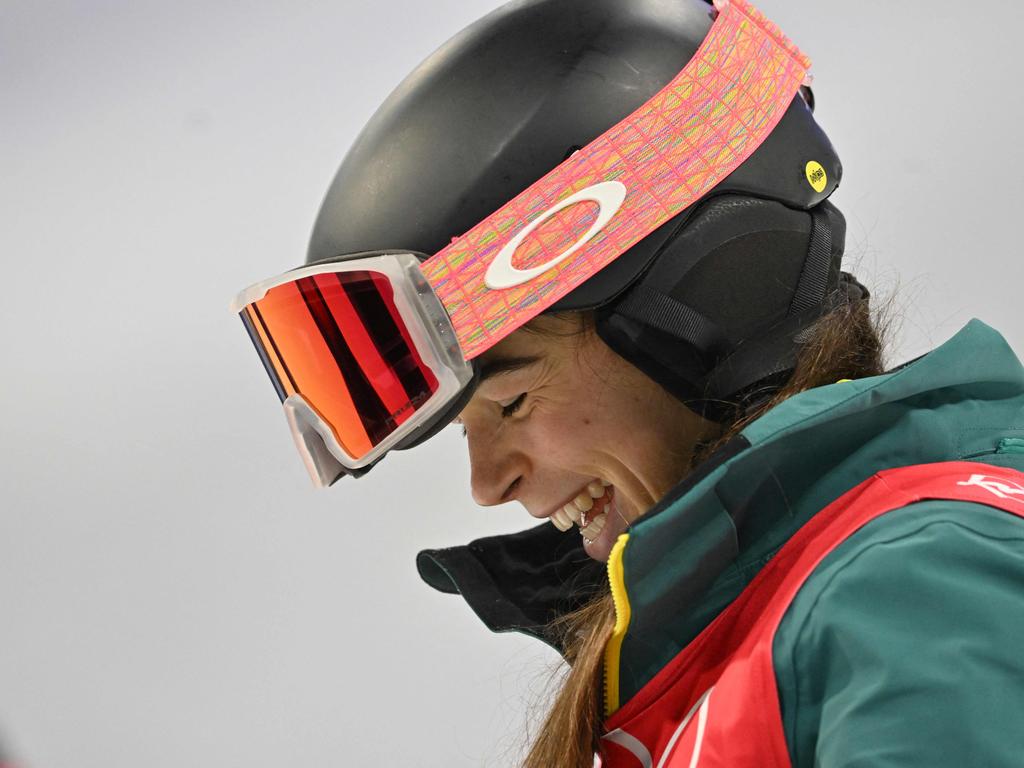 Gold medallist Australia's Jakara Anthony celebrates on the podium during the venue ceremony after the freestyle skiing women's moguls final. Picture: AFP
But Anthony had dominated the competition from the get-go. She was the No.1 ranked competitor throughout the rounds, meaning she was the last skier to go down the course. She knew that was special, "and it's something [in which] I take a lot of pride," she added.
What set Anthony apart from her rivals, who all boast near flawless skiing, was the degree of difficulty of her tricks and her ability to land and immediately resume attacking the moguls.
The first one, a cork 720 mute, is an off-axis double rotation with a grab of her skis and no other woman had a similar trick in the field.
"I might be the first girl at the Olympics to have completed one," she added modestly.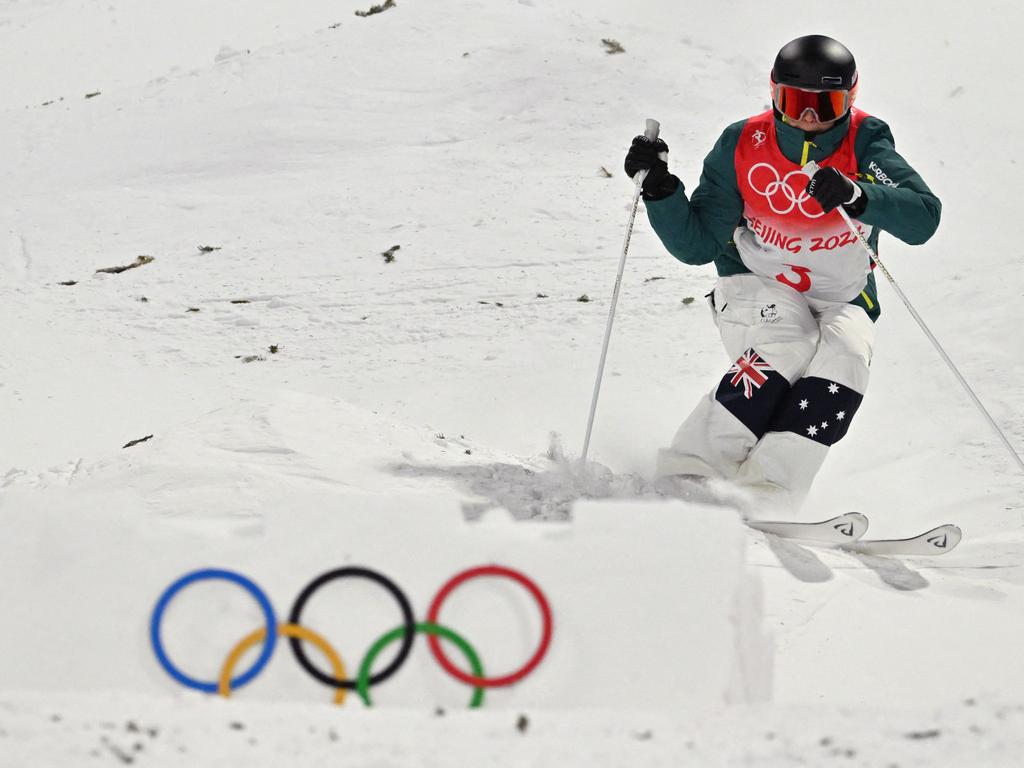 Jakara Anthony competes in the freestyle skiing women's moguls final during the Beijing 2022 Winter Olympic Games. Picture: AFP
Jaelin Kauf of the United States won the silver and 19-year-old Russian Anastasiia Smirnova was rewarded for her aggression on the course, picking up the bronze.
Defending Olympic champion Perrine Laffonte of France finished fourth, while the in-form Japanese youngster, Anri Kawamura, 17, was fifth.
Anthony's big international breakthrough occurred at the PyeongChang Olympics, where she finished a surprise fourth. But she said in that time the development of the sport had progressed, from doing backflip tricks to doing doubles.
"I would really love to see that continue to progress and I'd definitely be looking to continue to progress my package and keep pushing everyone else too as well,'' she said.
Four time Olympian Cox, who also competed in the Beijing event, finished just out of the finals in 14th spot, although her qualifying run looked superb. She scored 73.04 points and said afterwards that if her knees and back hold out she wants to continue competing for another year or two. Fellow Australian Sophie Ash was 16th.
Originally published as Origin of Jakara Anthony's dominant moguls gold medal win at Beijing 2022 Winter Olympics