Shaun White used to hide his heart defect but now inspires people with similar problems
Shaun White is a snowboarding megastar and a triple Olympic champion, yet beneath the gold medals on his chest lies another extraordinary attribute.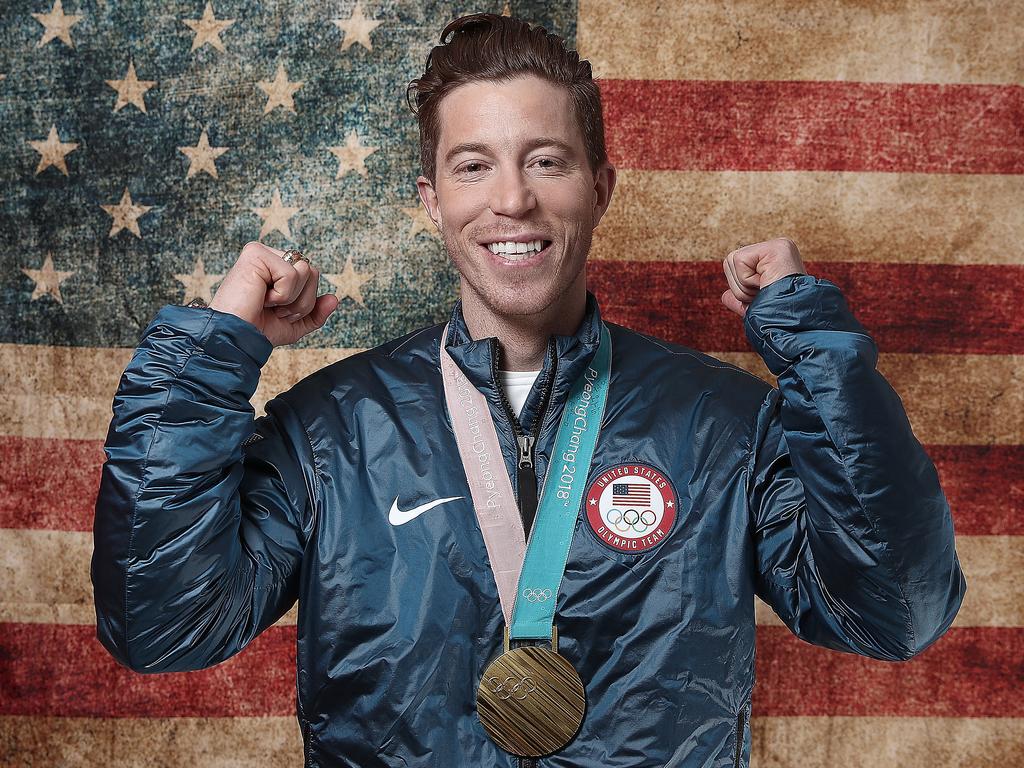 Shaun White is a triple Olympic gold medallist in snowboard halfpipe and also inspires fellow heart defect survivors. Picture: Marianna Massey/Getty Images
Shaun White is running five minutes late for our Zoom call. His publicist apologises, and explains that as part of the last-minute preparations for his fifth and final Winter Olympics, he is having his hair cut.
Once, White belonged to that tiny category of humans of whom that revelation would trigger a global news avalanche. When in 2012 he was shorn of his distinctive plume of red hair, to which he owed his nickname the "Flying Tomato", it made headlines around the world, and was arguably the biggest tomato-related cultural event since Andy Warhol's soup tins.
At 35, White still occupies a rare plane of celebrity, but he no longer inhabits that media-hysteria sweet spot where the buzz of the clippers can launch a flotilla of click-pieces. In fact, for the first time, he enters this Olympics a little under the radar. He is the phenom who has become part of the scenery. In a sport predicated on the outlandish and uncharted, White is the established name, the elder statesman, the known.
He is in the twilight of an extraordinarily long career. White has been a professional snowboarder since he was 13 years old. He won his first X Games gold medal at 16. By 19, he was an Olympic champion in the halfpipe, a title he has won twice more at three subsequent Olympics, including the previous Games in PyeongChang.
But he won't be the favourite in Beijing: he's ninth in the world rankings. And he may not even be the biggest star on the United States team: Chloe Kim, his ebullient counterpart in the women's halfpipe, perhaps owns that status now. When the teenage White launched himself from that icy lip into the sky, he propelled himself to a height of fame, dominance and importance that few athletes attain. He has hung at the top of that parabola longer than most. But even White can't defy gravity for ever.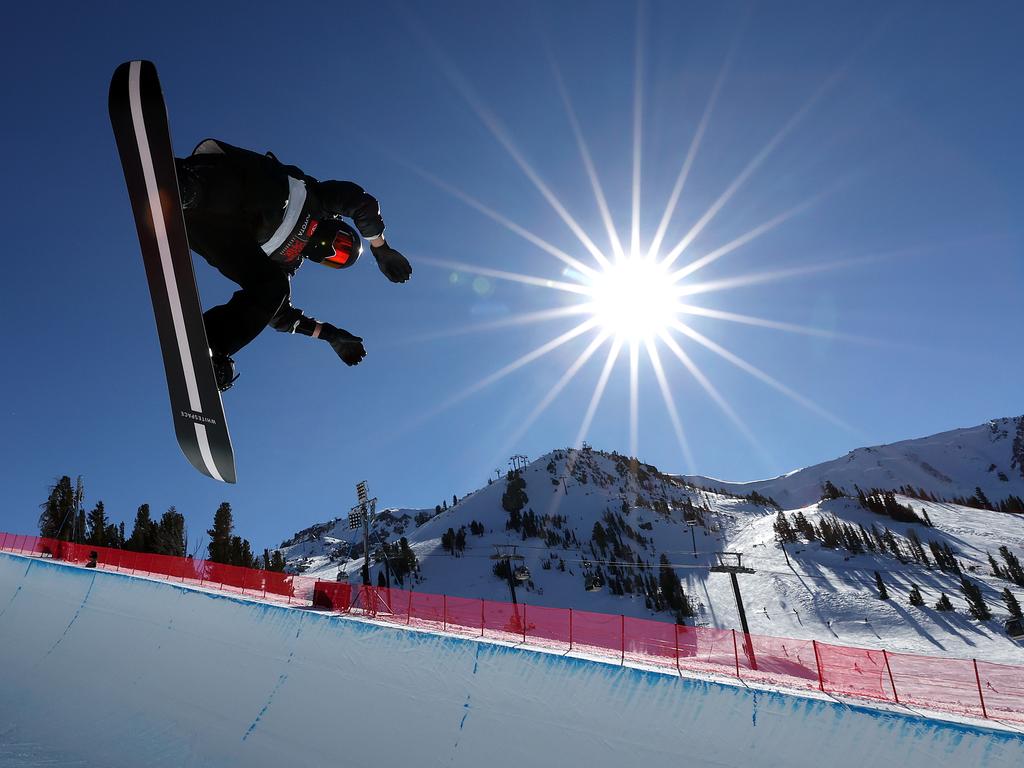 Shaun White launches from the halfpipe at the Toyota US Grand Prix at Mammoth Mountain in January. Picture: Sean M. Haffey/Getty Images
When we speak, a week out from the start of the Olympics, White is happy, relaxed, coming off a high. Three weeks ago, at the Laax Open in Switzerland, he earned his first podium finish since the 2018 Games. Since he decided that this would be his last Olympics, White has felt a new sense of liberation. That could make him dangerous in Beijing. "It's really pushed some life into my riding," he says. "It gave everything this extra shimmer, because this is the last time I'm going to be here doing this.
"That's what's fuelling me."
White is so successful, such a polished talker, with such a clear sense of his own story arc, that having a conversation with him can occasionally feel like talking for a sports documentary, with its neat mythology of adversity overcome and where setbacks are a prelude to glory. He says things like: "Every step that I do is something that somebody said I couldn't." At one point, he tells a story about watching a documentary about Bjorn Borg and John McEnroe, and slips into a perfect impression of the portentous, cinematically orotund voice of the narrator.
In 2014, White went to Sochi as the double defending champion and runaway gold-medal favourite. He was contemplating retiring, completing a perfect triptych of Olympic appearances and walking off into the sunset with his legend intact. But something was wrong. As he sat at the top of the pipe, waiting to drop in for his final run, he should have been hearing that comfortingly inevitable documentary script playing in his head: the moment, the stakes, the challenges conquered, the doubters silenced, the ultimacy waiting for him on the other side. Instead, the thought running through his mind was, "I'm going to lose."
White finished fourth: hardly a disaster. Except that, as he says: "I had built my whole career on being the guy who wins. I thought that if you lose, it's over. You're the boxer who walks off the ring and that's it, you're forgotten." But to his surprise, he wasn't disdained or discarded in defeat. "People still celebrated the things that I had done in my career."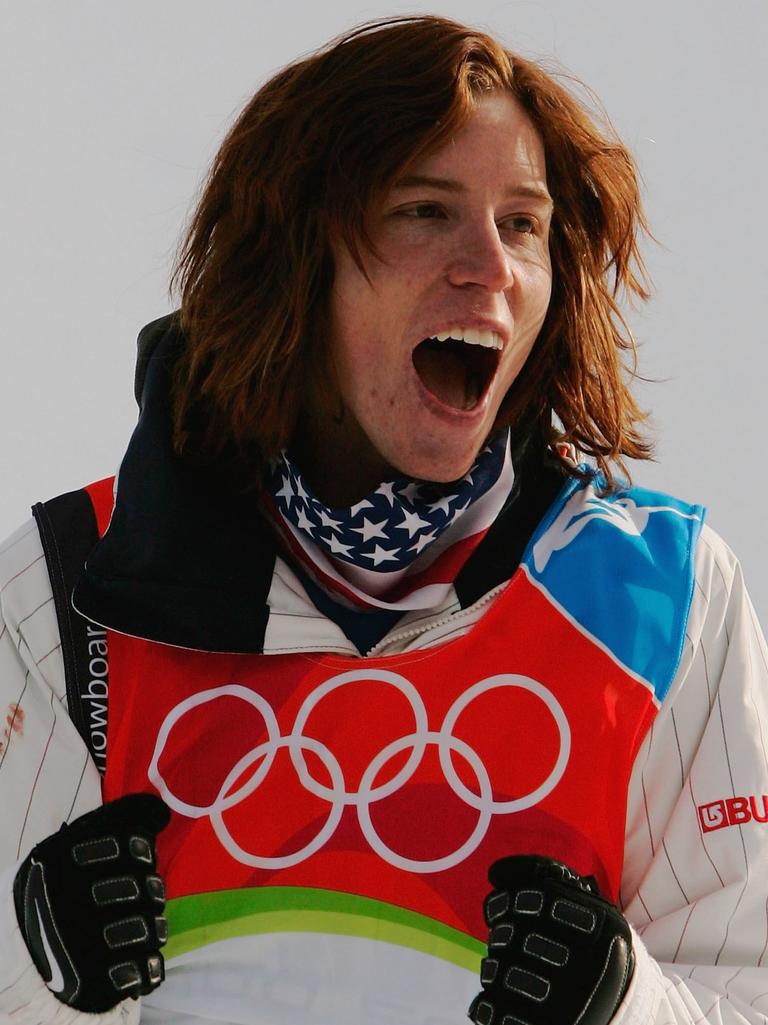 Shaun White won halfpipe gold at Turin 2006... Picture: Adam Pretty/Getty Images
Then went back-to-back at Vancouver 2010. Picture: Kevork Djansezian/Getty Images
That was a relief, and a revelation. But it still left him humbled, wounded, needing to work out what had malfunctioned, and why.
To answer that question, White says, he had to reassess his life profoundly.
"The things that were bugging me had nothing to do with sport, they were things that I had put aside and hadn't addressed," he says. He hung out with rock stars and hobnobbed with chat show hosts, but lost touch with old friends whom he never got to see. (The journalist Elizabeth Weil, who followed him for a New York Times profile in the run-up to Sochi, found him to be "one of those people who seems to be a little bit lonely even though he's never alone".) White describes sitting in the house he bought but never had time to decorate, surrounded by half-painted walls. He had built a dazzling outer shell – invincible, enviable, extrovert – which concealed a surprisingly hollow interior life.
"I just assumed that winning would fix everything," he says. "That's what you're taught as an athlete: put your head down and grind through the difficult times, because there's this reward waiting at the end. [But] it's not exactly what you had in your mind."
Shaun White 'only' finished fourth at the Sochi 2014 Winter Olympics. Picture: Cameron Spencer/Getty Images
Slowly but surely White made efforts to fix things. He reached out to people. He changed the team that he surrounded himself with. He reapproached his riding with purpose and forethought. He tried to learn to accept past disappointments, to appreciate that his life was more than the sum of his achievements, to find meaning in places he had overlooked.
I wonder where this new perspective came from, so I ask White whether he had therapy. At first, he seems to answer in the negative. He talks about having good people around him, about attending motivational talks, about new realisations coming with age. But then, unexpectedly, as his answer deepens, he says: "I was doing therapy, which was really impactful. The idea of working on yourself had never occurred to me before. I had thought, 'If you have an issue, go speak with this person,' but I had never thought, 'It's nice to talk to somebody before there's an issue.'
"It kind of guides you through what's happening, [having] a fresh perspective from someone who's got nothing to do with your world. I realised if I'm going to work on myself, it's not like I can go once or twice, it's got to be a commitment. If I want to get strong, I have to go to the gym more than just once in a while. It's the same with the mental aspect. You have to want to work at it."
In 2016, Lena Zawaideh, the drummer in White's side-project rock band Bad Things, sued him for sexual harassment and breach of contract. White, who reached an out-of-court settlement with Zawaideh the next year, denied the allegations.
After he had won his third gold in PyeongChang, he apologised for describing the matter as "gossip" in his post-victory press conference, saying he was "truly sorry" and had "grown as a person".
Shaun White celebrates after his winning run during the halfpipe final at the PyeongChang 2018 Winter Olympics. The masterclass delivered his third Olympic gold medal. Picture: Cameron Spencer/Getty Images
Part of White's growth has been to engage publicly with a cause for which he is almost uniquely well qualified to be a spokesman. He was born with a condition called Fallot's tetralogy, a fourfold malformation of the heart that affects about one in 2,000 babies.
As with most modern-day Fallot's patients, White's heart defect was repaired via open-heart surgery (three operations in his case) before preschool age. He has a vertical scar running down the centre of his chest, visible in shirtless photos, which he refers to as his "zipper".
White's parents resisted the urge to wrap him in cotton wool. Instead, they let him play football, skate and "find my own boundaries", as he puts it. He discovered that he had none. White was ridiculously talented on wheels, but even more so on snow. His parents bought a campervan and the family would drive to the San Bernardino mountains in Southern California on winter weekends. White slept in the van at night, and soared in the air by day.
I also have Fallot's. Like White, I have a scar running from my collarbone to the top of my stomach, a reminder of something I don't remember, an imprint of something that has little impact. There is very little I can't do, other than go scuba diving or give blood. The weirdest thing about growing up with a corrected heart defect, in my experience, is that you're minimally physically limited; your condition is most present in other people's reactions and preconceptions.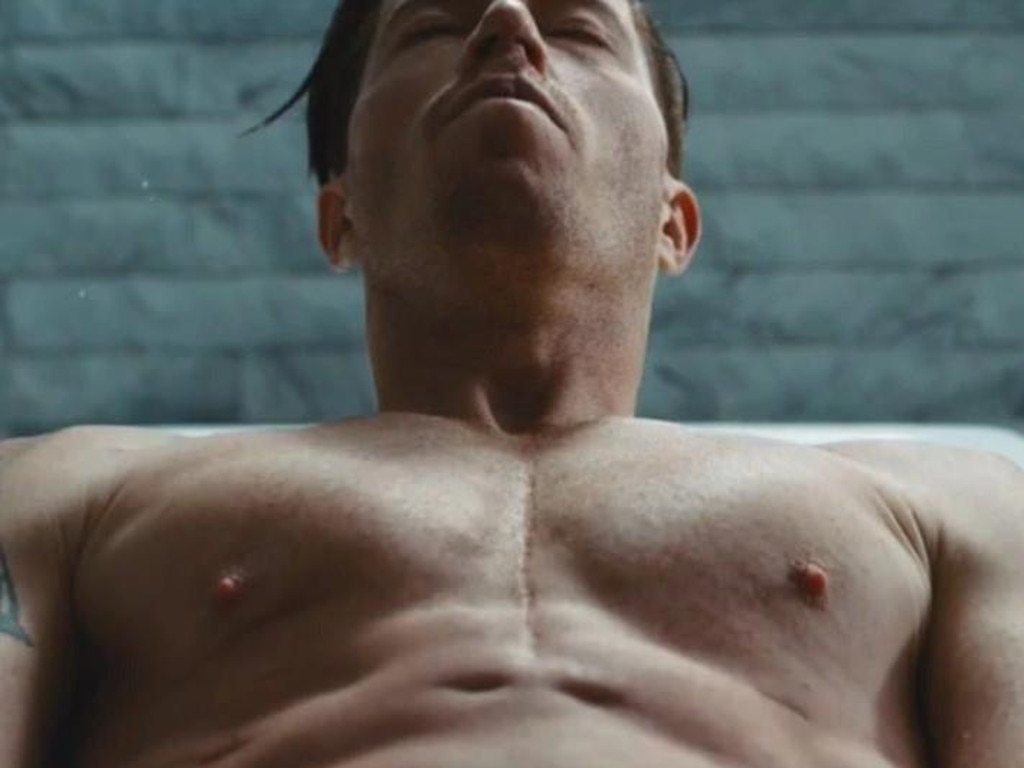 Shaun White had three open-heart operations when he was young to repair a heart defect, which has left him with a scar running down the centre of his chest.
As he got older, White began to notice this too. "By the time I was a certain age, people went, 'Whoa, you have a heart condition,' " he says. "I felt that fear and nervousness from others about my ability to do normal activities." It didn't help that he once collapsed on a football pitch with dehydration, causing a cascade of concern in his community.
"I think that's why snowboarding was so exciting to me," he says. "I got to live this separate life. At home, I'm Shaun, and I've got tetralogy of Fallot and I play soccer. But on the mountain, I'm Shaun White, the aspiring, sponsored young snowboarder that has potential." The paradox of Shaun White is that the place that he sought refuge from his extraordinariness was the place that consecrated it. Understandably, he was wary of being known as the kid with the heart defect. And so, as a teenage prodigy, he kept it a secret. "I was worried that the headlines were going to be like, 'Miracle Cardiac Kid …' I didn't want that."
But he knew he wasn't being true to himself. He had always embraced what made him exceptional. He grew his bright red hair into an unignorable mane that became his trademark. He never concealed the humble origin story of the campervan; instead he told it proudly. He knew that the moment where you're freest, most weightless, is the moment where people see you most clearly.
Now, whenever White competes, he gets a deluge of messages from people with Fallot's or other heart defects, and parents of children with those conditions. "I really love that," he says. "Snowboarding's great, but when the ripple effect of it has a dramatic life impact like this, it really is, to me, one of the biggest things you can do, and I'm just humbled that people would see me in that inspiring way."
Shaun White has enjoyed a dazzling career and has also become increasingly prominent in speaking out about heart issues. Picture: Vladimir Rys Photography/Getty Images
Why do we watch sport? Why do we watch the Olympics? Partly, it's about feeling represented – seeing someone on that stage who is like you, whether in nationality, gender, skin colour, disability or something else. It's about watching someone dancing on the far outer edge of human possibility, and sensing that distance, at the same time as you sense that proximity of place or race or circumstance, and the power that has to make something big feel small.
It's almost time for White's last ride. When he drops into the halfpipe in Beijing, it will be the final act of one of the great Olympic careers. For 16 years, White has represented the US, but also another group of people with whom he has a rare affinity.
We've seen him soar, we've seen him fail, and now we'll watch him one last time on the biggest stage, wearing the scar which no one else sees, but which we know is there. It sits right behind where they hung those three gold medals, and just in front of the thing which powers our lives and loves; which leaps when we see someone brilliant do something thrilling; which is sometimes broken, and which can be mended.
– The Times
Originally published as Shaun White used to hide his heart defect but now inspires people with similar problems