The US waited six days for a gold medal. Lindsey Jacobellis waited 16 years
Two of the longest Winter Olympics gold droughts in Team USA history came to one end in the Women's Snowboard Cross Final on Wednesday.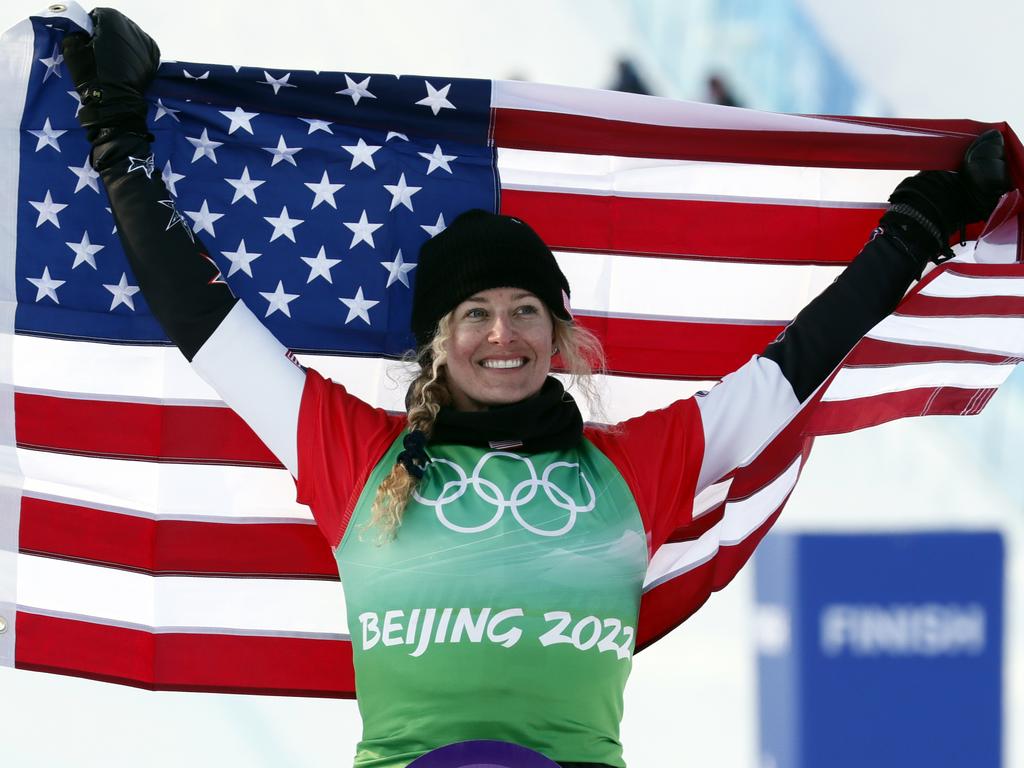 Lindsey Jacobellis celebrates finally obtaining the Gold medal that has eluded her since her Olympic debut in 2006. Picture: Christophe Pallot/Agence Zoom/Getty Images
The U.S.'s six-day wait for a gold medal in Beijing seemed almost interminable. Never before in the history of the Winter Olympics had the Americans taken so long to reach the top step of a podium. But the drought came to end on Wednesday with one athlete who truly knows what it means to be patient.
Sixteen years after taking silver in her first Olympics in Torino, Lindsey Jacobellis finally won her snowboard cross gold.
"It just seemed like an unbelievable moment," she said. "It didn't seem real at the time."
For an athlete who has spent more than a decade as the single most successful snowboarder in her event, Olympic gold in her fifth Games was long overdue.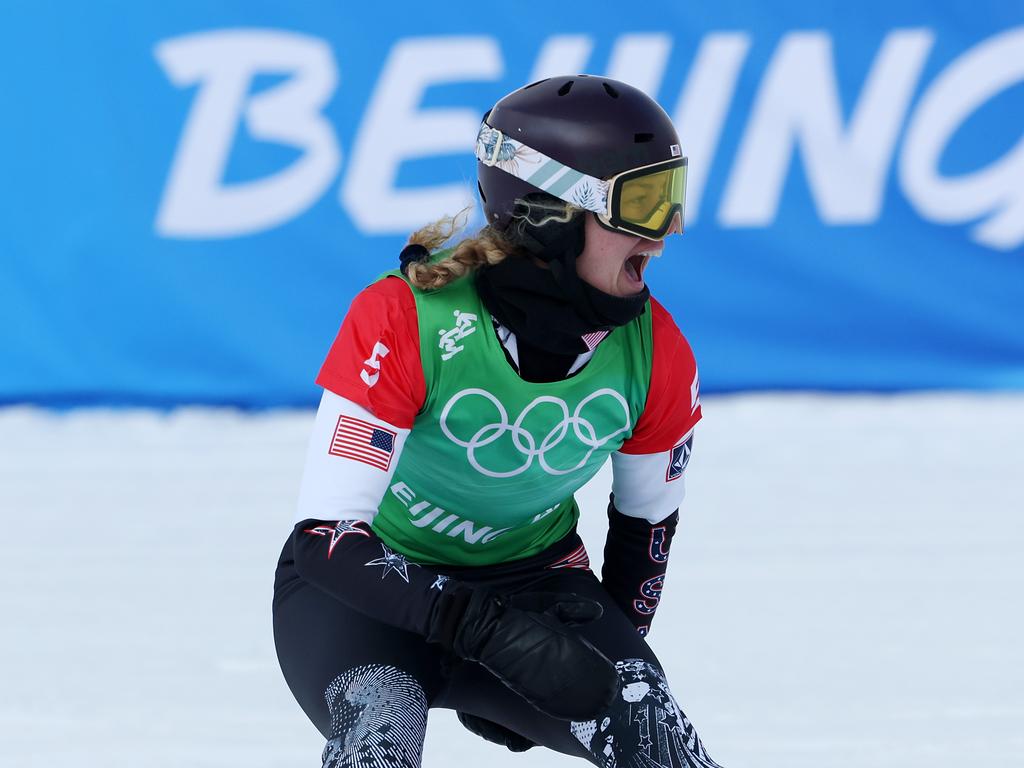 Lindsey Jacobellis was elated after finally crossing the Olympic finish line in the Gold medal position. Picture: Ezra Shaw/Getty Images
Jacobellis's near-miss in 2006 remains one of the most galling mistakes any Olympian could ever make. She was cruising to victory in first place when she added an extra trick to her final jump, only to botch the landing. The trick was a completely unnecessary flourish since snowboard cross is just a four-person race, where competitors duke it out on a short course of sweeping corners and bumps. Jacobellis hit the snow yards from the finish line and scrambled back to her feet. But by then, it was too late. She was passed by Tanja Frieden of Switzerland and Jacobellis's showboating relegated her to silver.
"That is a very famous story in snowboard cross," said Canada's Meryeta Odine, who took bronze behind Chloe Trespeuch of France. "So see her come home with the gold after so many years, she has so many wins and it's honestly really cool to see."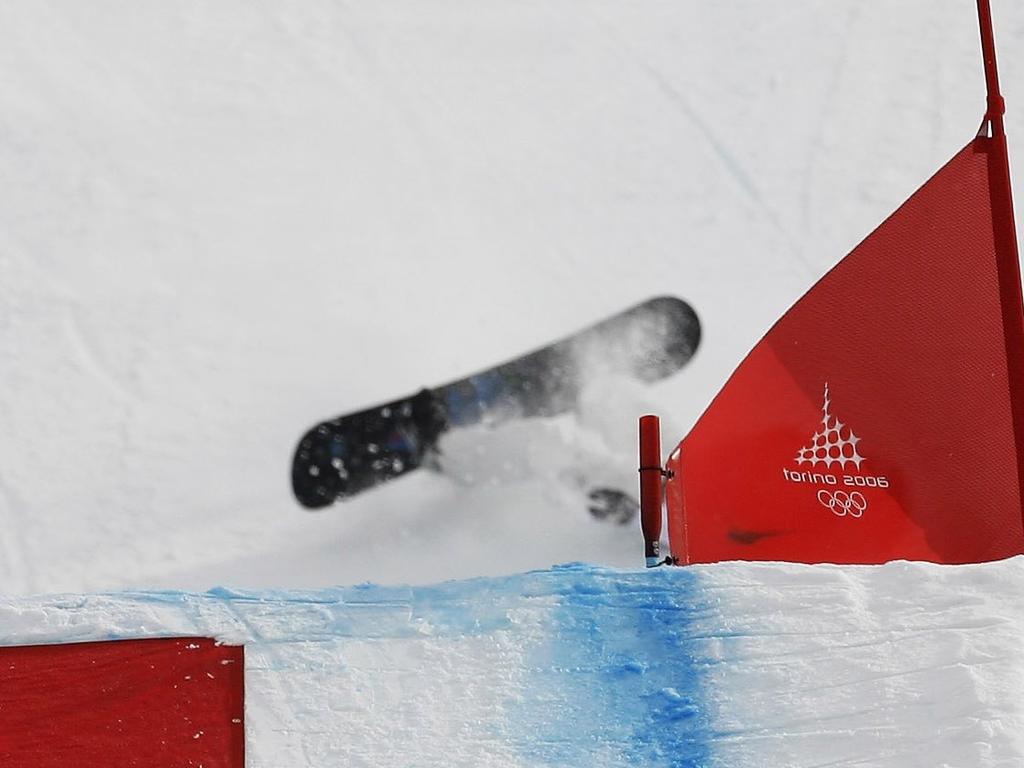 Lindsey Jacobellis' crash out of the Snowboard Cross Final at the 2006 Turin Winter Olympic Games remains one of the Olympics' most important fables. Picture: Sandra Behne/Bongarts/Getty Images
Jacobellis's luck didn't improve much over the three Olympics that followed her showboating blunder. In Vancouver in 2010 and Sochi in 2014, Jacobellis was eliminated before the medal round. And in PyeongChang four years ago, she finished fourth, missing the podium by just three-thousandths of a second.
The heartbreaking story seemed all but over. Over the course of four Olympics, she'd gone from fresh-faced American hopeful to seasoned — and decorated — veteran. She'd claimed dozens of World Cup podiums over her long career. She'd cleaned up at the X Games and world championships. Though snowboard cross only gained recognition as an Olympic event in 2006, there was no question that Jacobellis was the sport's most successful athlete.
All she was missing was that elusive gold. And after a year of injuries and surgeries that she can barely remember, Jacobellis accepted that it might never happen for her.
"It was definitely a possibility and I had that in my mind," she said. "But knowing that that's okay… It doesn't define who you are as a person or who you are as an athlete."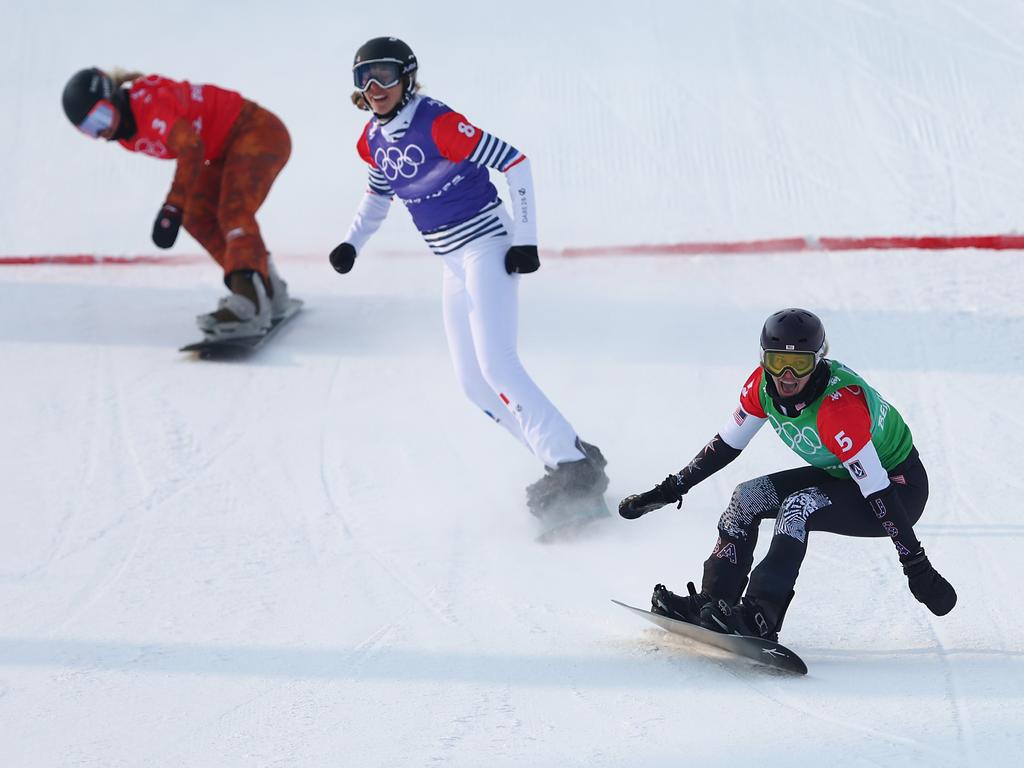 Lindsey Jacobellis led for the majority of the Women's Snowboard Cross Big Final before finally claiming her Gold. Picture: Clive Rose/Getty Images
But through the pain, Jacobellis was surprised to find that her body wasn't ready to let her down completely. She kept competing through 2021 and found that she could still mix it up with the sport's elite. A medal in 2022 no longer felt so crazy, though Jacobellis did seem an unlikely candidate to be first on the board for the US in Beijing. By the time she raced, the Americans expected to have at least one gold already from downhill skier Mikaela Shiffrin or speedskater Joey Mantia.
The irony for Jacobellis is that she says today she probably would have quit snowboarding professionally if she'd won her gold in 2006.
Back then, she said on Wednesday, "I wasn't really having fun with it. There was so much pressure on me to be the golden girl. I'd won so many races going into it and it's a lot for a young athlete to have on their plate."
Jacobellis is many things now — a snowboarding icon, a voice for women's sports, and an Olympic champion — but she is no longer a young athlete. At 36 years and 174 days, Jacobellis is the oldest snowboarding gold medallist in any event, male or female, in Winter Olympics history, according to historian Bill Mallon. She's also the oldest American woman to win gold, in any sport, surpassing cross-country skier Kikkan Randall, who won gold in 2018.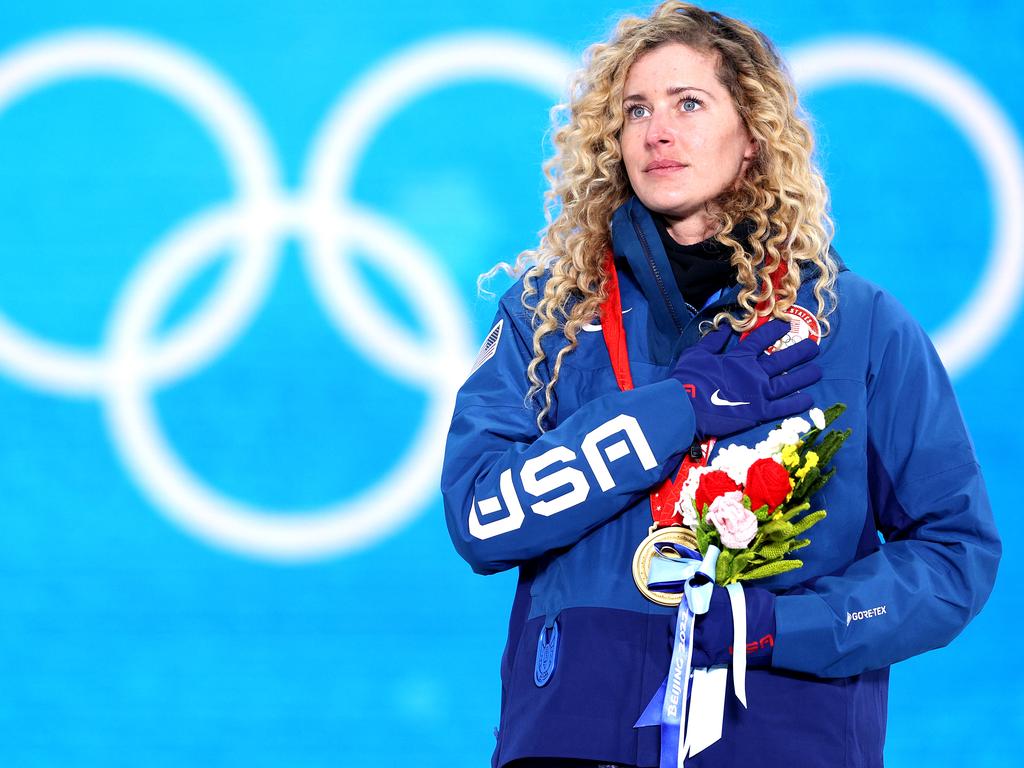 At 36 Lindsey Jacobellis became the oldest ever Winter Olympic Gold medallist for Team United States. Picture: Patrick Smith/Getty Images
She's been around so long that some of the competitors in Wednesday's race cited her as a reason they got into snowboarding as kids. Jacobellis, who played a major part in growing the young sport, had been their role model — and also their cautionary tale. She was a living reminder that no race is over until the moment they cross the finish line.
"I still vividly remember watching the gold medal slip out of her fingers," said Australia's Belle Brockhoff, who came fourth. "She's copped so much s--- — from the media and everything. For her to keep coming out and not giving up is pretty inspirational."
-The Wall Street Journal