Winter Olympics 2022: Australian athletes warned not to seek out cold-blood Russian coaches
Young Australian figure skaters have been warned against seeking out top Russian coaches to advance their careers after 'chilling' scenes in Beijing this month.
Australia's budding Olympic figure skaters have been warned to 'be careful' if they are contemplating being trained by Russian coaches they think can help them make it on the global stage.
The blunt warning, from the head of the Australian team at the Beijing Winter Olympics, comes after the world got a chilling first-hand look at Russia's win-at-all-costs approach to the sport.
As expected Russia won the gold and silver medals in the women's singles event in China, but the shocking dressing down that shattered teenager Kamila Valieva got from her coach after she failed to ensure a Russian cleansweep of the medals, has provoked universal outrage.
One of the most talented figure skaters ever seen, Valieva slipped and fell four times during the final after she broke down after getting caught in the crossfire of the world's anger at Russia's shameless doping programs.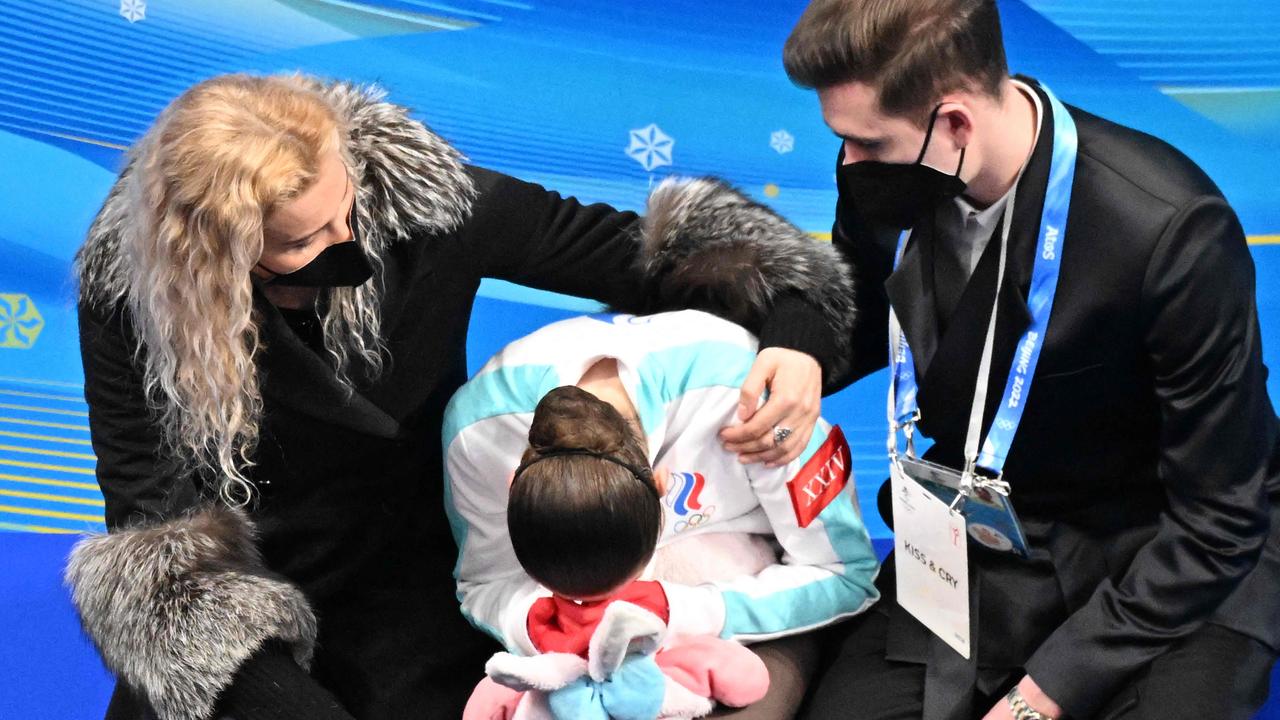 Kamila Valieva was berated by her coach after finishing outside the medals. Picture: AFP
Just 15, Valieva tested positive to a heart-boosting drug before the team event, which Russia won, but was allowed to compete in the individual competition because her case is still unresolved.
As she is still a child, investigators are looking into the role of her entourage.
Crippled by the suffocating pressure she faced, the gold medal favourite fell to pieces in the final and left the ice in tears, only to be grilled - with the eyes of the world watching on television - by her coach Eteri Tutberidze for 'giving up the fight.'
Even the normally diplomatic International Olympic Committee (IOC) president Thomas Bach was shaken by what he saw, breaking with convention by delivering a withering attack on the Russian coaches.
"When I saw how she was received by her entourage, but what appeared to be a tremendous coldness, it was chilling to see this," he said.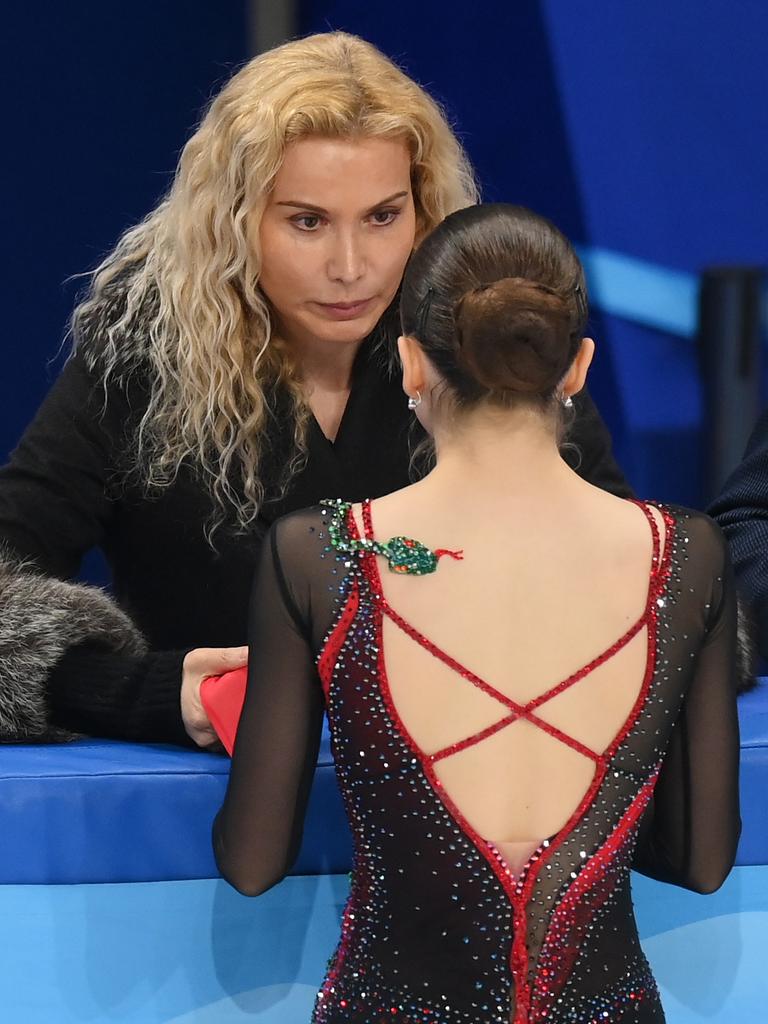 Kamila Valieva talking to coach Eteri Tutberidze. Picture: David Ramos/Getty
Geoff Lipshut, the Australian team chef de mission in Beijing, was slightly more tactful when he addressed the firestorm that has dominated the Beijing Olympics, saying Australia's approach to dealing with young athletes was directly opposite to Russia's.
"The way that we've consoled our athletes that haven't met their performance expectations is a very, very different experience than to that young figure skater," he said.
"The athletes are very much people first and they're sports people second.
"So when a young person, especially an underage person, hasn't met their own expectations and hasn't met what they perceive to be the expectations of others, we - anyone involved in sport - really need to look after those young people."
Russia has lashed back at the detractors, defending their cold-blooded system by saying it's the way they produce so many champions, and despite all the condemnation, Russia's coaches remain in high demand from skaters all over the world, including Australia.
Many past and present Australian figure skaters have sought out Russian coaches to guide them through their careers, and have credited the Russian system for toughening them up and helping them make it to the Olympics.
But the heartbreaking sight of seeing Valieva break down on the ice has raised fresh questions about the physical and mental pressures that young female skaters face, particularly after the tragic death two years ago of Russian born Australian Olympic skater Katia Alexandrovskaya.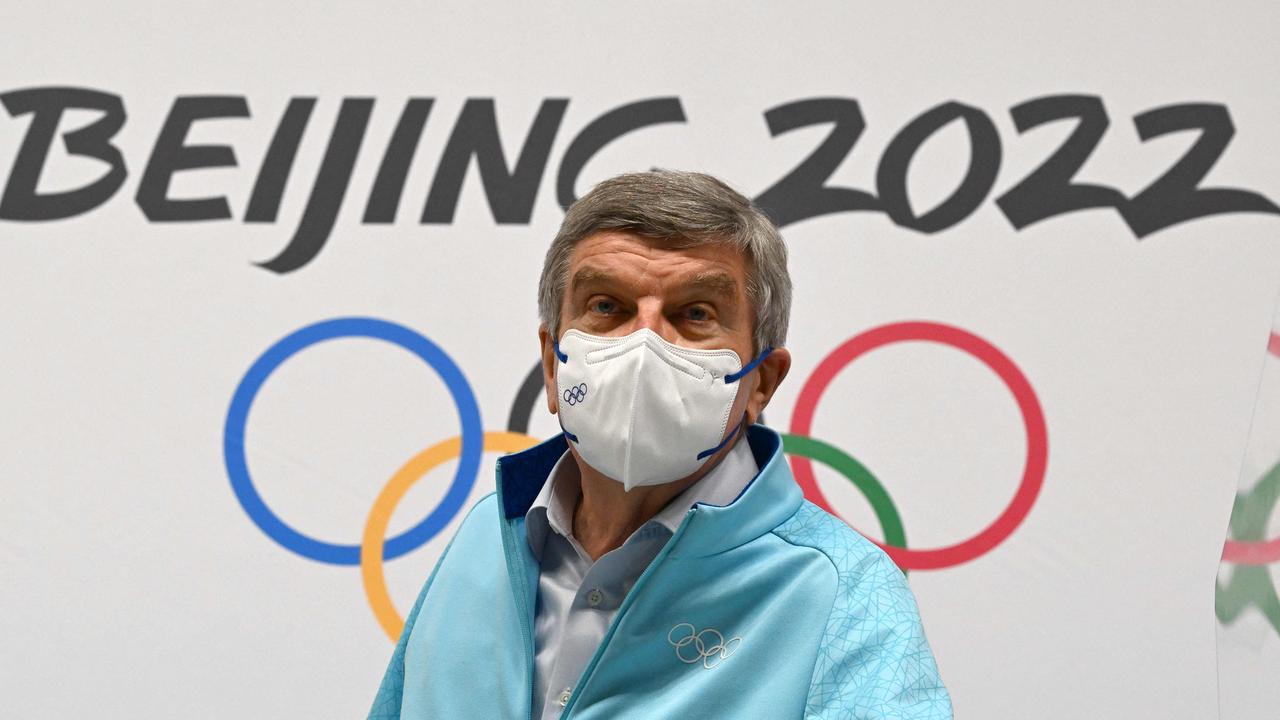 International Olympic Committee (IOC) President Thomas Bach. Picture: Gabriel Bouys/AFP
Lipshut said the decisions about where Australia's best figure skaters train under should always be left to individuals and their sporting federations but he did caution them to choose carefully if going with Russians.
"In terms of the Russian figure skating system, it is huge and they produce so many athletes and coaches. In Beijing, they were coaching athletes from other countries, sharing the expertise that they have," he said.
"I think you'll find a lot of countries around the world, Russians are involved in figure skating. They're absolutely the number one country.
"In terms of what decisions each national federation might make, especially federation for ice skating, they probably have to be very careful about making sure that their athletes end up training with the right coaches."
Originally published as Winter Olympics 2022: Australian athletes warned not to seek out cold-blood Russian coaches